Latest posts by Cindy Scott
(see all)
(Last Updated On: September 18, 2023)
Our stay at Crystal Isles was our second "free" stay with Thousand Trails. (More on Thousand Trails and the air quotes coming in a later post.)

Crystal Isles RV Resort Atmosphere
This RV park has the feeling of summer vacation. Every day kids are riding around on bikes, and fishing is taking place in the pond. There's a boat ramp that provides easy river access for everyone here at the park, and for the campers who book ahead, there's even a row of sites with attached docks!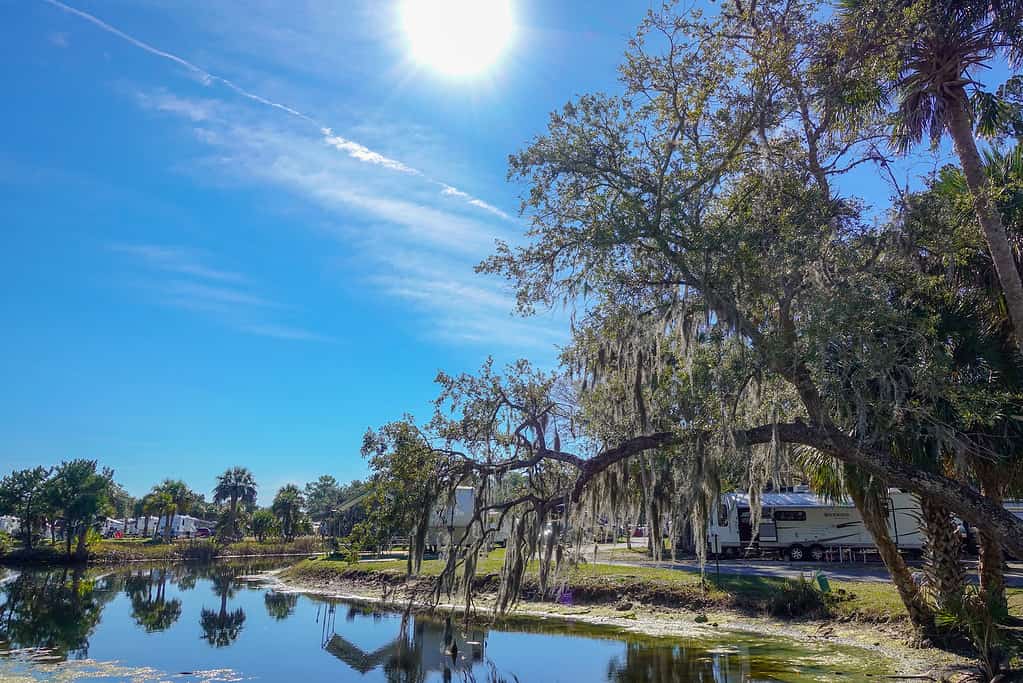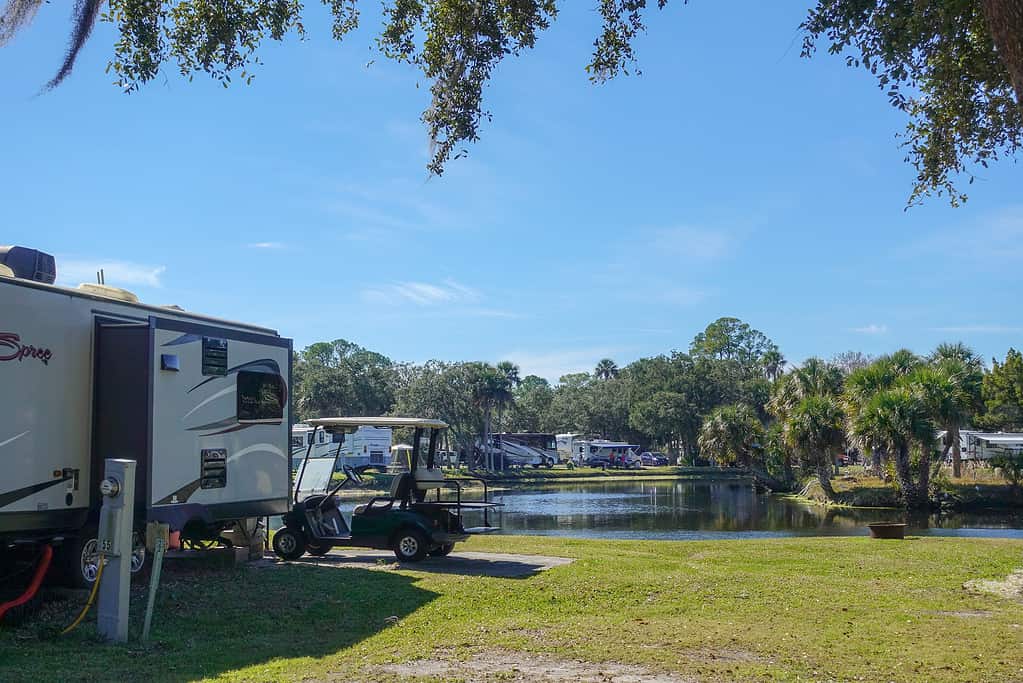 Overall, Crystal Isles has a wonderful atmosphere. You can see that people love coming here year after year. It's displayed in many of the RV setups we've seen.
Crystal Isles RV Resort Activities
As far as fun goes, there's a ton to do, including basketball, volleyball, horseshoes, tennis courts, a kids park, a hot tub, a pool, and even an ice cream stand that opens up on the weekends.
We spent a lot of our time biking and hiking in the nearby State Park, so we didn't take advantage of the scheduled activities this park offered. That being said, there were always many activities posted on the bulletin board, including line dancing, dinner parties, and poker every night at 7 p.m.!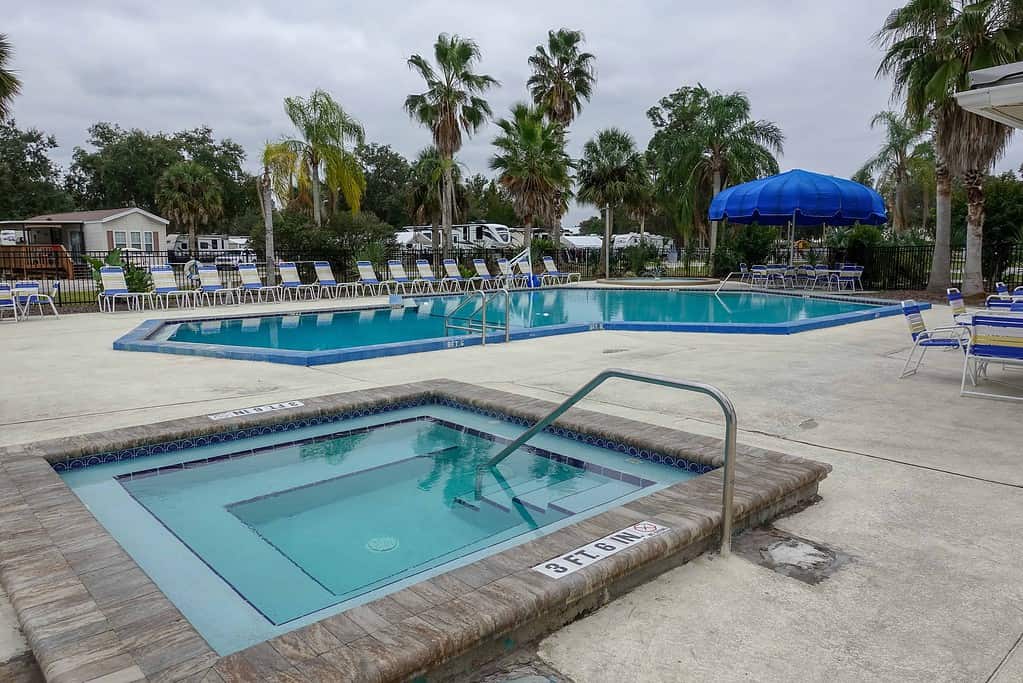 There are also cute little cabins to rent. These could be great for family or friends who want to come to visit with you on the weekends!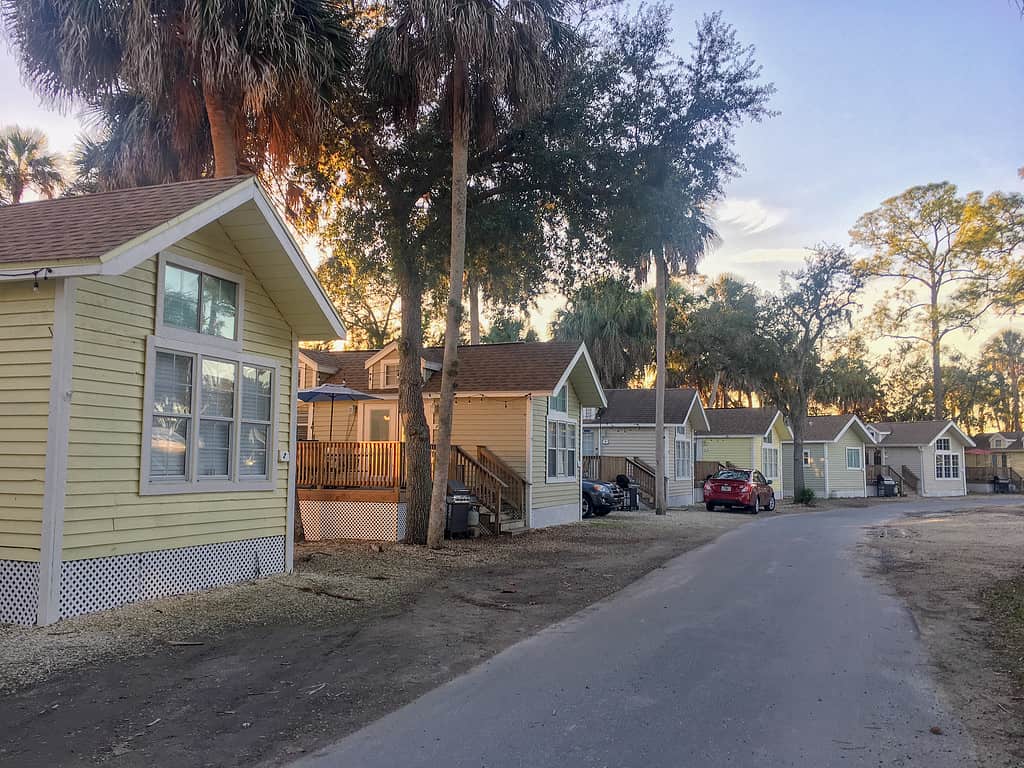 Crystal Isles RV Resort Bathrooms
Currently, one of the bathhouses is under construction. It has two portapotties posted outside of it.
The community center only has 2 women's bathroom stalls, 1 men's bathroom stall, and 2 urinals. Also, it only has 2 women's shower stalls and 1 men's shower stall. That all being said, we stayed for two weeks, and I never had to wait for any of them, so it seems most people use their campers most often for such activities.
As far as campground showers go, this one is pretty great! The stall is huge! So far this is Barrett's favorite shower we've run across, especially after a long muddy bike ride in the park.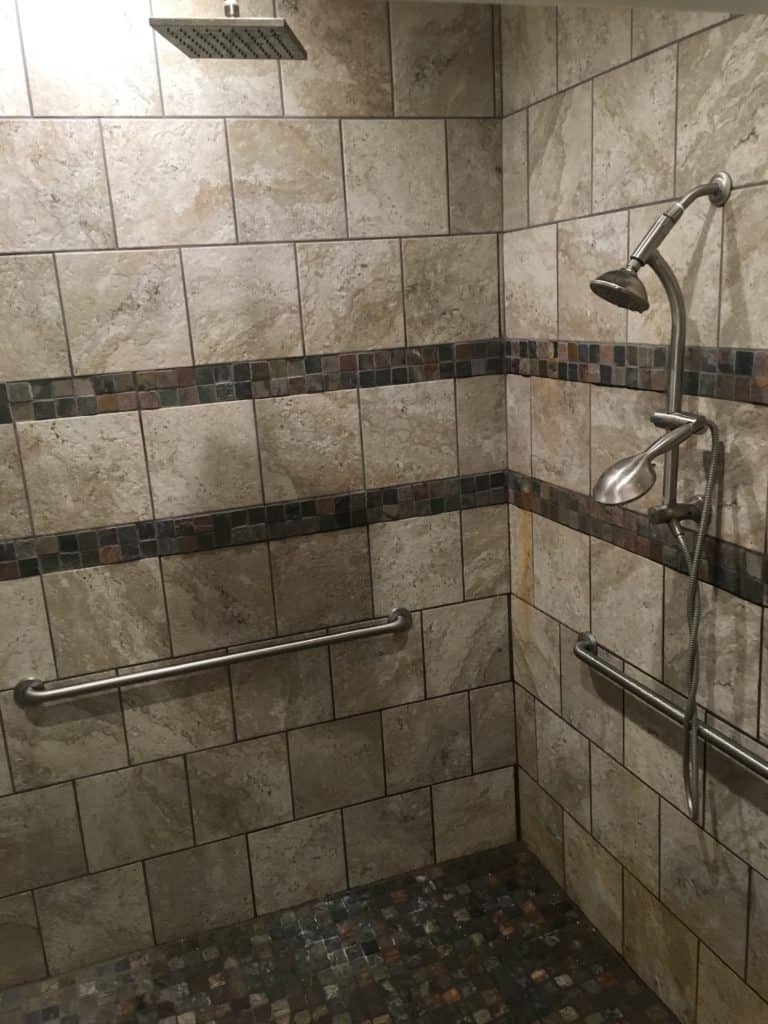 Crystal Isles RV Resort Internet / Cell Service
Park WIFI: 9/10 – WIFI can be purchased at the park and the signal is very strong. When we arrived, we were coming off a long travel day. I could not get our hotspot to work, so we jumped the gun and purchased a week's worth of park wifi because heaven forbid we have to go a night without Netflix. We later came to find out it was operator error… but since we had it, we spent the week switching between them both and giving each one a good try.
Sprint: 8/10 – We're receiving calls and texts, but everything else is running fairly slow. I have also gone into 1X a handful of times in two weeks, so not too bad.
AT&T: 6/10 – Somedays we had service, some days we did not. (Update on AT&T: We were having problems with our Netgear hotspot that was delivering our AT&T service the entire time we owned it. We ultimately switched to Verizon about a month or two after I wrote this post. So it is possible AT&T's service is, in reality, better than we received at this location.)
Crystal Isles RV Resort TV Antenna
Crystal Isles was the first stop we weren't able to get much in the way of TV channels just by doing a channel scan. We got two channels here: FOX and ION.
We're waiting until the next stop to find out if this is operator error as well or just a rough area to get a signal.
UPDATE: Not operator error, we were able to get channels back via a scan at the next stop.
However, we did realize that if we were to purchase a coaxial cable, we would be getting cable at some of these places (which we have never had in our entire relationship) so Barrett Amazoned one last night!
Crystal Isles RV Resort Overall Rating
8/10