(Last Updated On: September 3, 2020)
Crystal River Preserve State Park is not your typical State Park. There's no main entrance to the grounds, and no fees required. On top of that, trails are spread out all over town. You just pick which ones you want to hike, show up, and enjoy.
I'm guessing if you've arrived at this post, you're trying to figure out which of the trails to hike yourself! Well, my first recommendation is to use this link for the map below. Plenty are floating around out there, but this map proved most helpful to us. It did the best job of clearly showing trail lengths and where each trail was located. I'll also list the specific trail distances below.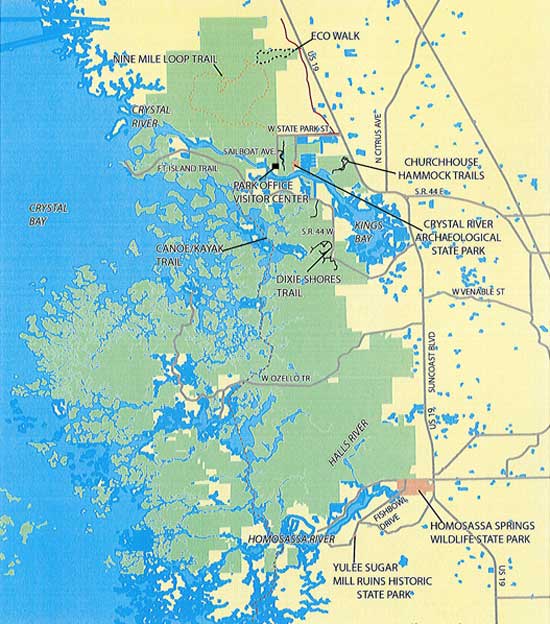 #1 – 7 Mile Loop Trail – Technically 9 Miles RT when starting from the Parking Lot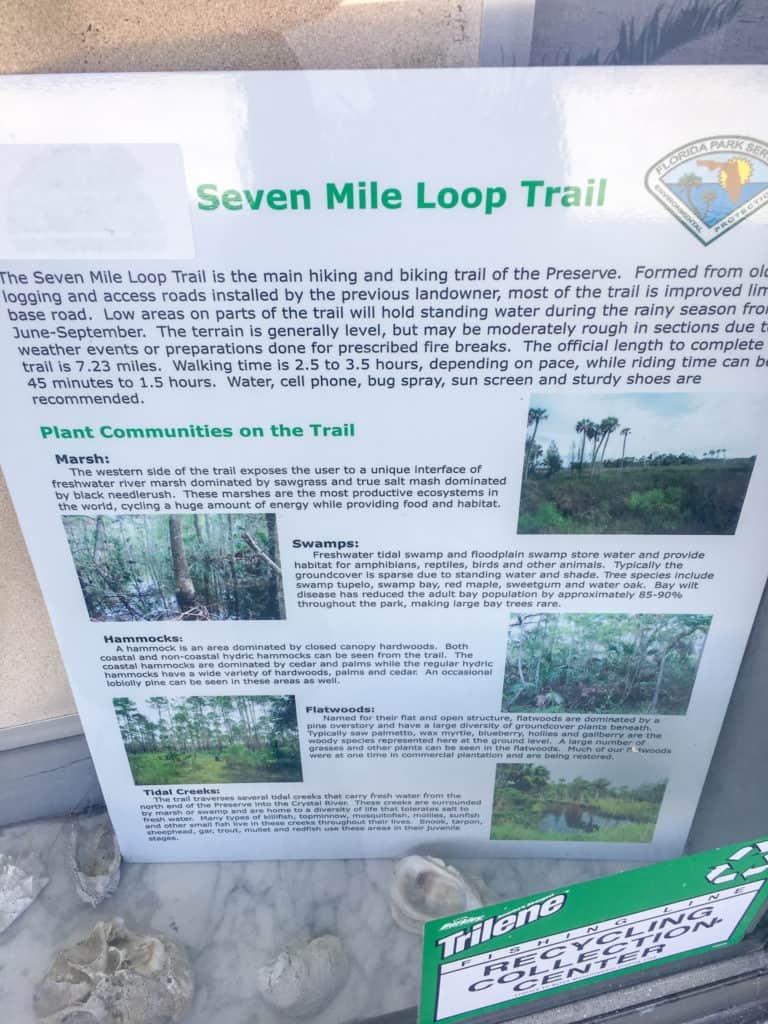 We rode the 7 Mile Trail loop on our bikes twice. Once was right after an all-day rainstorm (not sure why we thought that was a good idea…) and we got COATED in mud. The second time was a week later. It was still pretty wet and muddy, but nowhere near as hard as the first time. Anyone looking to complete this ride, I would check the past weather and make sure it's been dry for a bit.
On the first go around we saw the MOST adorable river otter! You can see him and hear Barrett's excitement below. He was merely trotting along, jumping in puddle after puddle and completely ignoring our presence. I thought the adorableness was going to make my heart explode, but I somehow managed to get back on my bike and continue with the ride.
The second go around a wild hog jumped out in front of us at one point, which was pretty neat but also a little intimidating. They are not to be messed with, so we just stopped, waited until the coast was clear and then mosied along.
This ride is number one because we saw so much unique wildlife each time we went out. I also felt like I was riding through at least 4 different states while on this trail. Your typical Florida tropical trees are abundant, but then there are also large sections of short and tall pine trees. There are big dry open spaces where it feels almost like you're in the plains, and then shaded areas of thick forest where the light is hidden, and the mud accumulates. Each time we went out on it I just loved everything there was to be seen. It's such a beautiful trail that you and your bike deserve to see!
#2 – Redfish Hole Trail – .64 Mile Trail


The Redfish Hole Trail was a very short, but gorgeous trail! It's number two on my ranking mainly because we saw so much wildlife while we were out there.
We went during low tide. We were told that was the best time to go and the best opportunity to see a ton of birds! In the short time we were out there we saw Vultures, Cormorants, Pelicans, Herons, Osprey, Storks, and hundreds of mini-crabs!
#3 – Crystal Cove Trail – 1.7 Mile Trail
The main hike on the Crystal Cove Trail is relatively wooded. There are also opportunities to jump on a sub-trail along the water for a bit as well though. This trail has a lot to see, but we ranked it under the other two merely because we did not have as many animal sightings and the trail was relatively flat and basic. We did, however, see a lot of locals fishing here, some boats, and a water moccasin snake.


#4 – Chuchhouse Hammock Trail – 1.2 Mile Loop


The Churchhouse Hammock Trail is convenient to access and possibly the one most used by locals in the town. It's the only one we saw people on regularly. It has a boardwalk scattered throughout a lot of the trail, and one part of the path ends with this epic view: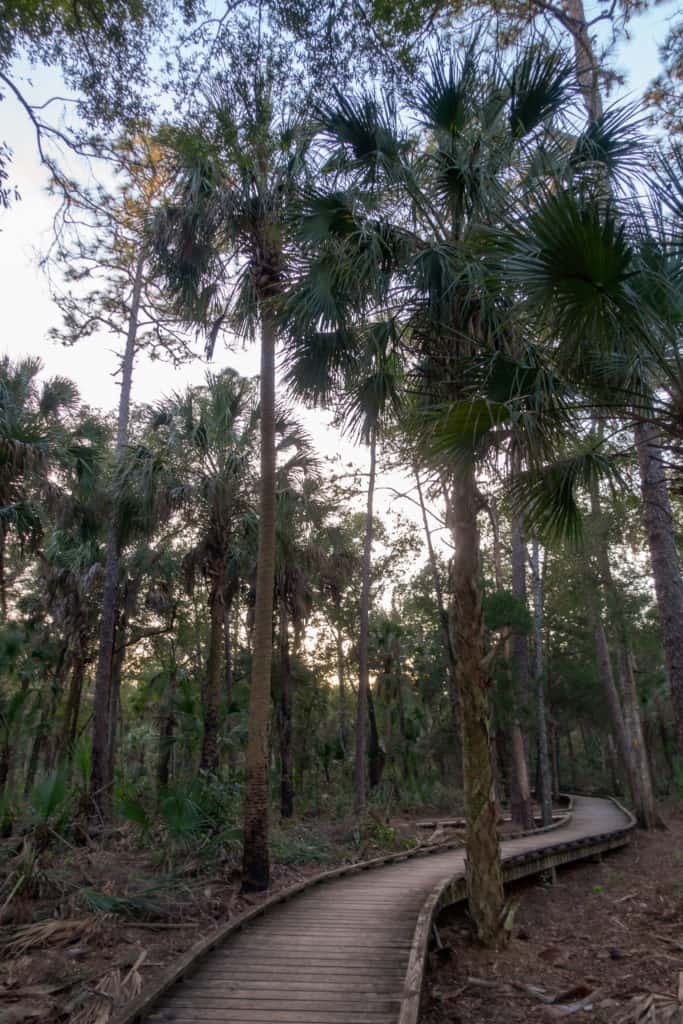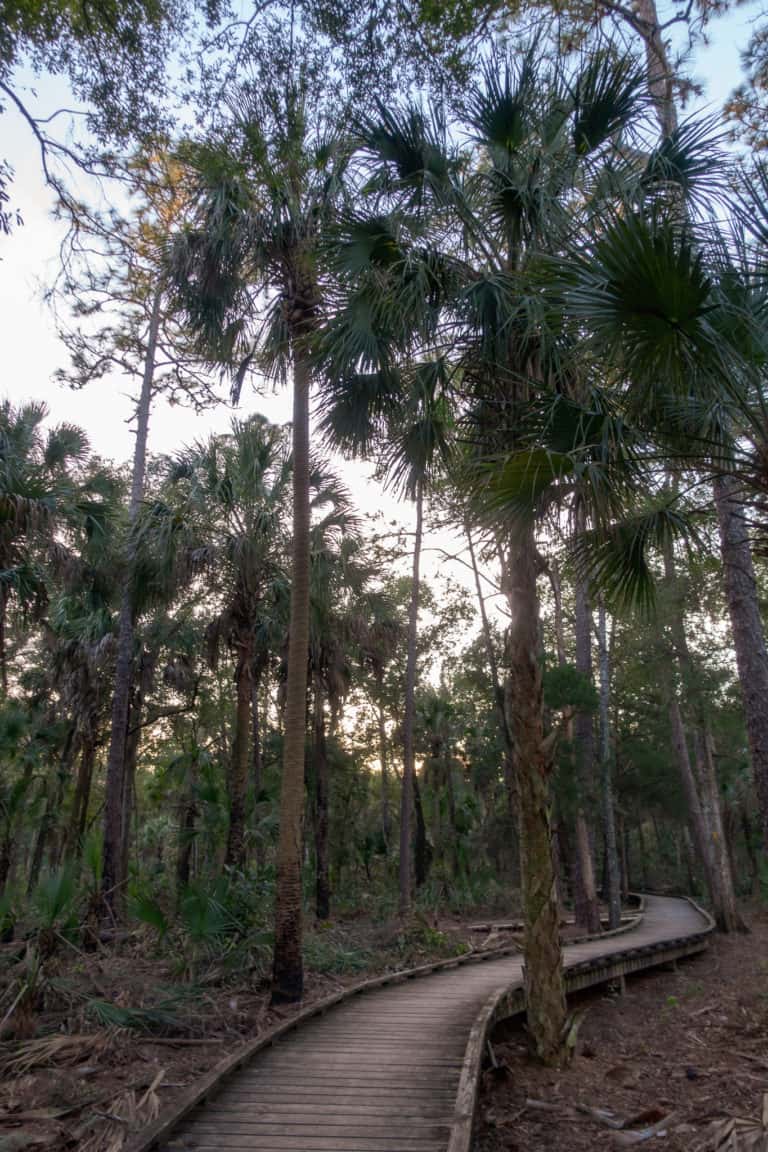 #6 – Eco-Trail – 2.2 Mile Loop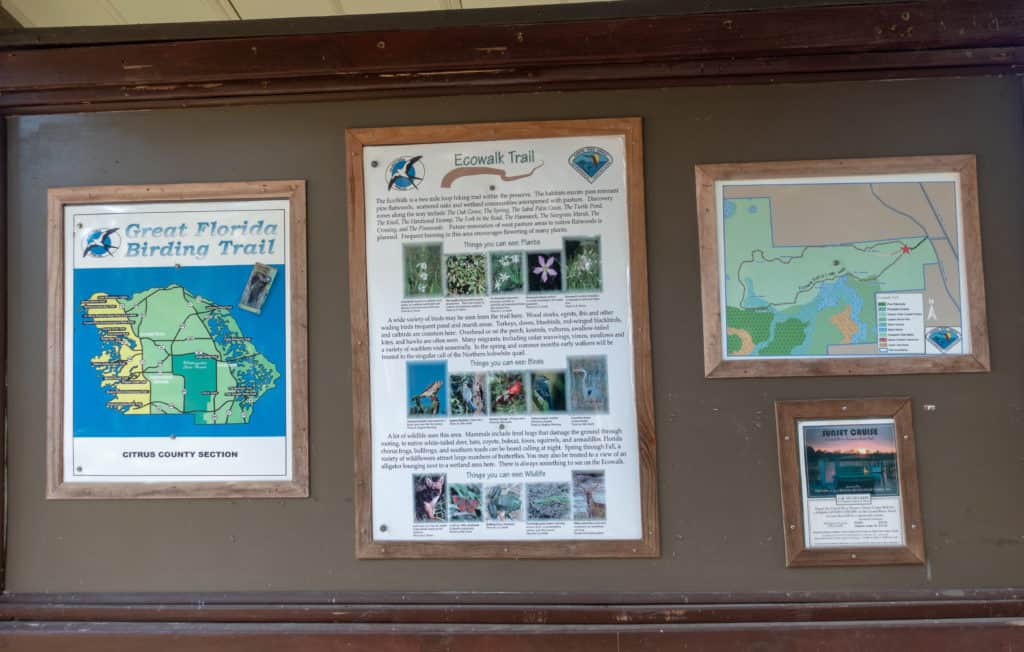 The Eco-Trail was calm and peaceful. It was very flat and an easy walk. The area is boggy and swampy. There was nothing wrong with the loop; it just didn't leave as lasting of an impression after all the other trails.
#7 – Dixie Shores Trail – 1.9 Mile Trail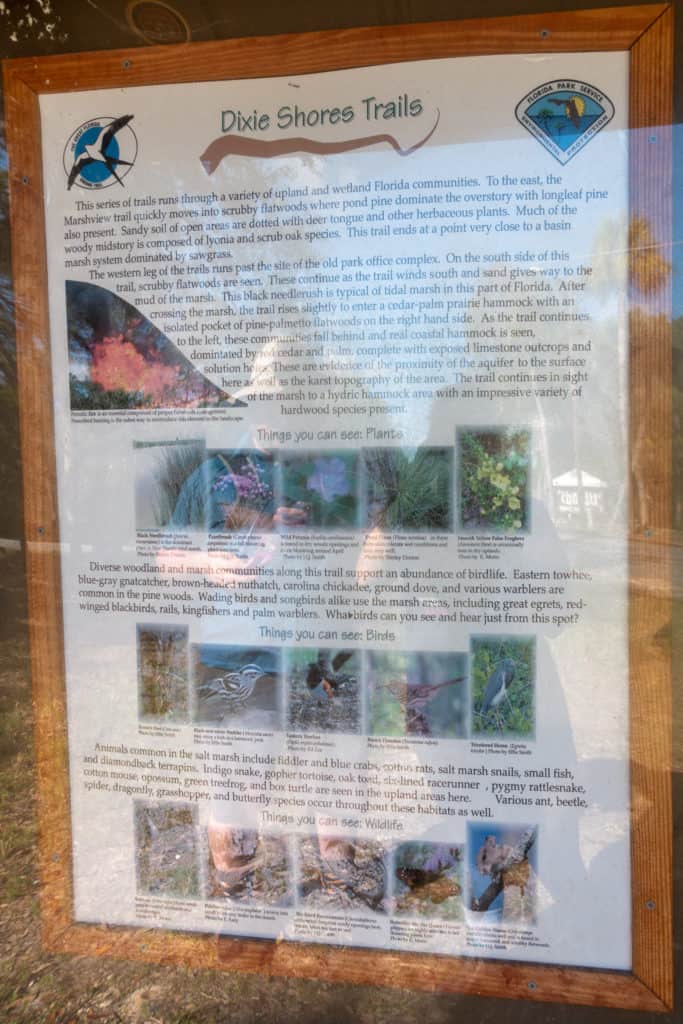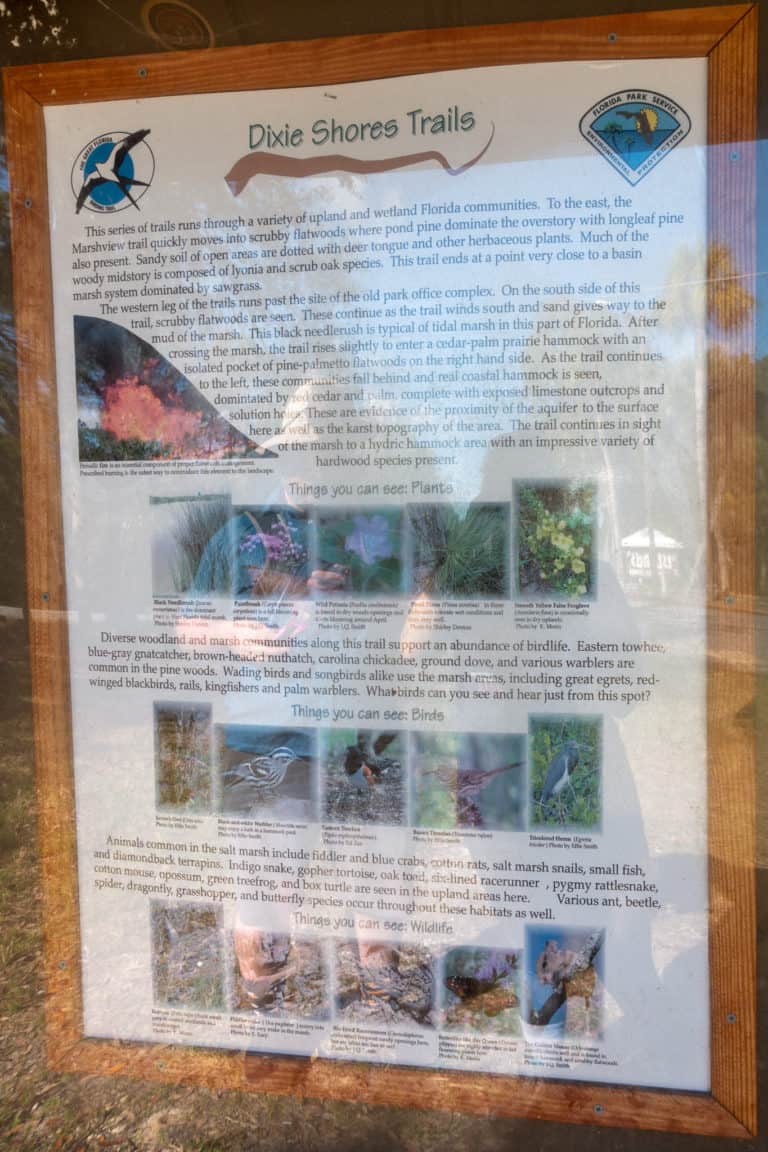 When we first arrived in town, I called the State Park to ask about the park's trails. When I asked the woman about the Dixie Shores Trail, she basically implied there were better trails out there to be seen. She told us it was a tangled, complicated to understand, unkempt mess. She wasn't wrong. But to Barrett and myself, that felt like a challenge.
She also told us if we did decide to do this one, to stay to the right because that was the trail they had most recently been working on clearing. So we took the path to the right for a bit. I'm not sure if this was because of the rain or because of the trail just being unattended to, but from what we could figure, the trail basically ended less than half a mile in at a dock that just ends. We did see what possibly could have been a trail a bit back and to the right, but it was covered in water. We decided to turn around and move along to other hikes. We only had so many days in Crystal River. We chose not to use all our time trying to figure this one out.
BONUS FIND: Fort Island Beach
Fort Island Beach is not so much a trail, just an awesome bonus we found by merely continuing to drive down the road our campground was on. It had lots of picnic areas, a beautiful white sand beach, and was a great place to watch the sunset.
Pin this article for later: