Latest posts by Cindy Scott
(see all)
(Last Updated On: September 25, 2023)


Looking for a unique way to explore some of the tasting rooms around the Traverse City area? Awesome! Then I have a blog post for you!
In this article, I am going to break down my tried and true DIY Nothern Michigan bike-n-ride Traverse City tasting tour, taking place throughout the Suttons Bay wine region of the Leelanau Peninsula, step by step. 
I'm going to be extremely thorough and include all of the steps that were involved in planning this excursion because this trip could be accomplished in many different ways.
My goal is to give you all of the materials and basic structure, so then you may take it all and either take this same trip or craft a journey of your own!
In our case, we started from Traverse City, headed into Suttons Bay via bus, then biked from winery to winery, and returned to Traverse City via bus again.
But you could choose to go in the opposite direction of us or perhaps decide to venture to completely different wineries. It's all up to you!
---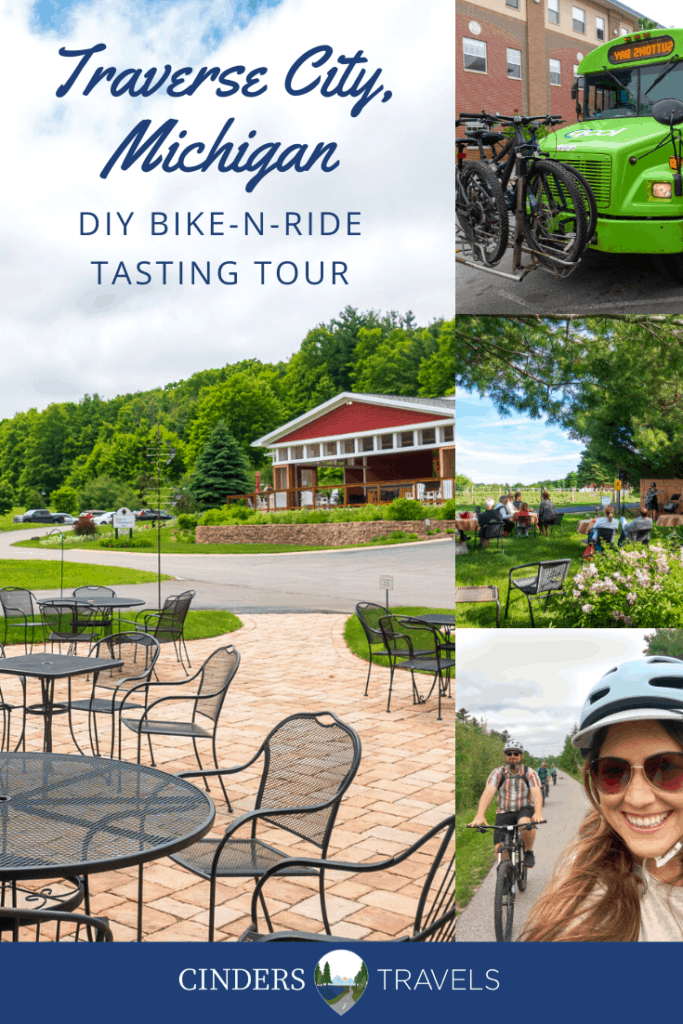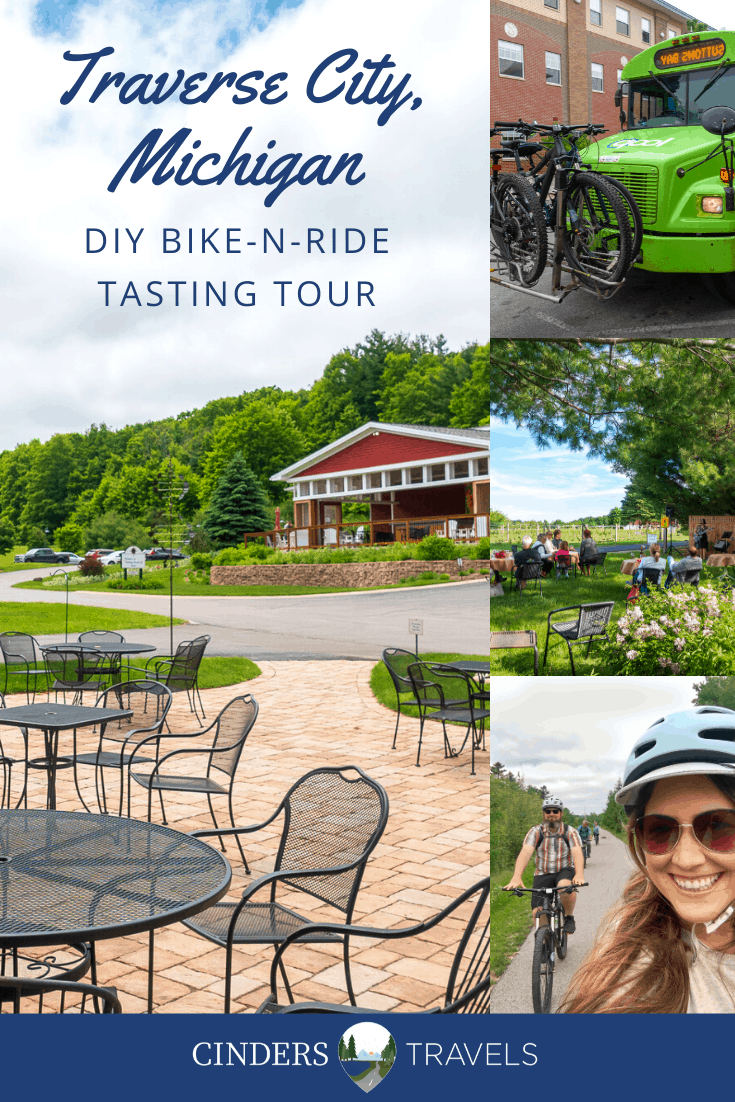 ---
So, Why Bike-n-Ride Traverse City?
Barrett and I were full-time RVers for three years. One of those years, we decided we would spend two months in Michigan during the warmer summer months, hitting up as many of the must-see lake towns as we could.
While picking out our stops, Traverse City, of course, HAD to be on the list. That's because Traverse City is a fun lake town with a young vibe and tons of libations to be tried.
Now we LOVE traveling to new towns and tasting the local offerings. And in Traverse City, there are tons of options!
So to try out as many as possible, as slowly and safely as possible, we next decided we wanted to find a fun way to get around to a bunch of these spots that didn't involve us driving and would perhaps throw some activity into our day.
When I went into the visitor center, I learned about a few biking Traverse City wine tours. I thought that was a neat idea and an excellent opportunity to try tons of different local beverages while also getting in a great workout! Win-win, am I right?!
But being the trip planner, bike owner, and frugal person I am, I was next interested in finding out if I could craft one of my own for free!
So without further ado, here we go!
---
Planning our DIY Bike-n-Ride Traverse City / Suttons Bay Tasting Tour Route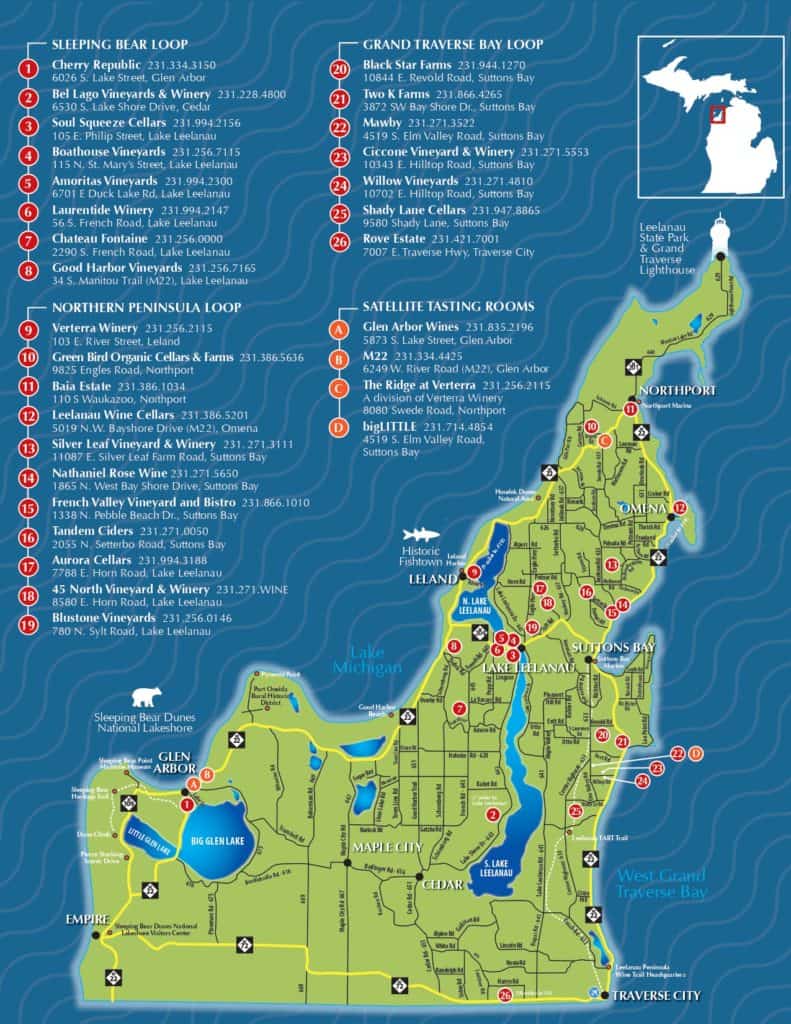 As you can see, there are a lot of options and many beyond just wineries!
When I started planning this trip, I started with the Wine Map because I had the idea of this being a bike-n-ride Wine Trail.
However, due to all of the different types of delicious alcohol being produced in the area, it ultimately became a Trail of Multiple Libations instead.
You could absolutely look at the above map and decide to create an entirely different trip from the one I created.
The TART Trail Map
Traverse City's TART bike trail system is impressive. We wanted to use the TART trail as much as possible, so we weren't biking alongside cars the whole time.
Below is a map of the 17-mile Leelanau Trail portion of the TART bike trail system. If you use the "bike" option in Google Maps, it will also connect you with the TART. (The TART trail can be seen as the white dotted line on the Wine Trail map above.)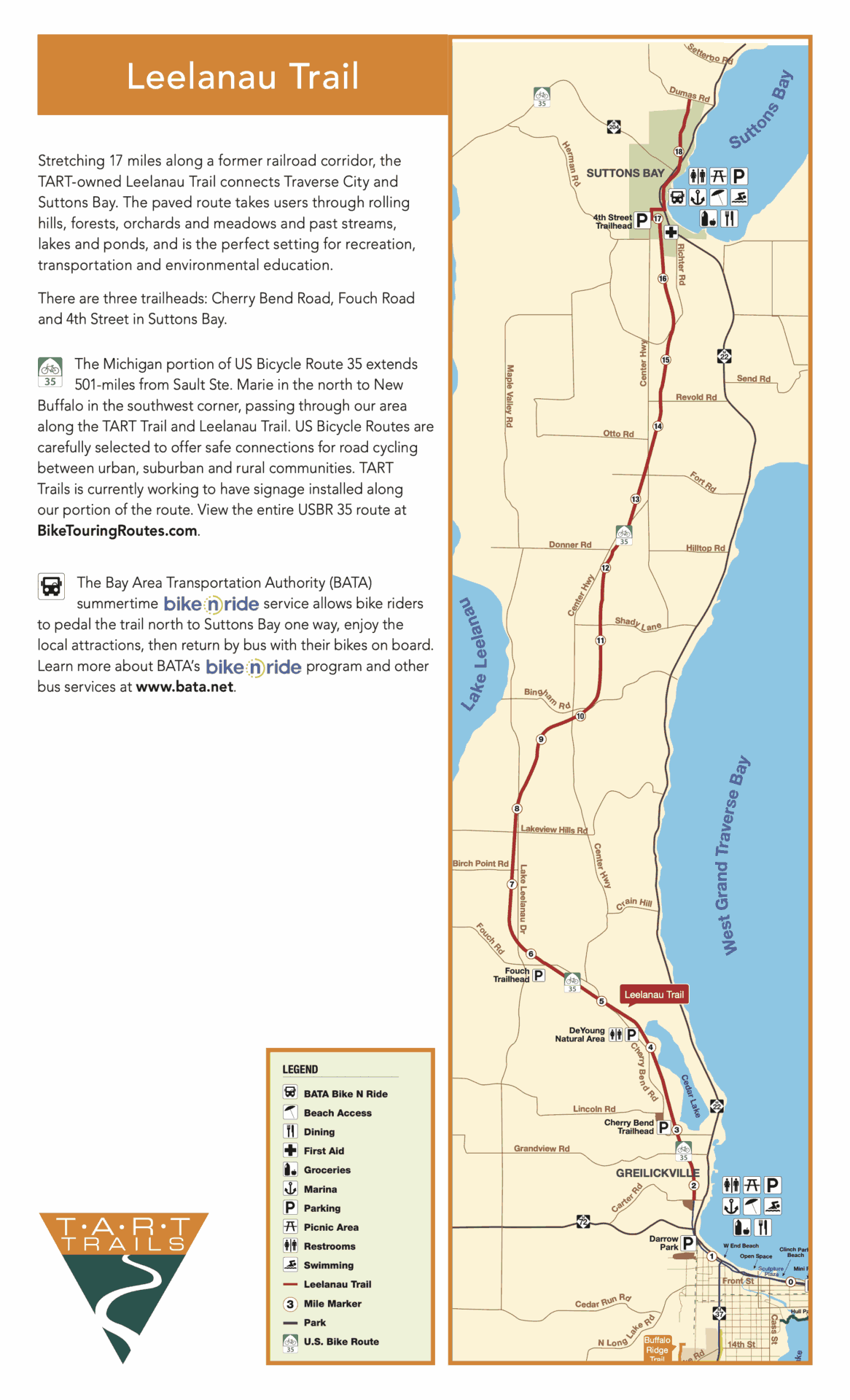 As shown on this TART trail map, if you're feeling bold, you can bike all the way up and down from Traverse City.
We would first be biking into Traverse City from the Traverse City State Park campground. And then also returning the same way back at the end of the night.
So we decided to take full advantage of the bike-n-ride season (more on that below) and opt for taking the bus up to the topmost point.
We could then bike from winery to winery and ride the bus back into town at the end of the day.
So after looking at both maps, I found a cluster of destinations that looked closest to the TART trail and picked those for our day trip!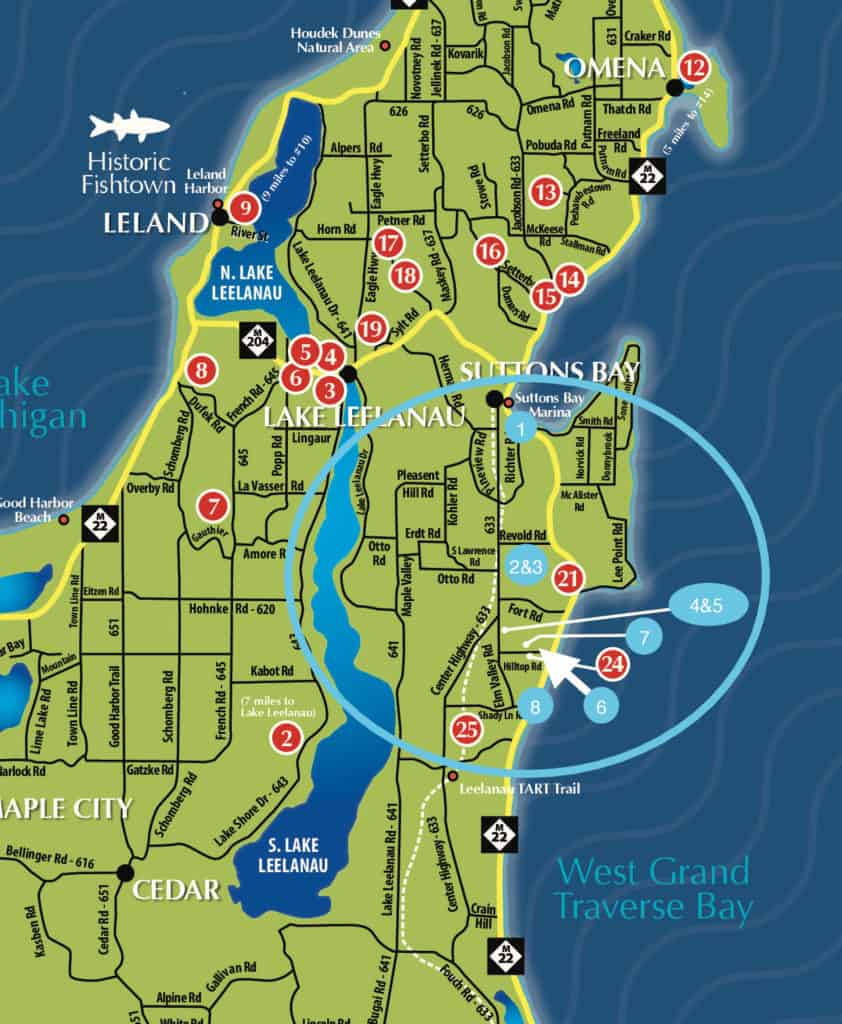 STEP TWO:
Check Out the BATA Bus Route
The next thing I did was check out the bus options on the BATA website. Route 10 seemed to ride parallel to the TART bike trail in Sutton's Bay, as you can see in the picture below, so that seemed perfect for us!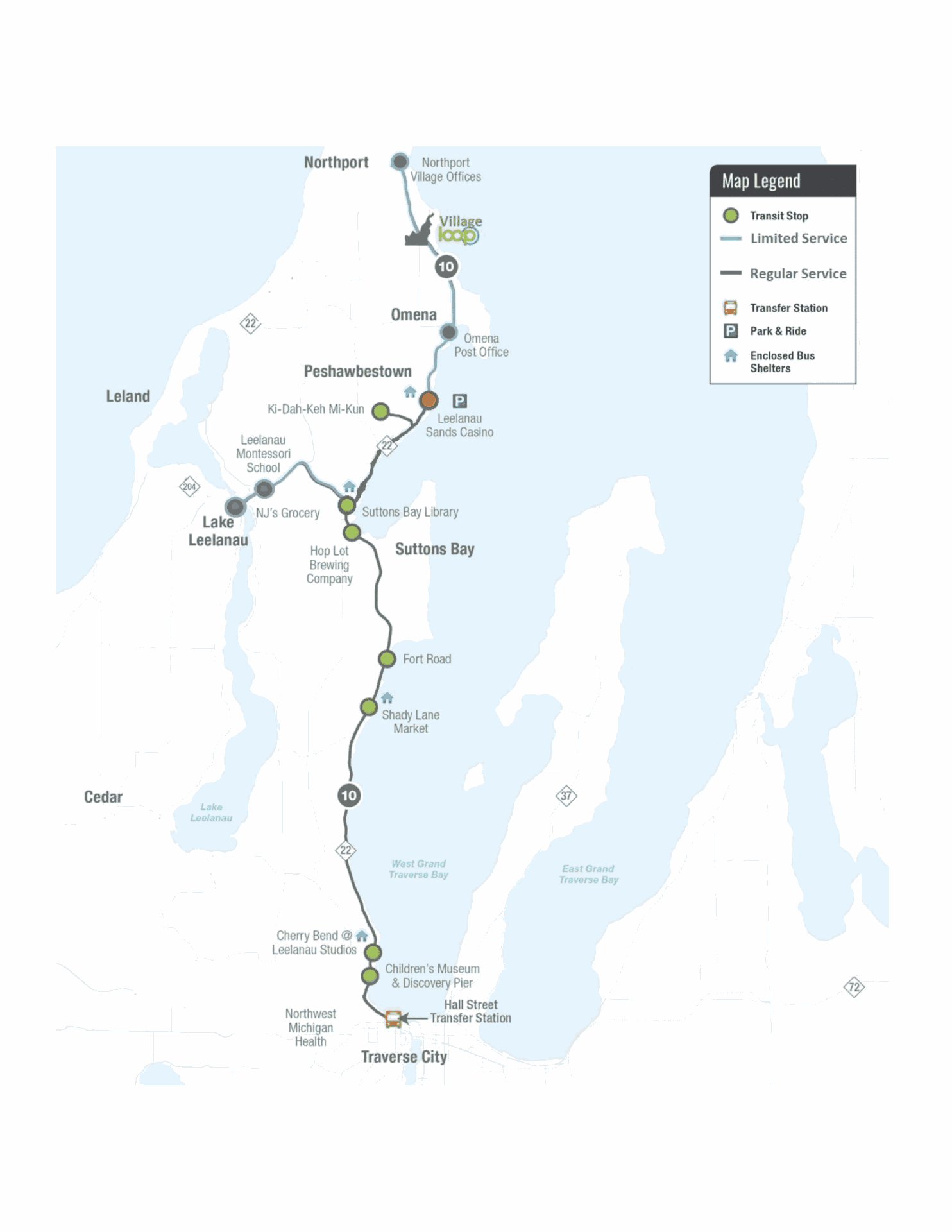 After reaching out to BATA, I was told that during the bike-n-ride season, the buses that can accommodate up to 11 bikes make stops at all of the bus stops on Route 10.
I did not think that was clear on the map due to the color coating making it appear as if it only stopped at the purple stops, so I wanted to make sure to note this in case you happen to have more than three people in your group, as we did.
(Still know, all of the buses are still first come, first served. So there is always still the chance of being split up onto multiple buses if it's a busy summer day.)
So I next laid out each stop in the order that made the most sense going along with all of our available bus stop options, and found out where we should get off the bus and then get back on.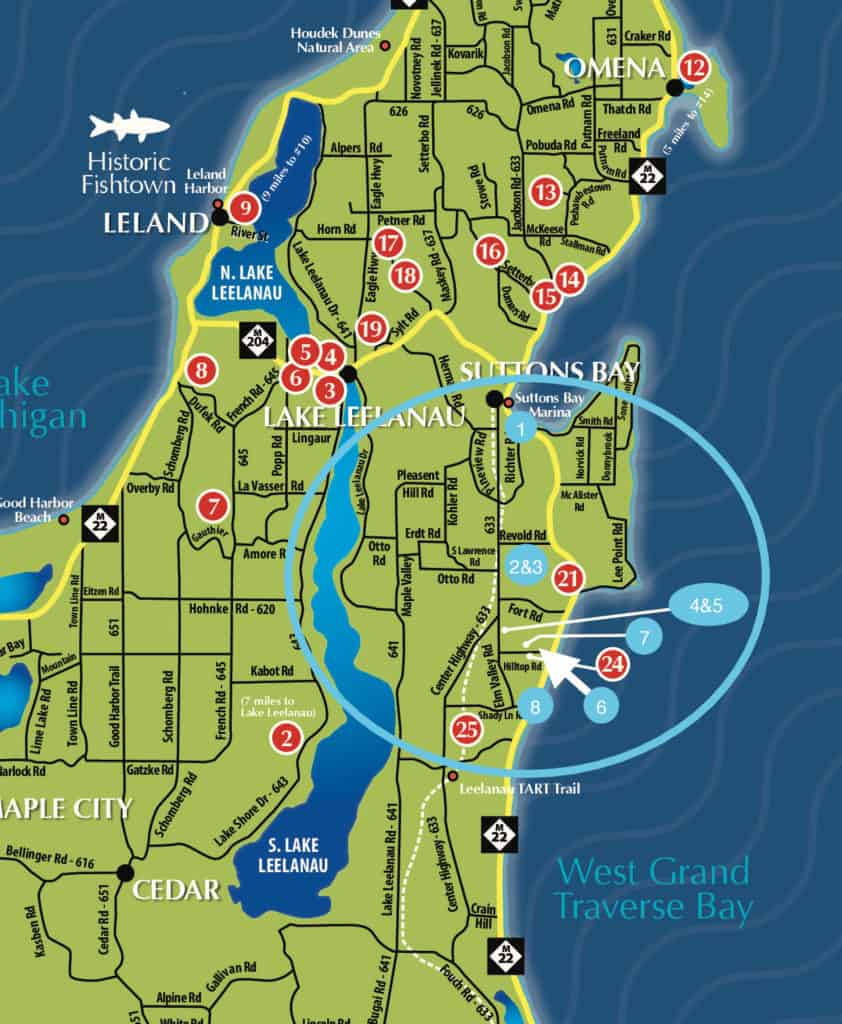 Now that we knew our route and the bus stops, we lastly need to look at the BATA bus schedule and link everything together.
STEP THREE:
Check Out the BATA Bus Schedule & Pick a Time to Start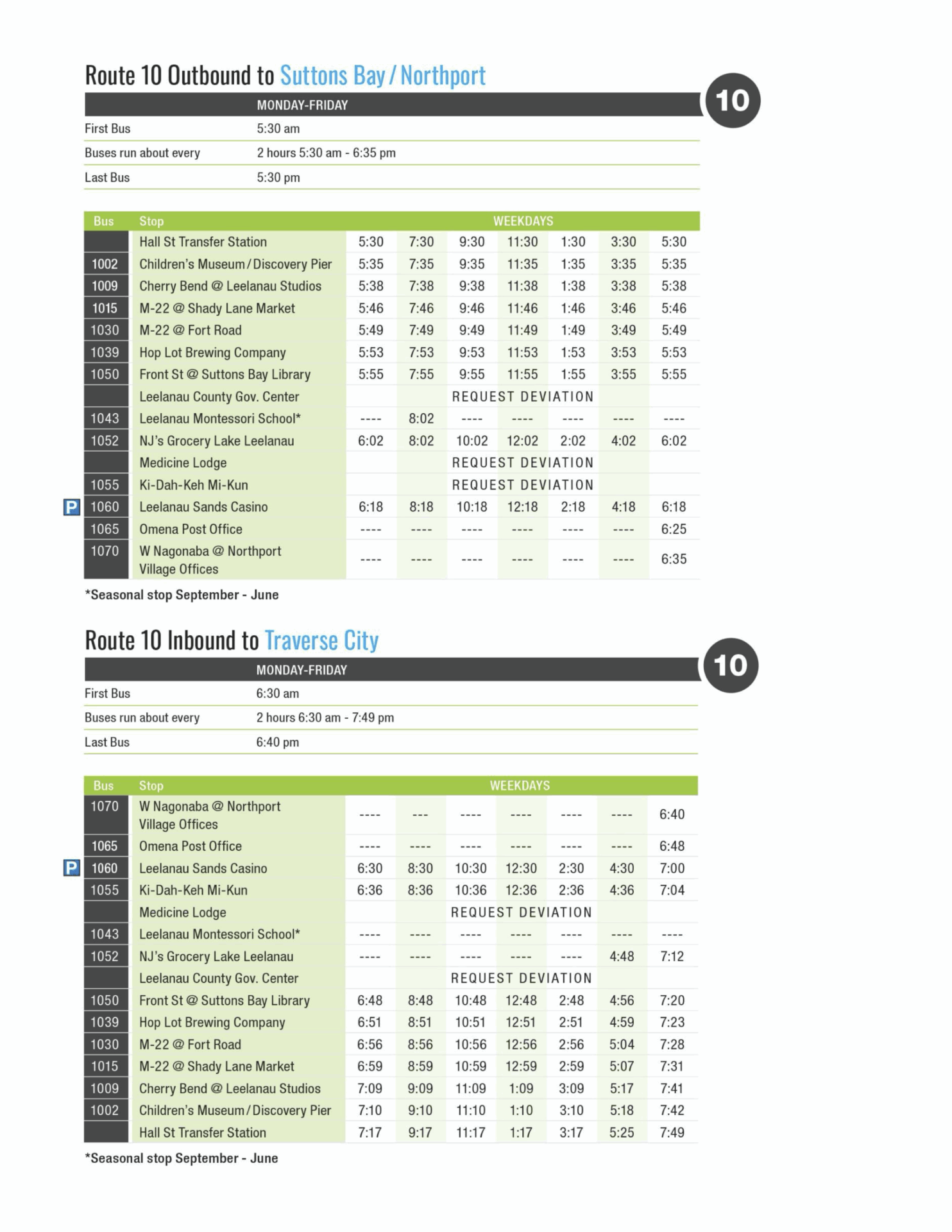 In regards to a schedule, most of the tasting rooms don't generally open until 11 a.m. or 12 p.m. So there's no reason to be taking the early morning bus. I figured the 11:30 a.m. pick up at the Hall St station would be perfect for us. That would place us starting at Hop Lot just in time for lunch and brews.
BATA Bus Cost
One-way = $3.00
(Please note, I tried to keep this path on the trail as much as possible, but it does go off the trail and onto roads, so wearing a helmet is recommended.)
Now, with a plan created, off we go!!
---
Starting our DIY Tasting Tour Route
Arriving at the Downtown Hall St Bus Station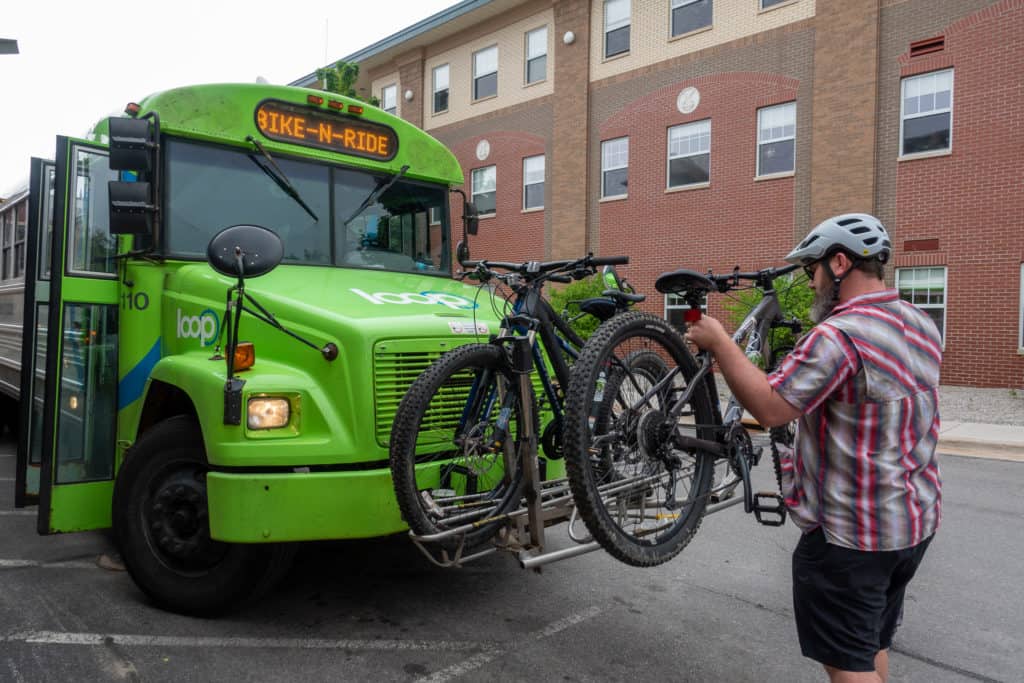 Barrett, our two friends Craig and Tina from Free As Wheel Ever Be, and I decided to test the plotted path together!
We started from Traverse City State Park and biked the 4 miles into town to the Hall St. bus station.
Barrett and Craig loaded up the first three bikes on the front of the bus, and then the last bike was added to the inside of the bus.
In the picture below, you can see the inside of one of the special bike-n-ride season buses that I made a note of above that is capable of carrying up to 11 bikes!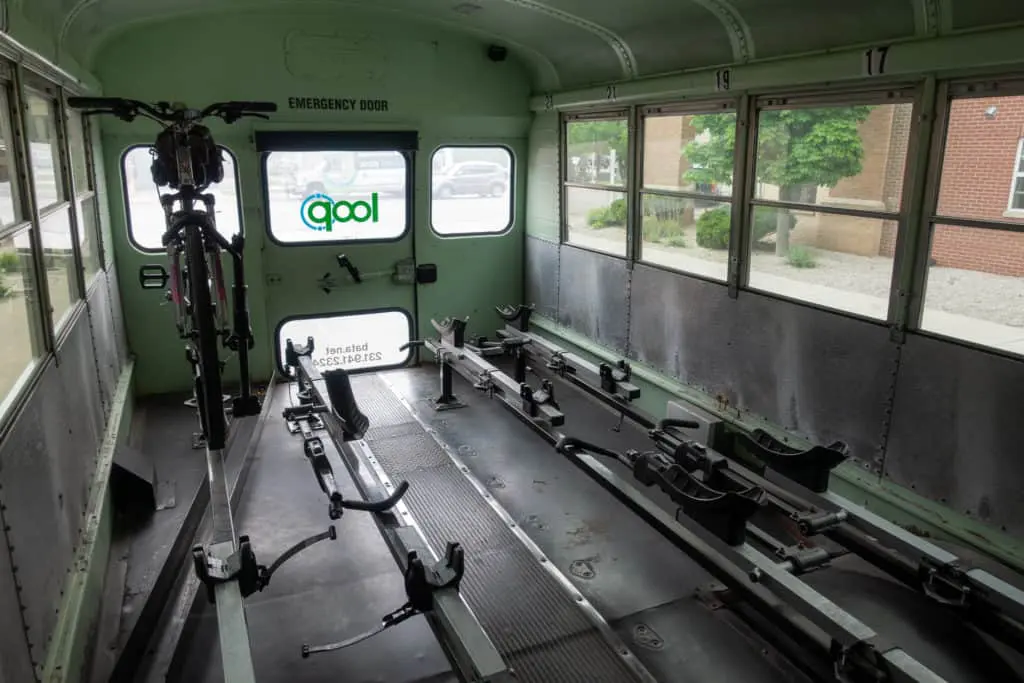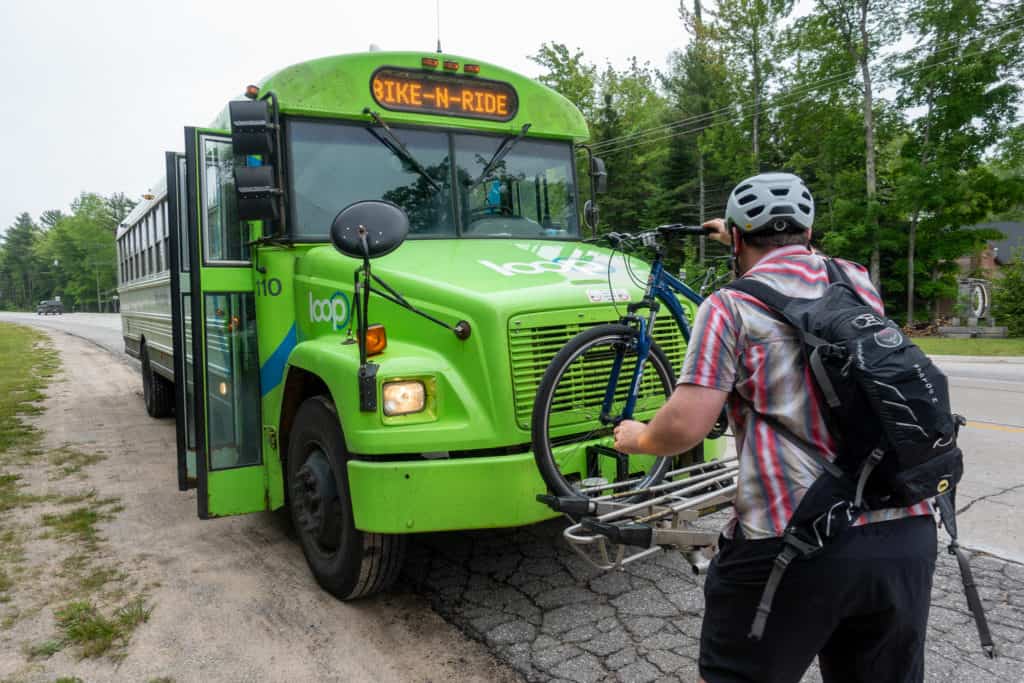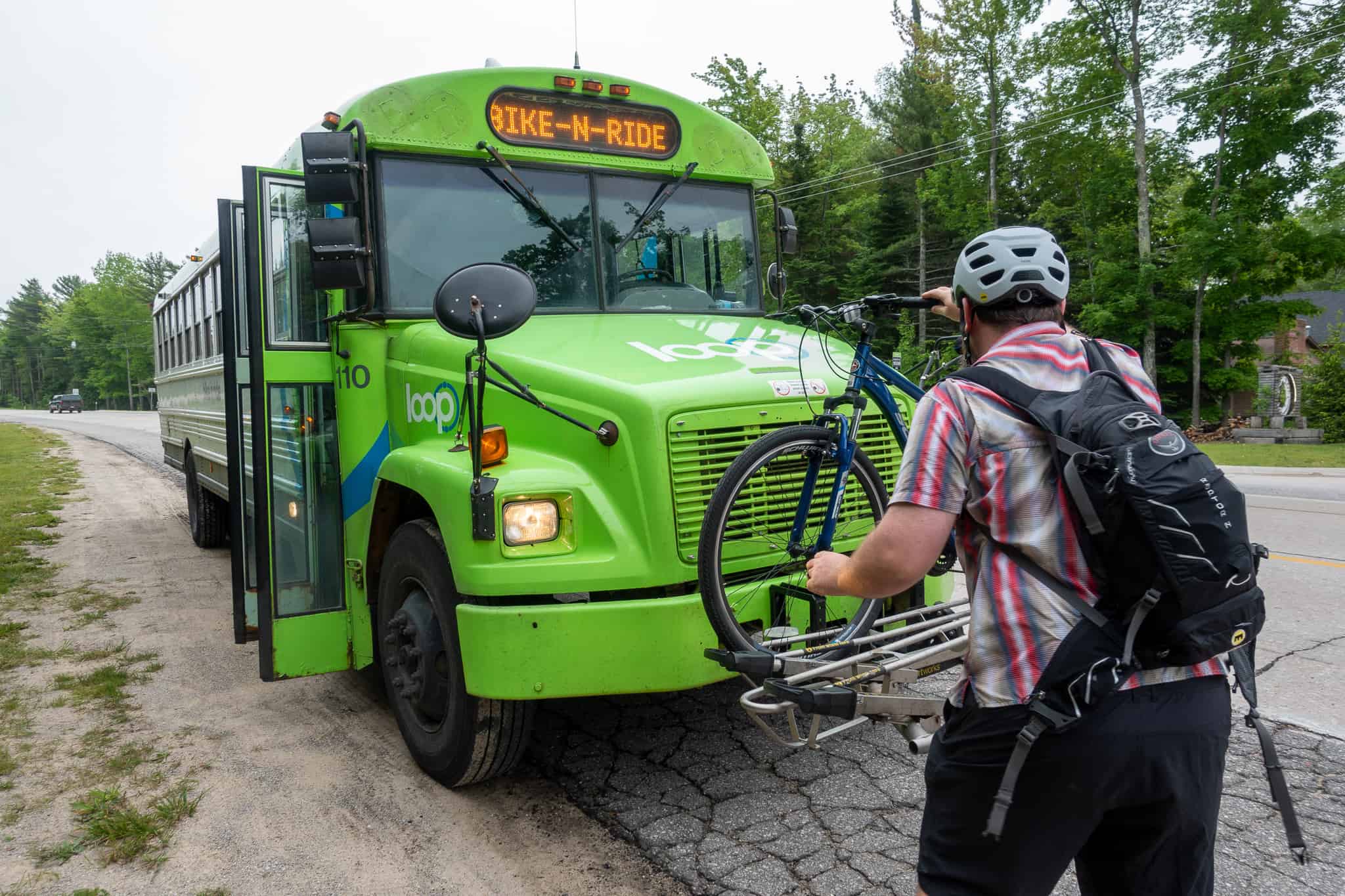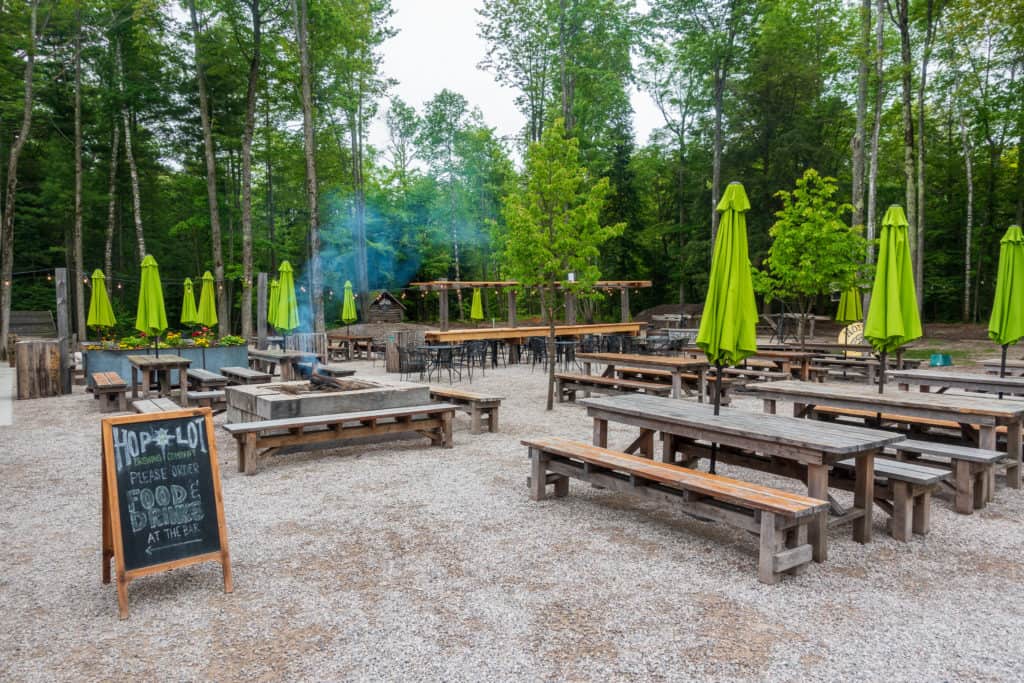 Hop Lot is a brewery stop on the bus route with tasty eats. So it is the perfect place to either start or end your trip, depending on which direction you're going. We wanted to have dinner in Traverse City, so we opted to start the beverage tasting off with some drinks and lunch at Hop Lot.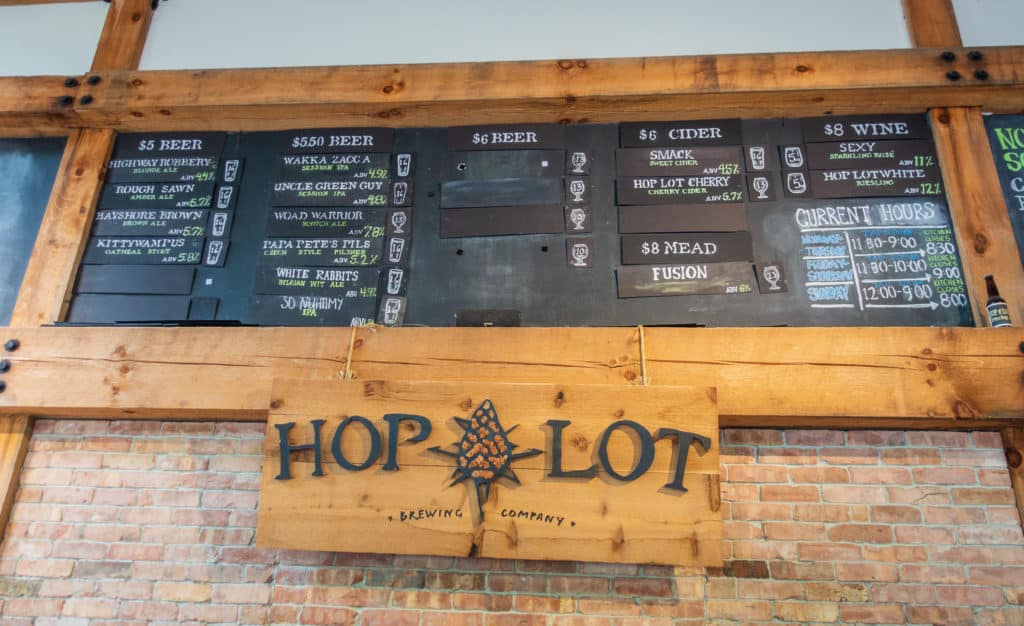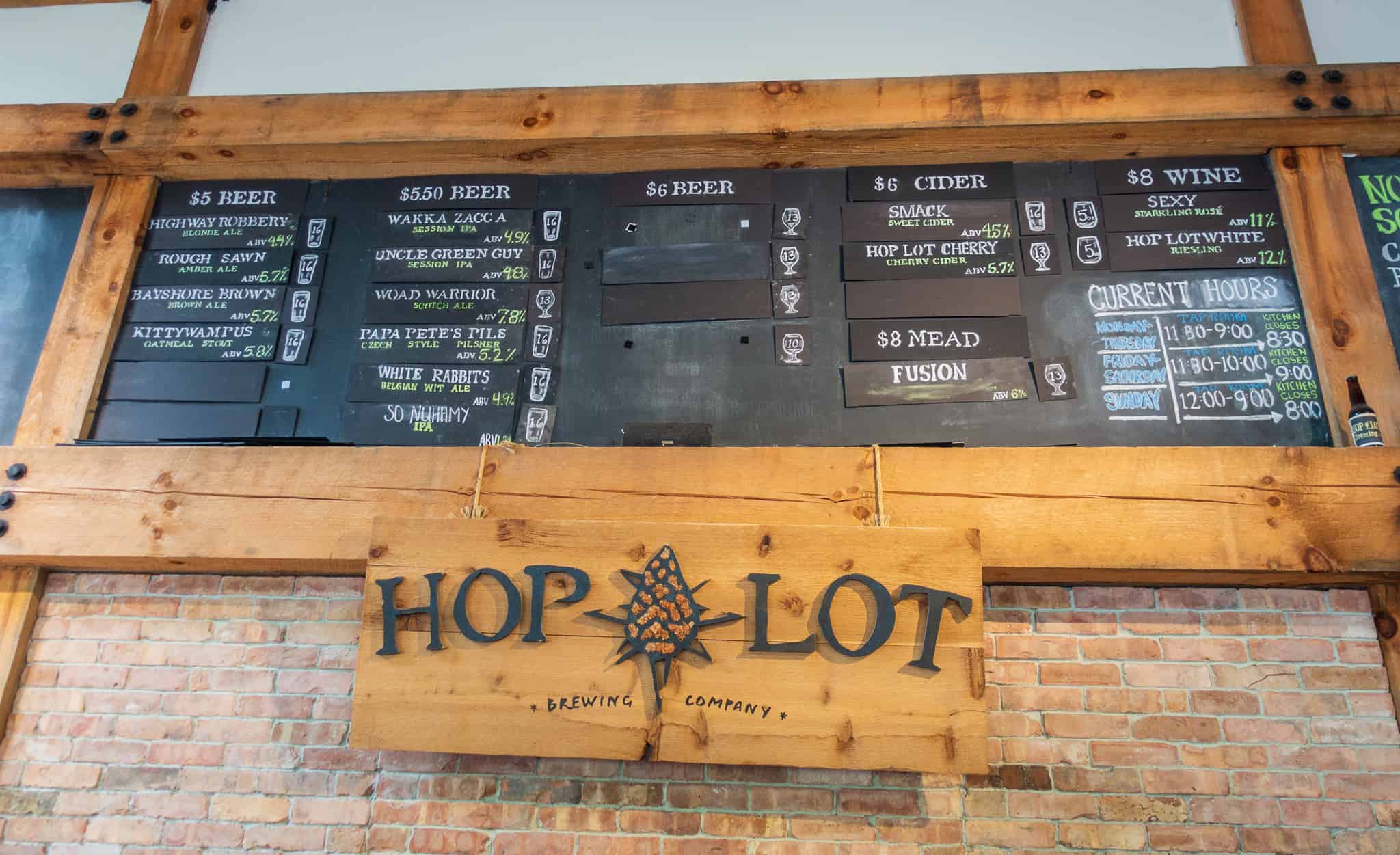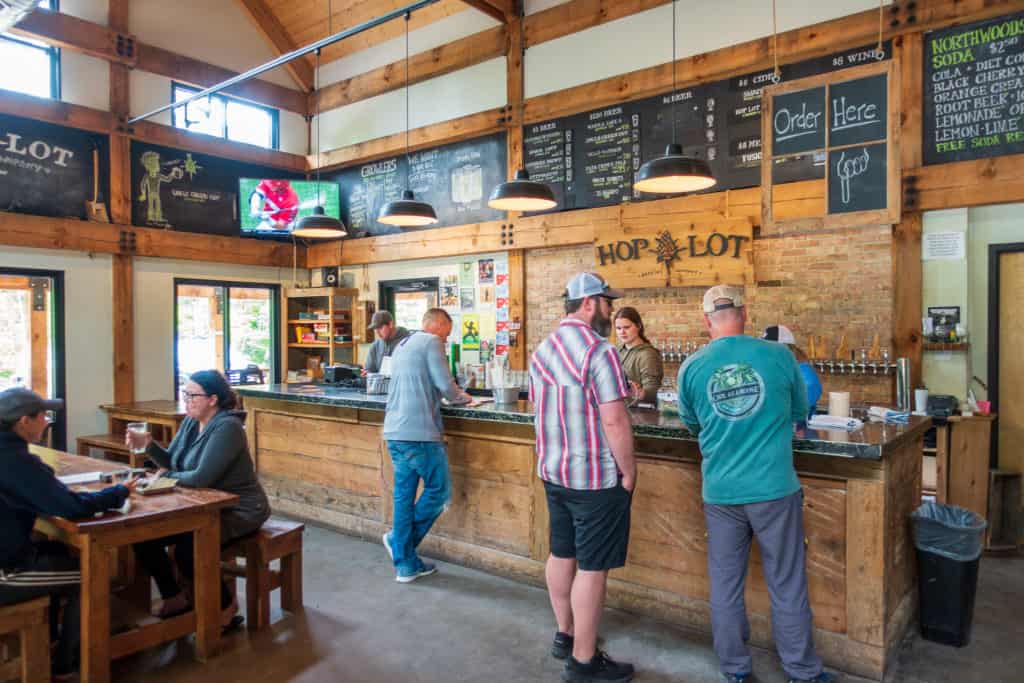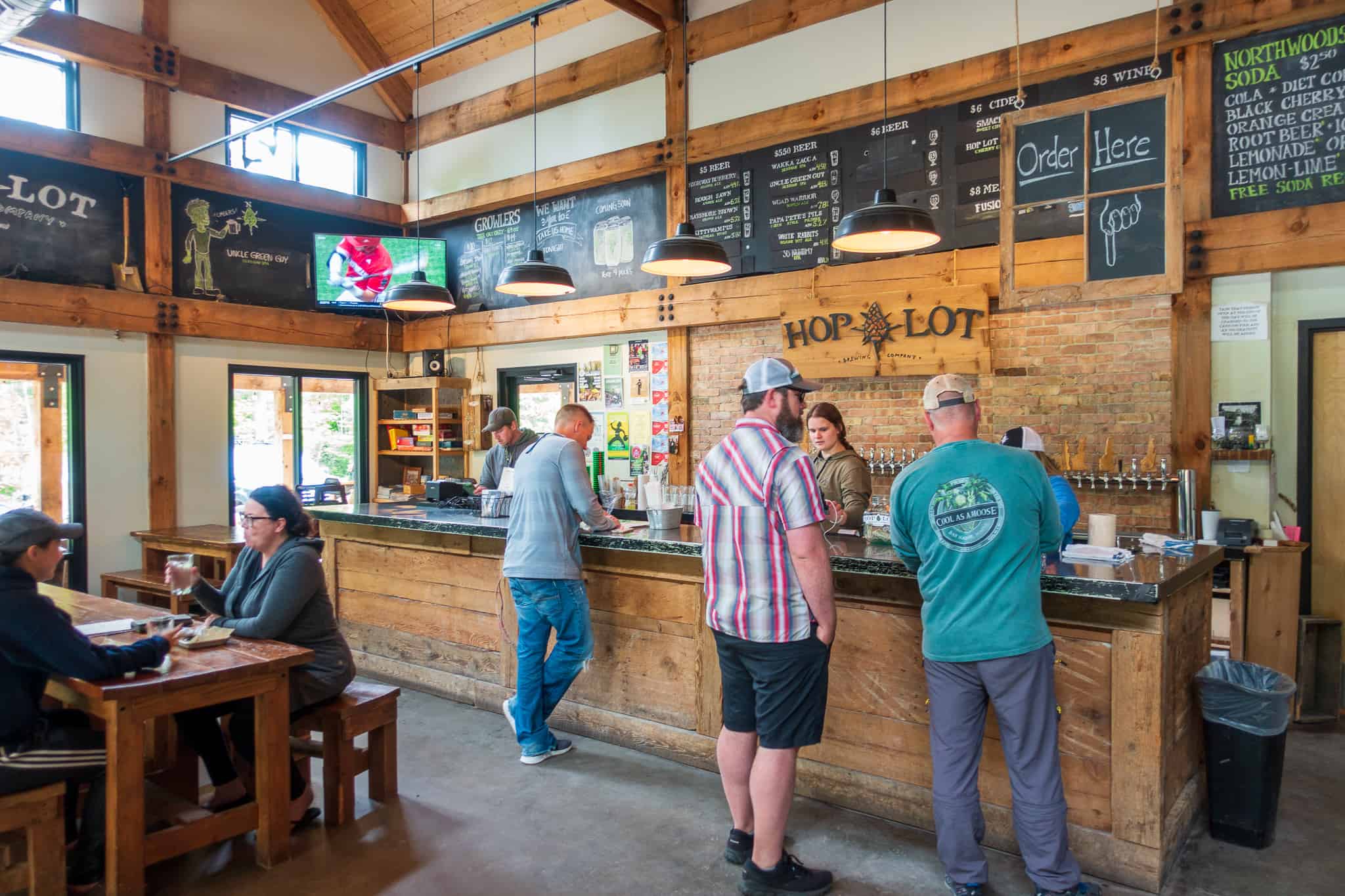 The food was perfect for starting us off on our journey. This stop had a small but tasty selection of BBQ, tacos, sandwiches, and salads. They even had Moomer's Ice Cream!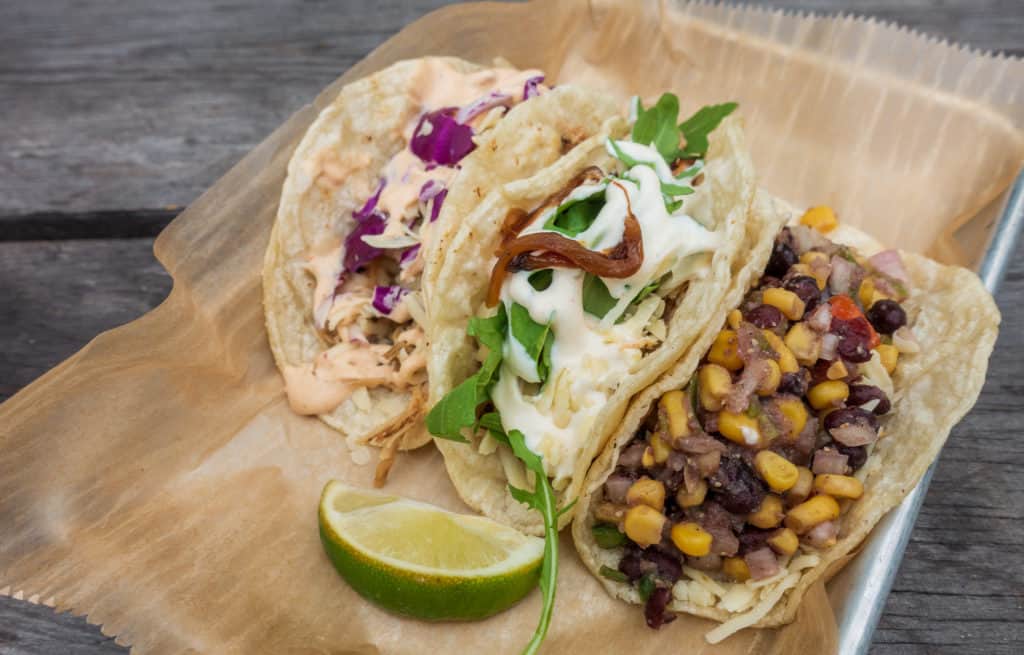 The atmosphere here was very relaxed. We all concluded that if we were to merely hang there for the rest of the day, we would have been okay with that decision. But we were on a mission, so we continued!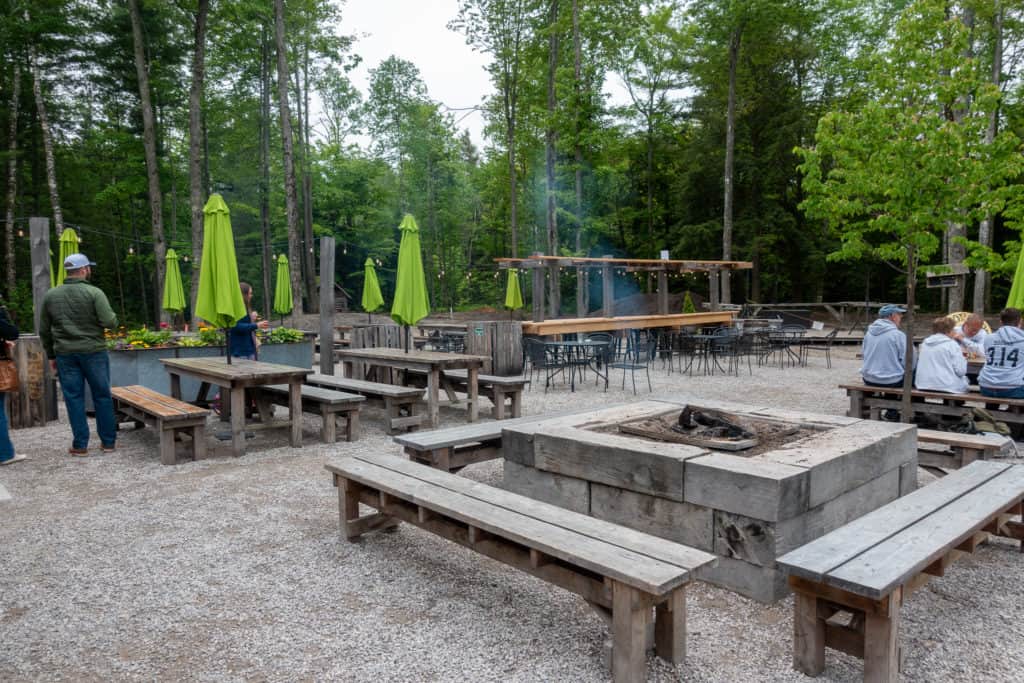 Starting off on the TART Trail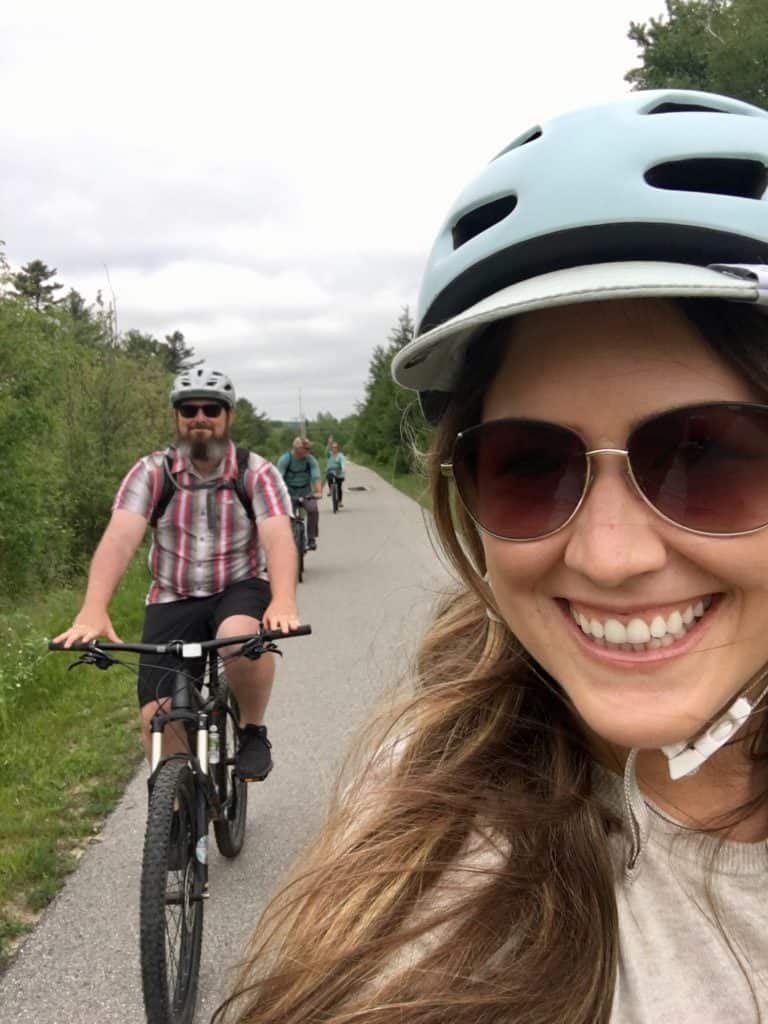 The TART trail was beautiful, paved, relatively flat, and somewhat shady. We very much enjoyed the sections of our path that were along the trail!
The segments on the road are relatively quiet, except for the two short chunks on M-22. It should be noted though that it does get hilly on the roads. Referred to as little "bumps" by some of the locals.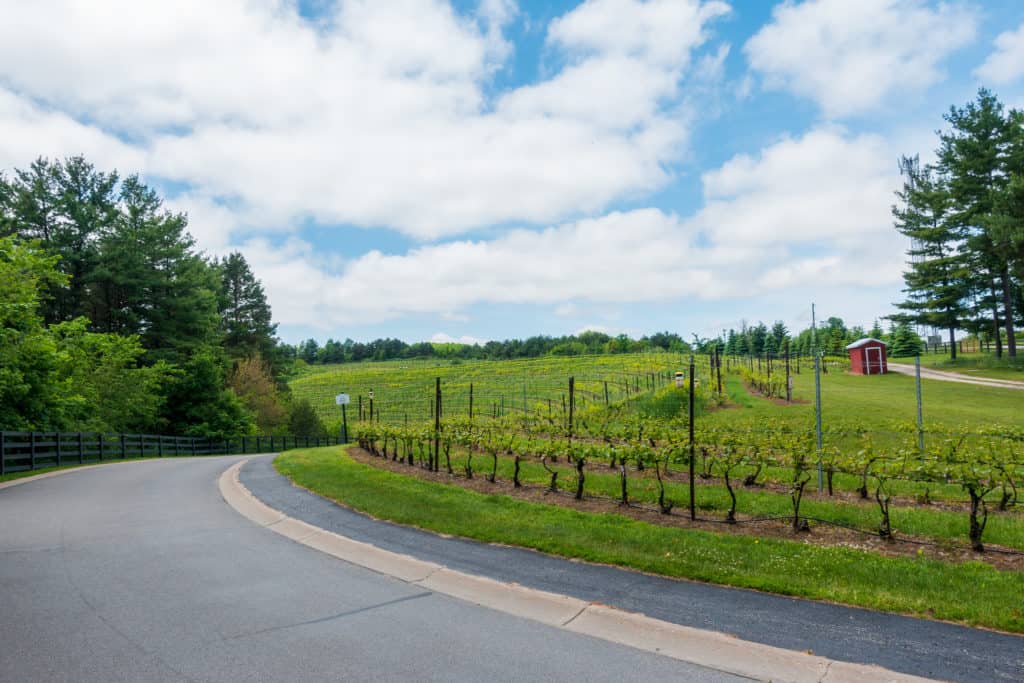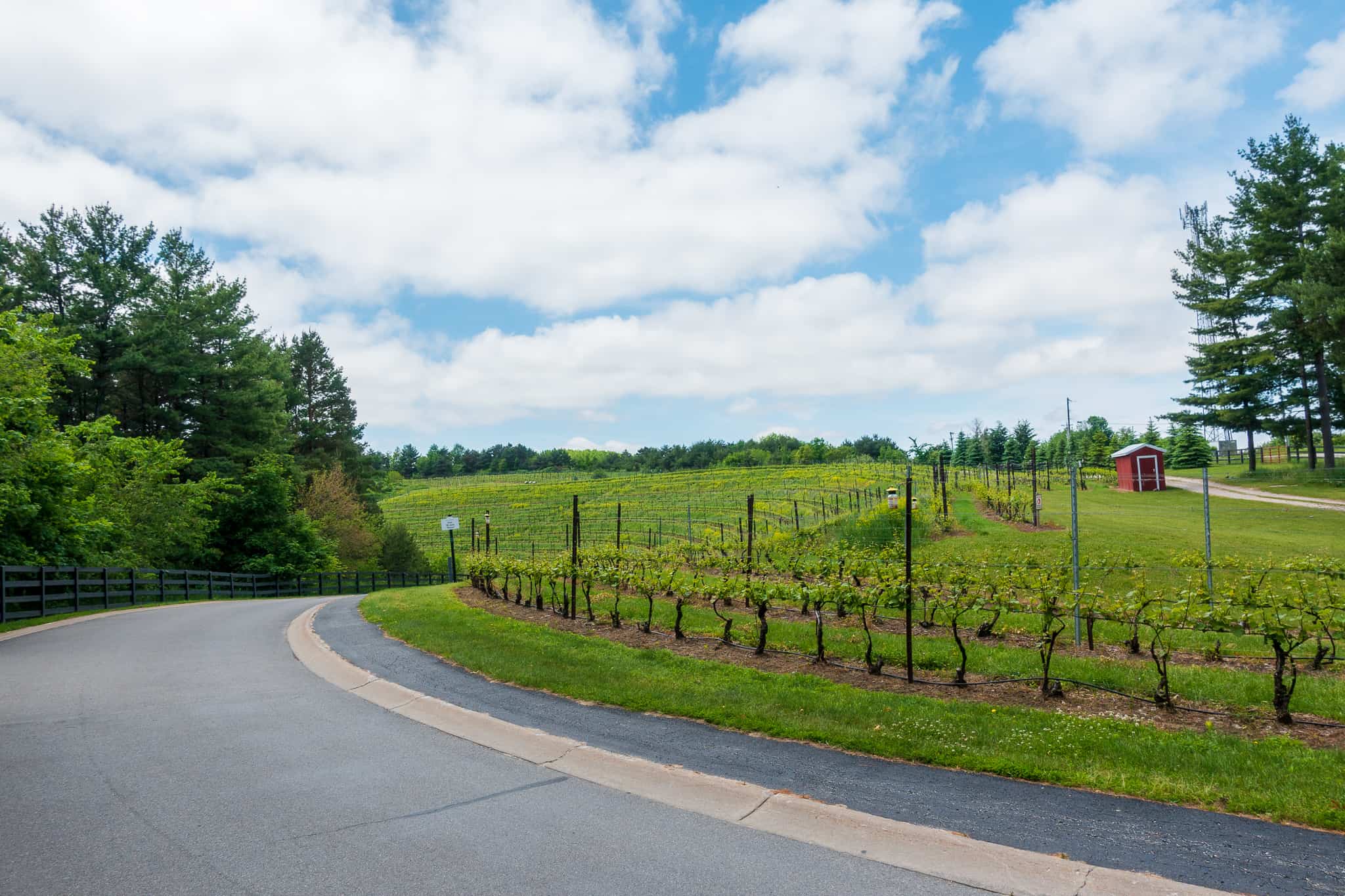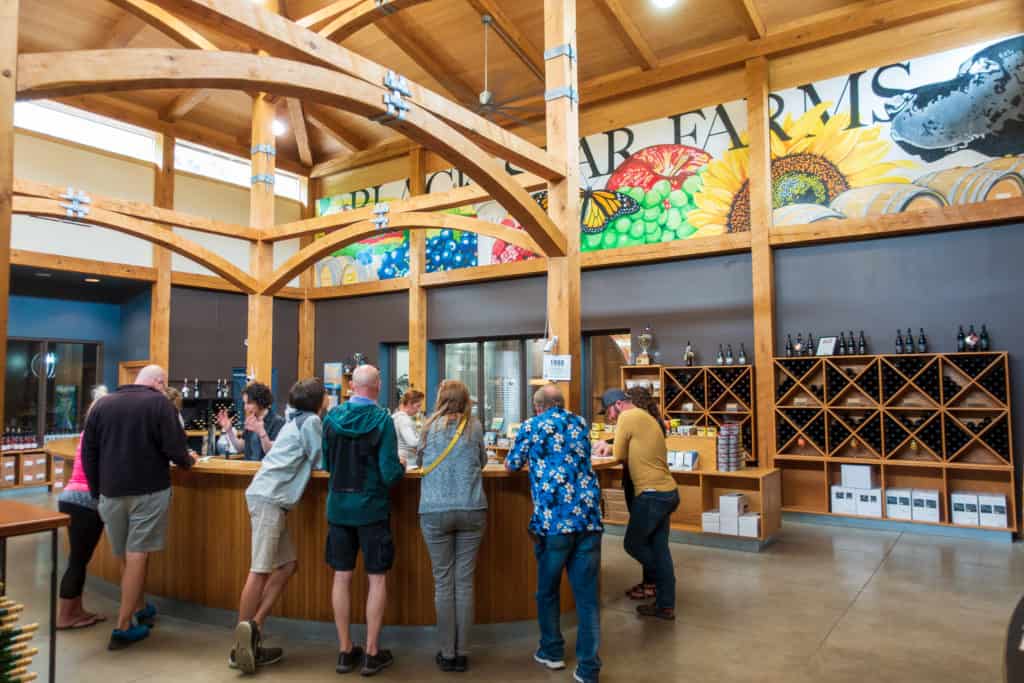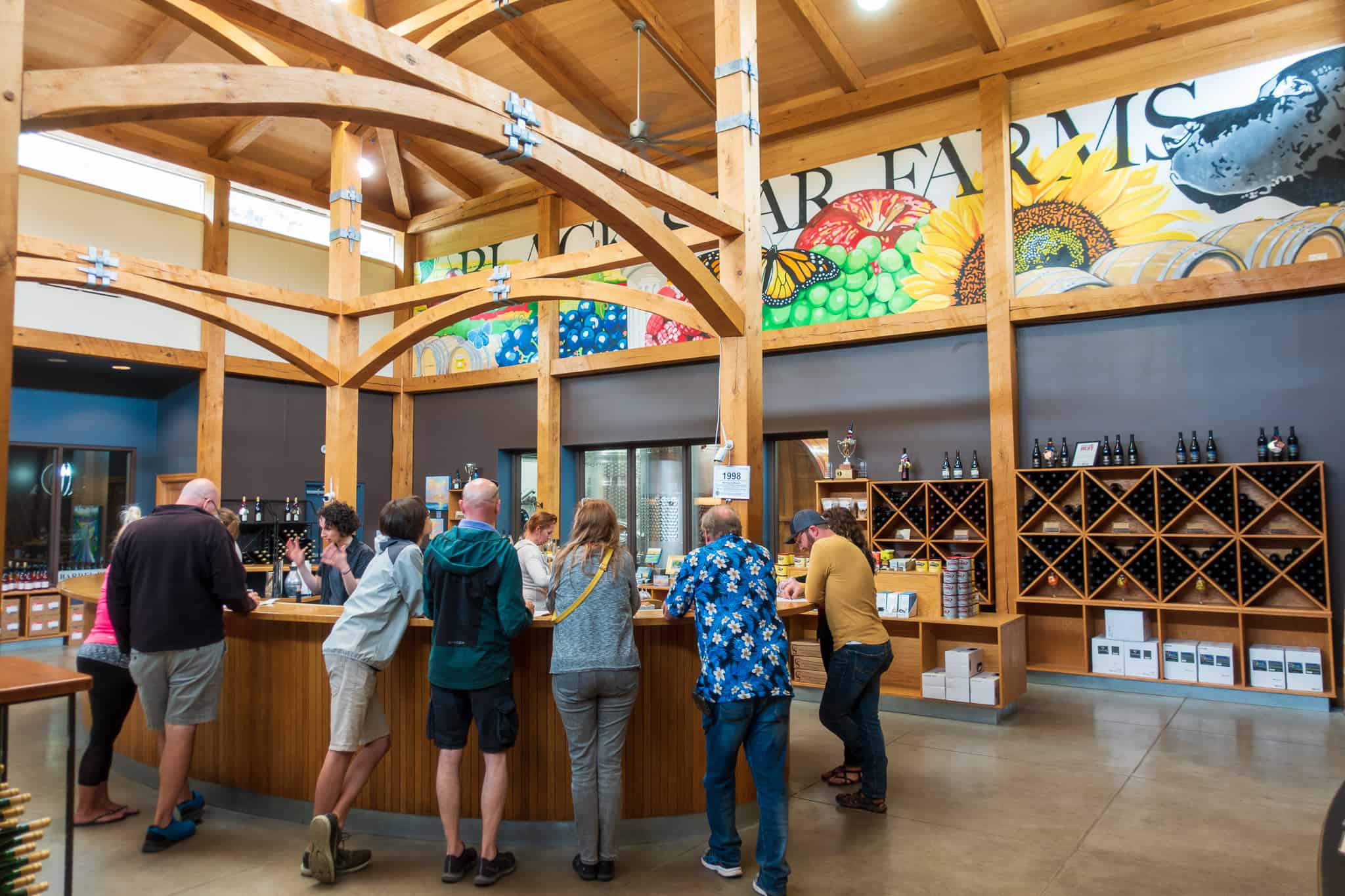 Black Star Farms is a must-stop location just due to the beautiful atmosphere and the large selection of tasting options. The grounds feature a vineyard, an inn, a winery and tasting room, a distillery, a cafe, an equestrian facility, and even goats!!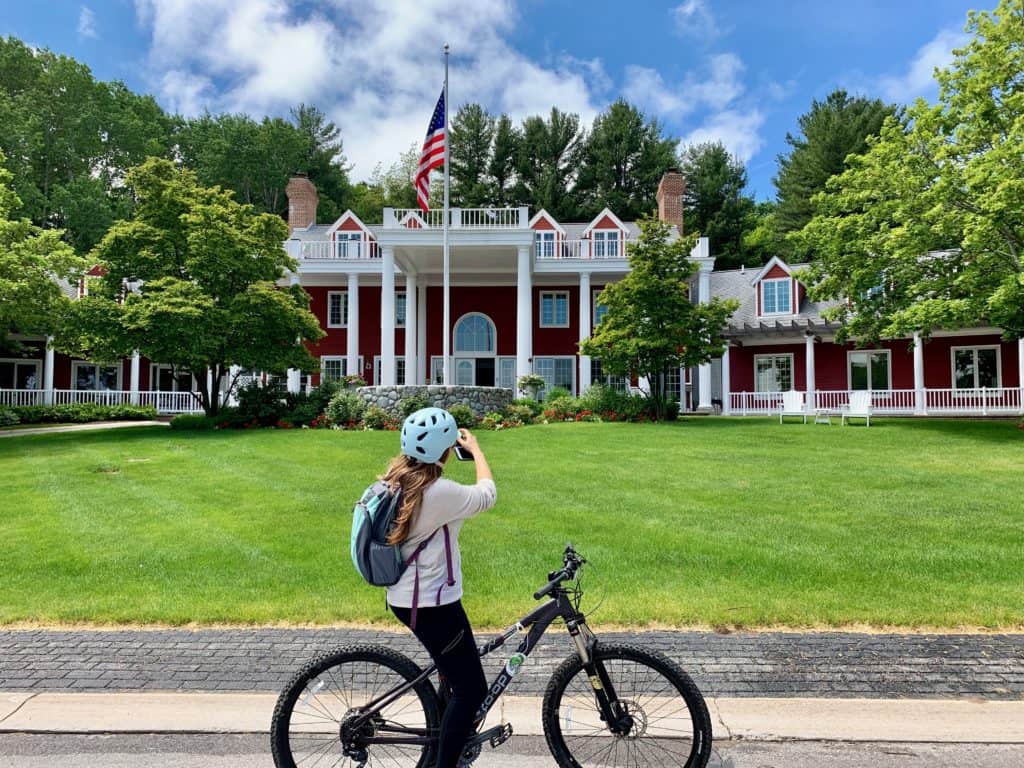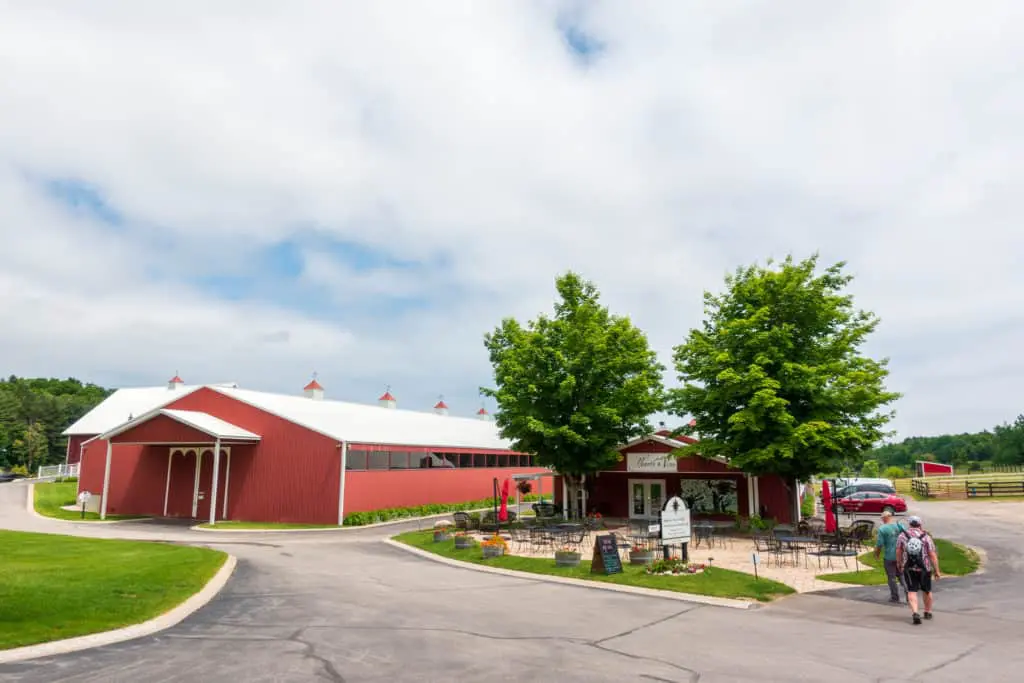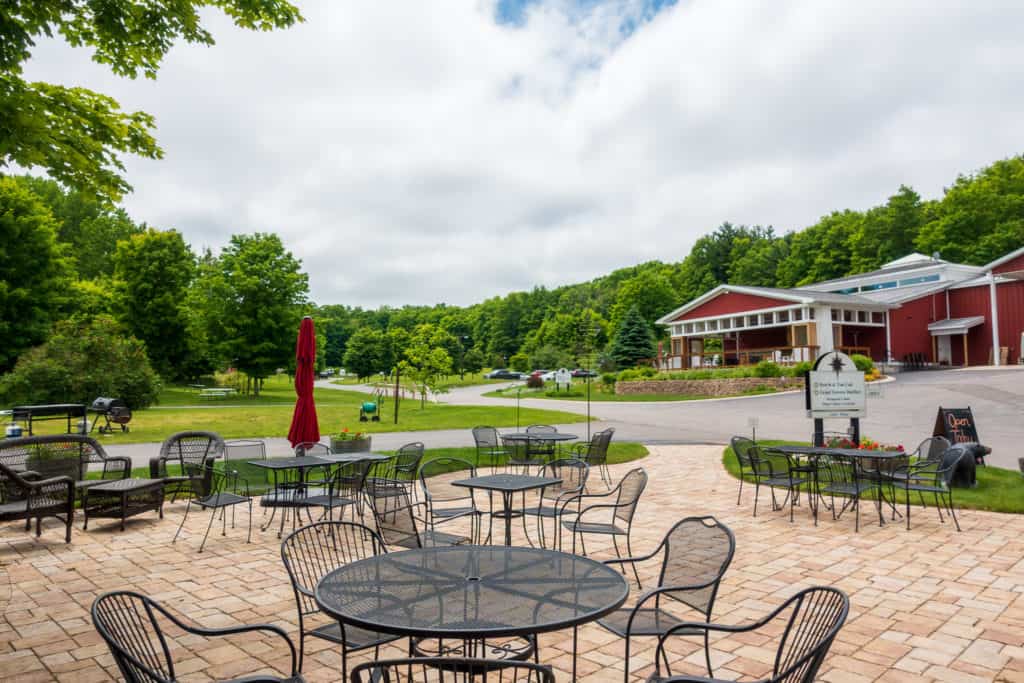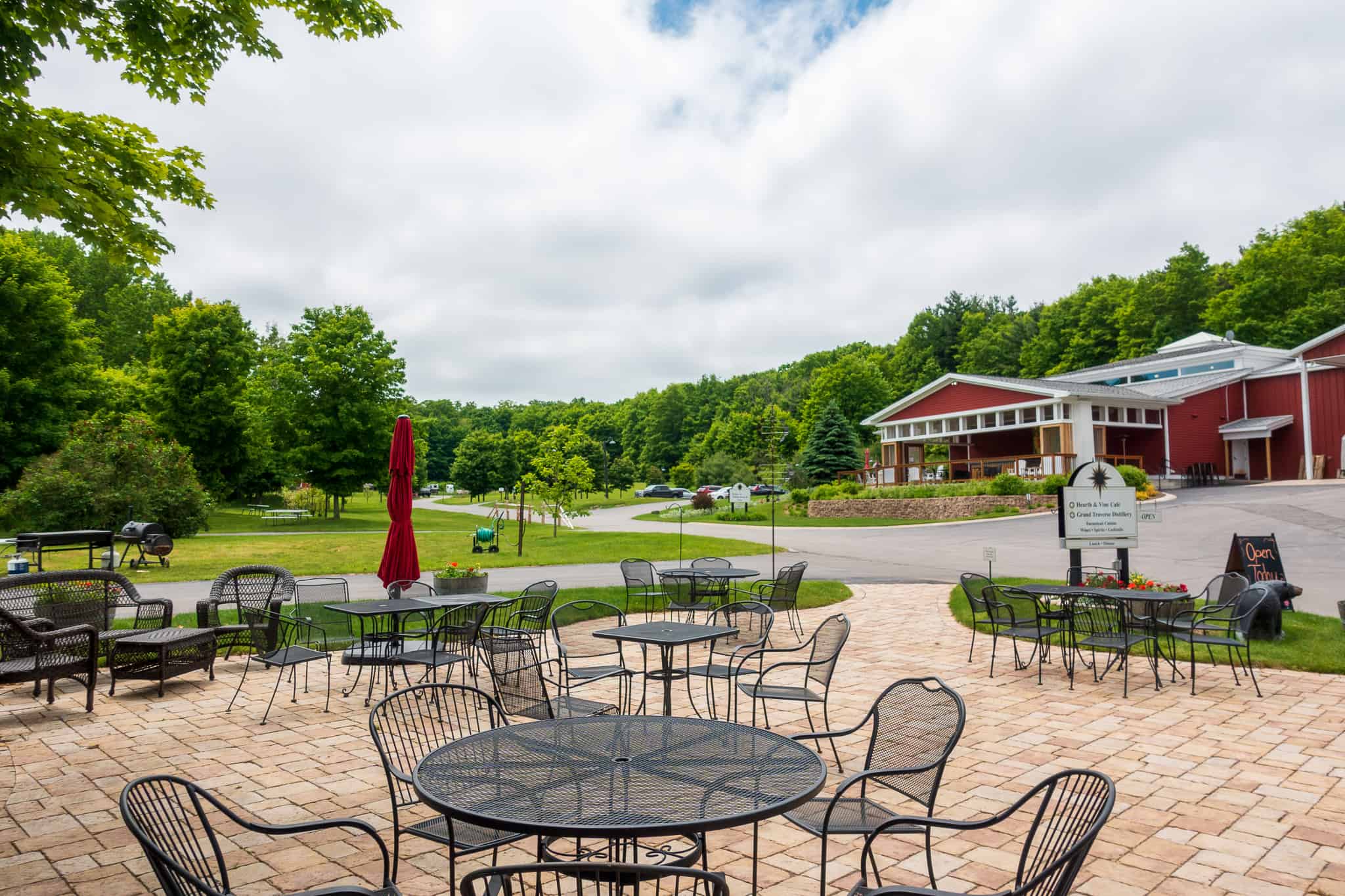 And… as I mentioned above, there's the bonus of goats on the property! Make sure to say hi to them before taking off!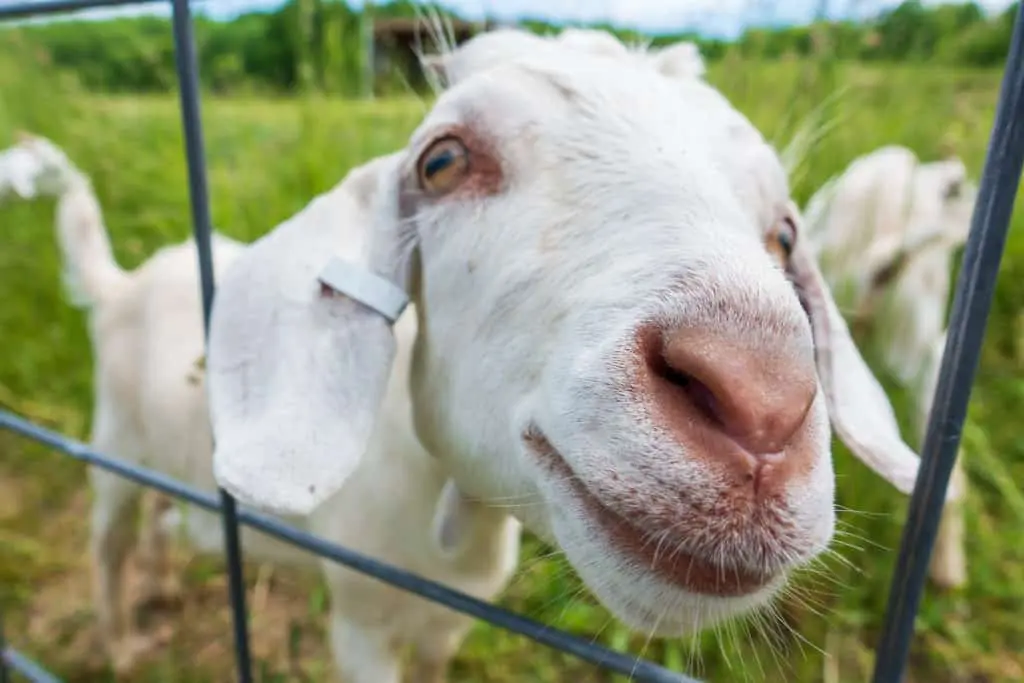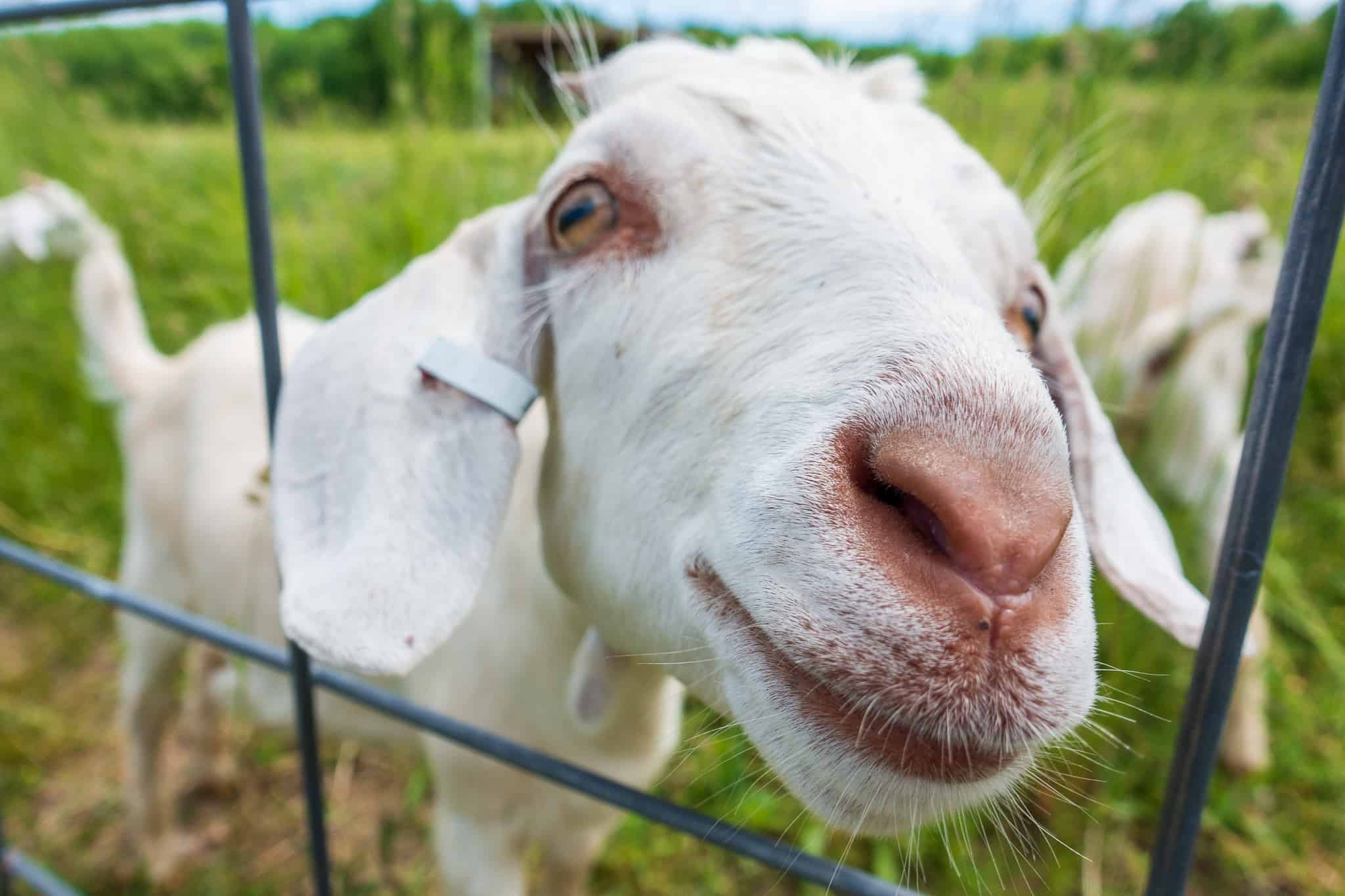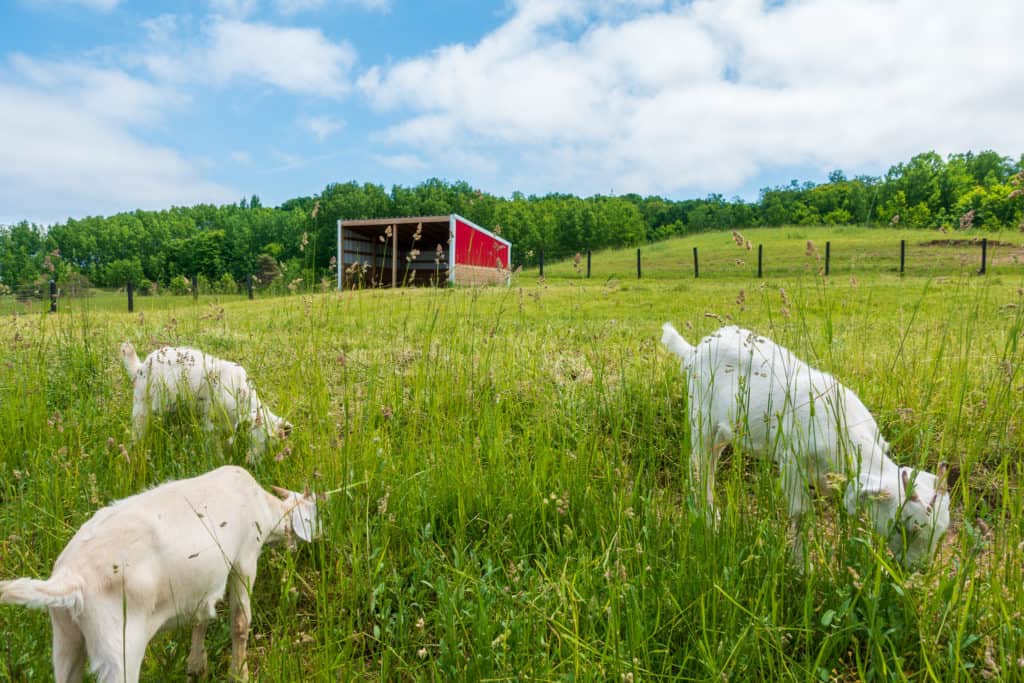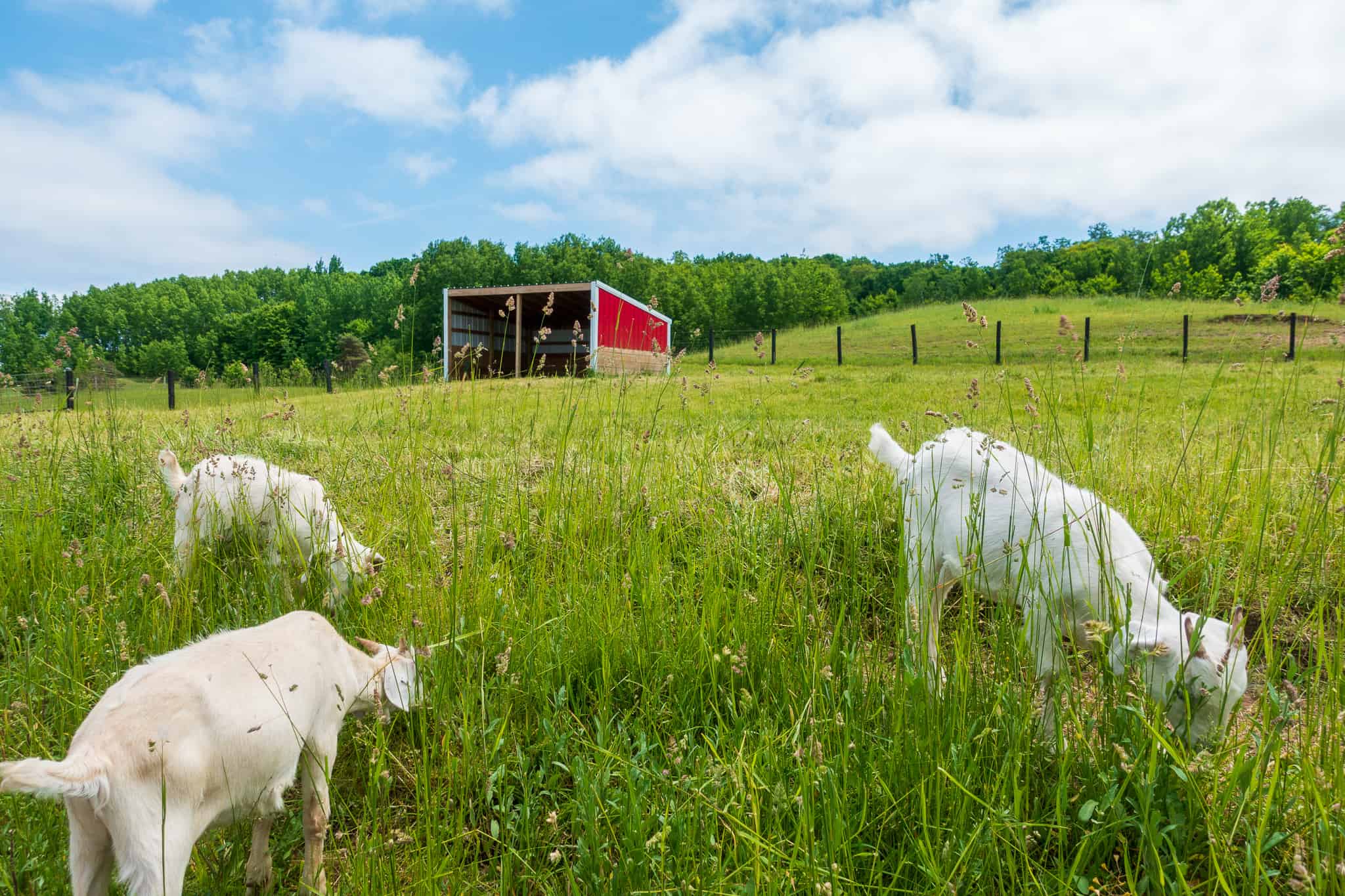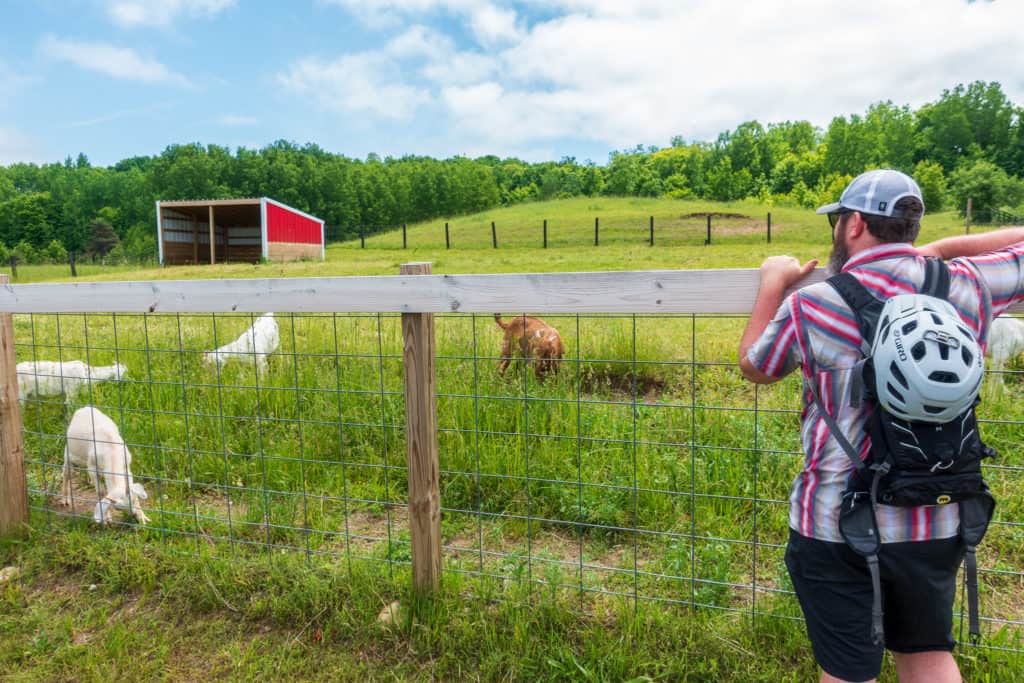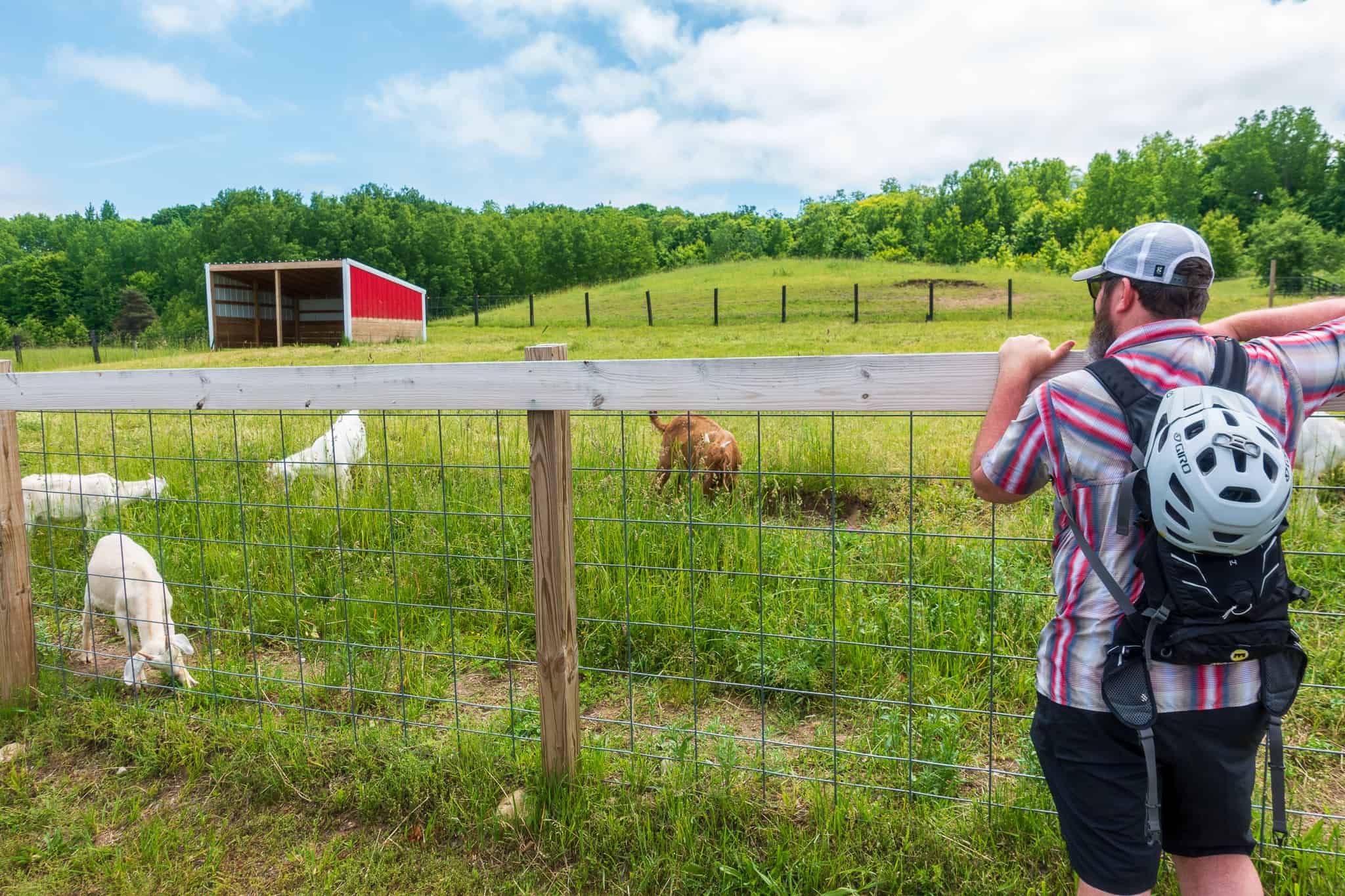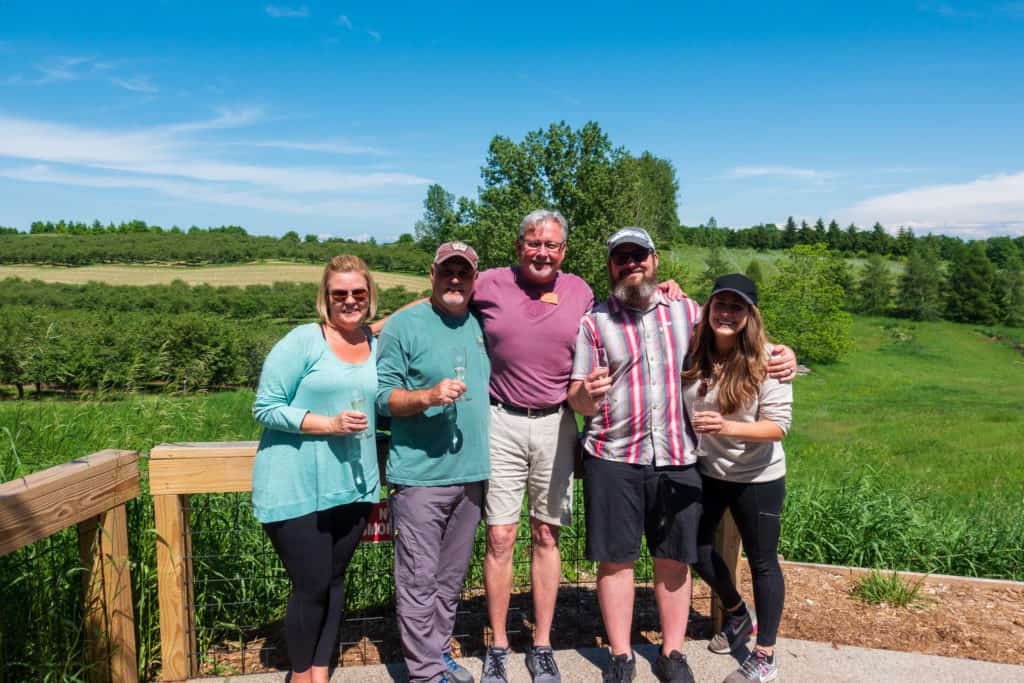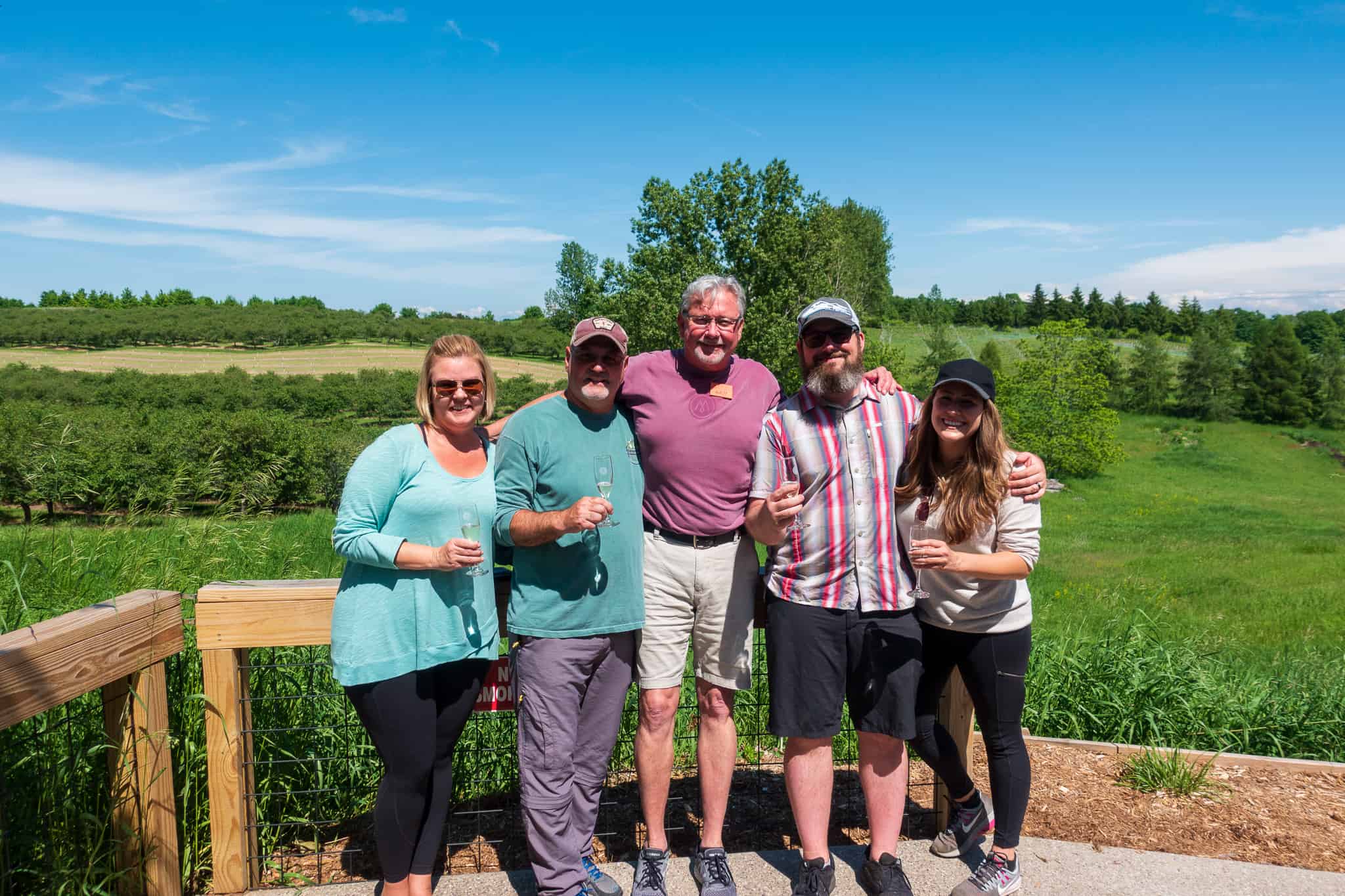 This stop was the most fun. MAWBY is all about sparkling wines! Additionally, everyone working in this tasting room was full of energy and delightful. Below are pics of the beautiful views you'll get from their porch.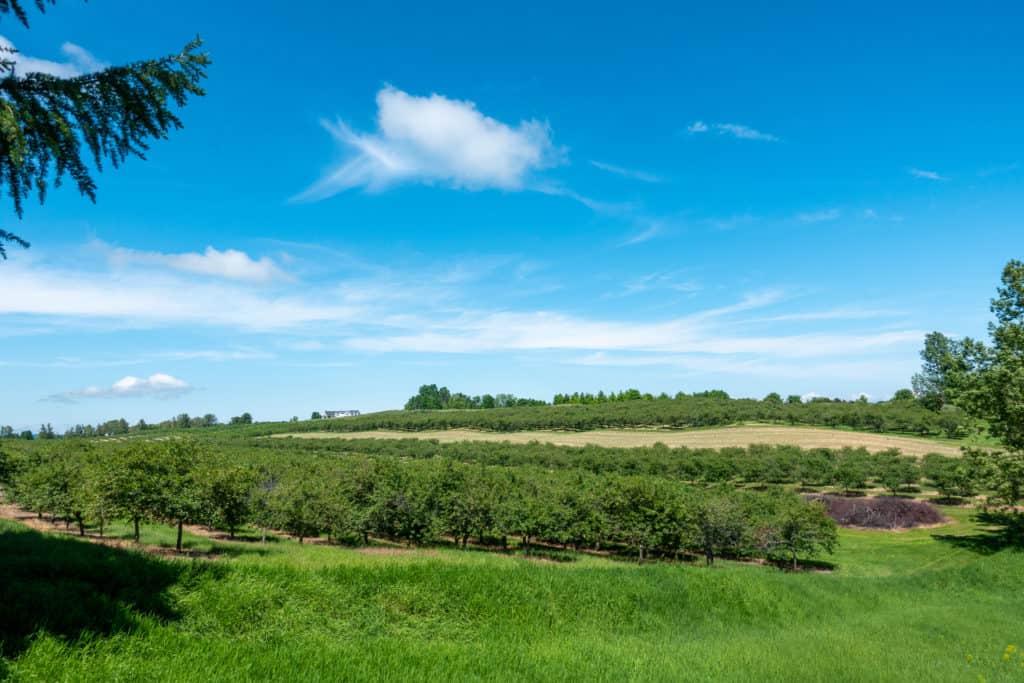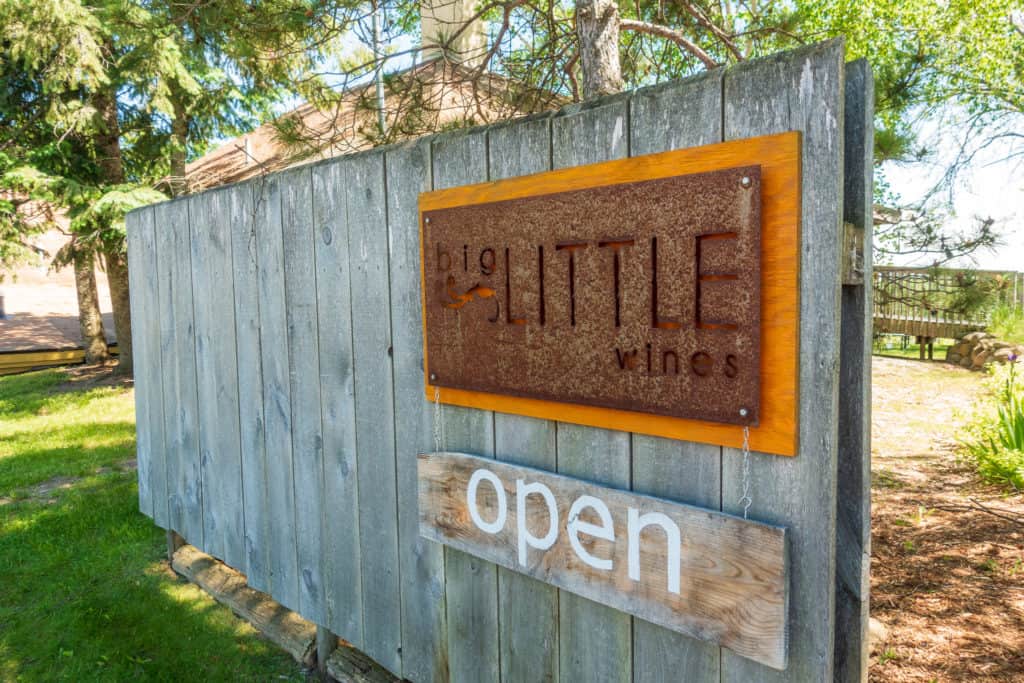 This spot is right next door to Mawby. It's really quite small, and it was the only stop that didn't open up to the outside. The drinks and conversation were lovely, but we didn't stay too long because the outside weather was too beautiful to be missed out on for long.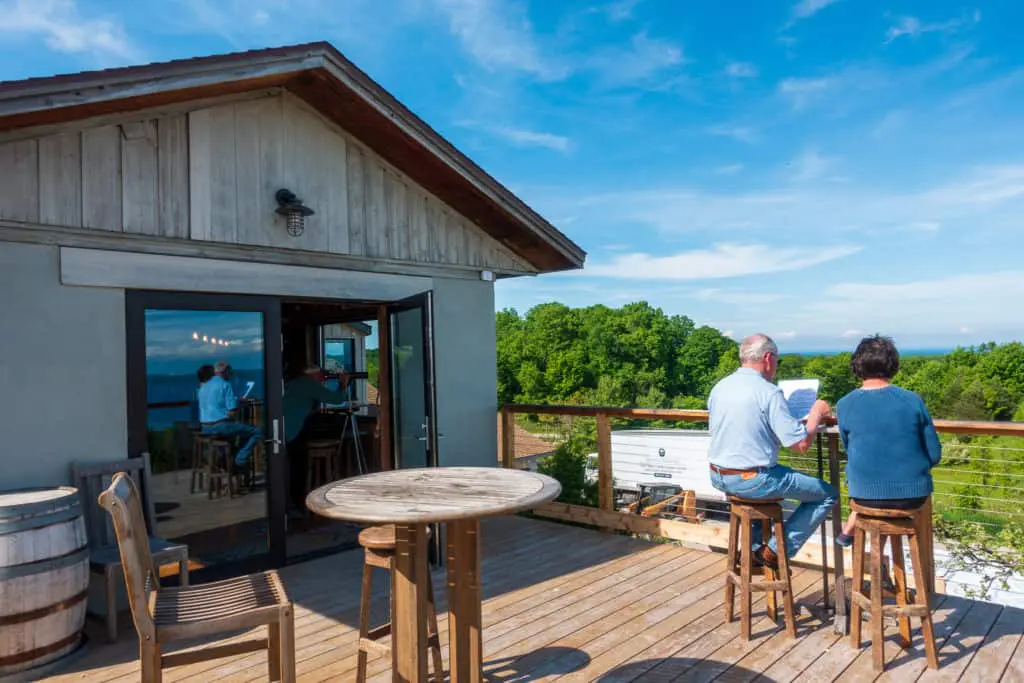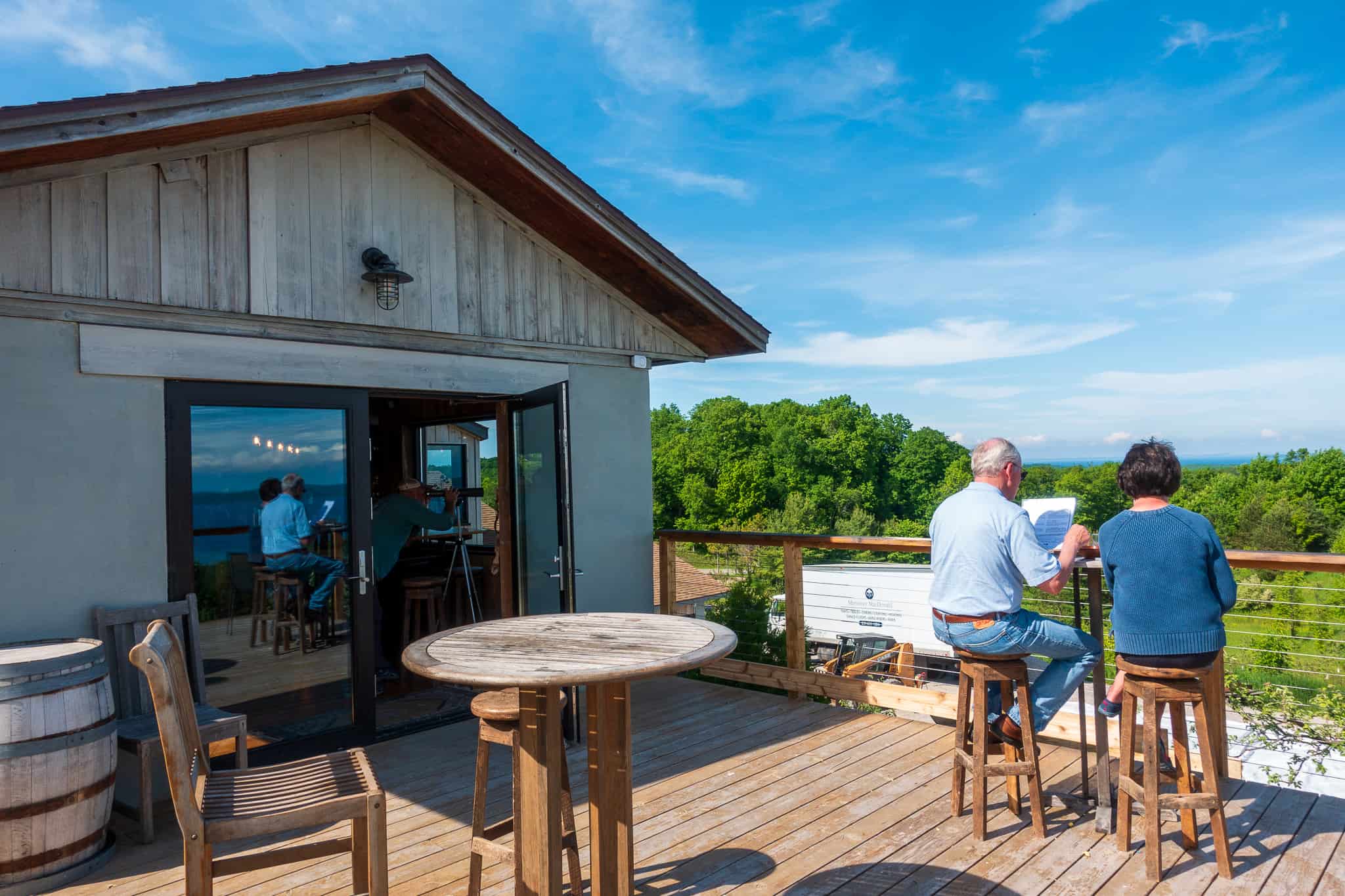 Suttons Bay Ciders was a stop that was not originally on my list.
At Big Little Wines, I had asked about the last couple of stops I had on my list. I was informed that one of the places I initially intended to stop was shut down. (That location has been removed from this post and my map above). But then also told that there was a new place that should not be missed out on, Suttons Bay Ciders.
We swapped the closed location for this stop, and I'm so happy we did. The ciders were incredible, and the views were to die for!!
My personal favorite was the Testamint!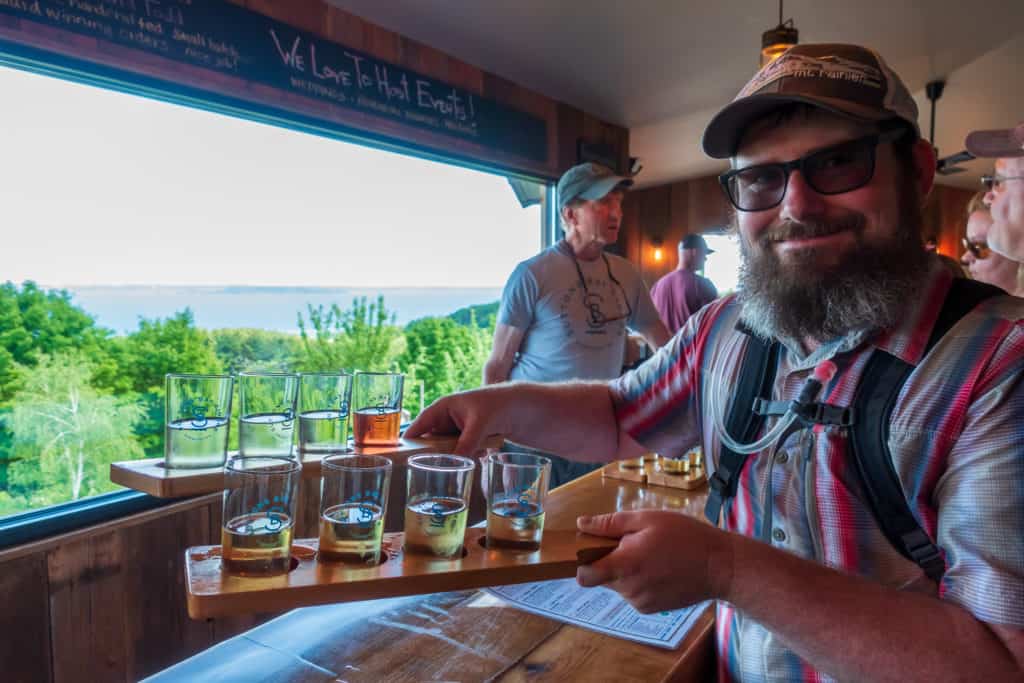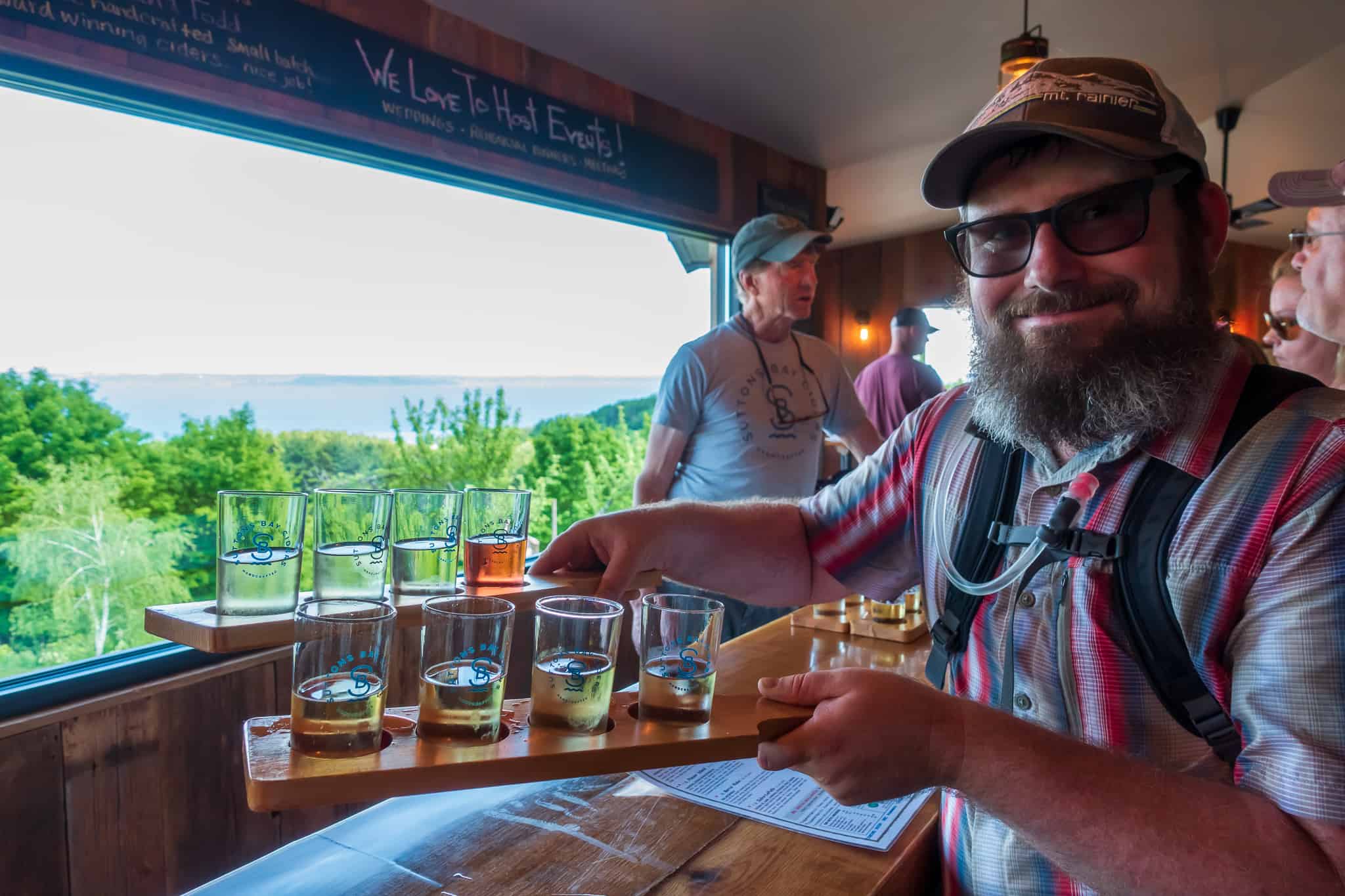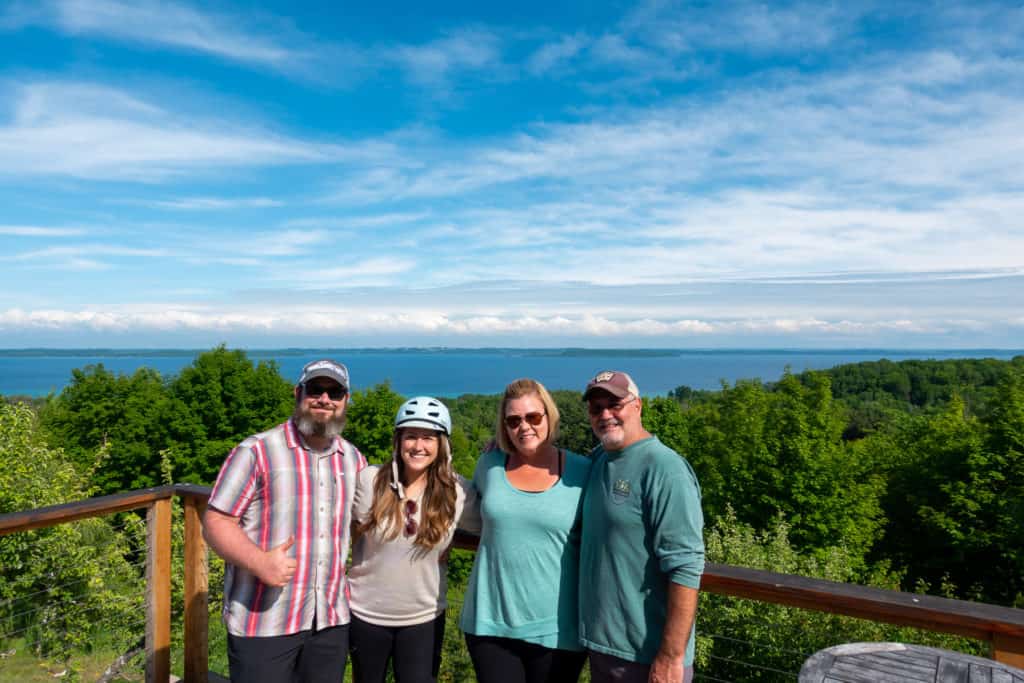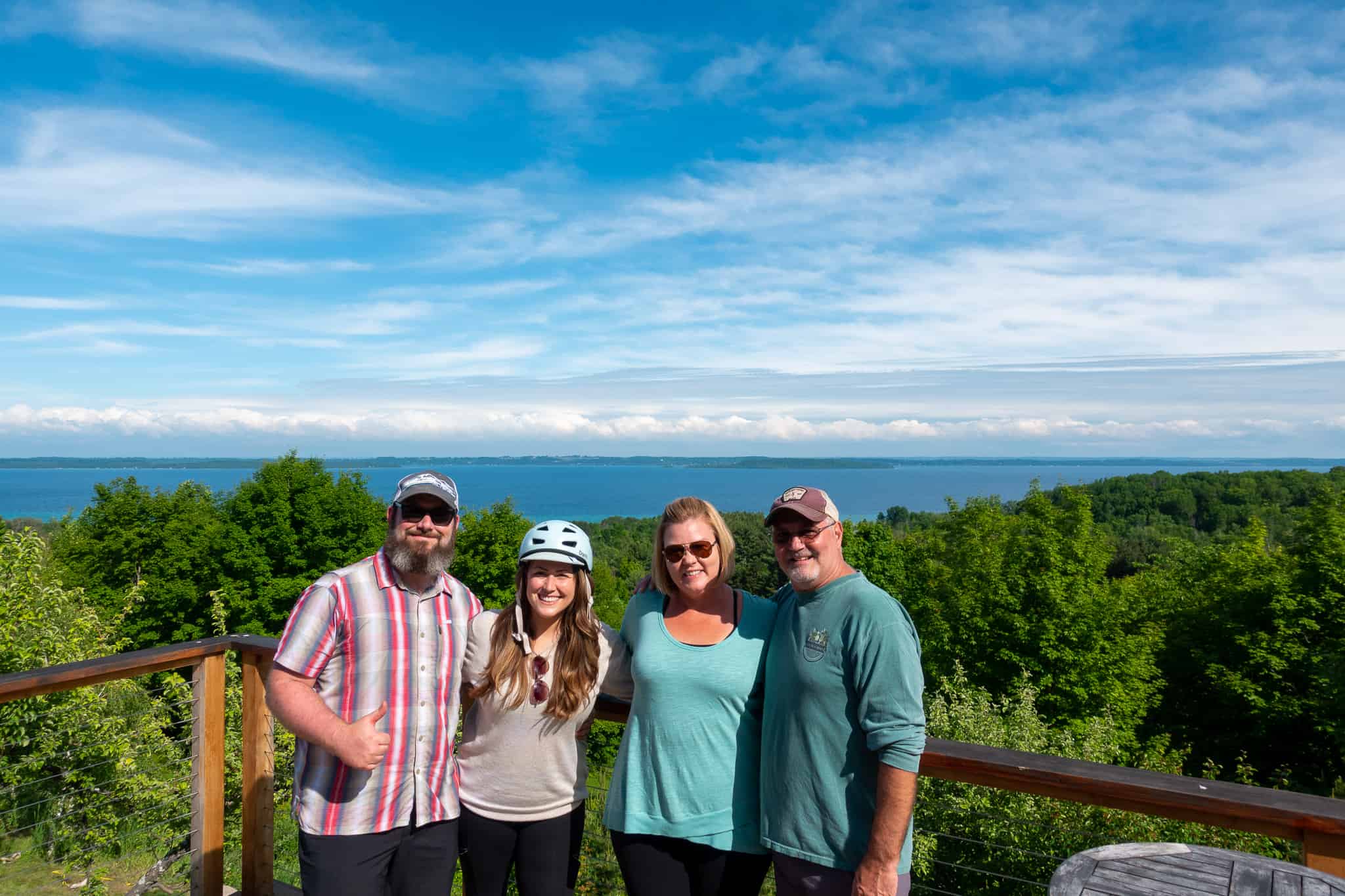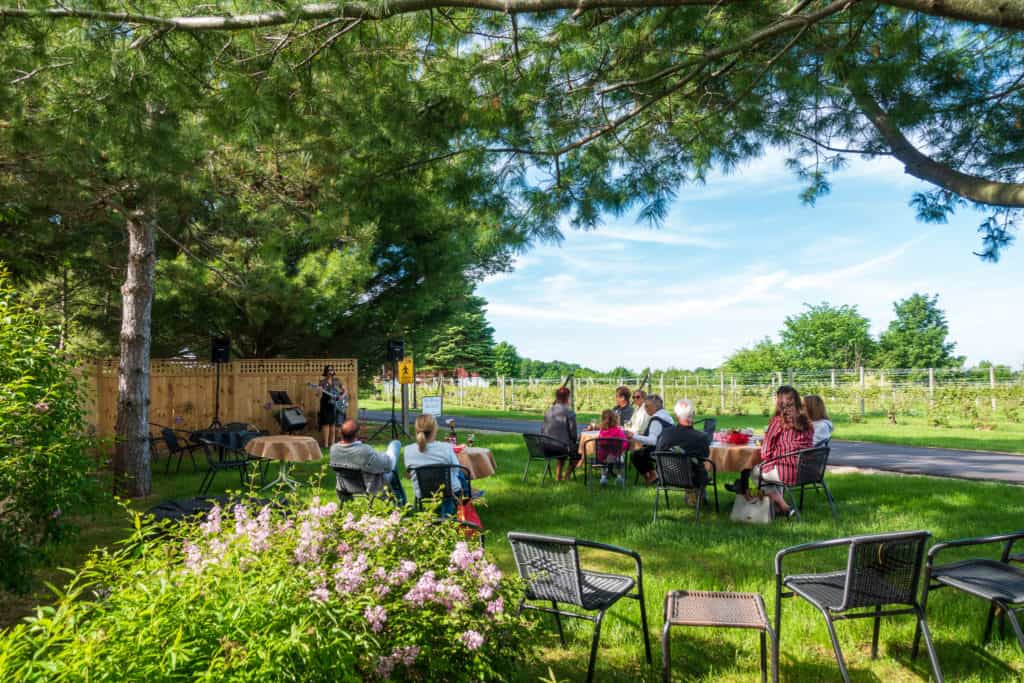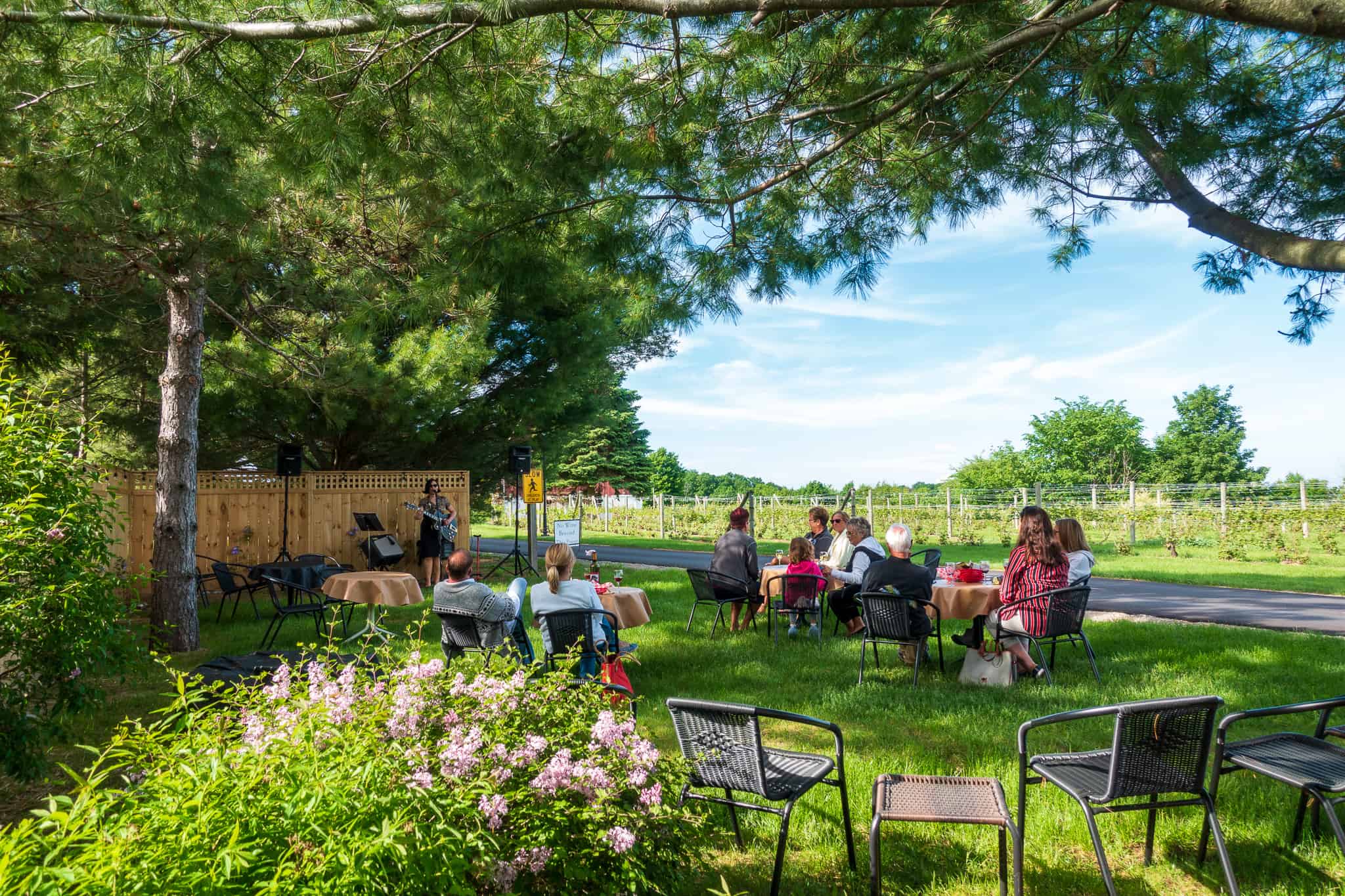 We took our time throughout the day and missed the tasting hours at this last location. However, when we arrived, they told us we could purchase a glass, sit on the back patio, and enjoy live music! That seemed like a great way to finish off our day in Michigan wine country, so we went for it!
STOP EIGHT:
Shady Lane Market
Bus Stop to head back into Downtown Traverse City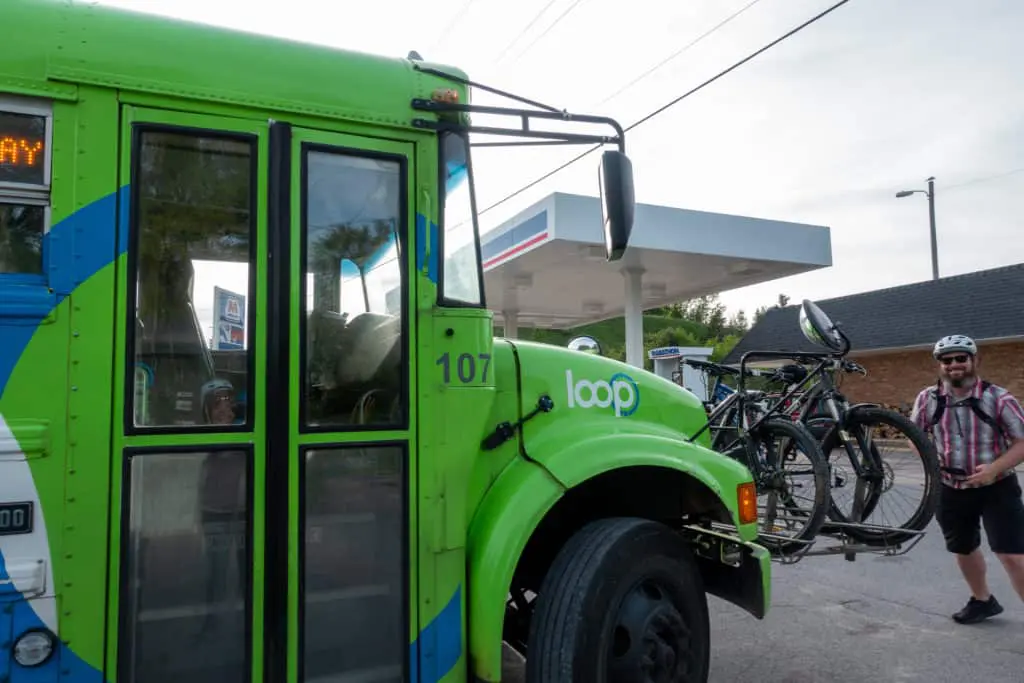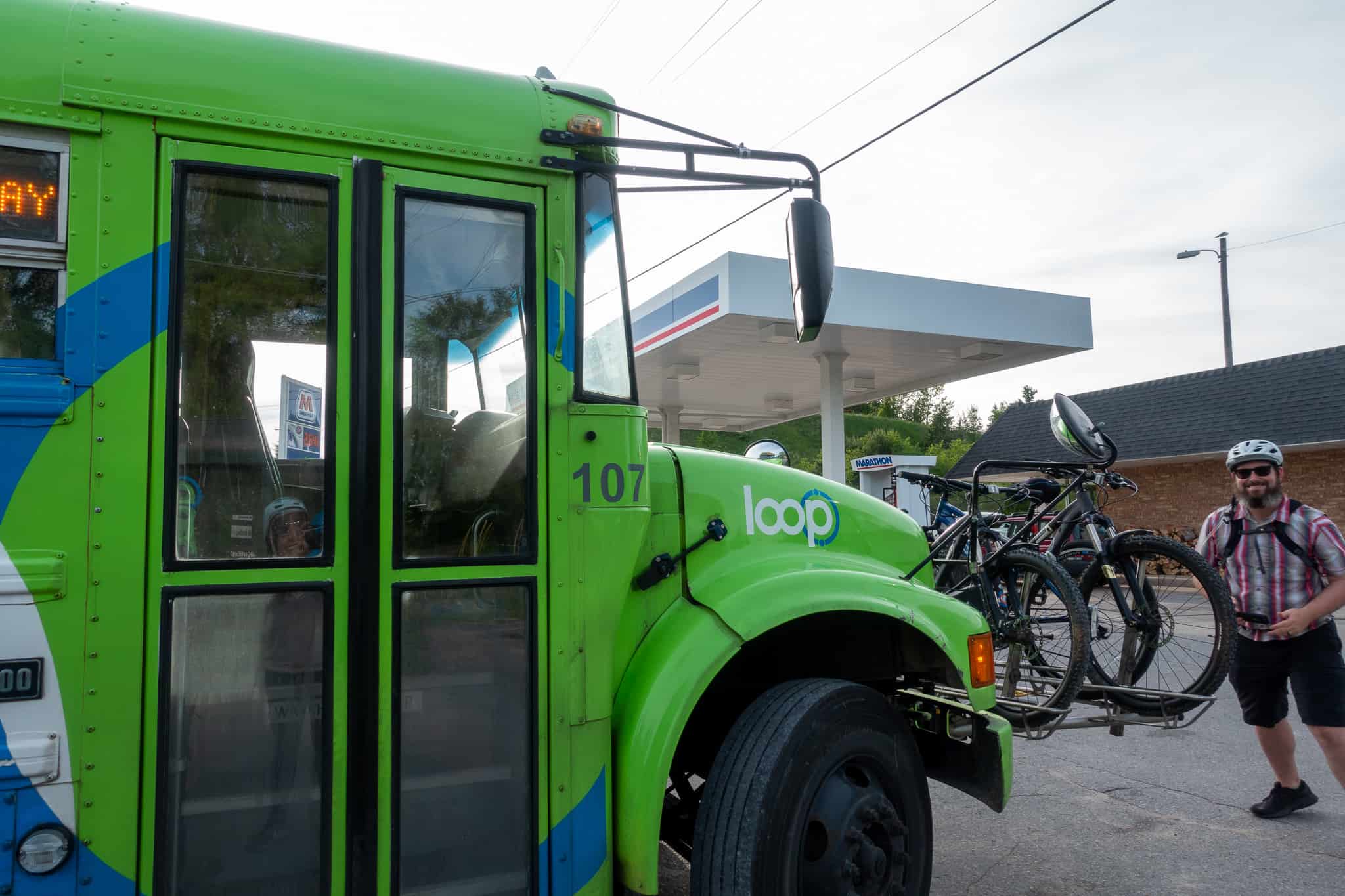 After the tasting doors started closing, we had two choices. We could take the trail back downtown. (We were told it is almost all downhill and beautiful.) Or if you're there during the bike-n-ride season, like we were, you can make your way to one of the seasonal bike-n-ride stops!
The ride back into town is another 13 miles from Ciccone. We wanted to eat dinner downtown and still be able to get back to our campground before dark, so we opted to hitch the bus back into town.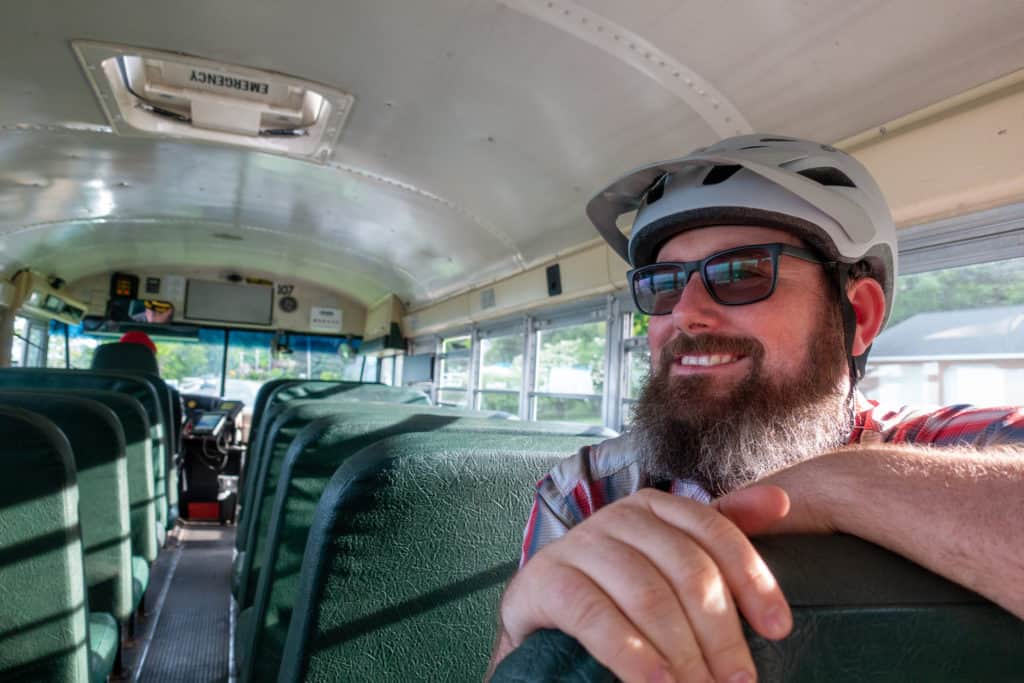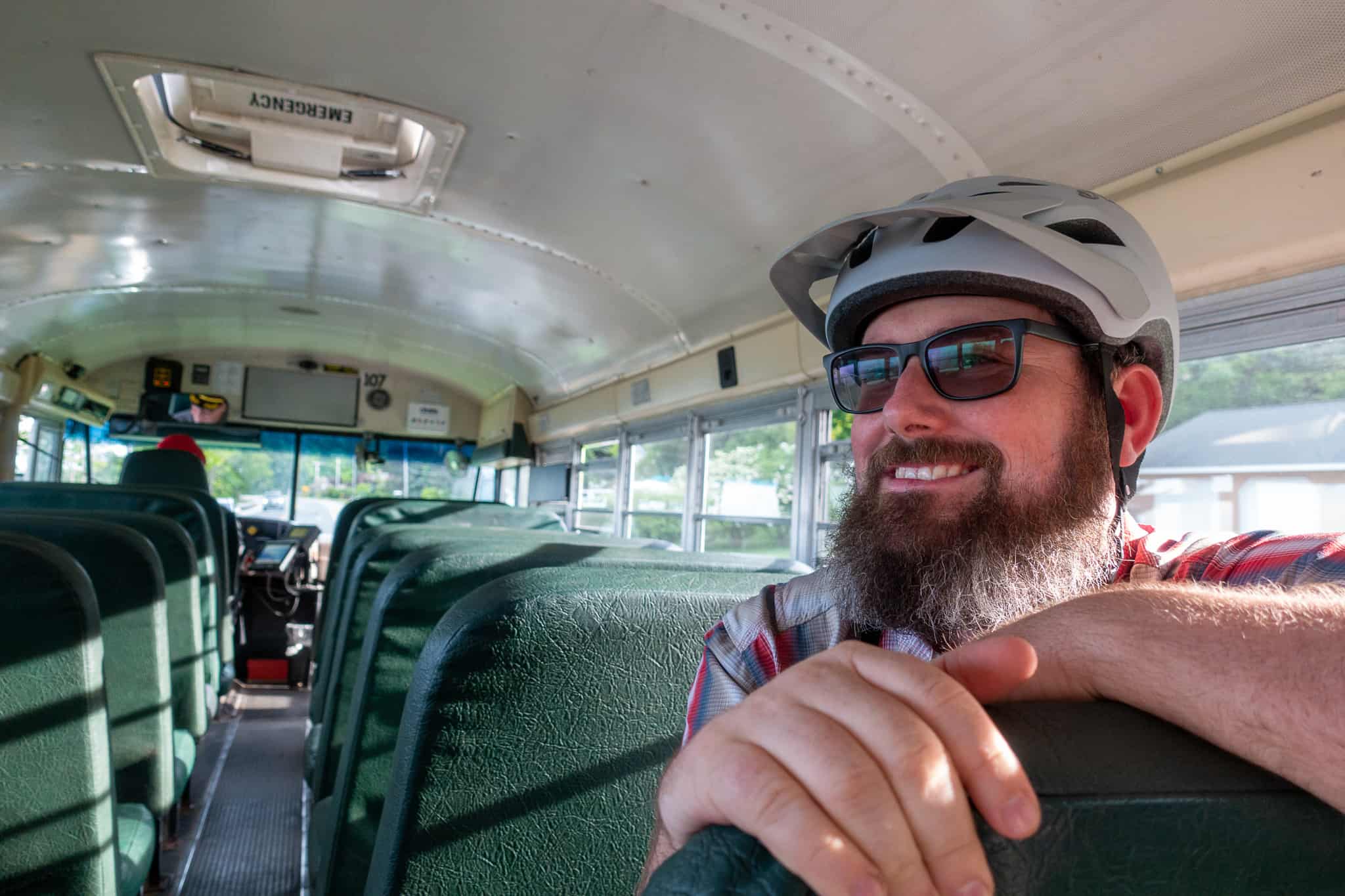 Post Bike-n-Ride Tour – Evening
STOP NINE:
Dinner in Downtown Traverse City
If you followed a bike-n-ride tour similar to ours and are looking for a tasty spot for dinner downtown at the end of a long day, there are many fantastic options!
Check out Tripadvisor to find an option that would suit your group best!
STOP TEN:
End of the Night Snack
So we had already consumed a tremendous amount of sugar throughout the entire day, but there's no denying an end-of-the-night snack to a girl who just biked 20 miles in one day!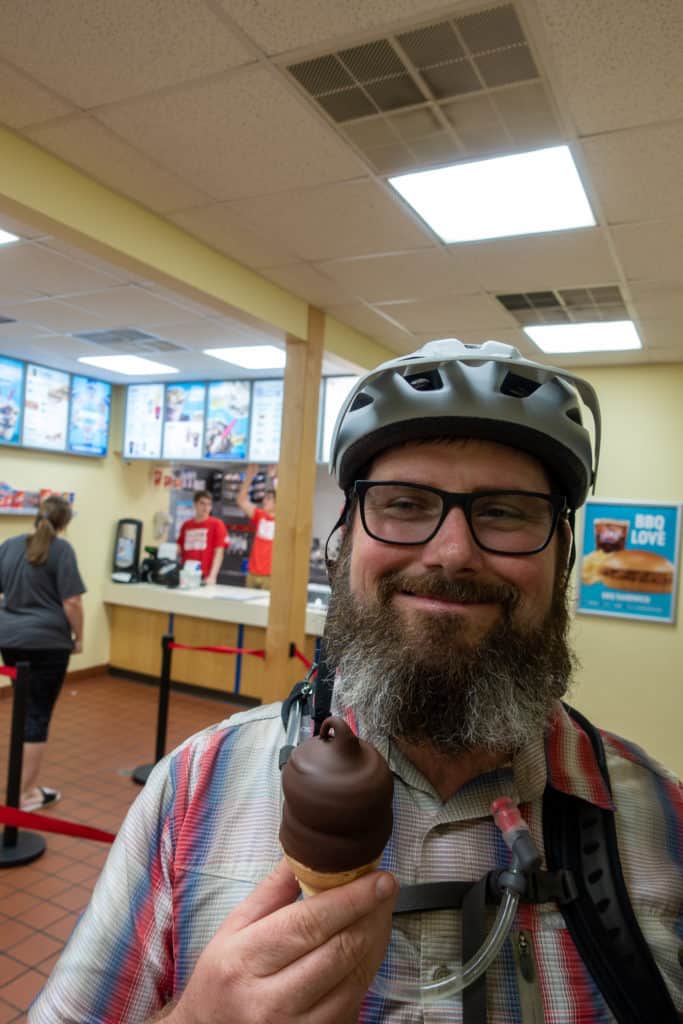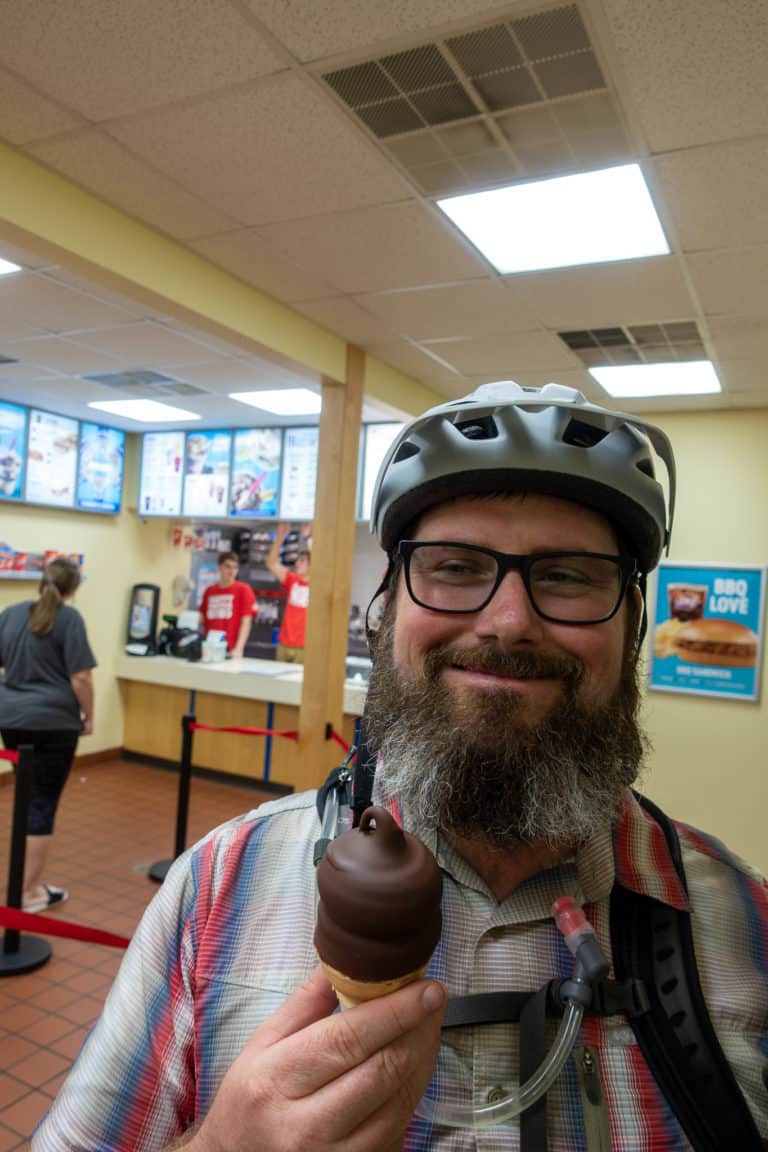 There is a DQ right off the trail, just past the State Park we were camping at. So we, of course, had to conclude the day with some DQ!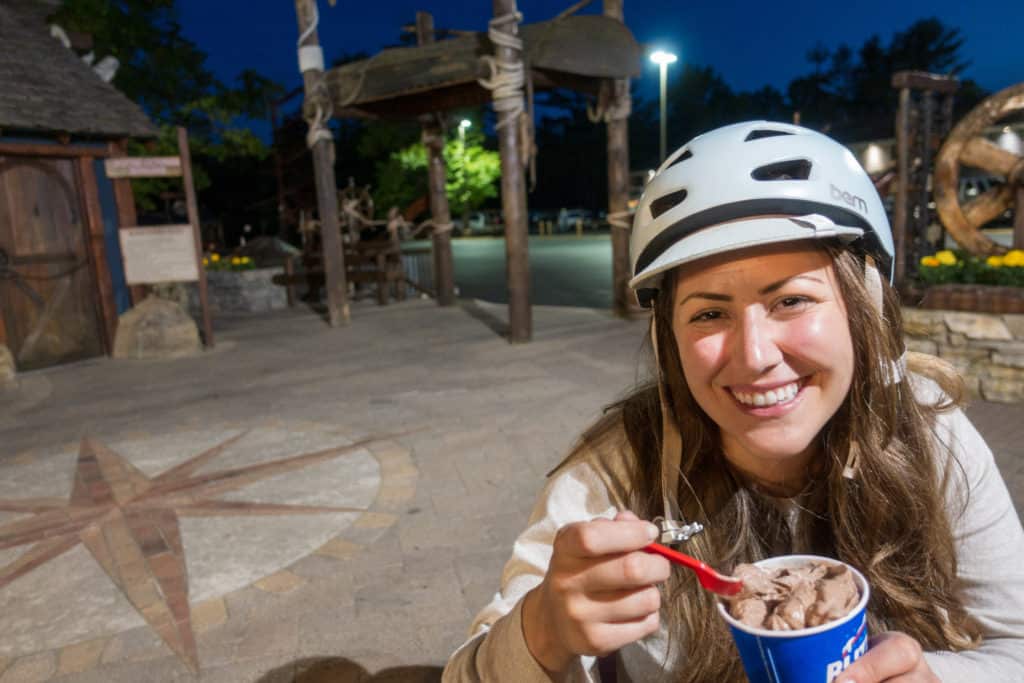 ---
Total Distance
Our whole bike ride was truly wonderful! The entire distance came out to just under 20 miles, including the 8-mile round trip from Traverse City State Park to downtown Traverse City and back.
---
I hope this post helps someone trying to figure out how to accomplish a DIY Leelanau Peninsula bike-n-ride tasting tour on their own!
If you go for it, please let me know how it goes below!
Book a Tour or Guide
If you've read this and decided you want someone else to guide you around, check out local tour options on Viator and Get Your Guide:
Viator Tour Options:
Get Your Guide: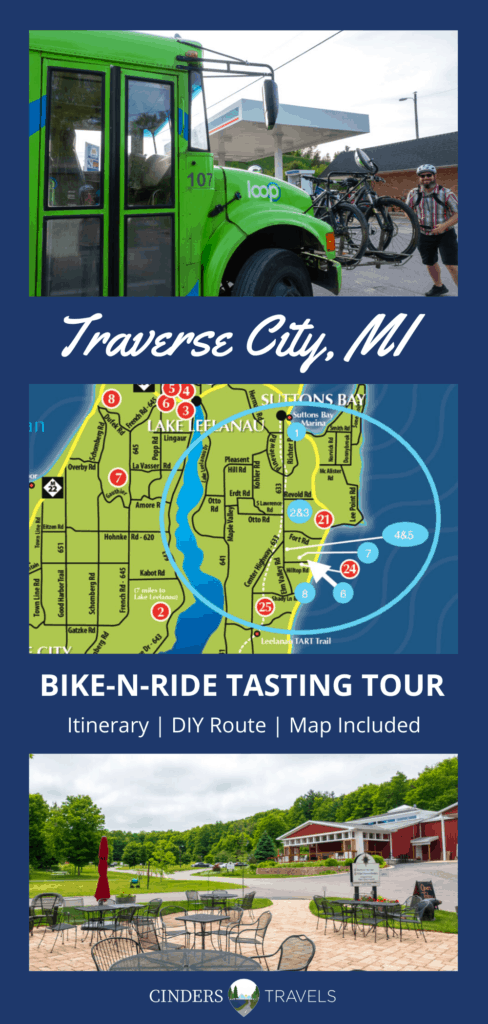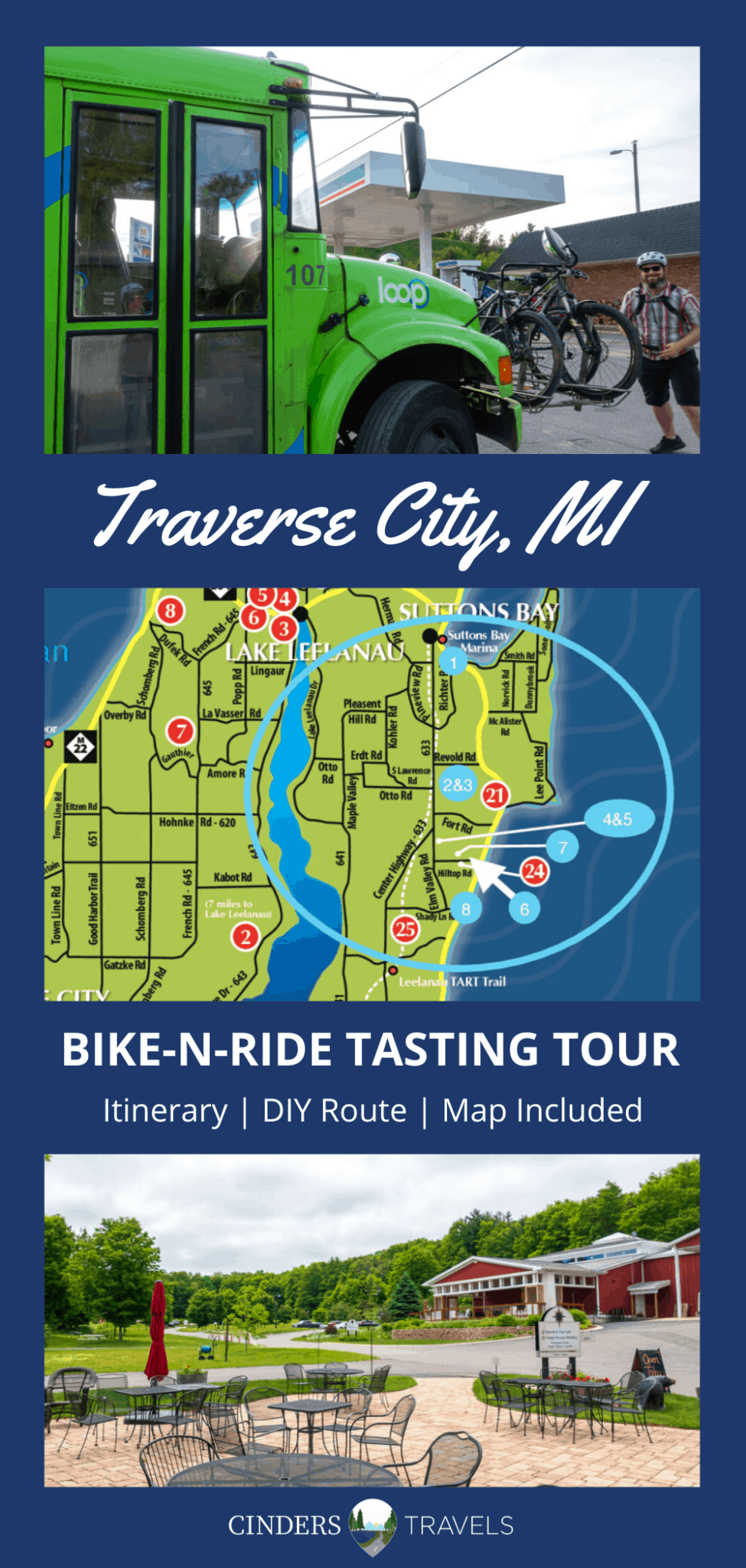 ---
Please be safe while doing this. Don't bike drunk. Drink lots of water and beverage taste responsibly!