(Last Updated On: October 3, 2023)


Living in an RV full-time is a lifestyle that's attractive to many people. It can be appealing to anyone who wants the ultimate freedom of traveling on their own schedule, and it's also perfect for those who want to live simply and with less clutter.
Hi there! I'm Cindy! From 2018 to 2021, my husband Barrett and I sold most of our belongings, stored a few precious things, and embarked on our very own full-time RV life adventure!
So far, with the RV, we have lived in 31 US states and have put over 20,000 miles on the rig since purchasing it!
In that time, we have learned a ton about what it takes to live this way.
If you're considering taking the RV life plunge yourself, I know from first-hand experience that there are many questions you will have.
Don't worry, though! I'm here to answer all of those questions, including everything from common misconceptions (yes, we still get mail and have an address!) to things like, "How do you guys live with pets on the road?"
This article is intended to provide you with loads of beginner RV life tips and tricks we've discovered along the way!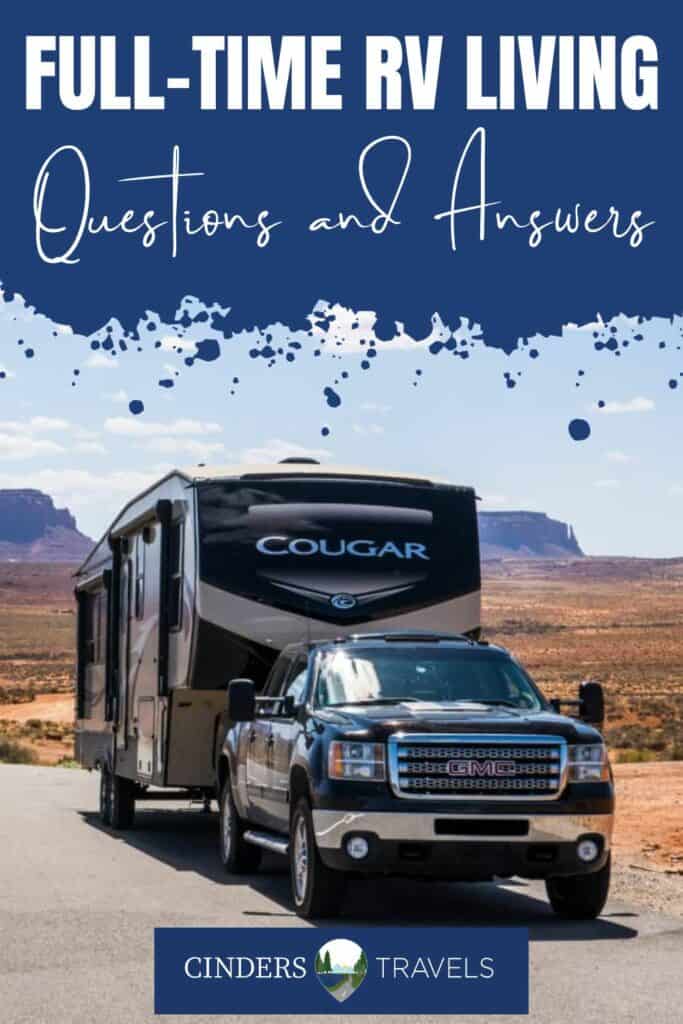 Introduction to Full-Time RV Life
1. Can you live in an RV full-time?
Yes! You absolutely can live in an RV full-time!
My husband and I have been living out of our fifth wheel full-time, with pets in tow, since 2018.
When we started our journey, we were RV newbies! We had no idea what we were doing.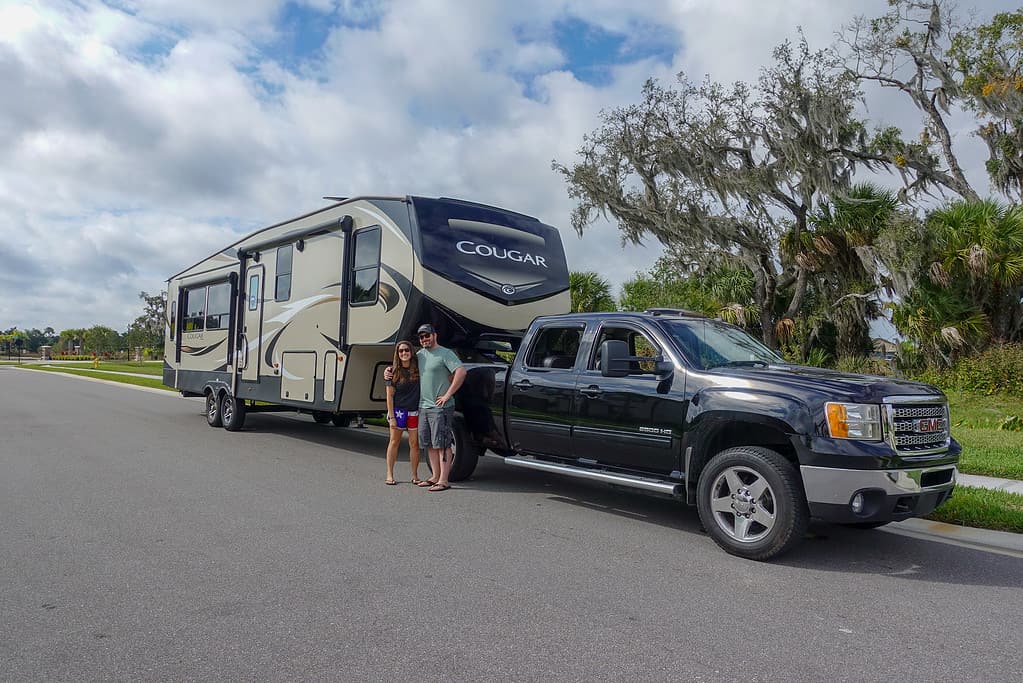 Living in an RV year-round has been an incredible learning experience so far, from finding ways to stay connected via WiFi, figuring out how to best stay connected to power, dealing with breakdowns while still managing work, school, to taking care of our four-legged family members. All these experiences are just part of daily life as someone who lives their dream every day by living in an RV!
If you're asking if it's legal, yes, of course! However, you do have to be responsible about where you park your RV. Know the business rules or local laws affecting the area you want to park your RV if you're not planning on staying in a campground, RV park, or boondocking on BLM land.
2. How do you live in an RV full-time, and what is living in a camper like?
The simple answer, we just do!
Living in a camper full-time may seem odd to many. Still, for the most part, I was surprised to learn that, space-wise, living in an RV full-time is really not that different from living in a small apartment. (But this apartment rolls and can come along with us on all of our adventures!)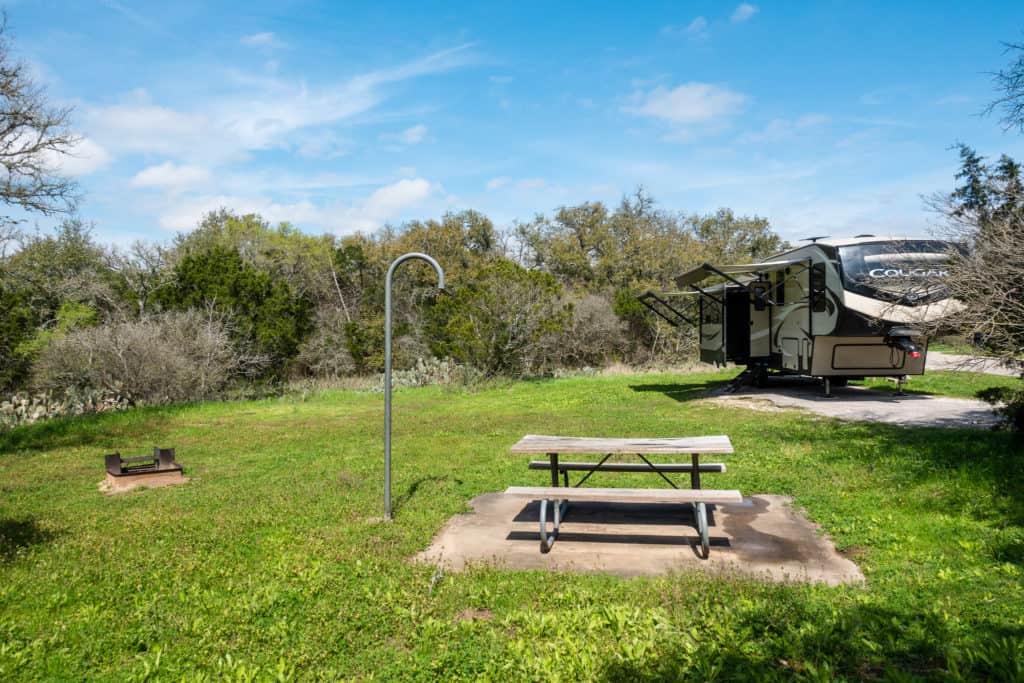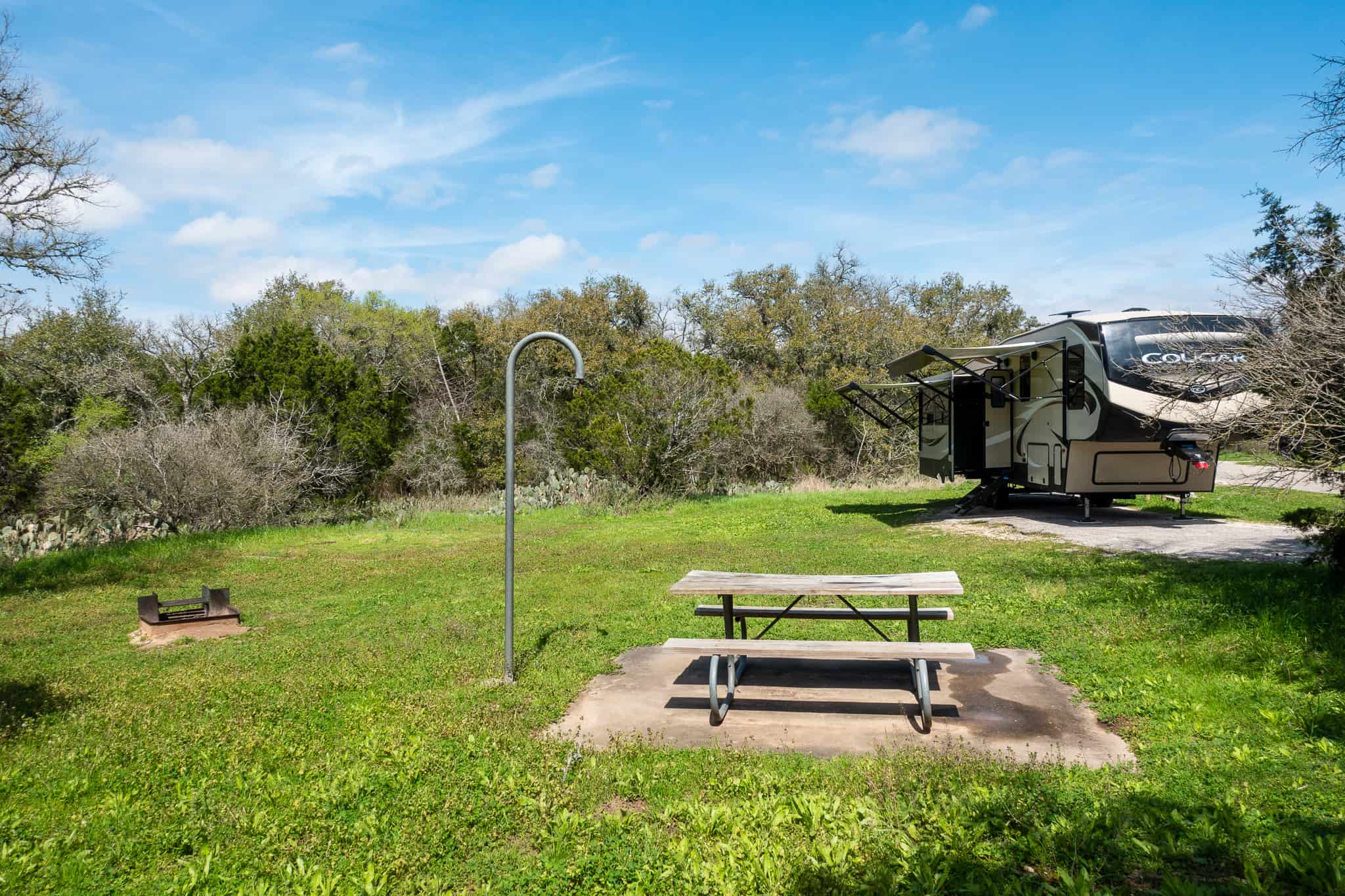 Don't get me wrong, life is different in an RV. No matter how much manufacturers make them look like brick and mortar homes, they come with their own set of unique limitations different from ones in a house – including heating, cooling, and electrical quirks. If you are new to RVs, there's going to be a bit of a learning curve.
We had to learn new techniques for obtaining and living with power, water, propane, and sewage. But for us, it's been a small tradeoff for a life of adventure on the road.
I also spend a lot more time feeling like a full-time tour director. I frequently allot my free time to figuring out where we're going to stay next and what we want to be sure to experience while we're there.
3. Why are you living in an RV full-time?
A lot of people ask us why we are doing this whole RV life thing. And while in our 30s, with pets, jobs, and school on top of it all… Are we okay?
The idea of living in an RV has always been something that I've wanted to experience.
Living on the go while exploring new places around America always sounded like such an incredible adventure.
Barrett and I both grew up camping, so years before taking off, I would slyly slip how cool it would be into conversations here or there with my husband.
At the same time, I started slowly obtaining more clients outside of my typical media jobs and learning how we could work from anywhere and go to school from anywhere.
One day, my husband came home from his typical 9-5 job, having decided it was time for a change. Everything ramped up pretty quickly from there. We first bought the fifth wheel, then our first diesel — a GMC truck.
We told ourselves in the beginning that our goal was to find the perfect place to settle down. But along the way, we also just fell in love with the adventure of seeing this great nation.
Sometimes our perfect home search has taken a bit of a back seat in exchange for visiting National Parks and other "shiny objects" along the way.
But every place we've visited, we were always asking ourselves what we liked (and disliked) about it, asking ourselves if we could see ourselves living there. So we were getting a bit closer in our hunt every day!
Until we discover it, we're going to have as much fun as possible exploring every lake, trail, and town we can find across America!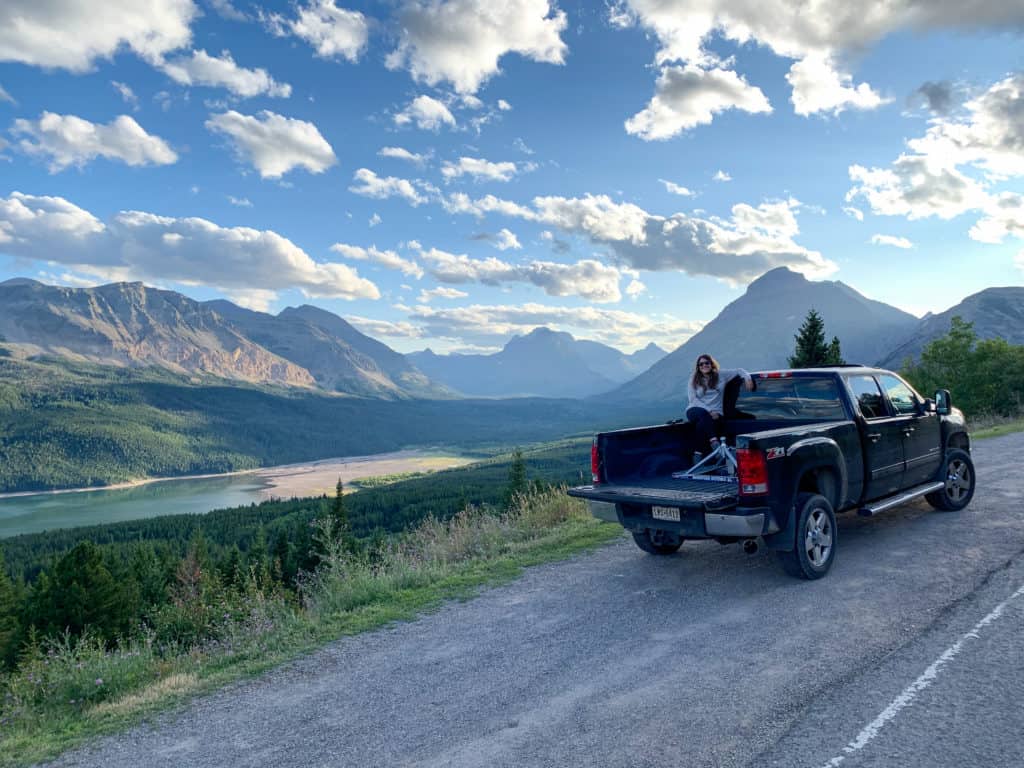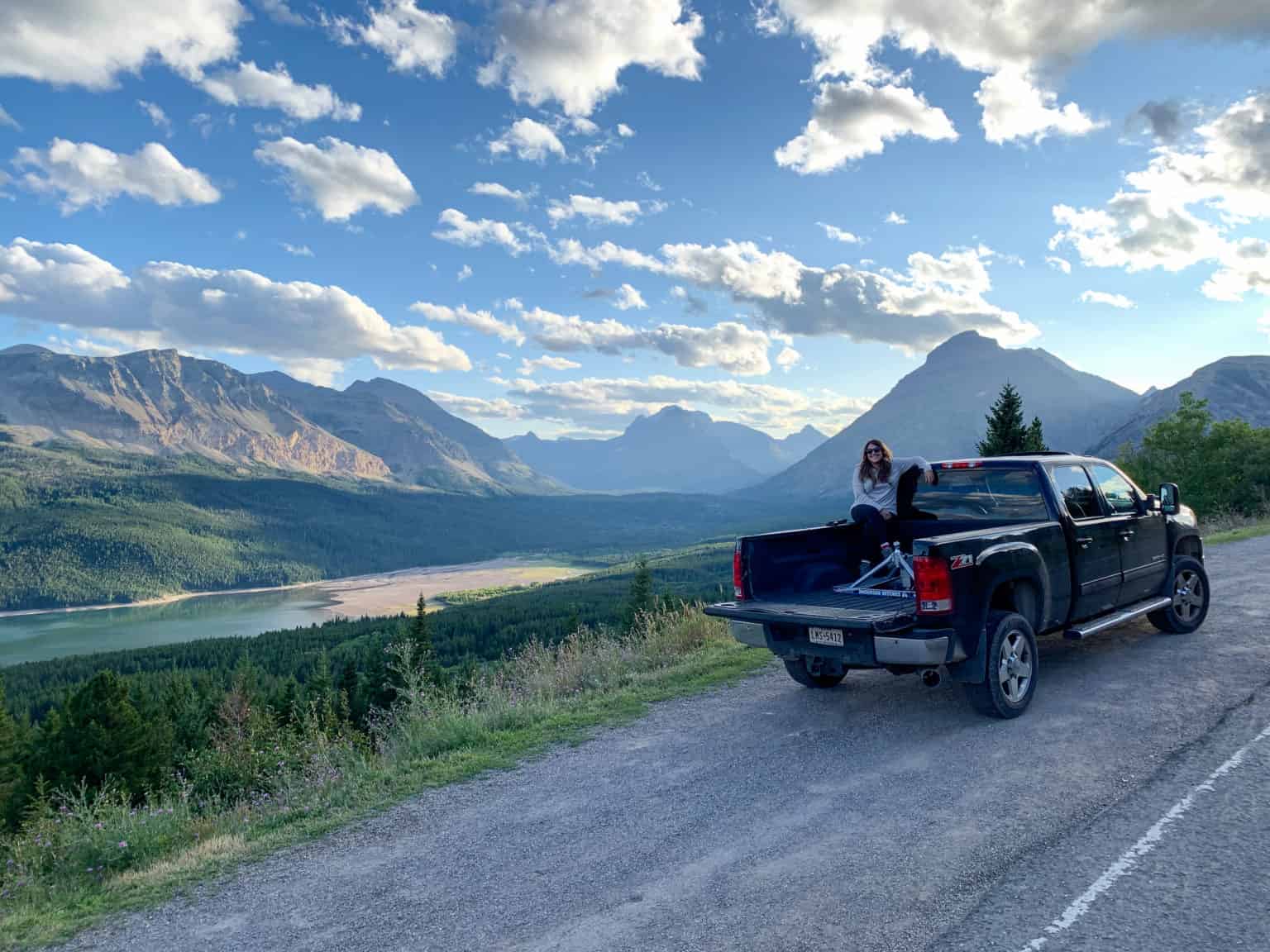 Preparing for Full-Time RV Life
4. What was involved when downsizing to live in an RV full-time?
We quit our office jobs in August, got married in September, and were on the road by November 2018.
It is actually this exact moment as I write this that I realize pretty much our entire married life has been in our RV.
Between the wedding and taking off on the road, we purged a LOT of things. I would venture to guess 85-90% of everything we owned, including cars, kayaks, and furniture. Someone from Facebook Marketplace or Craigslist was at our door multiple times a day.
We tackled this process room by room and placed everything into four piles: Sell, Return, Store, and Donate.
I also found Marie Kondo's book "The Life-Changing Magic of Tidying" super helpful during this part of the process.
It's so easy to become attached to our stuff! Purging your things can be an emotionally draining process. Take the time you need during this stage and be kind to yourself.
5. Did you store anything before taking off?
We ended up needing a 10×15 storage unit to hold sentimental items we just couldn't part with.
We have stopped at it at least 3 more times on the road to add a few little things we've found along the way that we just don't have room for right now, as well as the stuff we had in the RV that we thought we needed, but didn't.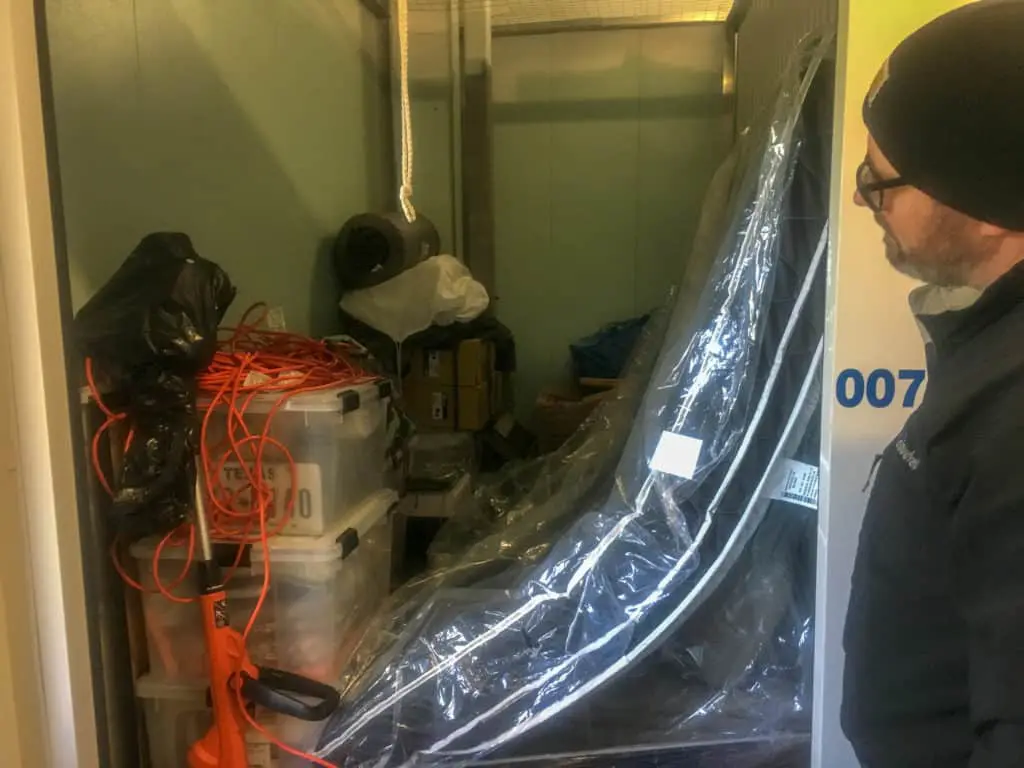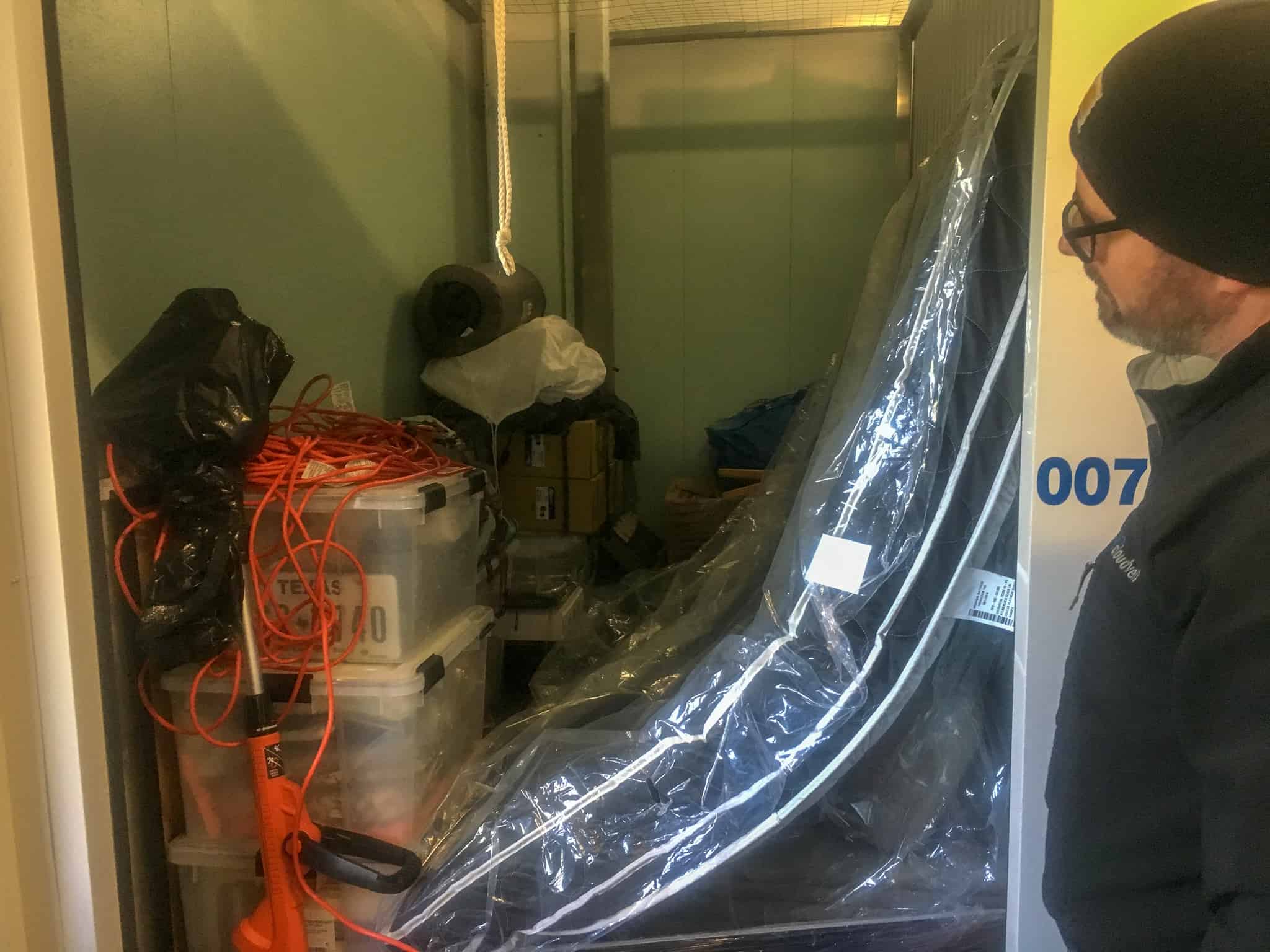 6. How did you prepare for living in an RV full-time?
When we started out, we knew very little. We'd been reading books and blogs and getting as prepared as possible. We were campers, but we had no hands-on RV experience except for a few camping trips in a Roadtrek for me and a few in a pop-up camper for Barrett.
We started out listing everything we knew we needed to get done before taking off on the road on a HUGE whiteboard in our house. Eventually, we realized everything on that board could be categorized into 8 main points of focus.
I've consolidated those 8 points in a free downloadable PDF that you can get here!
(Or down here 👇)
7. Did you do any practice runs?
We did not do any practice runs. We opted for learning as we went.
At the time of purchase, our amazing Camping World saleswoman Susan recommended we take the RV on a few trips before living out of it. However, we were in Pittsburgh, winter was closing in on us, and we were anxious to get on the road.
So we opted for learning as we went. The first few months were nothing short of an RV education, full of wins and defeats, but it all worked out. And we even managed to become better partners and campers along the way!
That being said, these days, I lean toward the "test runs would have been helpful" side.
Also, it is easier now to do practice runs with companies like RVshare for rentals. We would have learned some basics, like knowing when to refill the propane tanks and a few shore power best practices with trial runs.
👉 Click here to book a test run getaway with RVshare.
Keep in mind it gets easier as you go, so if you feel intimidated by that first rental, don't let it stop you from trying it several times.
If you're interested in learning more about what the first few weeks of RV life were like, here's a post I wrote about getting started.
8. Do you need to know how to work on RVs to live in one?
The short answer is no. Much like cars and homes, you can find mechanics.
The longer answer, though, is they're not always as easy to find. And if you're going to rely on mechanics, you definitely need to make sure you've accounted for that in your budget.
Constantly taking an RV down the road takes a toll on them.
It's super important to get comfortable with the concept that they are fragile. They are not built like a home. That way, when things start falling apart, you won't stress as much as we did in the beginning about something that was entirely out of our control.
Still, it definitely doesn't hurt to know some basics, or at least go into the mindset of figuring you're going to learn along the way. Things breaking is 100% part of the lifestyle. The sooner you realize that, the sooner you'll start enjoying the journey more.
Barrett has found it very helpful to have these tools in his kit:
⚙️ 4 Way Lug Wrench
⚙️ Torque Wrench
⚙️ Power Drill
⚙️ Measuring Tape
⚙️ Screwdrivers of Varying Sizes and Lengths
⚙️ VIAIR Tire Inflator
9. How did you choose where to establish your domicile while full-time RVing?
If you're wondering what a domicile is, it's known as the spot you "intend to call home." This will be the state your driver's license is registered in, where you vote, where your health insurance will be based and more than likely cover you (more on that below), where your vehicle is registered, and the state you file taxes.
The three most popular states for full-timers to pick as their domicile are: Texas, South Dakota, and Florida. This is because those states offer superior financial savings options.
We have a Texas domicile established, but not just because of the financial benefits.
(It should be noted, financial savings should not be the only reason you pick a specific state as your domicile. If you're trying to decide where it would be best for you to be domiciled as an RVer, you must think about where you see yourself returning to regularly.)
Establishing a domicile in Texas was simple. There are multiple companies out there that can help you out with this. We went with Escapees.
For us, Texas made more sense than any other state. We're very nomadic, but we have the closest semblance of a past life and home in Texas.
We lived in Texas when we met, spent many years of our life there, and even own a home there. Texas is also where our health insurance, financial advisor, doctors, dentist, etc., are based.
So despite not knowing where we wanted to live when RV life was all over, Texas was an easy choice for us. We have reasons to go back to the state, so Texas is an easy choice for us to rest whenever RV life needs a pause.
10. If you live in an RV, what is your address?
Once we established a domicile in Texas with Escapees, they provided us with a domicile address.
11. How do you get mail to the RV?
Getting mail can be a bit of a tricky game.
Since we have renters who live in our Texas home, we use the domicile address we set up with Escapees to receive all of our mail.
All of our mail piles up at Escapees HQ and then gets delivered to us whenever requested, wherever we are!
We tend to go with the once-a-month approach, and it looks a lot like this when it arrives:
We also try to get as much of our mail digitally as possible these days, so we don't miss many important deadlines.
As for packages, we either attempt to deliver those to the appropriate campground/RV park on the right day. Or, if the place we are staying doesn't allow mail, then to the closest Post Office as a General Delivery package.
A few extra things that are different about mail now… We now have a "mail budget" because we have to pay Escapees to forward our mail. On top of that, it takes us longer to receive things. Additionally, it's not rare for us to have to re-direct packages that don't arrive at our destination while we're there.
Buying an RV to Live in Full-Time
12. What is the BEST RV for full-time RVing?
There are a ton of ways to tackle this lifestyle.
We've seen full-timers living out of every type of RV out there! The sky's the limit!
The best for you will be the one that gives you the space and amenities you believe you require while living on the road while also fitting your budget.
I'm partial to fifth wheels because of their robust build, layout, and space.
But for some people, they will be too big. Or maybe you don't want a truck. Perhaps you'd rather have a motorhome and then tow a smaller, more affordable car with better gas mileage.


If you're wavering between a big RV life setup or van life, check out my article comparing the two options here.
13. Why did you choose to live out of a fifth wheel RV specifically? And how did you know that was the right type of RV for you?
A lot of research!
We actually started out being interested in travel trailers, but after some conversations with people who build trailers used on movie sets, we landed on feeling more secure about the superior construction and the added travel stability provided by fifth wheels.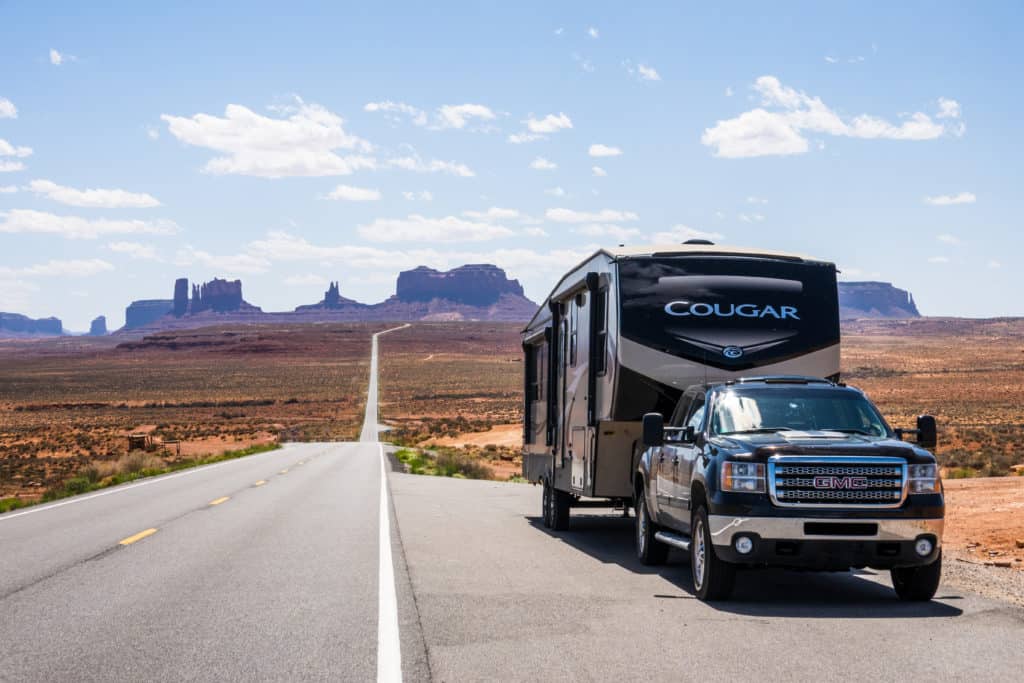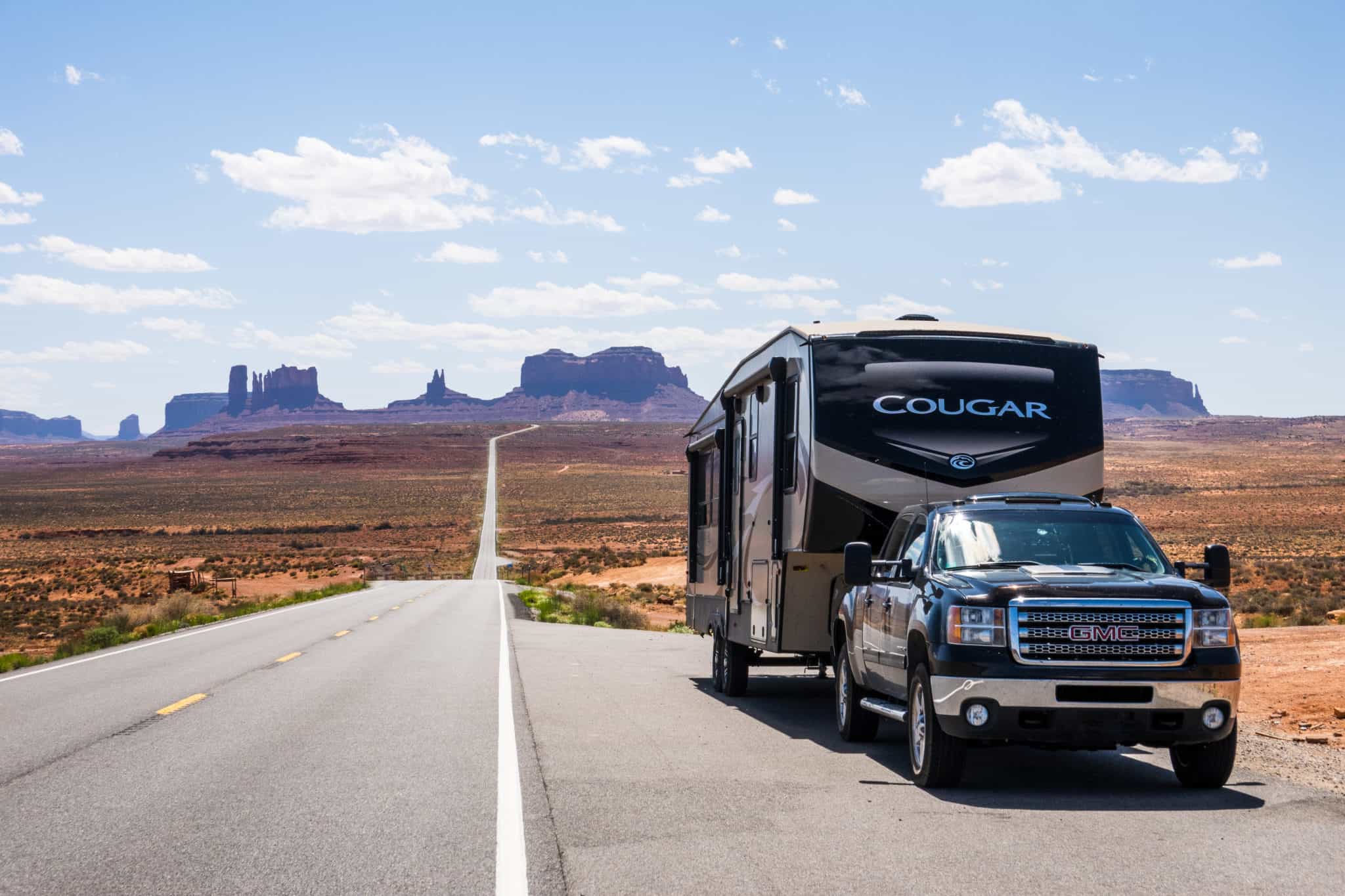 When trying to decide which type would be best for you, first ask yourself what you need in these three areas: lifestyle amenities, layout/floor plan, and length.
Lifestyle Amenities
Do you only need the basics? If so, a pop-up trailer, van, or Class B vehicle could work just fine for you.
Are you the type that wants to return from a day of outdoor adventure to a rig that feels "homey?" Then you would want to look more into Class As, Cs, fifth wheels, travel trailers, or toy haulers.
Furthermore, if you plan on mostly staying in campgrounds or RV parks with power, any of those options above should work just fine. However, suppose you intend on boondocking often. In that case, you will need to consider the size of the rig's holding tanks and off-grid electrical setup as well.
Layout / Floor Plan
What kind of floor plan do you prefer? An important thing to ask yourself at this stage is how you plan to use your RV.
If you intend to live in it full-time, what would be most important in the kitchen or bathroom areas? How much separation do you want between your living area and your sleeping area, if any? Would you like to have a lot of counter space?
For us, we wanted the feeling of separate zones. Moreover, we knew we needed a unit with a rear living area that could be easily converted into an office area.
We fell in love with our rig because of the layout.
We liked that the bedroom and bathroom were separated from the kitchen and dining area, which were also separated from the living room and office. We would be able to have spots to work, relax, cook, and sleep. And, for the most part, none of them would interfere with each other.
More than that, a lot of countertop space was essential for us. Barrett intended on doing a lot of cooking, so the kitchen island and three countertops in our rig were another big part of why we fell in love with it.
Make sure to take the time to consider what layout would work best for you.
Length
It was difficult for us to agree on the length of our rig in the beginning. My husband wanted something new, short, and small. I wanted something old and HUGE.
The good news is after you've decided on lifestyle and layout, you'll probably start to have a pretty narrow range of lengths that will fit your bill.
Something to contemplate in this topic is whether you want to stay at many national parks. If so, you may want to choose a shorter RV because many of the bigger rigs can't camp in the national parks (see a list of size restrictions here).
But, if you're okay with staying outside of parks a bit and then driving in, as we often do, then the longer-length rigs will work just fine.
Also, ask yourself what length you're comfortable driving. I'm a firm believer that pretty much anyone can get used to anything, but this is not the case for everyone. If a long rig scares you and you don't see that changing, then that's something you need to be thinking about.
Consider Attending an RV Show
In the end, the best recommendation I can make for figuring out what RV would be most suitable for you is to step away from the computer and take a trip to an RV show or dealer.
Early on in our search, we went to a big RV show in Tampa and spent an entire day walking in and out of hundreds of models. We'd sit in them and ask ourselves if we could really picture living out of each type.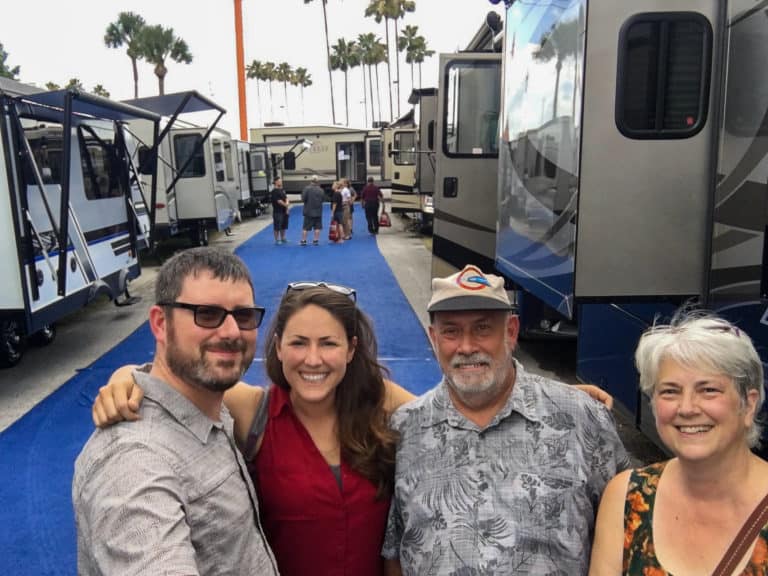 You may think you know everything, but it may surprise you how much you can learn from moving around in a bunch of different models. Sitting in them really helped us narrow our search down.
Consider Renting an RV
If you have a hard time picking which RV would be best for you, I also recommend trying out a rental!
At this point, I'm convinced testing out a rental RV would have been one step even better, beyond attending the RV show.
RVs are an expensive depreciating asset. Renting a few different types allows you to figure out what layout, amount of space, and rig style would fit you best before making a more considerable commitment.
Read all about the additional benefits of renting before buying an RV here.
14. How did you go about buying an RV for the first time?
Buying the RV felt extremely overwhelming to us in the beginning. Where do you even start?!
As I explained above, we always tell anyone who asks us to spend time at RV shows. Stepping in and out of countless different types of RVs and speaking to representatives who know all about RVs was incredibly helpful for us when we were just starting out.
Sit in as many different types of RVs as you can handle. Ask yourself what amount of space and what layouts will work best for you and your family.
Once we knew we wanted a fifth wheel and a Cougar, we went to Camping World to look at some and ended up finding the perfect one on the first visit to the lot!
We had planned on buying a used model, but the version we fell in love with was a brand new style, and no used versions existed yet. We tried finding a used one that was comparable, but no other layout was quite right.
Being the budget-oriented person I am, I was having a hard time accepting we would be taking the initial financial hit on a depreciating asset. Still, ultimately, we couldn't stop thinking about that specific fifth wheel. We were in love with it!
So we went back, bought it with no regrets, and haven't looked back since.
I shared some additional tips for making your RV purchase here.
(Including five you should be asking yourself beforehand, and three you should be thinking about once you're in the purchasing stage.)
Planning RV Routes & Finding Spots to Stay while Full-Time RVing
15. What apps and websites do you use to plan your RV trips? And how do you find a good spot to stay?
Our process goes something like this. We decide where we want to go next. Then I start researching!
After two-plus years of using a few different options, including a Garmin RV GPS, we've picked RV Trip Wizard as our favorite app for RV road trip planning and mapping.
I recommend using an RV-specific planner instead of an app such as Google Maps because, unlike a typical maps app, one like this will keep your height, length, and weight restrictions in mind.
We've landed on RV Trip Wizard as our favorite because we really enjoy the program's comprehensiveness. You'll not only enter your RV specifications, but you'll also enter your driving preferences and fuel economy information.
The application then creates the optimal path for you and your rig. Once a path is created, you can look at RV parks, campgrounds, and points of interest along the route in the app and make a list of all your favorites.
However, I don't stop there. No RV park/campground database is complete with everything you need to know.
When picking a spot to stay, many factors must be considered, including your desired budget, proximity to a town, amenities, comfort level, and rig size.
If you're working from the road (or just enjoy watching Netflix in the evenings), you'll want to make sure to also check out what the cell signal looks like at each park you're considering on Campground Reviews and Campendium.
If we're feeling up for an adventure, or if we need to save some money, I use Ultimate CG to see if there are any boondocking options nearby.
Then, to make sure I didn't miss anything, I do a quick search on Google, Thousand Trails, Good Sam, The Dyrt, Hipcamp, AllStays, and RV Parky for possible spots as well.
The best piece of advice I can give anyone trying to book an RV stay is to be flexible and open to changing your plans. If you can do that, you're sure to find an RV park, campground, or boondocking spot that will work out just fine.
Check out these articles for more advice on how to pick the best RV park or campground:
👉 How to Pick the Best RV Park to Stay at During Your Trip – Part One
👉 How to Pick the Best RV Park to Stay at During Your Trip – Part Two
👉 How to Find an RV Park Near National and State Parks During Peak Season
👉 14 of the Best RV Parks in North America According to 9 Lady RVers
16. Where do you stay?
We stay at a mix of campgrounds, RV parks, boondocking spots, and, every once in a while, a Cracker Barrel.
There are pros and cons to each type of spot. If I'm going to attempt to boil it down to a real simple difference, here they are, but keep in mind these are not always the case:
RV Parks: The most amenities, the most expensive.
If you're looking for luxury, check out RV parks. These destinations are generally aimed at those who would prefer to make their camping stay as comfortable and easy-going as possible.
With amenities such as basketball courts, ice cream stands, and a hot tub to soak in at the end of your long day's adventures, these parks provide many activities that will keep everyone entertained!
Two popular examples are KOA and Jellystone Park.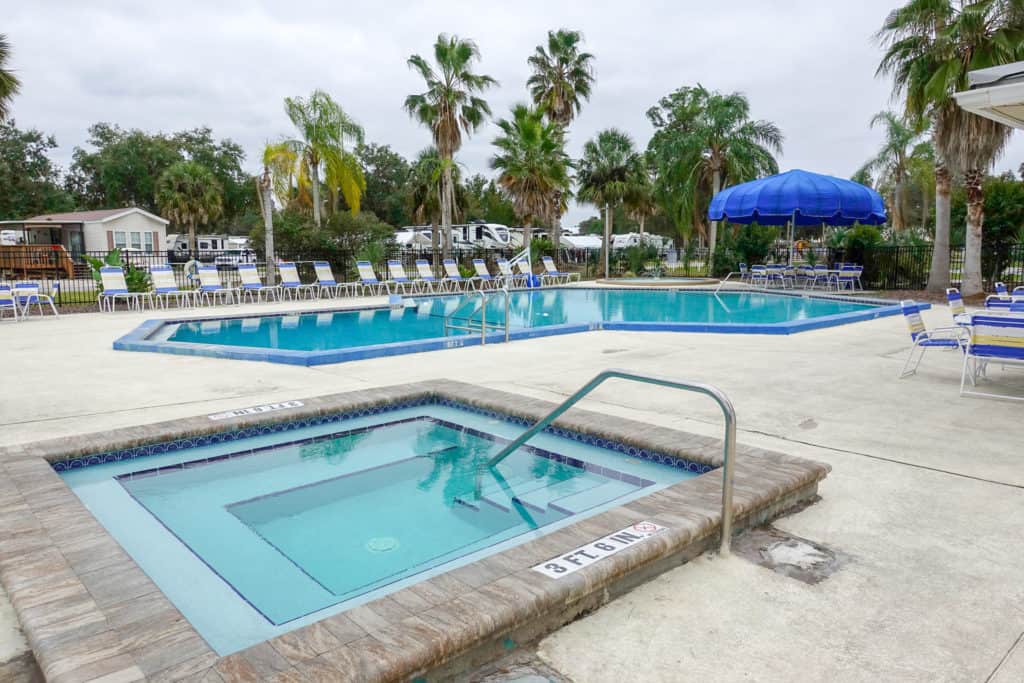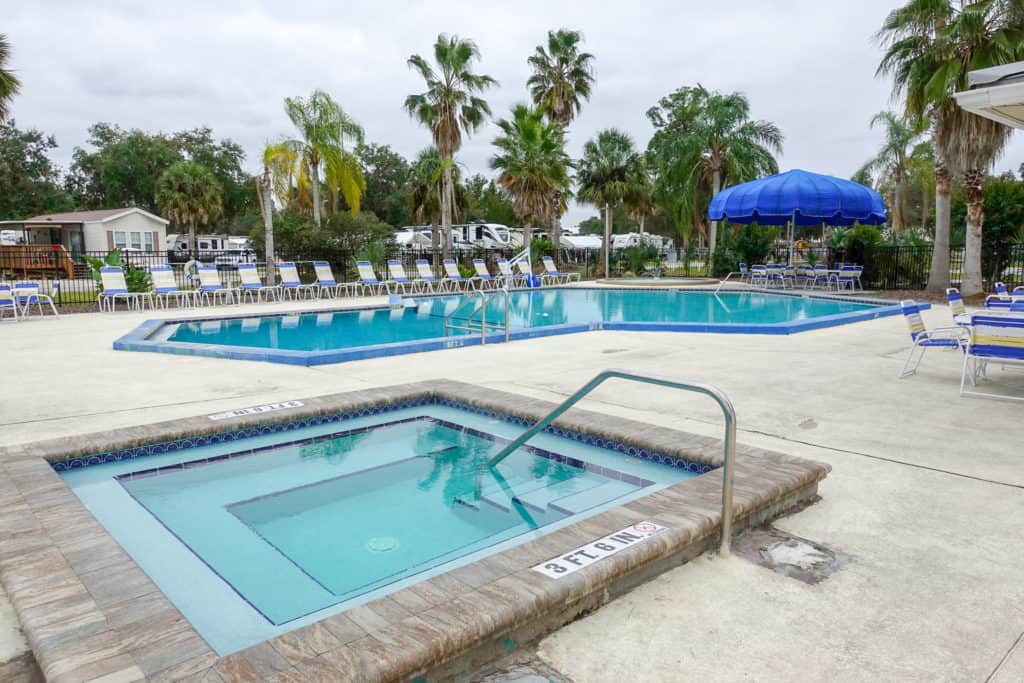 Campgrounds: fewer amenities, often more beautiful and secluded, also usually cheaper.
These spots are the best when you want the vast natural world to surround you and nothing but peace and quiet while disconnecting entirely within nature. However, living "rough" in a campground with your RV means you don't have to completely rough it!
If seeing some animals is what you're looking for, then campgrounds can be the best option.
These spots rarely come with anything in the way of amenities. Furthermore, national park campsites are highly coveted because they are in the heart of the action and tend to be the most peaceful.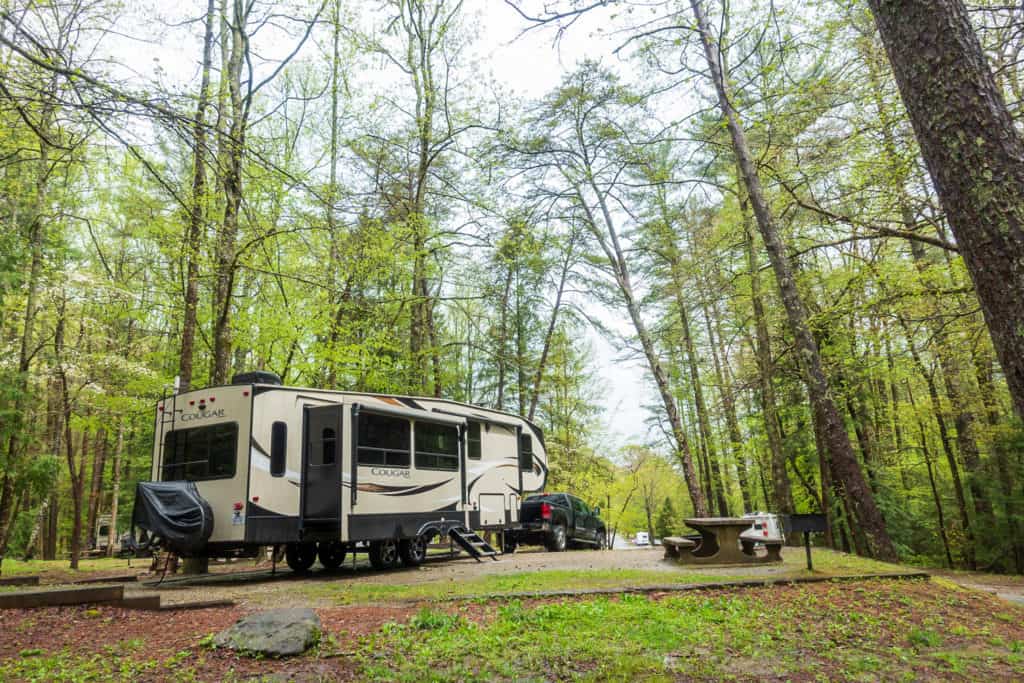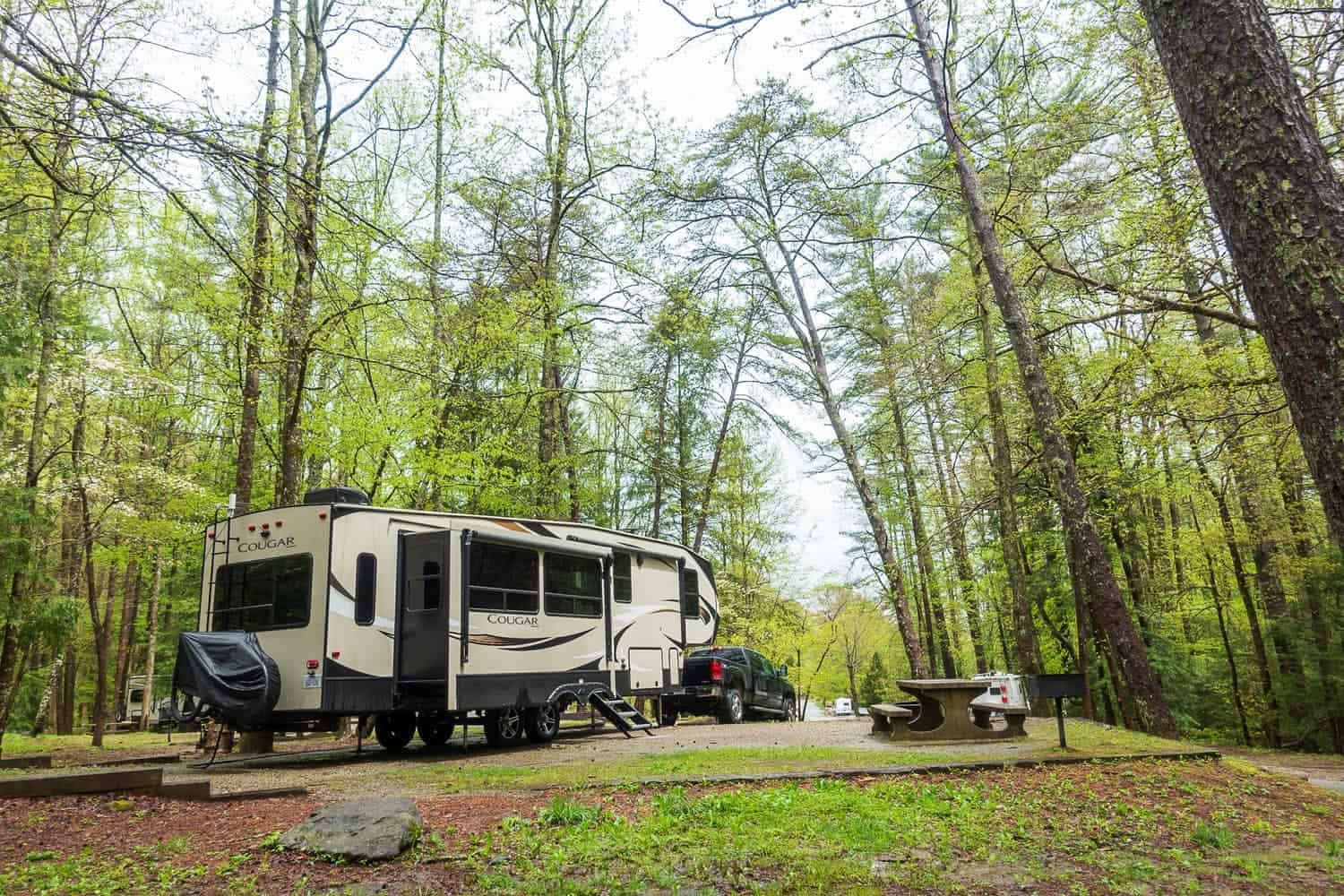 Boondocking: Free camping on public lands! There are no amenities or hookups.
These spots are found in national and state parks, national and state forests, wilderness areas, and on BLM land. Campendium and the Ultimate CG app are helpful resources for this method of camping.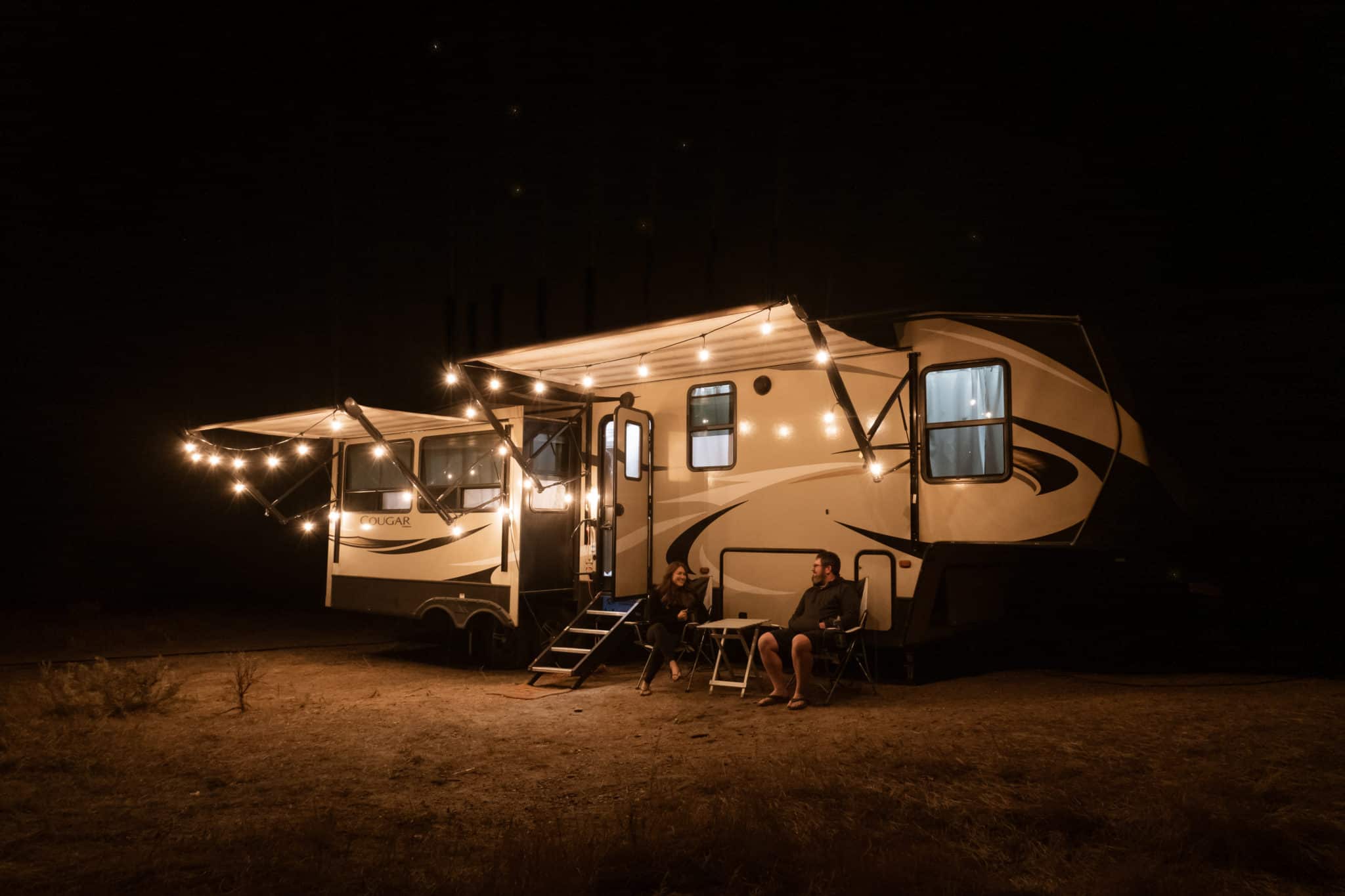 Cracker Barrel: Free dry camping (Although it's recommended to get dinner that night or breakfast the following morning as a "thanks for letting us stay!"). There are no amenities or hookups. You are in an RV parking spot for the night.
When in need of a quick overnight stopover, we tend to prefer to stop at Cracker Barrels over Walmarts for a few reasons:
✅ They are generally not as creepy. Not all Walmarts are concerning, but some are. We have yet to find a creepy Cracker Barrel.
✅ They are often right off the interstate, making it an easier stop for the night.
✅ You get to wake up and start off your day with a hearty meal directly outside of your front door!
Just make sure you call ahead and ask each specific location if staying the night is okay. We have yet to find a site that says no.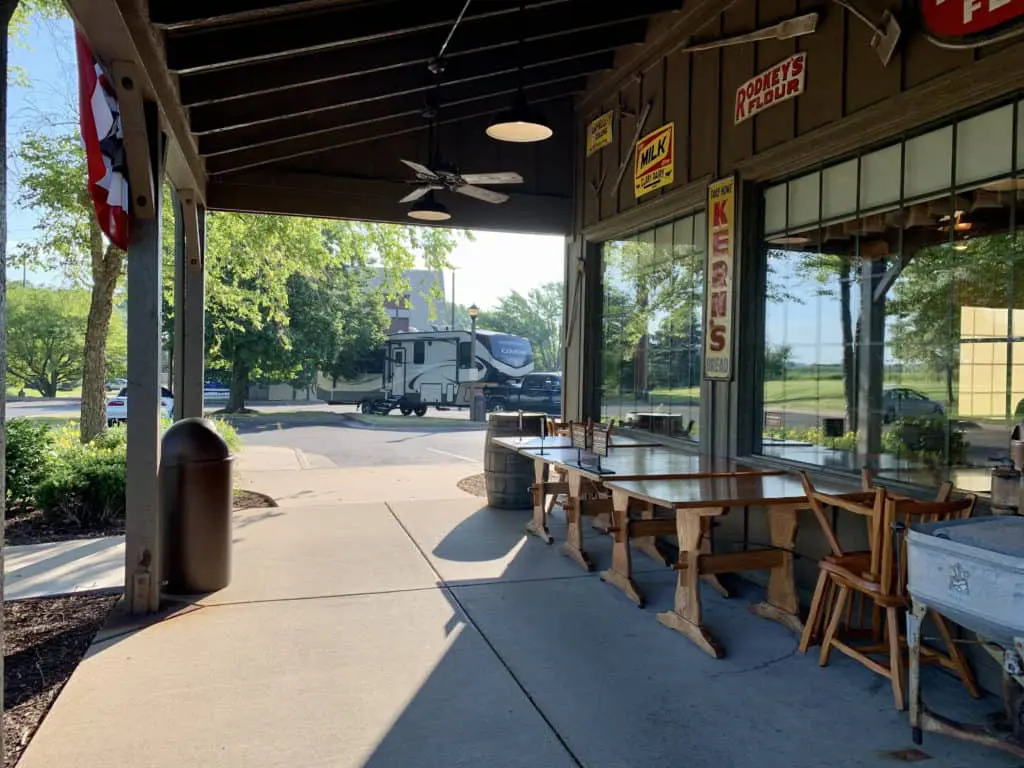 We've reviewed some of the RV parks and campgrounds we've stayed at. Those can be found here.
–
We've also listed every spot we've ever stayed here.
–
And lastly, check out the Locals Know Best Podcast for tips on outdoorsy destinations to visit all over the United States!
17. How do you know if each RV park or campground will be safe or worth a stay?
Great question! Always look at reviews before showing up.
The review resources we have used the most dependably on the road have been Google, Campground Reviews, and Campendium. These resources collectively will give you a clear picture of what kind of place you are headed to.
If you're ever feeling unsafe in a spot, I would recommend leaving. There are always more options.
The Financials of Full-Time RV Life
18. How much does it usually cost to stay overnight in an RV park or campground?
RV Parks: On average, in our experience, $30-$60/night.
However, RV Parks often have weekly or monthly discounts available if you intend on staying a while.
Campgrounds: On average, in our experience, $15-$40/night.
Also, campgrounds rarely have weekly or monthly discounts, and it is common to have to leave them after two weeks. Additionally, sometimes there are state or county park fees in addition to the campsite fee.
Boondocking: Free!
Cracker Barrel: Free, but purchasing a meal is recommended.
19. What are the best memberships available to full-time RVers? And are they worthwhile for full-time RVers?
They can be!
Thousand Trails is the membership we've gotten the most mileage out of. They offer "free stays" at resort-style RV parks chock full of amenities.
With Thousand Trails, you pay an upfront membership to be in the system and monthly fees. We've found, after all the upfront costs and fees, our "free" nights have balanced out to about $35/night, which is still cheaper than booking a spot without a membership at these parks.
So it's worked out nicely for us, especially when seeing family in Florida because they have many locations close to my parents!
I'd recommend looking into Thousand Trails and seeing if they have locations in areas you intend on frequenting.
–
Use this link for $100 off a Thousand Trails Camping Pass!
Other membership programs worth looking into include Passport America and Harvest Hosts.
20. What are the costs associated with full-time RV living?
RV spot fees: When hitting the road, we established we would be okay with our RV spot spending being similar to what we used to pay monthly on our mortgage. I am happy to report that, on average, we spend about 65% of our monthly brick-and-mortar mortgage costs.
We have been able to park in some of the most beautiful spots the US has to offer at a fraction of what it would cost us to actually put down roots there. In the RV, we get to wake up surrounded by stunning scenery and waterfront views for a daily rate much cheaper than that of any of the small apartments I ever had in Austin, New York, or Los Angeles. And then, once we are ready for something new, we can merely pick up and leave!
Diesel: Since hitting the road, on average, we spend $388/month on diesel.
Propane: From hitting the road until August 2020, we spent about $18/month. From September 2020 and on, our monthly average has jumped up to $36/month.
There are two reasons for this. First of all, we were in colder climates this past winter. We also started cooking more meals at home and eating out less. Lastly, we have a refrigerator problem where it constantly blows fuses and switches to run on propane.
We pay for no other utilities, so we figure dragging our feet on assessing this fuse problem is an okay compromise for now.
RV Repair Finances: Since hitting the road, we have paid an average of $91.13/month in RV maintenance. This includes all projects we've done inside the RV, such as ripping out all our carpet and replacing it with flooring.
RV Payment: Our RV has been paid off with investments and savings. No payment here.
Truck Repair Finances: This is a sadder story. $479.90/month while we had the 2014 GMC truck. $108.99/month since having the 2020 Ford truck.
Truck Payment: Since August 2020, our truck payment is now the most expensive cost we have on the road. Purchasing the new truck has essentially tripled the truck payment we were initially paying.
However, not being in the shop every few weeks, not fearing our vehicle could fall apart at any second, and not regularly dealing with horrible customer support anymore (And across the US … for real … don't get me started on the terrible culture that is festering inside of every GMC we entered. And we were in A LOT.) has been worth every penny.
Boondocking Supplies: If you want to boondock frequently, you should also remember that you may need to invest in solar panels or a generator to keep your rig running. Remember, though, that over time, the investment will balance out since boondocking spots are free!
I would compare these numbers to the current monthly budget for your rent/mortgage, home utilities, gas, vehicles, and repairs.
Everything else in our budget has stayed either similar or has decreased dramatically compared to what it was before hitting the road!
We definitely buy fewer things. We don't need much more beyond what we already have with us on the road, and we also don't have room for anything else! Our extra spending is almost entirely on food or experiences instead of things.
21. What does a full-time RV living budget look like?
Honestly, you can make everything listed above more affordable or more expensive. You can find ways to make the full-time RVing lifestyle fit just about any budget. Think about everything listed above when forming your own.
One thing I will say, though, it's wise to hit the road with an emergency budget. If you didn't notice above, trucks and RVs break when you're moving a lot, and that's true whether they're old or new!
I'd recommend having a security blanket.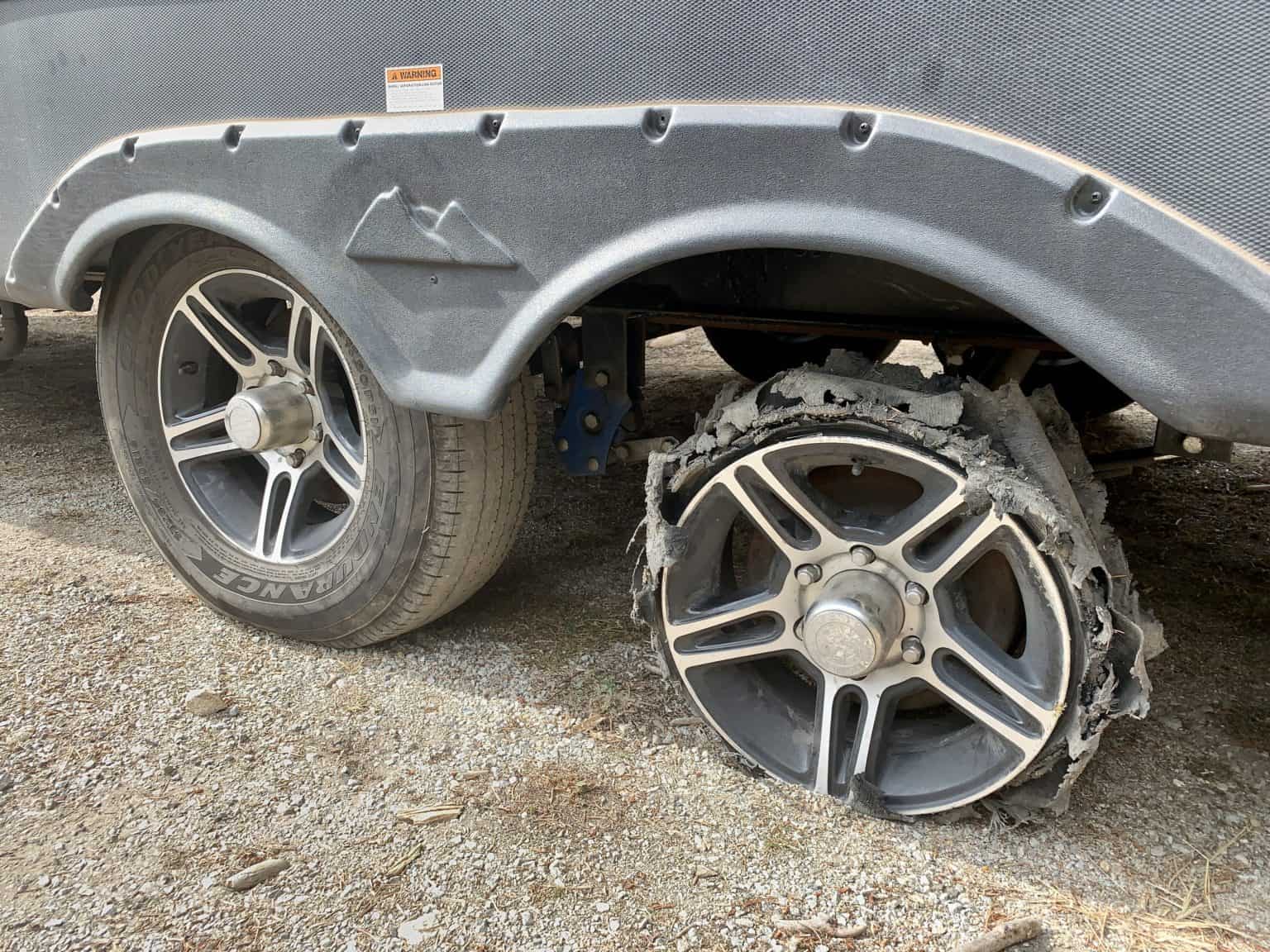 Plus, absolutely make sure you have insurance on your RV and your vehicle! We have everything bundled with Progressive. (Progressive offers full-timer RV insurance. More on that below.)
However, even with insurance and warranty protection, there can be unexpected expenses you may have to cover or things you will have to pay for and later be reimbursed.
22. What does your miles per gallon situation look like with the truck and RV?
The bottom line: A LOT less than we used to get. Brace yourself because these numbers are not going to be what you're hoping to hear…
2014 GMC truck towing: 9 MPG / 2014 GMC truck overall: 13 MPG
2020 Ford truck towing: 13 MPG / 2020 Ford truck overall: 20 MPG
23. How much do you spend on diesel fuel?
This will vary depending on how often you move.
For us, we tow a 35-foot long 12,000 lb fifth wheel. Also, our mileage improved when we switched to the new Ford truck in August 2020.
2019: $5,477.60
2020: $4,861.61
2021 (Jan-May): $974.81.
See a map of everywhere the RV has gone here.
Two things to note: In the second half of 2020, we switched to a 2020 Ford truck with much better mileage on the freeway when we are not towing. We also have not traveled as many miles so far this year.
24. What kind of RV insurance do full-time RVers have?
We have a full-time RV insurance policy with Progressive Insurance.
Full-time RV insurance provides coverage specifically for those who live out of their RV six or more months out of the year.
Full-time RV insurance gives you broader liability coverage while you're parked and living out of it. Whereas a part-time policy often only covers you with vacation liability coverage on your RV trips, full-time insurance covers you against liabilities that occur while the rig is parked, injuries in and around your RV, and losses and repairs that arise around your RV.
It's most typically used by people in retirement communities who keep their RVs in an RV park spot for over half the year.
I want to note, we had a weld break in the base of our RV that was holding our axle and wheels in place. We had quite a mess on our hands.
Besides the fact that we were in the middle of nowhere and had a hell of a time finding a tow, Progressive took terrific care of us! I've used them for years and have been pleased with the service they've provided me throughout those years.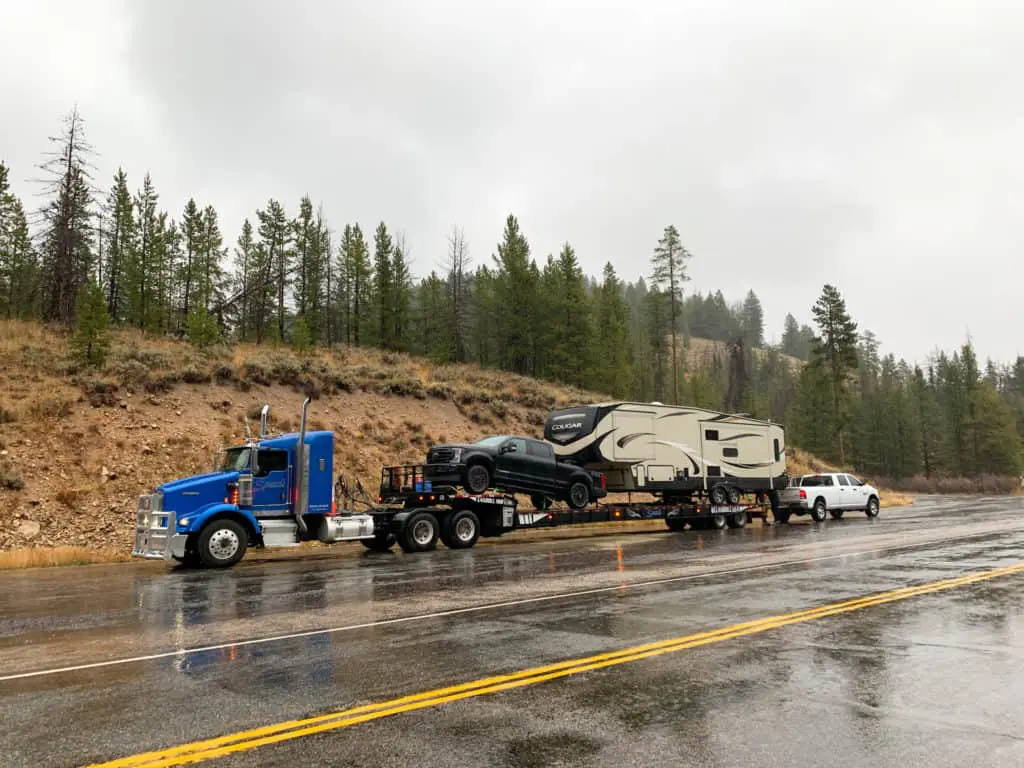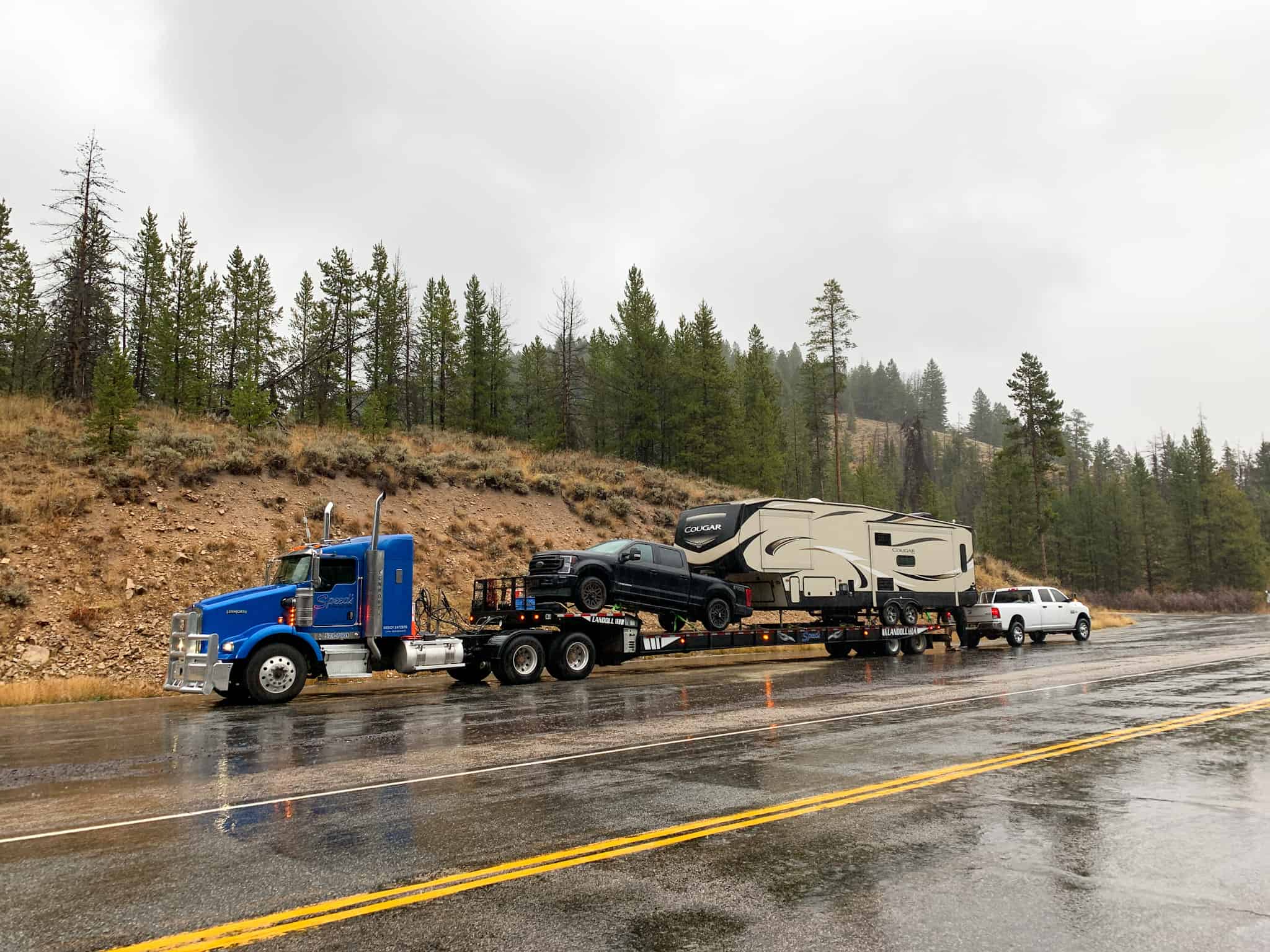 I know Good Sam also has a full-time option. We weighed both options initially, but after bundling our truck and Austin home together with the full-timer plan, Progressive just worked out as a better choice for us.
25. How do you go about having health insurance?
Ahh, yes, health insurance. We've come to one of my least favorite topics to talk about!
To say that the health care system in this nation is a wreck for nationwide travelers is a massive understatement.
That being said, don't get discouraged. Even though none of these options are perfect, there are still at least are a few options.
The most popular ones for full-time RVers are:
Health Sharing: This is technically not health insurance. These are communities of people who all pay into a pot, which then pays back out to you when you require medical services. After a lot of research, we mainly heard negative reviews of these and have opted to stay away from them. However, RVers do like them because they often give you much more freedom in choice of hospital and doctor. This brings me to…

Affordable Care Act / Healthcare.gov: Right now, with the healthcare subsidies, there are tons of affordable options on the healthcare marketplace that make this option super appealing. And it is what we have gone with since the subsidies started. However, state-to-state protection is lacking pretty dramatically. Which puts us in a situation where we have very little coverage when we're outside of Texas. Obviously not optimal for travelers.
For now, with the subsidies, option two works for us.
However, if we were battling big health problems or thinking about having a child, we would need to reassess our options once again.
If that occurs, we will be reaching back out to the original nomad-specific insurance broker we worked with, Kyle Henson, who can be located here.
(I am not being paid by Kyle. I merely recommend his services!)
Kyle helps connect Self-Employed nomads with plans exclusively available to those working remotely around the world or traveling in the US.
When we started RVing, he helped us with a catastrophic Self-Employed health plan that provided similar out-of-state coverage to what we are currently getting from our Healthcare.gov plan.
Kyle can help with any of the options mentioned above, as well as other options not mentioned, including Fixed Benefit Plans, Tri-Term Health Plans, Short Term Medical Plans, and Global Health Plans.
See more about all of those options here. He can help you better in this area than I can.
Working and Staying Connected while Living in an RV Full-Time
26. How do you work while on the road? What is your job?
Working from hotspot internet, from anywhere, was more complicated to explain back when we took off in 2018 than it is now.
These days, in 2021, many people have had to adjust to life working from home.
My career path has looked something like this:
I have a 15-year background in media, mainly working in TV and films. That came with a lifestyle of moving around for jobs with LONG hours. Eventually, I started building up a personal client base on the side.
Once we took off on the road, I relied on those jobs – which included writing for other publications, social media management, creating graphics, Pinterest management, as well as editing photo, video, and audio projects for clients.
I also run this website and produce the Locals Know Best podcast from the RV.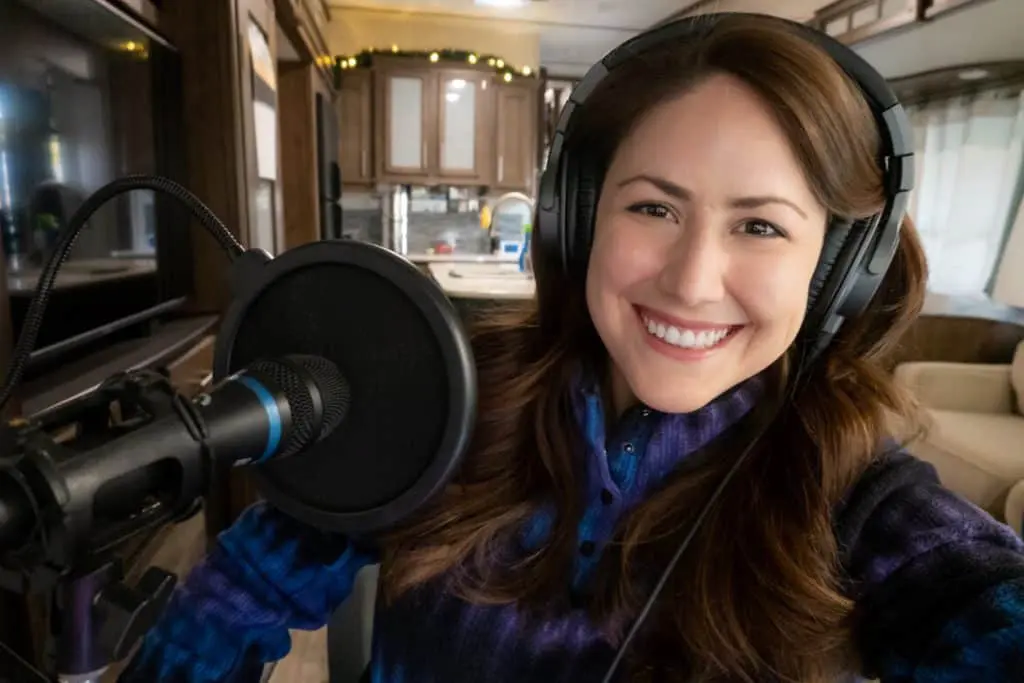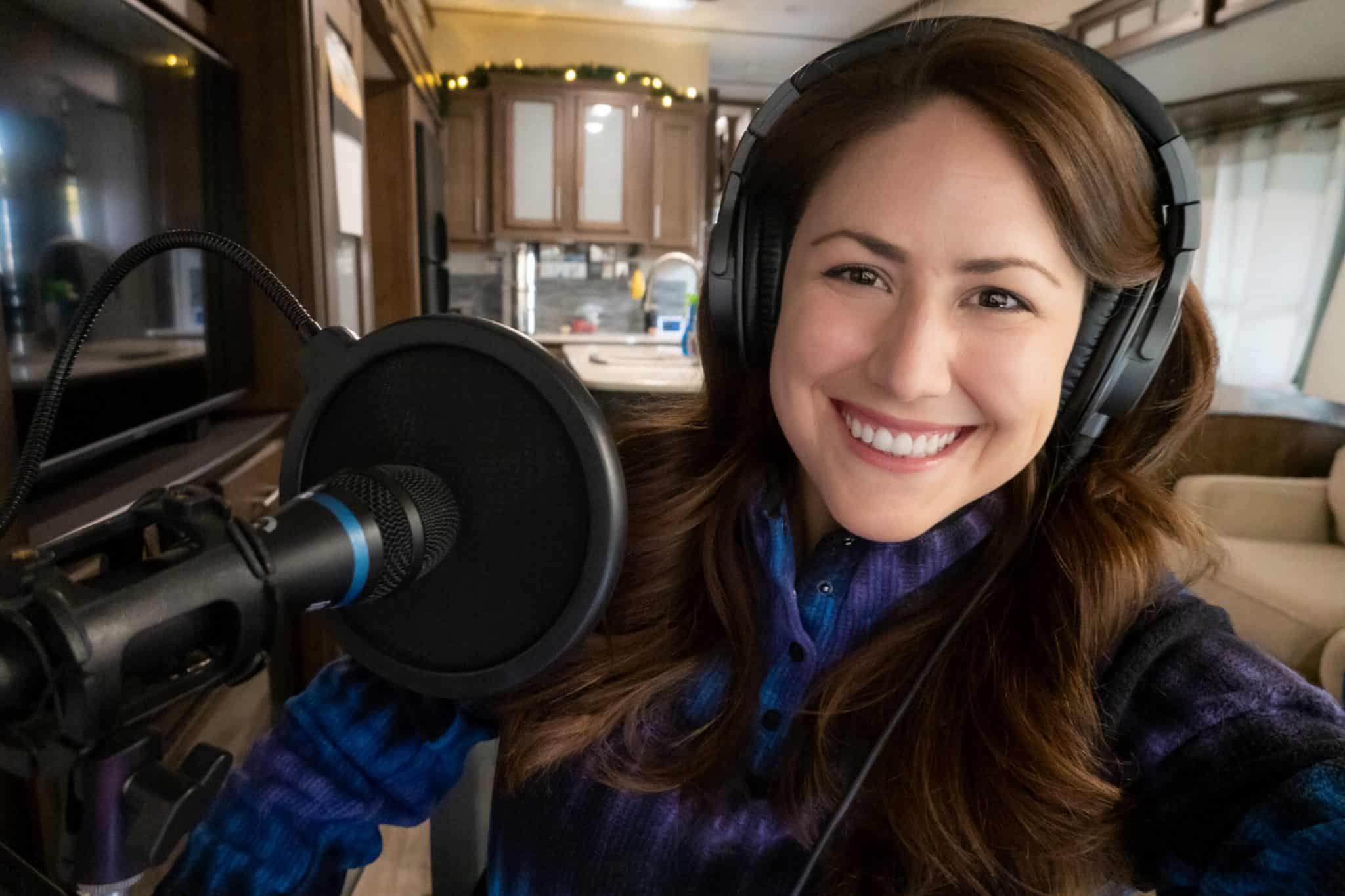 The pros to all of this include: choosing my own work schedule and workdays, not having to endure rush hour, regularly working in different beautiful settings, and working with my pets every day!
A minor con I've discovered along the way: Being the only person in control of your entire schedule can be tiring.
I'm an avid planner, so at first, this didn't bother me. However, after a while, I noticed even I can get worn out from constantly arranging work day, travel day, and adventure day logistics.
My husband drives us everywhere, cooks everything we eat, and has been virtually attending college since hitting the road.
If you are currently looking for a remote job to combine with traveling, look for positions on websites such as Jooble.
27. Where do you work?
When the weather allows, outside at the end of our picnic table, sitting in my comfy lounge chair!
When it's cold or rainy, in our much-beloved RV office, which we built ourselves.
Finding an RV with office space back in 2018 was almost entirely impossible. They are just not built with it in mind. These days that's changing a bit, but still slowly.
So when we were hunting for our RV, we were looking for one that had good potential for building an RV desk.
After perusing the internet for RV office ideas, we settled on building a long dual RV desk that would face a big window. Therefore, we specifically picked a rear living RV style with space to easily adjust to a desk. This way, even if we are stuck inside working, we can visually appreciate each new spot.
See the transition below! 👇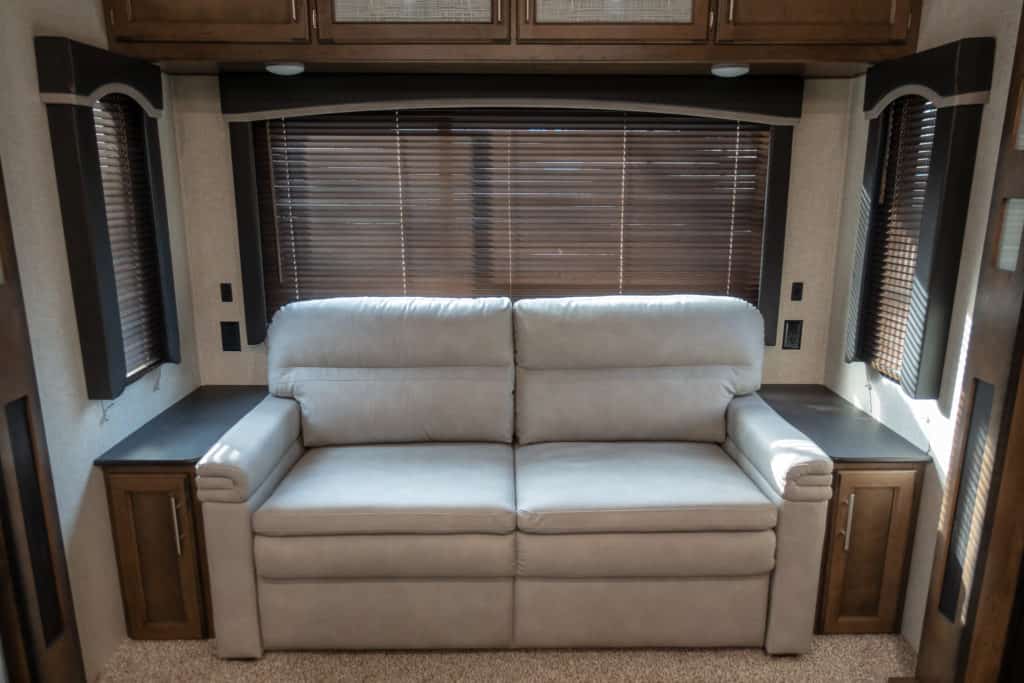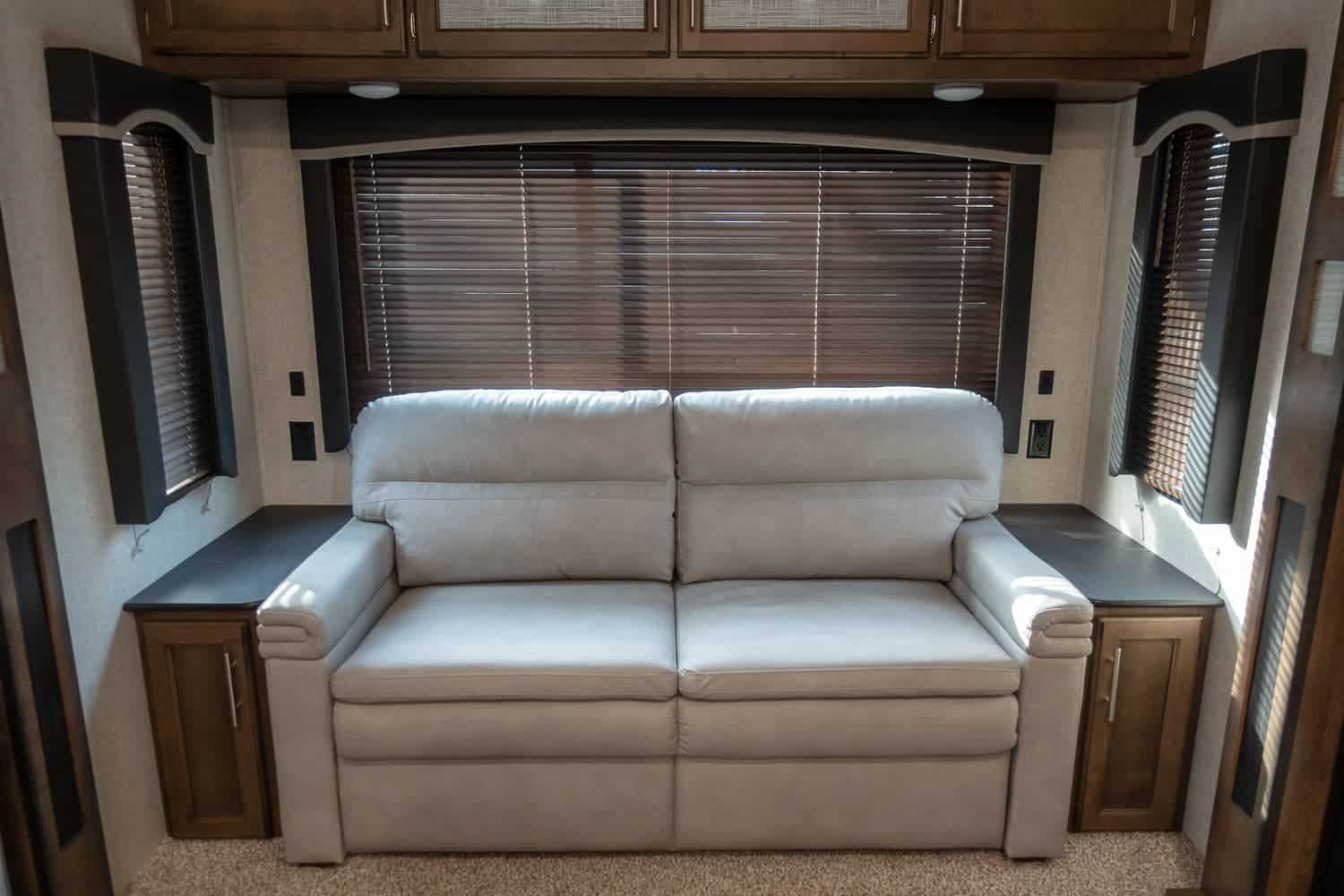 28. How do you get the internet?
Until Mr. Musk gets Starlink fully up and running, WiFi will not be as dependable as you're used to, no matter how much you gear up your rig.
We started off with Sprint phones and Sprint hotspots. (I had been with Sprint since the early 2000s… ? ) But honestly, Sprint just can't cut it on the road.
We then decided to purchase a SIM card and hotspot from a sketchy middleman. He was selling plans that someone else had given up, with better data limits than those currently available at the stores. It was costly, and the guy we were working with kept sending us hotspots and SIM cards that only sort of worked.
A few months into being on the road, we learned about a truly unlimited Verizon hotspot plan from an article on the Mobile Internet Resource Center website.
We had some problems getting the plan. Two Verizon stores were unaware it existed. But finally, a Best Buy knew of it and set us up.
We made the switch and haven't turned back since!
Sadly for readers, that plan has since been discontinued. We are grandfathered into it and still have it, but I cannot recommend it to new subscribers.
That being said, there are ways to still get an unlimited plan out there! I'm just outdated on my information in this area since we have stuck with this old plan.
I recommend checking out the Mobile Internet Resource Center for the newest information on mobile internet. They live the nomadic life and do a great job of laying out all of the available options on their site.
Once we got the Verizon hotspot, we had Sprint and Verizon hotspot options. We liked having two networks to pick from but quickly realized the other network should be AT&T, instead of Sprint, purely due to the better service options across the states.
We finally switched our phones over to AT&T in the summer of 2019 at the Mall of America. And then rode some rides to celebrate! 👇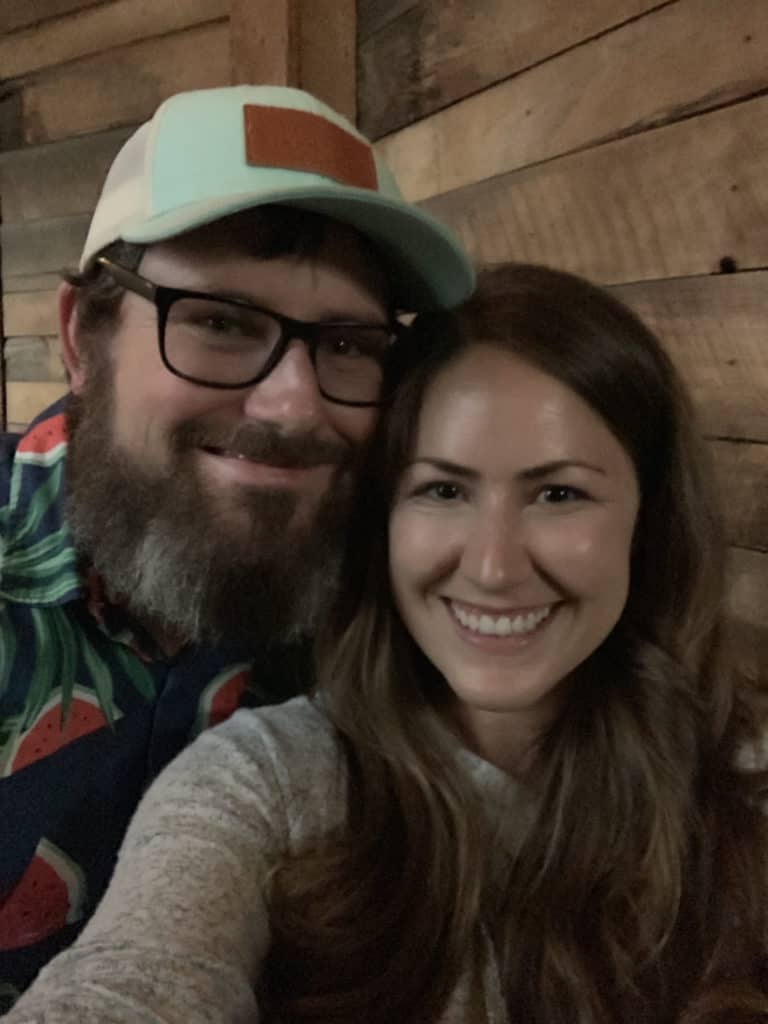 We've had minimal problems with this AT&T/Verizon hotspot setup since we've had it. As stated above, I run multiple businesses out of the RV, produce a podcast, my husband goes to school, and we stream TV in the evenings. Things do run a bit slower these days, but we've adjusted.
Getting Comfortable while Full-Time RVing
29. How do you get and watch TV?
The exact same way we did in our brick-and-mortar home!
We had cut the cord with cable TV long before hitting the road.
In our opinion, with streaming, a digital antenna, and gasp… DVDs and Blu-rays, cable TV is rarely needed anymore.
Funny story on this topic actually… our antenna fell off the roof of our RV about 5 months into full-timing. It then took us almost 12 months to get a new one. That's how much of a priority watching the major networks is for us.
The only times not having a digital antenna became a problem was for events like football and the Oscars.
However, part of that year-long wait was due to Keystone dragging their feet and not wanting to admit it was a faulty part (it has been established as a recall now). But part of that was also on us. We just didn't turn it on much, so we didn't really care when we got it back.
It should be noted some RV parks come with cable TV hookups! The KOA we've been at all spring has cable, so we currently have more television right now than we had for years before RVing.
30. How do you exist without today's common creature comforts?
We actually have a lot of creature comforts in the rig. RVs are pretty darn fancy these days!
But, there are three creature comforts I miss greatly:
A dishwasher. Dishes pile up because, if I'm going to be honest, neither of us likes to clean. The key to combating bad pile-ups for us is only having 2 of each bowl, plate, cup, and utensil easily accessible and then hiding the rest, only to come out when we have visitors.
Fast WiFi. I have adjusted to working with slow WiFi. However, having no WiFi is a dealbreaker. If we park in a spot where we can't get anything, we have to move. And faster WiFi, of course, sure would be nice. But it's a tradeoff I've become comfortable with in exchange for waking up in beautiful new locations each day.
A Bathtub. This one I very much miss. Every time we end up having to stay in a hotel due to family trips or RV repairs, I head straight to the closest Lush and stock up on as many bath bombs as my budget will allow.
31. What are our most used items in the RV? Our "Must-Haves."
What can we not live without?
If we're boondocking, we can't do that in this rig without our Honda 2200-Watt Portable Generator, our 200W Go Power! Portable Solar Kit, and our Jackery Explorer 1000 Portable Power Station.
(An upgraded battery is also on our "someday" list and would help us out a lot!)
When at a campground or RV park, some of our most loved items include:
📱 WeBoost Drive 4G-X RV Cell Phone Signal Booster for RV
💧 Travel Berkey Water Filter
⚡️ Progressive Industries Hardwired EMS Surge & Electrical Protection
⛰️ America the Beautiful – The National Parks & Federal Recreational Lands Pass
♨️ Dual Controlled Microplush with Sherpa Electric Heated Blanket
🚨 Proteus AMBIO – WiFi Temperature Humidity Sensor with Buzzer and Email/Text Alerts
🎧 Plantronics Wireless Noise Canceling Headphones or AirPods
🔒 Latch It Keypad Door Lock
You can read more about why those are our favorite RV life items in these posts:
12 RV Must-Haves for Newbies
20+ Holiday Gift Ideas for Full-Time RVers in 2019
15+ Awesome Holiday Gift Ideas for Full-Time RVers in 2020
32. How do you manage your obligations yet also have fun?
It's hit and miss.
Some weeks, we work too much. Some weeks, we have a lot of fun. The goal is to attempt to have a healthy balance as much as possible.
When we've been in the best flow, we've kept track of all our obligations on a master calendar. Then every Sunday or Monday, we look at the calendar and the upcoming weather and pick a few days we want to be our "off days." I also like to refer to these as our "adventure days" or our "chill days."
"Adventure days" are the days we are off exploring the area from when we wake up until we go to bed. We often make these weekdays, so we aren't competing with locals enjoying their weekends.
"Chill days" are the days we are recovering and watching Netflix. The key is to try to not forget these days. (The enneagram 7 in me often finds myself trying to turn these days into "adventure days," but recovery time is key to making all the other days function happily.)
Some weeks we can squeeze in more fun days; some weeks, we can't even squeeze in one.
Now, of course, we still get in two daily walks on workdays and sometimes evening adventures during the week. However, for the most part, our fun is happening on our "adventure days."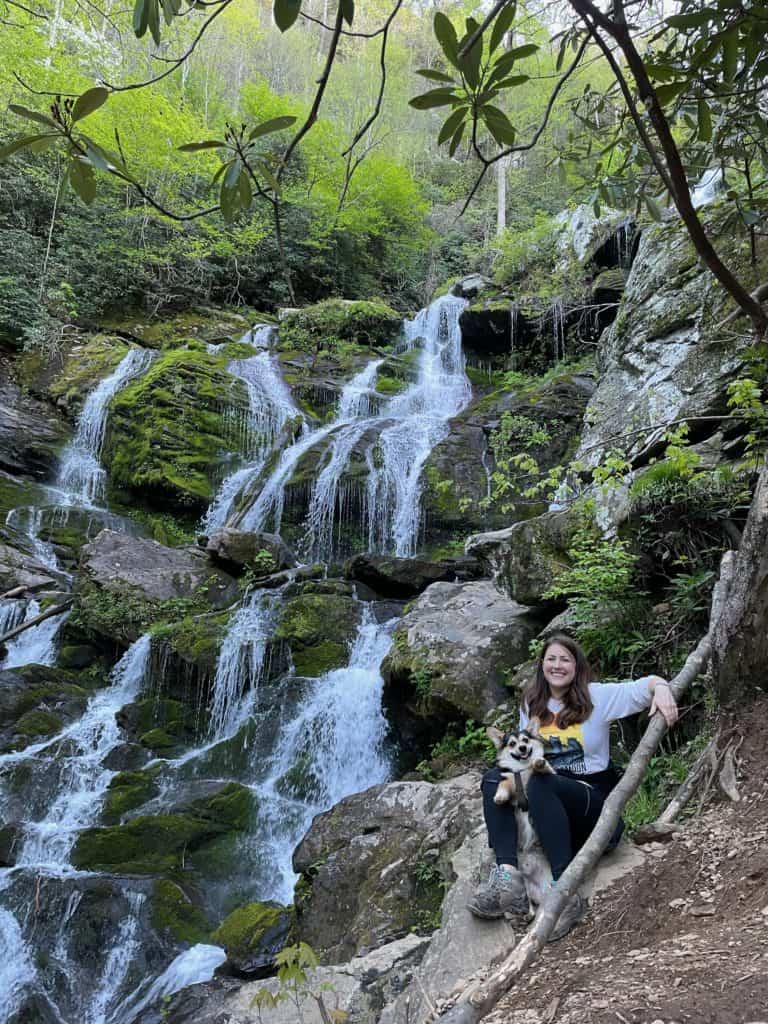 The other two types of days are "work days" and "travel days."
Every week we strive for a healthy balance of all four of these types of days. A bit of structure has always been super helpful with keeping us full of life, purpose, joy, productivity, and most notably, sanity.
However, what that looks like changes all the time because when you sign up for RV life, you sign up for adventure and spontaneity, but also for lug nuts disappearing, fridges breaking and welds falling off.
At the end of the day, having patience, awareness of what we need, and flexibility have worked for my husband and me.
33. How do you find balance or "flow" on the road?
This one is SO hard.
One of the best perks of full-time RV life is the ability to be spontaneous!
There are lots of times you can just go with the flow! We spent a lot of 2020 going to the US' lesser visited National Parks (such as Theodore Roosevelt and Voyageurs) and did not have to worry about planning ahead AT ALL!


But then, other times, you must plan ahead in RV life. Prominent examples include the summer months and any time you want to be somewhere warm during the winter months.
I personally think establishing a rhythm is the HARDEST part of being on the road full-time.
Setting these two tiny bits of order at the core of a very non-routine lifestyle has helped us get a bit closer to that elusive work/life balance:
What has given us the most rhythm is precisely what I explained above. At the beginning of the week, we look at our calendar and the upcoming weather and make a game plan for the week. And make sure we have a balance of days.
Beyond that, having a morning routine is super helpful. Ours looks like coffee, working out, and walking Marty. I also try my best to get up an hour before Barrett and knock out some work before he gets up, so I'm already feeling a bit accomplished on our morning walk.
34. How do you stay connected with family and friends?
I was born and raised in Michigan. My husband, in West Virginia. I have worked in Michigan, Ohio, New York, California, Texas, and Pennsylvania. My husband and I met in Texas and own a house in Texas.
Our community of family and friends prior to RVing was spread all over the United States and beyond, and it continues to grow all over the place.
In many ways, since hitting the road, we've seen more of the people who matter most than we ever used to when living in one place!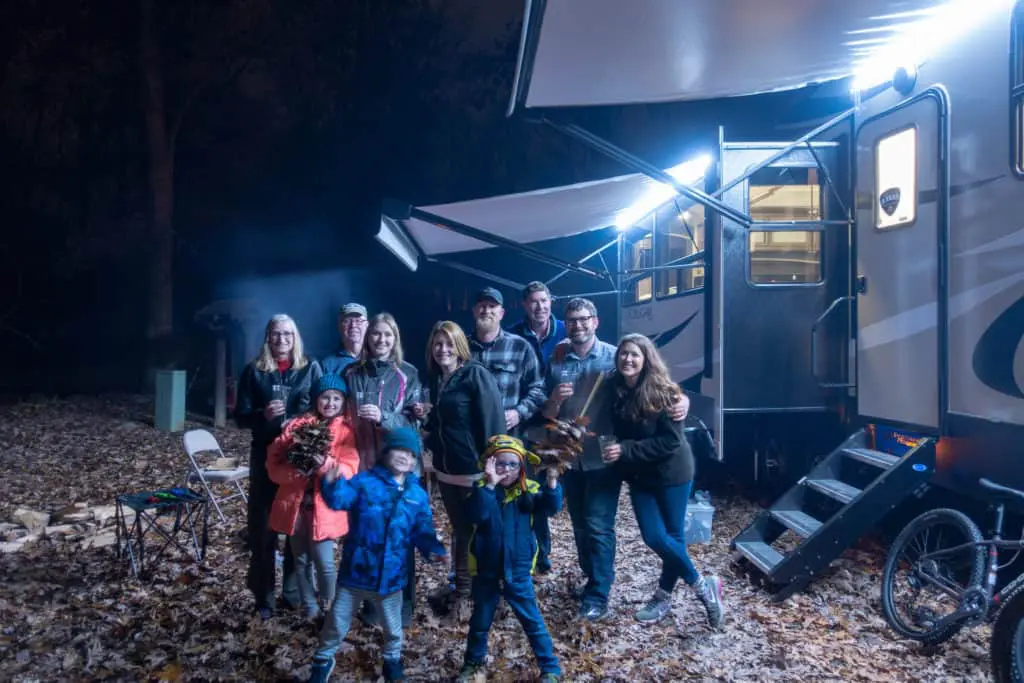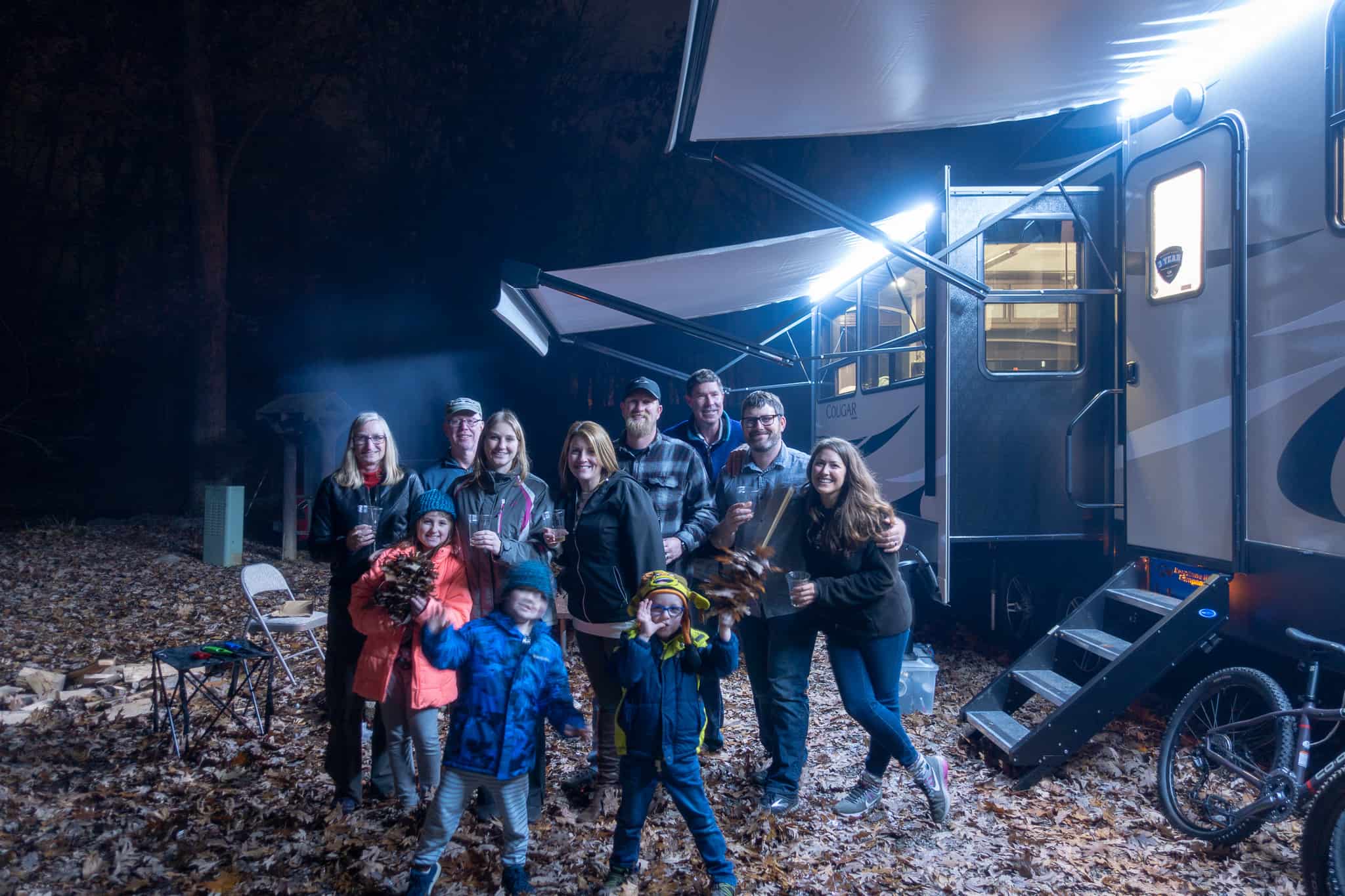 35. How do you find community on the road?
Online and in person!
The RVer community is exceptionally kind and welcoming. We tend to find it really easy to meet new people in the RV parks we go to. And now with Marty, even more so!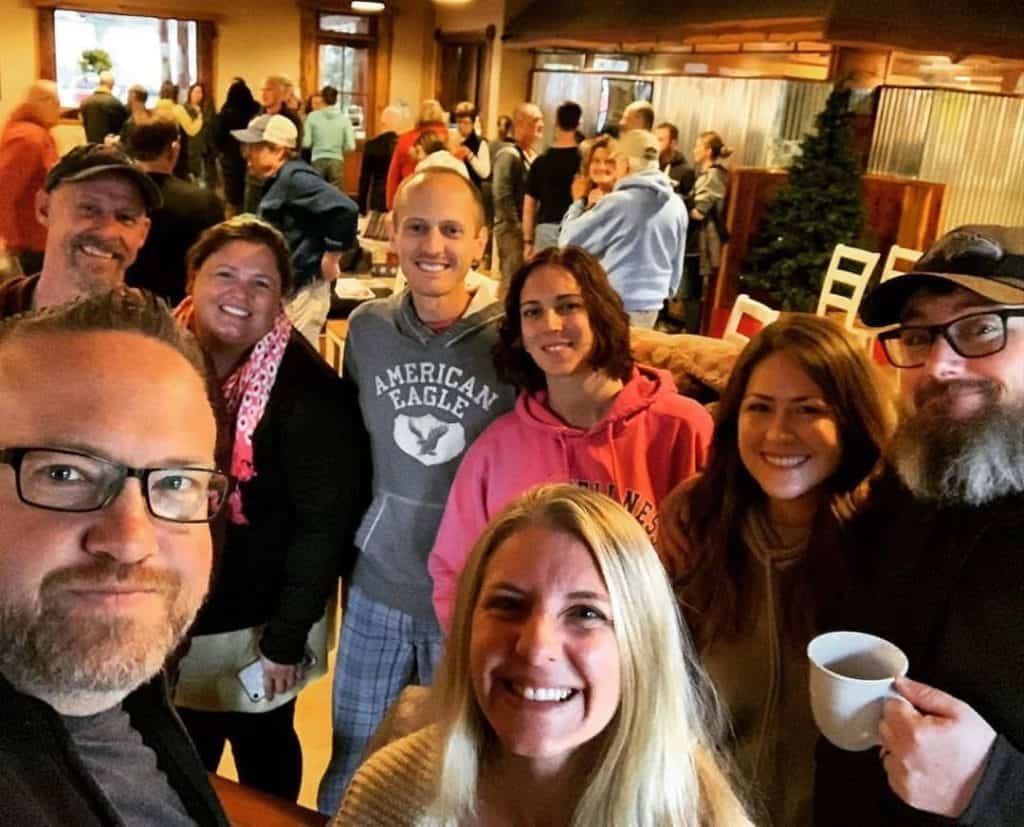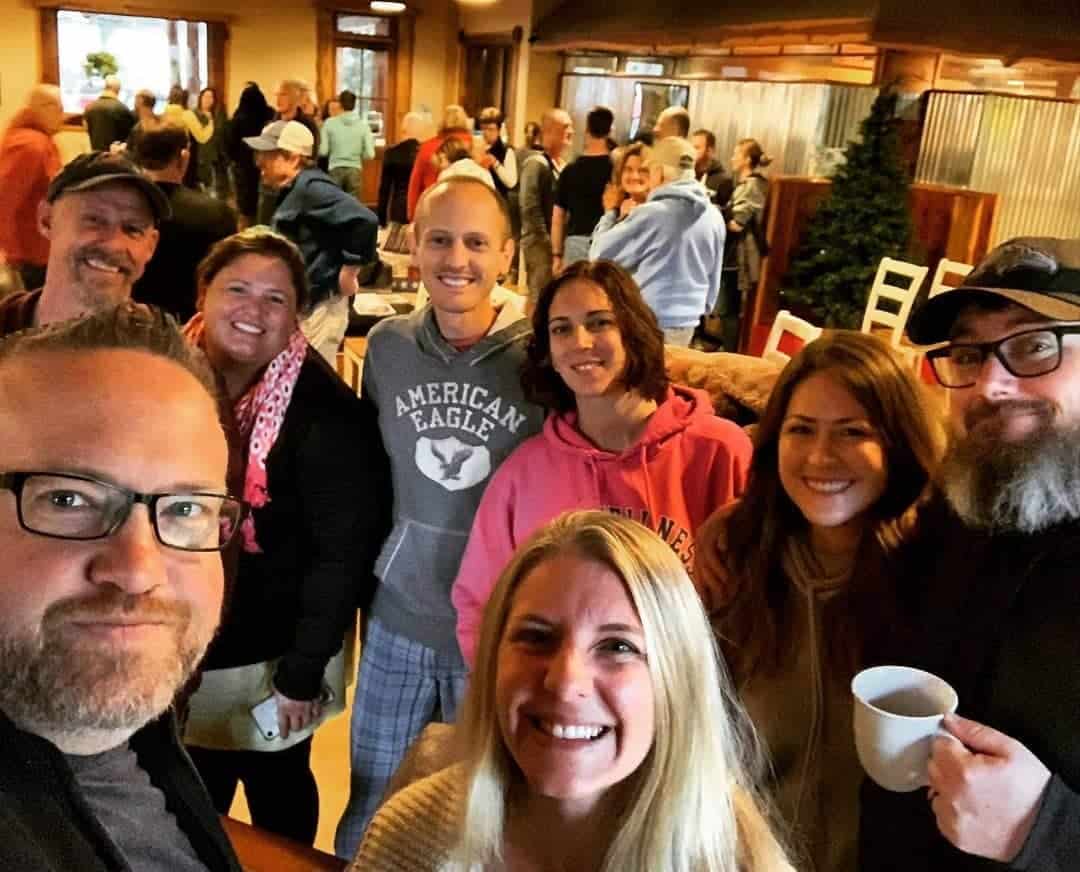 However, there are great groups online! My favorites for RVers our age who work on the road are Xscapers and The RV Entrepreneur group on Facebook. Both of these groups have in-person meetups as well, which are great for meeting new fellow RVers!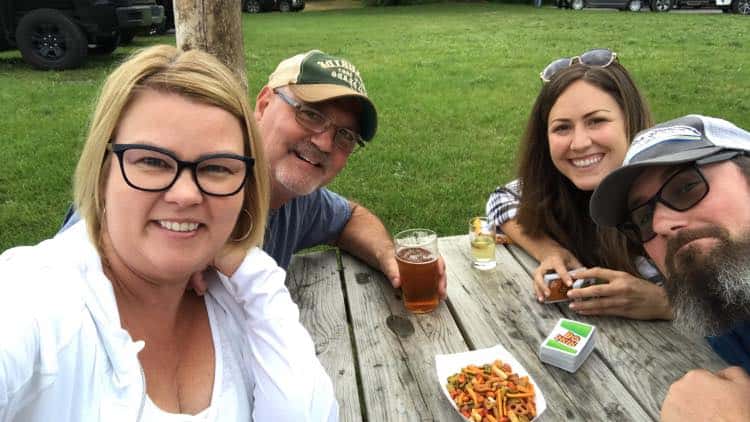 You can also find groups with particular interests online. Then, as you travel, you can find the locals in those groups. I have two cousins who are each a beer enthusiast and a historian, and both meet up with their digital friends as they travel.
36. How have you and your husband handled living in that small of a space?
You might think living in such a small space with a significant other would be tough, but I actually think we've handled it quite well.
Don't get me wrong, many situations can turn a pleasant day sour in RV life.
If you think that life on the road is all about relaxing in a deck chair and enjoying your surroundings, then I have news for you. You will inevitably find some situations where things go from good to bad quickly.
Converters fail, welds holding axles break, and trucks break down. Many mechanical disruptions come with living full-time in an RV. Still, we've found it's a fair tradeoff when you also think about all the good things associated with this lifestyle, such as seeing so many new places and meeting people from different walks of life than we're used to in our day-to-day lives.
That being said, we've always genuinely enjoyed being together and spending our days together. I truly think we're two of the lucky ones.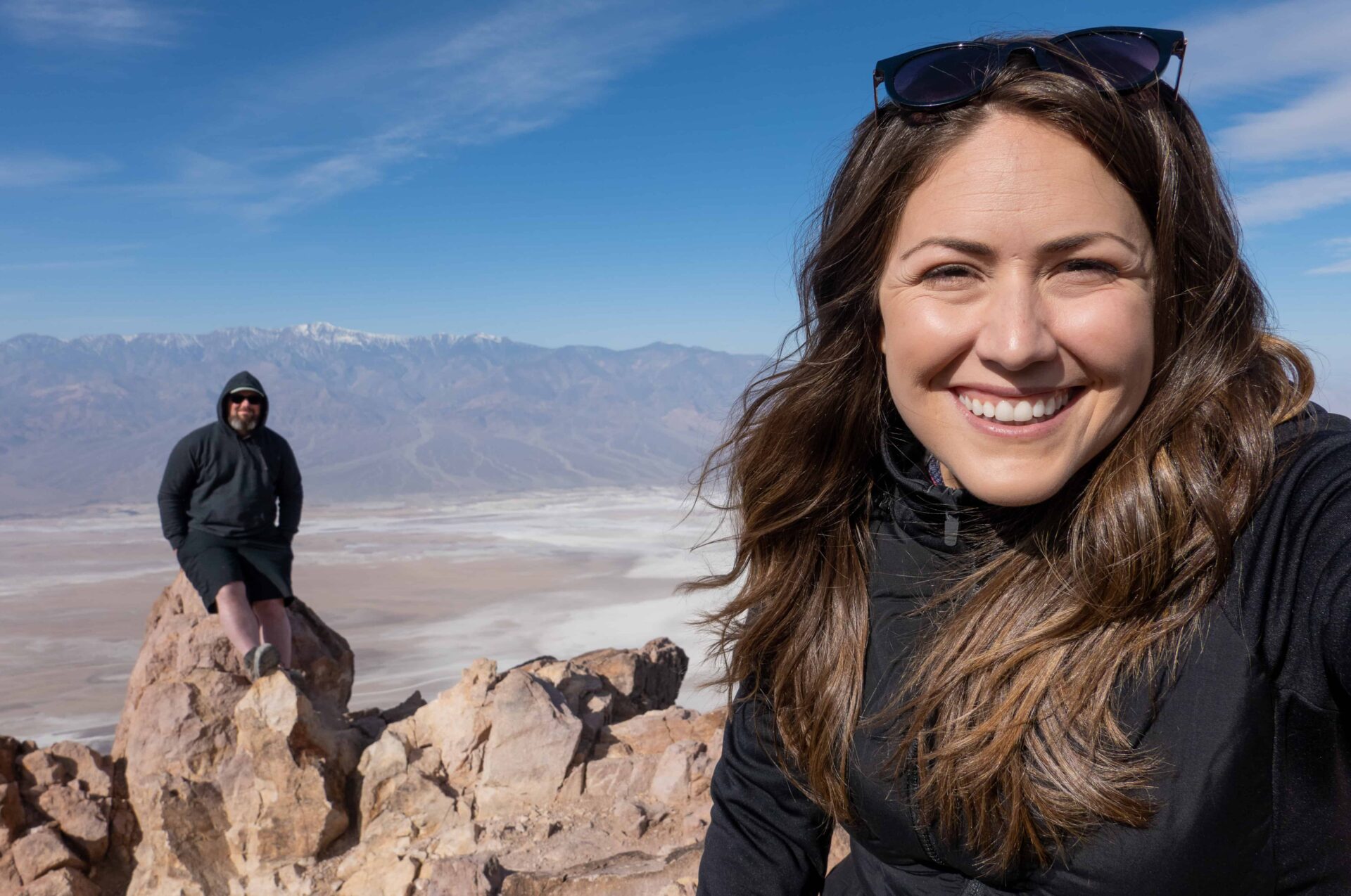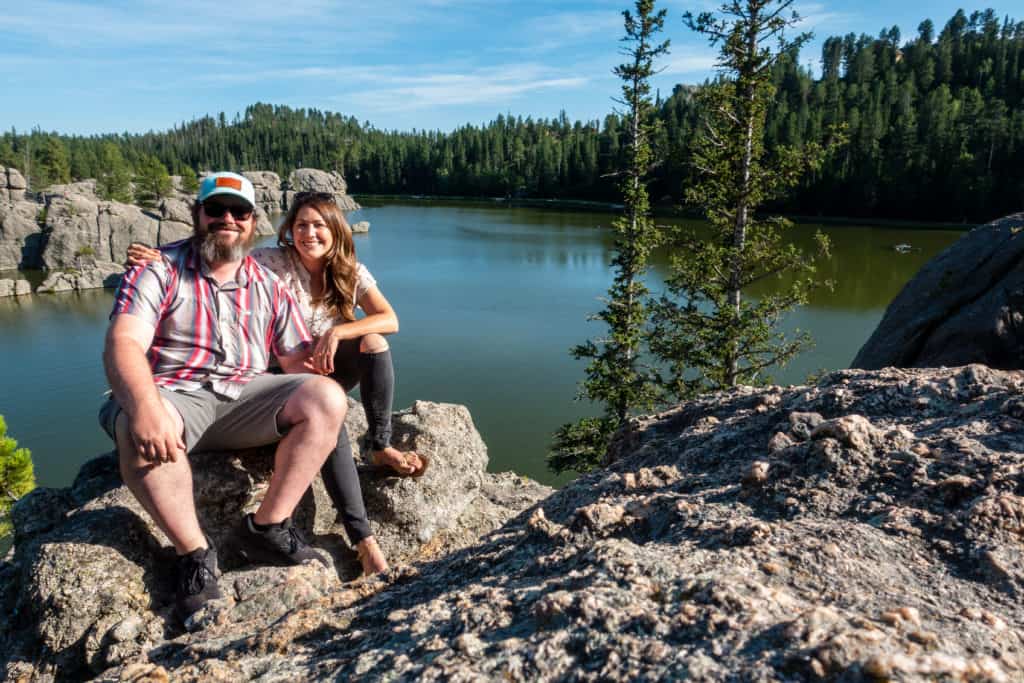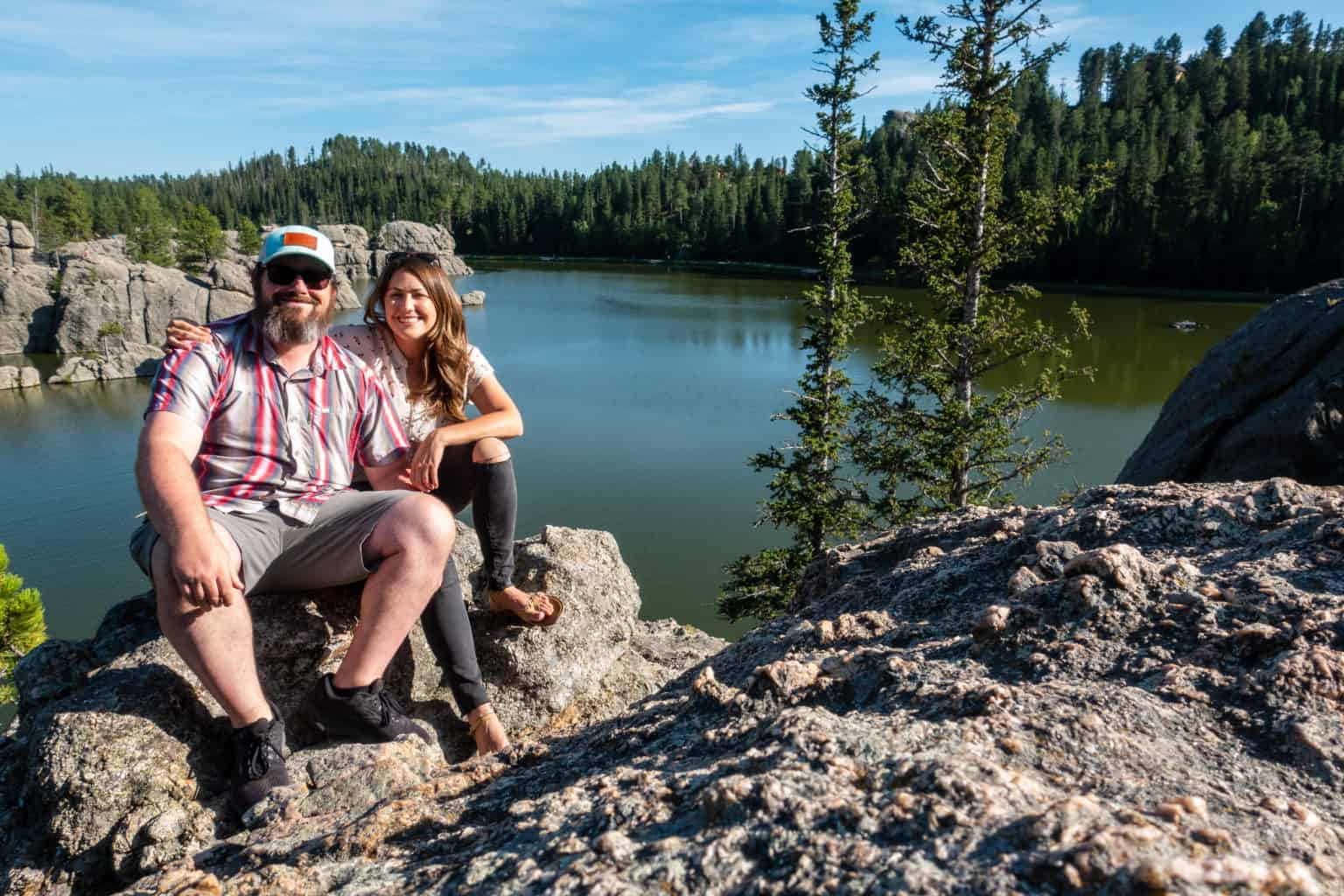 Do we get into arguments? Of course!
But the small space means we also work through them and get out of them pretty quickly. There's just not a lot of room to ignore each other or let anything brew.
I believe we are now much closer than we ever would have been before, being separated 5 days a week. And that has honestly just expedited getting to understand each other and helps us function as a duo.
Real talk, though. My friend Tina wrote a really great (and funny) article about how to cope, from a full-time RVer's perspective, for anyone currently trying to live and work in a small space with their significant other. (She even included some quotes from my husband, Barrett!)
Just know, that this lifestyle comes with a lot of ups and downs, straight-up unknowns, can lack routine, and can frequently stretch your boundaries of what's comfortable. And it can be tiring to be pushing the edge of what is comfortable all of the time.
In RV life, you may feel you need to check your emotions more often than in brick-and-mortar life. Self-care and patience are crucial.
This lifestyle has also made us find creative ways to tackle the tough things. Look here for a classic example of what any couple who has ever worked together on parking their rig has experienced.
37. Do you live with pets on the road?
Yes! We started our RV life journey with my two older cats, Squirt and Vodka.
We took off in 2018. Earlier that year, Vodka was diagnosed with Lymphoma. She was given a two to four-year diagnosis and lived happily on a very low dose of chemo for a little over two years.
Honestly, she was great on the road and loved watching everything out of the RV.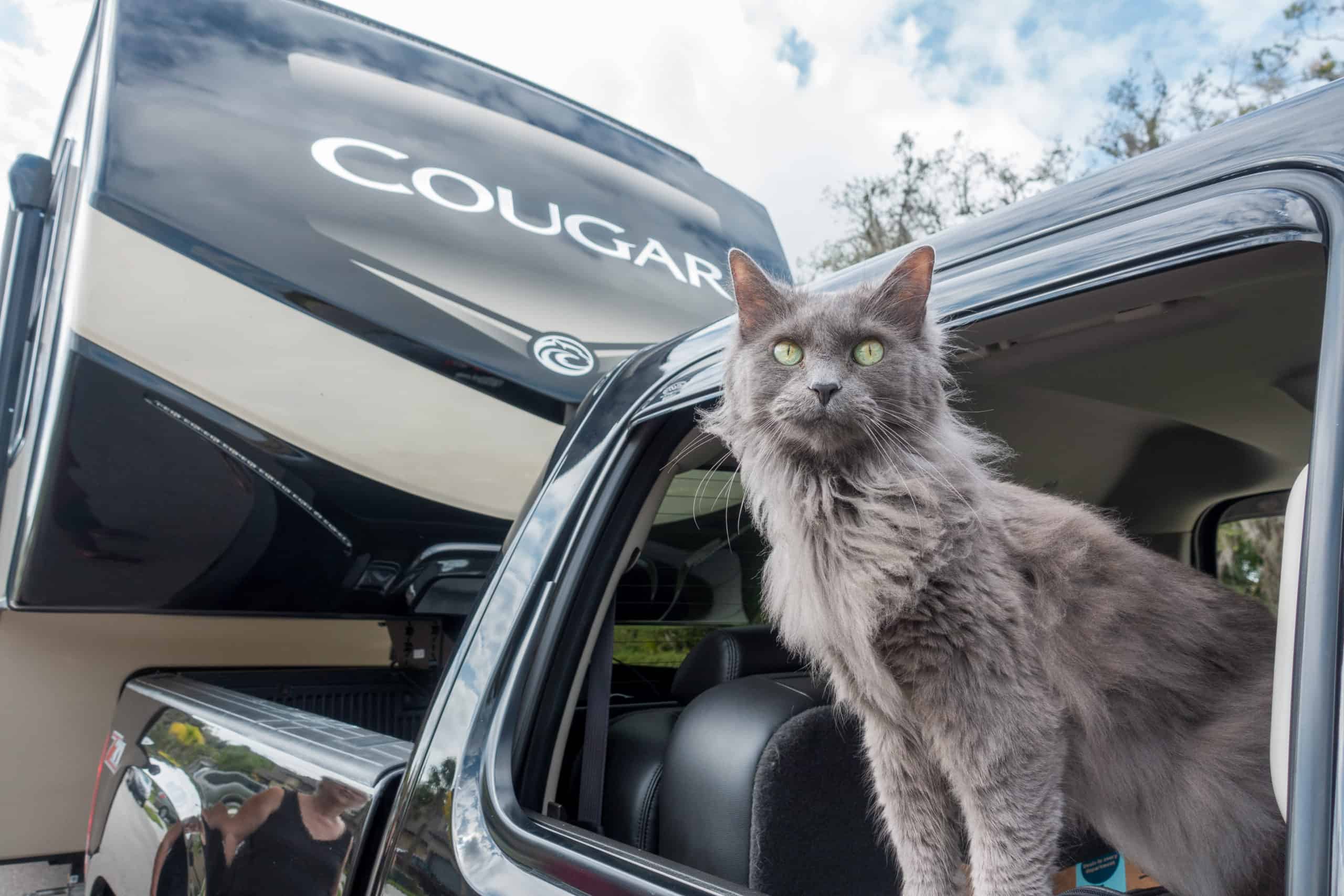 Squirt hated travel days but otherwise loved RV life. In June of 2021, Squirt passed away from a mix of old age and health complications.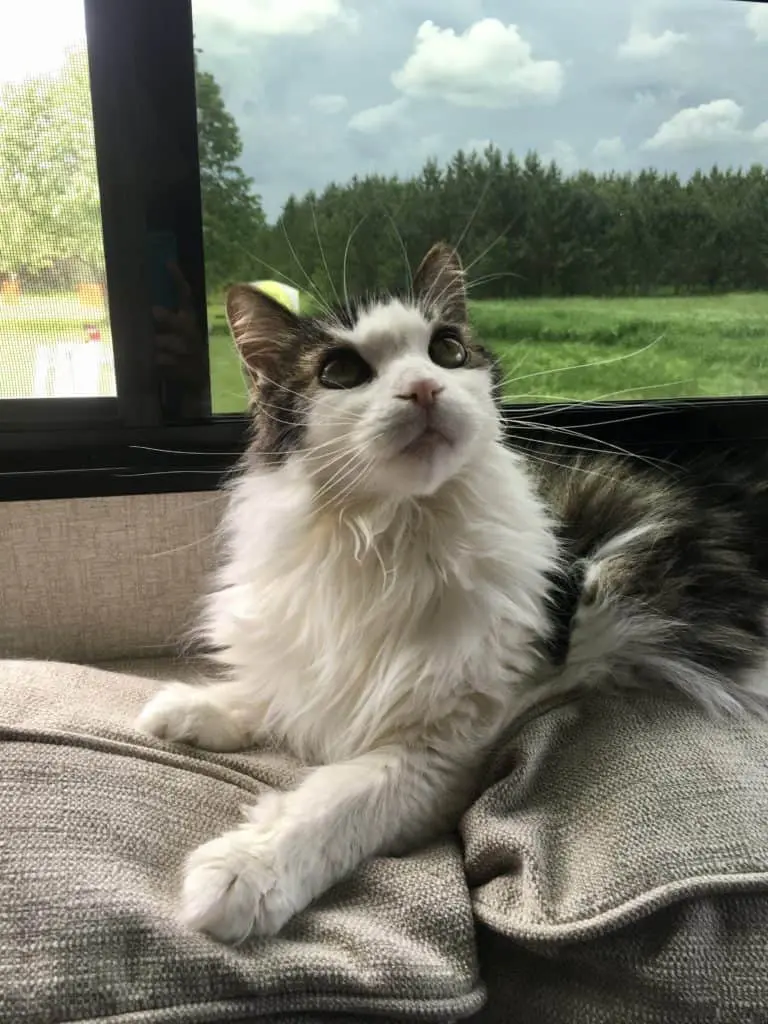 When Vodka passed in the fall of 2020, the same clinic where we had to have her put down had adoptable kittens. We had friends in big cities who were trying to adopt pets and having the most challenging time. We took it as a sign and adopted our dear Dakota!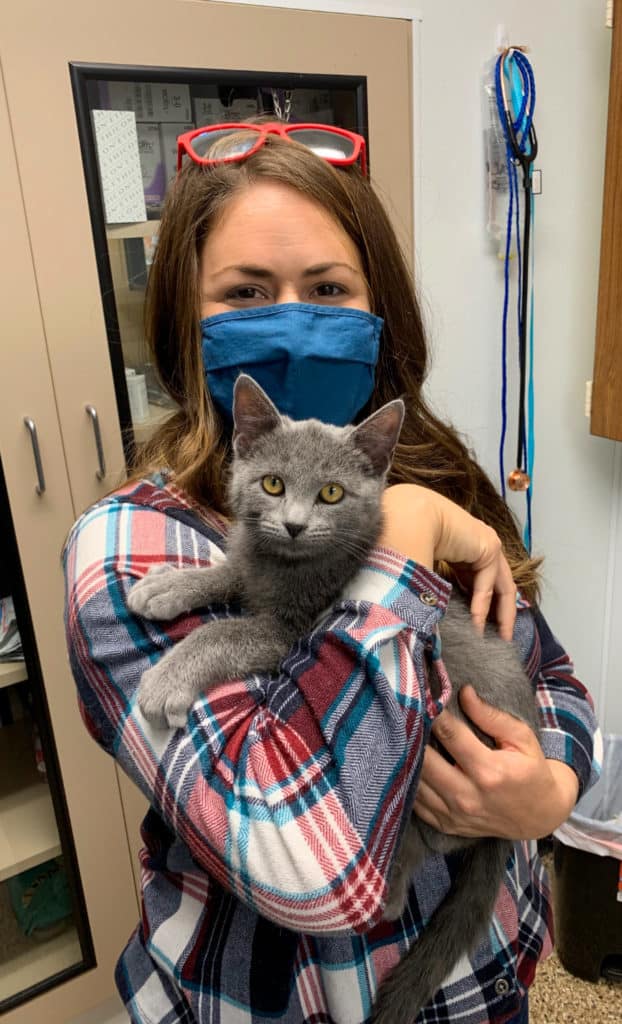 Then, that same week, we got a call that our names finally came upon a Corgi list. (We were on several and had been waiting for quite a while.)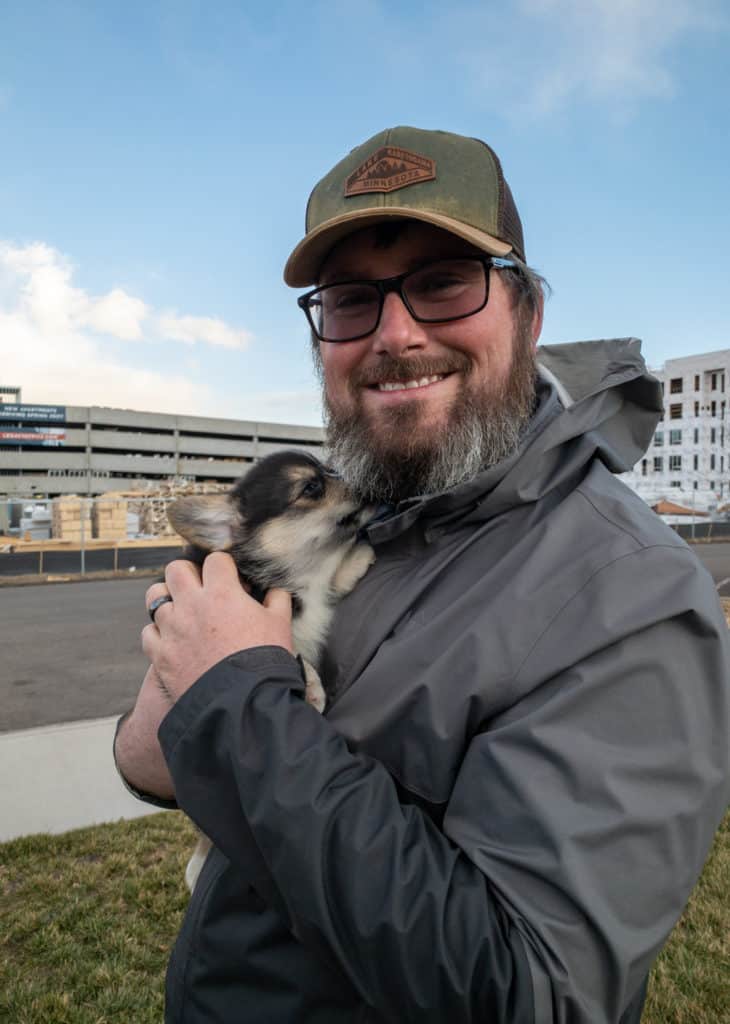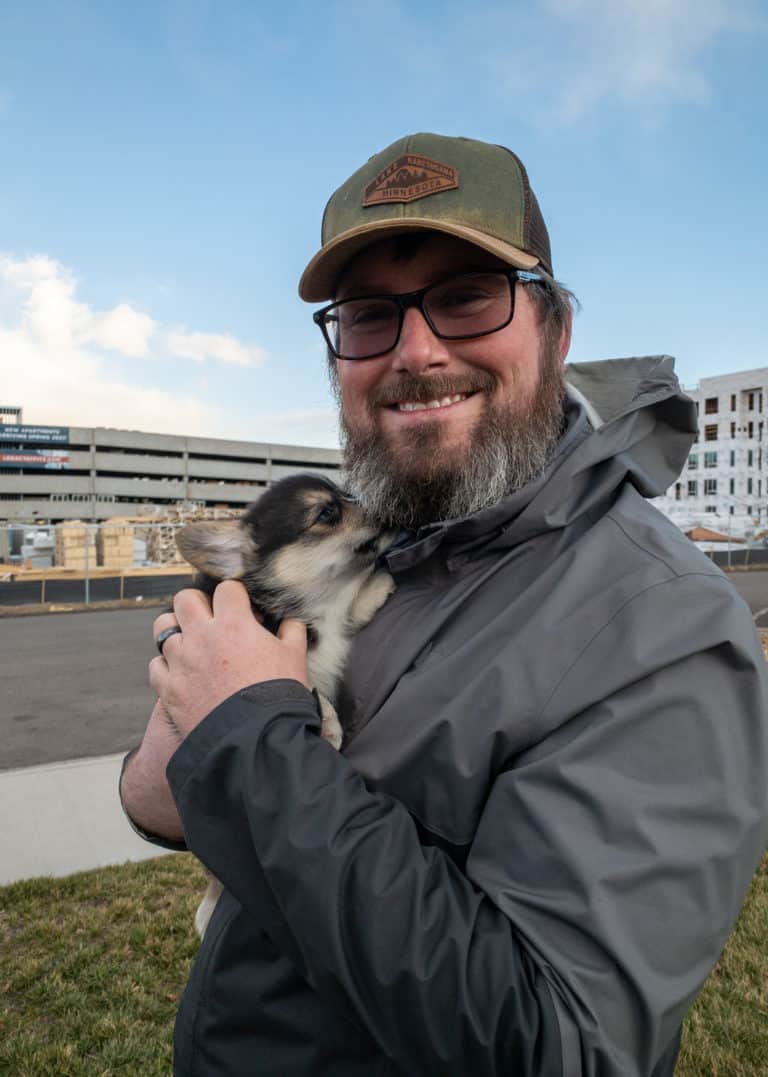 In November of 2020, we added Marty to the family!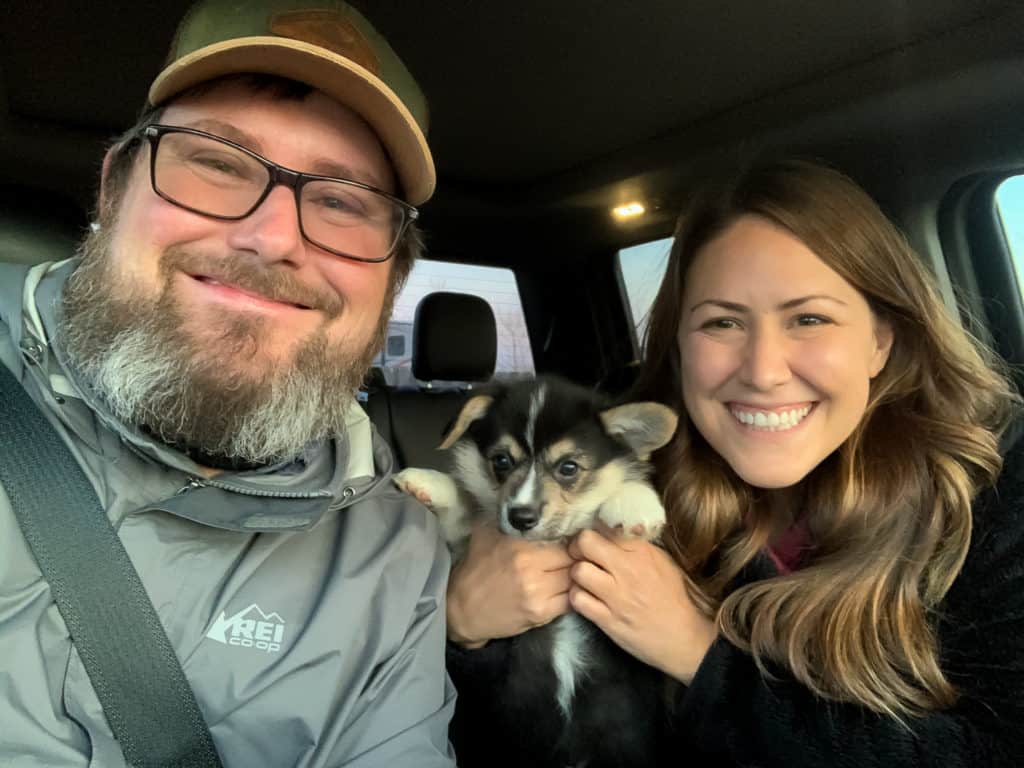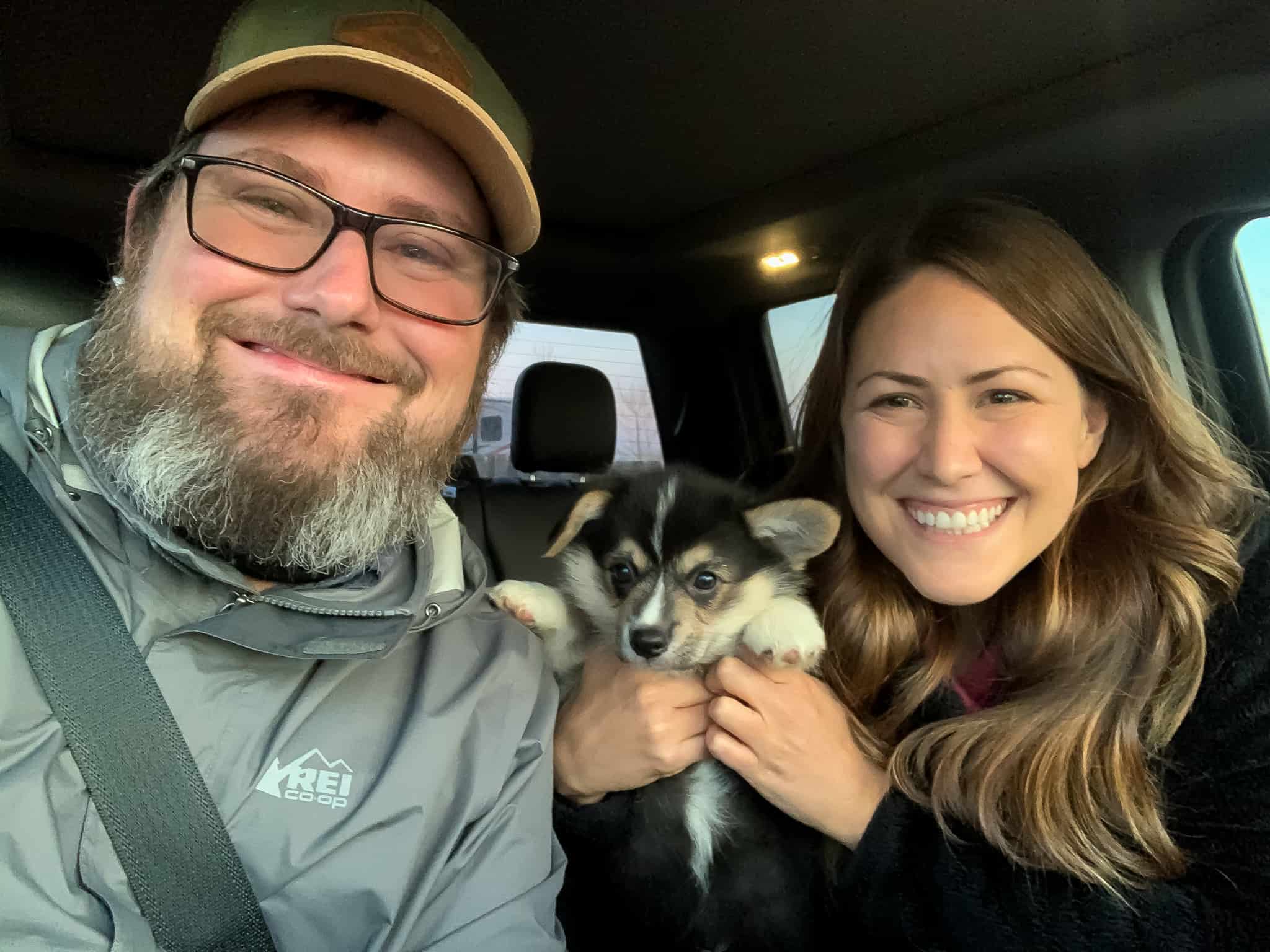 I'm happy to report Dakota and Marty love each other very much. They play constantly, and the RV's energy has changed dramatically since adding them in the most wonderful way!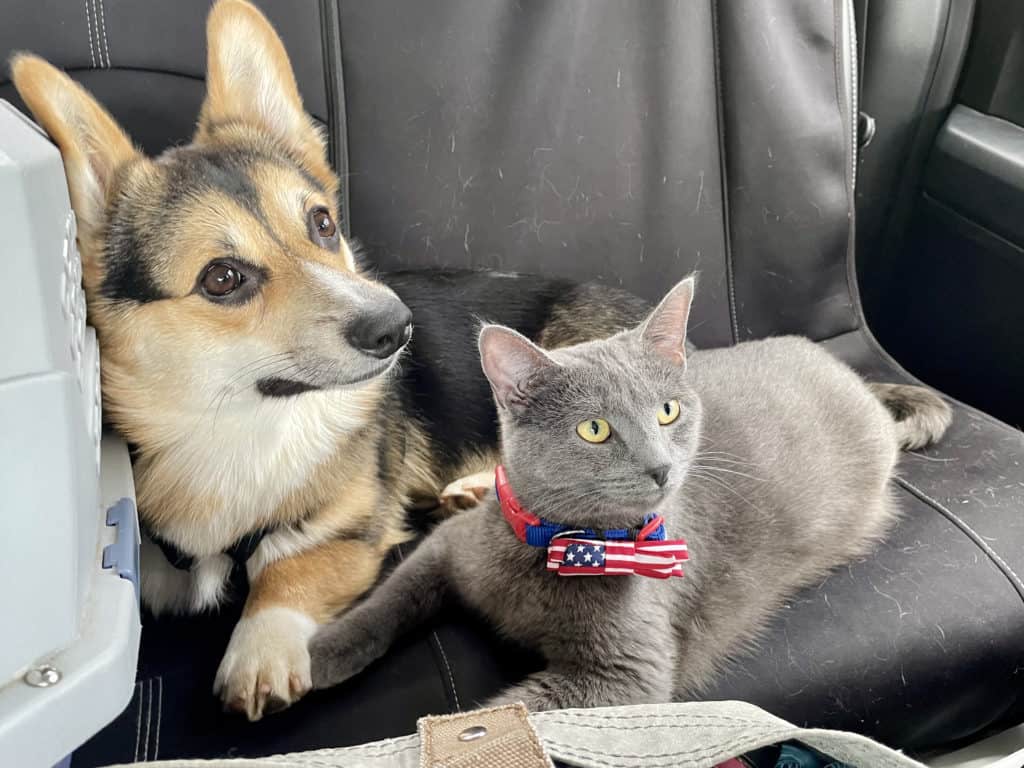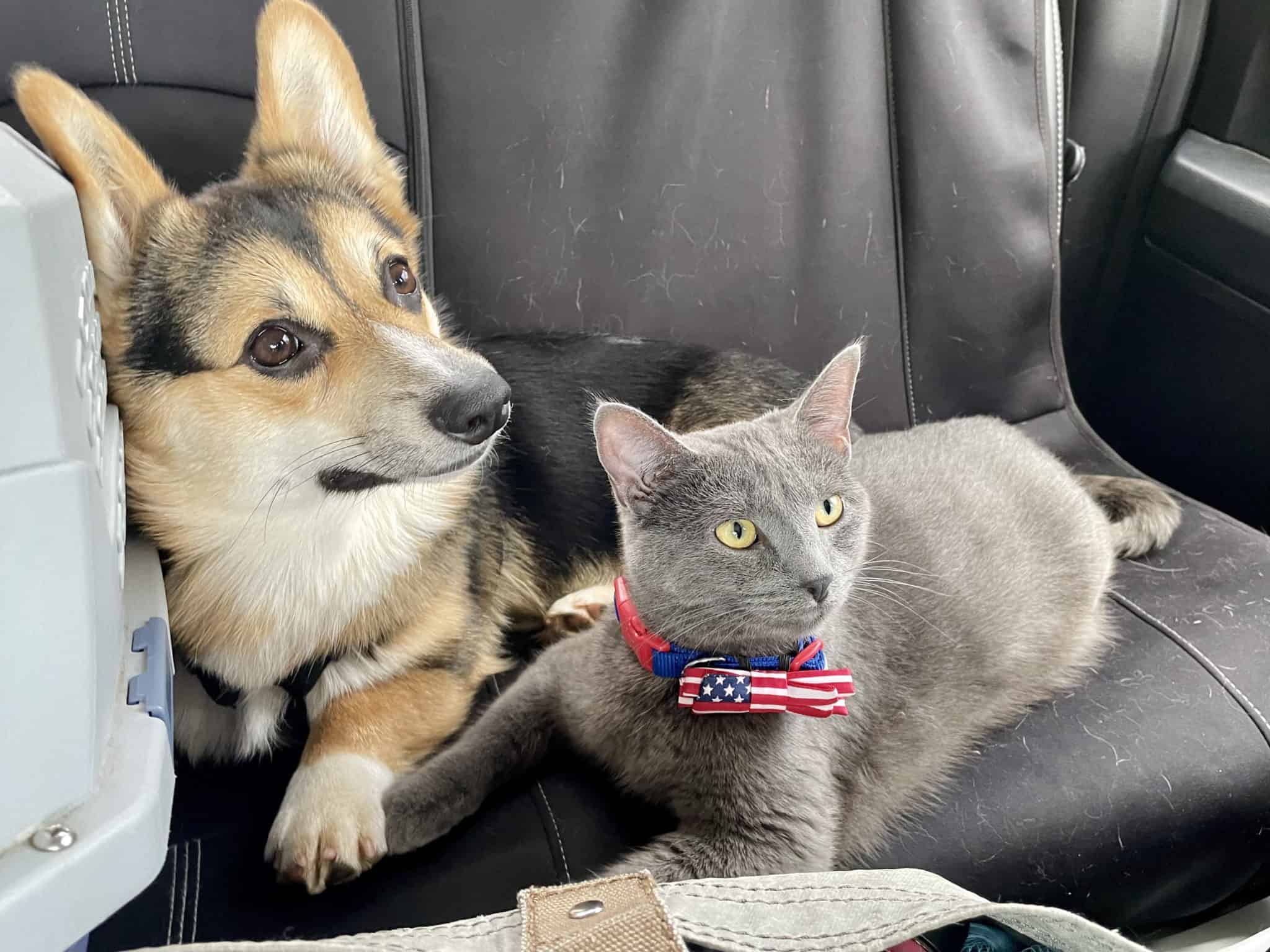 I keep a lot of paperwork for all of the pets, just as you would for yourself. This has made it easy to catch new vets up to speed on the animals' health issues.
I used the Veterinary Cancer Society to find oncologists for Vodka and the AAHA-Accredited Hospital Locator to find vets for all of the pets in each new location, as needed.
In the rare event we leave the camper for longer than a day, we use Rover to find the pet's sitters. We used to be Rover sitters ourselves before RV life and really respect that company.
We also have a Ring camera installed for added pet monitoring and security in the rig while we're away. As well as a temperature sensor (mentioned above in our must-haves) that alerts us if anything goes wrong with the internal rig temperature.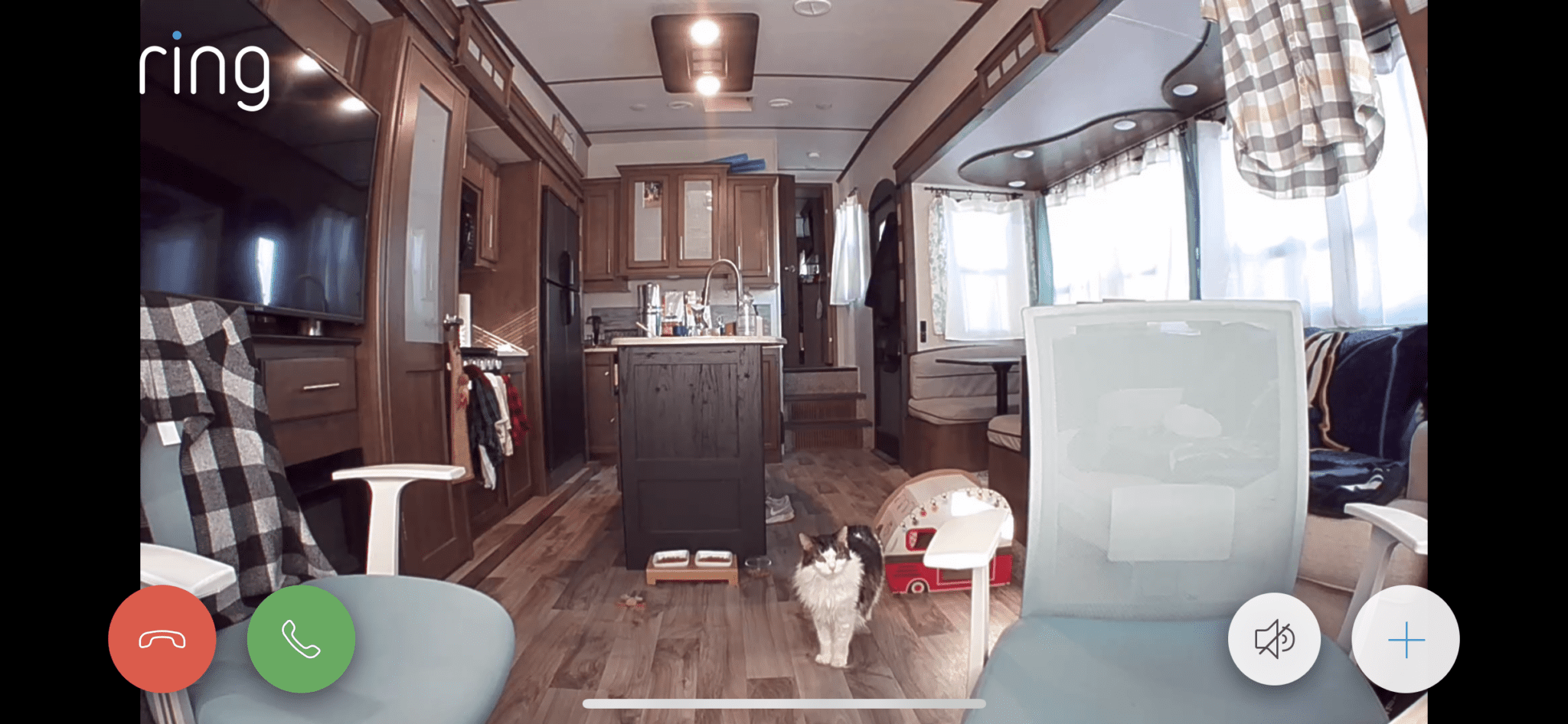 38. How do you guys get in your exercise?
While on the road, we've learned it is possible to be adventurous, outdoorsy, hike, bike, and yet still not feel fit. We've had phases of very much missing a gym. Barrett and I both put on our "freshman 15" while in the RV.
I try my best to do YouTube workouts, but at the end of the day, it is a tight, shaky space.
We briefly signed up for Anytime Fitness at the beginning of March 2020 because we see them all over the United States. We worked out 2-3 times before the world shut down.
After that, our RV is now fully equipped with all of our favorite equipment, including a stationary bike!
Putting Marty into the mix means we now go on two long daily walks, so that's one addition that has become really helpful.
Also, picking an RV park, campground, or boondocking spot that feels walkable is something that has become increasingly vital to us on the road. We always make sure there are at least a couple of miles of paths or walkways around the park before booking these days.
The most significant challenge for us has been eating healthy because there are tons of delicious food and beverage temptations in every new town we visit!
Ultimately, when it comes to staying in shape, for us, it's all about making the time for a balance of strength training and cardio, no matter where we are or what lifestyle we're living. Plus lots of water and vegetables!
39. Where does your bathroom waste go?
We have a toilet with a foot pedal, kind of like on an airplane. You simply hit the lever, and everything disappears.
After that, it goes into a tank called the black tank which we then have to empty ourselves. We monitor the tank with a digital gauge and then dump the tank either at the sewer provided at our site or at a dump station, as needed.
Our Full-Time RVing Experience
40. Where's the best place you've been?
If we're ranking these questions in order of how often they are asked, then this should actually be question #1, and it's SOOO hard to answer.
Barrett: Glacier National Park and Montana in general. Also, Voyageurs National Park. He loves all of the quiet and open space in those locations.




Cindy: I have been a huge fan of Leavenworth, WA, Fort Collins, CO, and Grand Lake, CO. I also really loved showing my husband all of the fantastic places I grew up camping in Michigan. And then finally, I found Fall in Voyageurs National Park in Minnesota amazing! We had the place to ourselves, and it felt unreal.




41. Who drives the RV more often?
Barrett does. But I offer! At this point, it's a point of pride for Barrett.
That being said, I have driven the RV. I used to drive all our big vehicles!
In college, I worked at a PBS station and often drove the cube truck to off-site shoots. I used to drive our jet ski trailer across Austin to the boat ramp. When we moved our life briefly from Austin to Pittsburgh, I drove the 27′ truck carrying our belongings, which was also towing our Honda behind it the entire way.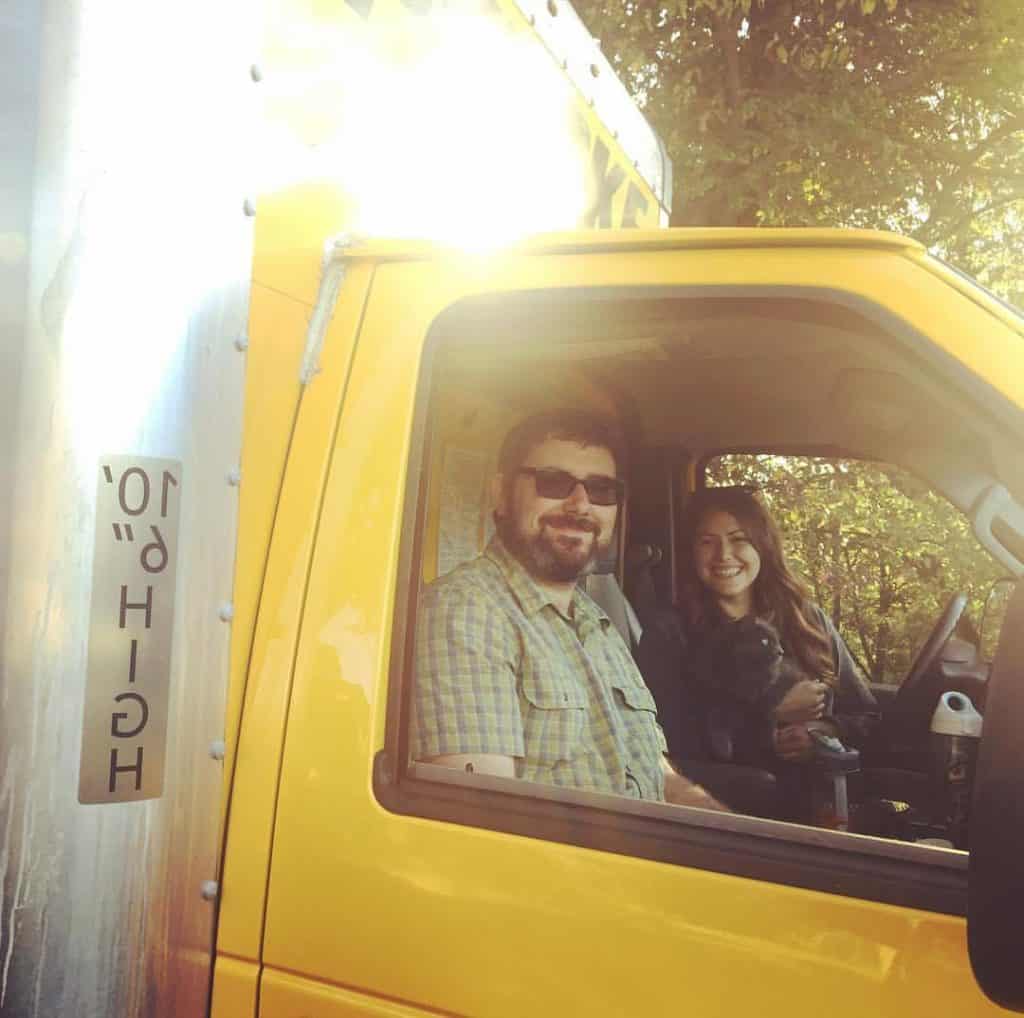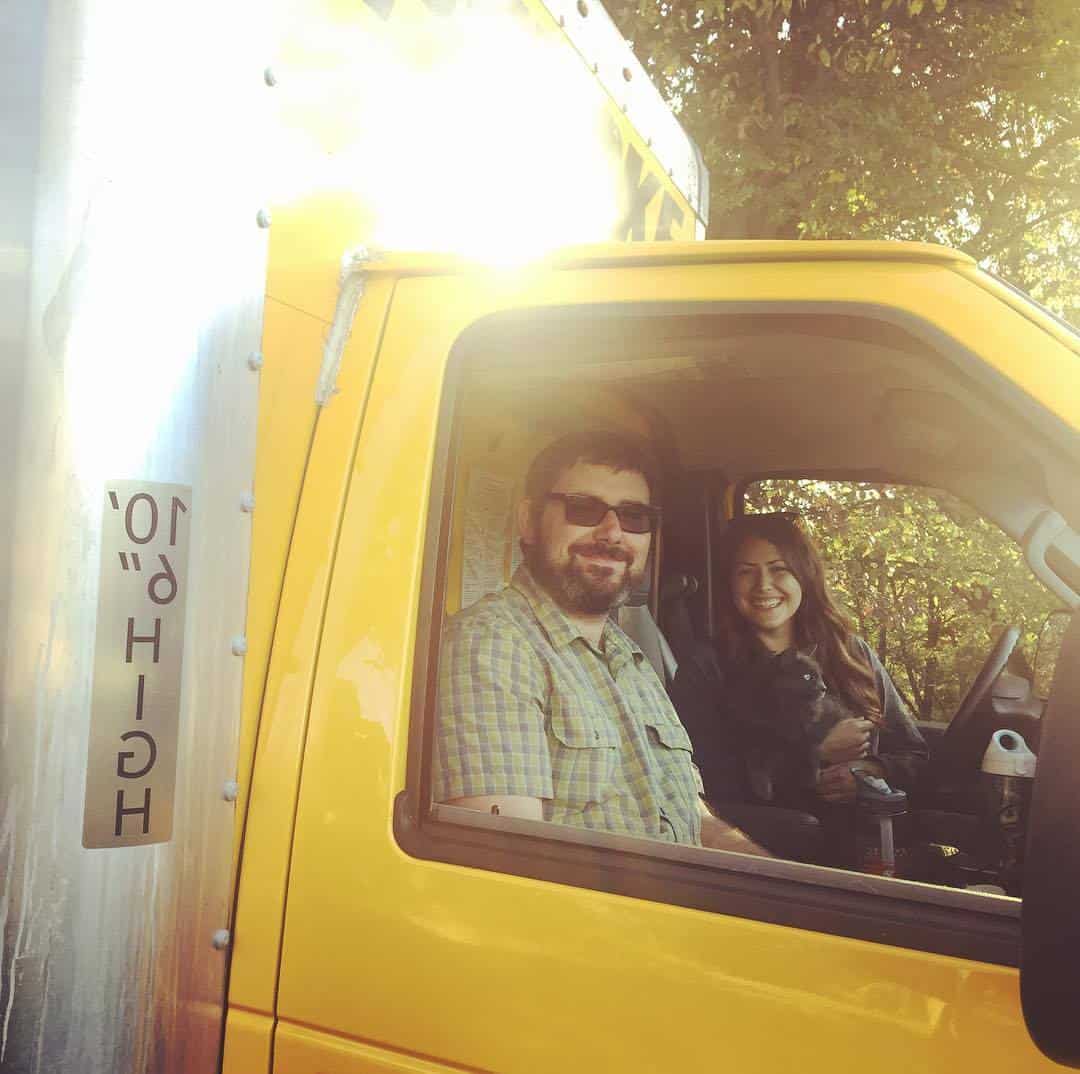 So I just want to clarify there's no fear or incapability here.
What it boils down to is Barrett's anxiety. He's supposedly less stressed if he's the one with the hands on the wheel. I'm not entirely convinced, but I'm also not going to argue with him. So here we are!
Additionally, I tend to be the planner and navigator of our duo. If we're on a nice smooth highway for the day, I sometimes try to catch up on emails and writing on travel days. But these days, I try to not schedule work for travel days anymore because travel is stressful enough.
I will say if you're a nervous driver, I would try to find a way to get some time behind the wheel because if you're ever in an emergency situation where one person cannot drive, you may find yourself needing to do so.
42. How do you grocery shop and cook?
I'm guessing the same way you do, for the most part!
A couple of notable changes: no more Costco runs. There's just no room for bulk item storage.
Furthermore, we're always in different grocery stores. So we often have to get used to varying layouts and different versions of the foods we've fallen in love with in other towns.
Barrett is the cook in the family (thank goodness for him)! He prepares most of our meals in four-serving batches, so he doesn't feel like he's cooking all the time.
Also, now that we're moving a bit slower, we've really started to embrace Hungryroot. The meals are stupid easy to make, and healthy. We just have to pick out meals once a week and then pick up the box from the park office once a week!
Click Here for 40% Off Hungryroot Orders Of $99+!
Plus Choose Your Own FREE Gift For Life – Almond Chickpea Cookie Dough, a rotating selection of fresh
veggies, or a rotating selection of premium proteins!
43. Do you guys eat out all the time?
We sure don't! I'm frugal AF.
However, in 2019, we did eat out more than I would have liked. So in 2020, we focused on spending less and succeeded! Last year we spent 40% less on dining out than we did in 2019.
Since 2019, we've been working on a balance of reigning it in but also making sure we're enjoying each new place we visit.
If eating out is important to you, I'd just make sure you budget appropriately for that cost.
44. Where do you wash your clothes?
A lot of RV parks (and even a fair amount of campgrounds) have laundry rooms.
When they don't or when we're boondocking, laundromats can be found pretty much anywhere!
(Random piece of information: Did you know laundromats can be spelled in all sorts of crazy ways? We've seen: laundrymat, laundry mat, laundramat, and launderette all while on the road!)
If you're good at planning out a capsule wardrobe, you'll be in great shape in RV life because less clothing makes everything easier. But you will have to do laundry a bit more often.
Moreover, some full-timers do have washers! We actually have the hookups for a washer in our rig, but we have never used it.
And then some full-timers use small portable washers like this one.
45. Are you afraid when you're boondocking?
I like to joke that it took almost two years to convince Barrett to live in an RV and then nearly another two to convince him to boondock.
There are tons of online resources to help make boondocking "less scary," including resources on Campendium, the Dryt, and Boondockers Welcome.
Just do your research before picking a spot. And then also protect yourself with whatever materials that looks like for you and your family.
Furthermore, know that boondocking is more work and does require more attention. You will have to be more aware of your power usage, water levels, and tank levels.
46. How long do full-time RVers typically stay in one location?
The pace of full-time RV living is entirely up to the full-timers! In our first two-plus years on the road, we moved a LOT!
In the fall of 2018, we hightailed it out of the Pennsylvania chill, straight to warm, sunny Florida days.
When we started, we were moving at least every week. The pace of travel was fast. And it was exciting.
In 2019, we stayed in 41 spots in 17 states. We followed the 70-degree days all year, visiting a combination of cities and the great outdoors.
Obviously, just like everyone else, we thought 2020 would look a lot different than it turned out. We had a whole plan to stay south for winter, and see friends in Utah, yadda yadda.
We stayed in place in the spring in Arizona while trying to figure out what was going on in the world. We also had a few mechanical breakdowns that year that caused us to stay put in a few spots longer than we intended. When we were able to move, we mostly spent the year hiding out in the wilderness.
In 2020, we stayed in 48 spots in 20 states.
Now, in 2021 and almost three years later, we're a bit worn out. We've only parked in 4 spots! We realized that constantly moving was taking a took a toll, and we needed to move at a slower pace for a while.
We're enjoying planting the RV in a zone with tons of day trip opportunities in all directions.
Another reason why we've moved so much less this year is that we have started to hone in on an area we perhaps really love.
We're currently trying to figure out if we'd like to plant some part-time roots in our current area before once again taking off on more adventures!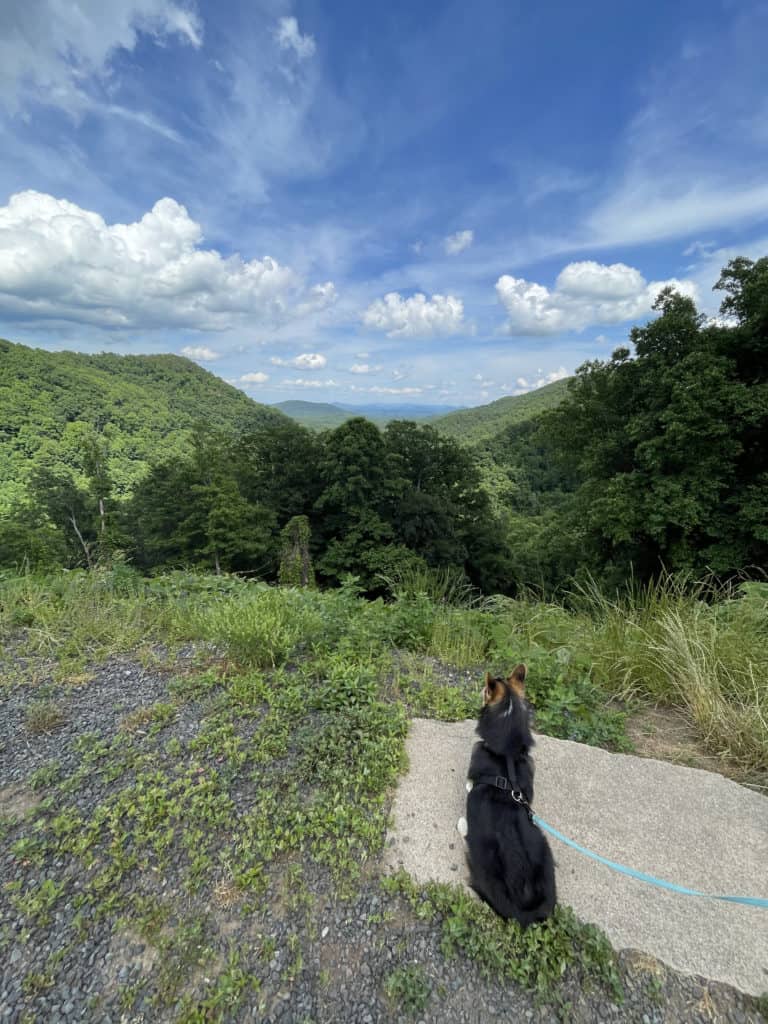 47. How long will you be living full-time in your RV? And how is your search for a place to settle down going?
I think at the end of this, I've come to the conclusion I'll never be comfortable in one place. There are so many different and unique places depending on your preferences and the time of year.
I will always want to escape certain seasons, see all of the new hidden gems I find about in every new Locals Know Best podcast episode, and visit with my favorite people who are spread out all over the world!
So, we will always travel, and we will always RV, but I don't believe it will always be full-time RV traveling.
After almost three years of living out of our tin can, we're starting to feel ready to return to the idea of a home that has a tiny bit more space and doesn't move.
(However, the housing market is not quite ready for us, so we're somewhere in the middle of this transition at the moment.)
I now know I would love to have a home base that we can return to, decompress, unpack, get work done, and prepare for our upcoming adventures. A place where we can RELAX.
As for future travel, we talk a lot about hiking the entire Appalachian Trail, future truck camper excursions, and exploring beautiful international destinations!
UPDATE: We hiked the Appalachian Trail in 2022 and are now home-based out of Asheville, NC.
48. Will you guys have kids and continue to RV?
About kids: 🤷‍♀️ We feel reasonably confident we will someday. And yes, I'm aware the clock is ticking. However, Barrett is adopted, and we've always proceeded with life, knowing that adoption could be an option for us to pursue as well someday.
About RVing with kids if we have them: Every kid we've met on the road is incredible! I'm wholly convinced of road schooling's effectiveness, and Barrett's on board to be a road schooling teacher. He would be great at it!
49. "When are you going to return to the "real world"?"
Man do I have to say, I hate this question. And if you ask it, you better be ready for a long-winded response.
I do not believe there is a "real world." Every day, this world is what we wake up and make of it.
There, of course, is a societal "real world" that each of us is raised in. But it's just that, what we were raised in. If full-time RVing is your dream, don't deny yourself your dream life. Make it happen as soon as possible.
As George Strait and Huey Lewis and the News like to say: We're Not Here For A Long Time. We're Here For A Good Time.
50. Do we have any Regrets from Living in an RV Full-Time?
Someone just asked us this the other day!
I honestly try really hard to not live with regrets. And what's to regret about traveling around this great nation full-time?
But after really taking a moment to think about it, the only regret I could come up with was the purchase of our original GMC truck. But when we took off, it was the best we could afford, and the honest truth is, it still did get us around for over a year.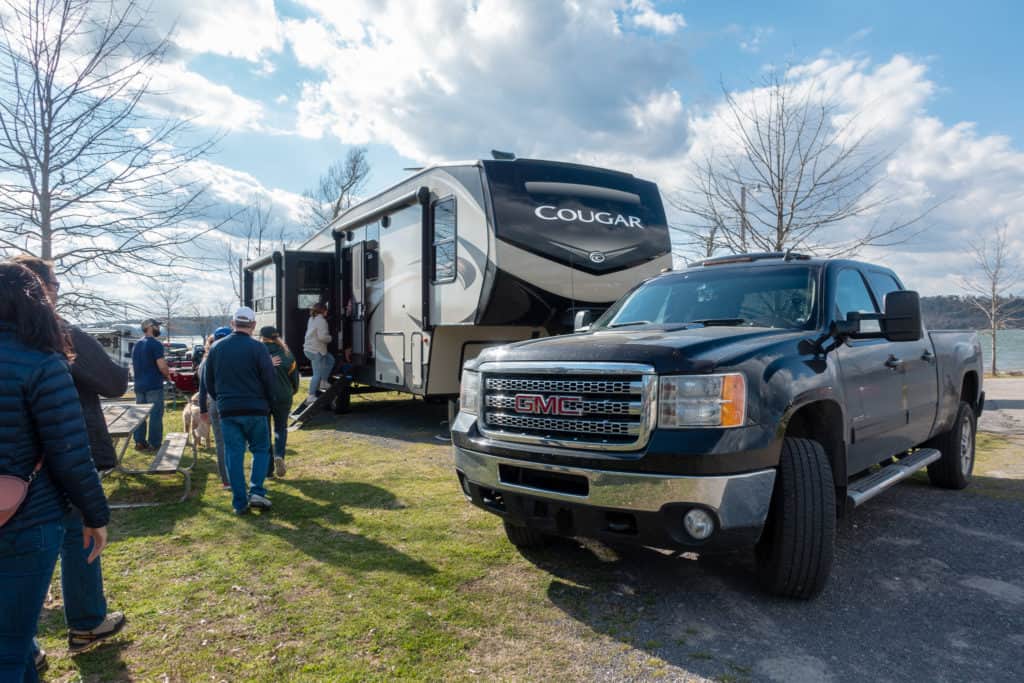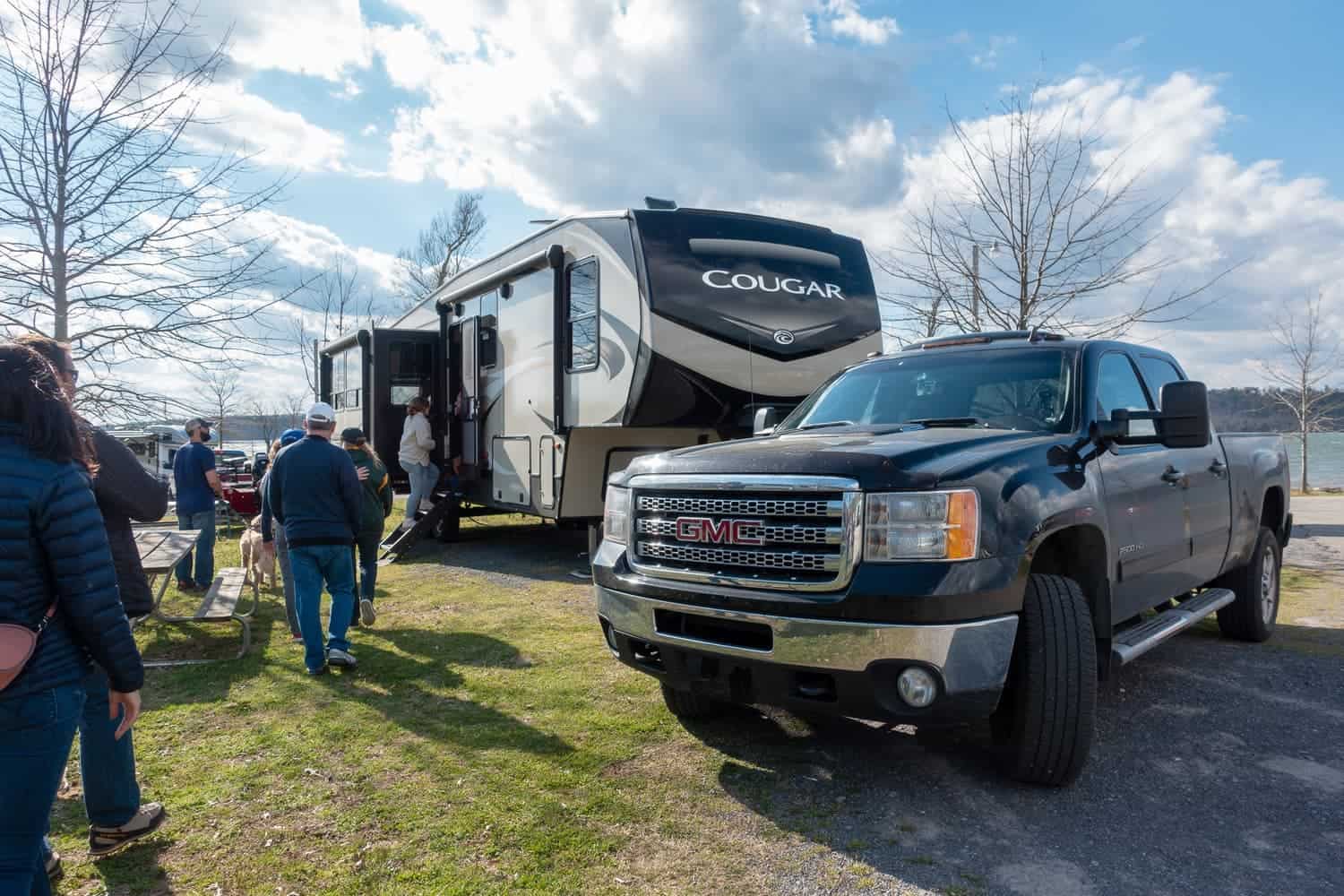 Now in retrospect, though, I think we'll always buy new when it comes to something as significant as the safety of getting our entire home and family around.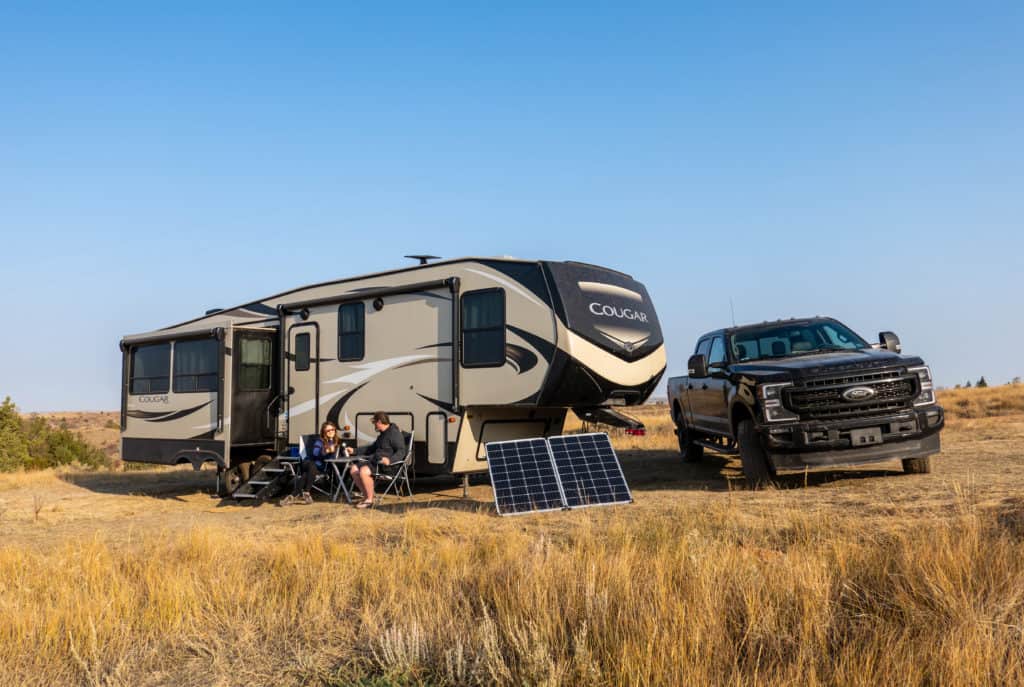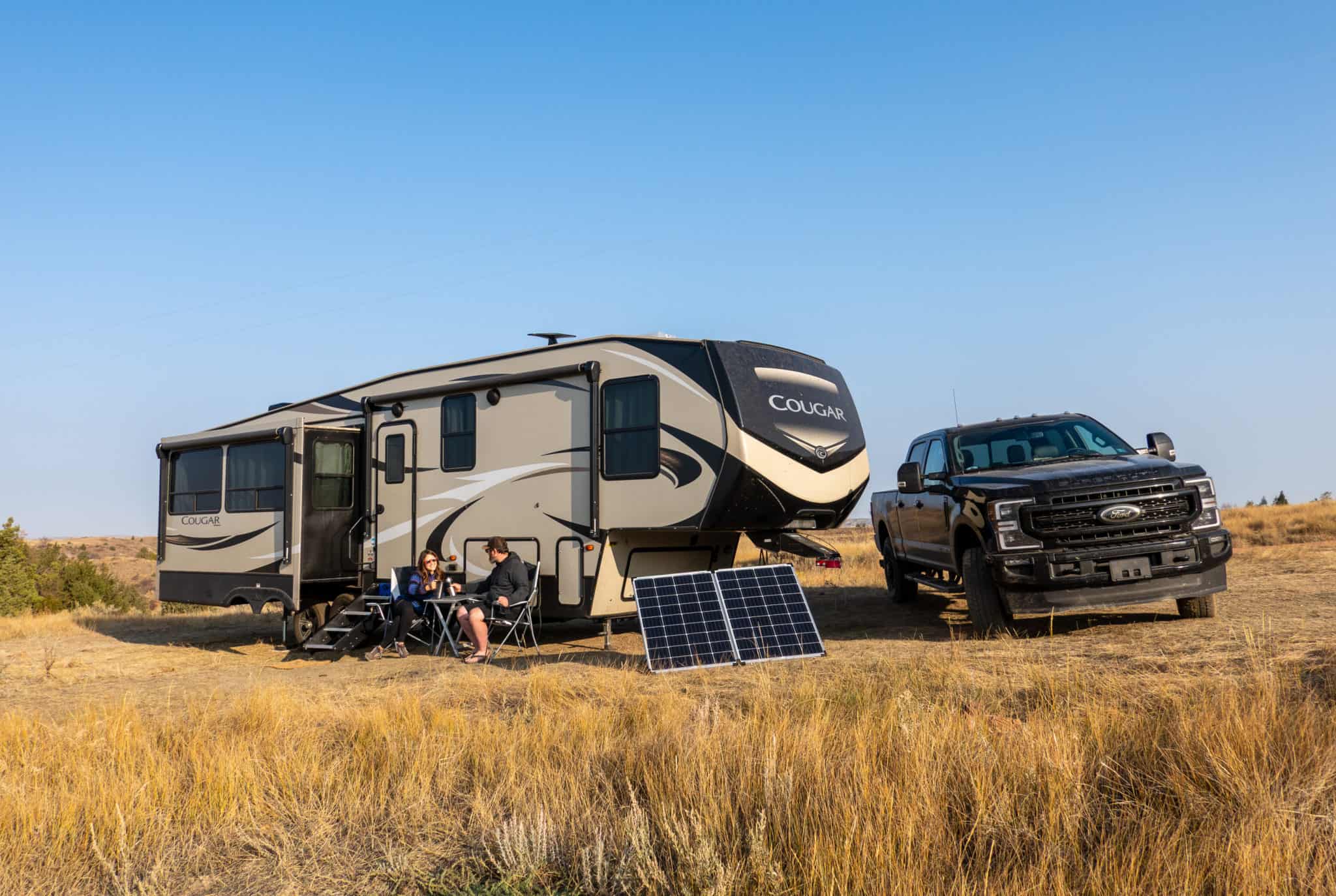 The problems the original truck had, along with the poor customer support at GMC, made for our most challenging period of RV life that I would wish upon no one.
51. My family and friends tell me RV living is impossible. Can I really do this?
People placing their narrow-minded thoughts on others is my #1 pet peeve.
If you've lived in a pretty stereotypical form of American society, don't get discouraged.
Often friends and family just want to look out for our best interests, but sadly, they don't always have the right way of going about that.
Everyone has opinions and will want to tell you ALL about them.
But RV life really is possible! We are real people. We've been living this way since 2018.
Also, RVing is actually becoming more and more "normal" every day. A lot has changed already since we first started to live in an RV full-time.
More people than ever have decided that they want to find out what it is like for themselves by living full-time as RVers. While this type of life isn't perfect for everyone, those who take the plunge have one thing in common: They love to travel!
For us, adventures have happened, places have been visited, and relationships have been created with people all across the country who we probably never would've met otherwise!
I'll leave you with this David Allen quote: "You can do anything, but not everything." I think it's one to live by.
What do YOU want? What is your anything? Ask yourself every day.
You can live in so many different ways. How do you want to spend your time on this planet?