(Last Updated On: September 14, 2023)


Every summer, I get a decent amount of questions about Michigan. The most popular inquiries being about Mackinac Island and more specifically about how to get to Mackinac Island. This is because:
▪️ As a kid, I grew up vacationing there as a "fudgie" (a tourist).
▪️ Then as a college student, I worked and lived there as a seasonal worker.
▪️ Now I visit as an adult while traveling America in our RV full-time!
While I would never call myself an "islander" (someone who grew up on the island and lives there year-round), I have spent months exploring, hiking, and biking every nook and cranny of Mackinac, and that history has left me with a lot of knowledge about the island!
This post will cover everything you need to know before heading over to the island and help you plan your first Mackinac Island getaway!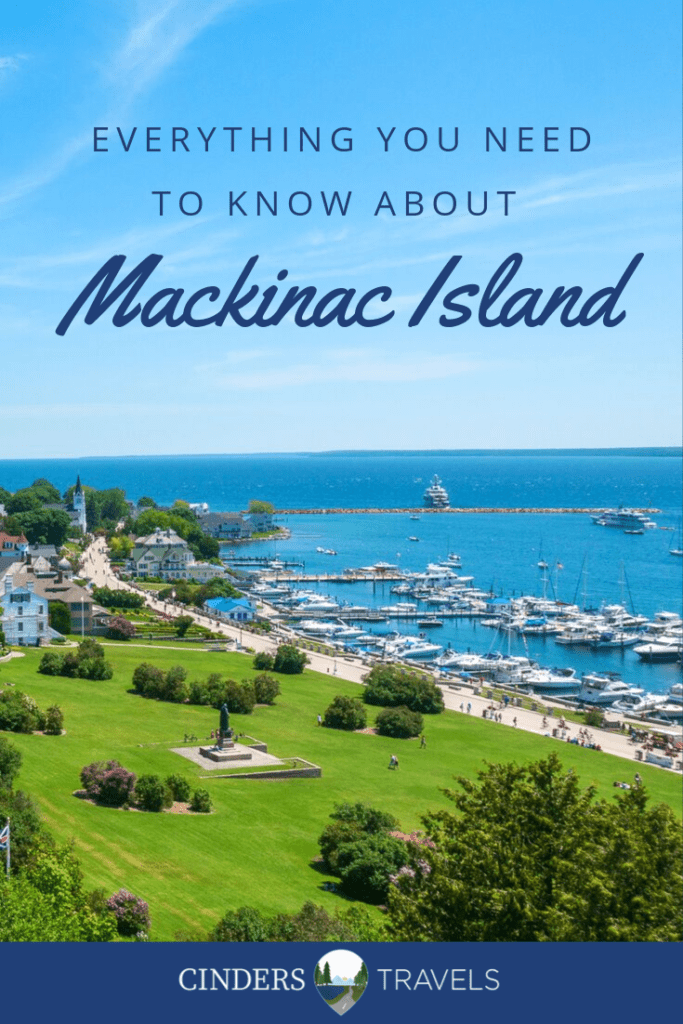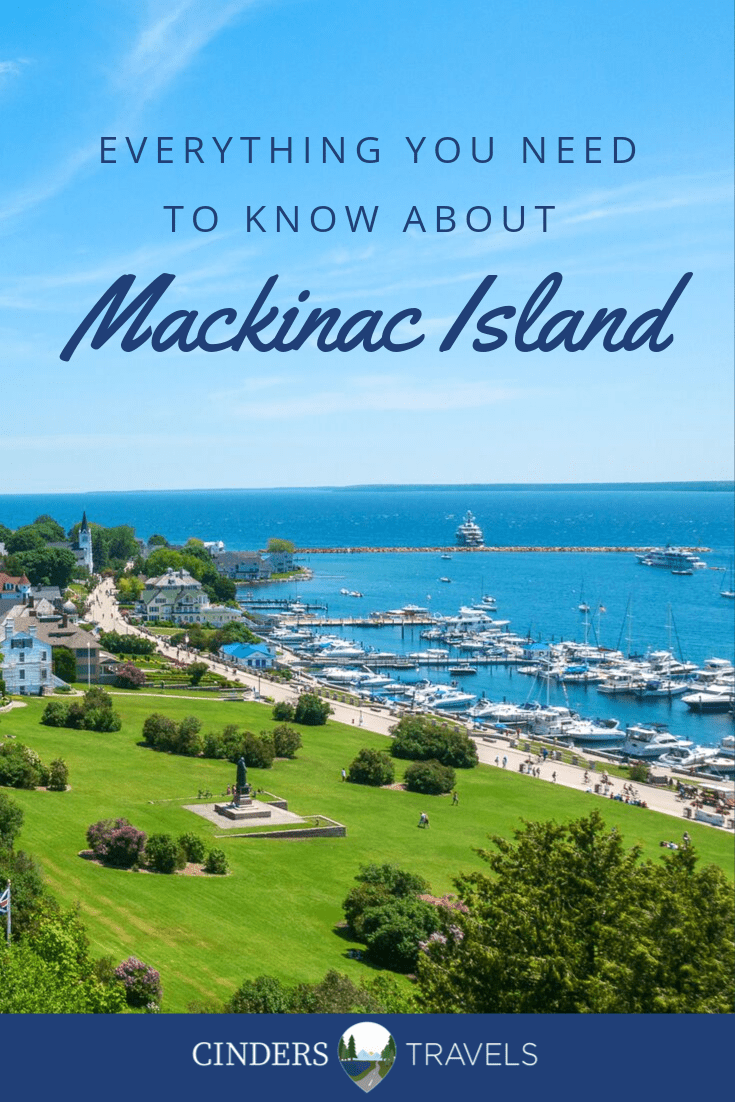 First, let's address a couple of basics:
How do you say, "Mackinac"?
The last "c" is pronounced as "aw" in Mackinac.
How big is Mackinac Island?
Mackinac Island in total is a little under 4 square miles. M-185 is an 8-mile road that runs around the edge of the island. You can bike the whole loop in about an hour, a little longer though if you want to check out any of the stops along the way.
Fun fact: It's the only state highway in the country that prohibits automobiles.
How to get to Mackinac Island.
By ferry, private boat, or plane.
The most commonly used option is the ferry. You can leave from Mackinaw City (in the Lower Peninsula) or St. Ignace (in the Upper Peninsula). If you have to traverse the Mighty Mac bridge to get to your chosen city of departure, be aware there is a toll.
Budget ferry option:
If you're looking to get over there for the best price possible, Star Line has a classic economy ferry option. These boats take about twice as long to get to the island (about 40 minutes) but are more affordable.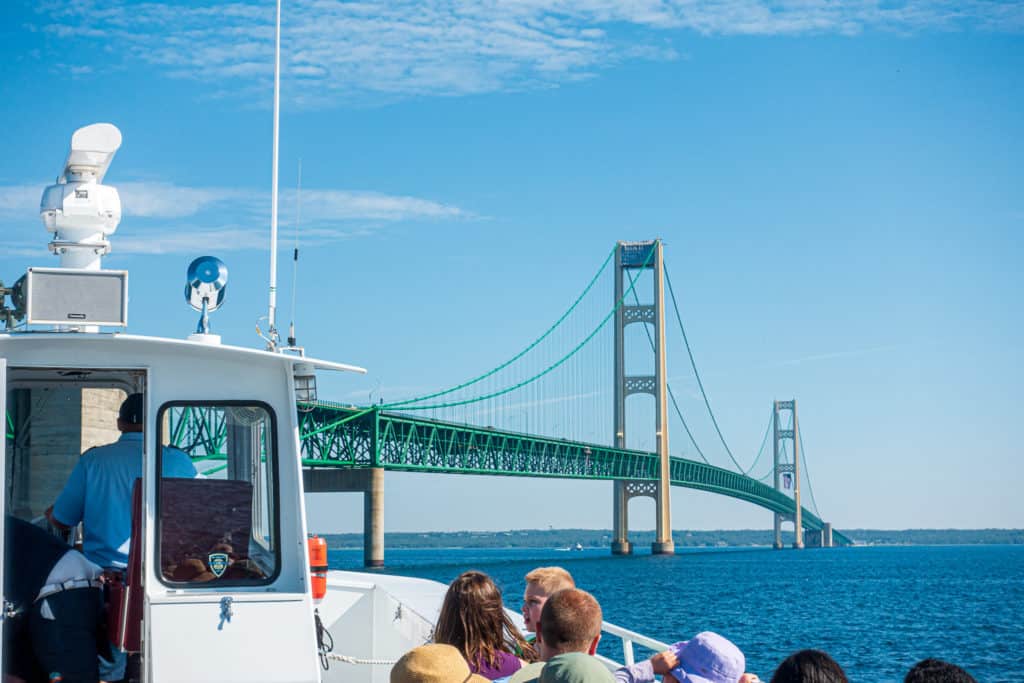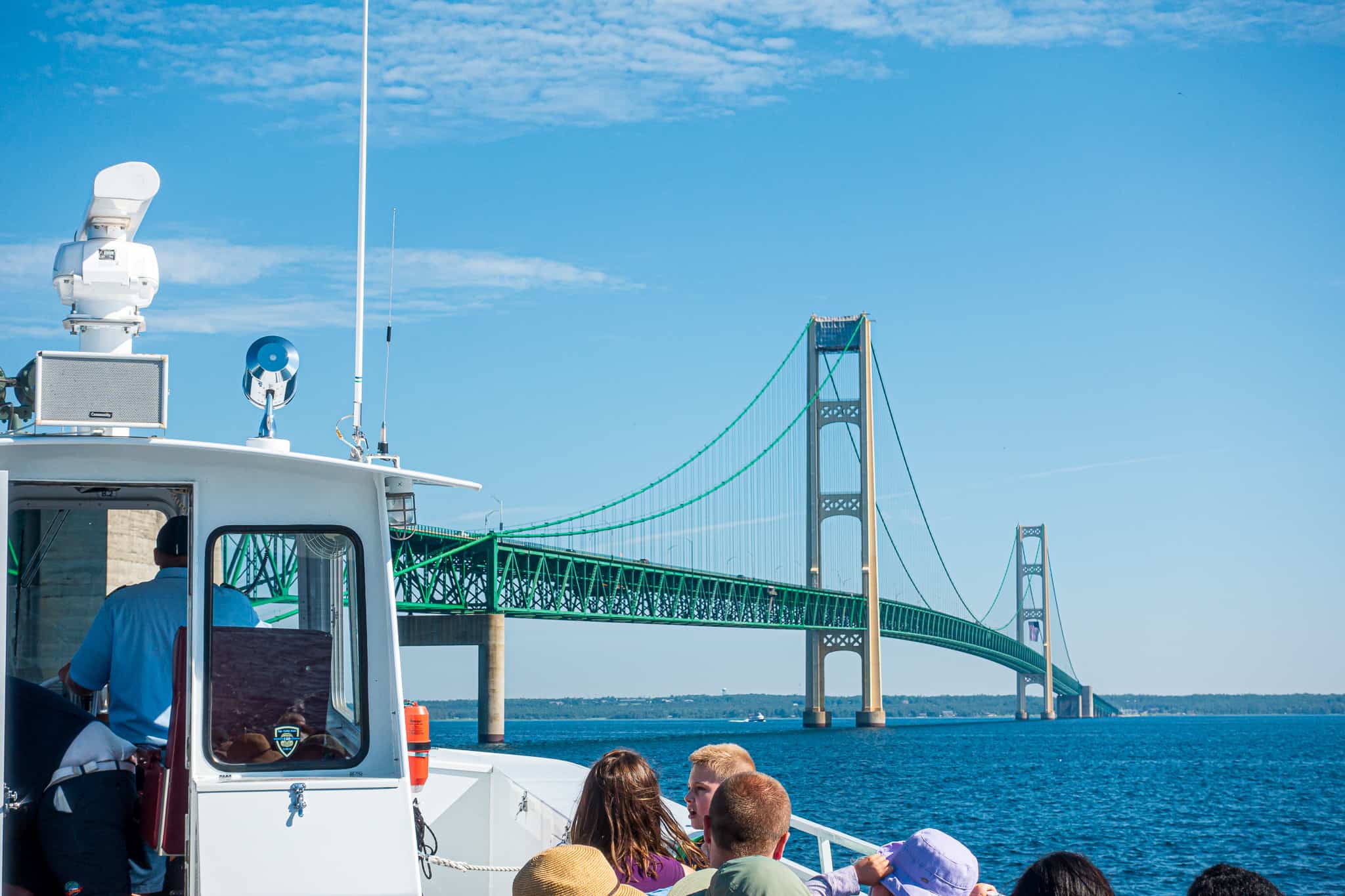 Biggest bang for your buck ferry option:
Take either a Star Line or Shepler's ferry during a Mighty Mac departure time. For no extra cost, you'll get to pass under the Mackinac Bridge.
If you pick one of these departures, make sure you get there a little early and sit up top to see the bridge best!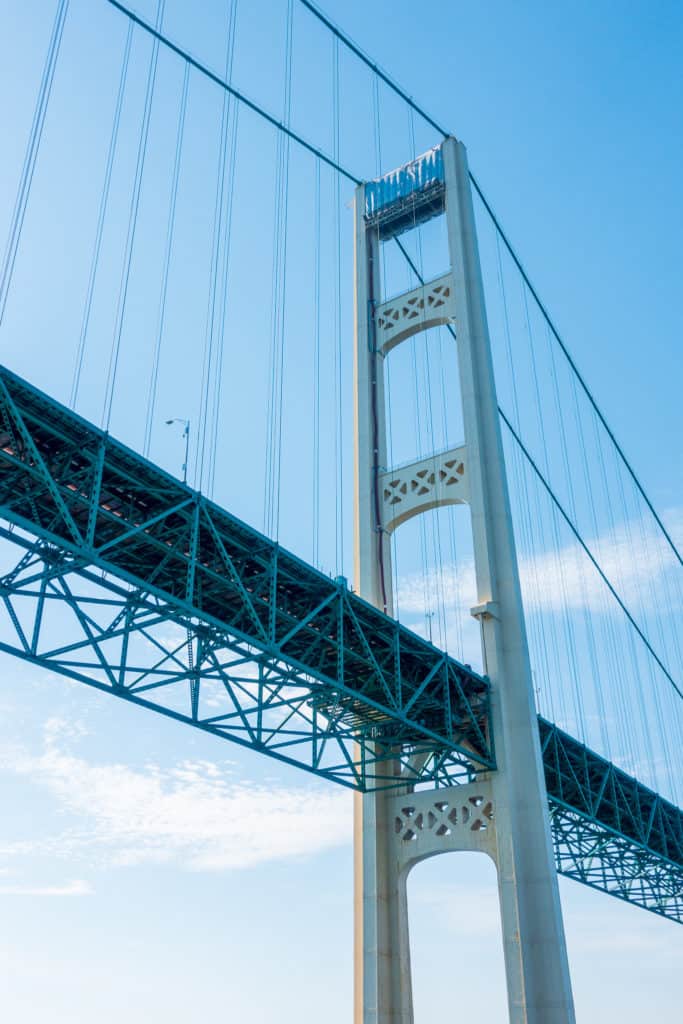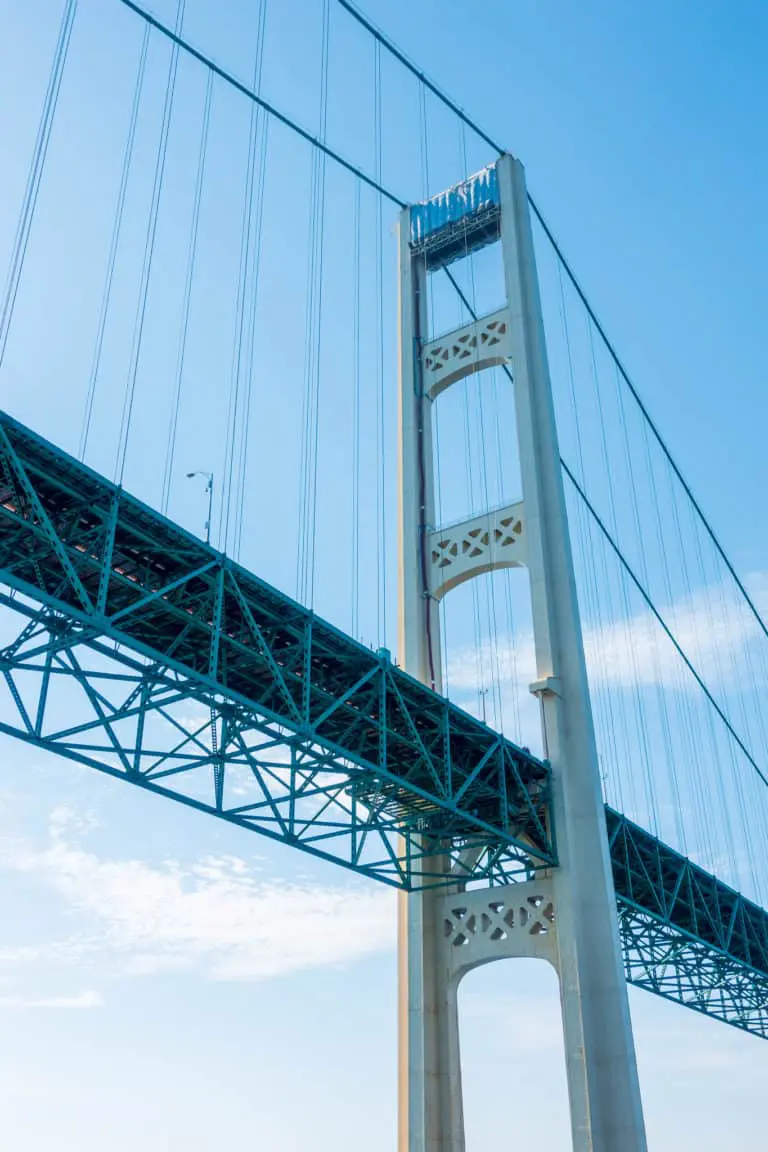 ---
Where should I stay?
Off Mackinac Island
On the mainland, there are tons of lodging options in both Mackinaw City and St. Ignace. You can find tons of hotels, timeshares, Airbnbs, campgrounds, and RV parks in various budgets.
As of recently, I've stayed in a cabin at Mackinaw Mill Creek Camping in Mackinaw City and camped with our RV at Tiki RV Park in St. Ignace. I can attest to both being just fine. Mackinaw Mill Creek is on the water, and they have beautiful new cabins that we really enjoyed staying in with friends!
On Mackinac Island
There are also a bunch of lodging options on the island. Picking which one to stay at really depends on what kind of trip you want:
Looking for something luxurious & historical?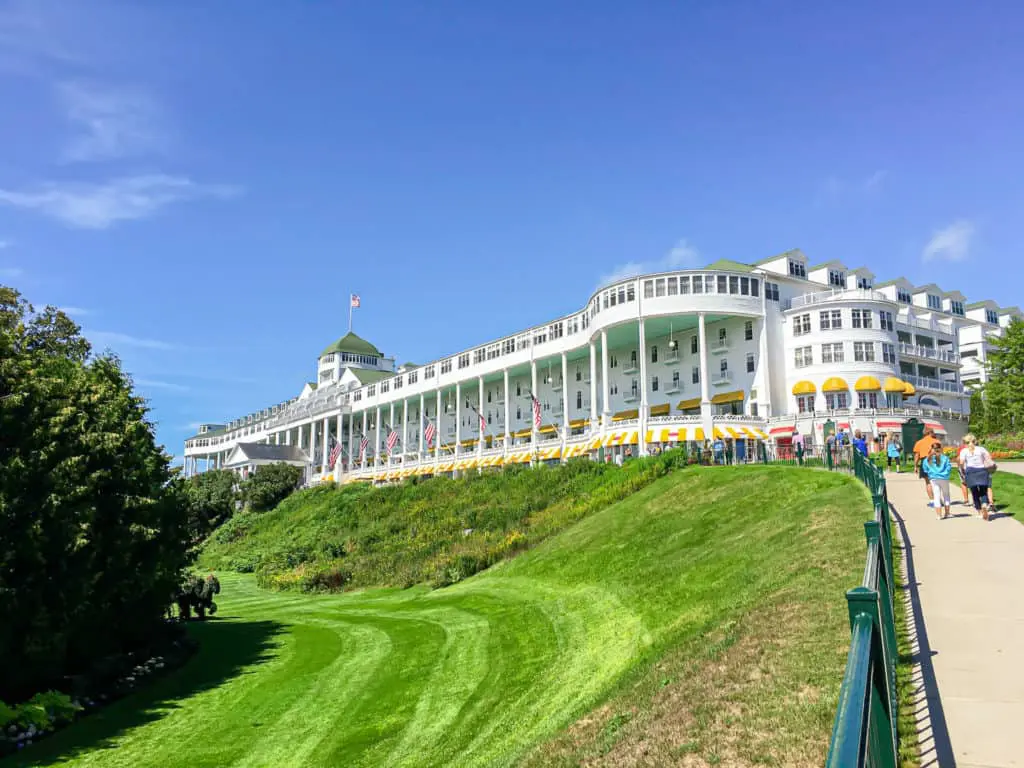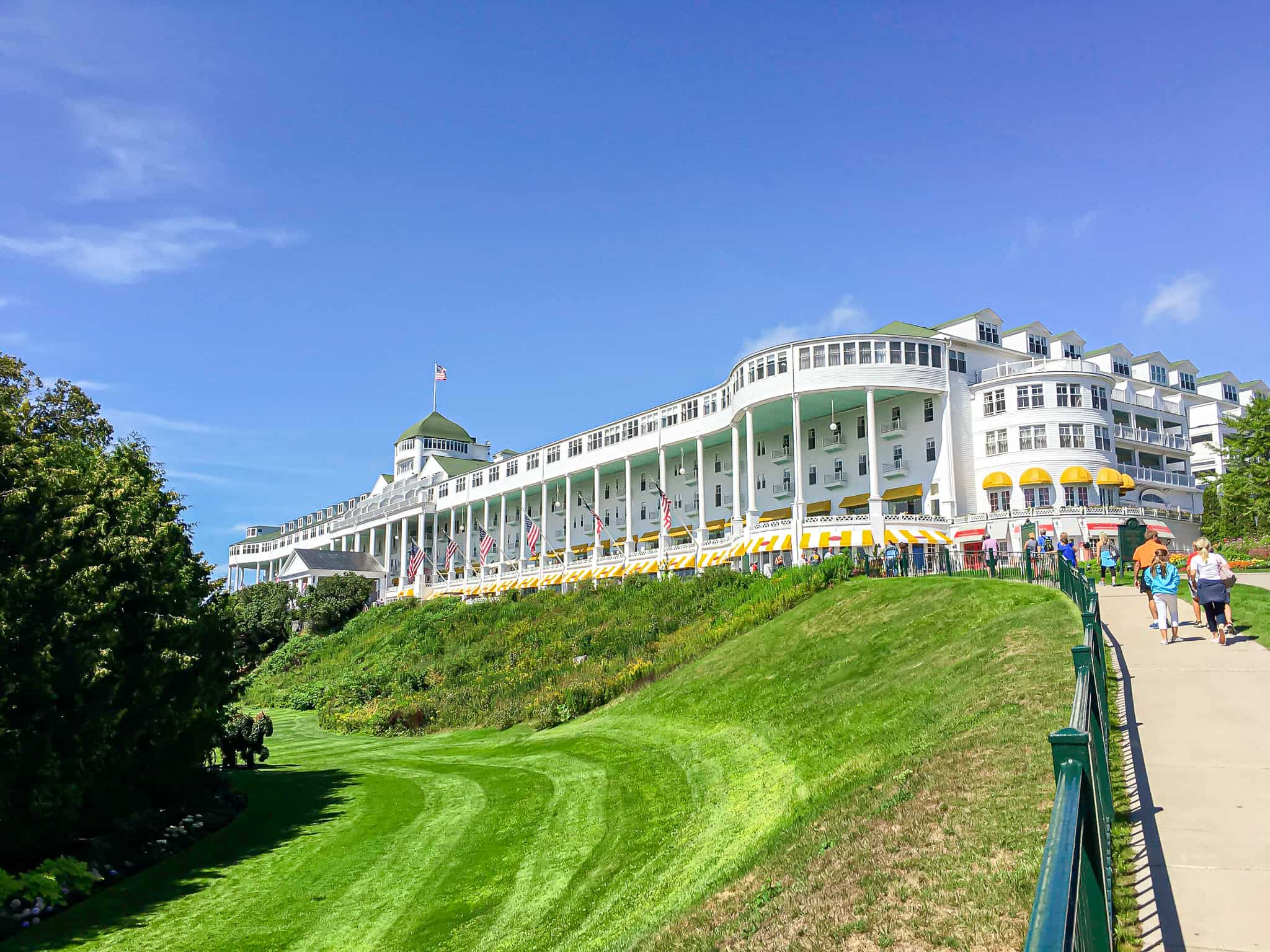 👉 Find the best Grand Hotel deals, compare prices, and read what other travelers have to say at TripAdvisor.
Looking for lots of amenities & to be far from downtown?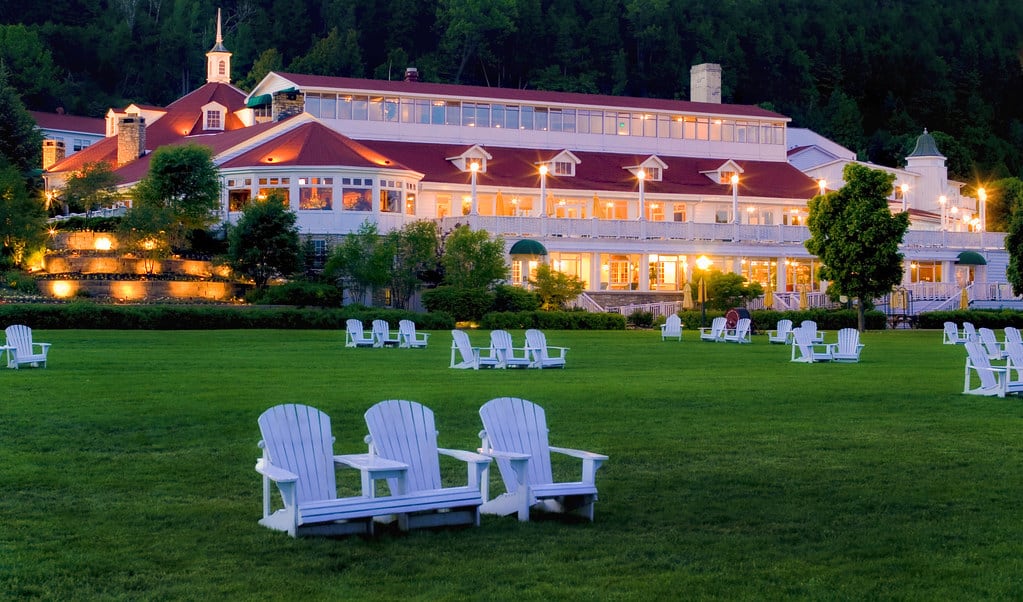 "Mission Point Resort" by Mary McGuire | Mackinac Design is licensed under CC BY 2.0
.
Other hotel options worth looking into:
🛏️ Chippewa Hotel Waterfront
🛏️ Murray Hotel
🛏️ Lake View Hotel
🛏️ Pine Cottage Bed & Breakfast
🛏️ Island House Hotel
Lastly, there are many other non-hotel options, including bed & breakfasts, rental cottages, and condos.
Zoom in and out of this map to see more available options, both on and off Mackinac Island:
What about my luggage?
If you're taking the ferry over to your choice of lodging, then your luggage will be tagged at the boat dock with your hotel's name. The ferry company will load your bags onto the boat. Then once you get to the island, a porter will be waiting to bike your luggage to your hotel.
I recommend letting them take your bags. The island can become quite busy, and rolling your luggage around is a hassle. (To make sure your hotel offers this service, just ask when you are making your reservation.)
The porters literally are biking your bags to your hotel. My boyfriend at the time did this job, and I can attest to seeing that it's grueling work. Tipping is highly recommended.
I've heard there are no cars allowed on Mackinac Island. So how do I get around once I've arrived?
Bikes are the primary method of transportation, but they aren't for everyone.
The Grand Hotel and Mission Point Resort both have horse-drawn carriage shuttle options available to get you to their respective properties. (Please note: there is a small fee for that service.)
For other hotels or destinations, there is a horse-drawn carriage taxi service available as well.
What are the most popular activities to do on Mackinac Island?
Here are the things that a majority of the "fudgies" will do.
If you're only there for a day or two, any of these can be great fun and a great way to experience the island!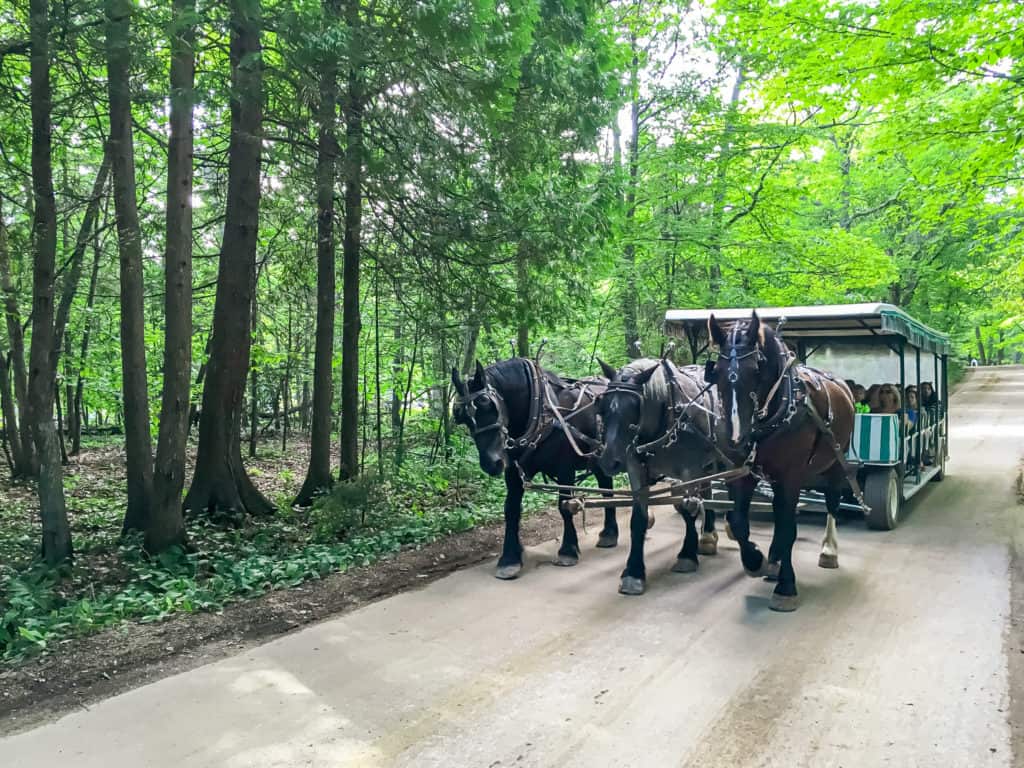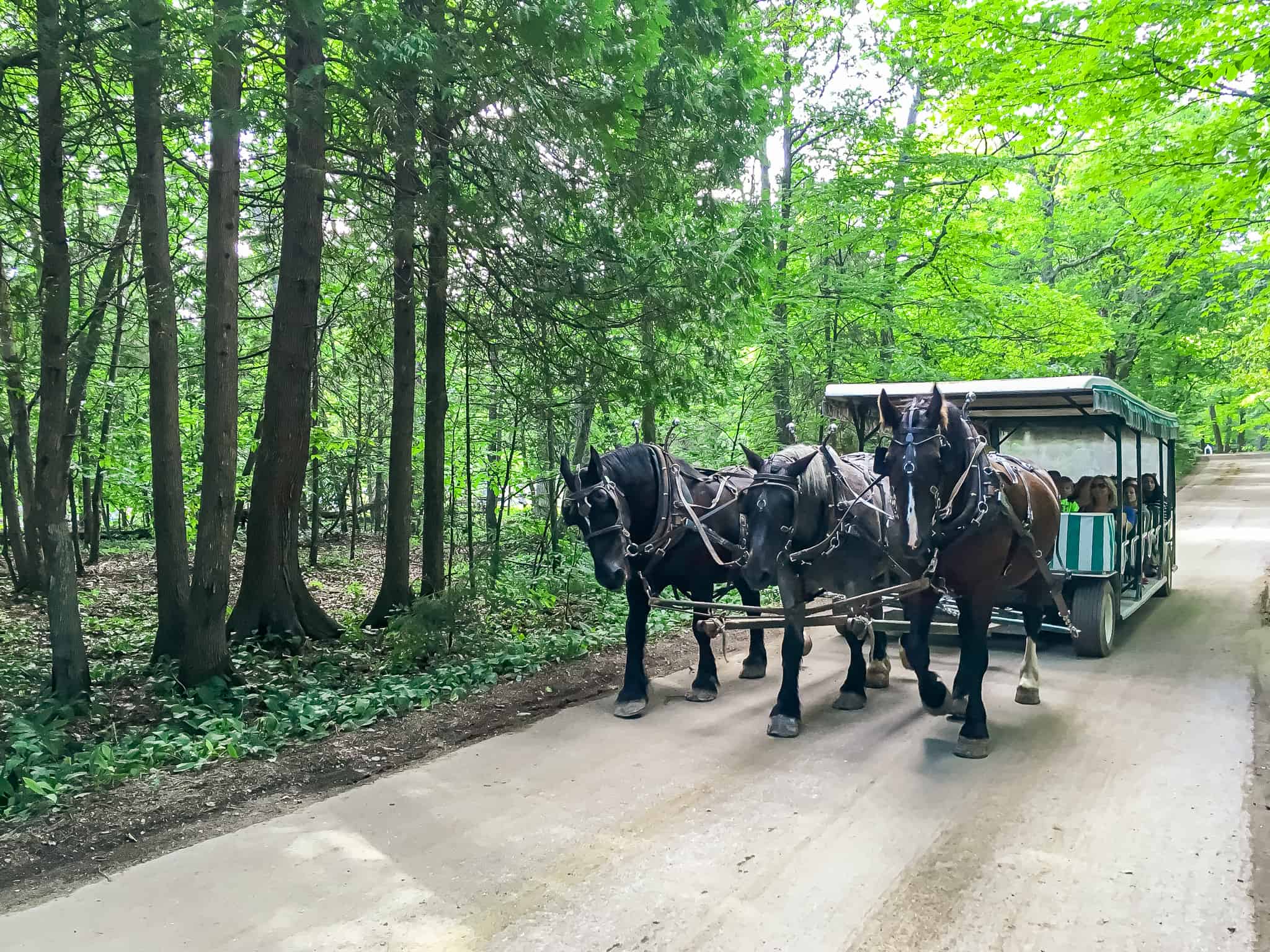 Take a Carriage Ride
Lines will form early. If you want to do this, take an early morning ferry over.
Bike the 8-mile Loop around Mackinac Island
Budget Tip
I'll get more into biking later in the post, but if you're thinking of being on your bike for more than 1 or 2 hours and have an easy way of getting your bike to the island, it is well worth the $16 round trip cost to bring your own bike. Rates will be in the $70-90 range for a daily rental.
Pro Tip
Since there's no car traffic on the island, there are instead a lot of horses! This should be no surprise to you, but they do poop.
Mackinac Island employs people who do a really great job of picking it up, but when it rains, it gets challenging to keep up with!
If your bike does not have fenders, you WILL get horse poo splattered on your back.
My advice: if you believe it might rain, bring your rain jacket. You'll be happy you have it.
If you forget to bring it and it starts to rain, buy an overpriced poncho. Again, you'll be glad you did!
Visit the Grand Hotel
If you are not staying at the Grand Hotel, you can still enter, but for a $10 admission fee for those aged 10 and up, $5 for those aged 6-9, and free for those 5 and under.
After paying this fee, you'll also be able to step onto the world's longest porch and explore the grounds.
Film buffs might enjoy checking out the filming locations from Somewhere in Time that are scattered throughout the island, including The Grand Hotel. If this is something you are interested in, some of the most popular filming locations are included on the map below from the Mackinac Island Tourism Bureau.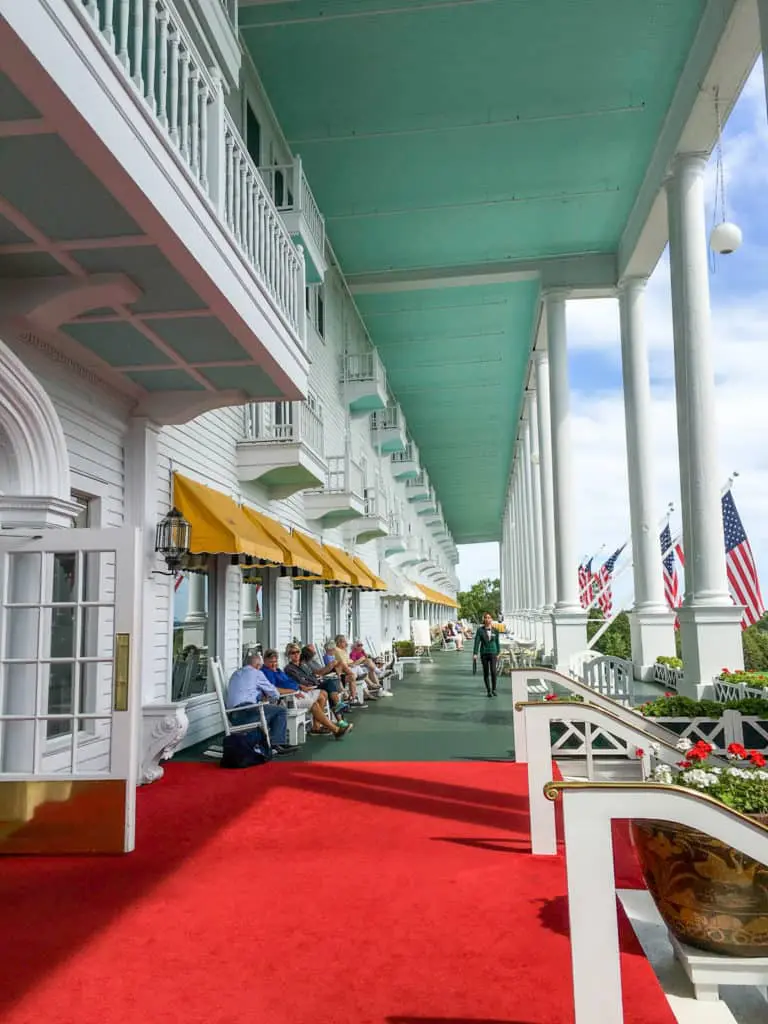 Check out Arch Rock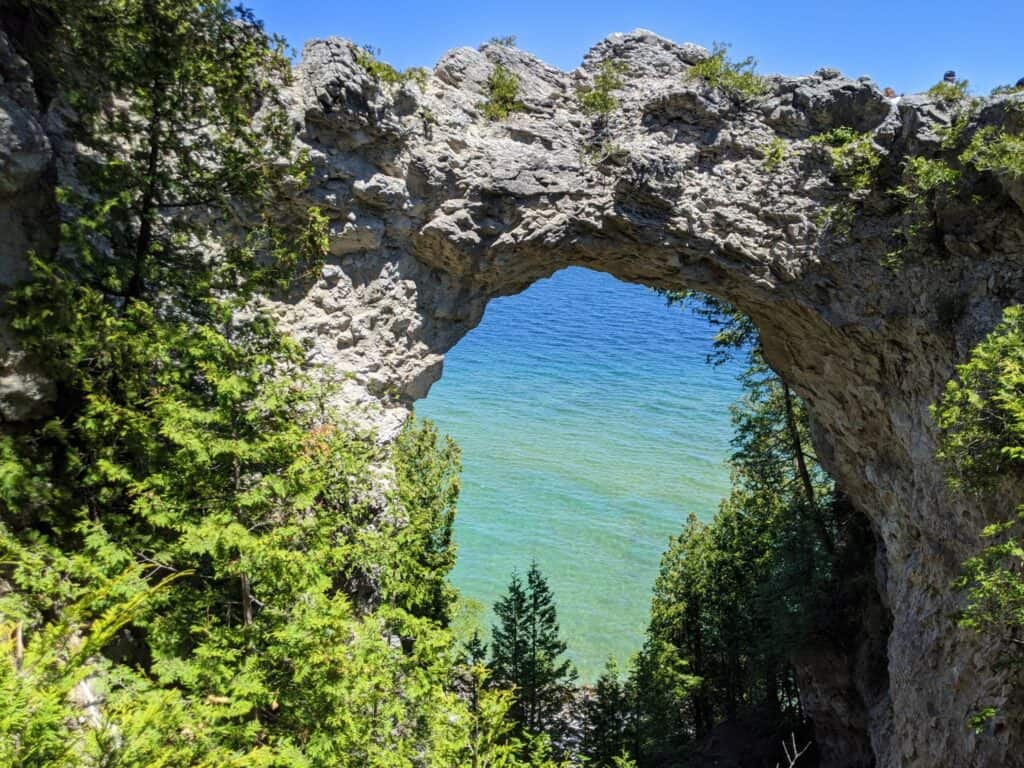 "Arch rock on Mackinac Island" by Topher is marked with CC0 1.0
.
This is the easiest to walk and bike to of all of the rock features on Mackinac Island.
Visit The Somewhere in Time Gazebo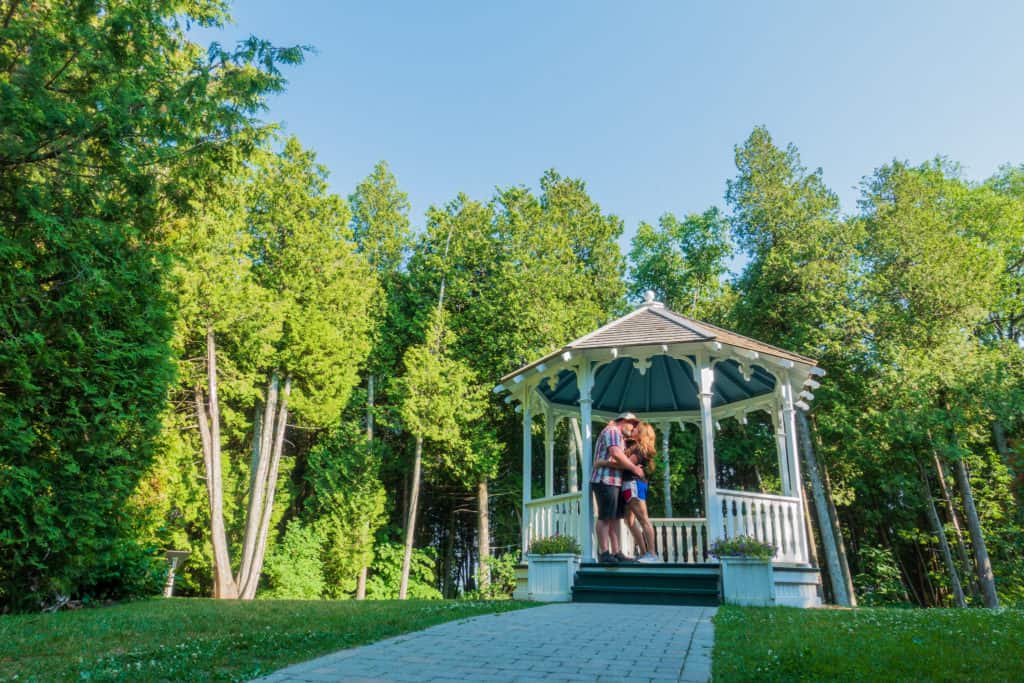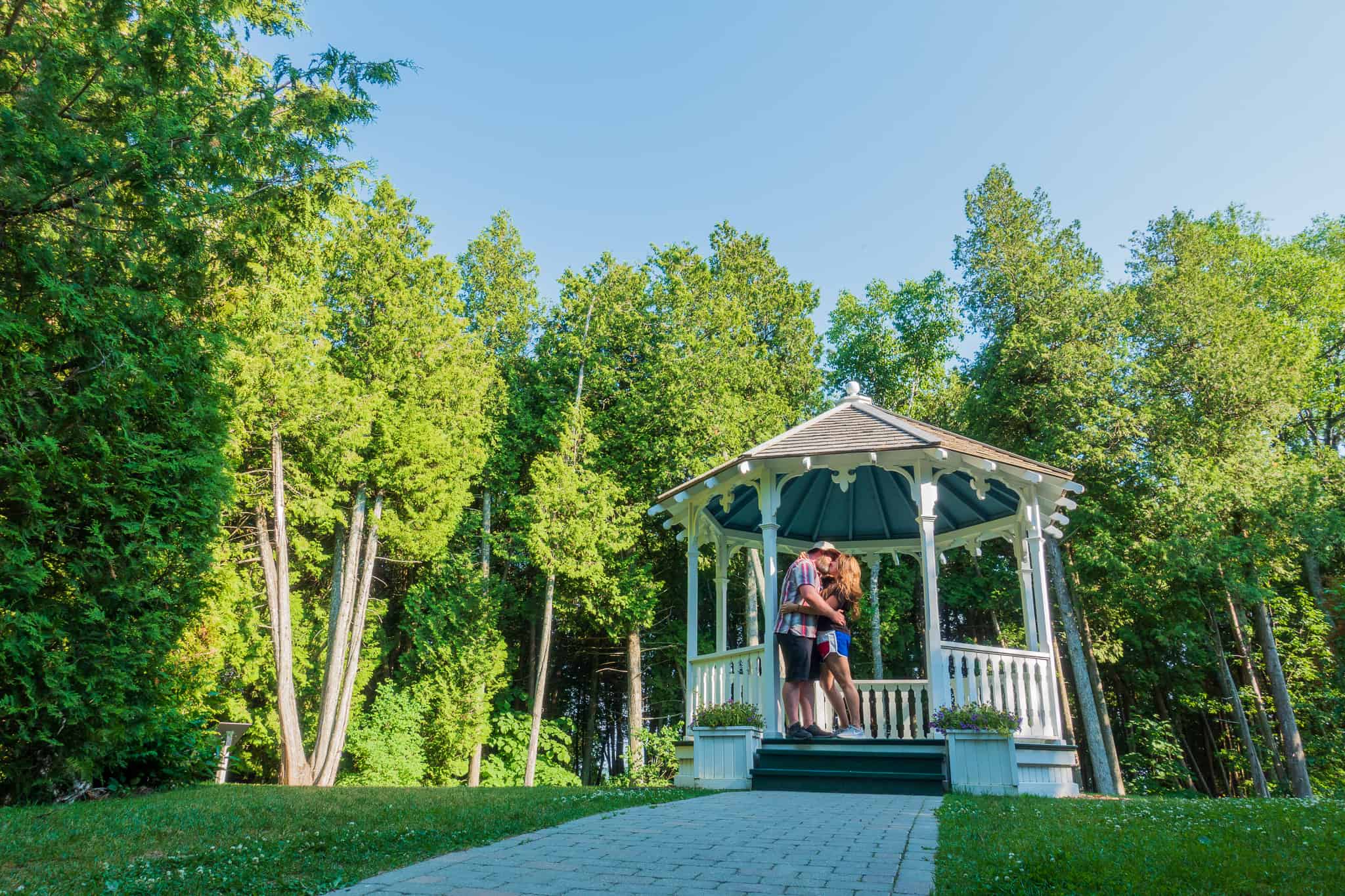 I highly recommend going to the fort for an hour or two. It is not very expensive (for the 2023 Season – adult tickets are $15.50, and child (5-12) tickets are $9.25 if purchased ahead of time online).
The fort is where you can learn the most about the history of Mackinac Island. Also, the views from up there are some of the best on the island!
The Tea Room at the Fort is my favorite place to have lunch if you want to sip on a glass of wine and take in the island views.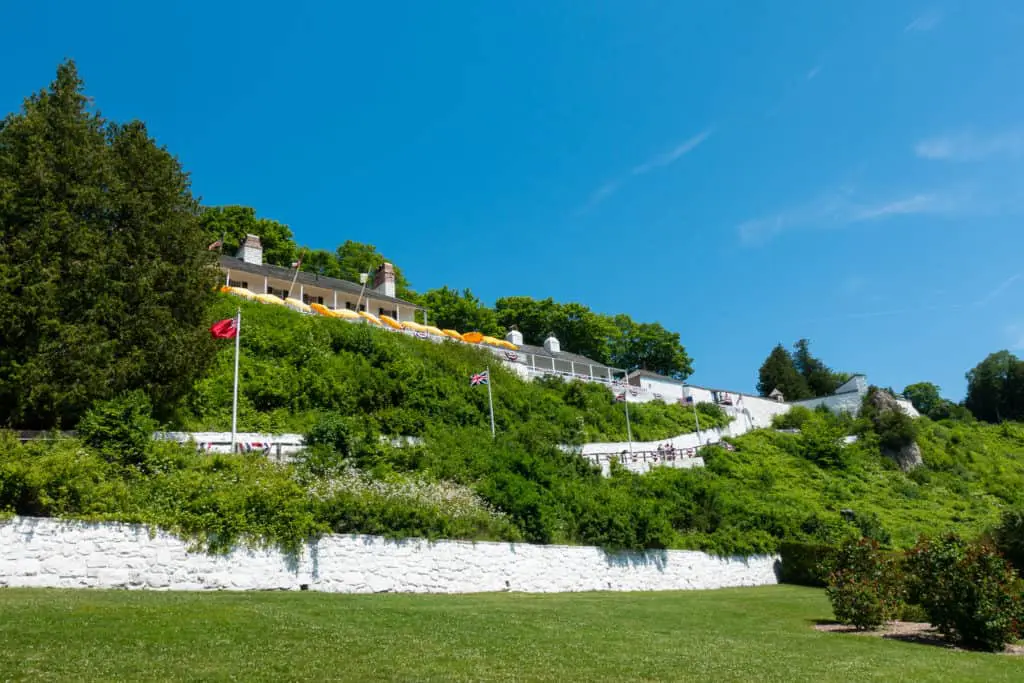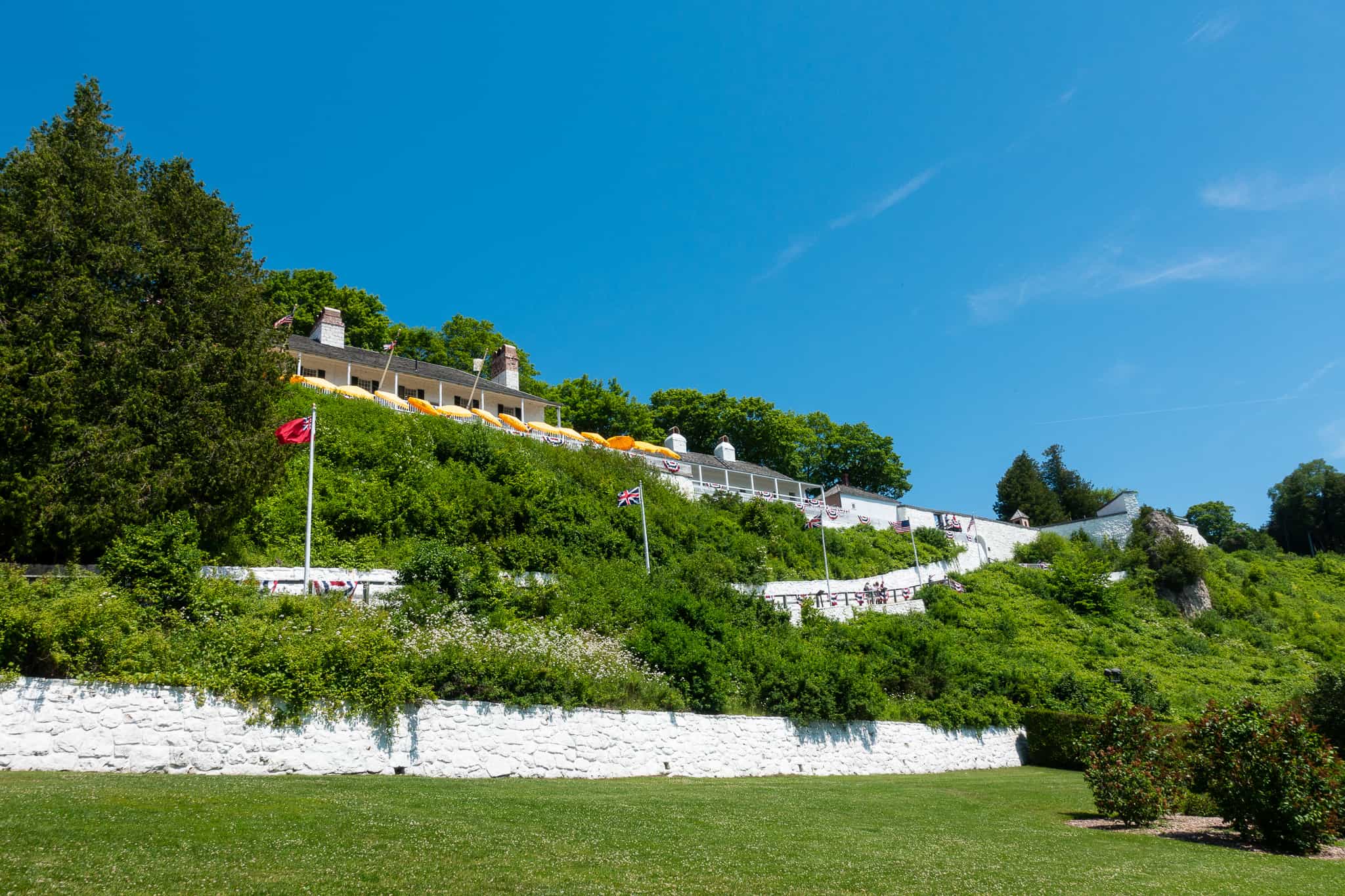 Visit the Butterfly House
The Butterfly House is very popular with families with little kids. It will get incredibly crowded on rainy days.
Go Shopping Downtown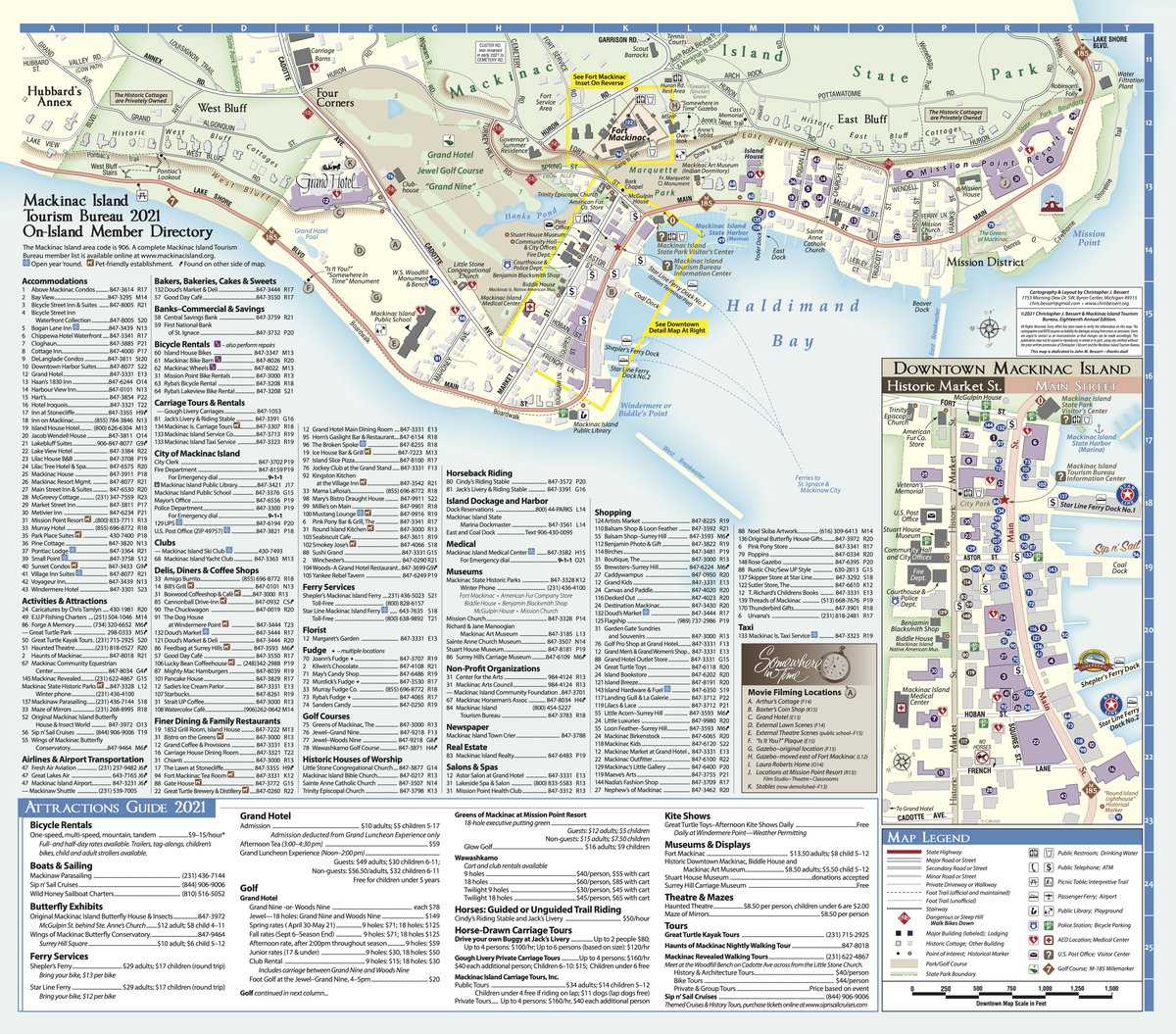 There are enough shops along the main drag of the island to keep you busy for an entire day if you so desire!
Go Horseback Riding
You can ride a horse around the island at hourly rates via Cindy's Riding Stables or drive your own carriage via Jack's Livery Stables.
Eat Fudge!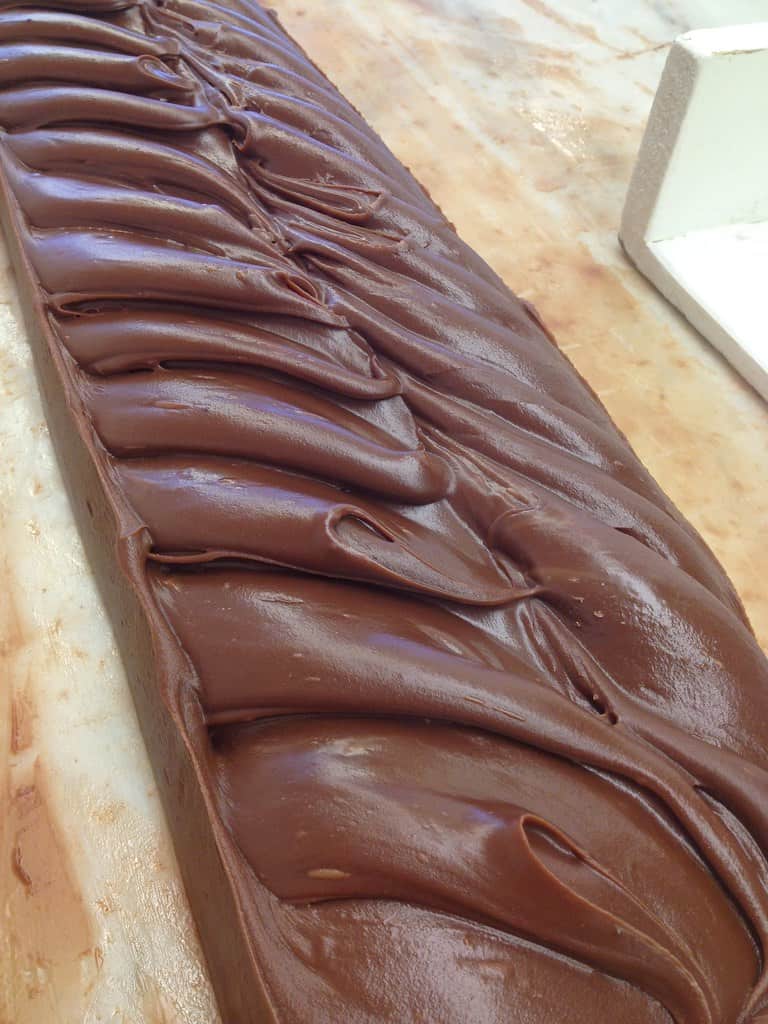 "First Fudge" by mackinacislandgal is licensed under CC BY 2.0
.
There are a lot of options. My personal favorite has always been the Murray Hotel fudge, but you can walk into any of the stores to sample flavors and find your own personal favorite!
Seeing the fudge be made right in front of you is a tradition for the island that dates back to the 1800s!
What's the least taken advantage of activity on Mackinac Island?
Biking the inner island trails. Mackinac Island is COVERED in biking trials! If you get the opportunity to explore the inside of Mackinac Island, I say go for it. A lot of the crowd will stay downtown or on the outer loop all day.
It is entirely possible to bike along some of the inside trails and only see a couple of other people while doing so. I especially recommend hitting up some of the trails on the NE coast to find some beautiful elevated lookout spots, such as the one in the main photo for this post!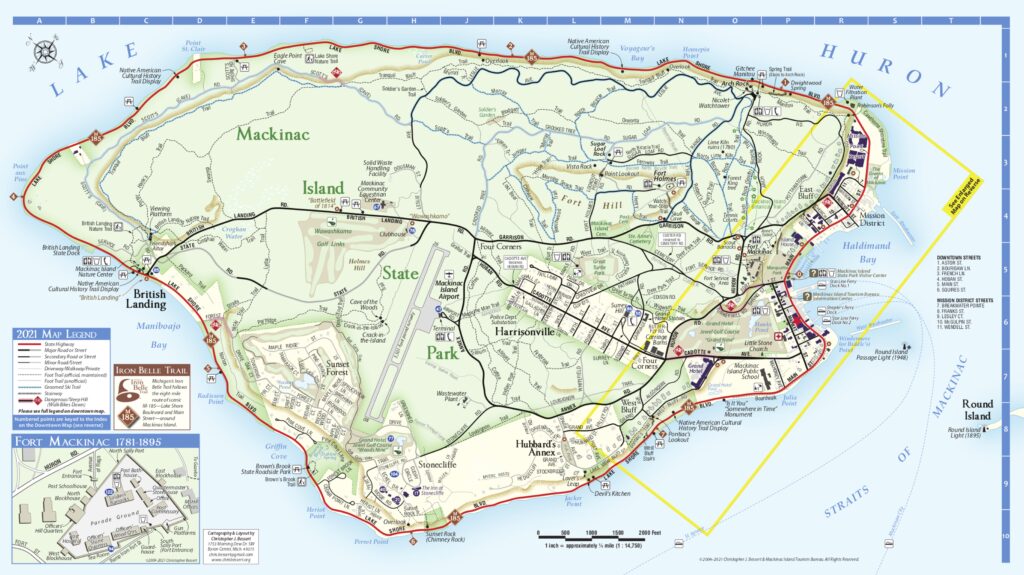 Lastly, where should I eat on Mackinac Island?
I personally am pretty budget-conscious, so I generally try to bring over salads for lunch and snacks. This way, we only eat one expensive meal on the island.
However, there are a tremendous amount of restaurants on Mackinac Island serving up tasty eats, and this year, we did splurge with eating a couple of meals on the island. Here are a few recommendations that have stood out to me:
If you want to be fancy:
The Grand Hotel's Grand Luncheon Buffet
If you want views: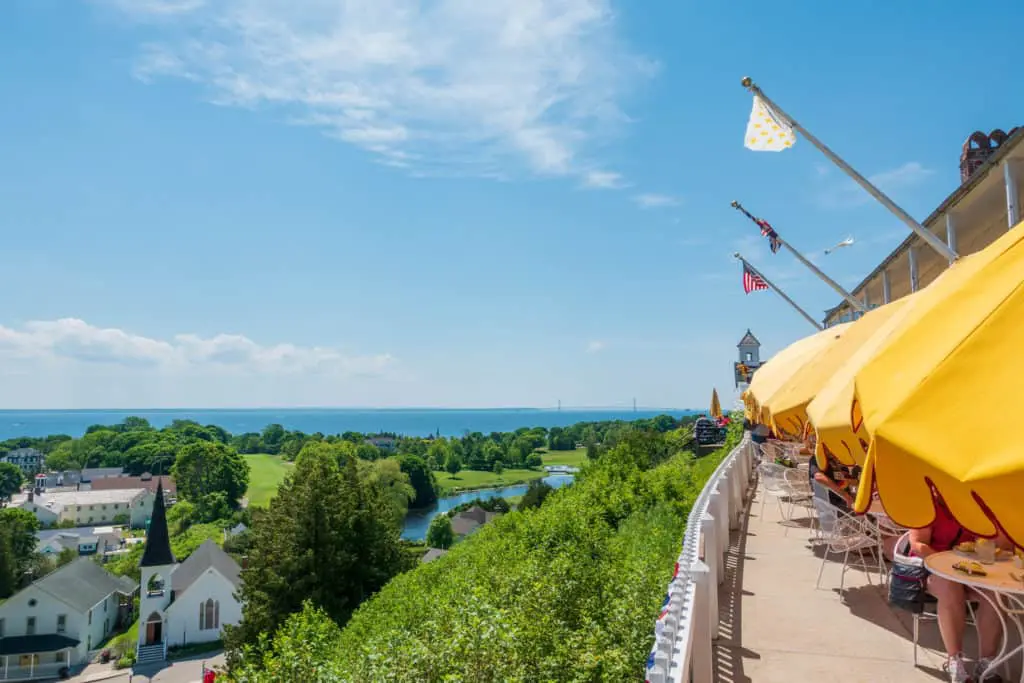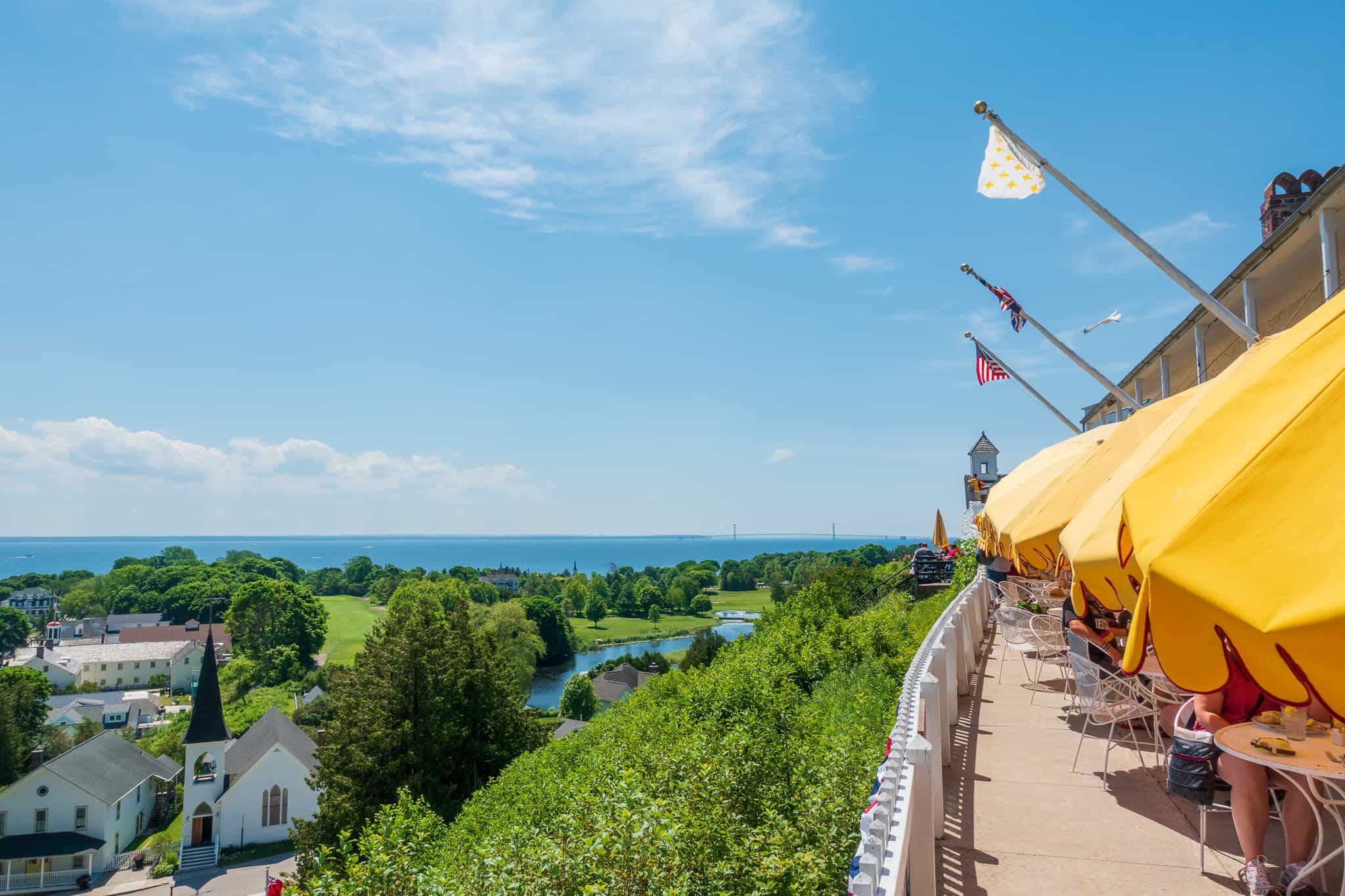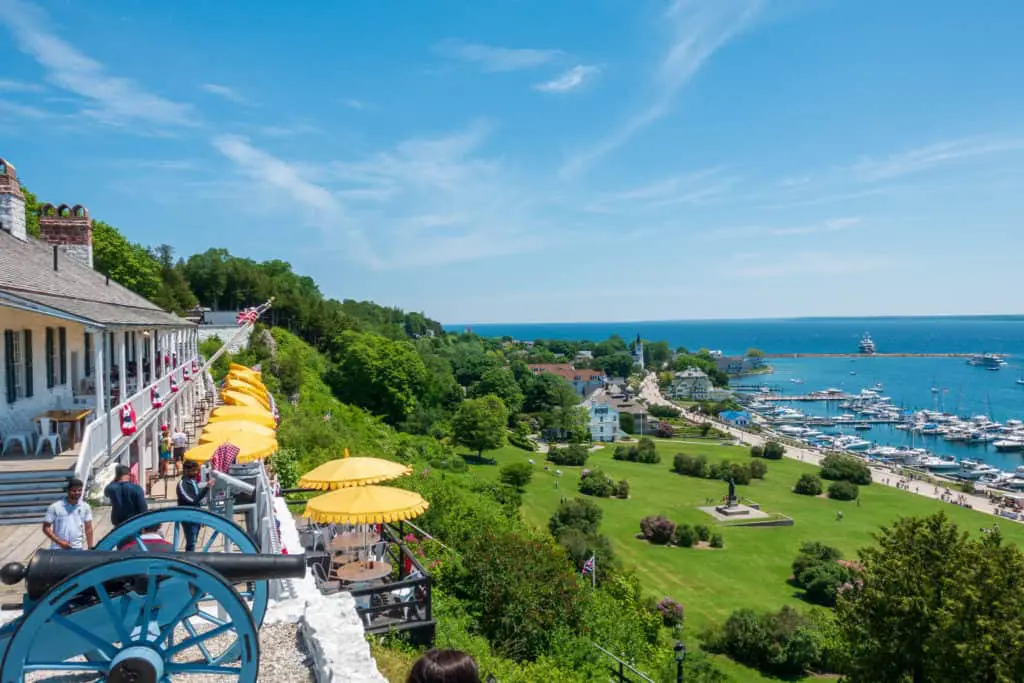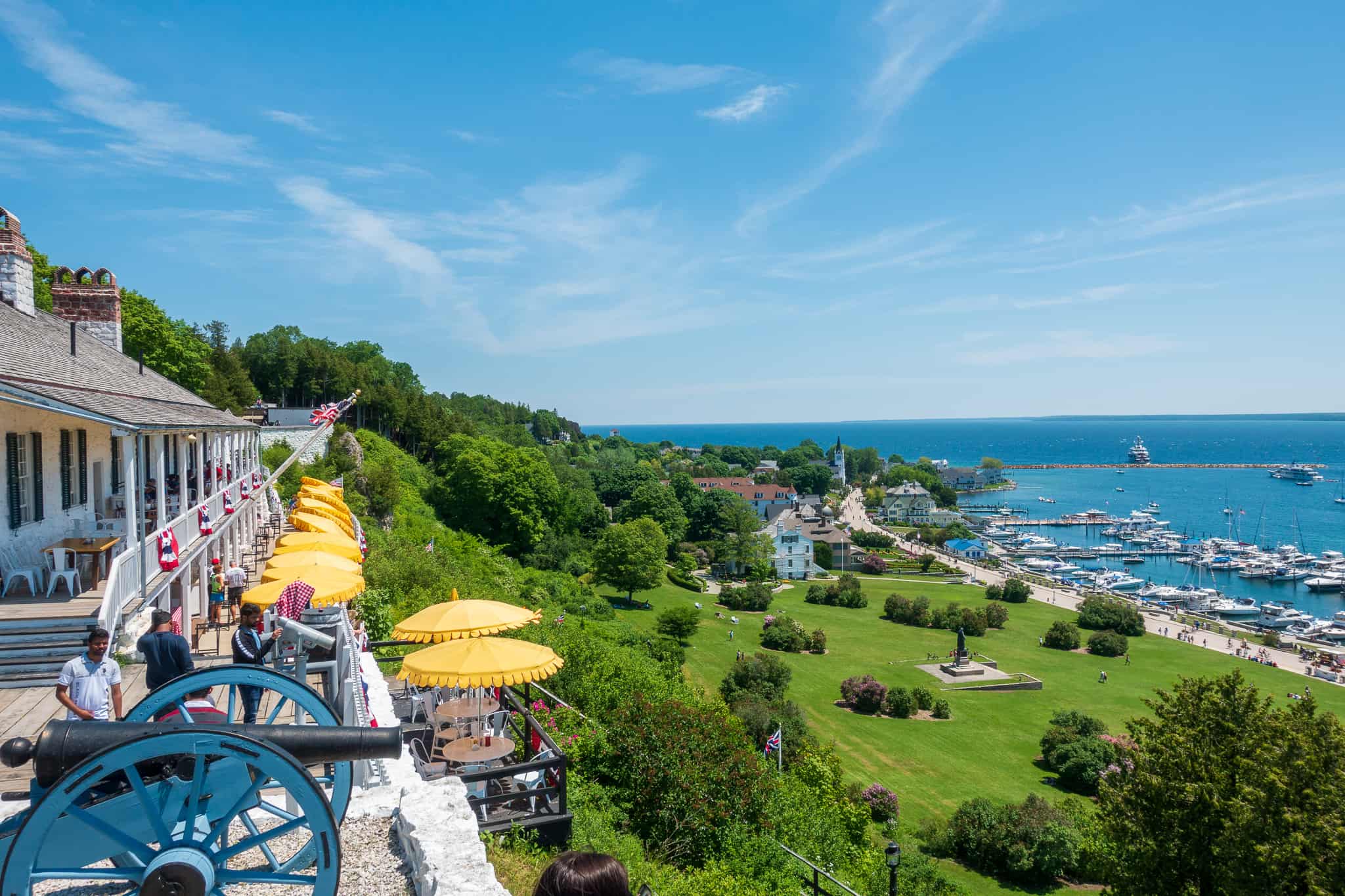 If you want to pick up a quick bite:
Doud's Market – a spot with essential grocery items, as well as many quick grab 'n' go picks such as sandwiches, pizza, and salads.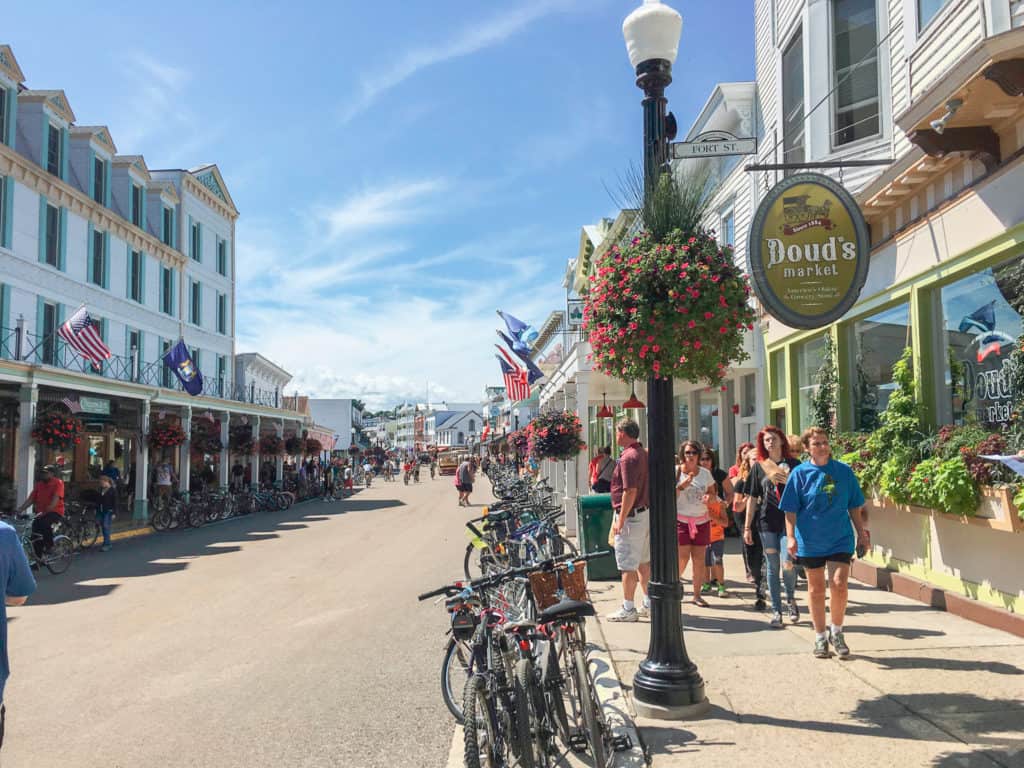 If you want to go to where the party is:
Pink Pony – a trendy spot to grab a bite or drink on Mackinac Island. Known for its location, whitefish dip, and burgers. It features patio dining on the lake.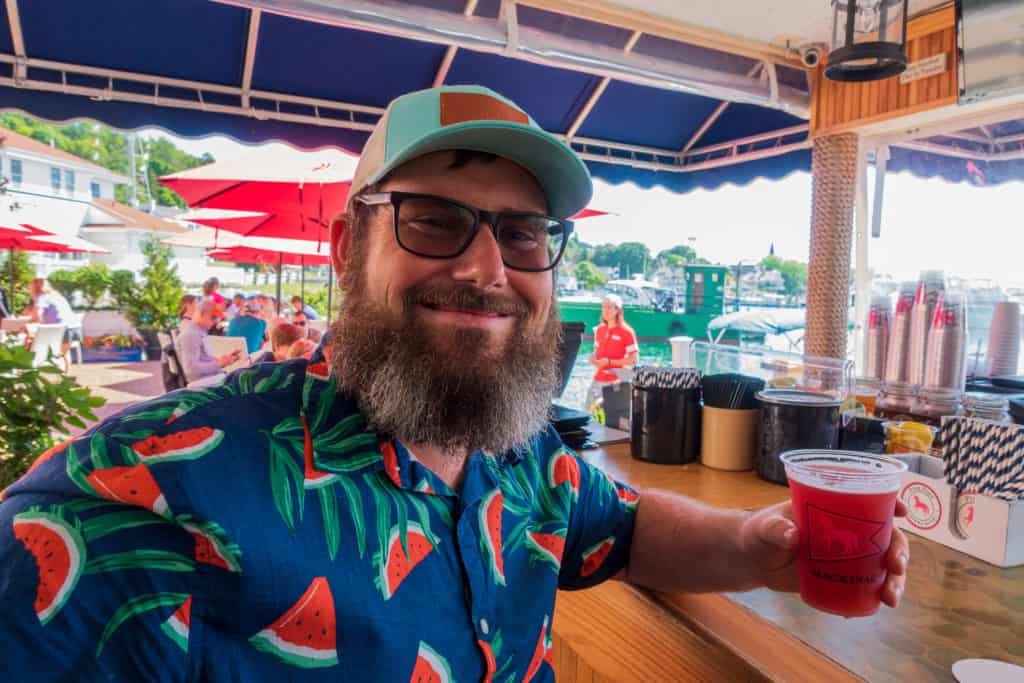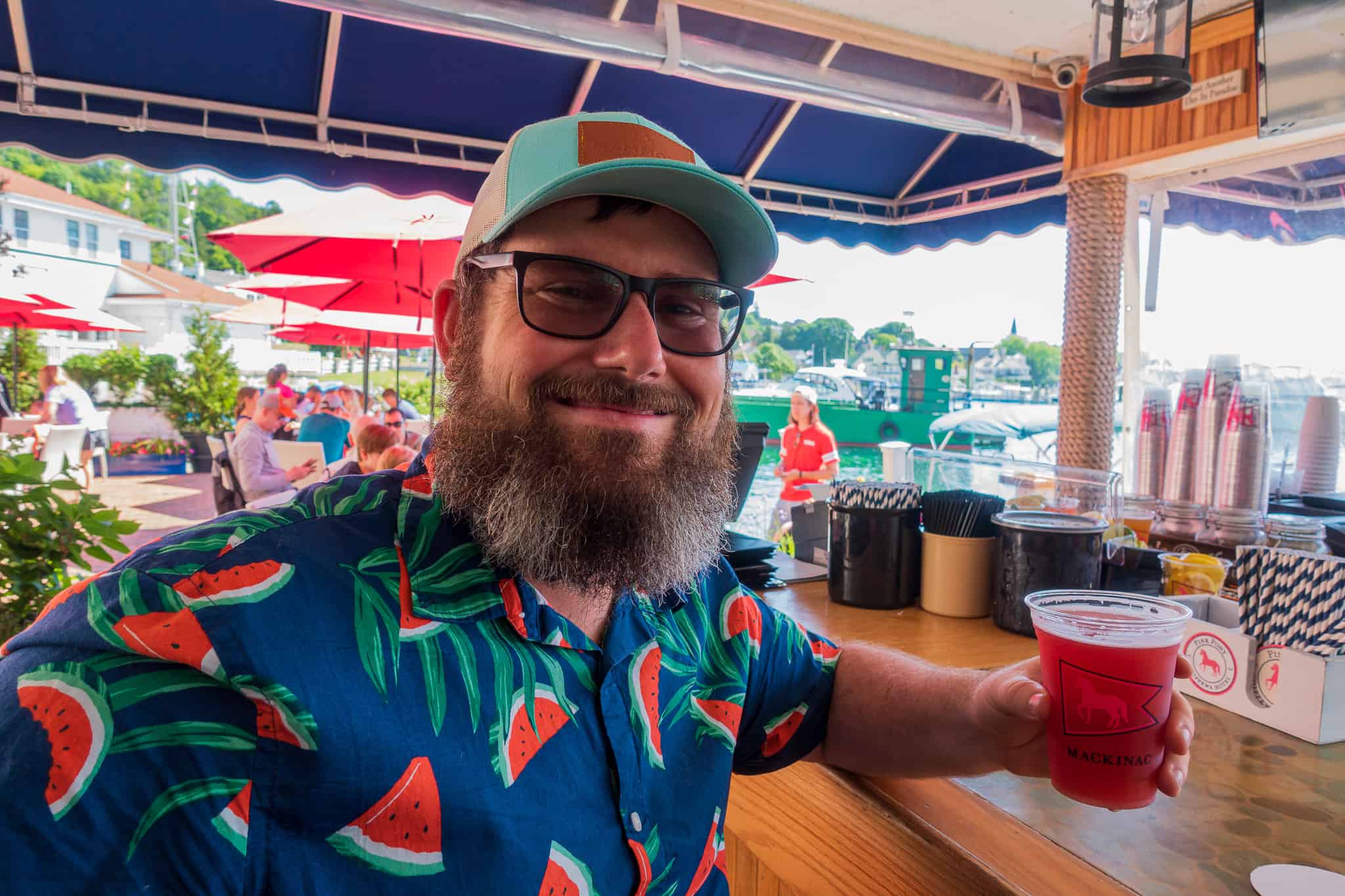 If you want to experience where the locals go:
Mustang Lounge – a watering hole that is open year-round and has been known to be a favorite place of locals for decades. They feature hamburgers, chicken, and brews!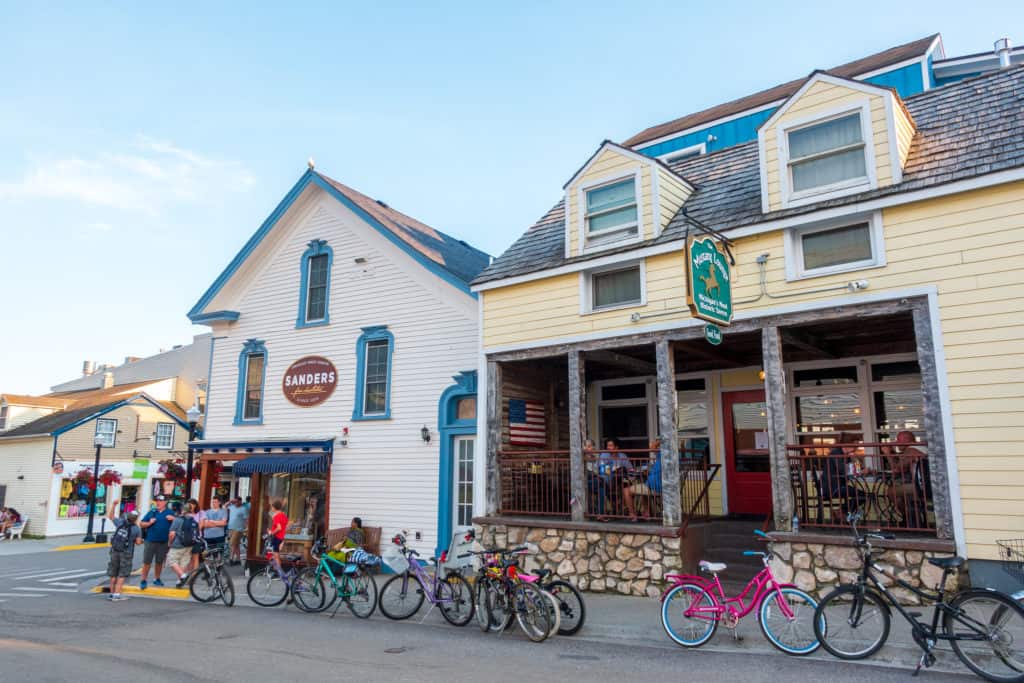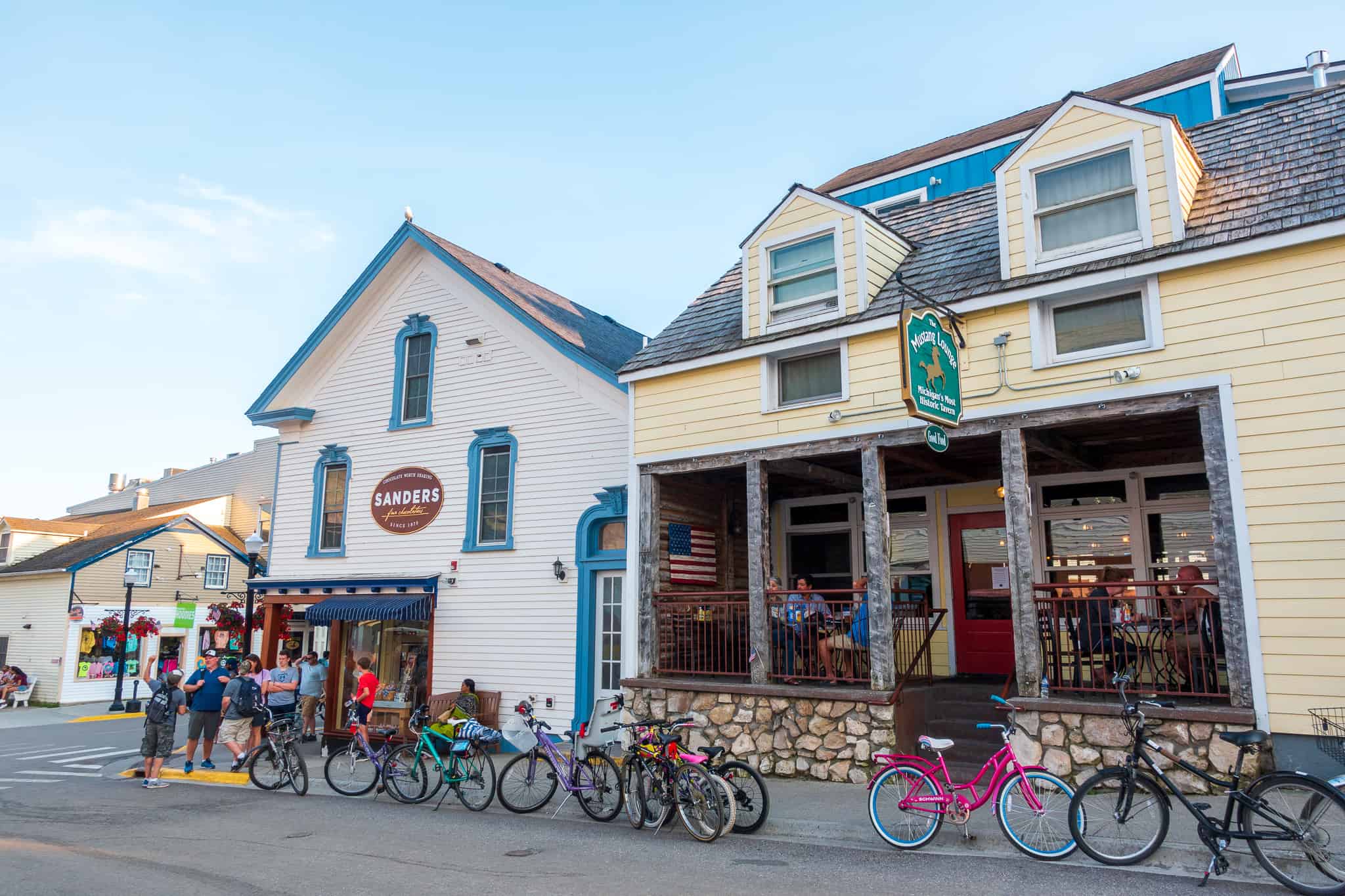 Now go enjoy your trip on Mackinac Island!
---
Explore more Travel Tips on Cinders Travels:
👉 The Ultimate One Day Badlands National Park Road Trip Itinerary
👉 A Smoky Mountains Itinerary for Every Type of Traveler & Everything Else you Need to Know!
👉 What Not to Miss on Your Trip to Knoxville
👉 51 Answers to Your Most Pressing Full-Time RV Living Questions
👉 What to Do in the Black Hills: 70+ Awesome Ideas for Outdoor Adventurers in 2023 (Plus Where to Eat, Where to Stay, and Which Museums to Visit)