Latest posts by Cindy Scott
(see all)
(Last Updated On: September 18, 2023)


Planning a trip to Tennessee? When it comes to big cities in Tennessee, Memphis and Nashville seem to get a lot of attention, but don't forget to check out Knoxville! The area is beautiful, and I think you'll be pleasantly surprised!!
Hi there! I'm Cindy! On this blog, you'll find travel and adventure tips collected throughout my journeys as a day hiker, RV lifer, Appalachian Trail thru-hiker, and overall explorer. I have trekked both solo and with my loving hubby and our furry cat and dog friends!
Tennessee, North Carolina, and the Appalachian Mountains have repeatedly pulled us back throughout our travels. And time after time we've been especially drawn to Knoxville, Tennessee!
To help make the planning process easy for those considering a visit, here's what we have found (after a fair bit of research and numerous visits) to be the 48 best things to do in Knoxville.
This list includes unique ways to experience the city, where to get the best food and drinks, the best spots to take in nature, history, sports, art, and much more!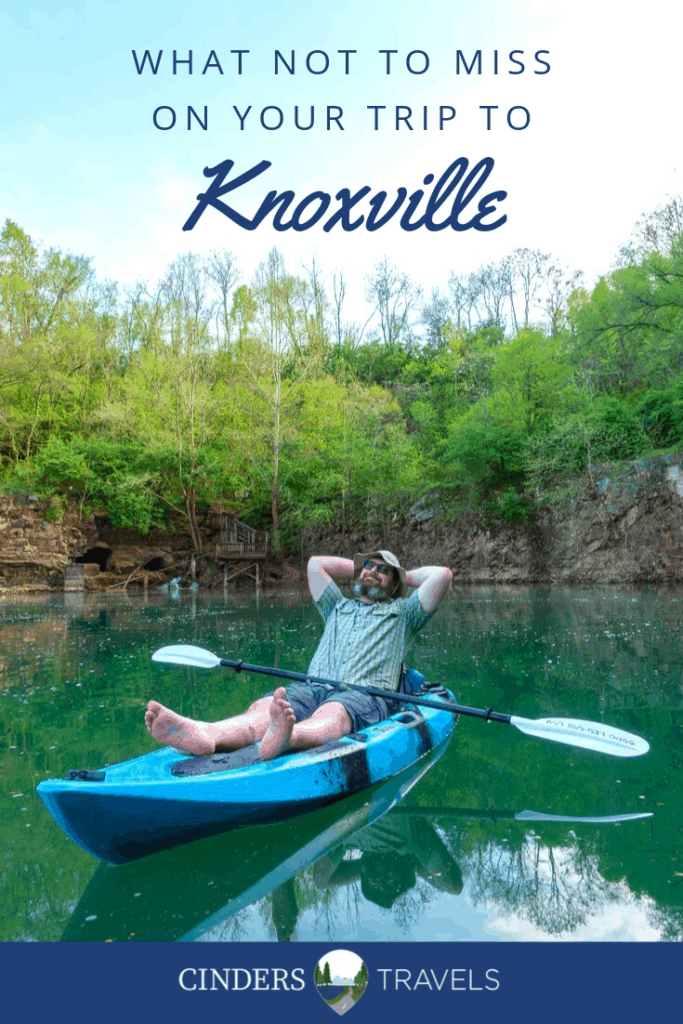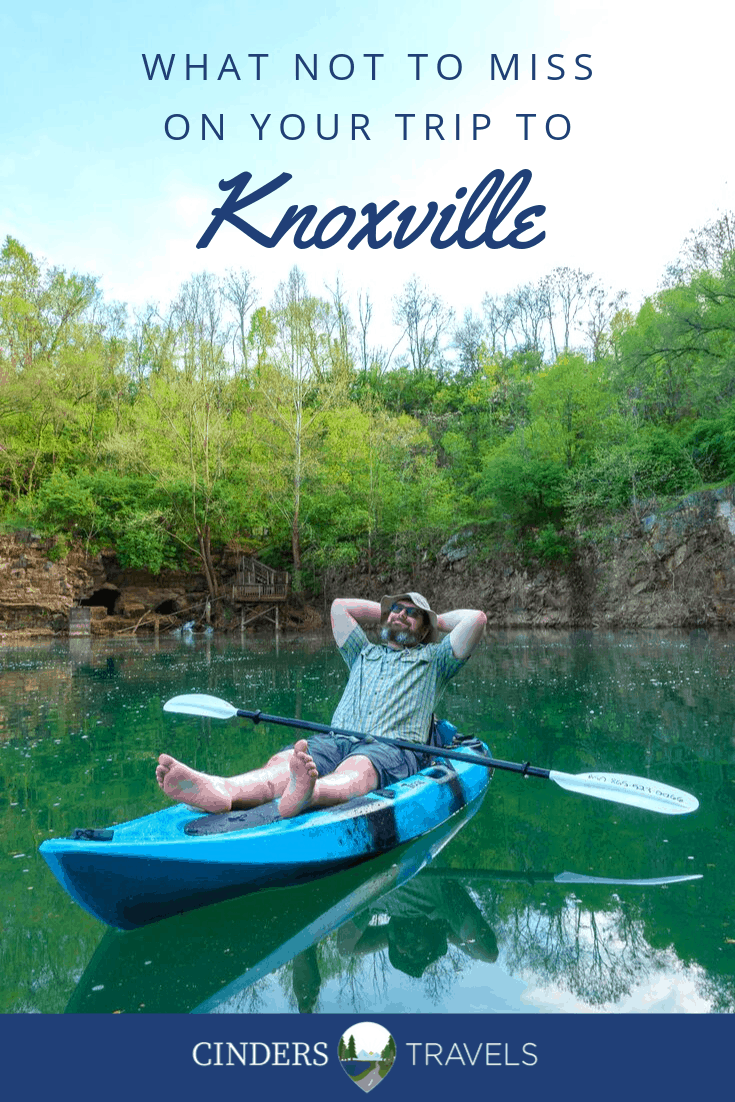 First: What is Knoxville Known for?
Many of Knoxville's visitors fly in and then head over to Gatlinburg to take in the Smoky Mountains. However, Knoxville is much more than just a gateway city to Great Smoky Mountains National Park.
Knoxville is an under-the-radar destination with tons of fantastic attractions. And bonus – none are so overwhelmingly popular that it's overrun with tourists!
These are just a few of the things you may not know about Knoxville:
✅ It's a foodie's paradise! You'll find a mix of Southern comforts like BBQ, fried chicken, and okra, but it also has award-winning restaurants like The Barn at Blackberry Farm, which was a James Beard finalist.
✅ It's a big college town. Home to the University of Tennessee's main campus, Knoxville bleeds orange and white. College football is a big deal in these parts. In addition, the university gives Knoxville a more cosmopolitan feel, thanks to a diverse student population and a variety of restaurants, bars, and shops to serve them.
✅ The atom bomb was built here, at least in part. Oak Ridge Laboratories is just outside Knoxville and is where uranium for the first bomb was enriched in the early 1940s.
✅ It hosted a World's Fair. These days, many people think of the World's Fair as an artifact of the early 20th century. However, they were actually still happening here in the states not that long ago, and Knoxville hosted it in 1982. Touchscreen displays were unveiled for the first time at the fair.
✅ It was once considered the "Underwear Capital of the World." The region was one of the world's most prolific growers of cotton. As a result, the textile mills in Knoxville used to make more underwear than just about anywhere else.
✅ The city has more breweries than you could possibly visit. The Knoxville Ale Trail features 25 breweries in addition to its many notable taprooms and beer markets.
✅ It's packed with history. Knoxville was the capital of the Southwest Territory before becoming the state capital in the 1790s. That only lasted about fifteen years, but numerous historical buildings, museums, and monuments remind visitors how important it was to Tennessee's formative years.
---
Now onto the list!
The Best Spots to Experience Knoxville
1. Historic Market Square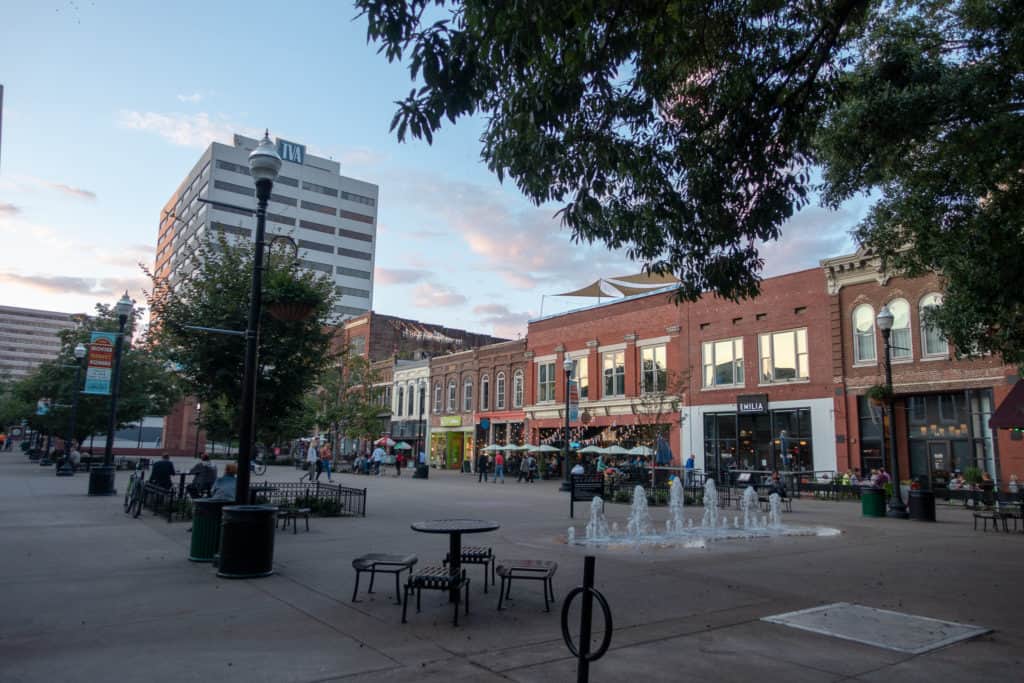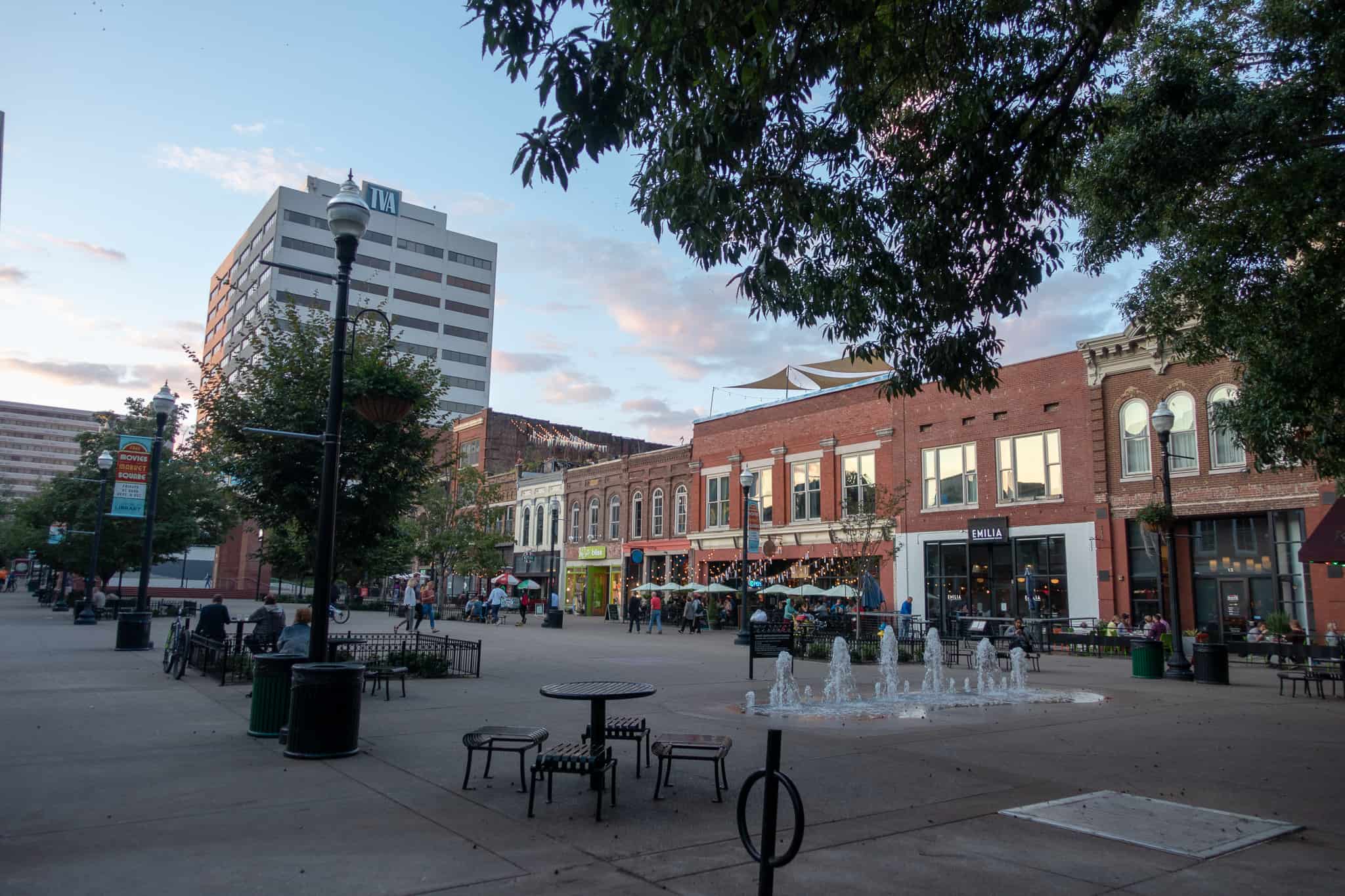 The Historic Market Square area is a beautiful town square that gives off TV town vibes, reminding visitors of fictional places such as Stars Hollow or Capeside.
On any random night, you can walk around and see couples dining, kids playing, and people shopping, all in a tiny area, while feeling utterly safe and without worry.
(more on where to eat down below 👇 )
2. Old City
After spending some time in The Historic Market Square area, also be sure to mosey on over to nearby Old City. The Historic Market Square area excels in outdoor performances, shopping, and dining.
However, the Old City area also has great eats and entertainment once day turns to night. There's also a lot of history and galleries in this part of town.
3. The Knoxville Riverfront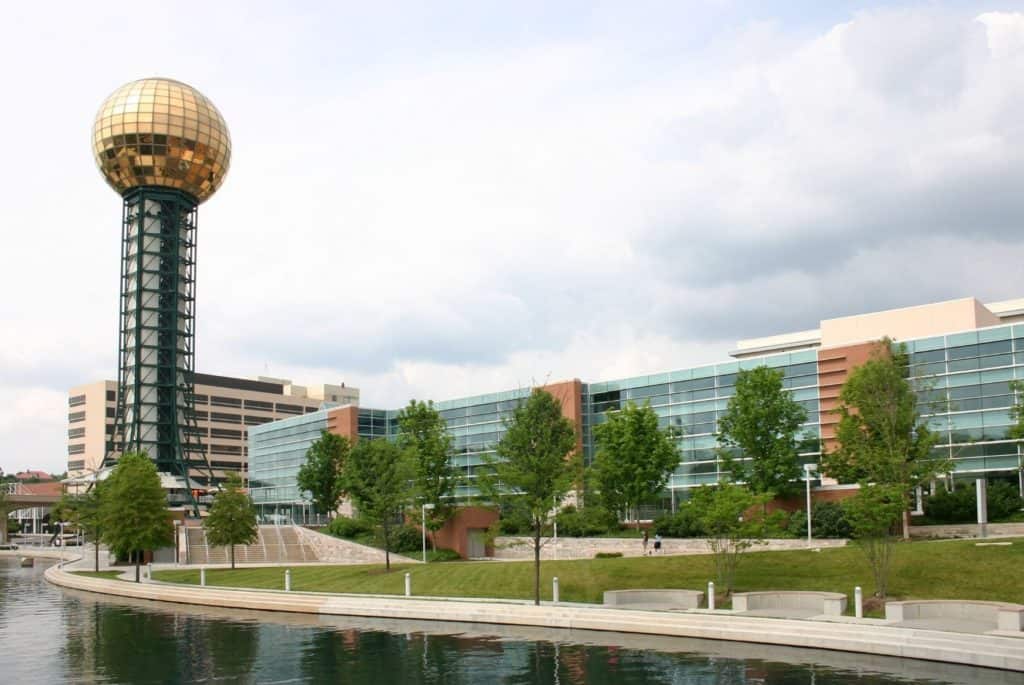 Looking for a place to take your date? There's no better area than the Knoxville Riverfront!
Some lovely walking and biking trails line the north side of the Tennessee River between Sequoyah Park and Riverside Landing Park.
In between is the University of Tennessee campus and some of the best restaurants in the city, like Ruth's Chris Steak House and Calhoun's on the River (BBQ).
Benches along the pathway are great for watching the river cruises run by in the evening.
4. Market Square Farmer's Market
Checking out the local farmer's market is one of the best ways to experience a city. Market Square Farmer's Market sells everything from local honey to handmade earrings to fresh baguettes.
It's open from May through November on Wednesday afternoons and is a great place to pick up gifts or souvenirs.
Unique Ways to Experience Knoxville
5. The Star of Knoxville Riverboat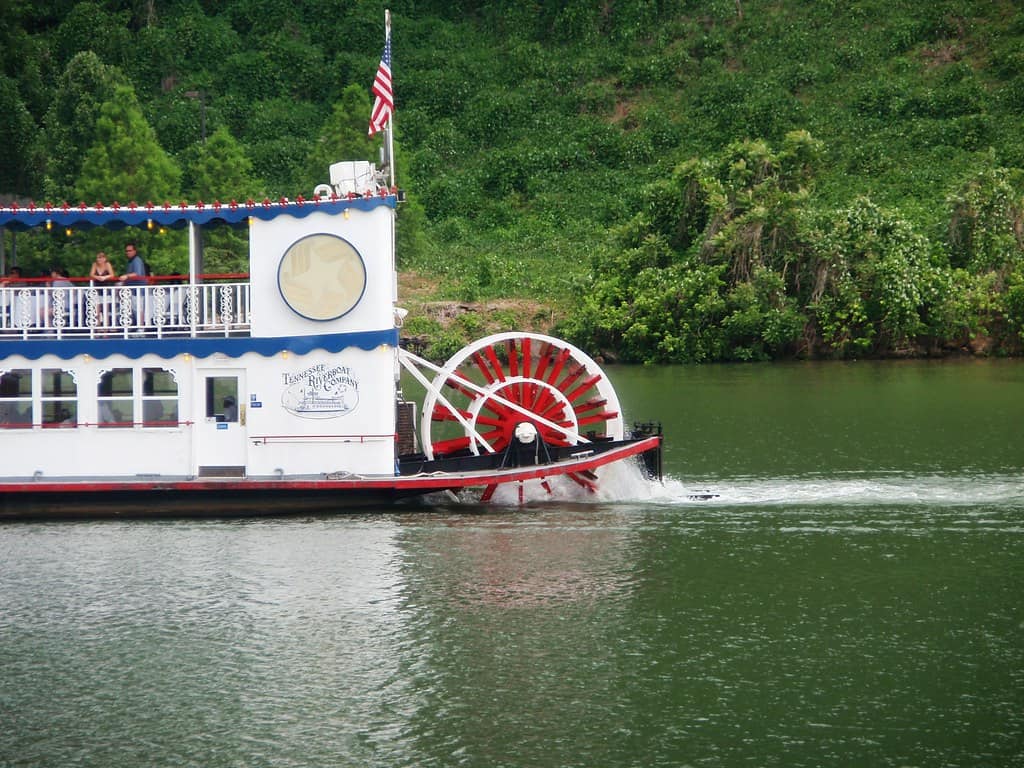 Nothing says Tennessee like a cruise on a paddlewheel steamboat, so why not transport yourself back to the 1820s by riding The Star of Knoxville Riverboat up the Tennessee River?
Whether you want to go on a romantic date night out, a wild party cruise with your crew of friends, or watch the fireworks display on the 4th of July – there's a river cruise for everyone.
6. Three Rivers Rambler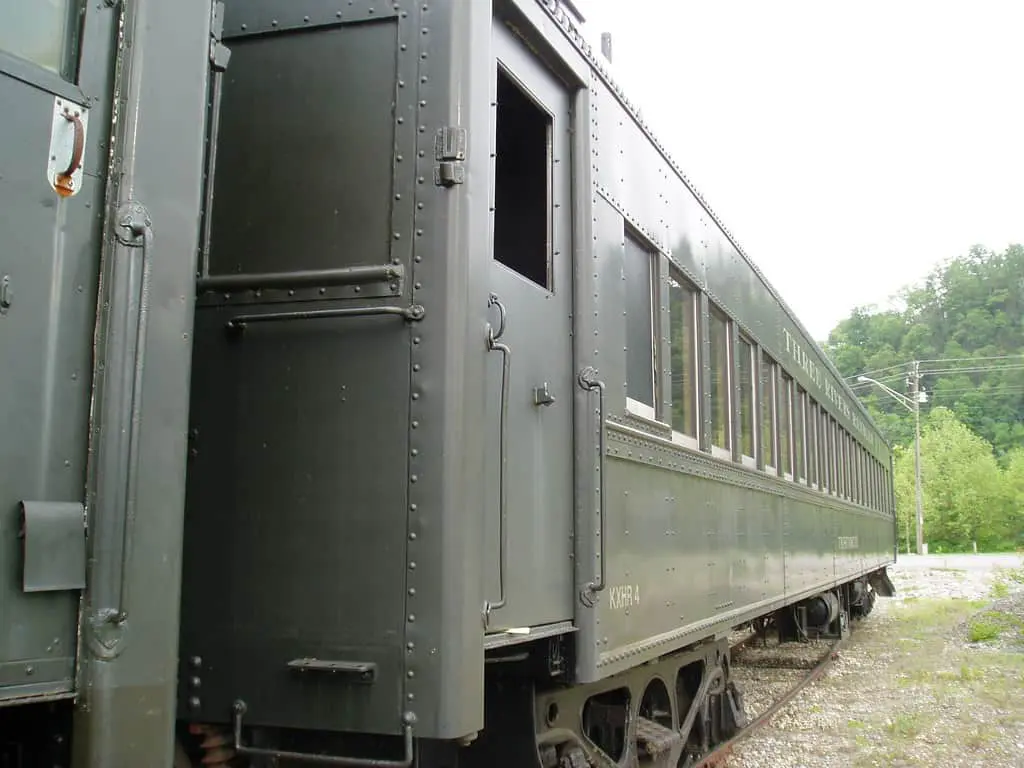 Another option is to jump a little further forward in history to the age of steam trains and take a ride on the Three Rivers Rambler.
The 90-minute trip goes from downtown Knoxville, past the University of Tennessee stadium and University Commons shopping center, to the farmland at the city's edge.
This excursion is especially popular around Halloween. The leaves are changing, and the train is decked out in spooky decor!
And then, at Christmas time, hot cocoa and gingerbread cookies are served.
Where to Enjoy Nature in Knoxville
7. Ijams Nature Center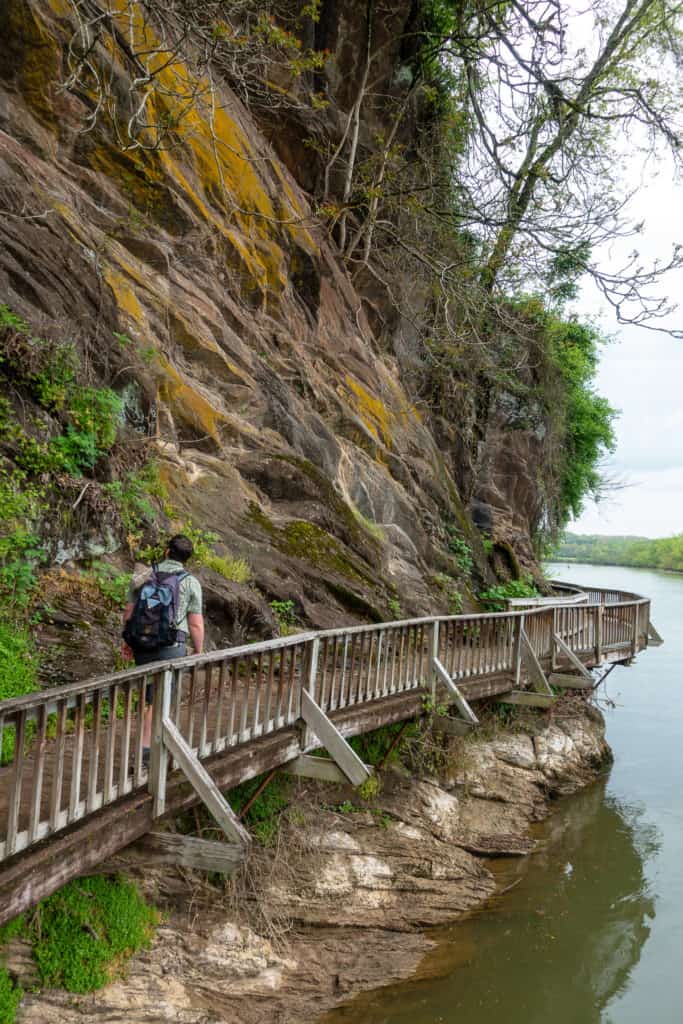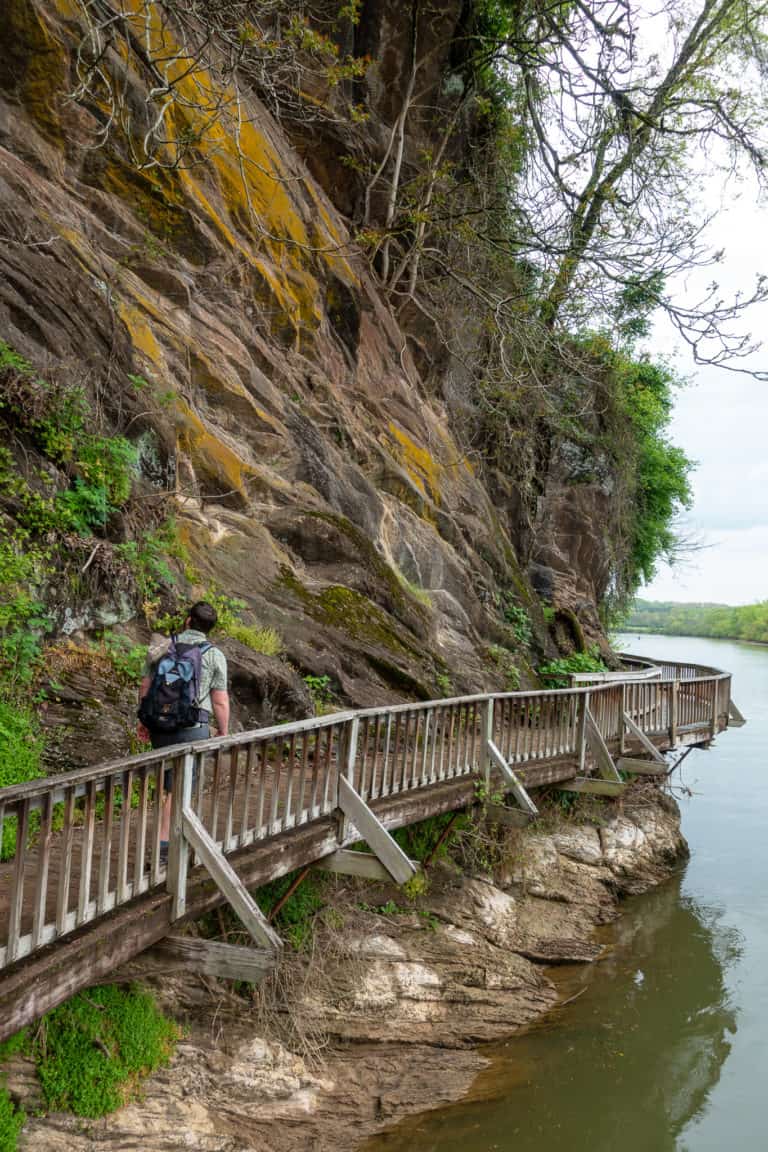 If you're looking to spend a day adventuring in the great outdoors, make sure to check out the Ijams Nature Center.
Start out your day here by spending some time hiking throughout the park. There are plenty of trails to keep you occupied and many beautiful picture spots.
I couldn't believe this was right outside of downtown. The park holds an abundance of trails you do not expect to see within a city.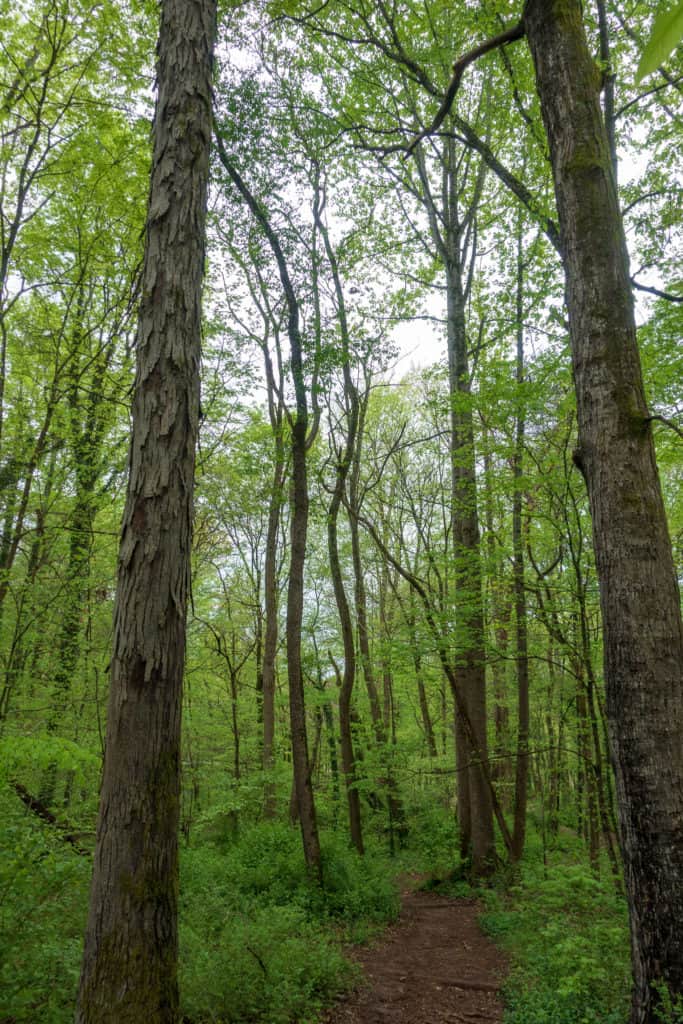 8. Meads Lake Quarry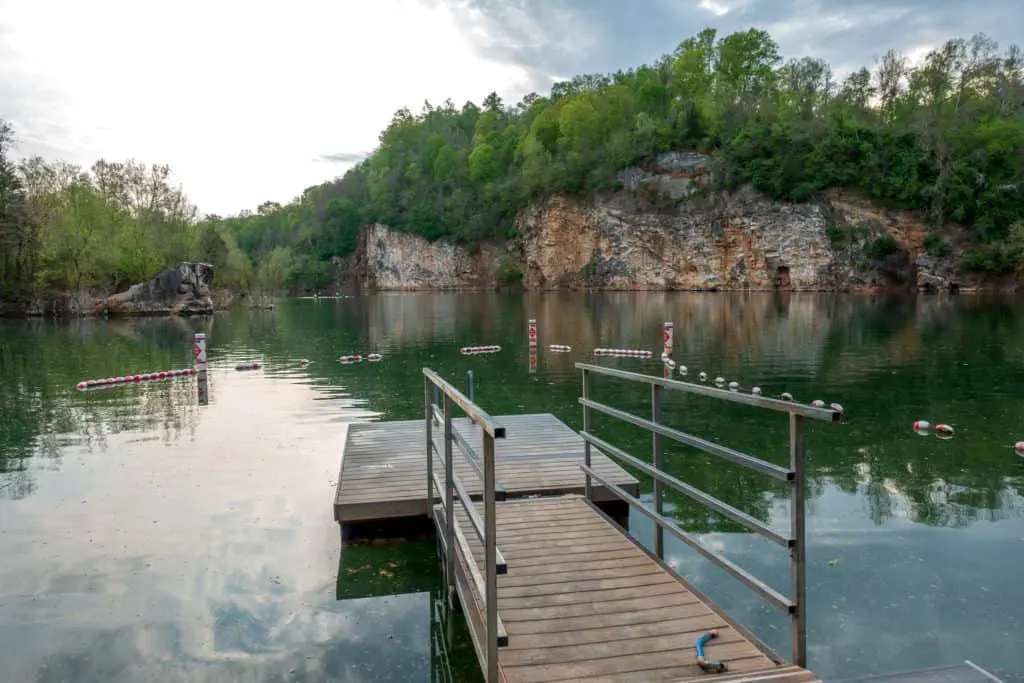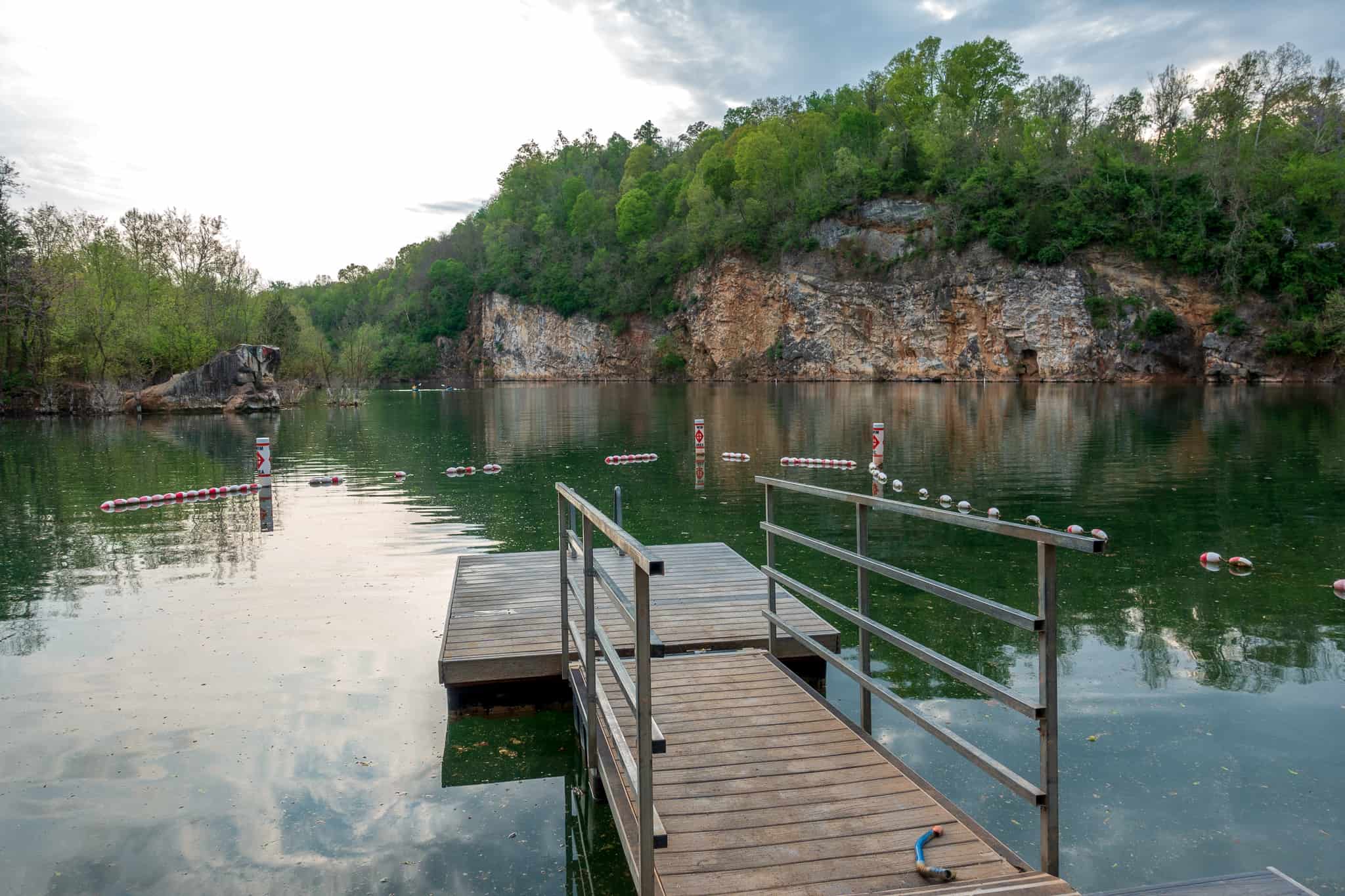 After you've had your fill of hiking, be sure to spend the afternoon on the water over at Ijams' Meads Lake Quarry. There's a beer garden with draft beer on tap and snacks.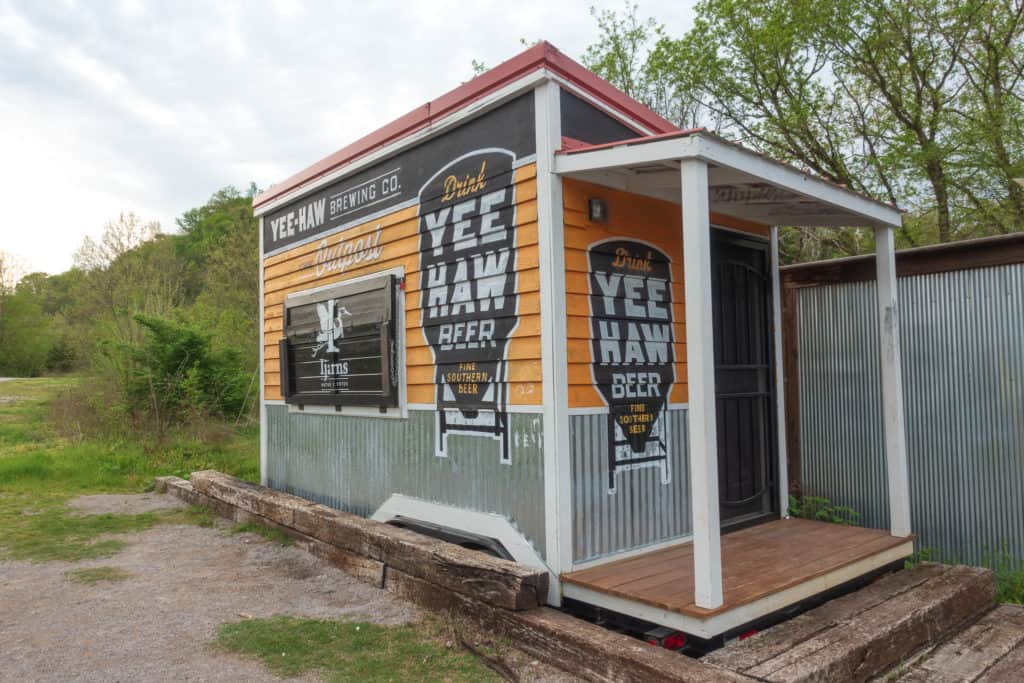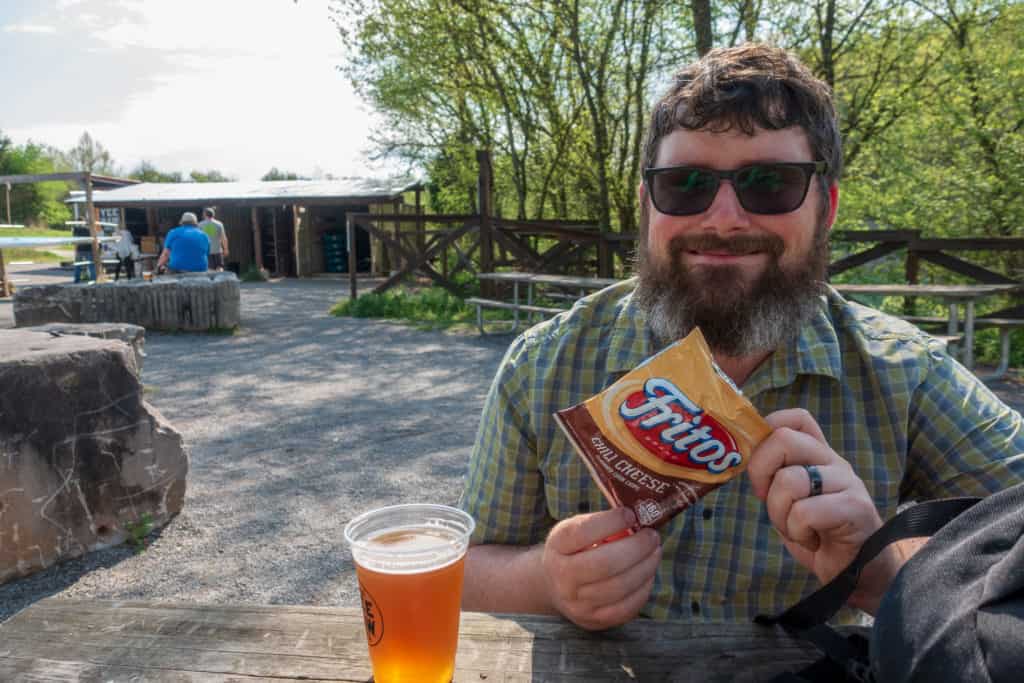 Once you've wet your whistle, you can jump in a kayak from River Sports Outfitters and float around in the quarry for only $14!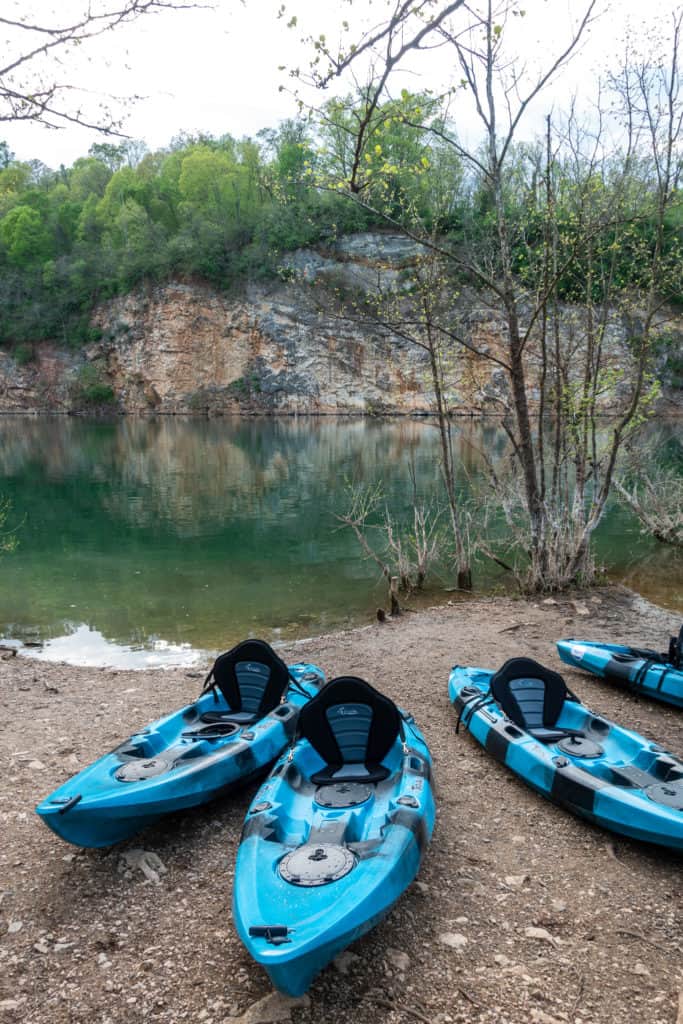 9. Navitat Canopy Adventures Ziplining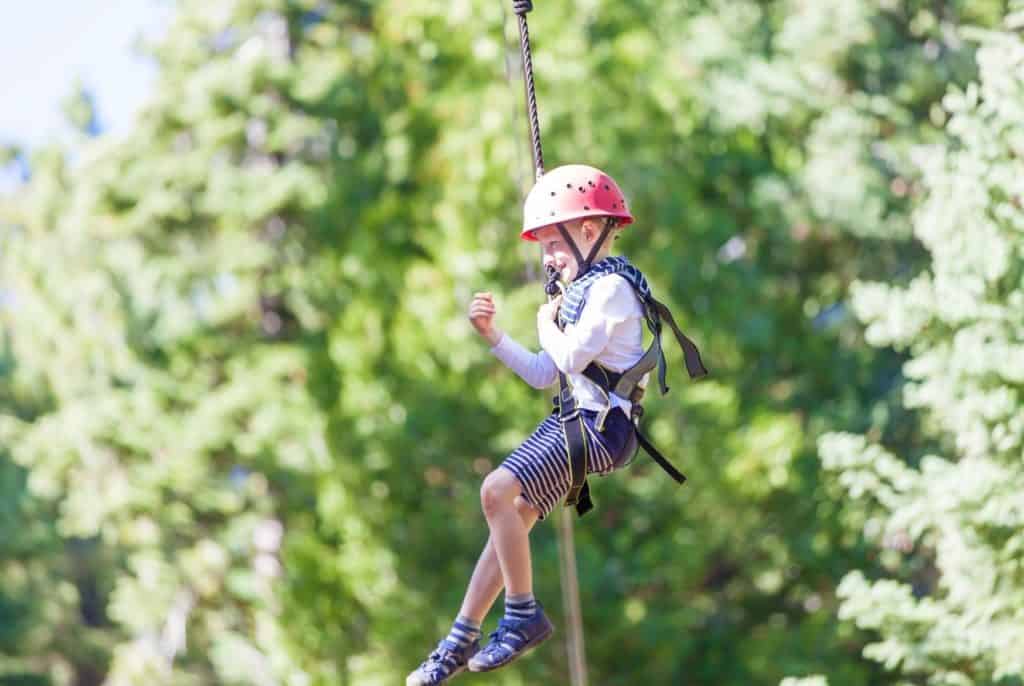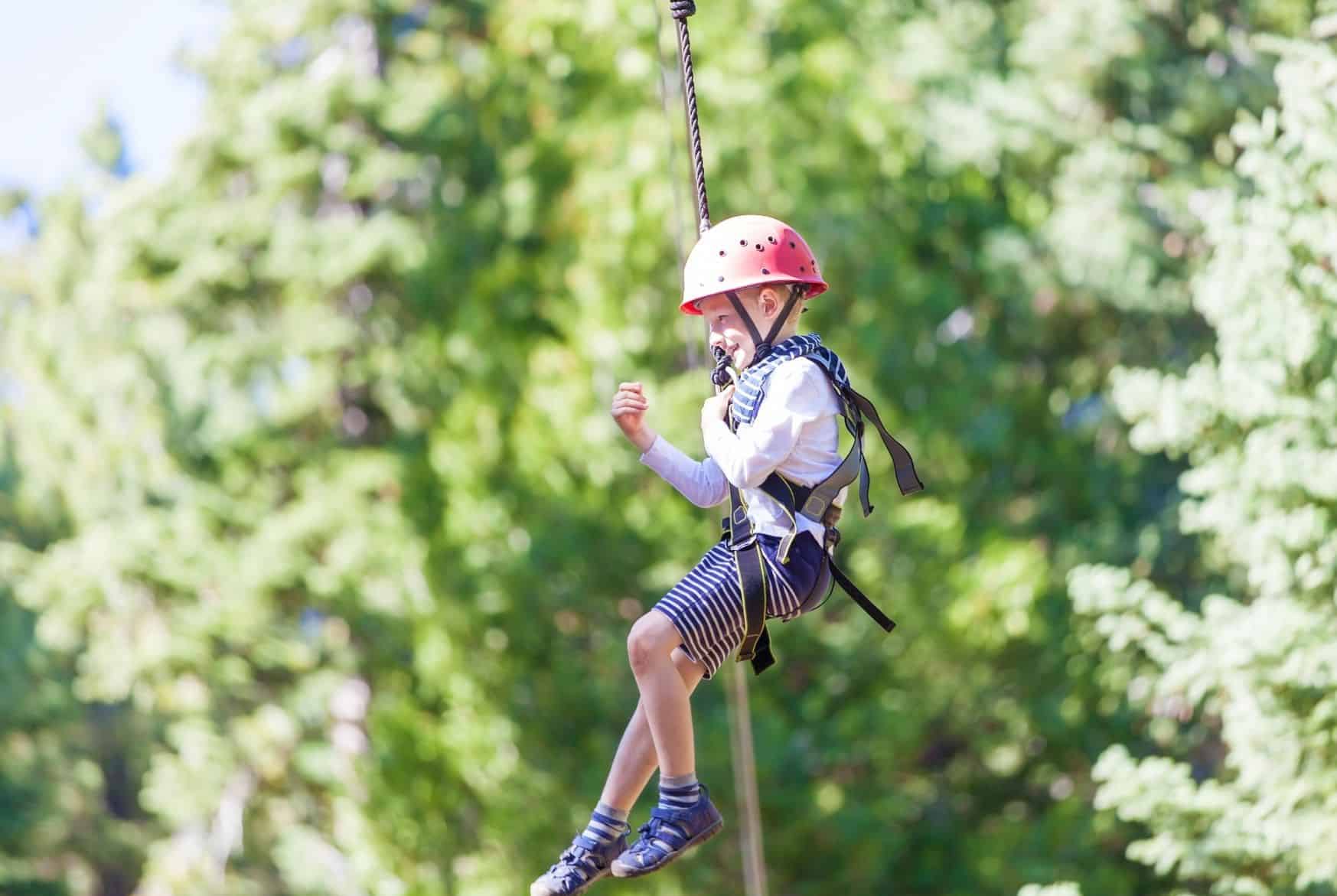 Lastly, hop on over to the Knoxville branch of Navitat Canopy Adventures, located inside the Ijams Nature Center. I recommend this for the end of the day because you can swing through the trees at night when the treetops are illuminated with LED lights!
It features several zipline courses for different levels, and each of them has nearly a dozen elements.
The zipline course is perfect for adventurous families looking for an outdoor activity that works for all ages.
If you or anyone in your family is afraid of heights, they have courses where you're only ten feet or so from the ground.
10. Knoxville Botanical Garden and Arboretum
Need a quiet interlude to break up the adventure? The Knoxville Botanical Garden and Arboretum are about as tranquil as it gets, with stone-lined paths meandering past all manner of colorful flowers. Admission is free.
Be sure to look at their Facebook page to see what'll be in bloom during your visit.
11. UT Gardens
The University of Tennessee is a whole lot more than screaming football fans and sophisticated academics roaming the quads.
It's also home to one of the most beautiful gardens in the state, UT Gardens.
Run by UT's agriculture program, the gardens are a proof of concept for many of the plants that the university is either trying to preserve or promote the use of, from native grasses to fruit trees.
Admission is free, and the gardens are conveniently located along the walking path that hugs the Tennessee River's north bank.
12. Lakeshore Park
Built on the now-demolished Lakeshore Mental Health Institute grounds, Lakeshore Park is home to a number of sports facilities, running paths, and grassy areas that are ideal for picnics.
Being a few miles from downtown Knoxville, it has a more low-key feel than some of the city's urban parks. There's also a fishing pier and a kayak launch (no rentals are available at the park, though) for getting out on the Tennessee River.
13. Cherokee Caverns
A visit to Cherokee Caverns is one of the most unique things you can do and a great way to hide out from the summer heat in Knoxville.
While many caverns are challenging to navigate and require crawling through slippery passageways, Cherokee's expansive chambers are suitable for any age and fitness level.
Temperatures inside the cave can be over 30 degrees cooler during the summer months!
Unlike most show caverns, Cherokee is only open to tours for a few specific events during the year. Halloween and Christmas are the most popular when the cavern is adorned with holiday-themed decor.
There's also the occasional concert inside it, which makes for some fascinating acoustics.
14. Charles Krutch Park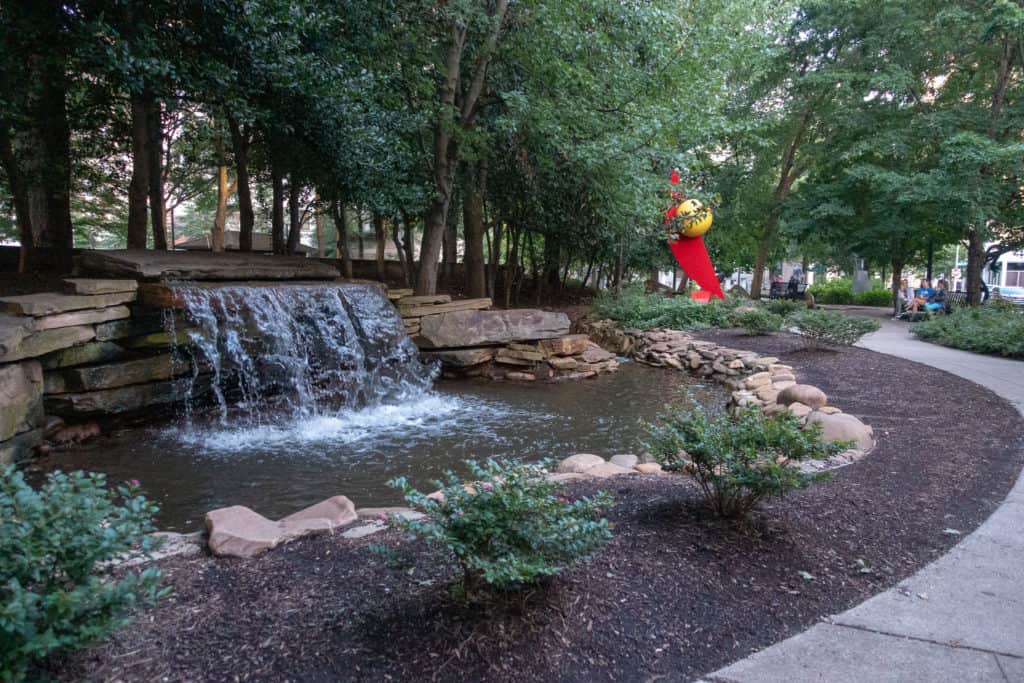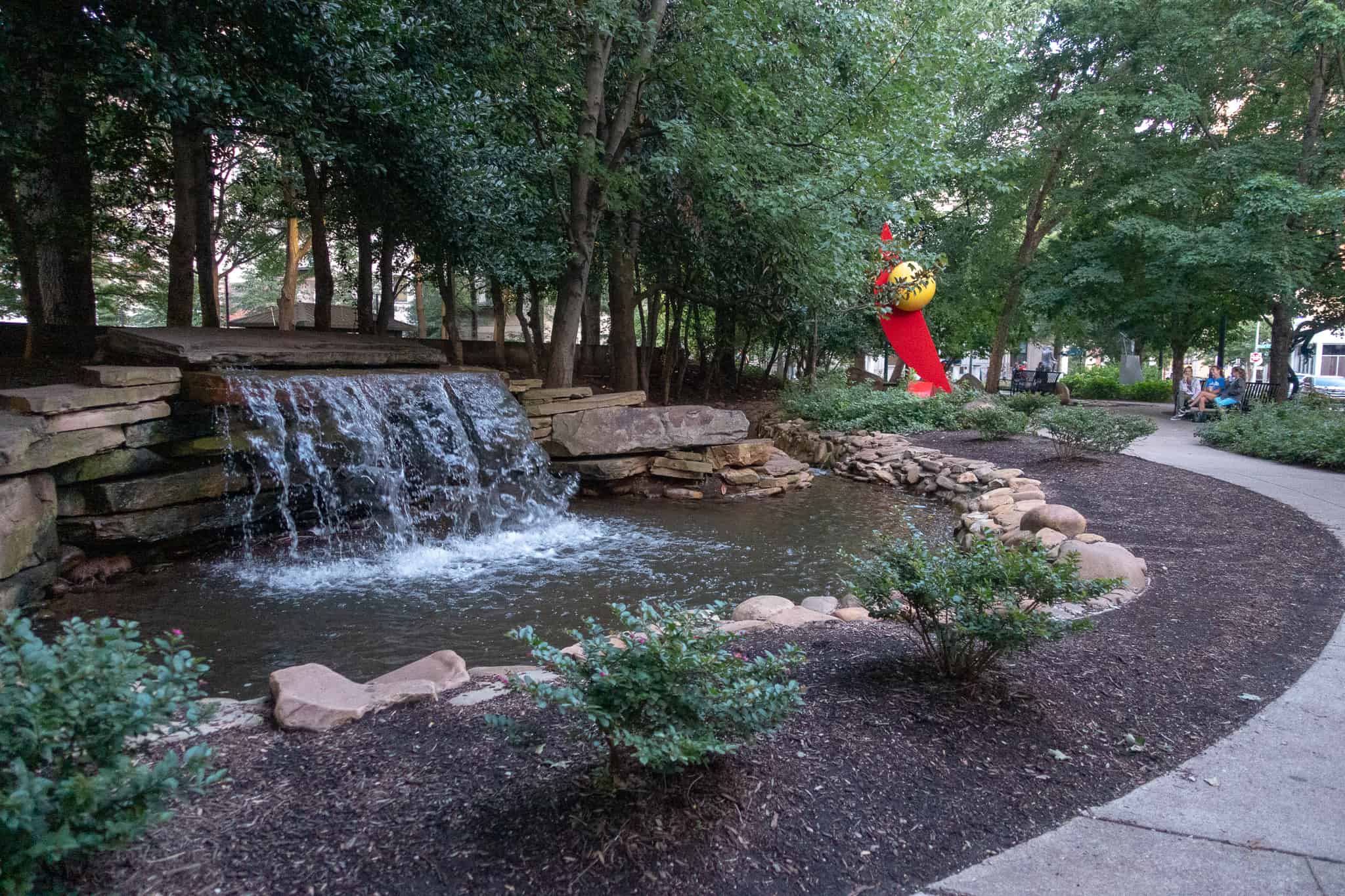 Charles Krutch Park is a tiny green space across from Market Square.
It's not so much a destination, but more an excellent place to enjoy some takeout from one of the nearby restaurants. There's a water feature and a few art exhibits to check out too.
The Best Spots to Enjoy History in Knoxville
15. McClung Museum of Natural History and Culture
If you were only going to visit one museum or historical site in Knoxville, it should be the McClung Museum of Natural History and Culture!
The McClung sits on the eastern edge of the University of Tennessee campus. It has an incredible variety of exhibits, ranging from archaeological finds from ancient Egypt to one detailing the experience of ordinary Knoxville citizens during the Civil War.
It's an affiliate of the Smithsonian Museum, so no matter what rotating exhibits are there during your visit, you know it'll be a fascinating experience. Like many of the best attractions in Knoxville, admission is entirely free.
16. East Tennessee History Center
If you're mainly interested in the area's history, the East Tennessee History Center has a wealth of interesting displays chronicling its 300-year history as a colonial region, territory, and state.
The signature exhibit, Voices of the Land: The People of East Tennessee, gives first-person accounts of what life was like in the Volunteer State at various points in its history.
You could definitely spend an hour or two here. Admission is free on Sundays. Otherwise, it's only $10 for adults and free for those aged 0-16.
It's an easy attraction to add to your itinerary, too, since it's close to downtown and many of Knoxville's other historical sites.
17. The Sunsphere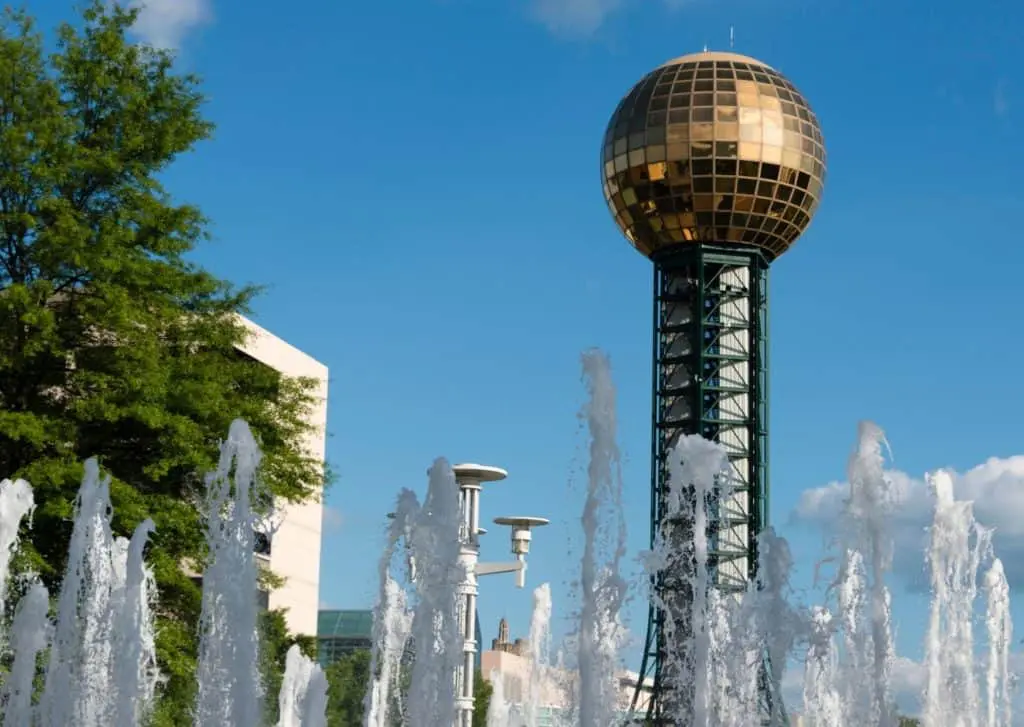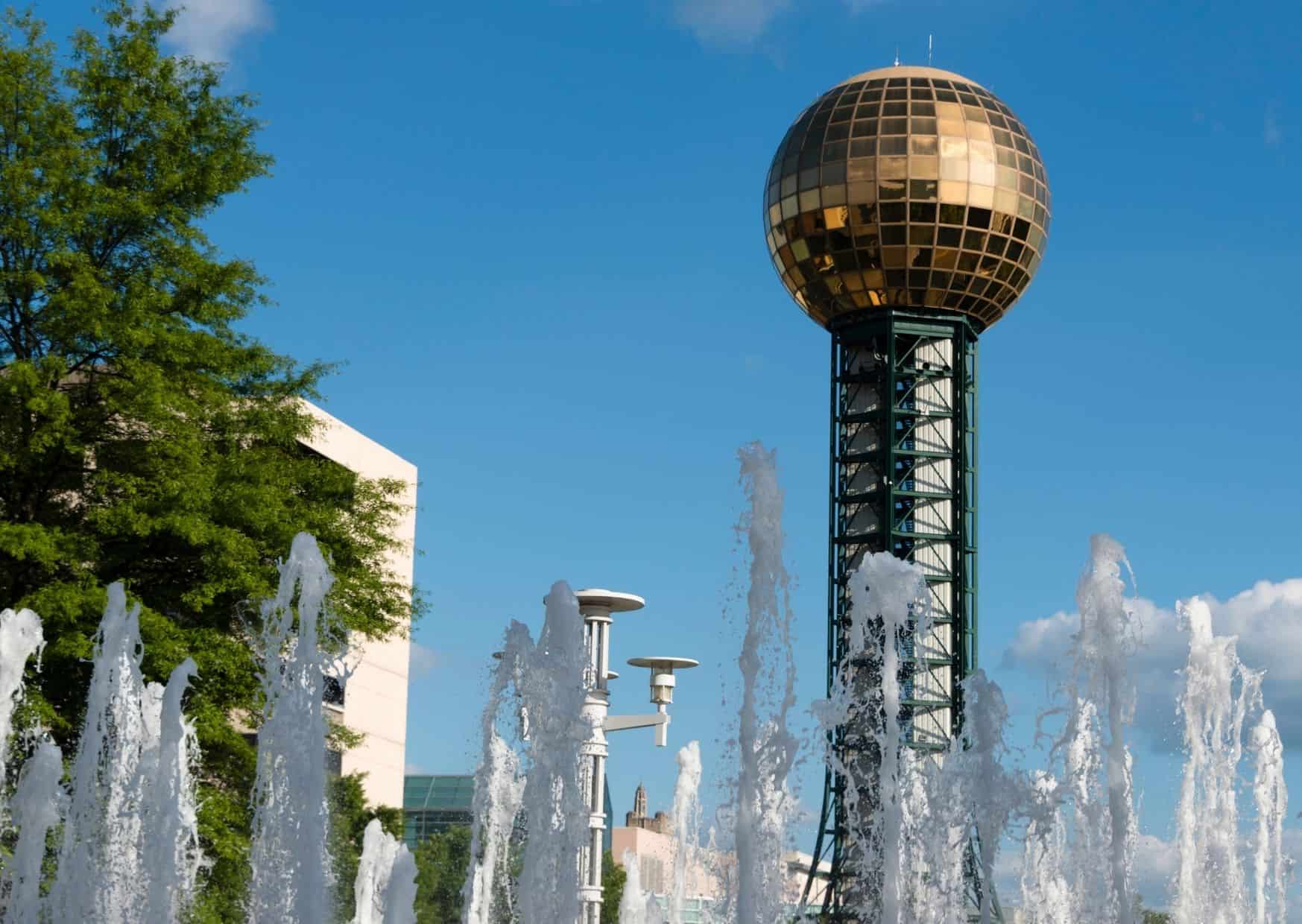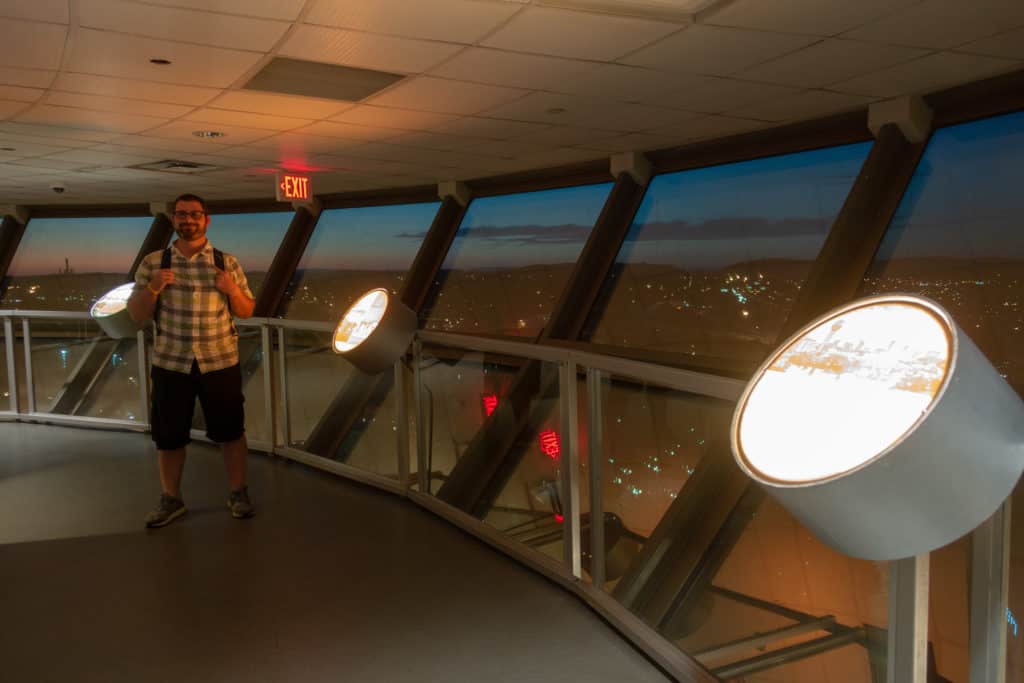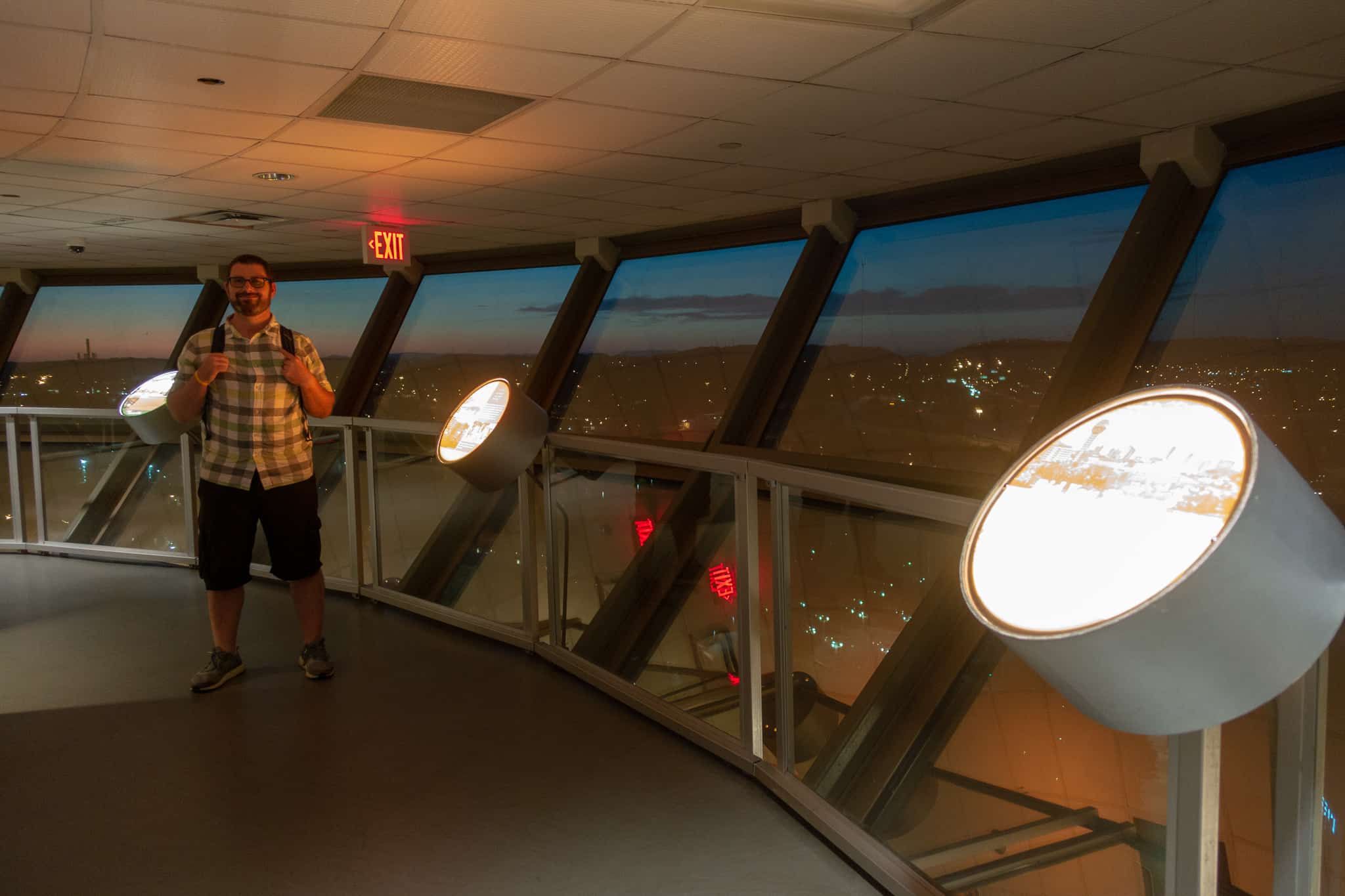 The Sunsphere is an excellent spot to get a bird's-eye view of Knoxville. It was built for the 1982 World's Fair. Since then, the structure has gone through many changes, which can be read about in more detail here and here.
There is a $5 fee for adults ($1 fee for 0-12 year old children) to visit the observation deck.
Inside, you can see a 360-degree view of the town as well as historical signage and murals.
18. World's Fair Park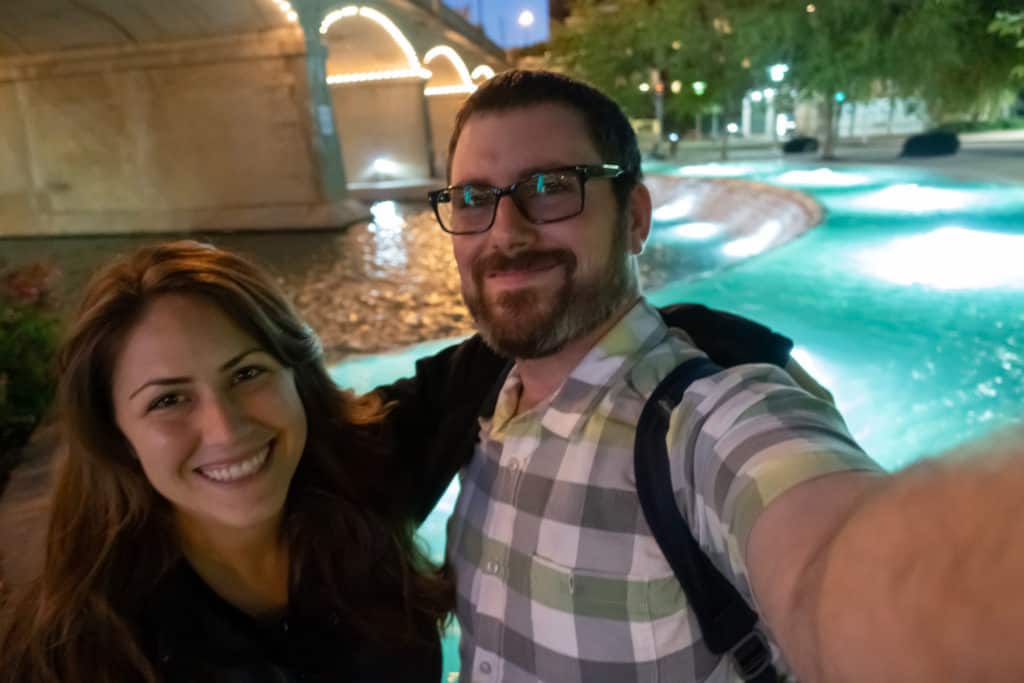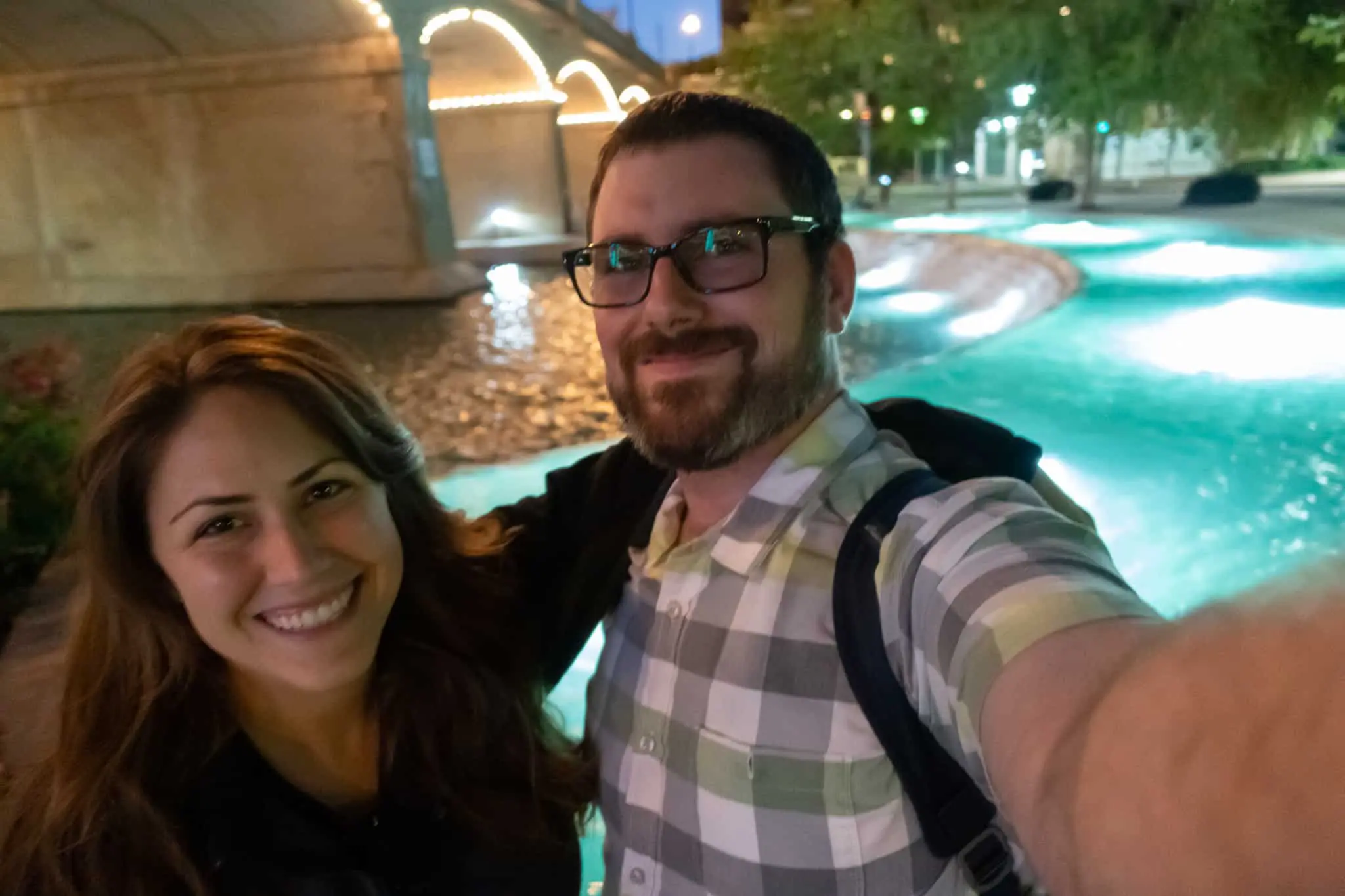 World's Fair Park is another fun destination to take a stroll through. The park surrounding the Sunsphere holds the Tennessee Amphitheater (the only other surviving structure in Knoxville from the 1982 World's Fair), a lake, a sizable splash-pad fountain, and lots of lush green lawn perfect for hosting festivals and events.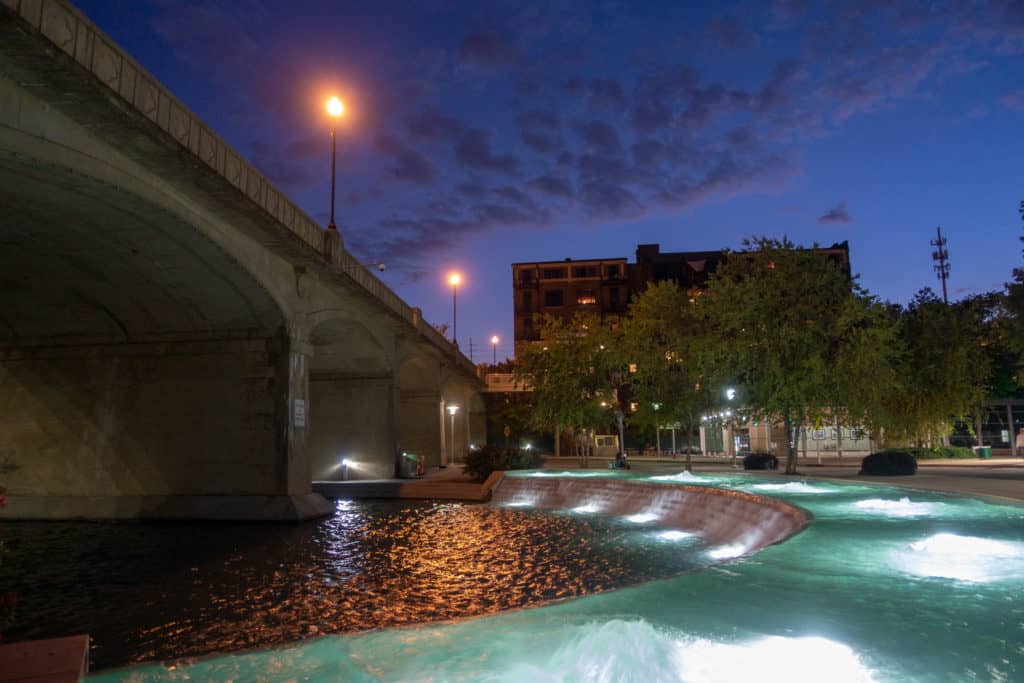 19. James White's Fort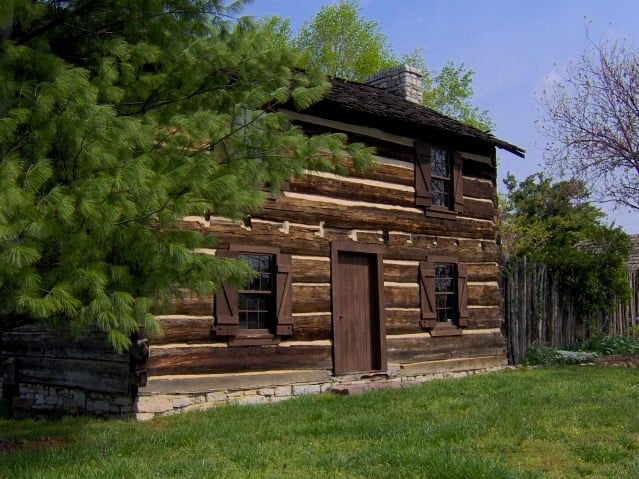 As the founder of Knoxville, James White's name is all around the city: the James White Parkway, the James White Greenway, and the James White Memorial Civic Coliseum.
His house, James White's Fort, is a simple log structure surrounded by a stockade fence, which he built in the 1780s. He then donated the land around his home to create the city Knoxville, which then became the capital of the Southwest Territory and later briefly the capital of the state of Tennessee.
Tours are pretty inexpensive and will give you a look at Knoxville as a frontier town.
If you're interested in visiting several of Knoxville's historical sites, make sure to buy the Historic House Museums of Knoxville PastPort for $40. It will get you in the fort, Ramsey House, the Blount Mansion, the Mabry-Hazen House, Crescent Bend, Marble Springs State Historic Site, and Historic Westwood.
20. Historic Bleak House
The extravagant Historic Bleak House is sometimes called the Confederate Memorial Hall, and it's one of the most visited historic sites in Knoxville. It was originally gifted as a wedding present to Congressman Robert Houston Armstrong and Louise Franklin.
It also served as the Confederate army headquarters during the Siege of Knoxville; bullet holes in some of the walls are a vivid reminder of its wartime past.
Beautifully refurbished and cared for by the United Daughters of the Confederacy, it's one of the most popular wedding venues in the Knoxville area. There are also tours a few days a week covering the history of this storied house.
21. Historic Ramsey House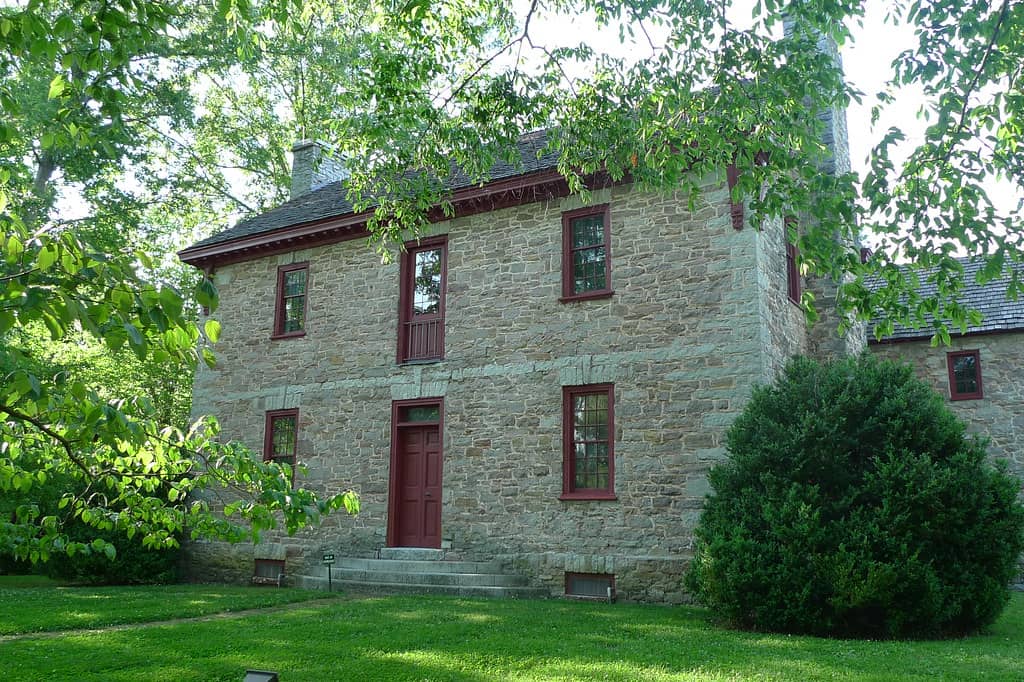 Along with James White's Fort, the Historic Ramsey House is one of the oldest buildings in Knoxville, dating back to the 1790s. The house is an excellent example of Late Georgian architecture, featuring significant ornamentation for the time period.
Its owner, Francis Ramsey, was a surveyor and government official, and his son was one of the first mayors of Knoxville.
Tours of the house tell the story of the Ramsey family through their home furnishings and art. It's also a very popular wedding venue.
22. Blount Mansion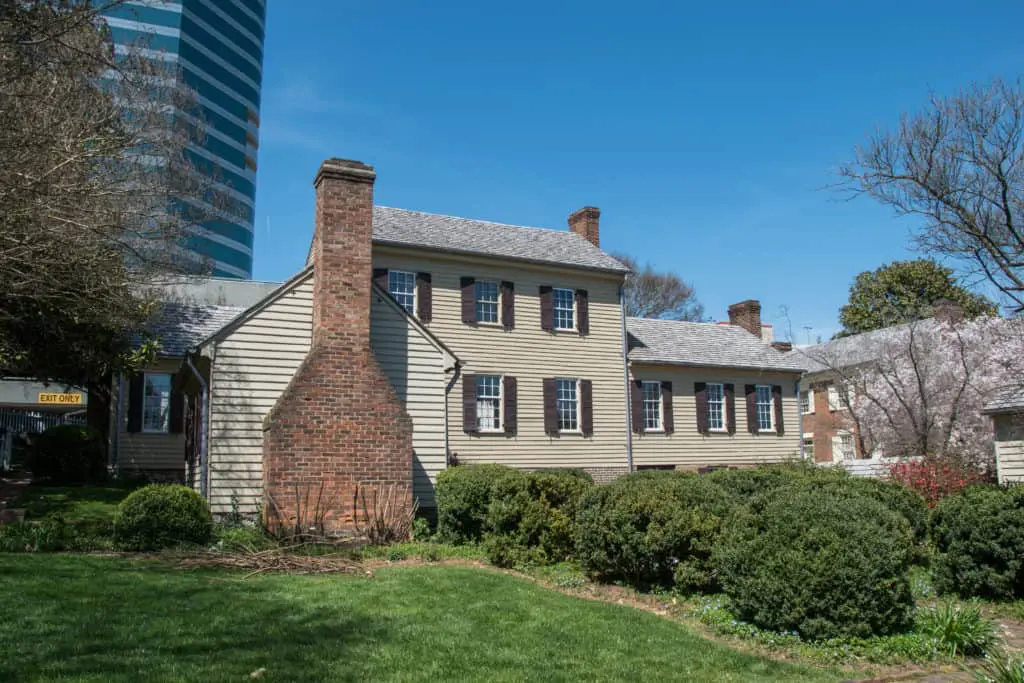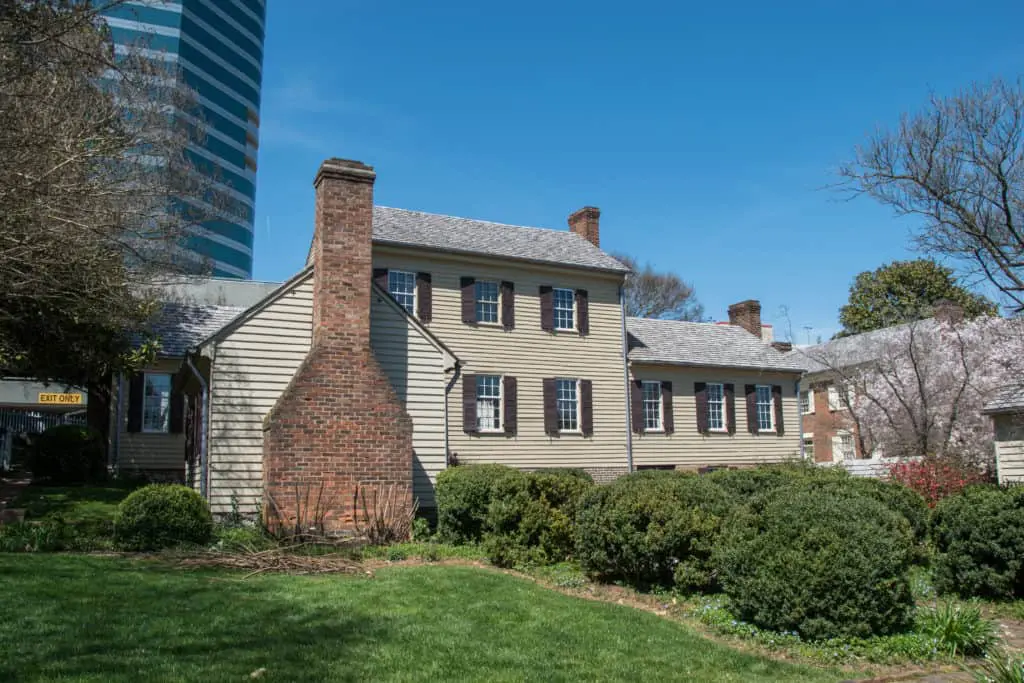 From the outside, the Blount Mansion doesn't strike visitors as anything too remarkable. It looks very modern for a house built in the 1790s.
It was the home of the Southwest territory's only governor, William Blount, and served as its capitol building; Tennessee's constitution was drafted there too.
The mansion has tours that cover the Blount family and their role in Knoxville's early days.
Admission is free to kids ages 6 -17 via the Arts & Culture Alliance's "Penny4Arts" program.
23. Mabry-Hazen House Museum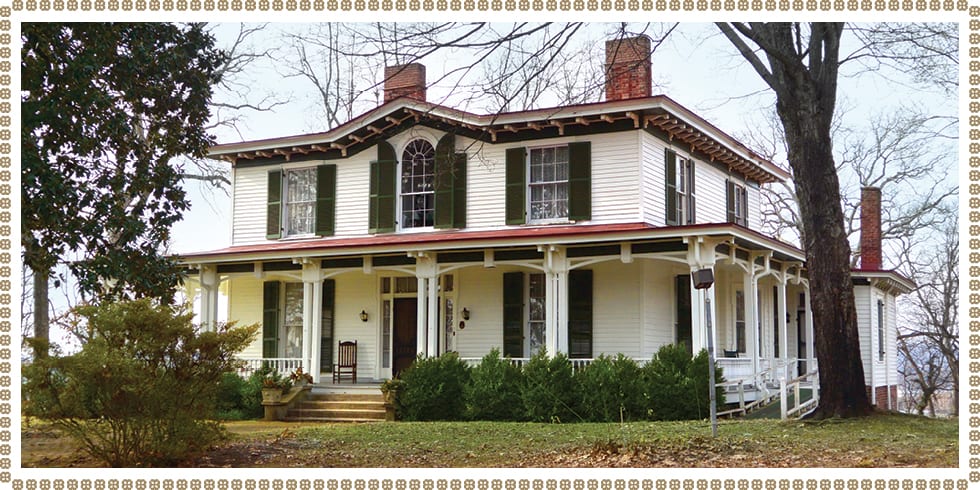 This historic Greek Revival house was once home to Joseph Mabry II. He made a name for himself by donating a massive sum of money to the Confederate Army in the early stages of the Civil War. He received an honorary title of General in the Confederate Army for his generosity, and his home was briefly used as the army's headquarters.
However, when Knoxville fell to the Union, it was also used as a base of operation by their army.
Today the Mabry-Hazen House functions as a museum with original furniture, dishware, and Mabry family heirlooms from the Civil War era. Tours take visitors through the house and out to Bethel Cemetery, where 1,600 Confederate soldiers are buried.
24. S.S. Sultana Memorial
Should you find yourself on the south side of the river near Kingsley Station, it's worth checking out this fading stone memorial dedicated to a tragic occurrence that's been otherwise lost to time.
Near the end of the Civil War, the S.S. Sultana was taking captured Confederate soldiers home when the steamer's boiler exploded, killing most of the men on board. Unfortunately, the event was largely forgotten as it happened around the same time as President Lincoln's assassination.
The 1,700 dead would have been major news at any other time, but the president's death greatly overshadowed it.
Great Things to do in Knoxville with Kids
25. Zoo Knoxville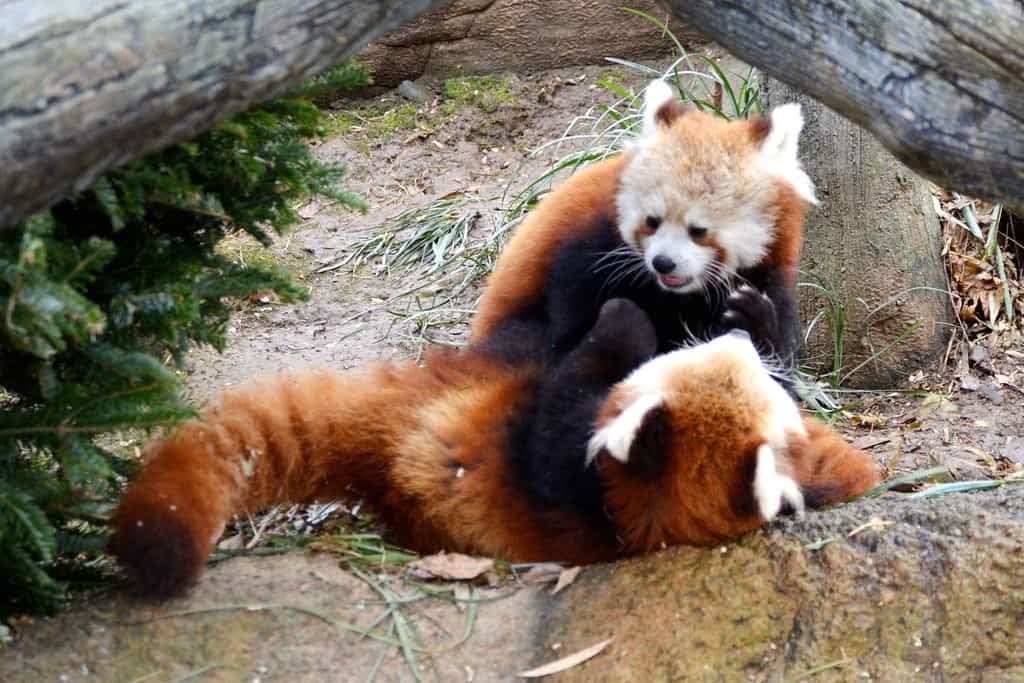 Animal lovers rejoice because Knoxville has one of the best zoos in the South.
Over 800 animals call Zoo Knoxville home, including everything from African elephants to King cobras. They're especially well-known for their Red Pandas – more have been born here than any other zoo in the Western Hemisphere.
The zoo offers loads of education programs where kids can interact with animals in the presence of a ranger who can explain how to handle them and what the species' life is like out in the wild.
26. Muse Knoxville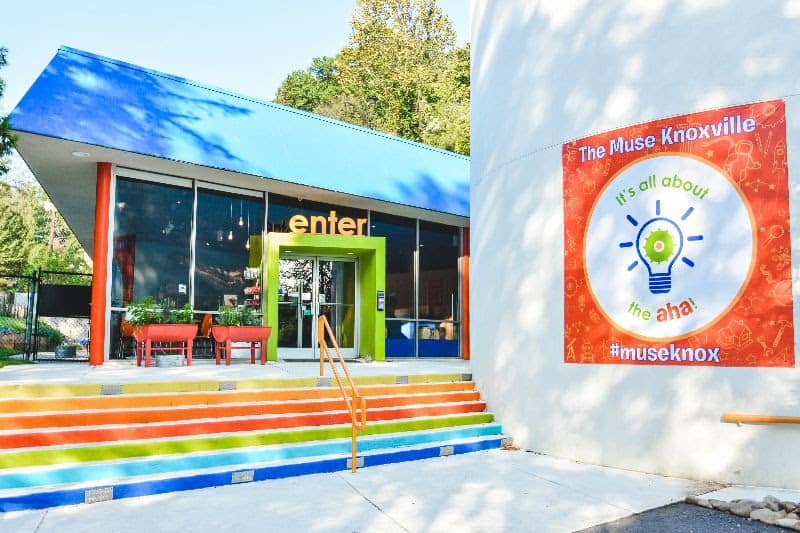 Muse Knoxville has got to be one of the best children's museums in the country and focuses on inspiring kids to pursue careers in science, technology, engineering, arts, and mathematics (STEAM) fields.
The museum features a full planetarium, an augmented reality sandbox where kids can create mountains and oceans with a hand movement, and a maker's space with real tools that they can use to create whatever their imagination dreams up.
To save some money, visit on the fourth Friday of the month when Muse waives its admission fee from 6-8pm.
27. Knoxville Children's Theatre
If you're bringing the little ones along, the Knoxville Children's Theatre might be a bit more age-appropriate than some other performance venues in town. Plus, all of their shows are put on by children!
Not only does this place provide the little actors with essential life skills like public speaking, teamwork, and self-confidence, they create some much-needed family entertainment.
28. Girl Scout Museum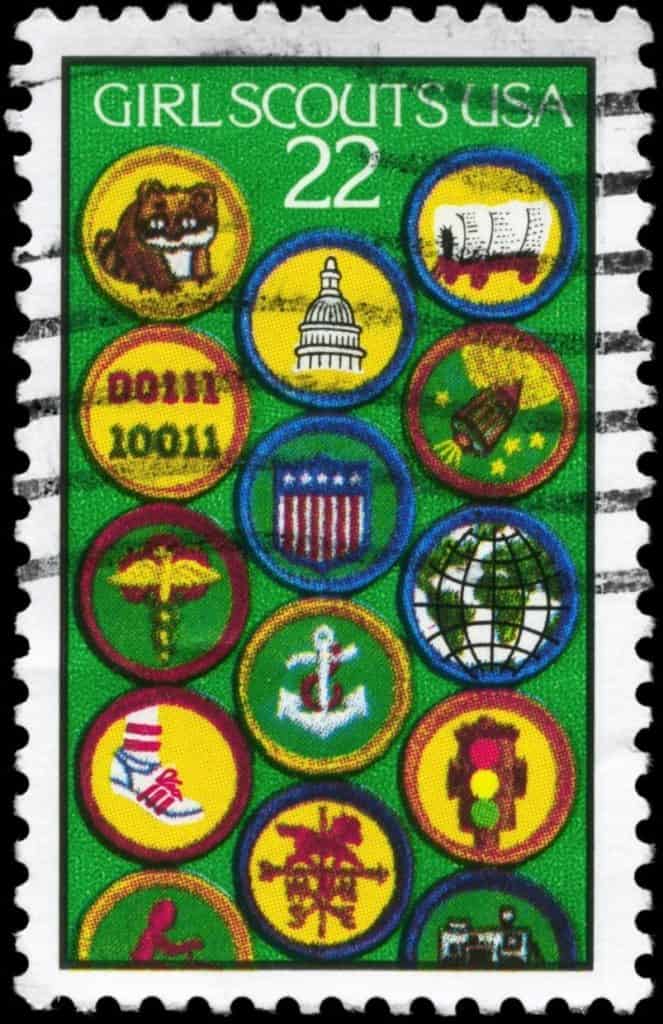 Whether you've got a daughter of your own, support the scout's mission, or just love the cookies, Knoxville's Girl Scout Museum should be on everyone's itinerary. The exhibits cover everything from camping equipment to ceremony history.
If you're bringing your little girl along, let them know her size beforehand, as there's a portion of the guided tour where kids can try on vintage uniforms.
The Best Spots for Sports Lovers in Knoxville
29. Neyland Stadium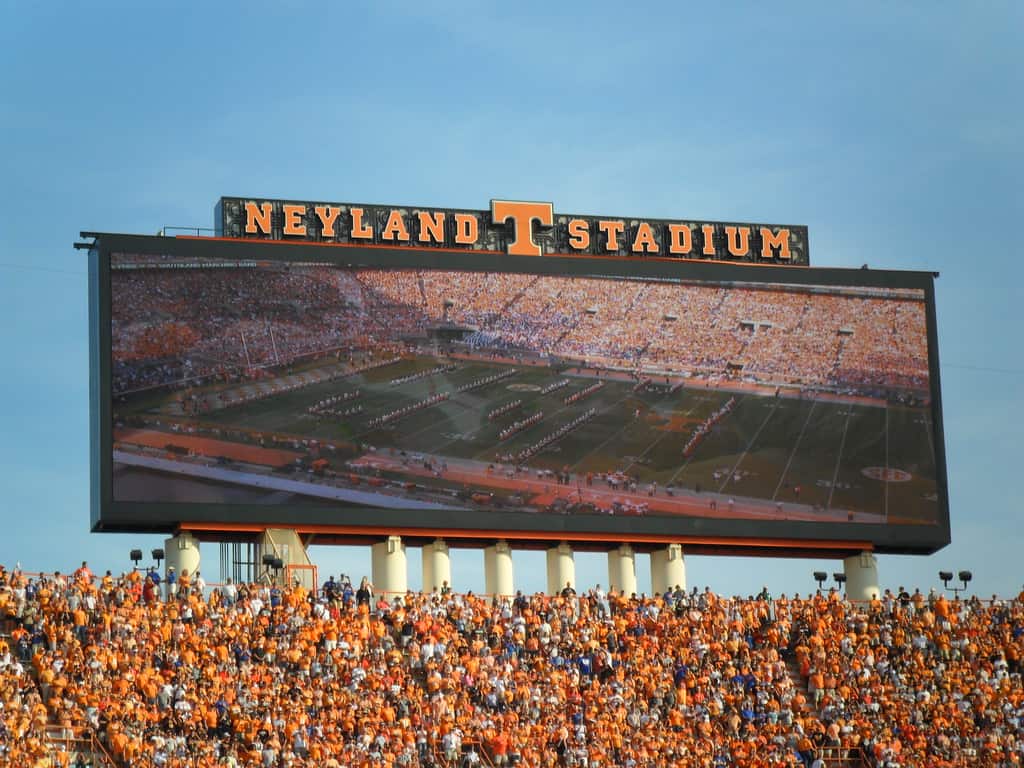 If it's game day, they say you'll hear Neyland Stadium before you see it. It's the deafening roar of 100,000 incredibly passionate fans decked out in orange and white and ready for a great football game.
Neyland is considered one of the loudest stadiums in college football. And as a result, one of the most challenging for away teams to compete in. Not a football fan? If you're coming to Knoxville in the fall, it's still worth attending a game just for the spectacle.
When it's not getting used for football games, Neyland is home to some of the biggest concerts in Tennessee, with names like Taylor Swift and Garth Brooks performing there.
30. Women's Basketball Hall of Fame
Knoxville loves their basketball, Go Vols!, and that love certainly extends to their women's team.
It's home to one of the only halls of fame dedicated to women's basketball in the country, the Women's Basketball Hall of Fame. As of 2021, 179 ladies have been inducted.
Unlike most monuments to the greatest players and coaches in the game, this one is actually interactive. There are three courts where you can test your basketball skills with timed dribbling courses, vertical leap challenge, and passing drills.
Random Trivia: It's also home to the world's largest basketball – it's thirty feet tall and weighs ten tons!
Where to Enjoy Art in Knoxville
31. Knoxville Museum of Art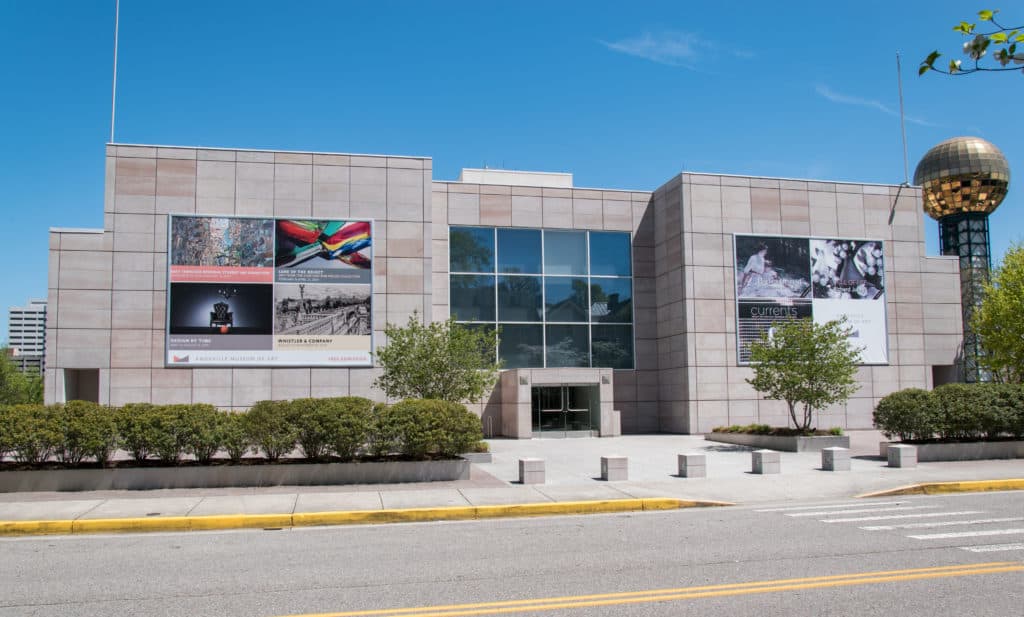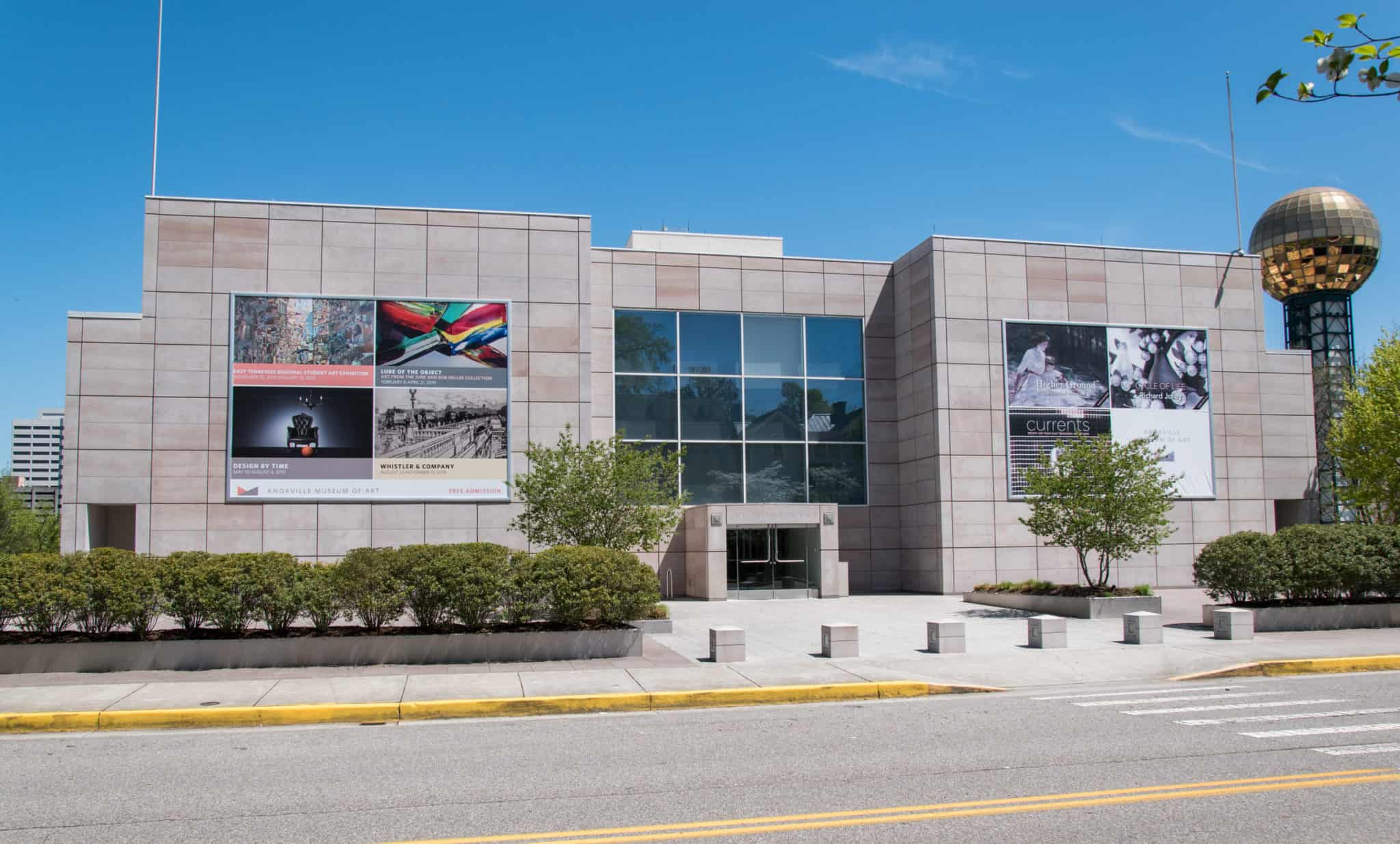 If you're traveling on a budget and craving a dose of art culture, the Knoxville Museum of Art should be your first stop. Not only does it have free admission, but it's also one of the best collections of works from Tennessean artists. The Cycle of Life exhibit is a big hit, with its hundred-plus feet of glass sculpture hanging above museum-goers' heads.
32. Strong Alley (Graffiti Alley)
The area between Market Street and Gay Street was one of the more unseemly parts of Knoxville; however, it's become the most photographed location in the city in recent years.
Graffiti artists partner with local businesses to paint exquisite murals along Strong Alley (Graffiti Alley).
Many are only up for a limited time, allowing more artists to have their work seen and gain recognition.
33. Knoxville Downtown Mural Walking Tour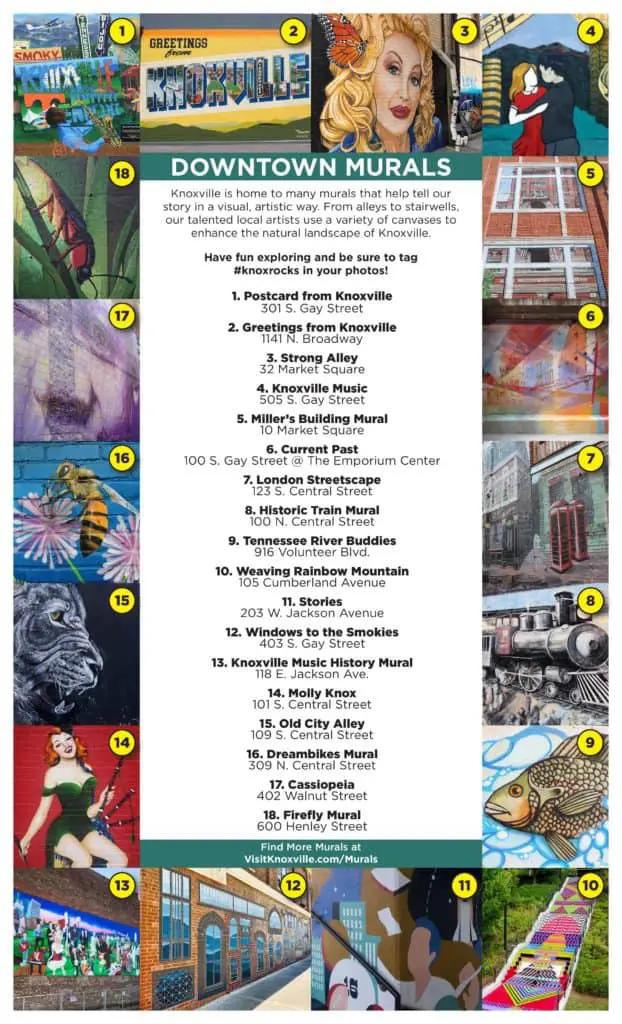 Knoxville is overflowing with incredible artwork, and the murals don't stop at the ends of Strong Alley. They're all over, but half of them can be found within a few blocks of Market Square.
There are also a few on the other side of the river and further west of the city. You'll want a car to reach those ones.
Finding each of these murals makes for a fun self-guided walking tour that won't cost you a dime.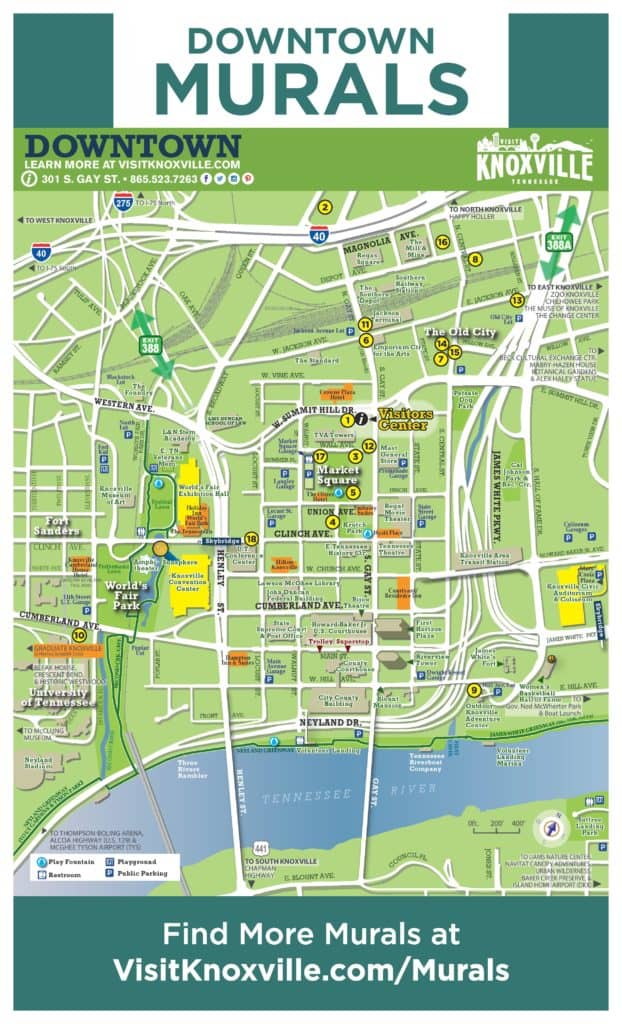 To learn more about the artwork, you might consider taking a guided tour with a local company.
34. Tennessee Theatre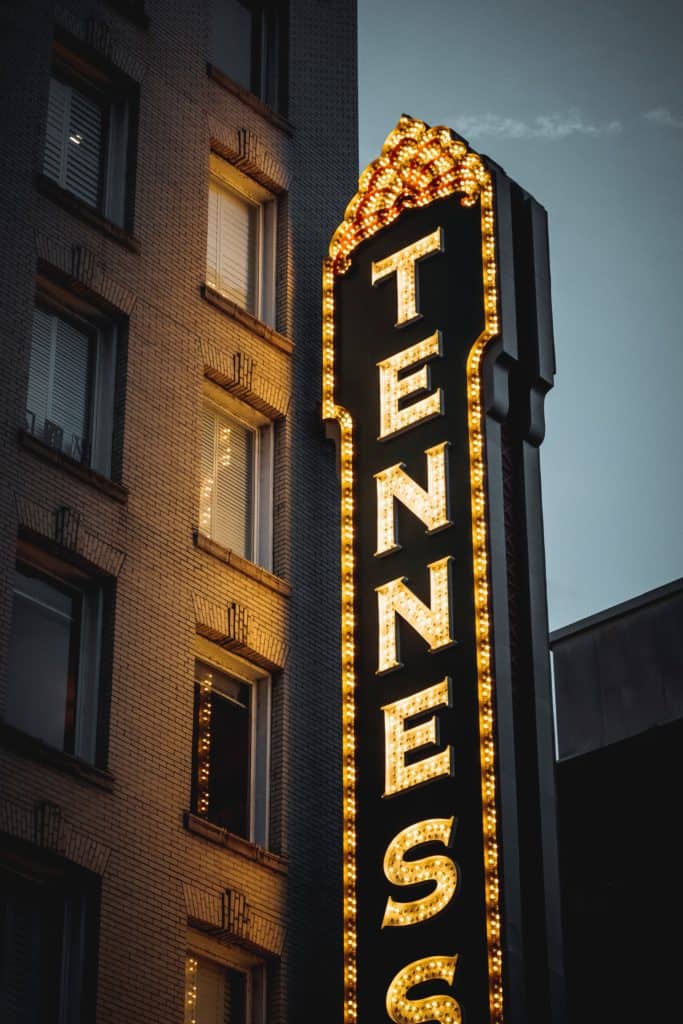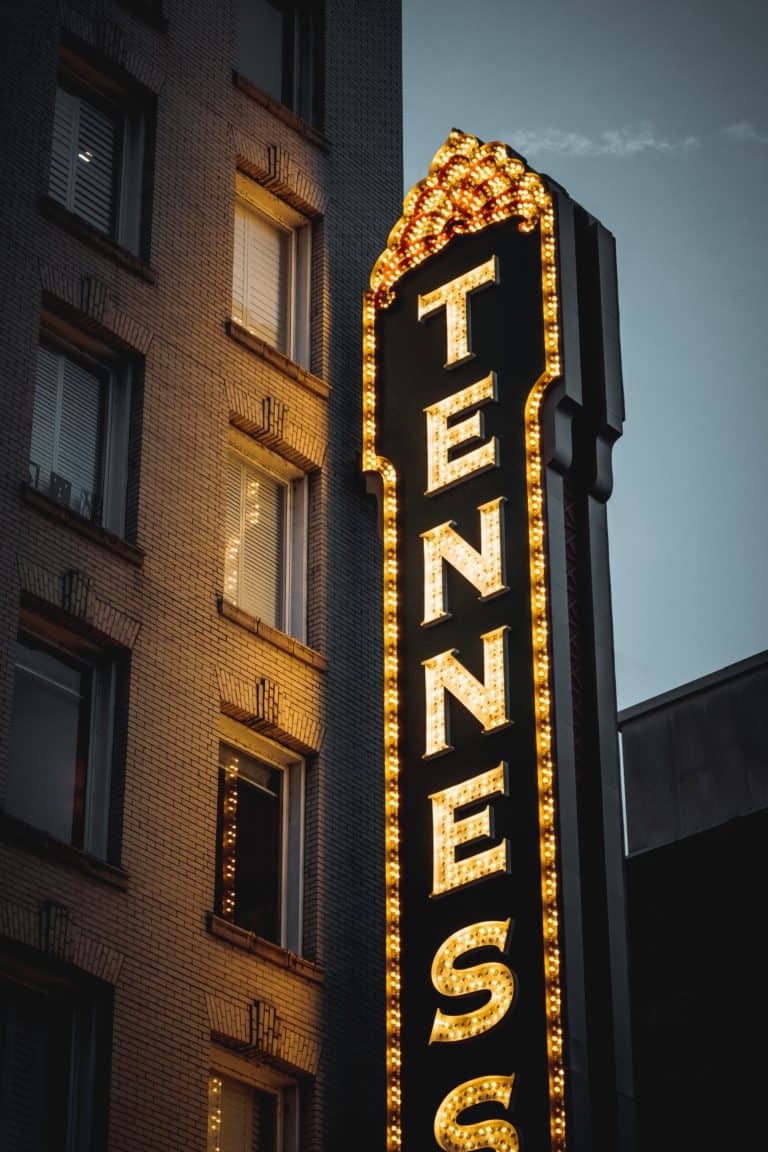 Looking for an elegant night out in the city? Check out one of Knoxville's famed theaters, Tennessee Theatre, which hosts movies, symphonies, stage plays, operas, and more contemporary musical performances.
This beautifully restored theatre is home to the Knoxville Symphony and Opera Company and shows classic movies. It was built in 1928 and was considered Knoxville's first skyscraper.
35. Clarence Brown Theatre
Then there's the Clarence Brown Theatre on the University of Tennessee campus, which has a 500-seat auditorium that showcases its most popular stage shows.
There's also a much smaller black box theater for more experimental performances.
36. Bijou Theater
Lastly, on the notable theater list is the Bijou Theater.
It doesn't look like much from the outside. But inside is a 700-seat auditorium that is one of Knoxville's premier performance spaces, with big-name musicians and comedians selling out shows in the historic theater.
Where to Eat in Knoxville
37. The Stock & Barrel
I'm a big burger fan. (I'm sort of currently on a "try as many burgers across America as possible tour" right now.) So with that in mind, The Stock and Barrel came highly recommended to us!
You can't go wrong with any burger from this restaurant's menu, but you can mess up by not ordering the Duck Confit Fries!
It's also located right in the heart of the Historic Market Square area. Here's a video from the patio taken by my friend Rachel. In this short time, you can really get a sense of the atmosphere in and around the restaurant, as well as the Historic Market Square area.
38. Phoenix Pharmacy
Wander around the Market Square area, and you're bound to find yourself in a historic building. All of them restored to their original grandeur.
Exposed brick. ✅
Copper trim. ✅
Classic bar stools that are great for spinning around on while you sip a freshly jerked soda. ✅
Phoenix Pharmacy takes it a step beyond historical architecture, transporting you back to a 1950s pharmacy with ice cream sundaes and sodas. (No poodle skirts required!)
The menu makes it a great stop for kids, but the vibe also sets the mood for a fabulous date night stop.
39. The French Market Creperie
The French Market Creperie is one of the most popular restaurants in Knoxville and opened in Market Square when the downtown area was a glimmer of what it is today.
Why is it so beloved? Because they make a few dozen varieties of crepes, and every single one of them is fantastic!
People say their crepes taste different from anything else they've had in the States, and it's true – the owners import their flour and cooking equipment from France.
Is that going a little too far? Maybe, only your tastebuds can answer that question.
Crepes are, of course, great for breakfast. But don't limit yourself! Crepes are also fantastic for dinner, especially when you get to have a glass of wine with them.
Where to Drink in Knoxville
40. Pretentious Beer & Glass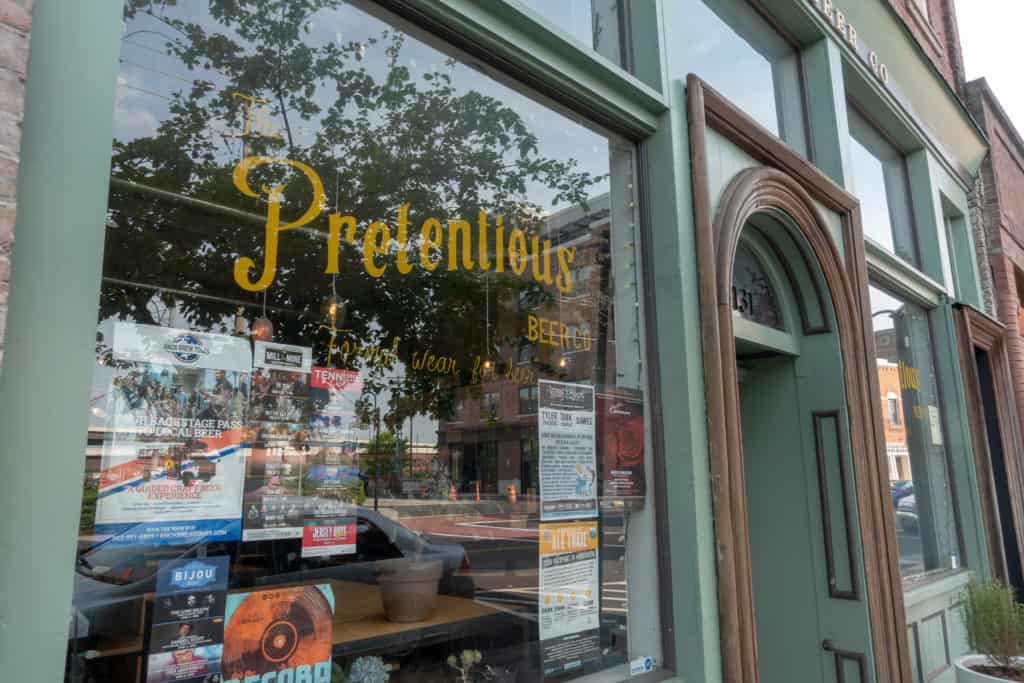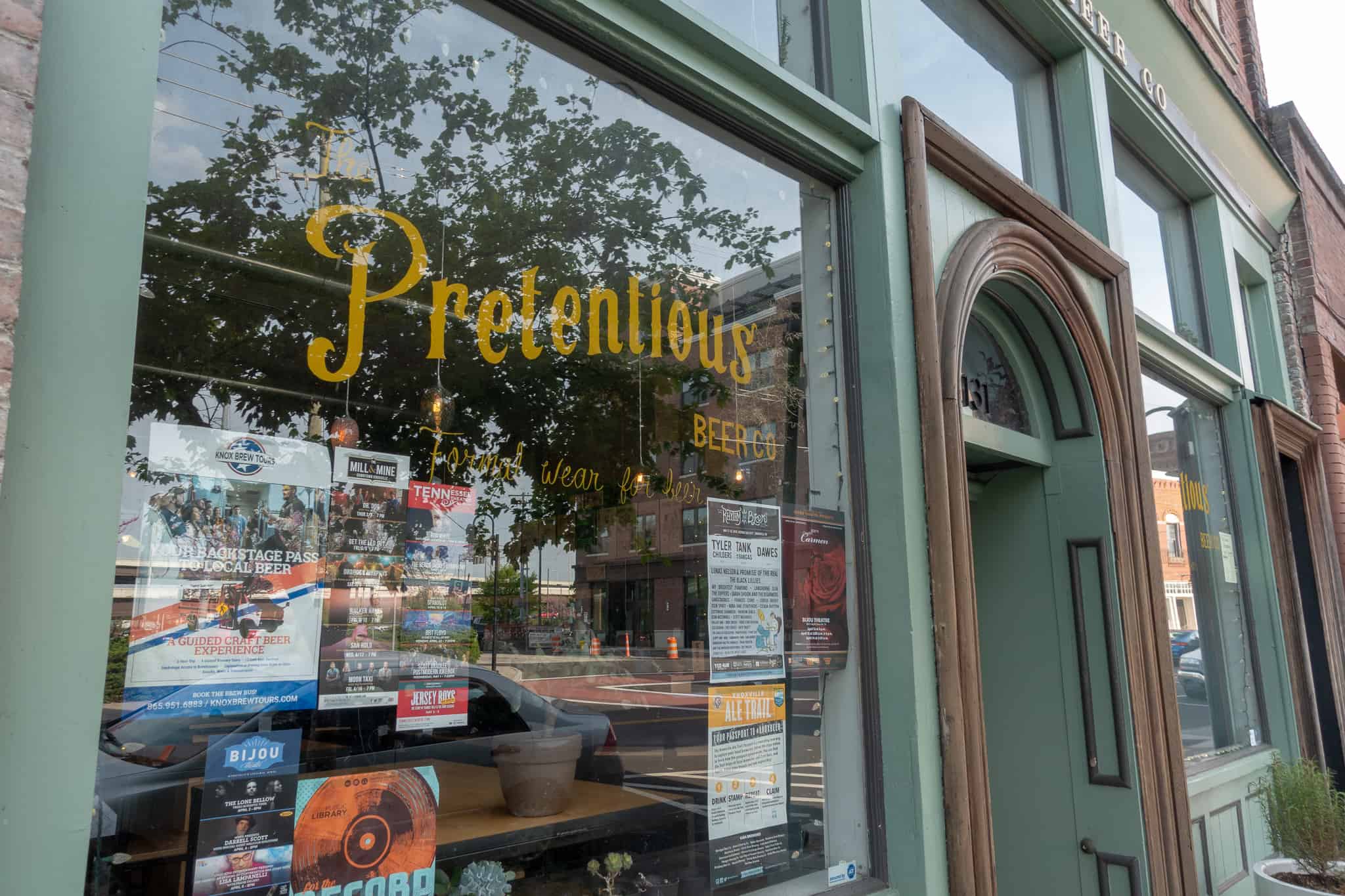 Pretentious Beer & Glass is an impressive brewery that even boasts delicious gluten-free beer on tap for those, such as myself, seeking that option.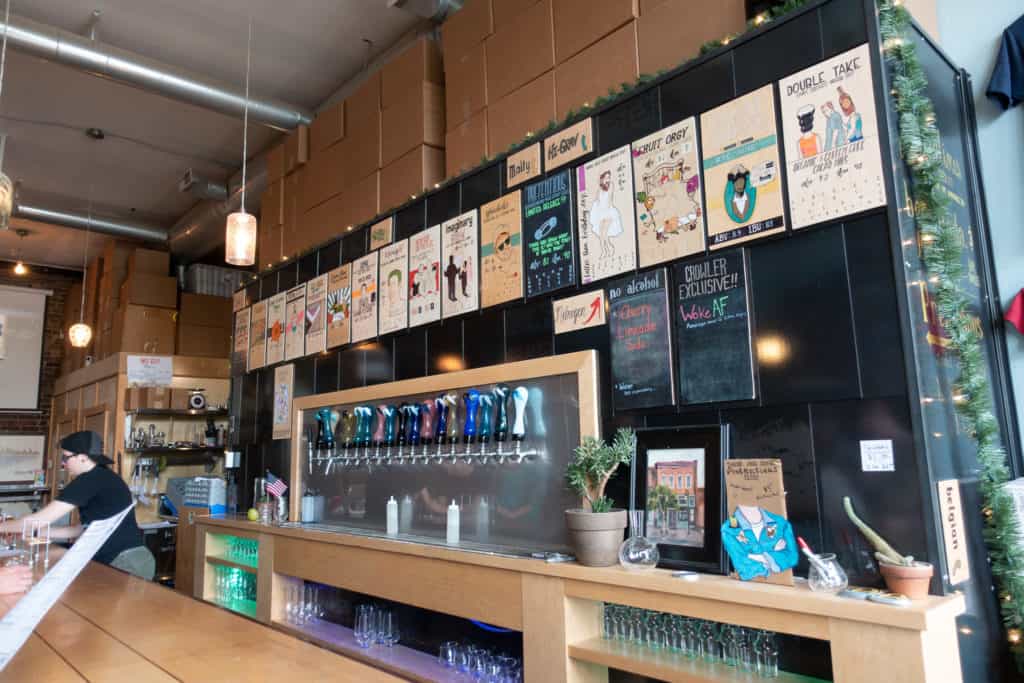 It's a unique spot, with a brewery on one side and a blown glass gallery on the other side. While at the brewery, the blown glass can be found throughout, including on the beer taps and in the eclectic brew serving glasses. Here was mine: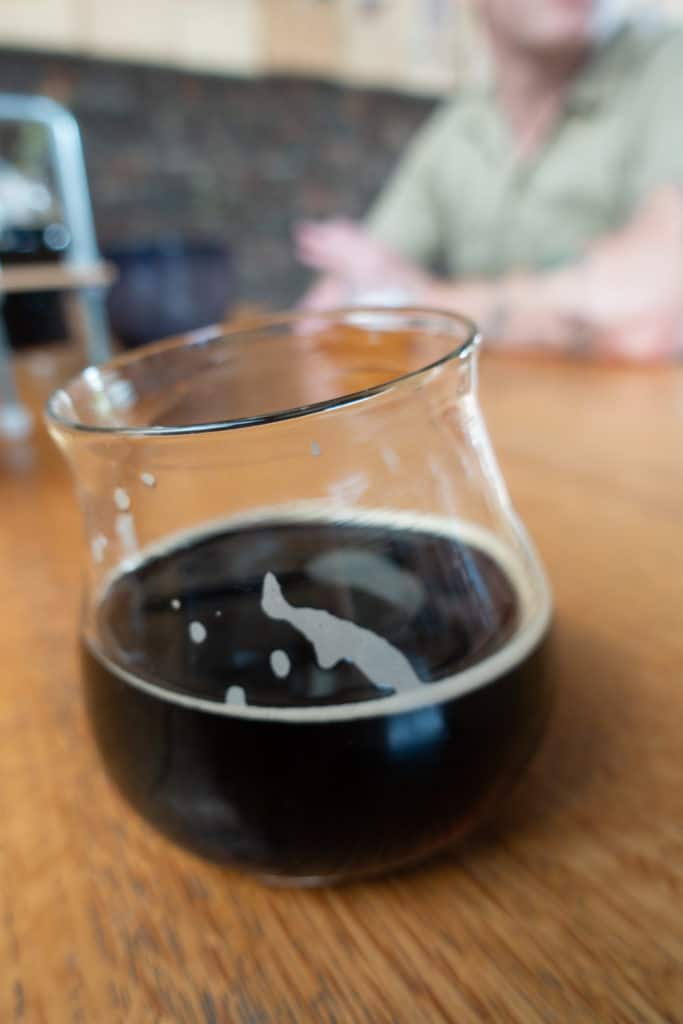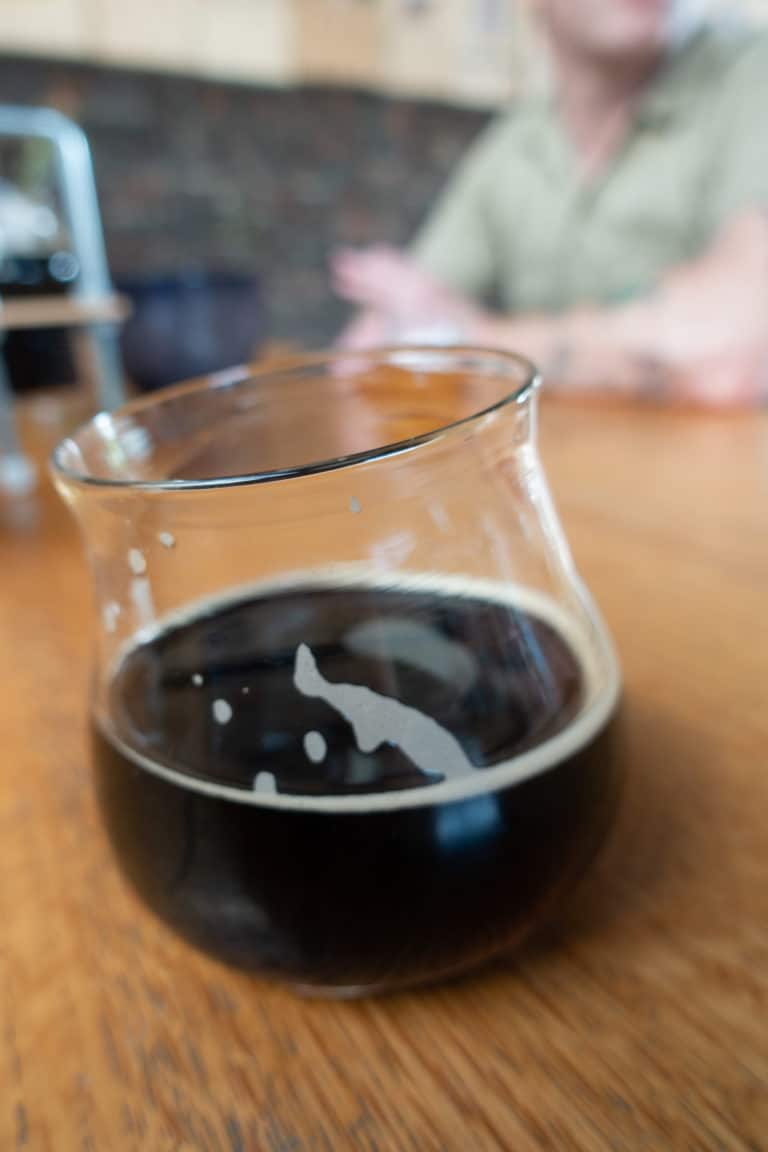 41. Peter Kern Library Speakeasy
Picture this: you're wandering down a dark alley behind Market Square. There's nothing of note, just trash cans, bare brick walls, and maybe a restaurant employee catching a smoke break.
All of a sudden, you notice a red light above one of the alley's nondescript doors, and something inside of you says to give the door a little push.
Inside, you find a dimly lit room, one whose walls are covered in leather-bound books. At the rear sits an immaculate bar and a bartender dressed for a more formal time.
You decide to order a cocktail and stay awhile.
The Peter Kern Library Speakeasy inside the old Kern building was once the Oliver Hotel's library. If you're a guest there, you can enter through a normal sliding door in the lobby – but where is the fun in that?
Today the charming speakeasy serves up some of Knoxville's best cocktails in a sophisticated environment. The best part, though, is the adventure of finding this out-of-the-way watering hole.
Looking for a guided brewery tour? Find Knoxville Food & Drink Tours here.
Where to Enjoy Live Music & Dance in Knoxville
42. The Knoxville Visitor Center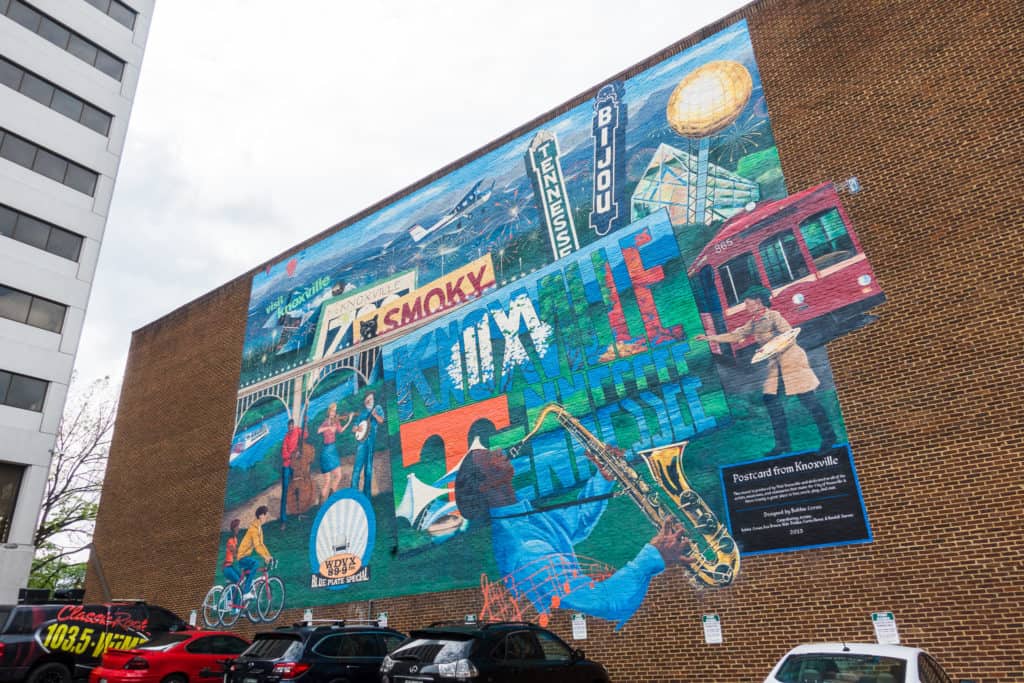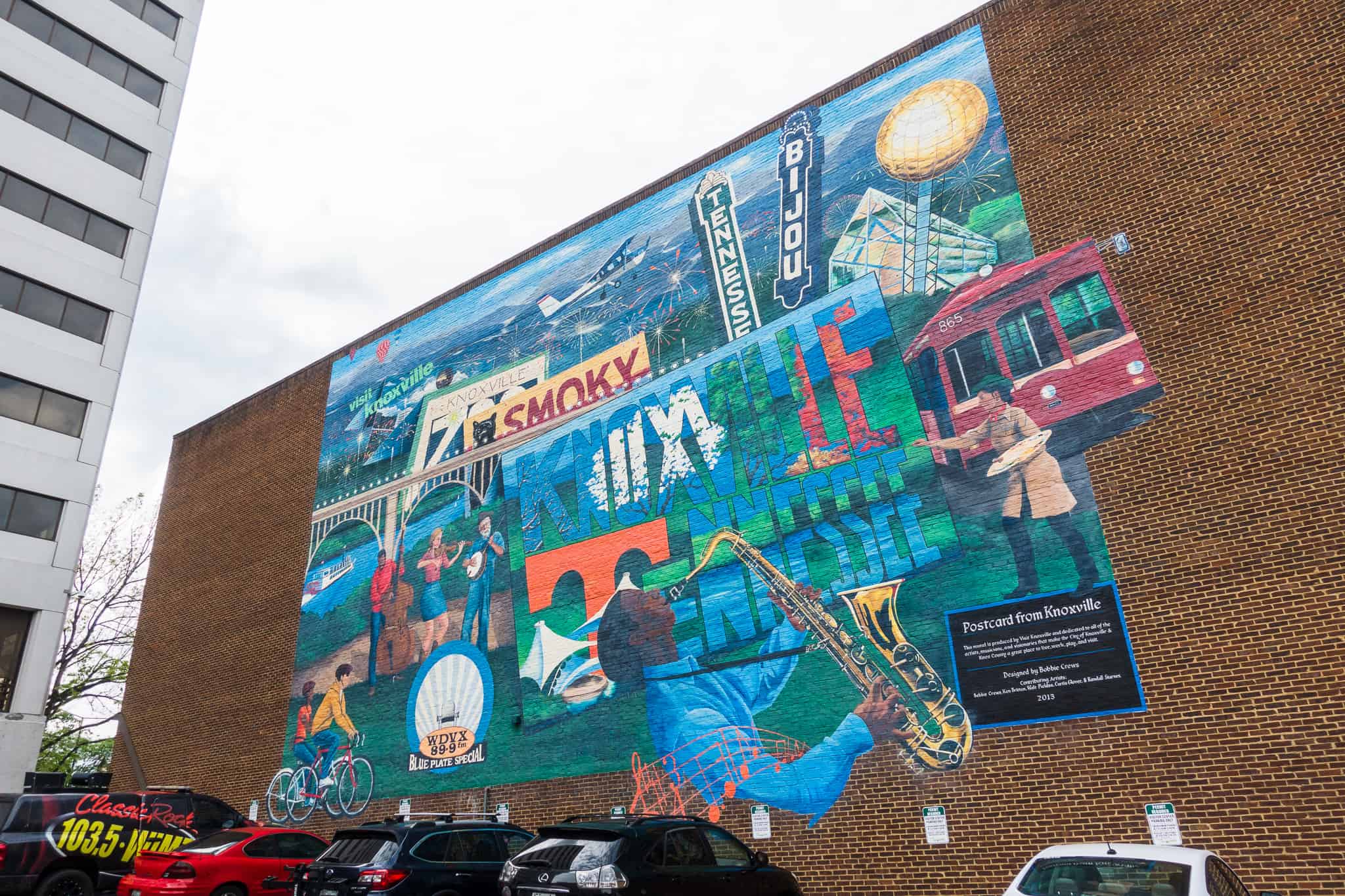 Many visitor centers aren't good for much more than some brochures and maybe a restaurant recommendation. However, Knoxville's is a cut above the rest.
The Knoxville Visitor Center is not only an excellent place for getting information on things like walking tours and festivals in the area, but it's also stocked with local products, and it even has live music (known as the Blue Plate Special) at noon throughout the week!
43. Preservation Pub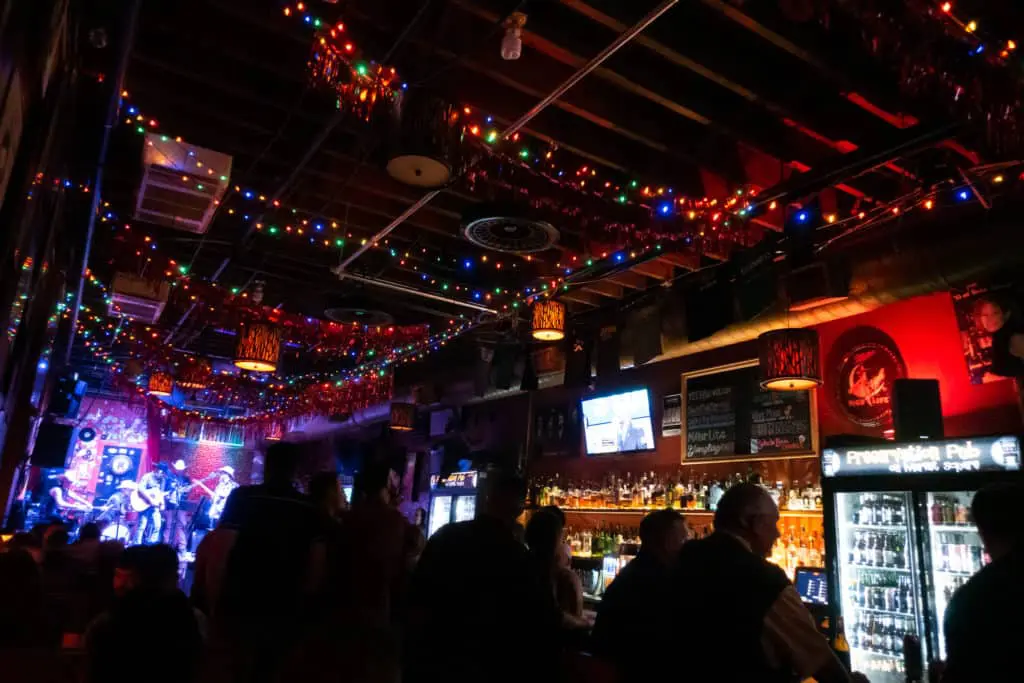 Preservation Pub is a local favorite for bar-goers, and it's easy to see why with their variety of entertainment options.
We mostly stayed on the main floor while there, which has live music nightly. Gone Country was turning out covers of classic 80s and 90s country songs the evening we were there. They were great, everyone loved the show, and the dance floor was packed!
However, on the second floor was the Market Square Speakeasy, with an entirely different hip hop crowd and vibe.
And then lastly, the roof of the building hosts an Electric Forest with a Magic Beer Tree amid the Moonshine Roof Garden, all on a patio that looks out over Market Square.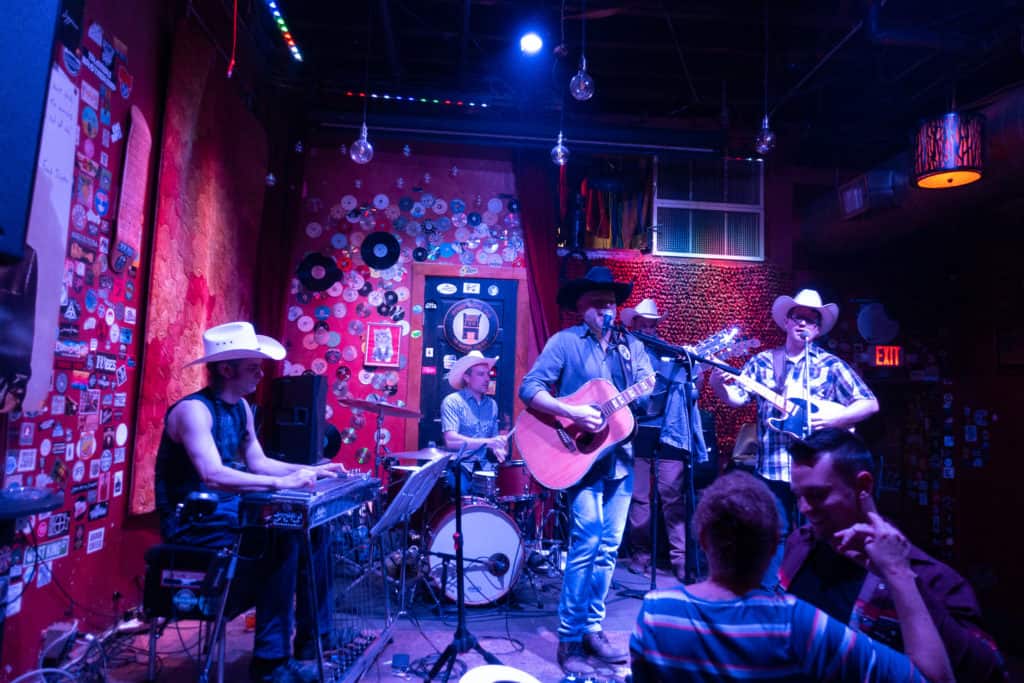 44. Cotton-Eyed Joe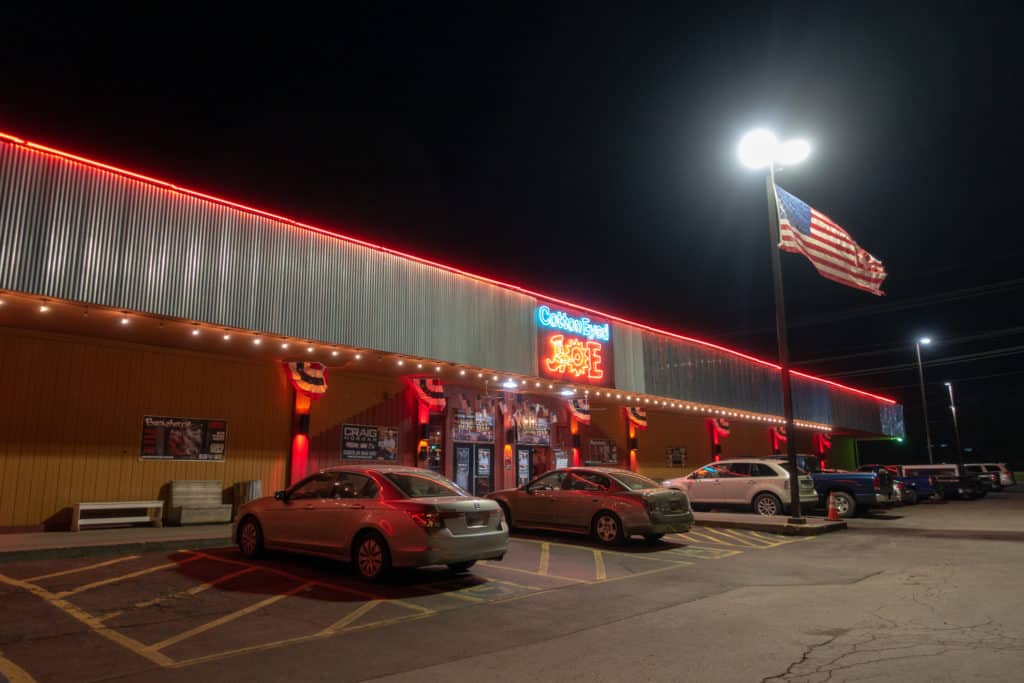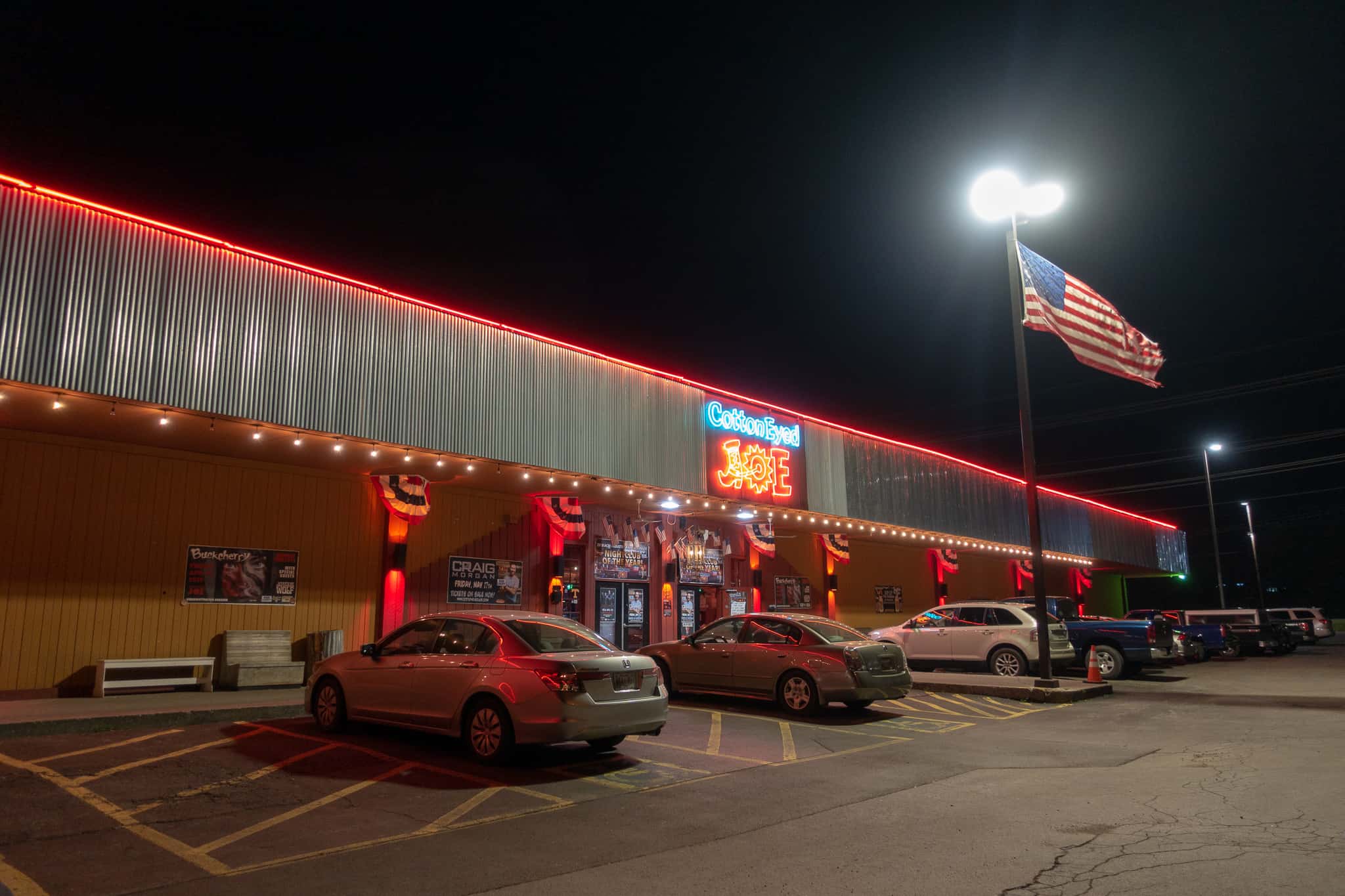 Cotton-Eyed Joe is the largest live country music & line-dancing hall I've ever encountered.
This bar proclaims itself as "the hottest night club in all of East Tennessee." We went in for the free line dancing lessons. We did not expect to come across everything else that was available inside. They had giant Jenga, arcade games, darts, pool, lasso practice, a semi-truck DJ booth, a moonshine shot bar, and even a shoeshine station.
On Thursday nights, a $5 cover will get you access to free pitchers of beer, 2-for-1 well drinks, and free line-dance lessons!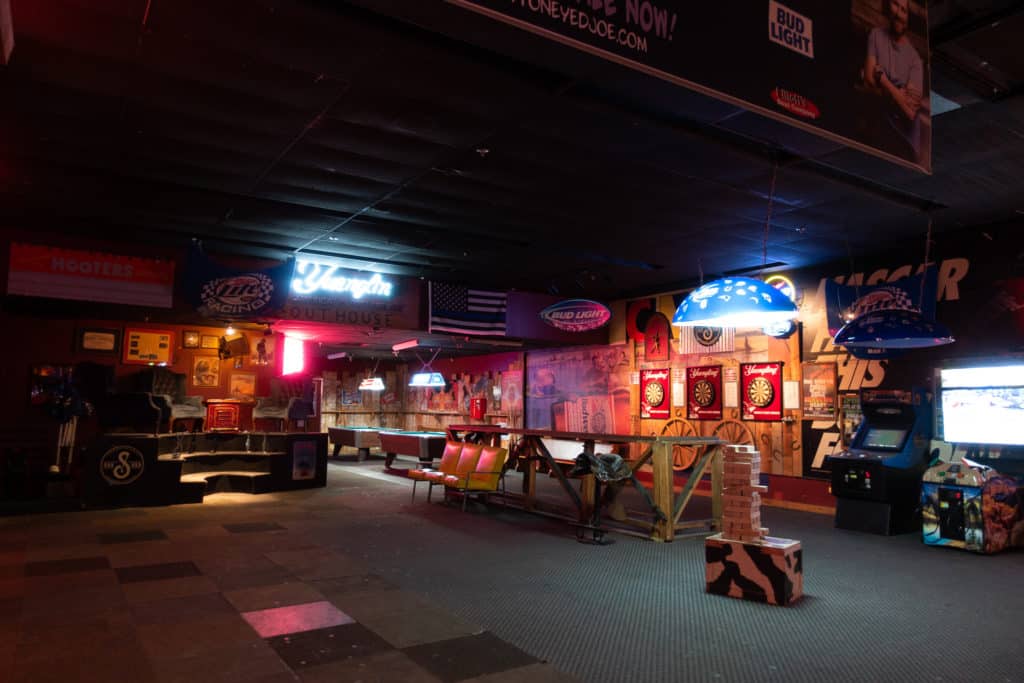 Where to Bowl in Knoxville
45. Maple Hall
Every city has bowling alleys, but Maple Hall towers above the rest with its decidedly class vibe. There are no neon lights or smelly rental shoes here! Instead, each lane has its own leather couch for lounging between frames, and the walls are beautiful exposed brick.
Upstairs from the bowling is a cocktail lounge serving things a whole lot better than the popcorn and lukewarm fries found at other bowling alleys. Rather, think freshly prepared pretzel bites, crispy Southern fried chicken, and Angus beef burgers.
Knoxville Tours & Food Tours
46. Cradle of Country Music Walking Tour
You can pull the Cradle of Country Music Walking Tour off without a guide.
Just stop by the Knoxville Visitors Center for a brochure, or download the map here, showing all the locations.
Most of the stops are within a few blocks of Market Square and cover Knoxville's connection with artists like Elvis Presley, Dolly Parton, and Hank Williams.
47. Knox Whiskey Works Tour
Are you a whiskey aficionado or someone who can't differentiate a sour mash from a bourbon?
Either way, you'll love the Knox Whiskey Works Tour. The head distiller explains the science behind the whiskey-making process before treating you to a tasting flight where you can learn to pick out the liquor's more subtle notes.
48. Knoxville Food Tours
The company behind Knoxville Food Tours runs historical tours of the city with tastings at several of its best restaurants. Menus cover everything from Mexican to Southern comforts to gourmet coffee shops.
Find and book even more Knoxville tours and activities on Viator.com. Book ahead to save time and money!
Tips for Traveling to Knoxville
☔️ Don't let the rain discourage you. Knoxville's storms usually don't last that long. So you can bring an umbrella or rain jacket and power through them, or take a break at a cafe or art gallery. The forecast shouldn't dictate your itinerary.
☀️ Wake up early. Most tourist activities don't start until a little before noon, which means you can avoid the crowds by getting out of bed a little sooner. This is especially true in the parks, where you can go for a run or quick hike and have the trees and birds all to yourself.
🚦 Be prepared for traffic on game day. Knoxville is all about University of Tennessee sports, and you'll know it's game day because everyone is sporting orange. Traffic and parking can be atrocious, so avoid the university area on these days if you're not going to a game yourself.
🐶 Bring your dog. Knoxville is consistently rated as one of the best cities for dog owners, with seven dog parks and plenty of dog-friendly restaurants and bars.
🎊 Don't miss First Friday! On the first Friday of every month, in addition to the usual art walk, you're bound to find fire twirlers, street musicians, and dancers showing off their skills on just about every street corner downtown. It's a party, and you'll definitely want to be there!
How long should I stay in Knoxville?
How long do you have? Knoxville always has another little corner to explore, but you can see a lot in just three days if you don't have much time.
Set aside one day for historical and cultural sites – Eastern Tennessee History Center, James White's Fort, and the McClung Museum.
On your second day, spend some time relaxing in nature at Ijams, the botanical garden, Cherokee Caverns, or lounging around at one of the many riverfront parks.
Then devote the third day to art, shopping, and exploring the downtown area; Market Square, the Riverfront, and Knoxville Museum of Art are a must.
In the evenings, book a riverboat cruise, sample local beer or whiskey, and take in some live music.
Places to Stay in Knoxville, TN
👉 The Tennessean
This is luxury in the heart of Knoxville, just steps from the convention center, Museum of Art, and World's Fair Park. The rooms at The Tennessean feature modern decor and have beautiful views of the riverfront and the park behind them.
Its restaurant, The Drawing Room, serves farm-to-table cuisine with a hefty dose of old Southern charm. So if you're not on a strict budget, a night at the Tennessean is well worth the splurge!
👉 The Oliver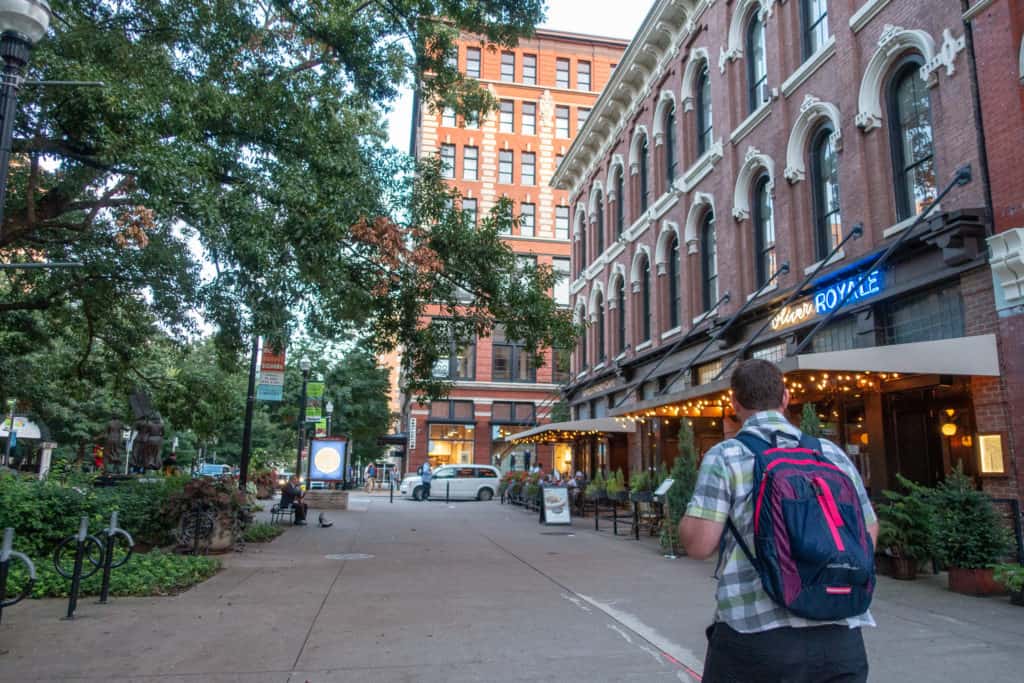 Just south of Market Square, The Oliver is a retro boutique hotel with a twist. The building dates back to the 1870s, while the restaurant and bar give off a turn-of-the-century vibe. However, the rooms are fun and eclectic, with a touch of modern taste.
If you're in need of a good gin and tonic, the Peter Kern Library Speakeasy is just downstairs (even if you won't get to use the fun secret entrance).
Or Search For More Options Here:
Conclusion: The 48 Best Things to do in Knoxville
And that concludes the list of the top things to enjoy while in Knoxville, coming from a huge Tennessee and North Carolina fan!
This list was put together to provide options for any type of visitor.
Whether you want to experience the city via food and drinks, nature, history, sports, or art – there should be multiple destinations in this article for everyone in the family to enjoy.
Enjoy your visit!
---
What are your favorite things to do in Knoxville?! I'd love to hear!