(Last Updated On: September 18, 2023)
Appalachian Trail Gear List: A Thru-Hike Backpacking Packing List for 2023


You must be considering a thru-hike of the Appalachian Trail.
Congrats! What a badass you are, and what an epic adventure lay ahead.
In 2022, my husband Barrett and I completed our very own AT thru-hike.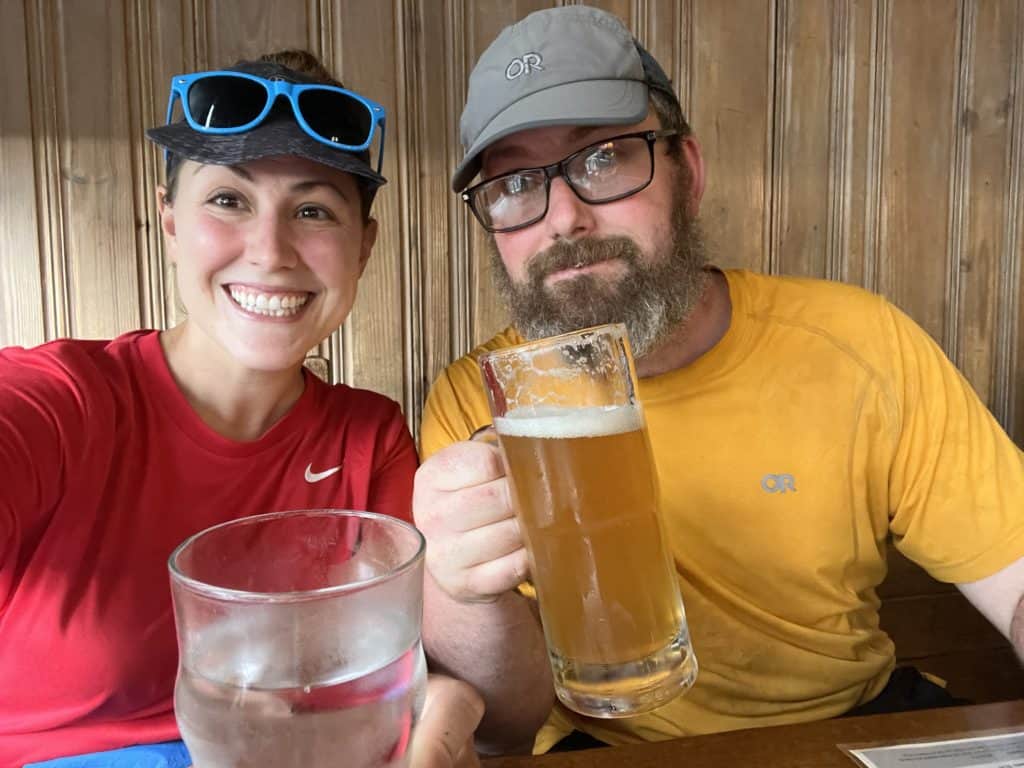 Before our trek, we began researching gear and found the amount of information and gadgets out there wholly overwhelming!
You may be in the same situation right now, especially if you're a beginner.
This comprehensive Appalachian Trail gear list covers all the gear worth considering to accomplish a thru-hike of the AT.
After tons of research and in-field experience, this article details everything that worked for us (and some things that didn't).
For every category and item, I'll explain why it's worthy of pack space, what to think about when purchasing it, and a quick note on our experience.
Read on to learn how to pack for an Appalachian Trail thru-hike.
Tips on using this guide:

My goal with this guide is to help you start your hike as prepared as possible by sharing our take on what items we believe will serve you best.

I have split this comprehensive packing list into nine pages so the website will load faster.

To get to any specific gear category, use the Table of Contents at the top of this post.

Since we completed our thru-hike as a couple, this post will touch on both female and male gear items.

So, once you're in a category, if you desire, you can jump to the female or male gear items by following these steps:

If you're on a computer:
Type Command+F (Mac) or Control+F (PC).

If you're on a smartphone:
Tap the Share icon, then Find on Page (Safari) or Find in Page (Chrome).

To see female gear items, next type in "My Pick."
To see male gear items, next type in "Husband's Pick."

There are also quick links to all of the gear categories at the bottom of every page of this post.

Happy gear researching!
---
Pin it for later: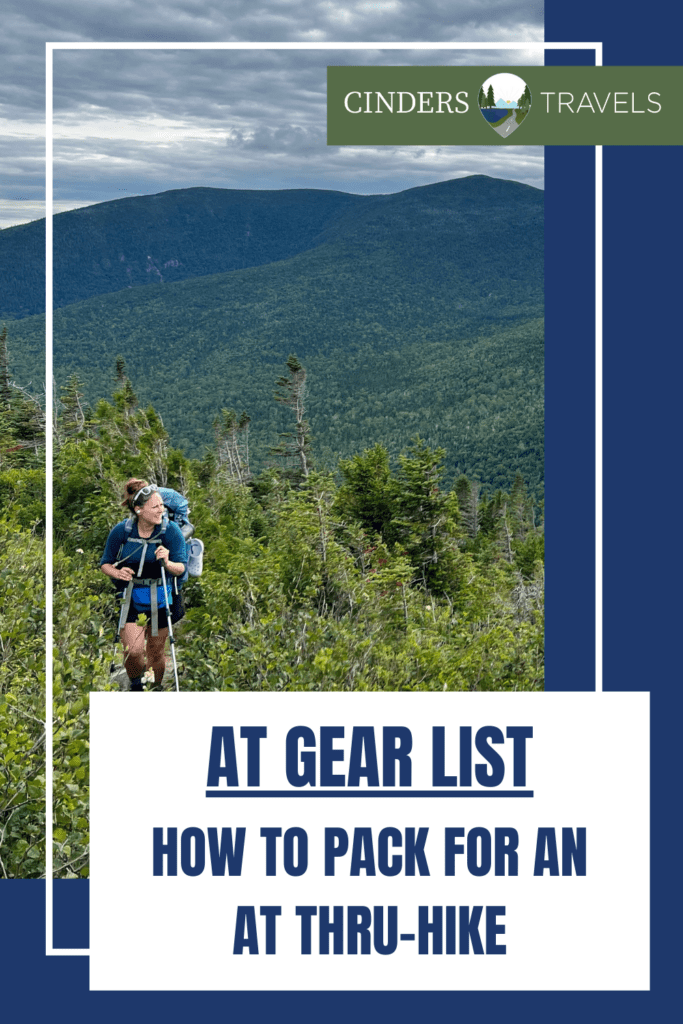 ---
The Big Three Essentials
So, let's jump in and start with the big three essentials, your shelter, sleep system, and backpack.
These are likely the heaviest pieces of gear you'll have on the Appalachian Trail.
A quick note on the big three: You can cut corners with cheaper options in almost every other category below, but I would not recommend it for the big three.
These are the essential pieces of equipment. Spend the money. You'll be happy you did.
Quality equipment in these areas kept us chugging along, and will do the same for you.
(PS: If I could add one more item to my "just spend the money" list, it would be shoes.)
I'm going to tell you what we used in each category, but then also list out a few other fan favorites because, let's face it, everyone's preferences vary.
Shelter: Tent vs. Hammock
Tent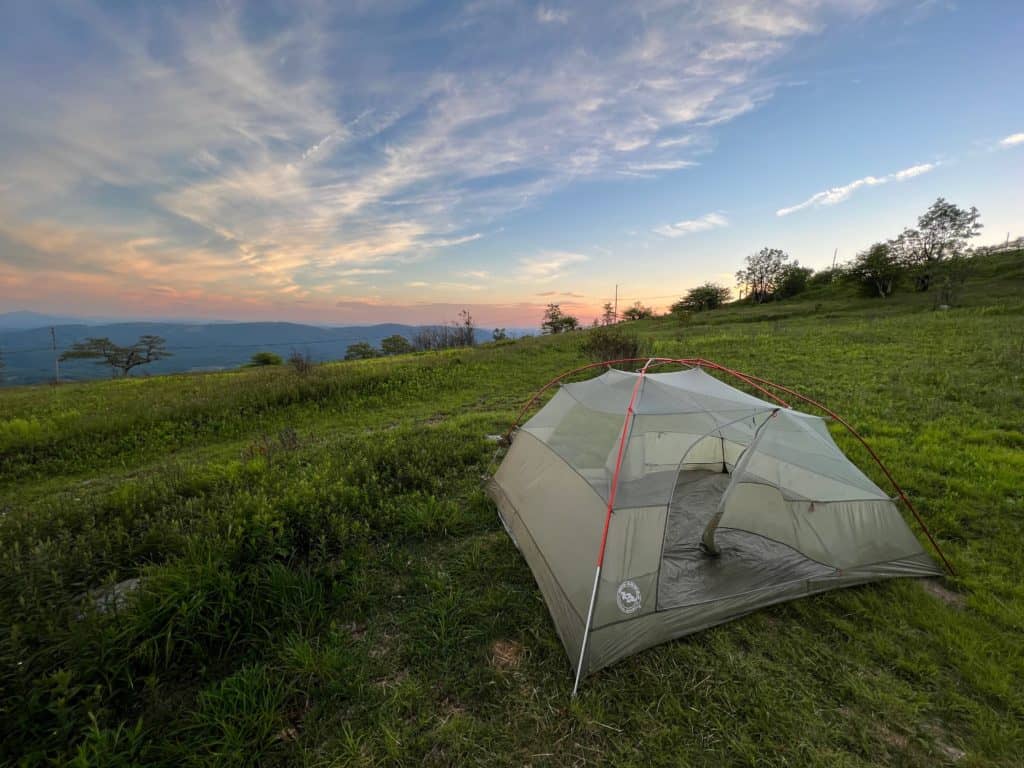 You need a tent or hammock if you want a weather and nighttime protection option beyond shelters.
A quick note here: If you're planning on hiking during the bubble, you should not depend on being able to sleep in the shelters nightly.

They will be overcrowded. It will be common to get to a shelter that is already full, even as early as lunchtime, especially in the first couple hundred miles.
We spent almost every night on trail in our tent.
We embraced a mixture of stealth camping and tent camping near shelters.
Where we would end up popping up the tent each evening almost always depended on how far our bodies could go, combined with the location of water sources.
I always had a few options in mind, and generally, a few hours before sunset, we would know which one we were most likely to land at.
I tell you this to explain, for the most part, we were tent people, only sleeping in shelters a handful of times and never in a hammock on the trail.
Whether you are tenting solo or as a couple, if you believe you'll be tenting most of the time, there are a few things you'll want to make sure you take into account, including what style tent you're looking for, what seasons you'll be thru-hiking and what size tent you desire.
Tent Style
Are you looking for a freestanding or non-freestanding tent?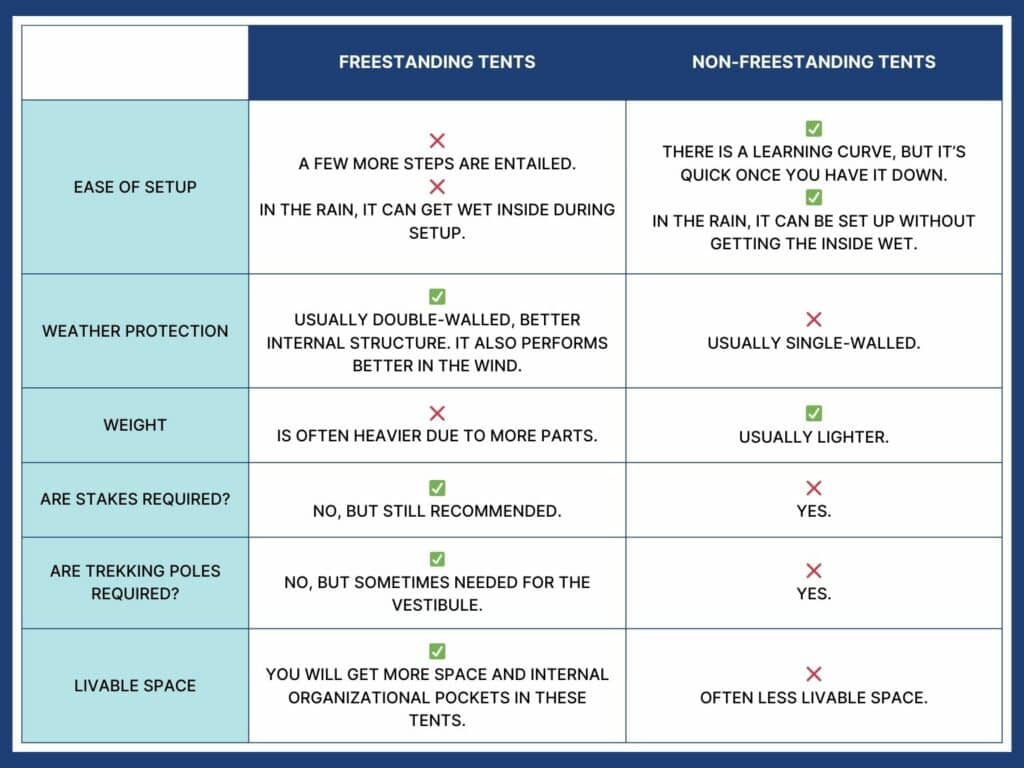 That last one was a biggy for us. We desired a generous living space and loved having tons of organizational pockets.
On the above chart, what's most important to you?
Tenting Season
In what seasons will you be tenting?
While searching for tents, you'll see season ratings.
1-2 season tents are often cheaply made. They are generally for summer temperatures and perfect weather. These are not recommended for a thru-hike.
As you go up to 3 season tents, the materials become hardier. These are great for a thru-hike of the Appalachian Trail.
If you plan on hiking and tenting in the winter, consider a 4 season tent. They can be a bit heavier but are built to handle low temperatures and snow.
Since most AT thru-hikers avoid winter, this blog post will focus on 3 season tents.
Size of Tent
Next, consider how much inner tent space you prefer.
1 Person Tents vs. 2 Person Tents
The prevailing consensus on the Appalachian Trail is to stay away from one-person tents unless the weight savings is enough to push you toward one.
Two-person tents are favored for solo hikers on the Appalachian Trail.
This is because two-person tents have more room to spread out, making them much easier to function inside when getting ready, changed, or set up for sleep.
Also, in the case of bad weather, one can pull everything inside with them.
Most solo hikers we met were either hammocking, solely sheltering, or sleeping in a two-person tent for the extra room.
These are the most commonly used two-person tents we saw along the trail: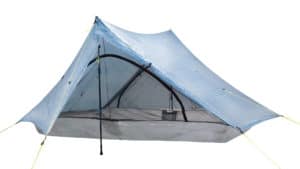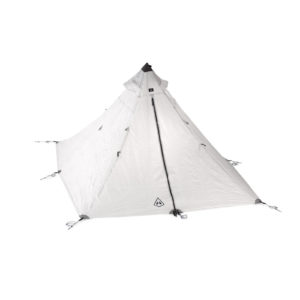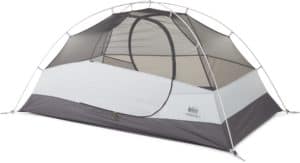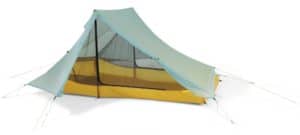 3 Person Tents
As far as picking the best tent for the Appalachian Trail for a couple, we concluded it was the Big Agnes Copper Spur HV UL3 Tent.
Our pick:
Big Agnes Copper Spur HV UL3 Tent
(3.5 lbs)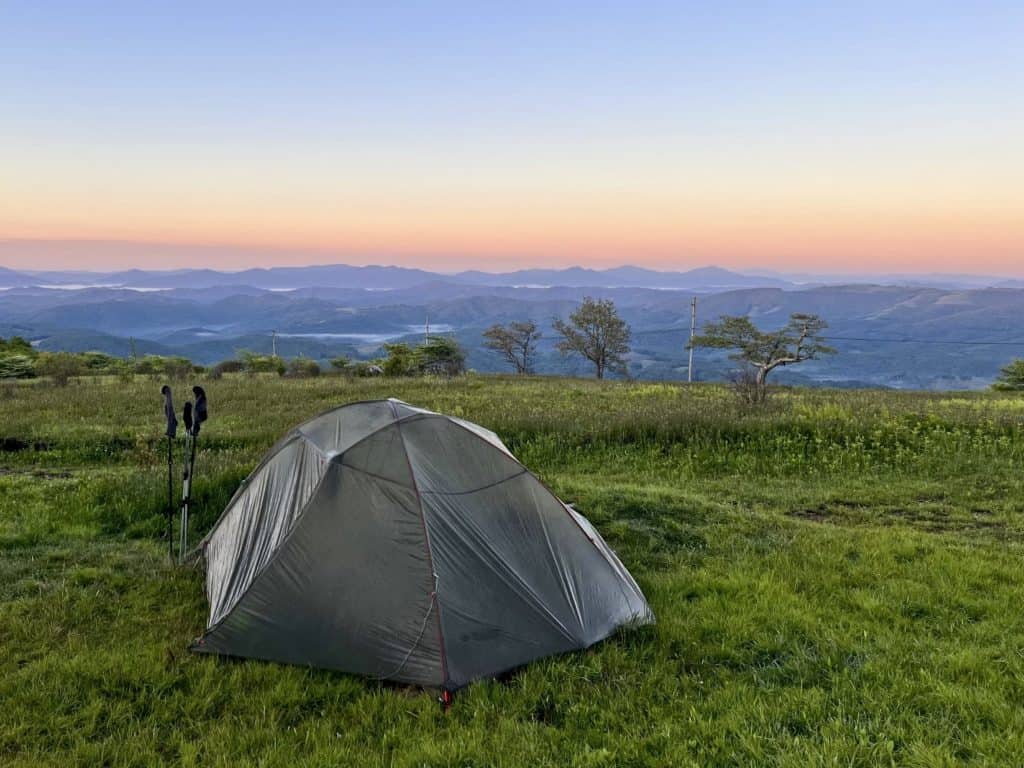 Considering everything above, the Big Agnes Copper Spur HV UL3 tent was the winner for us as a couple.
It compacted down small but provided plenty of room when set up.
Inside we had tons of pockets and storage, including side pockets by our heads, large pockets above our heads, and a colossal pouch by our feet.
We also liked this tent because we decided that having two doors and two vestibule areas was important to us.
The dual vestibules allowed us to enter and exit the tent whenever we desired, with minimal disruption to the other person. They were also fantastic for letting air flow through the tent when needed.
My husband also loved the vent up top for air circulation. However, how "nice" it was was a constant source of debate between us on trail.
I felt this feature often made the tent chillier, but I agree it was nice to have in the summer.
While this tent is not as lightweight as a non-freestanding tent, it's still very light compared to most other traditional freestanding tents.
It held up amazingly well in the rain and always dried quickly. The lightweight poles never broke. And we only broke 2-3 stakes the entire time on trail. (Spare stakes are easy to find in hiker boxes along trail.)
I had to patch a few holes and sew the zipper back into place once (More on what you should carry to facilitate those repairs on page seven.); however, the tent held up amazingly well for being used for over seven straight months.
Other popular 3-person tents we saw along trail:
Ultimately, some of the features provided by freestanding tents were worth the extra weight for us.
However, if money was no issue, and if you're already leaning more toward a freestanding tent, you could go even more bougie with the Hyperlite's Ultamid 4 Pyramid Tent.
I've heard this tent is spacious, and it weighs only 1.44 lbs… making it very tempting to look into for future adventures!
Ground Cloth / Footprint
If you'll be tent camping, purchasing a ground cloth to accompany your tent is recommended. (Sometimes, ground cloths are sold along with the tent, but it's rare.)
A ground cloth will help protect the fragility of the bottom of your tent on rough surfaces and provide some water protection.
Next, I'll discuss tent-specific ground cloths and affordable homemade alternatives.
Polycryo (Tent Footprint) Ground Cloth
(3.65 oz)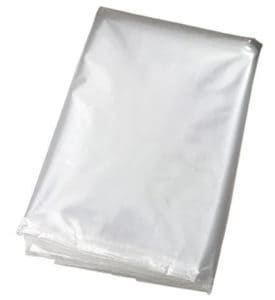 First, let's touch on the polycryo footprint.
We started our hike with this polycryo ground cloth sold in a two-pack from Gossamer Gear because it was cheap and lightweight.
Overall, we weren't overly impressed with the protection it provided our tent from rocks and sticks.
We also found it didn't compact down as well as other options.
Eventually, it started falling apart. It didn't last forever, but it did last for over 50% of the hike!
Another popular ground cloth option is to purchase a sheet of Tyvek from the hardware store and cut it to the size of your tent.
Or you can purchase this one someone has already made to 7′ x 3′ size or this one made to 8′ x 4.7′ size on Amazon!
Tyvek works well and is a bit stronger than polycryo, but with the trade-off of being a tiny bit heavier.
Tent-Specific Ground Cloth
(~8-10 oz)
Lastly, most brands manufacture tent-specific ground cloths for their tents, usually made from materials such as ripstop nylon and PU/DWR coating.
(The footprint specific to the Big Agnes Copper Spur HV UL3 tent can be found here, weighing 8 ounces.)
At an REI in New Hampshire, we switched to a manufacturer ground cloth.
(We were NOBOers who ended up being GA to WV and then ME to WV Flip-Floppers. So New Hampshire was a bit over mid-hike for us.)
We bought the Black Diamond Firstlight three-person ground cloth.
While it was not made for our tent, it was on the shelf and on sale. (The one for our tent did not have either of those things going for it.)
We figured it was also made for a three-person tent, so close enough.
When we first set it up with our tent, we noticed it was a bit smaller than our tent, which was perfect because you want your ground cloth to be a few inches smaller than the tent overall so, when in the rain, water can drain appropriately and not pool up.
Overall, it worked, and we liked its robust material better than the polycryo. Despite being ~ 6 ounces heavier, it was hardier.
Rocks and sticks from the ground poked through our tent less, it compacted down better than the polycryo, and we also found it much easier to shake off before packing it up.
Hammock
If the additional protection option of a tent (beyond shelters) is not calling to you, you will want to look into hammocks.
Hammocks are the only item on this list I have limited information on.
I slept in a hammock once while backpacking. It wasn't for me.
That said, some people opt for this for either back or knee relief. If either of those areas distresses you, consider researching hammocks.
Here is REI's guide on how to choose a hammock and a list of their favorite hammocks.
Continue Reading:

PAGE ONE: Shelter
PAGE TWO: Sleep System
PAGE THREE: Backpack
PAGE FOUR: Clothing
PAGE FIVE: Footwear
PAGE SIX: Food & Cooking Gear, Water Treatment System
PAGE SEVEN: Other Gear
PAGE EIGHT: Electronics, Navigation & GPS, Essential Hygiene Items, Less Important Hygiene Items, Bug Management
PAGE NINE: Personal Luxury Items, FAQs