(Last Updated On: September 23, 2023)


Great Smoky Mountains National Park (GSMNP) is one of the most fascinating areas in the southeastern United States.
Its dense forests are filled with bears, wildflowers, historic log cabins, and some of the best mountaintop views you'll ever encounter.
A trip to this part of the US has the ability to take you back to simpler times when pioneers were crossing the Appalachians, searching for better lands and a more isolated existence.
The fog-covered mountains and lush woods acting as both a barrier and a sanctuary for those wanting to escape the more "civilized" coastal states.
Sure, the roads are now paved, and there's fresh, cool drinking water at all of the campgrounds. But the potential for experiencing that pioneering sense of adventure with a visit to Great Smoky Mountains National Park is still there!
Hooked yet? Do you see a Great Smoky Mountains road trip in your future? Then this post has you covered when it comes to forming your Smoky Mountains Itinerary!
Hi there! I'm Cindy! My husband and I have been full-time RVers since 2018. So far, with the RV, we have lived in 31 US states and have put over 20,000 miles on the rig since purchasing it!
Tennessee, North Carolina, and the Appalachian Mountains have repeatedly pulled us back throughout our travels, even before RV life!
There's a lot to consider when planning a trip to this area.
To help make the planning process easier for those considering a visit, here's what we have found (after a fair bit of research and numerous visits) to be the best things to do in the Great Smoky Mountains National Park area.
The article will provide options for every type of visitor. There's something for everyone in the family here, no matter how you want to experience the national park area.
Let's first dive into what makes Great Smoky Mountains National Park so special!
Why is Great Smoky Mountains National Park so Popular?


The Great Smoky Mountains are far and away, America's most popular national park, receiving over twelve million visitors in 2020, which is more than three times as many as the next most popular park, Yellowstone.
The park's popularity is a culmination of a few factors:
✅ It's free to visit! And while there are other national parks with a free entrance that could charge if they wanted to, Great Smoky Mountains National Park is incapable of charging a fee. When Tennessee transferred ownership of the land to the feds, they stipulated that no toll could ever be charged for traveling the roads within the park.
There is, however, a parking tag program launching on March 1, 2023. Click here to find out more about the new parking fees.
✅ There aren't very many national parks in the region. The next closest one is Congaree, three hours away in South Carolina, which also has free admission.
✅ The Smokies offer a wide variety of activities. You can hike, climb, bike, whitewater raft, tube, or do some stargazing while you're here.
✅ There are popular tourist towns nearby. Gatlinburg has everything you could need out of a tourist town, including roller coasters, homemade candy, mini-golf, and moonshine tastings abound! Pigeon Forge has Dollywood – the Dolly Parton-themed park that is Tennessee's second most popular attraction after the Smokies!
Having all these nearby attractions makes family visits easier as there's something for everyone.
How Many Days do you Need in the Smoky Mountains?
A better question is, "How many days do YOU have to spend there?" A trip to the Smokies can be as long or short as needed, but more time is always better.
There's more to Great Smoky Mountains National Park than, well, the Great Smoky Mountains. The areas surrounding the park are tourism meccas, with a staggering number of attractions. You could easily spend several days exploring Cherokee, Gatlinburg, Pigeon Forge, Wears Valley, and beyond.
It's a little overwhelming for some, especially if you've spent a few days camping in the peace and quiet of the park. However, a few days of non-nature activities prevents burnout, especially among family members with divergent interests.
Also, if you're coming in the summer, set aside a day for tubing or whitewater rafting. A day on the water can be tiring, so don't plan much else besides a nice meal in the evening. The same advice holds for extended hikes and backcountry camping.
In short, a solid Smoky Mountains itinerary might include three days camping or at least exploring the park and three days of the tourist attractions in nearby towns.
When visiting the Smokies, I recommend budgeting as many days for exploring outside the park as you do for inside it.
Great Smoky Mountains National Park Area Itinerary Options
Great Smoky Mountains Itinerary for Hikers & Outdoors Lovers
The Smoky Mountains were made for adventure; whether it's out on the water, over a pair of wheels, or with your own two feet on the trail, it's a great place to be outdoors.
While there are literally dozens of trails and streams to explore, these are some of your best bets for an outdoorsy Great Smoky Mountains itinerary.
Reach the Top of Clingmans Dome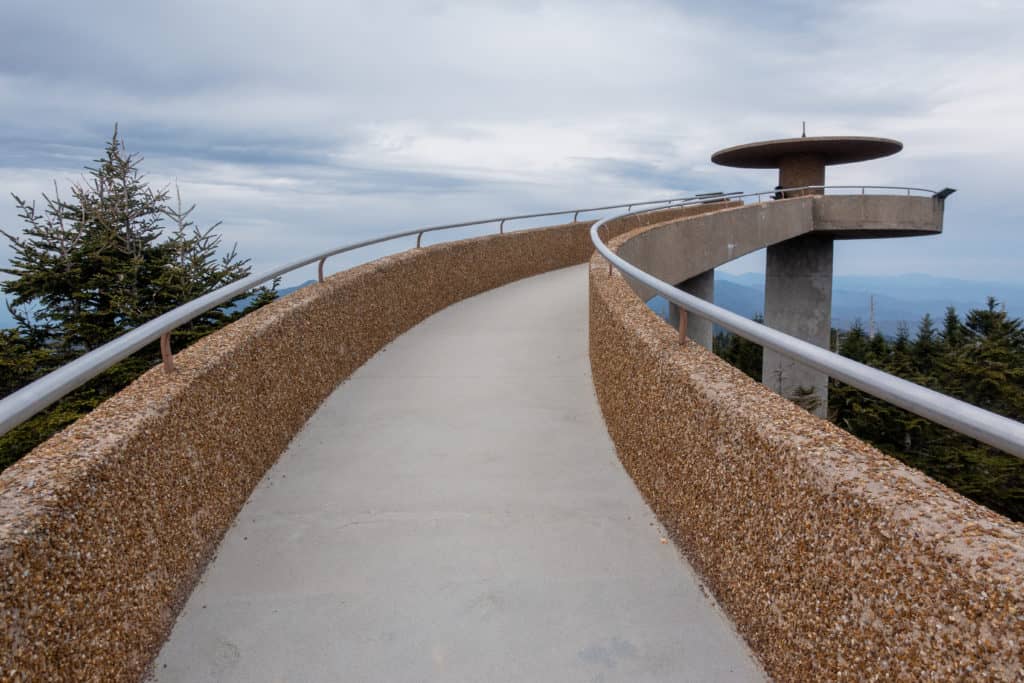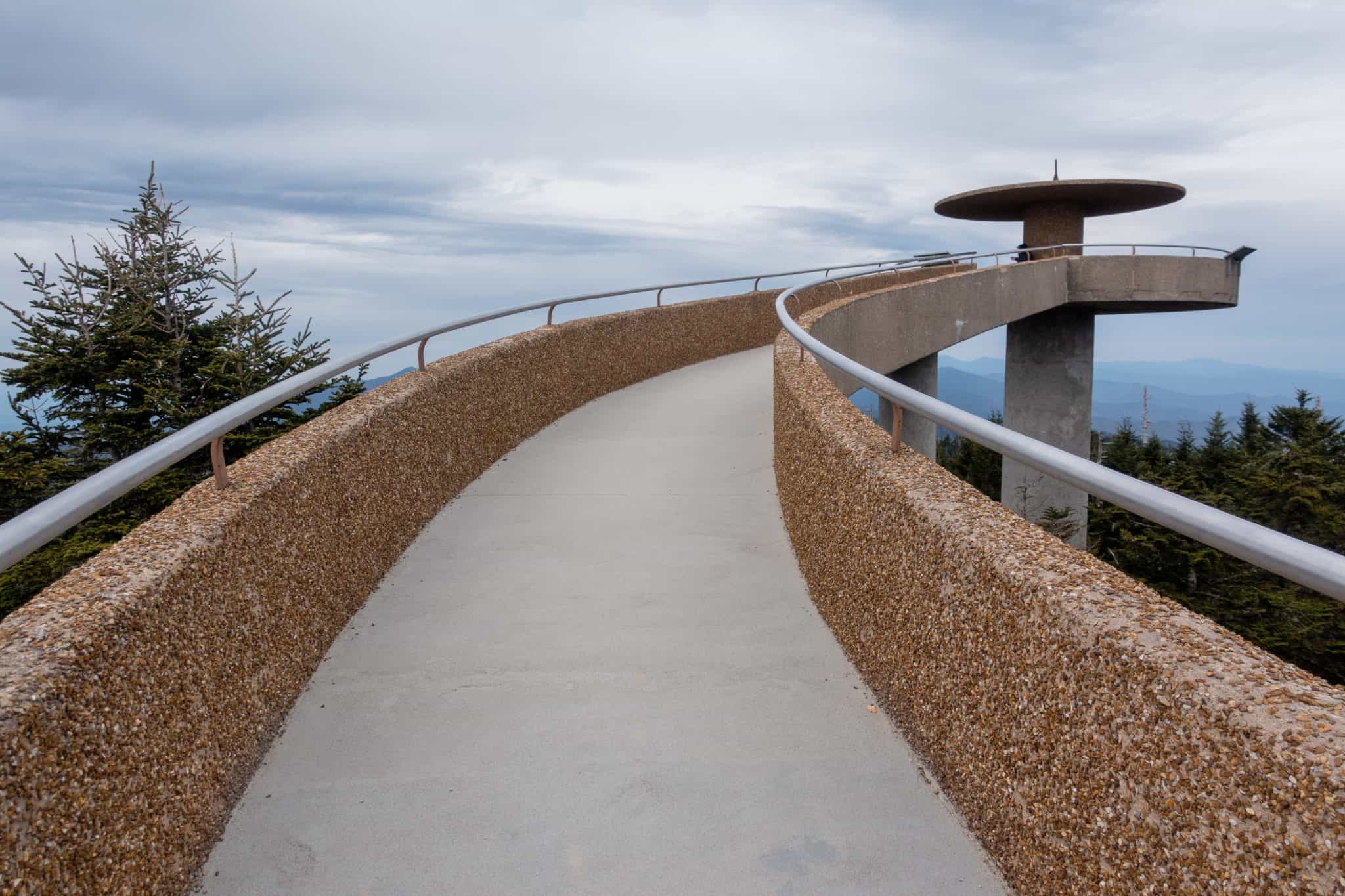 Clingmans Dome is the highest point in the park and the state of Tennessee. On a good day, it has views extending out a hundred miles.
It's set up very well for the crowds. The trailhead to Clingmans Dome is off the main road, and there is a huge parking lot at the start of the trail.
Even though it's only a half-mile walk and about three hundred feet of elevation gain to reach the Dome's observation tower, it is pretty much straight up. So it may be a little slow going, but it shouldn't be too tremendously difficult and is absolutely worth it!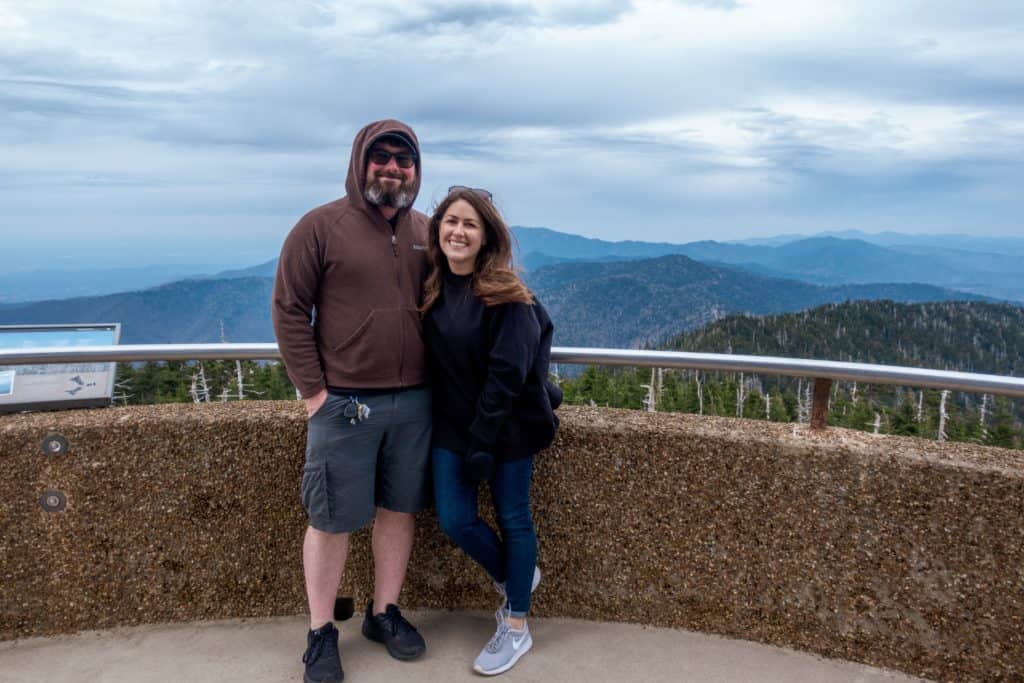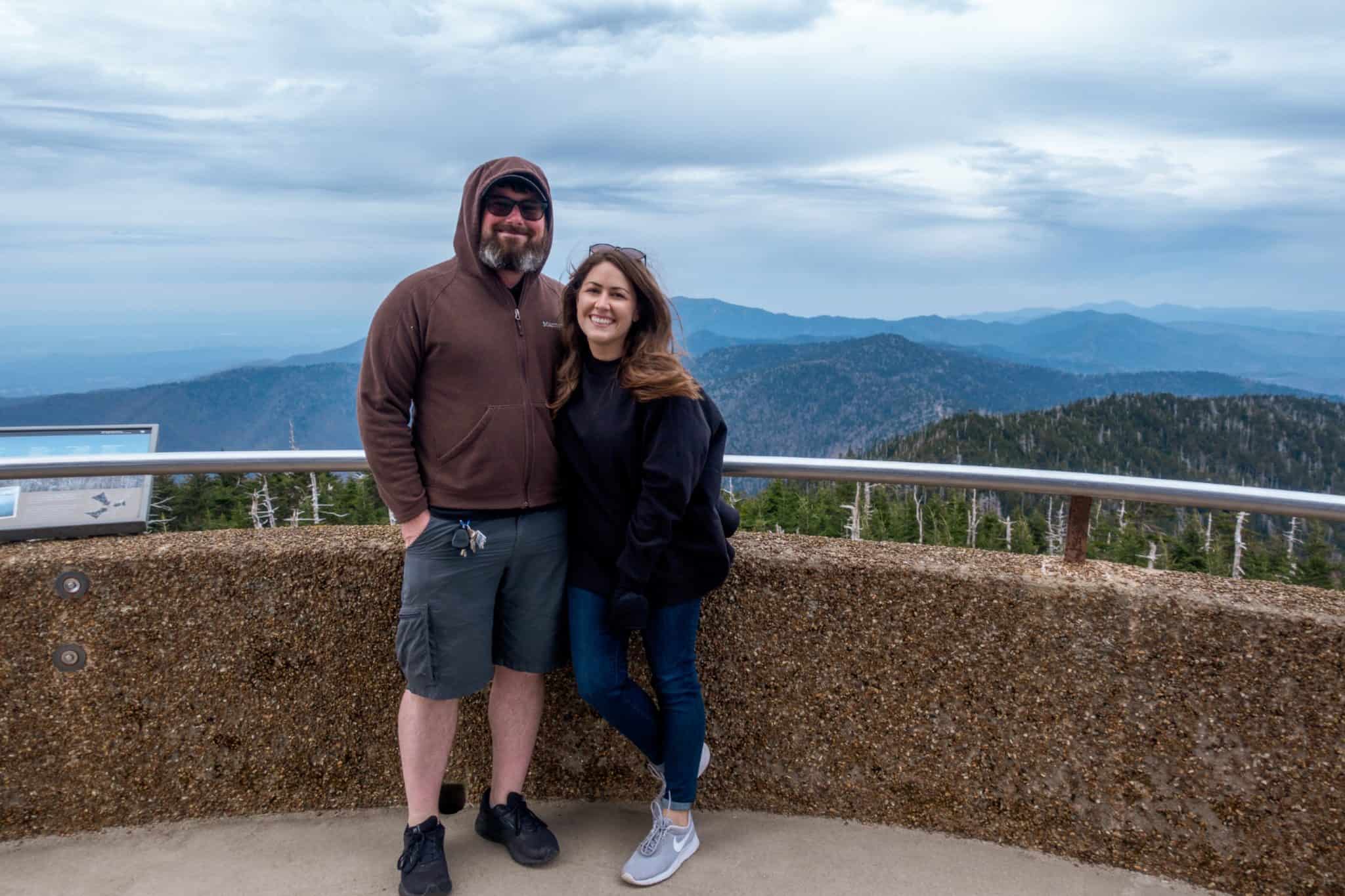 Also, because this is the highest point in Tennessee, it's often chillier and windier up there than in the rest of the park. I recommend bringing a jacket along, just in case!
Chase Some Waterfalls: Mingus, Laurel, Spruce Flats, and Grotto Falls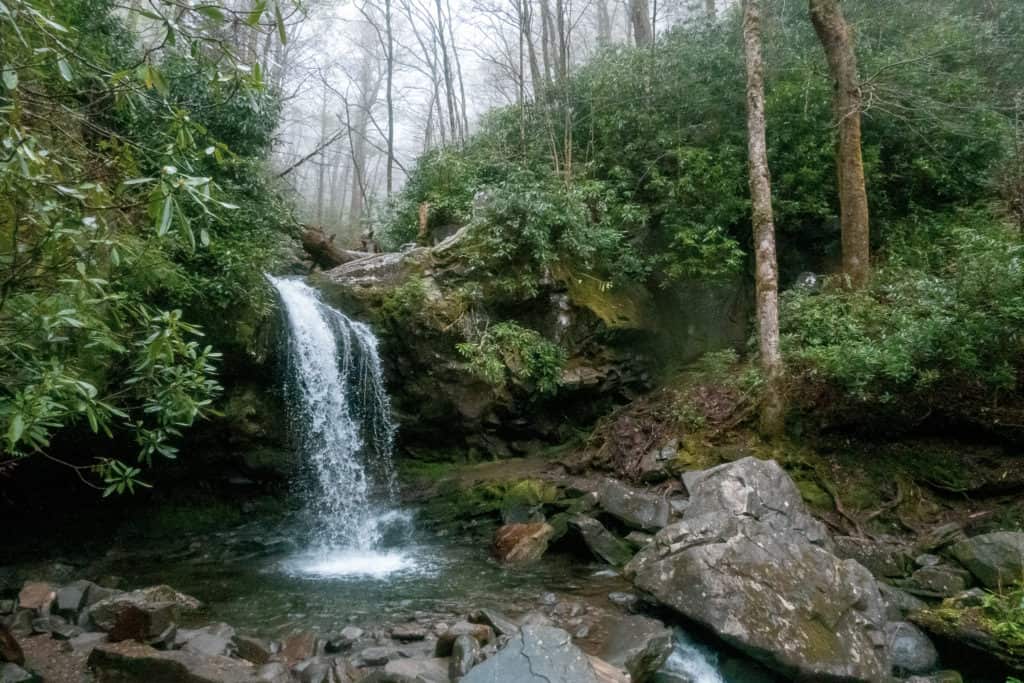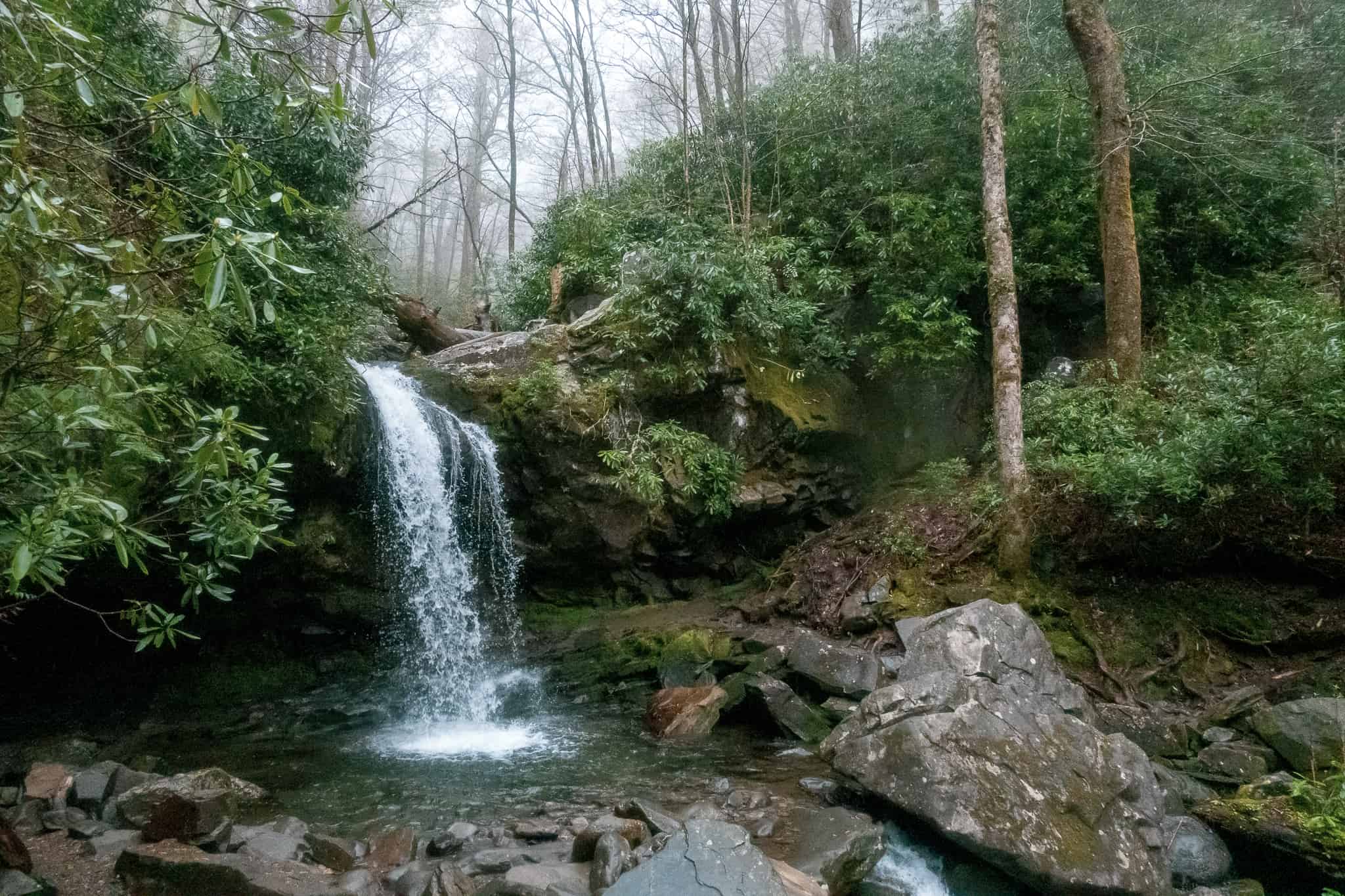 Steep mountains and plentiful precipitation make for numerous waterfalls inside the park. Most of them are easily accessible via short, small elevation gain trails.
Laurel and Grotto Falls are definitely two of the most popular waterfalls in the park, and for good reason! But I actually recommend checking out some of the less popular waterfalls that are just as amazing.
Options include Indian Flat Falls via the Middle Prong Trail and Abrams Falls via the Abram Falls Trail in Cades Cove.
Section Hike the Appalachian Trail (AT)
The 2180 miles AT runs right through the park, with a 70-mile section within its boundaries. Many are not interested in taking the several-month trek required to hike the entire long-distance trail.
Still, many visitors to the Great Smoky Mountains can spare a week to section hike the area inside the park.
If you're thinking that still sounds too grueling, take a short day hike to greet the thru-hikers and give them some tasty snacks, aka providing some "Trail Magic."
Our favorite AT day hike section in the park is the 8 miles out and back section from the Newfound Gap parking lot to Charlies Bunion. To get there, take a drive on Newfound Gap Road to the Newfound Gap parking lot.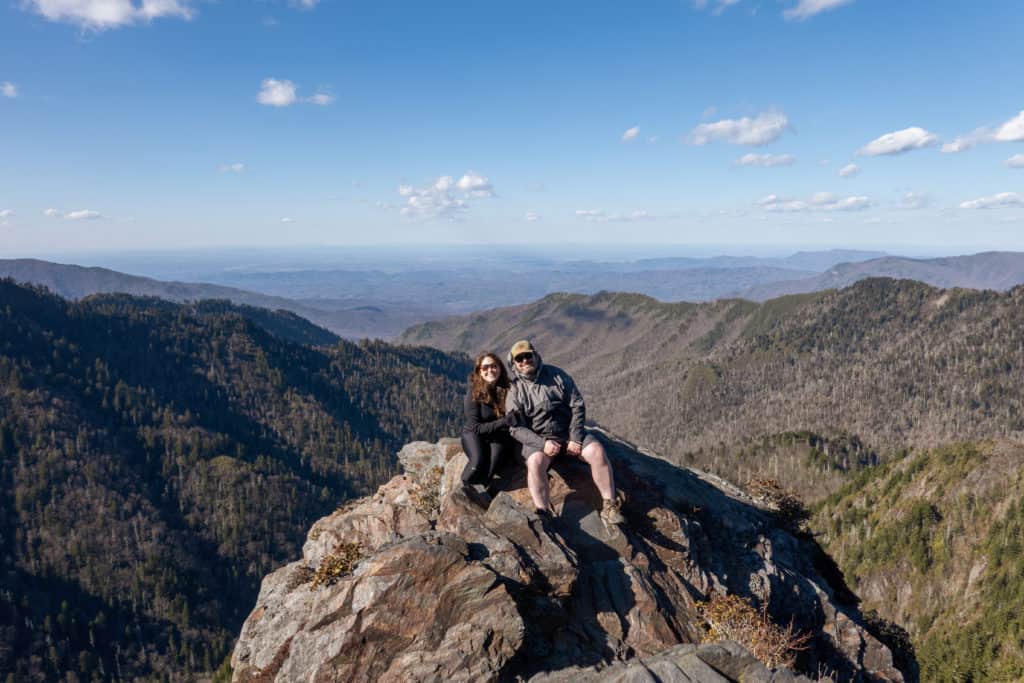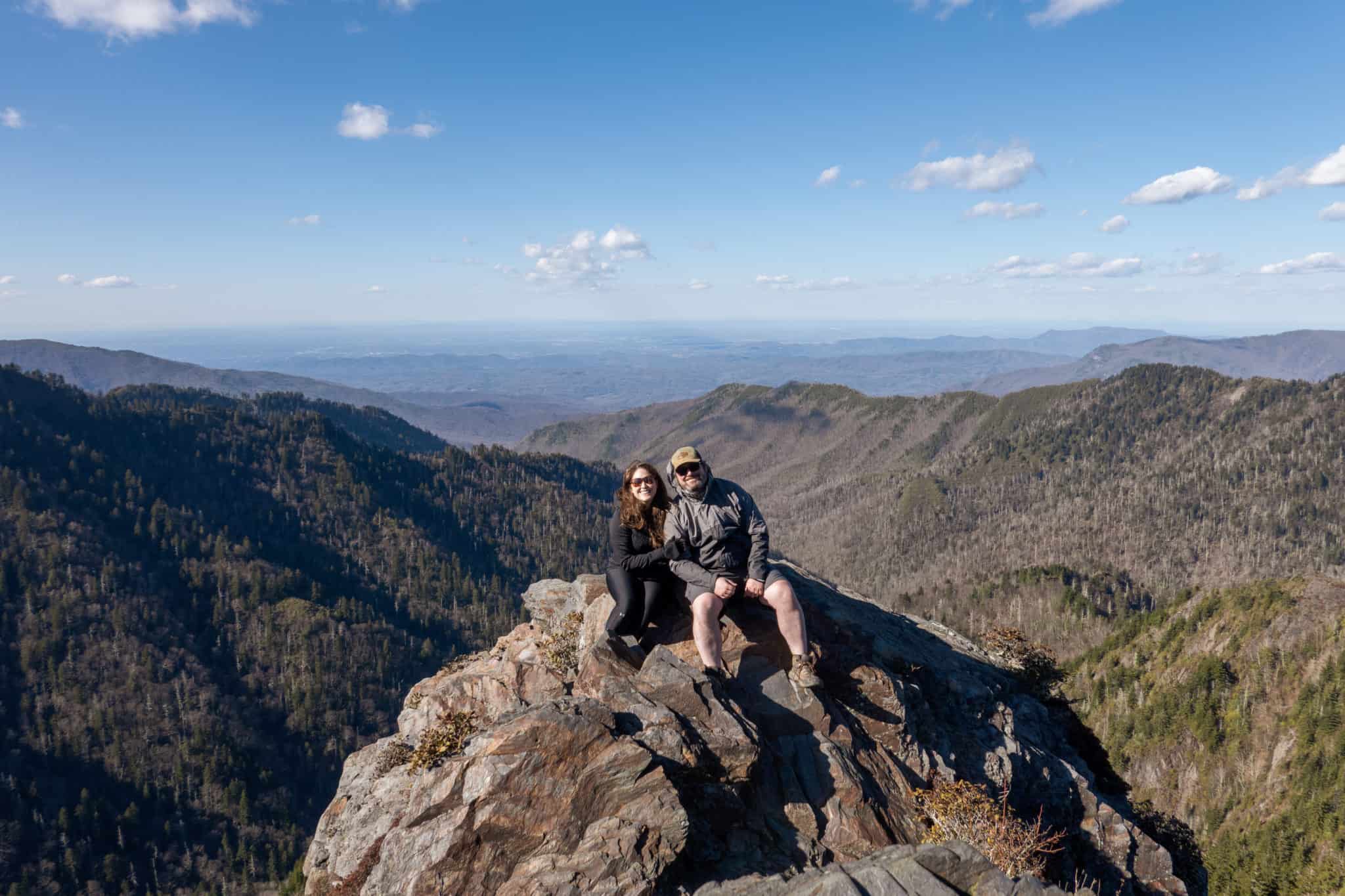 Float Deep Creek
The park's southwest corner is home to its best floating opportunities. Whether it's tubing or whitewater, Deep Creek delivers plenty of thrills or a relaxing cool-down, depending on where you launch from.
Hike Mount Leconte via Alum Cave Trail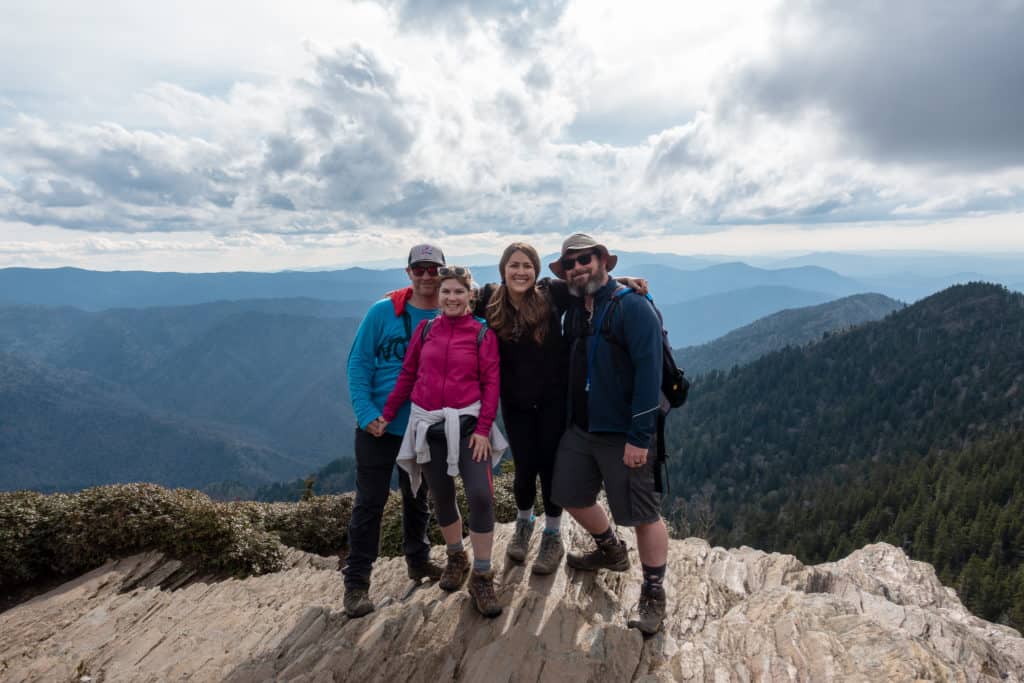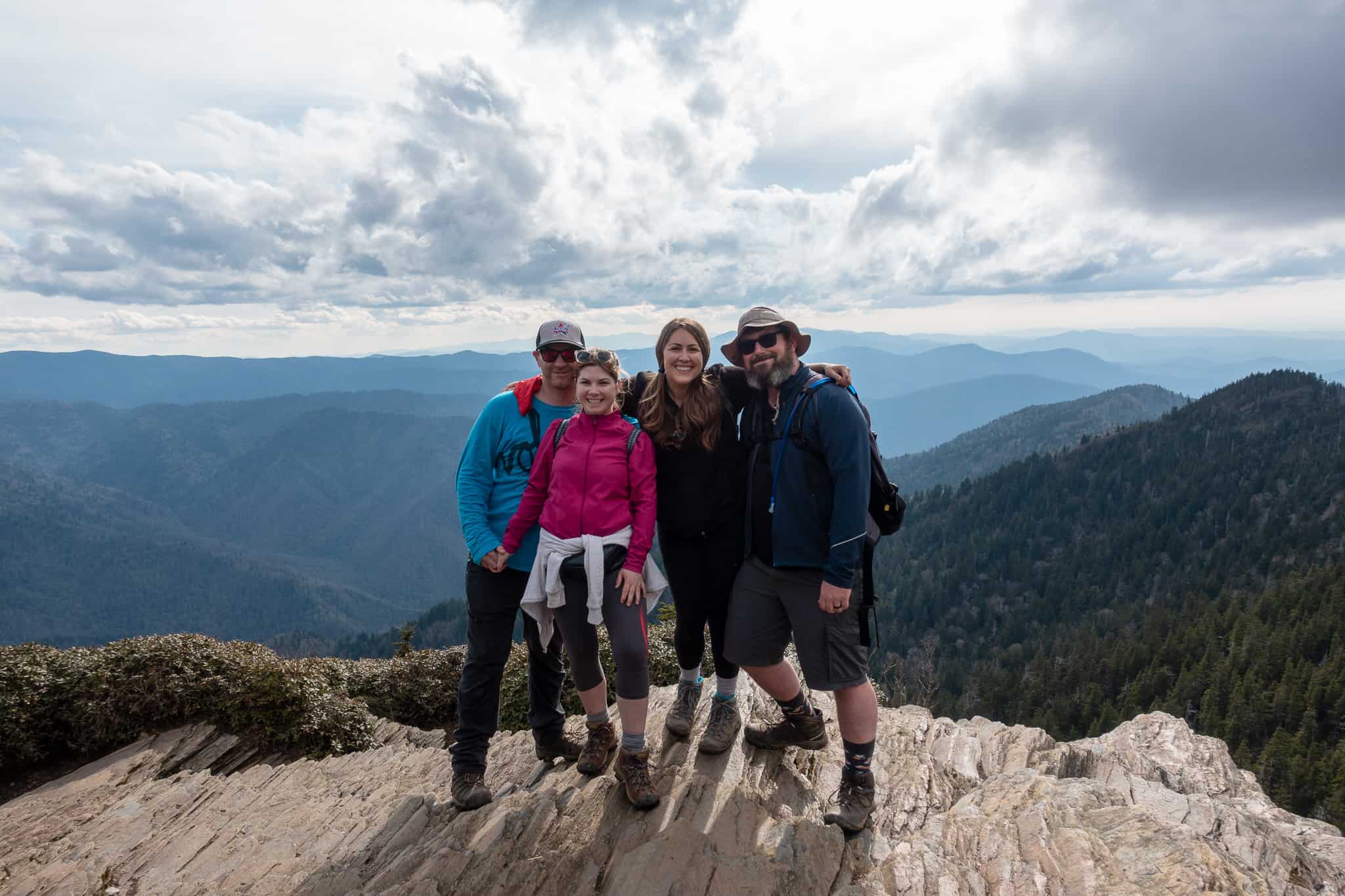 One of the best hikes in the park is getting up to Mount Leconte, which stands at 6,594 feet, making it one of the highest peaks in the Appalachians. The 10 miles out and back Alum Cave Trail is one of the more scenic routes to its summit.
It's incredible how many times your surroundings change on this hike as you get higher and higher. You pass stunning natural rock arches, gorgeous overlooks, the Leconte Lodge, and spectacular evergreen forests along the way.
Or – Hike Mount Leconte via Trillium Gap Trail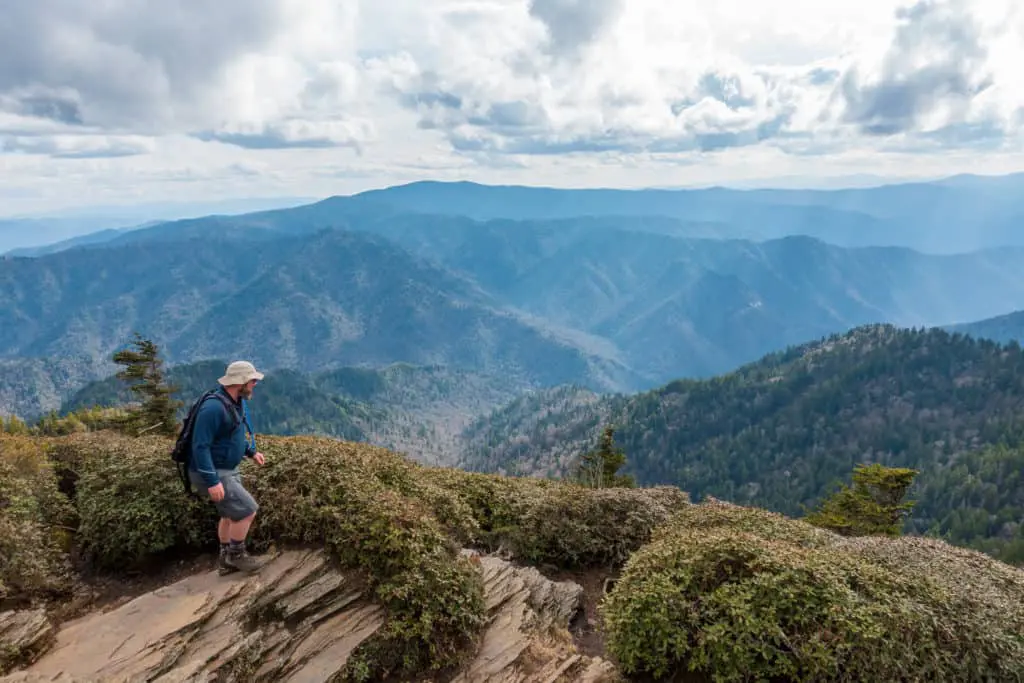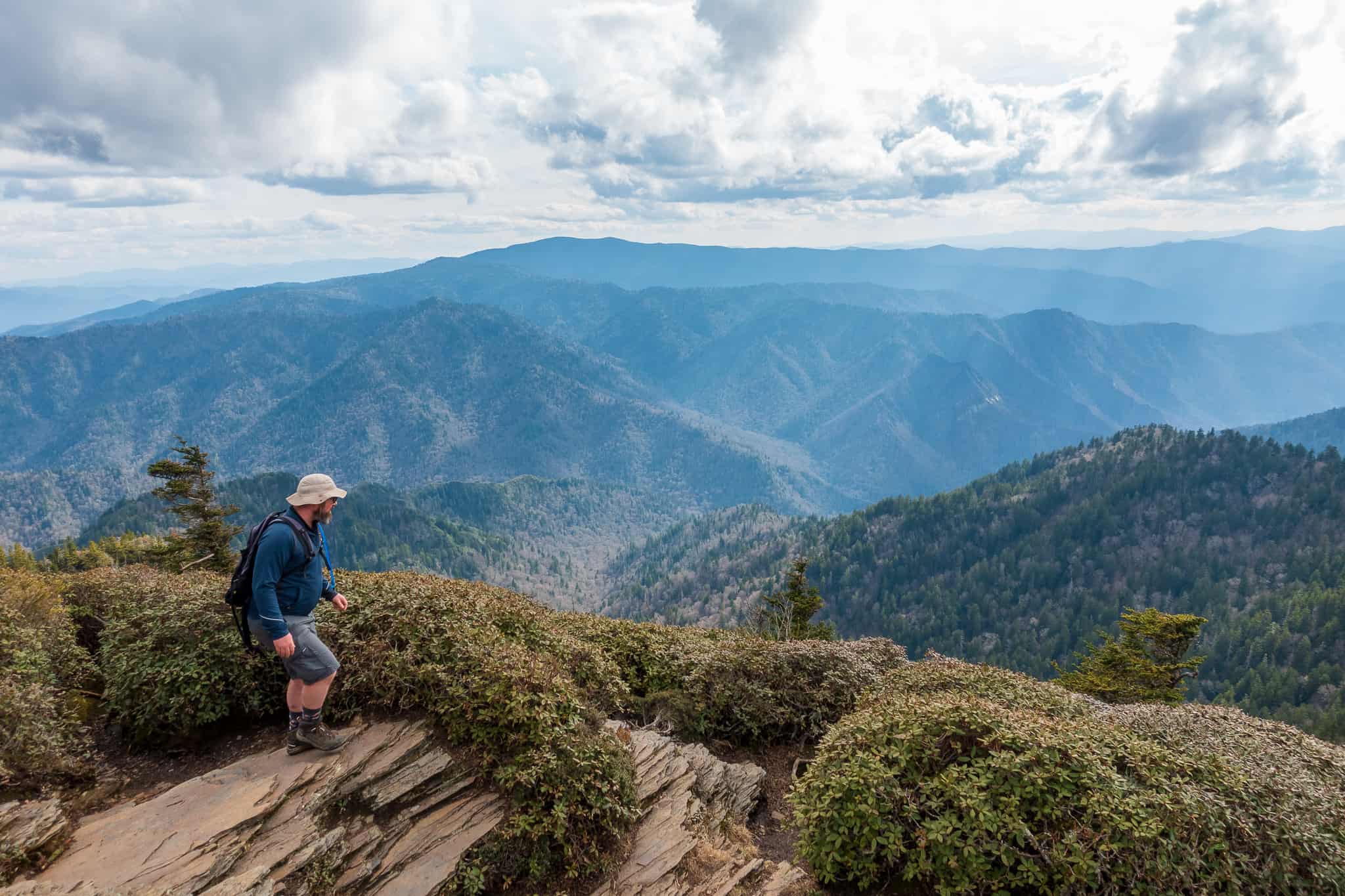 There are actually multiple trails that can get you to Mount Leconte.
If you're looking for the least steep option, Trillium Gap Trail is your ticket. The trail itself comes in at just under 14 miles round trip, and even though it's longer in miles, it is commonly thought of as the most accessible trail to make the trek since it is the least steep of them all.
Fun Fact: Because of that, it is also the trail the llamas take!
Because there's no road up to Mount Leconte, supplies are brought to the lodge via llamas!
The llamas are hypothetically supposed to start their trek from the Grotto Falls parking lot around 7:30 am on Mondays, Wednesdays, and Fridays. But all of this is flexible and changes depending on the time of year and weather conditions.
(Another added bonus on this route is that you'll pass Grotto Falls.)
My husband and I had multiple failed attempts at trying to time out seeing the llamas while they were at Grotto Falls a few years back.
I've listed all of the tips that I would follow if I ever attempt this again in this post:
There is a bit of planning and luck required to see the llamas.
If you'd love to see them, check out this post with all of my llama spotting tips.
Great Smoky Mountains Itinerary for Families
Most of the outdoor activities in the Great Smoky Mountains are suitable for children, except for some of the wilder whitewater sections on Deep Creek. There are also plenty of kid-friendly activities to enjoy in Gatlinburg and Pigeon Forge on days when you're not touring the park.
These are just a few fun things to do with the family while visiting Great Smoky Mountains National Park.
Dollywood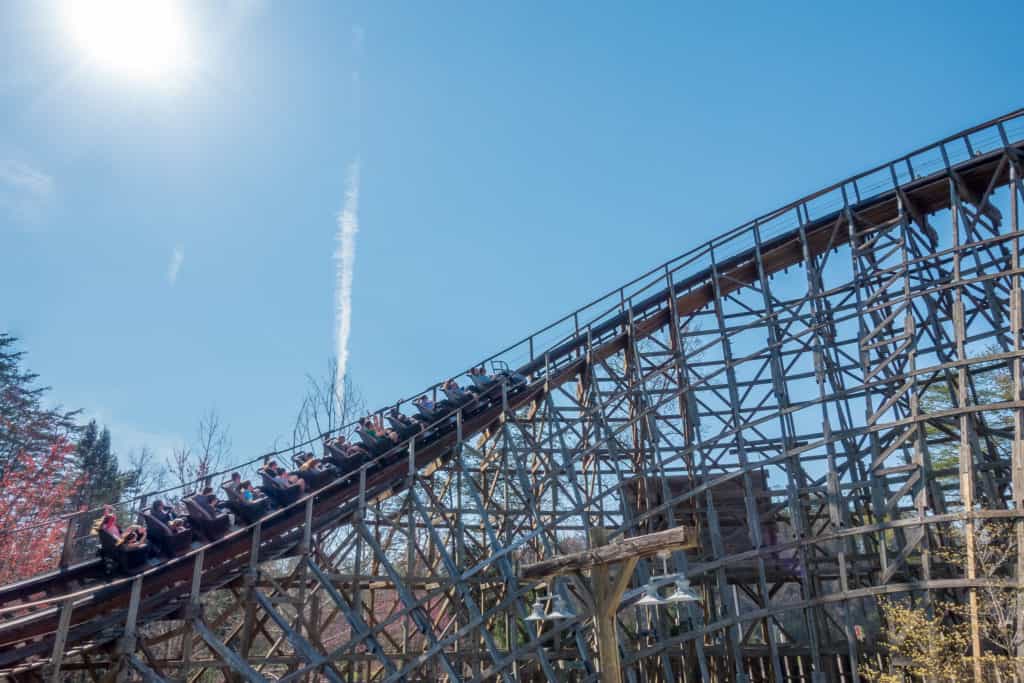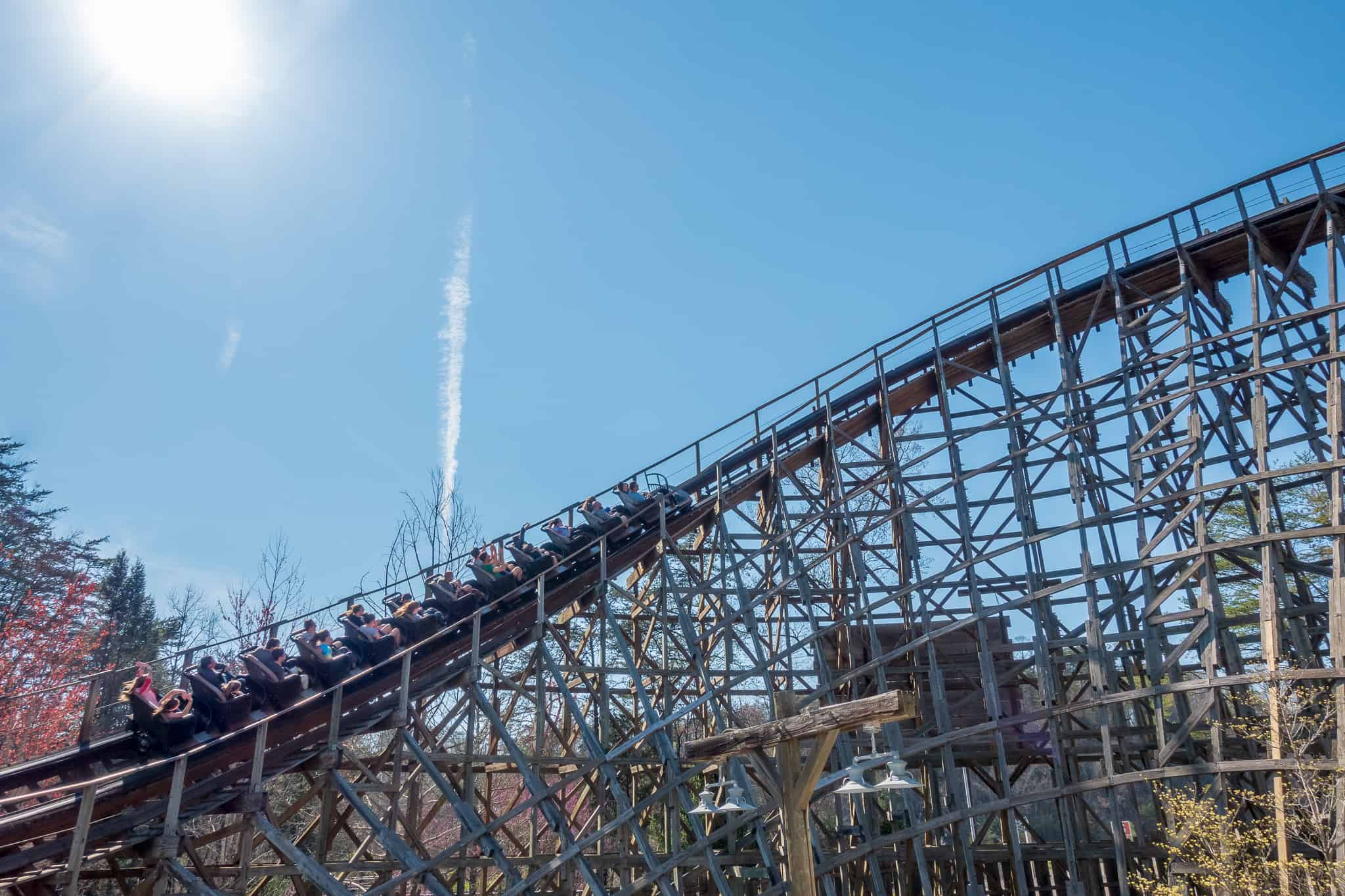 No trip to Tennessee would be complete without visiting the country music queen Dolly Parton's theme park. Parton grew up in the area and bought the Silver Dollar theme park in the late 80s, wanting to transform it into a nationwide attraction. She succeeded, and now Dollywood is the 2nd most popular attraction in the state after the national park.
The 150-acre park is almost too big to explore in one day, with dozens of rides, theaters, museums, and unique eating establishments.
And even though the park has a few incredible rides (most notably Lightning Rod) at its heart, Dollywood is a celebration of Southern culture, and it plays host to numerous festivals throughout the year, including bluegrass, BBQ, and gospel music events.
Headed to Dollywood?
Check out my Thrill Ride Lover's Guide to Everything NOT to do at Dollywood!
Ripley's Aquarium of the Smokies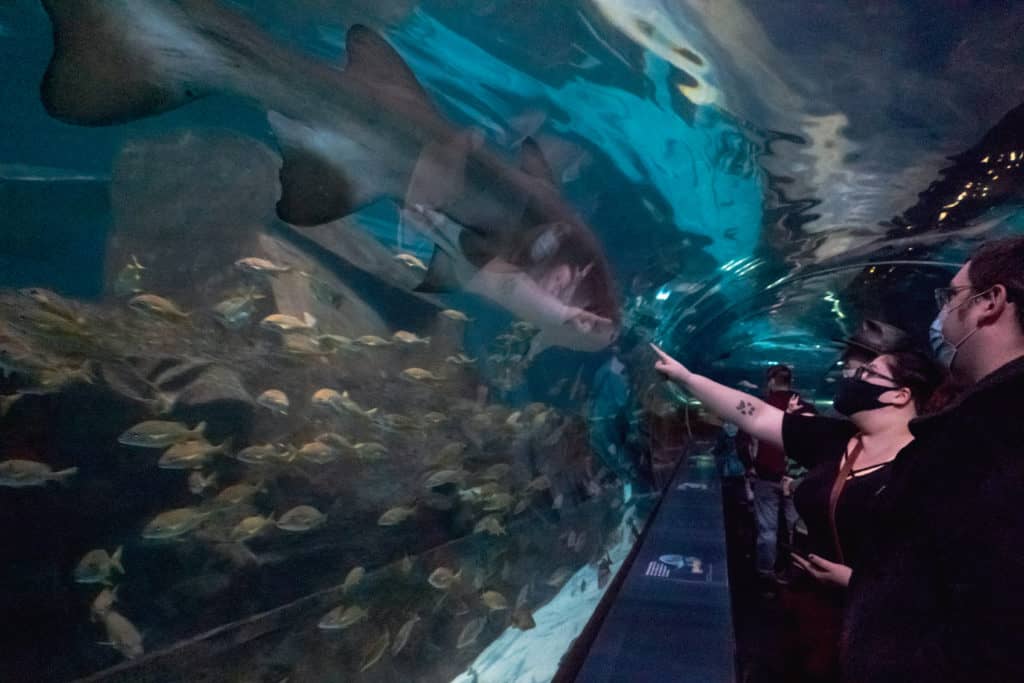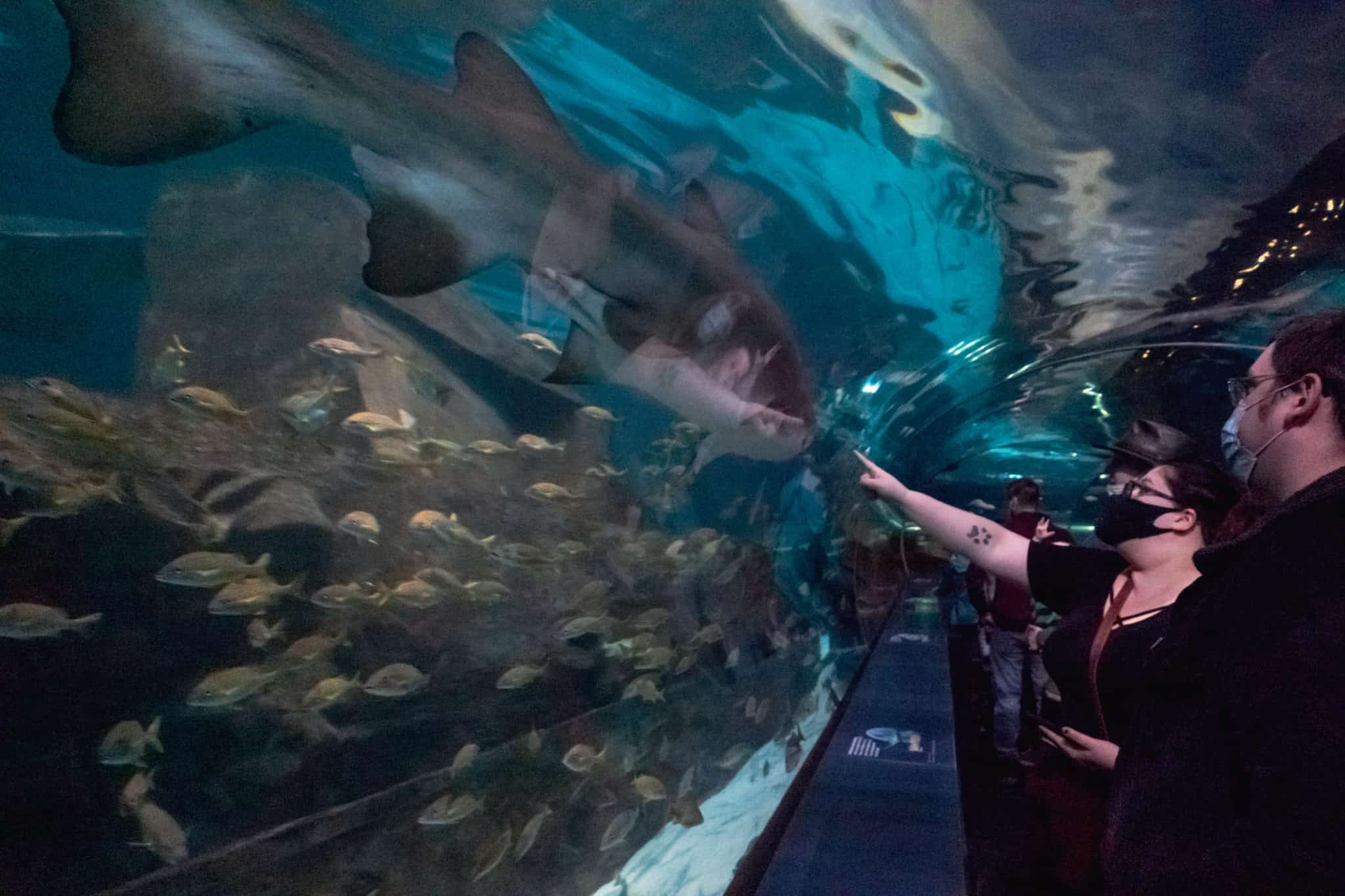 If your kids are into sea life, this is a stop not to be missed!
The aquarium is stuffed full of sharks, turtles, stingrays, penguins & more. There are also a bunch of interactive exhibits and even a glass-bottom boat ride!
Don't miss the penguins on parade. It's heart-warming and was hands down my favorite experience there!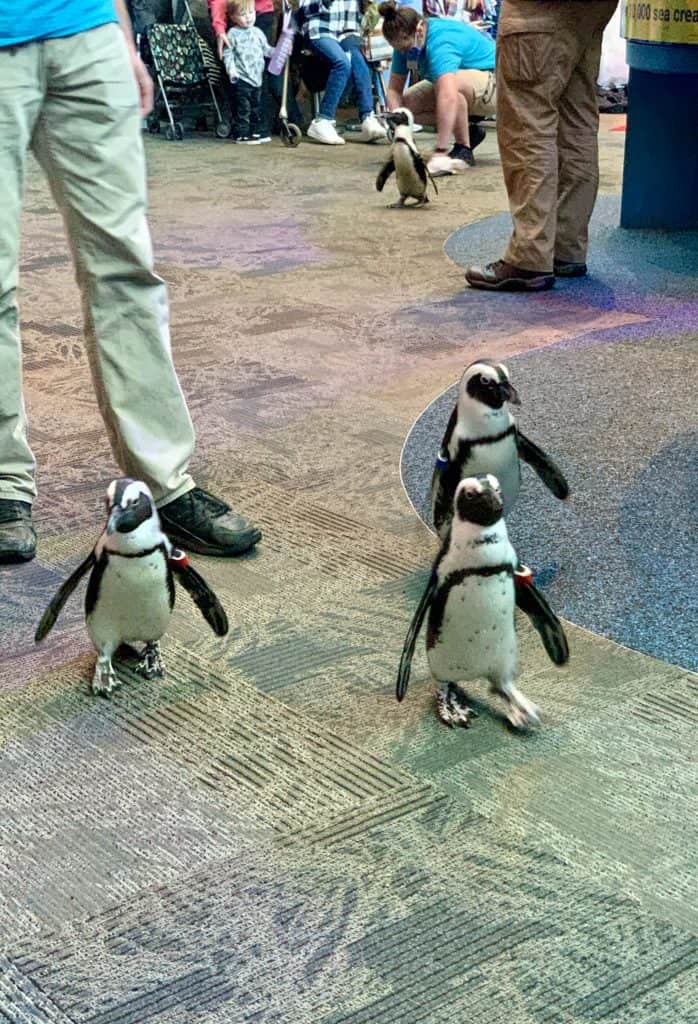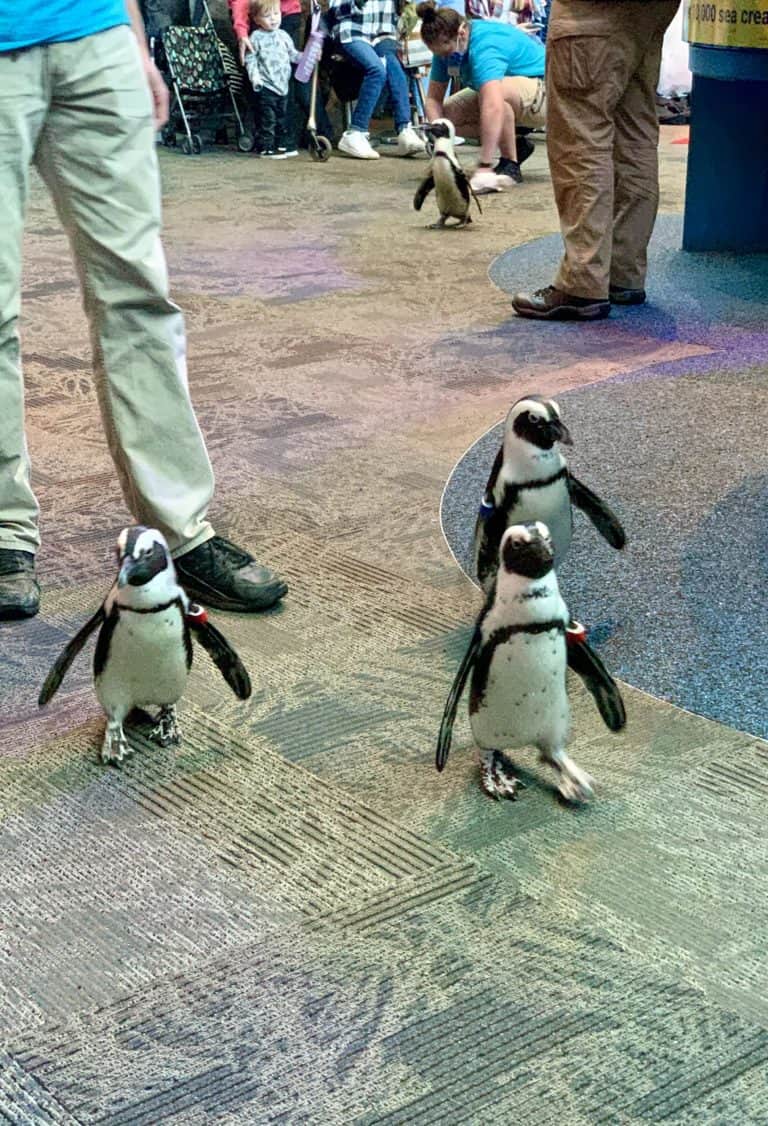 Ripley's also has many other attractions in the area, including a mirror maze, mini-golf, an arcade, a haunted adventure, and the next place on this list, the odditorium. Any one of them can make for a great day of family fun.
If you plan on going to more than one, make sure you look into their combo tickets to save a few dollars!
Ripleys Believe It or Not Odditorium
Yes, Ripley's is known to many for being the tourist trap to end all tourist traps. But corniness is actually this place's best feature. And sometimes, these quirky attractions can be the most memorable part of a road trip.
This oddities museum has unusual items like an ornate carving made of camel bones and a sheep constructed from mops. It's a fun kind of weird, and many of the exhibits are interactive.
The Great Smoky Mountains Junior Ranger Program for Kids
Junior ranger activities can be found in most national park visitor centers, and Great Smoky is no exception. Kids learn to identify bird calls, match leaves to their parent trees, and discover the habitats of native wildlife. After completing the program, kids receive a badge specific to Great Smoky Mountains National Park.
Wild Bear Falls Waterpark
In the summer, the Great Smokies can be stifling hot – it's the humidity mostly. If you're bringing the kids along, they'll be sure to tell you how miserably hot it is – the solution: Wild Bear Falls Waterpark in Gatlinburg.
The park has several spots to cool off, including a lazy river, a spray park for the little ones, and a 300-foot-long slide. There's also a sauna where you can let the vacation stresses melt away.
Mini Golf & Arcade
It wouldn't be a trip to the Smoky Mountains with kids without some mini-golf and arcade time!
There are tons of options in both Gatlinburg and Pigeon Forge!


Our personal favorite spot to play mini-golf in Gatlinburg is Hillbilly Golf! You start off your adventure by taking a mini tram up to the top of the mountain and then play mini-golf all the way back down. The holes are a ton of fun, and it's so neat to see how they integrated the course into the mountainside.
Our personal favorite arcade is also nearby in Gatlinburg– Fanny Farkles! (Although there is also a great arcade across from the Ferris Wheel at the Island in Pigeon Forge.)
Great Smoky Mountains Itinerary for History Buffs
Mingus Mill
Do your kids like to tinker and figure out how things work? This turn-of-the-20th-century grist mill is still operational for demonstrations, showing how water power was used to fuel the industrial development of the Tennessee Valley. It's both a history lesson and a look at how humans can harness the power of nature.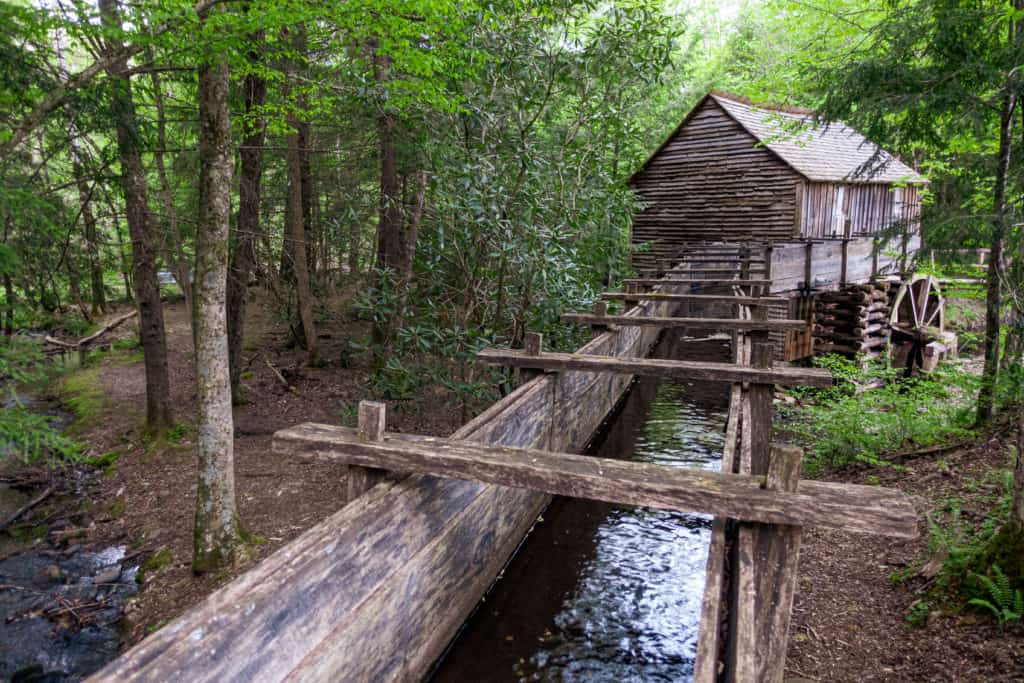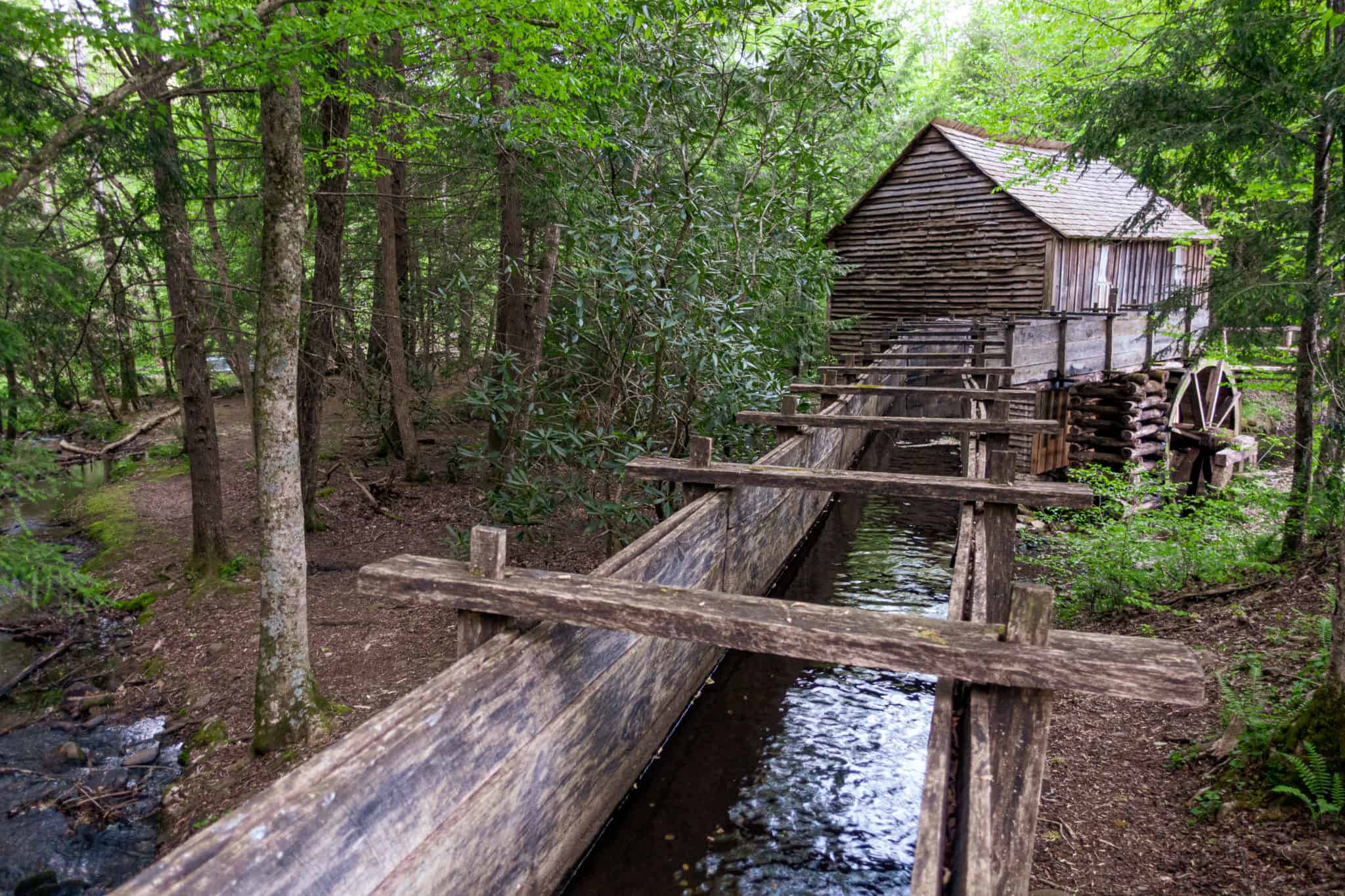 Elkmont Historic District
This district consists of nearly two dozen buildings from the early 20th century that have been set aside for preservation. Most are associated with the Appalachian Mountain Club and include their clubhouse, cabins, and a children's playhouse. Kids love exploring these old buildings and seeing what life was like before video games, smartphones, and even electricity.
Mountain Farm Museum
Mountain Farm is a must-see if you or the kids have even an inkling of interest in agriculture. It's primarily a collection of buildings that came from inside the park boundaries but were moved out for restoration and display in the 1950s. You can really get a feel for how this type of farm operated by wandering through its components, like the blacksmith shop, mill, and apple house. During the summer months, there are even demonstrations of agricultural practices.
Salt and Pepper Shaker Museum
This kind of goes along with Ripleys, a niche museum that no one was specifically asking for, but persists and is surprisingly educational if the salt and pepper industry has ever piqued your interest (it will after a visit here).
One woman started the museum and embarked on a lifelong goal of collecting the shakers back in the early 1980s.
Now she has over 20,000 of them and has been featured on the Food Network. The peculiar museum has even gone international, with a sister museum having opened in Alicante, Spain.
For only $3 admission, why not check it out?!
Museum of the Cherokee Indian
Something that's often lost in the beauty of the national park system is the history of those who acted as the stewards of the land before they became national parks. In the case of the Great Smoky Mountains, that would be the Cherokee tribe, whose reservation is just southeast of the park.
The Museum of the Cherokee Indian documents 11,000-year-old history and culture through artwork, photos, traditional dress, and manuscripts. On the second Saturday of each month, Cherokee tribe members come to the museum to educate the public through stories, craft demonstrations, and traditional dances.
Wheels Through Time Motorcycle Museum
Consider yourself a motor-head, a bike nut, or an automotive enthusiast? This museum is calling to you. The 38,000-square-foot space is packed with over 300 vintage motorcycles and associated memorabilia. Fittingly, it sits a half-hour east of Cherokee on the Blue Ridge Parkway, one of the best motorcycle rides in the country.
Some of the bikes go back to the turn of the century when motorcycles were little more than modified bicycles with tiny engines. Each bike is surrounded by its history, whether through mechanic signs or ancient-looking gas pumps.
Great Smoky Mountains Itinerary for the Best Scenic Drives
You may be wondering if you can see a lot of the Great Smoky Mountains without ever leaving your car. You absolutely can! The Great Smoky Mountains are actually one of the best national parks for scenic drives, and there are plenty of choices.
Some of the best attractions are located just off the highway, and the roads are kept in excellent condition.
The following scenic drives are best enjoyed in a passenger vehicle rather than an RV or while towing a trailer. Many of the roads are simply too narrow and winding. It's also best to avoid driving during the summer months if you want to avoid getting stuck in a traffic jam.
Cades Cove Loop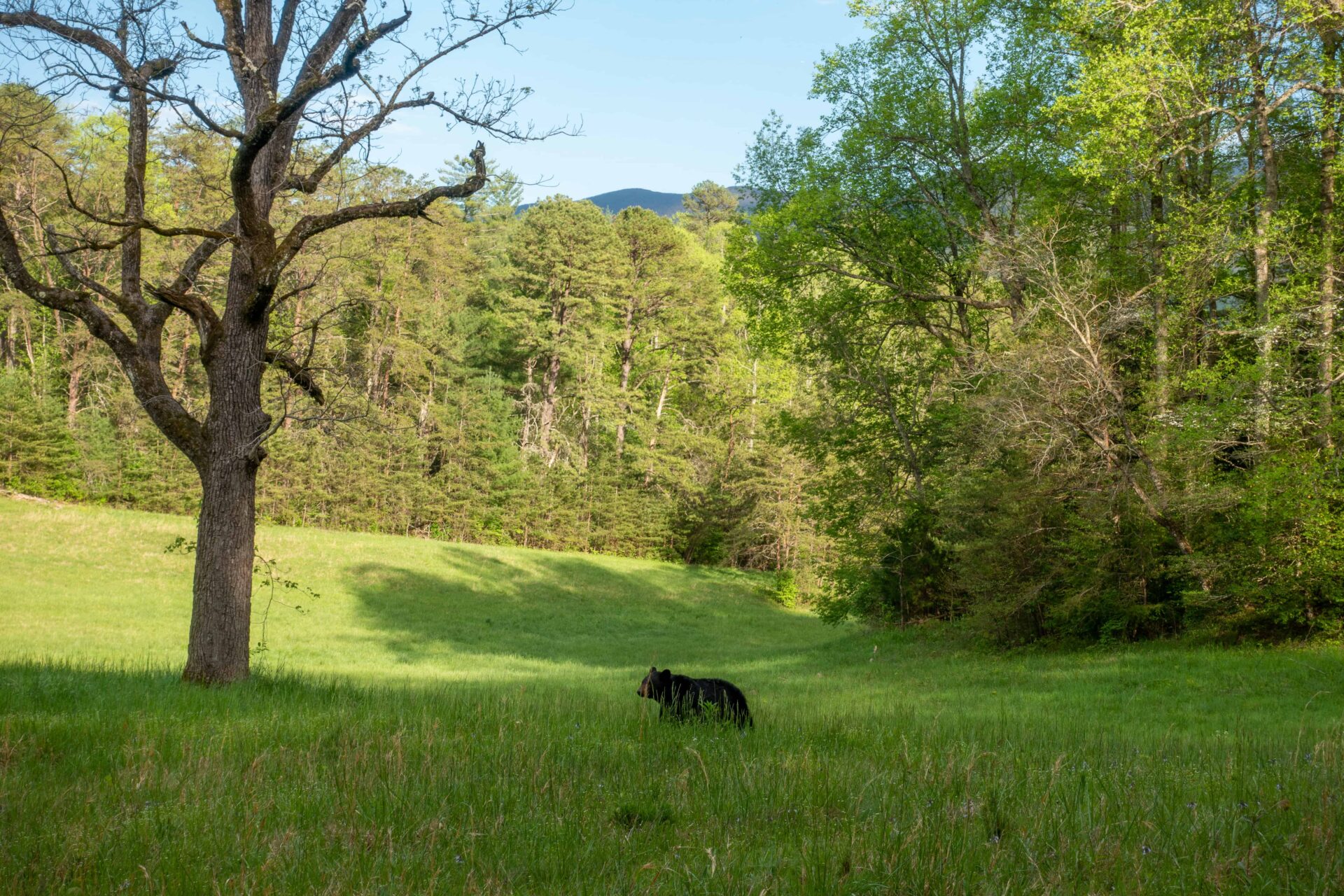 Cades Cove is undoubtedly one of the most popular sections of the park. It's where you'll find cabins leftover from the pioneers, along with a few churches.
Except for the visitor centers, this is where the Great Smoky Mountains tell their history. The road looping around the historic area is also one of the most convenient places in the park for a scenic drive.
While in this section of the park, watch for foxes, coyotes, deer, elk, and black bears.
Travel is only in one direction along a one-lane road, making for a much safer and more leisurely experience. No need to watch for oncoming traffic. The loop is only eleven miles, but traffic moves slowly, especially during the busy summer months. You'll frequently be stopping to get a better look at the animals and buildings or read signs detailing historical life.
If you don't have time for the entire loop, a couple of gravel cut-offs make the loop shorter.
If you want to see Cades Cove in a more unique way, I would recommend going on a Wednesday and biking the loop!
For 2023, the loop will be closed to motor vehicles on Wednesdays between May 3rd – September 27th.
After September, you can technically still bike it any day; just know the motor traffic is intense!
My husband and I biked the 11-mile loop when the road was not shut down to motor vehicles, and dodging the cars was a whole ordeal. Next time we do it, we'll be going on a Wednesday!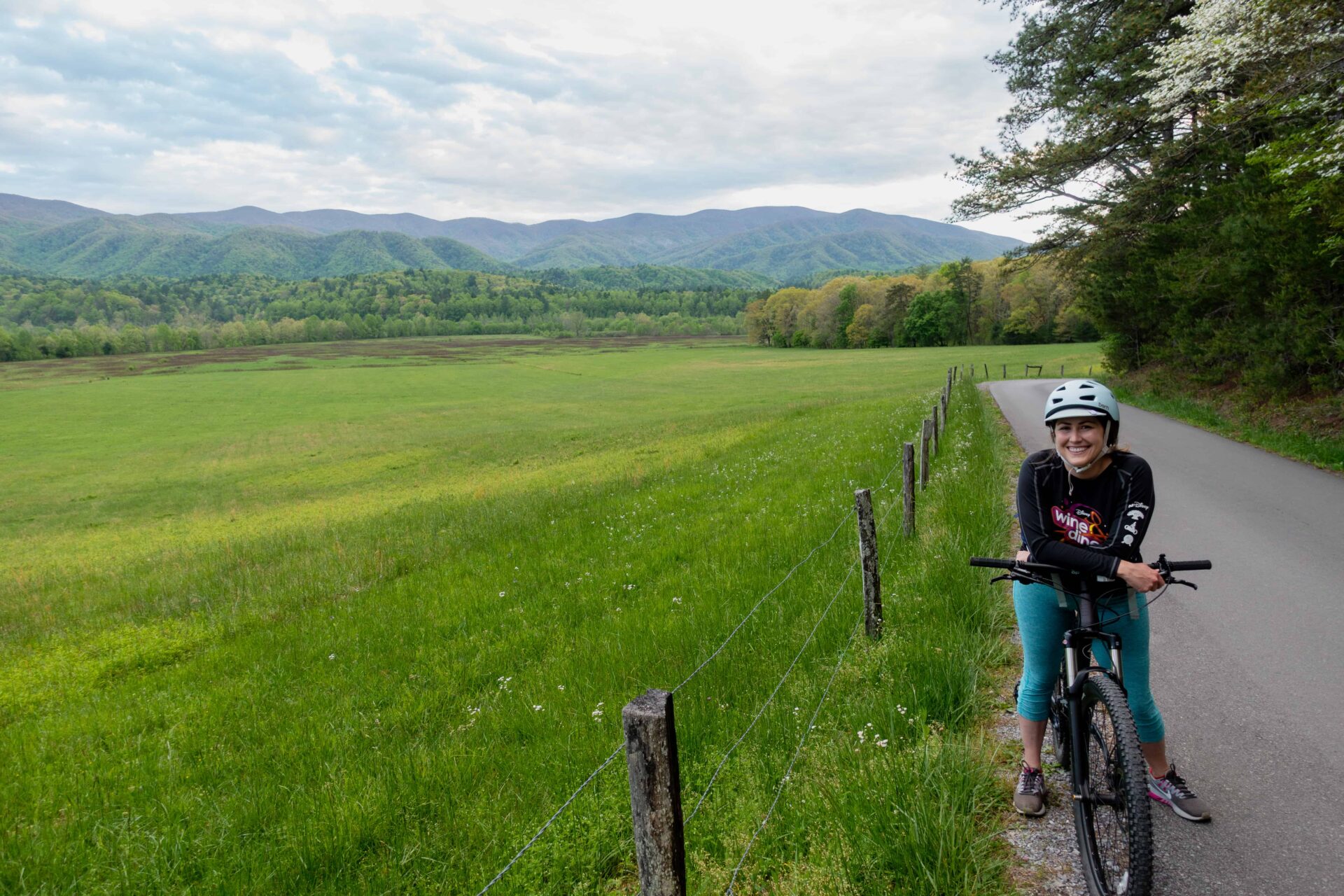 Trip Length: 11 miles, 2-4 hours in a car. (You may be shocked to read 2-4 hours, but it's true! The driving pace is incredibly slow in here, and we've done this loop numerous times, never getting out any sooner than 2 hours.)
Best Time to Drive: October through November
Foothills Parkway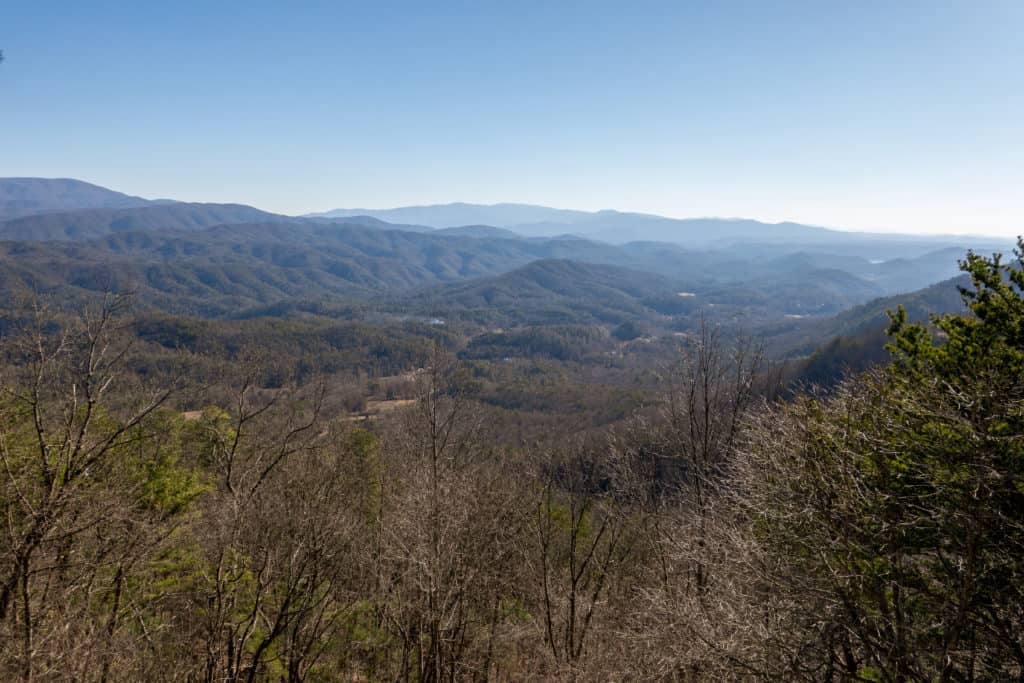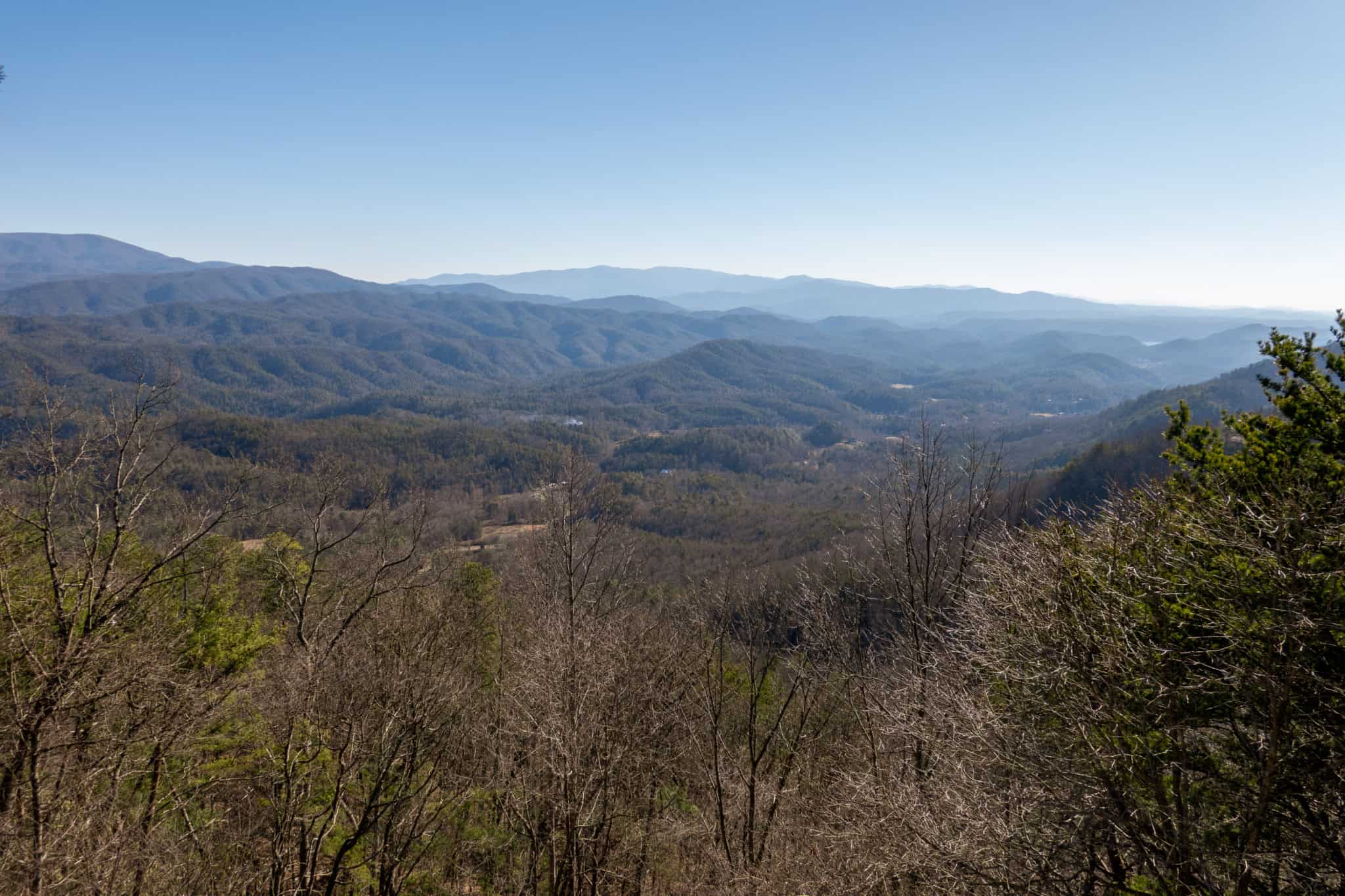 If you haven't been to the park since November 2018, you have yet to experience the newest addition to Great Smoky Mountains National Park!
The entire Foothills Parkway is now open and includes two sections, the 17-mile-long west end that runs along the top of the Chilhowee Mountains and the 5-mile-long section on Stone Mountain. The former offers excellent views of the Tennessee River Valley and quite a few hiking opportunities, while the latter meets up with Interstate 40 and overlooks the stately English Mountain.
Additionally, nothing beats Foothills Parkway for leaf-peeping, and it has the traffic jams to prove it. Brilliant autumn colors light up the park in October and November, making every drive an incredibly scenic one. It's especially beautiful at sunset, when the light perfectly reflects off the foggy mountain ridges, creating a vibrant color display.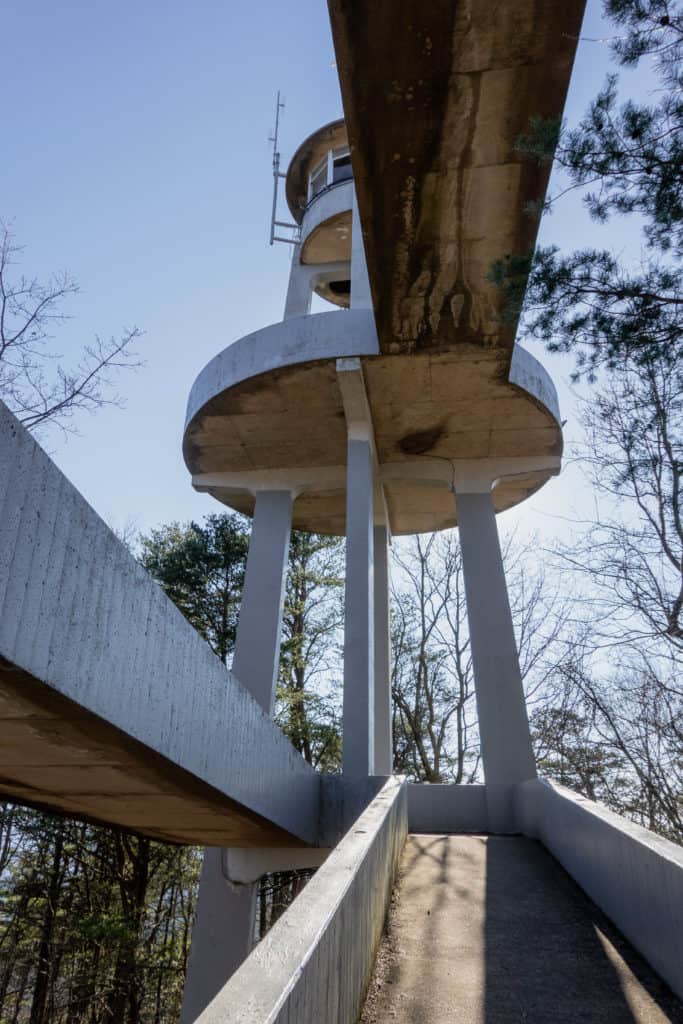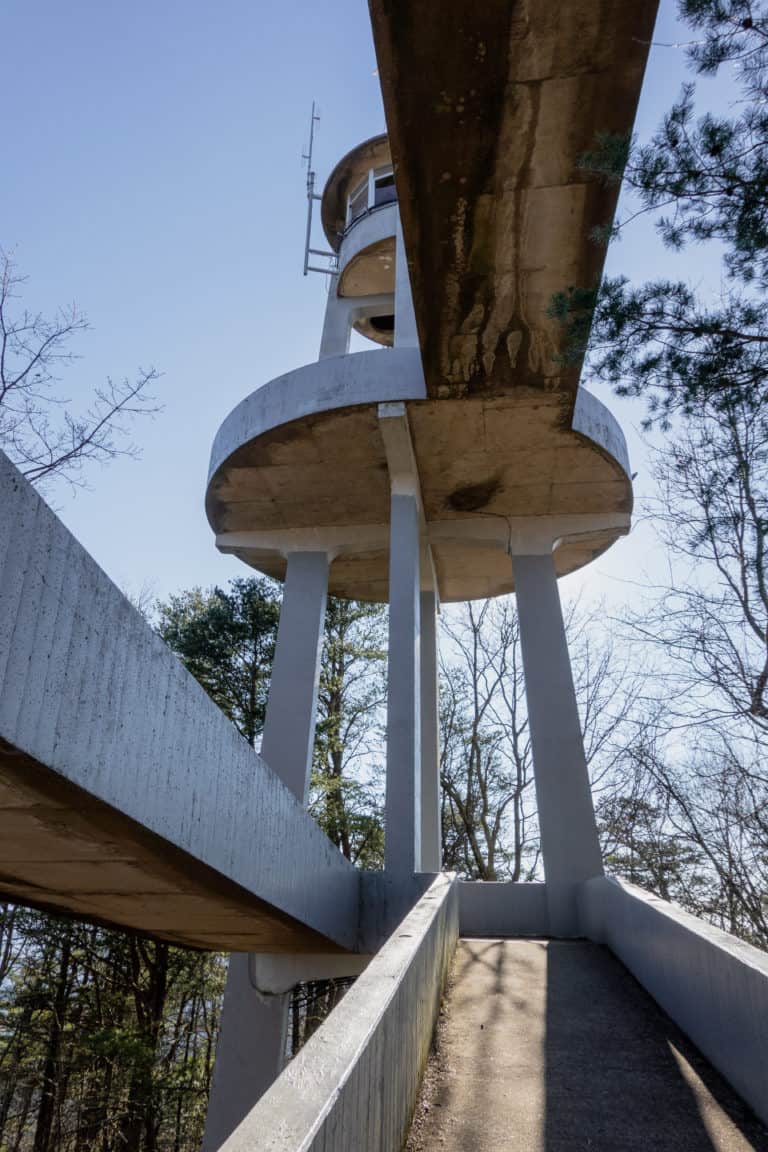 This route is relatively brief if you don't make too many stops. Traffic moves quickly unless it's leaf-peeping season, so it won't be an unhurried adventure like Cades Cove.
Keep an eye on the weather in the winter season; freezing temperatures and snow can cause the parkway to close —Check in with @SmokiesRoadsNPS on Twitter for all road status updates.
Trip Length: 1 hour
Best Time to Drive: April through November
Roaring Fork Motor Nature Trail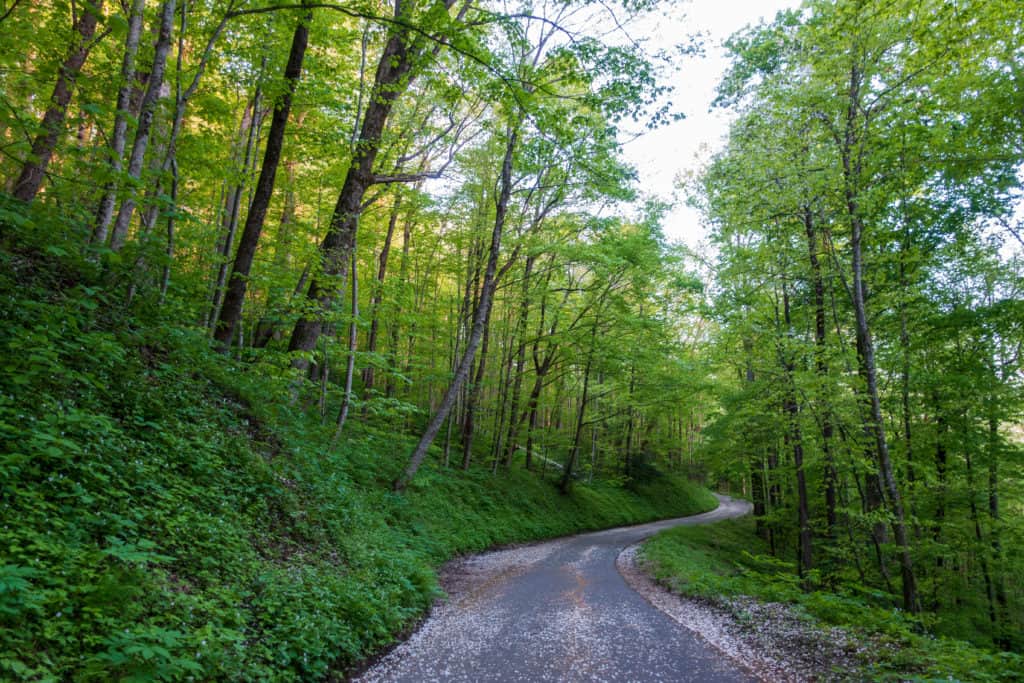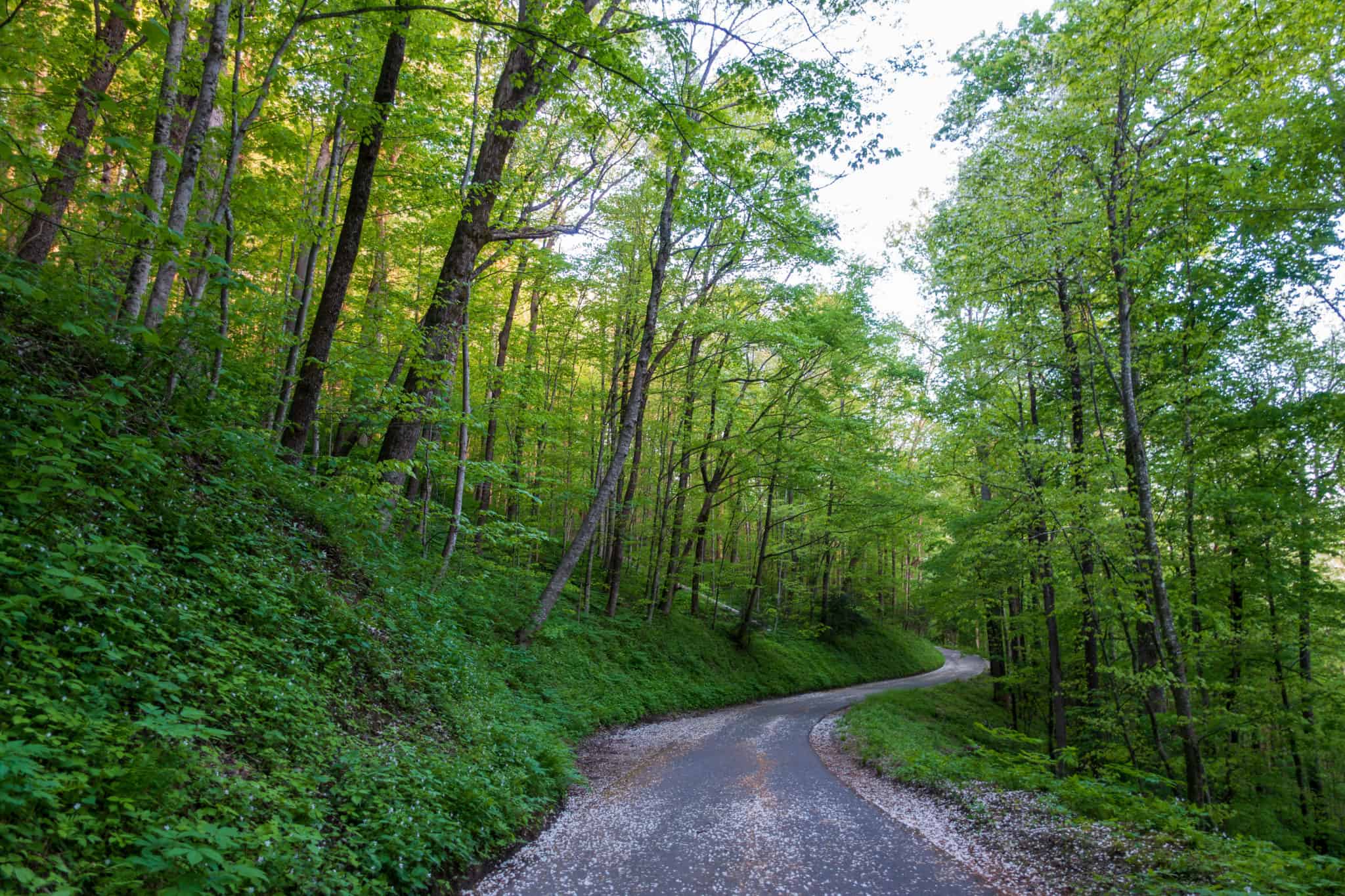 Nature-lovers rejoice. This is the scenic drive for you! The narrow five-mile, one-way loop road is a relaxing affair with plenty of time for wildlife spotting, hikes on mossy trails, and stopping just to smell the wildflowers. Most cars on this route move at a walking pace.
Springtime brings rain to the Smokies, a deterrent to many visitors. However, if you can brave the mud and some drizzle, spring is when the park truly comes alive. Colorful wildflowers start to bloom, moss blankets the trails, and an earthy scent fills the nostrils.
It's not for everyone, though, and fall is an equally good time to explore the Roaring Fork area – it just won't be as green.
Trip Length: 2-3 hours
Best Time to Drive: April through May or October through November. This road closes in the winter.
For 2023, it will be open from April 7 – November 26.
Vehicle Length: Vehicles longer than 25 feet and passenger vehicles towing trailers are prohibited on this road.
Newfound Gap Road
This road is the main connector between the Tennessee and North Carolina park entrances.
It's also the lowest drivable pass in the Smoky Mountains, making for one of the most significant contrasts in foliage and wildlife.
At the bottom, you're at 2,000 or so feet, where the heat and humidity soar during the summer. After climbing 3,000 feet to the top of the pass, things become much more alpine, with shorter trees, hardier animals, and a decent amount of snow in the winter.
The road also takes you close to Clingman's Dome and its spectacular views of the surrounding mountains.
For this road as well, keep an eye on the weather in the winter season; freezing temperatures and snow can cause the road to close —Check in with @SmokiesRoadsNPS on Twitter for all road status updates.
Trip Length: 1-1.5 hours
Best Time to Drive: Year-round, depending on the desired scenery
Blue Ridge Parkway
The Blue Ridge Parkway is a staple of east coast road trips. Spanning nearly 500 miles through Virginia and North Carolina between Shenandoah National Park and the Great Smoky Mountains. It's the most visited unit within the national park system.
Why, might you ask? Because it is perhaps the most beautiful stretch of road in the entire United States.
Like many of the drives within the Great Smoky Mountains, Blue Ridge offers expansive views of foggy peaks along with dense forests to explore on either side of the road. It's also built for sightseeing, with a maximum speed limit of 45 miles per hour, leaving you with plenty of time to look around.
The Tail of the Dragon
This route is incredibly scenic, but no one would call it leisurely. The 11 miles of Highway 129 along Chilhowee Lake are some of the curviest in the country.
It's favored by adventurous motorcyclists and sports car drivers looking for a challenge. There are few places to pull off and enjoy the scenery, but most come for the driving experience.
Trip Length: 30 minutes
Best Time to Drive: April through October
Great Smoky Mountains Itinerary for Bachelor/Bachelorette Parties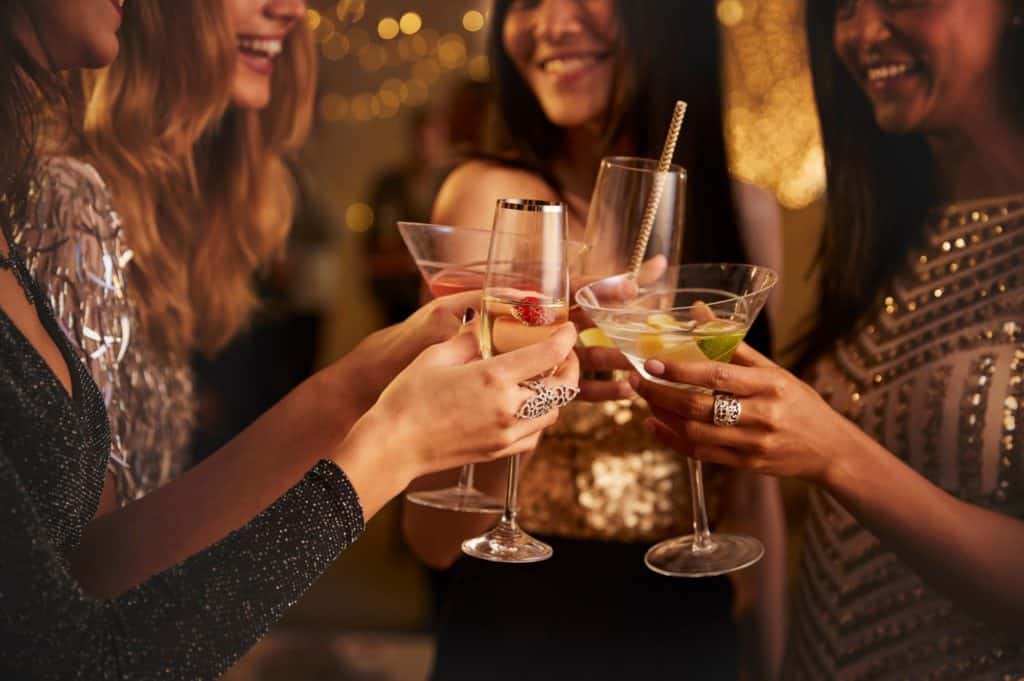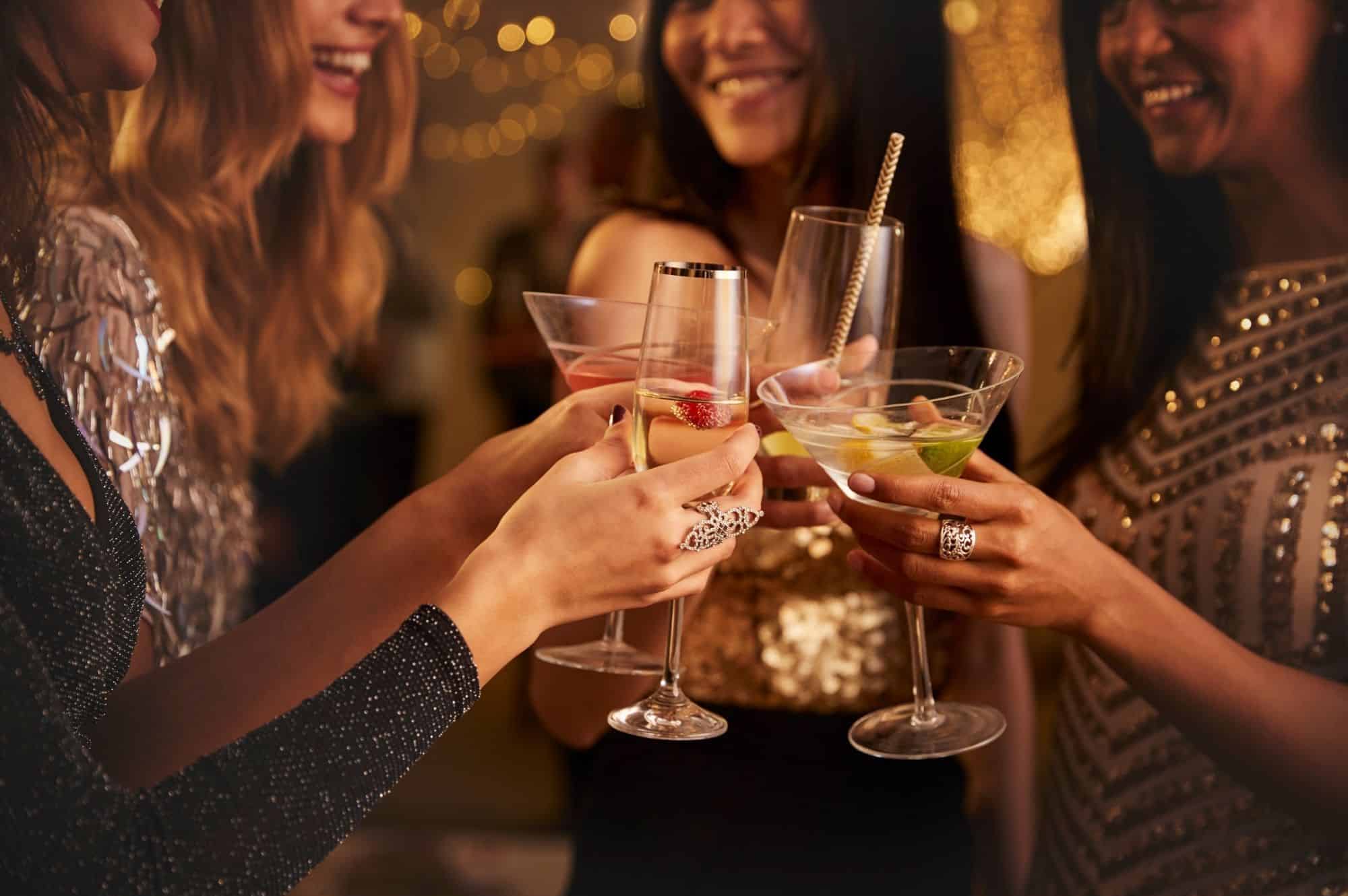 The last few times my husband and I have ventured to this area, we started noticing a trend: more and more bachelor and bachelorette parties!
For the right person/couple, national parks can be a great bachelor/bachelorette party idea! Spending time experiencing the great outdoors makes for an ideal bonding experience for the wedding party.
And due to the nature of the surrounding amenities around this particular national park, a trip to the Great Smoky Mountains is the perfect pre-wedding celebration because, after some outdoor adventure, there are still plenty of opportunities to party the night away in this area!
Start the Day with Adventure
A rafting trip is a near-perfect bachelor/bachelorette party activity. The thrill of whitewater and the teamwork required to navigate it are perfect for bringing people together, especially those that didn't know each other before the wedding.
Plus, just think of the stories you'll have to tell come wedding weekend after going through an experience like that!
Just know, get a feel for everyone's skill level before booking. The upper sections of Deep Creek are rather harrowing and not for the faint of heart. Sections further downriver are much calmer and suitable for older folks and children attending the party.
Dine Out with the Wedding Party
Gatlinburg and Pigeon Forge have so many great restaurants it'll be hard to choose.
Steaks at Cherokee Grill, gourmet burgers from the Local Goat, or a hearty family-style meal at the Old Mill are all fantastic options for capping off a day in the park.
After everyone's been fed, Smoky Mountain Brewery is a great spot to hear live music and dance the night away!
Round It Out with a Moonshine Sampling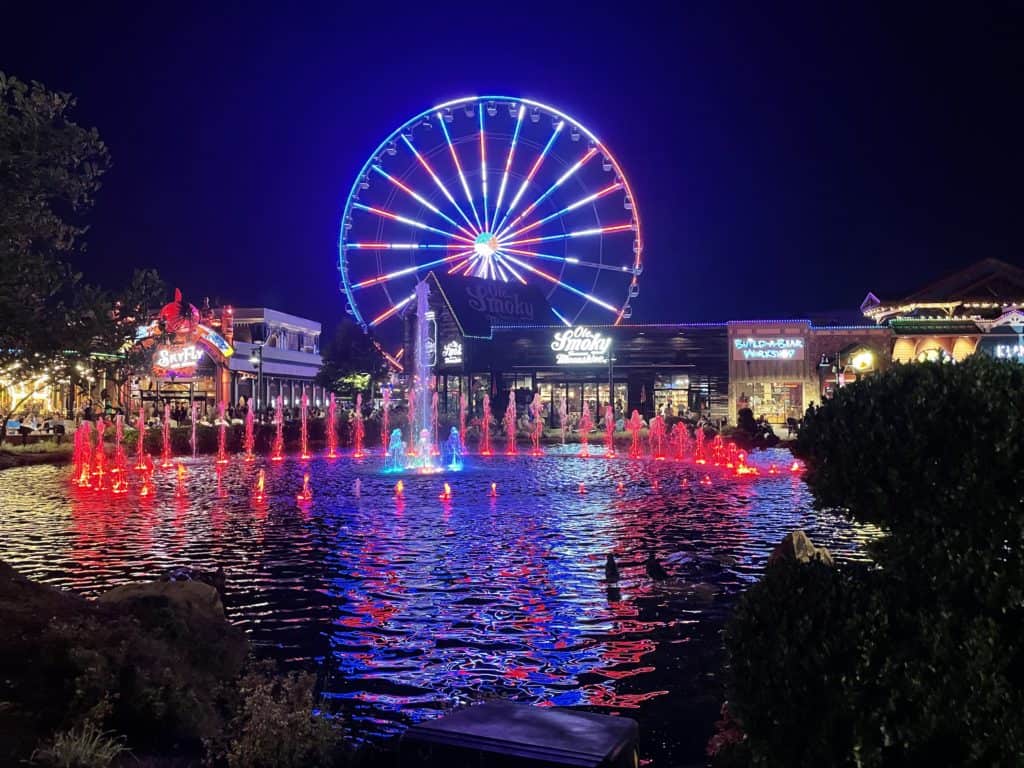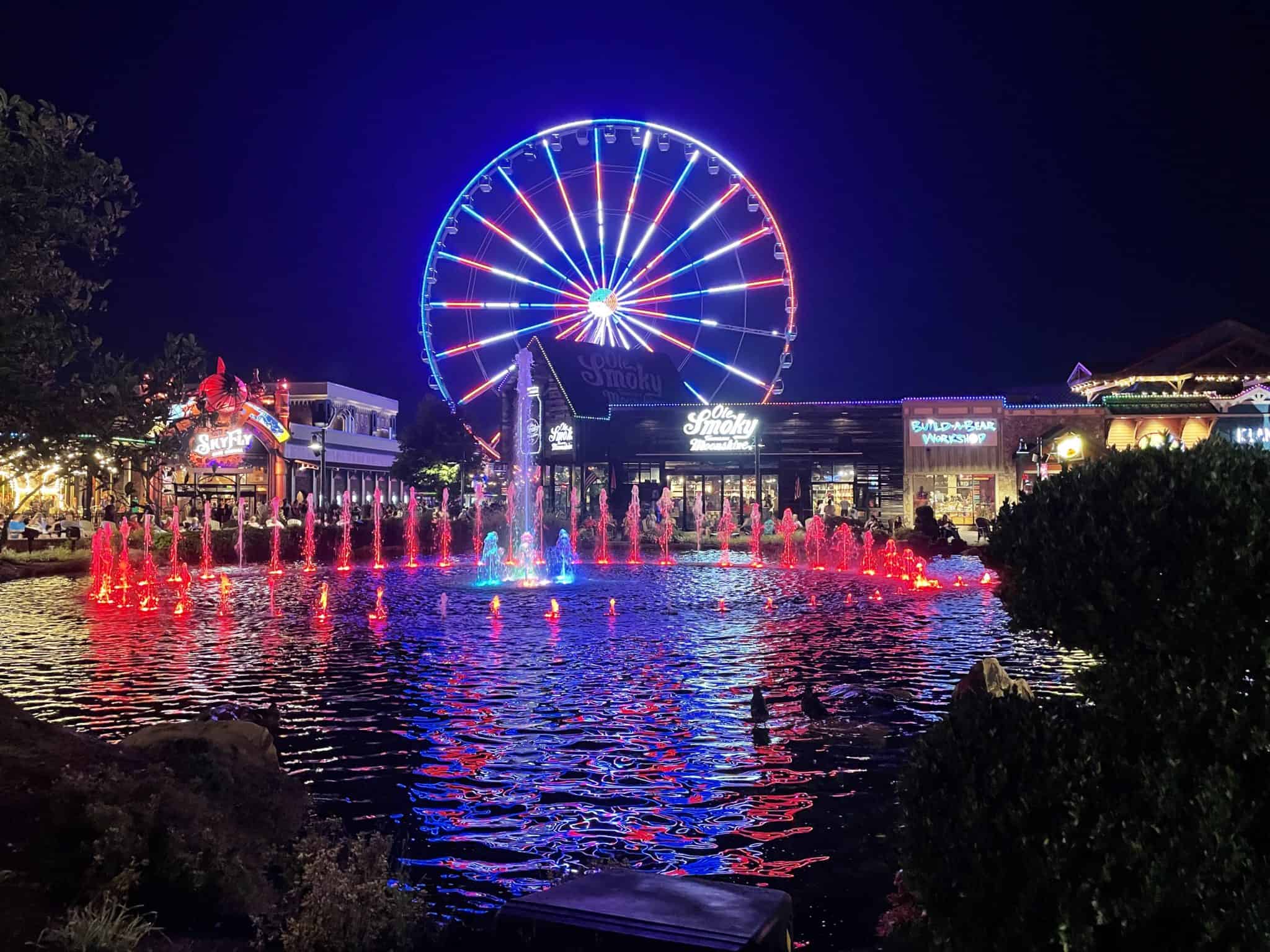 Alright, it's time to hit the town!
If New England runs on Dunkin', Tennessee runs on whiskey and moonshine – at least from an economic standpoint.
Tennessee is the king of whiskey, and it certainly shows in the sheer number of distilleries that can be found in Gatlinburg, Pigeon Forge, and Wears Valley.
On the main drag in Gatlinburg and at the Island in Pigeon Forge, you can find Old Smoky Moonshine and Sugarlands Distilling Company, along with a half dozen other distillers producing both whiskey and moonshine, within walking distance.
For a small fee, the larger distilleries like Sugarlands will give you a tasting of a handful of the flavors, with additional entertainment from the bartenders to boot.
Alternative: An Evening of Cider & Wine Tastings
Not a fan of moonshine or whiskey?
Gatlinburg and Pigeon Forge both have several wineries and cideries that offer tastings, including Tennessee Cider Company, Tennessee Homemade Wines, Little Bear Winery, and Smoky Mountain Winery.
Other Things to do in and around Great Smoky Mountains National Park
Kayaking in the Great Smoky Mountains
Several great paddling spots lie inside the park or just outside its boundaries. The Little River, which passes through Townsend, is always a favorite. Most sections are flatwater, with a few small rapids to keep things interesting. Smoky Mountain Outfitters in Gatlinburg can get you set up with an inflatable kayak, and they'll even teach you some basic paddling techniques.
Biking Great Smoky Mountains National Park
Bicycles aren't allowed on most of the trails within the park, except on the Gatlinburg Trail, Deep Creek Trail, and the Oconaluftee River Trail.
Bikes aren't exactly welcome on most of the park's roads either, as there's rarely much of a shoulder.
However, as mentioned above, the Cades Cove Loop does allow cyclists. Traffic is already slowed to a crawl in this area, so a bike can be ideal for hopping on and off to visit all the historical buildings. Remember, though, my recommendation would be to take part in the adventure on a Wednesday when the loop is closed off to motor vehicles.
Tubing near the Great Smoky Mountains
Inside the park, Deep Creek will be your best bet for tubing. The upper section through Deep Creek Gorge is an exhilarating whitewater ride. In contrast, the lower section is much calmer and better suited for tubers who prefer a more relaxing ride.
Trout Fishing in the Great Smoky Mountains
The Great Smoky Mountains have some spectacular trout fishing, with an abundance of brook, rainbow, and brown trout, along with smallmouth and rock bass. Though the park covers two states, you don't need to worry about the Tennessee/North Carolina border. A fishing license from either state is all you need, and no trout stamp is necessary for streams inside the park.
Whitewater Rafting near the Great Smoky Mountains
Need a shot of adrenaline? Try taking on the Class III and IV rapids of upper Deep Creek with a few of your friends. Peak rafting season starts in March and April when spring runoff swells the creek to its highest levels.
Skiing at Ober Gatlinburg
Did you know you could go downhill skiing in Tennessee?! No, it's not Aspen, but any chance to have fun in the Tennessee snow is alright in my book.
There's a scenic chairlift that takes you up a respectable 500 feet to access 38 acres of skiable terrain. You can also grab an inner tube to slide down on if you don't have any skis and don't want to bother with rentals.
During the winter months, there's also an ice rink with bumper cars and skate rentals.
Ober Gatlinburg is even fun when the snow isn't flying, trading in the skis for a ride on the mountain rollercoaster. There's also a rock-climbing wall, mini-golf, and maze to enjoy.
Great Smoky Arts and Crafts Community
Need a souvenir for your Great Smokies trip? Gatlinburg has options beyond your typical tourist shop.
There's a wealth of handcrafted items to choose from in Gatlinburg's Great Smoky Arts and Crafts Community. The 8-mile-long loop of shops features over one hundred artists making everything from stuffed animals to soap.
Don't feel like driving? The yellow line of the Gatlinburg free trolley runs right through the arts community.
Guided Tours near Great Smoky Mountains National Park
Perhaps you've read through this and decided you'd rather be guided around the Great Smoky Mountains National Park area. Then look into these local tour guide options:
Get Your Guide Tour Options:
👉 Book available tours in the Great Smoky Mountains National Park area from Get Your Guide.
Viator Tour Options:
👉 Find and book the best Great Smoky Mountains National Park Tours and Activities on Viator
Great Smoky Mountains National Park FAQ
Where Exactly are the Smoky Mountains?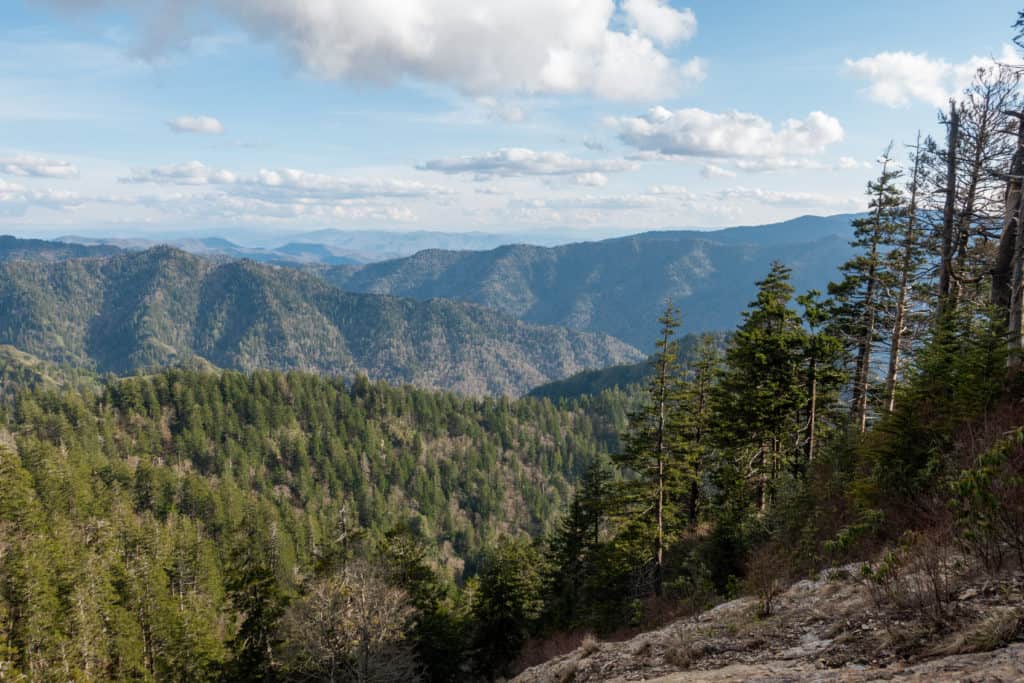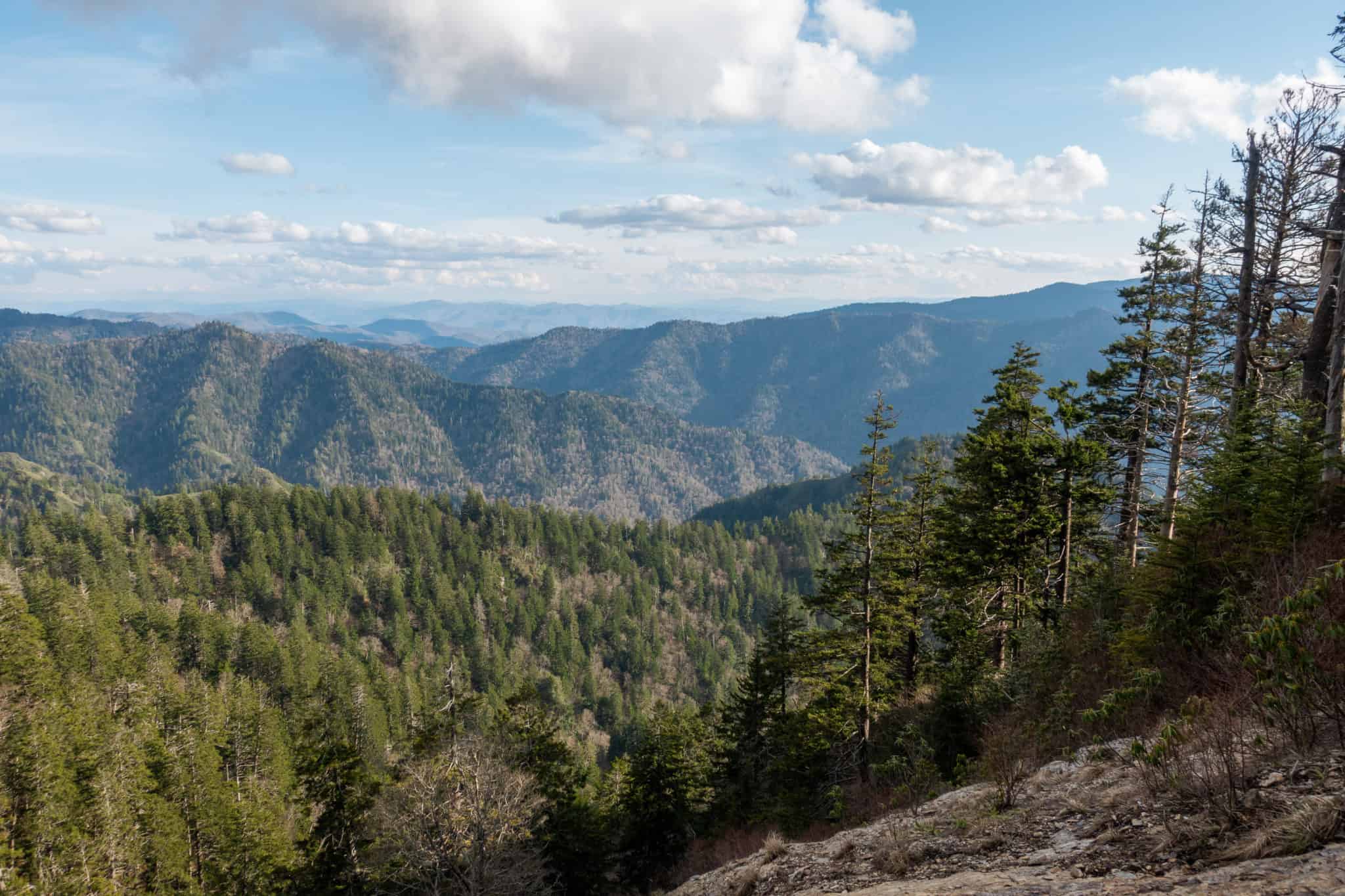 The Smoky Mountains are nestled between the eastern border of Tennessee and the western border of North Carolina.
Here's a map including a ton of the spots mentioned in this article:
Is Smoky Mountain National Park Free?
Yes! Great Smoky Mountain National Park is one of the ten national parks in the Lower 48 that charges no entrance fees.
The unique situation stems from its origins as a state-funded park and Tennessee's agreement requiring that admission always be free.
That doesn't mean everything inside the park is free, though.
Front-country campsites still cost $17-$27, and backcountry permits are $4/night/person.
Also, as of March 1, 2023, parking tags are now required in order to park within GSMNP boundaries. Find out more about these fees here.
Great Smoky Mountains National Park Hours
Like most national parks, the Great Smoky Mountains are open 24 hours a day, 7 days a week, all year-round.
However, you will run into reduced services and possible road closures due to snow cover or ice in the winter months.
What is the Best Time of Year to Visit the Smoky Mountains?
There's never a wrong time to visit the Smokies, but you should consider what activities you want to do while you're there and the types of inconveniences you're willing to tolerate.
Obviously, camping in the winter requires more preparation (Cades Cove and Smokemont are the only frontcountry campgrounds open year-round), and summer visits entail longer lines and more trouble snagging a campsite.
Still, the Smoky Mountains are beautiful at any time of year, and the park is worth seeing in all seasons.
The Busiest (& Hottest) Time to Visit
Like almost any national park, Great Smoky gets crowded from June through August. Those are also the hottest months. So if you do not love 100% humidity and scorching temperatures, this may not be the best time to visit.
Short heavy rainstorms are also commonly found during the summer season, but they shouldn't stop you from planning a trip.
The Best Time to Visit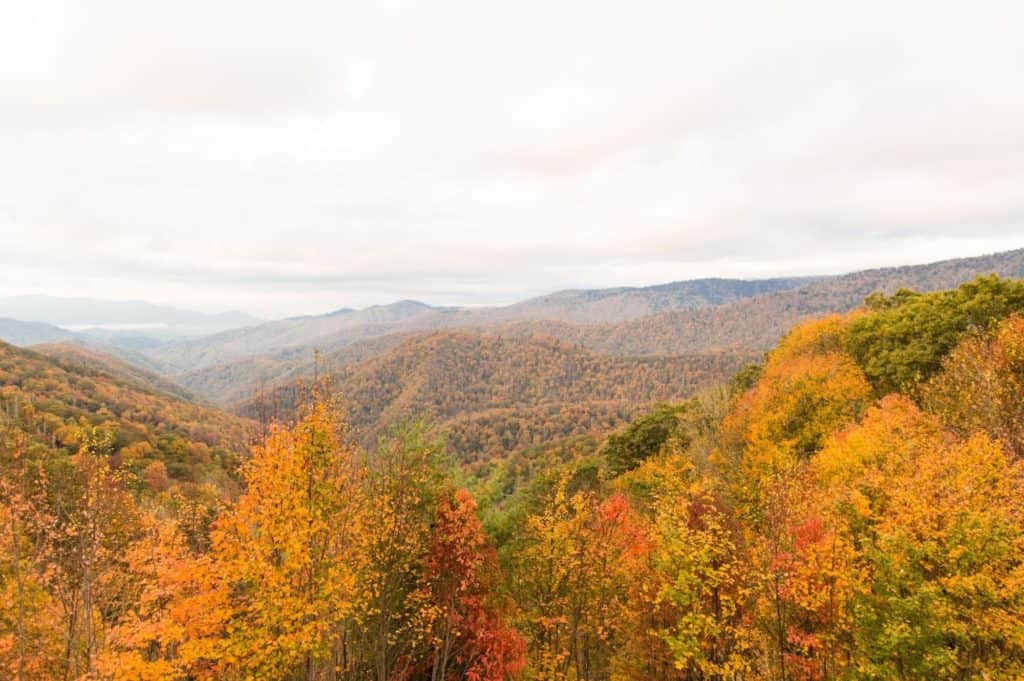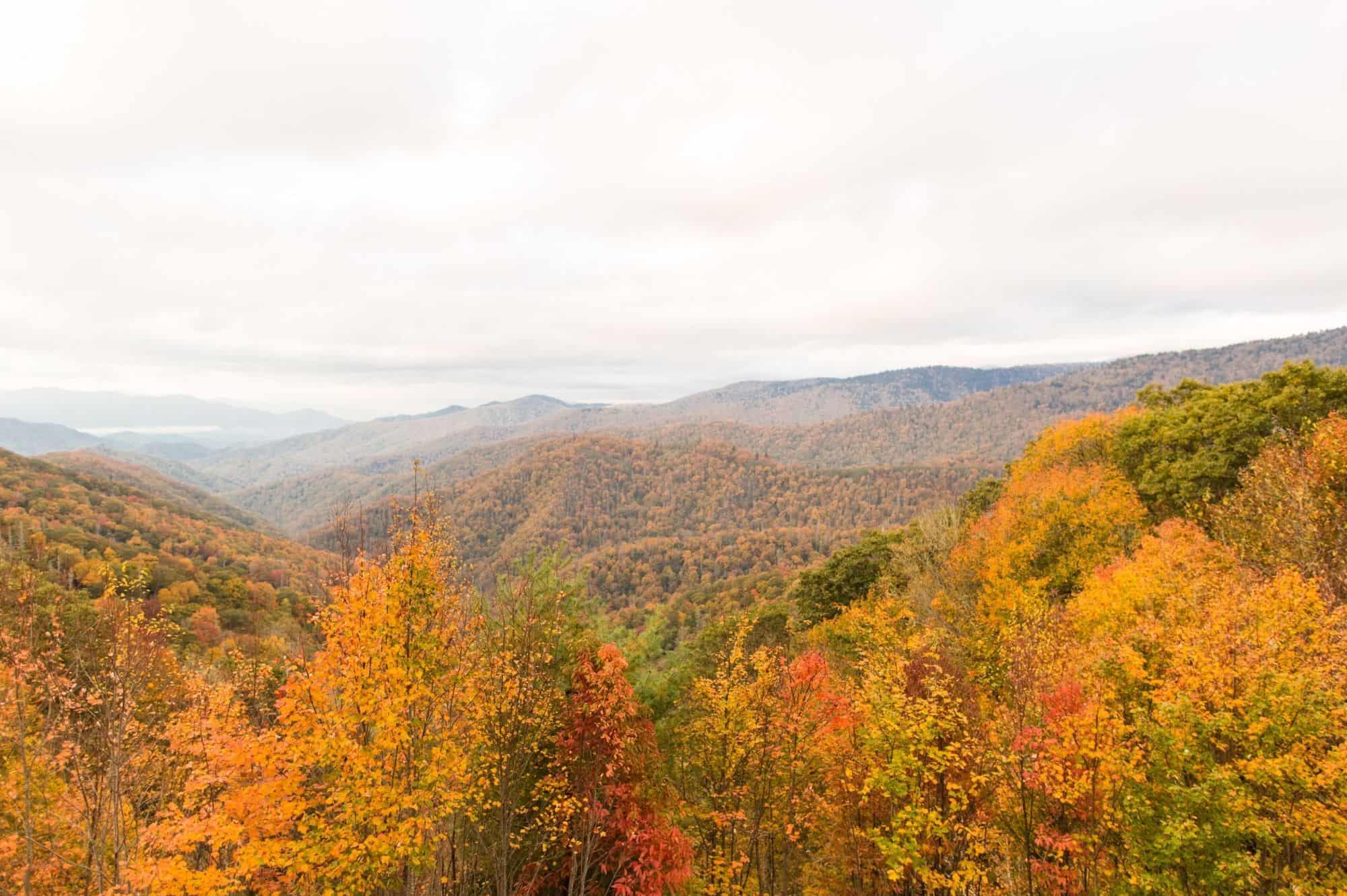 Assuming US public school schedules aren't a factor for you, fall is ideal for a trip to the Smokies. The heat and humidity have dissipated, summer vacationers have gone home, and the leaves take on spectacular hues of gold and scarlet.
Keep in mind that some park roads close at the end of November, and most of the campgrounds shut down toward the end of October.
The Second Best Time to Visit
Spring is almost as good as fall for visiting the park, with cooler temperatures and fewer crowds. The difference is that it rains more in the spring, while fall is relatively dry.
However, you won't get caught in a downpour or anything; it's often more of a continuous afternoon-to-evening drizzle.
The Worst Time to Visit
There's never a bad time to see the park, but it can feel a bit shut down during the winter. Throughout the colder months, you'll have fewer amenities at campsites (many will be closed) and fewer activities at the visitors center.
However, nearby towns like Gatlinburg and Pigeon Forge will still have plenty going on.
If you're okay with barren trees, colder temperatures, and fewer animal sightings, winter is the perfect opportunity to explore the park without the crowds.
Is April a Good Time to Visit the Smoky Mountains?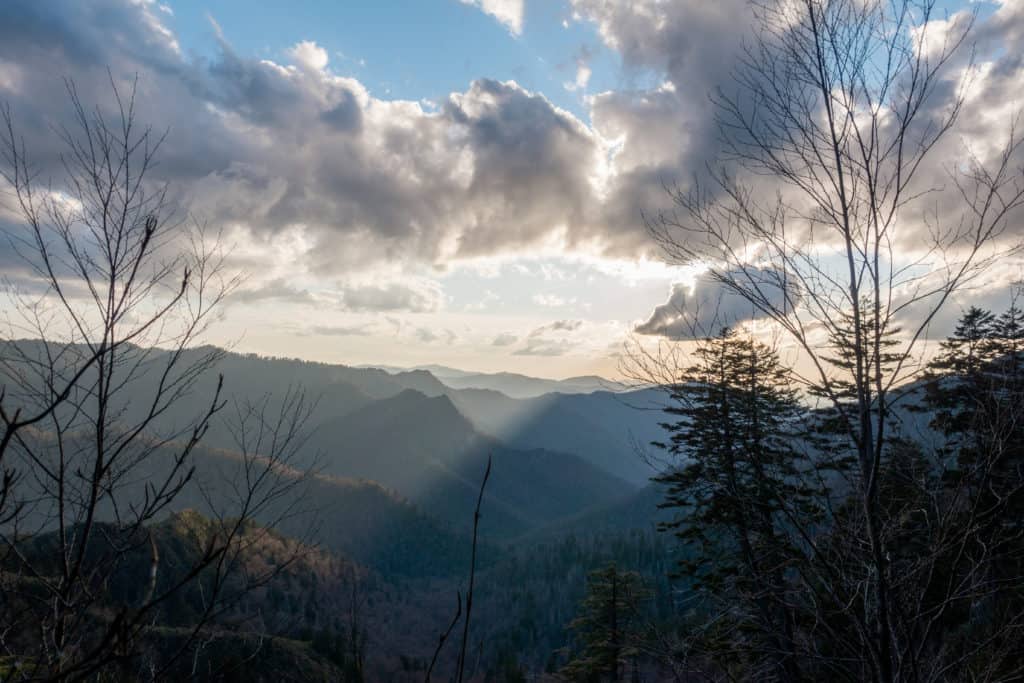 If you can tolerate some drizzle, April is a fantastic time to visit the Smokies. Temperatures range from the low 40s to the high 60s, and it's only slightly cooler at higher elevations. The rain usually starts in the afternoon, providing ideal weather for morning hikes.
Is December a Good Time to Visit the Smoky Mountains?
It depends on how prepared you are and what temperatures you're willing to tolerate. Half of the time, temperatures are in the 50s and 60s in December. At night though, it hovers around the freezing point, which can make for some uncomfortable camping if you're unprepared.
How do you get to the Great Smoky Mountains?
The Smoky Mountains lie on the eastern edge of Tennessee, extending into the western edge of North Carolina. You can approach the park from either state via Highway 441. The closest interstates are I-40, connecting Knoxville to Asheville along the eastern edge of the park.
Flying into GSMNP
When visiting Great Smoky Mountains National Park, Knoxville in Tennessee and Asheville in North Carolina are the closest places to fly into.
Both are an hour away and have five carriers to choose from: Delta, American, Allegiant, United, Frontier (Knoxville), and Spirit (Asheville).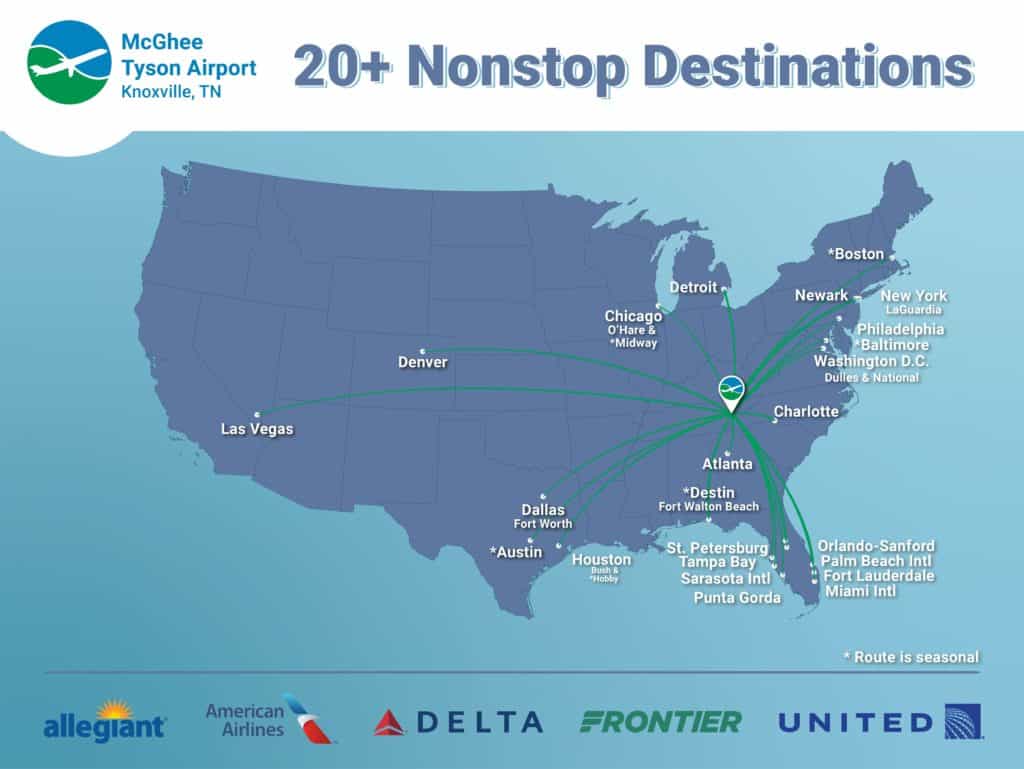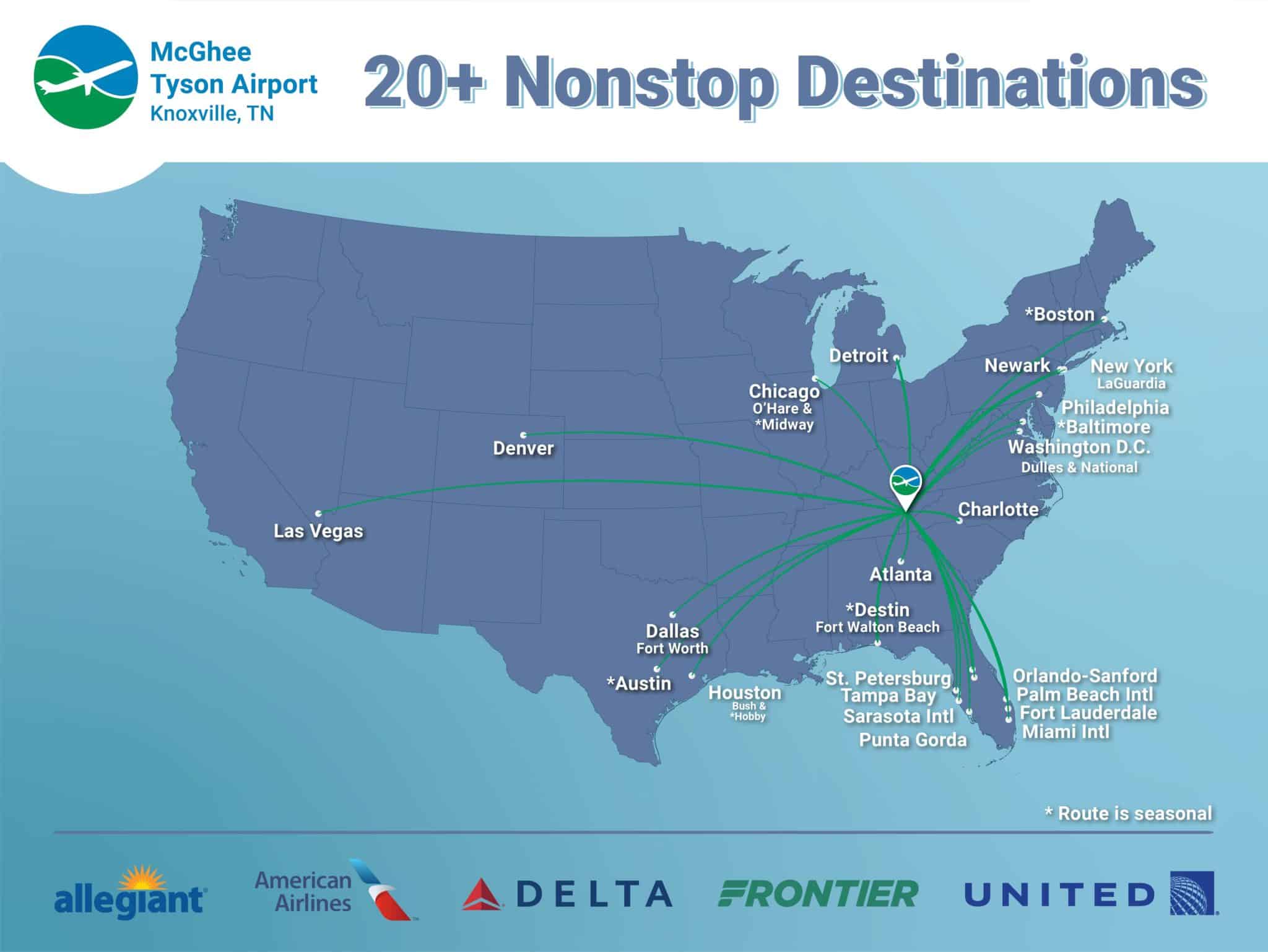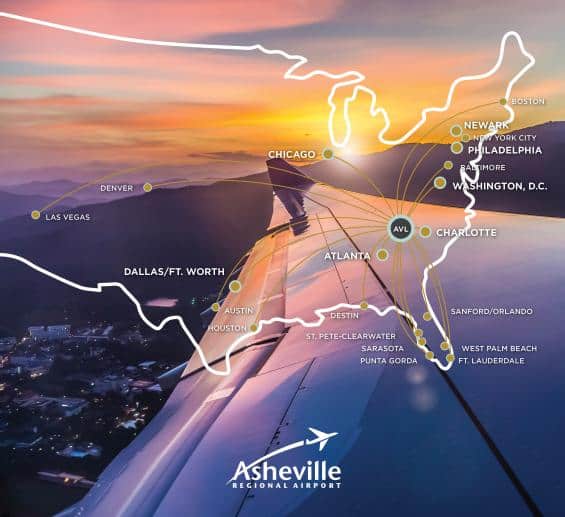 The nearest large airport is Charlotte, but it's a solid two and half hour's drive from the park.
It might be worth it, though, as ticket prices for Knoxville and Asheville are higher than average due to them being relatively small airports.
Driving to Great Smoky Mountain National Park
Driving to the area is an excellent option because you'll need your own set of wheels to get almost anywhere in the park.
If you're flying in and need a vehicle to get around, check out Rentalcars.com for some great deals! ?
In my opinion, an RV is an even better way to get around and still maintain that feeling of being in the great outdoors!
Don't have an RV? Consider renting one with RVshare.
Save some dough on accommodations and be a lot more comfortable than staying in a tent.
Getting Around During your Trip
As stated above, you really need to have a vehicle to get almost anywhere in the park.
It is, however, possible to get around Pigeon Forge and Gatlinburg without a car though. Both have a trolley system, and Gatlinburg's trolley offers a pick-up in Gatlinburg that drops off at the Sugarland Visitors Center and Laurel Falls trailhead.
Directions to GSMNP for Visitors Coming from the North
The vast majority of people arriving at Great Smoky come through the Sugarlands entrance on the north side via Gatlinburg and Pigeon Forge.
The visitors center is only three miles south of Gatlinburg on Highway 441. This is where you'll find the most tourist services (lodging, restaurants, souvenirs). If you're coming from Knoxville, it's an hour south of the city.
Another option from the north is to come through the less busy entrances in Wears Valley and Townsend. This puts you closer to the historical area of Cades Cove while still being near a town with food and hotel options. It's also a little closer to Knoxville - forty-five minutes south of it on Highway 321.
We personally love staying in the much quieter Wears Valley/Townsend area. Then we can pick and choose when we prefer to head into the busy tourist spots.
There are a few other entrances in Tennessee, including Abrams Creek, Big Creek, Cosby, and Greenbriar. None have a visitors center or many tourist services but can be helpful for quickly getting into a specific area of the park.
Directions to GSMNP for Visitors Coming from the South
A much smaller number of tourists access the park through its Oconaluftee entrance in North Carolina, three miles north of Cherokee. This entrance is a little over an hour west of Asheville on Highway 19. It is popular with those looking to experience the Native American side of the Great Smoky Mountains. The entrance is on the Cherokee Reservation, and the Museum of the Cherokee Indian is in town.
You can also come up through Bryson City, near the Deep Creek area of the park. The town has some excellent restaurants and coffee shops, and it's close to the Deep Creek tubing area. The road doesn't link up with the rest of the park, though, so it mostly gets used by tubers.
Other options on the North Carolina side of the park are Deep Creek, Balsam Mountain, and Cataloochee. However, the last one closes during the winter and accesses an infrequently visited section of the park.
Interesting Facts about the Great Smoky Mountains
Great Smoky Mountains National Park is an endlessly interesting park, especially if you love big mountains, wild rivers, and an abundance of wildlife.
Here are a few interesting facts about the park:
⛰ It's the largest protected area east of the Rocky Mountains. Though, it's still less than one-quarter the size of Yellowstone.
⛰ The "fog" that gives the park its name isn't water vapor but chemicals released from the trees that tend to hang around the mountain peaks.
⛰ It was the first national park to receive federal funding. Before that, national parks were funded by state governments.
⛰ Great Smoky is known as the "salamander capital of the world," with over 30 species living there.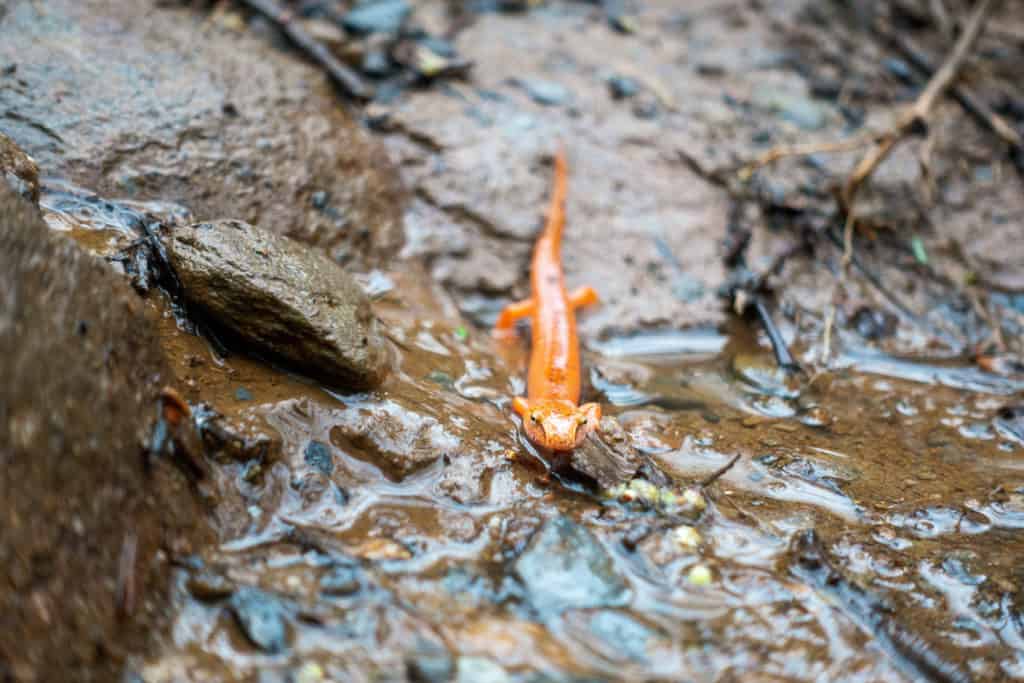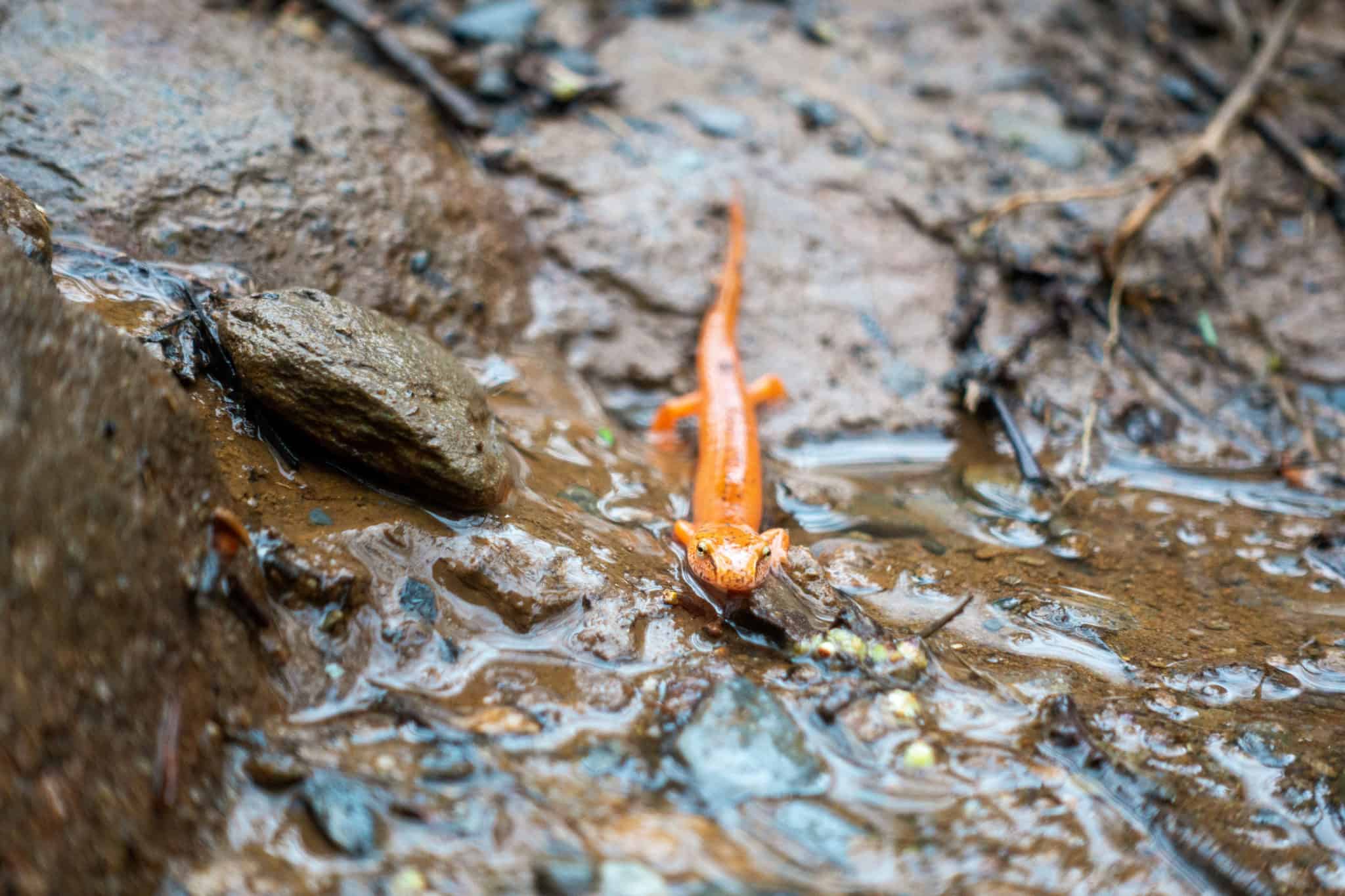 Where to Stay When Visiting
Which is a better place to stay: within the park, Pigeon Forge, Gatlinburg, Townsend, Wears Valley, or Cherokee?
Well, that depends on the experience you're looking for. Gatlinburg has the most tourist facilities, Pigeon Forge is home to Dollywood, and Wears Valley, Townsend, and Cherokee are for those who want more peace and quiet.
If you've got the time, spend a little bit of it in each to get the full Great Smoky experience.
Within the Park
To really experience the Great Smoky Mountains, I'd recommend staying in one of its campgrounds. Free from city lights, television, and our electronics (if we choose to be), you can really take in the unique beauty of the park.
An RV is a great option to have a bit more creature comforts on your trip. And if you don't have one of your own, rentals have gotten downright affordable in the last few years!
Tent camping is another budget-friendly option. However, not everyone enjoys sleeping on an inflatable mattress with only a thin layer of fabric for protection from the elements.
Unique Lodging in the Park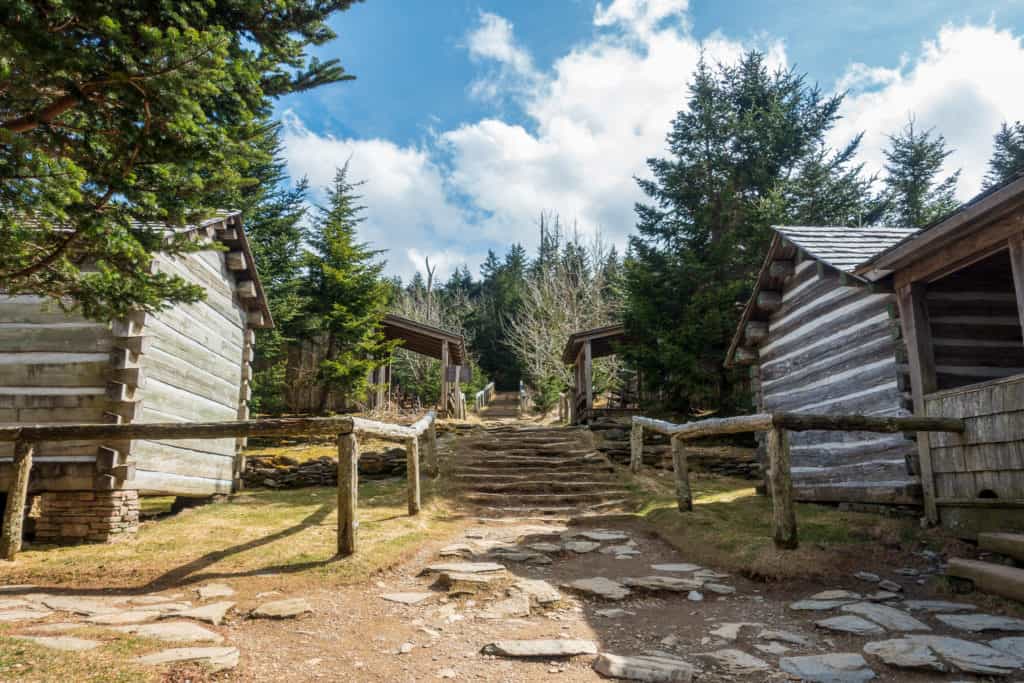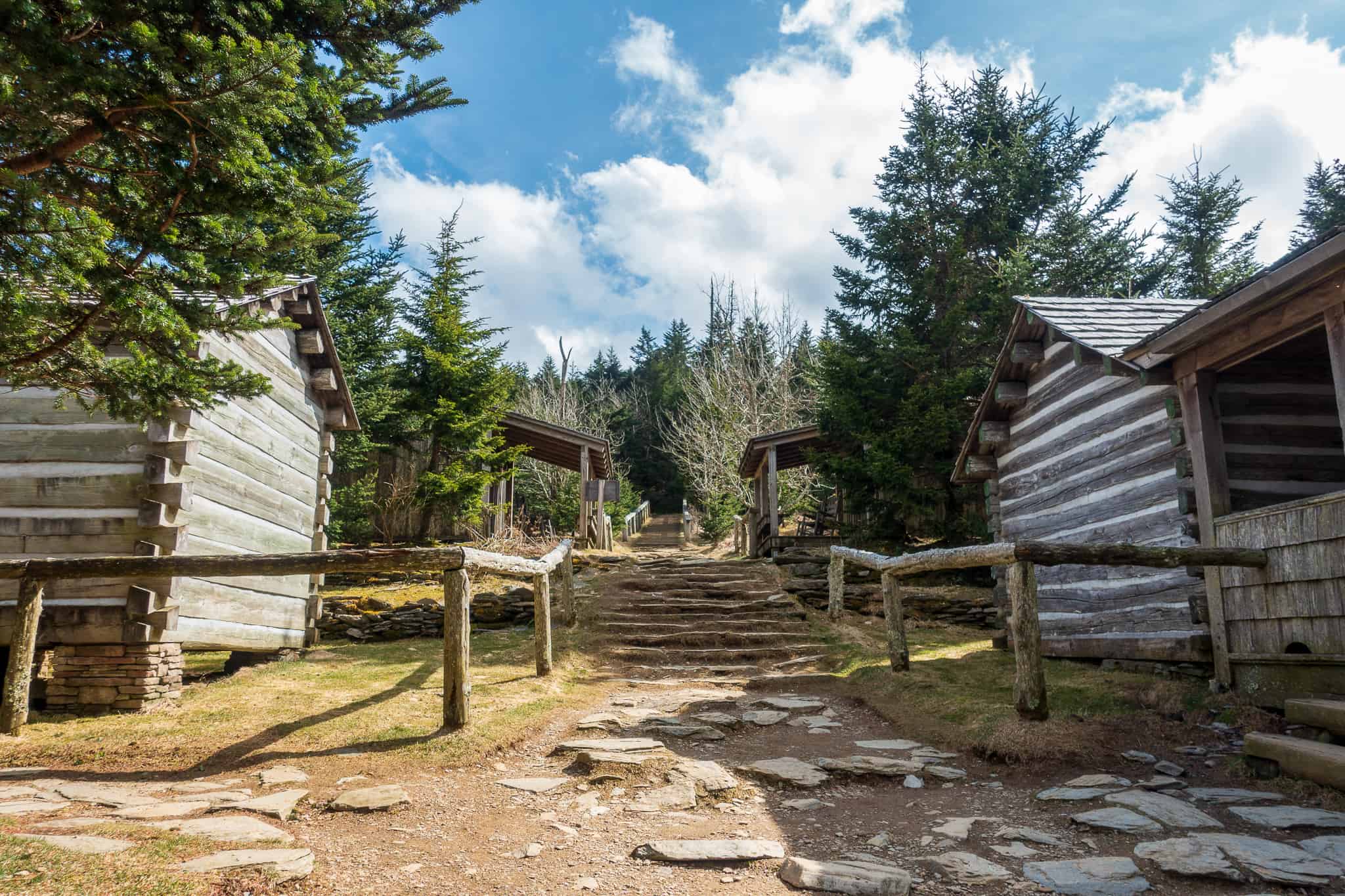 LeConte Lodge atop Mount LeConte
If you're a mountain lover, LeConte Lodge is the place for you! LeConte Lodge in the Great Smoky Mountains National Park is not only the highest guest lodge in the eastern US, but it's also home to some of the most breathtaking views of the Smokies.
LeConte Lodge is a secluded place in the Smoky Mountains that can only be reached by hiking.
The lodge offers visitors an experience unlike any other, and for those who wish to sleep under a roof rather than a tent, this is your only option in the park. There aren't any roads leading up there, but five different trails offer varying lengths from 5 miles all the way up to 9.1 miles for those who want an adventure!
Guests stay in log cabins, supplied with propane heat, kerosene lanterns, linens, and warm Hudson Bay wool blankets. You will also be served hearty meals family-style.
Staying here entails a lot of ahead-of-time preparation.
If you'd like to stay at the lodge during the 2024 season, the submission period will open later this year in August and September. When the period opens, you can find a reservation form here.
Reservations for the 2023 season are closed. However, you can inquire about cancelations here.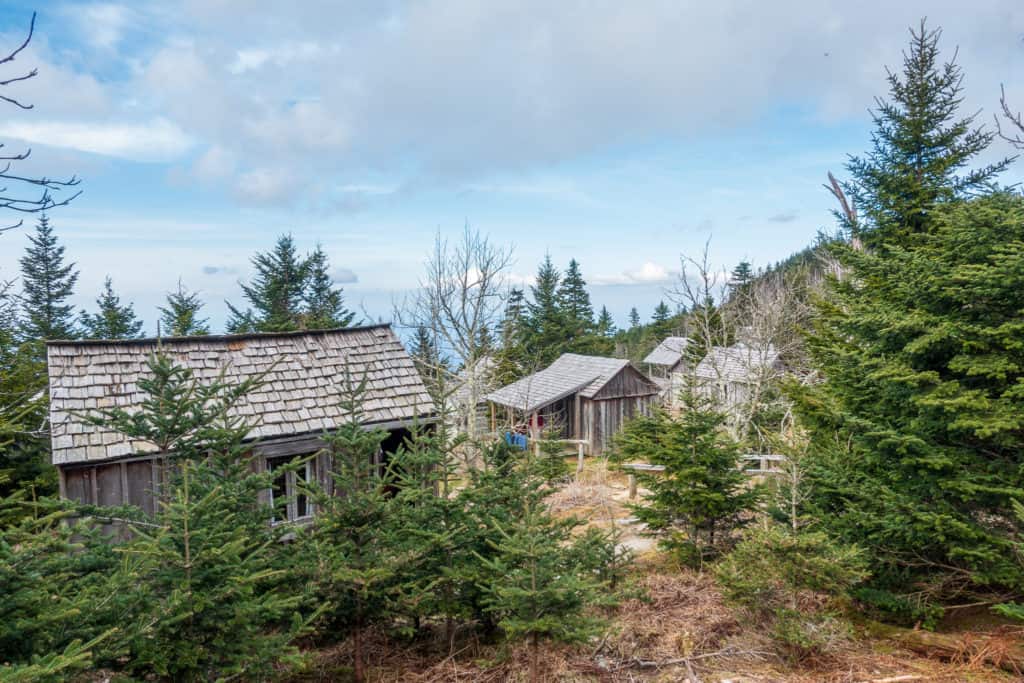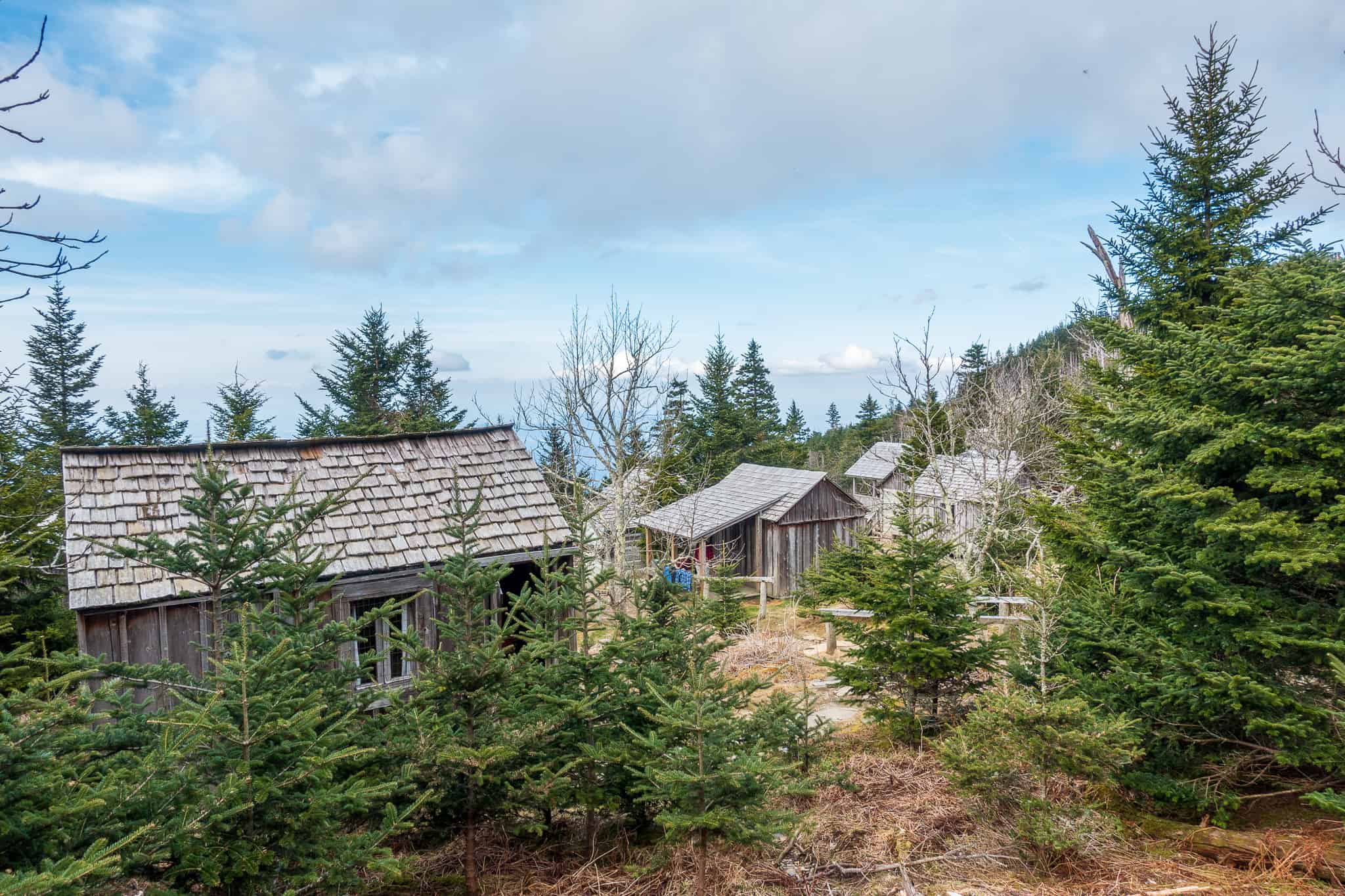 RV or Tent Lodging in the Park
You'll have quite a few options for camping inside the park, with ten campgrounds to choose from:
Abrams Creek Campground
Balsam Mountain Campground
Big Creek Campground
Cades Cove Campground
Cataloochee Campground
Cosby Campground
Deep Creek Campground
Elkmont Campground
Look Rock Campground
Smokemont Campground
All of them are relatively basic but have picnic tables, fire rings, flush toilets, and drinking water; none offer showers. Abrams Creek, Big Creek, and Cataloochee are considerably smaller than the others and better suited for families looking for privacy.
Outside the Park
Which is Better: Gatlinburg or Pigeon Forge?
The Pigeon Forge/Gatlinburg area started being built up around the time of the 1982 World's Fair in Knoxville.
The World's Fair brought a lot of attention to the area and to the Great Smoky Mountains.
Now, almost 30 years later, they exist as two bustling tourist towns, each offering a bevy of restaurants, lodging, and attractions, including Dollywood, Ripley's Believe or Not, dinner shows, roller coasters, and adventure parks.
They do, however, differ in a few important aspects, which I will explain below. Still, either would make for an excellent trip. If you have the time, visit both!
Gatlinburg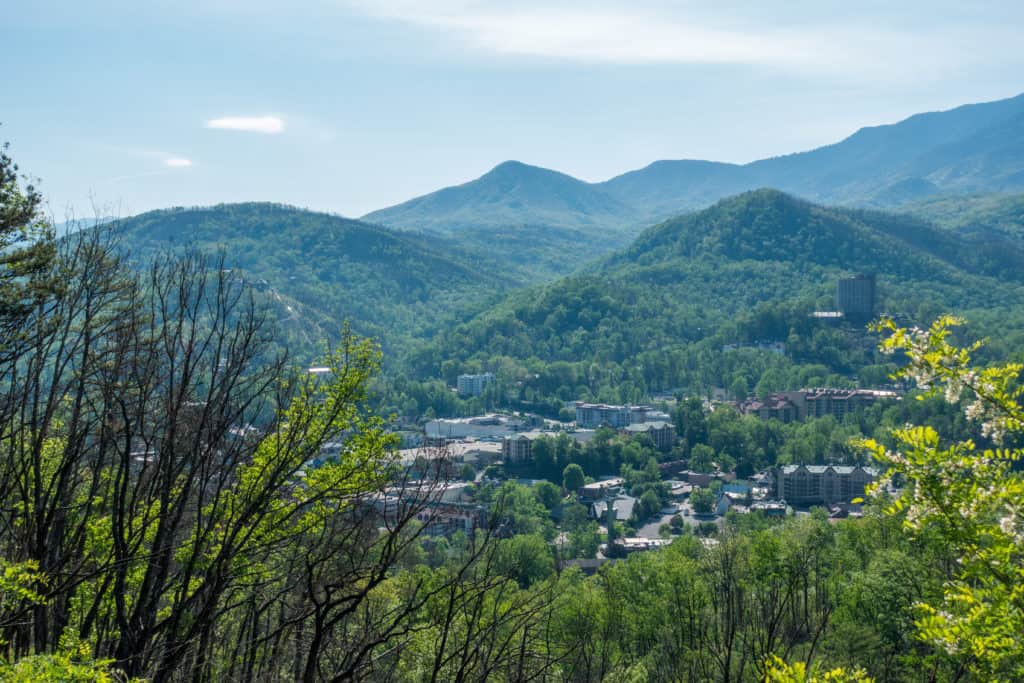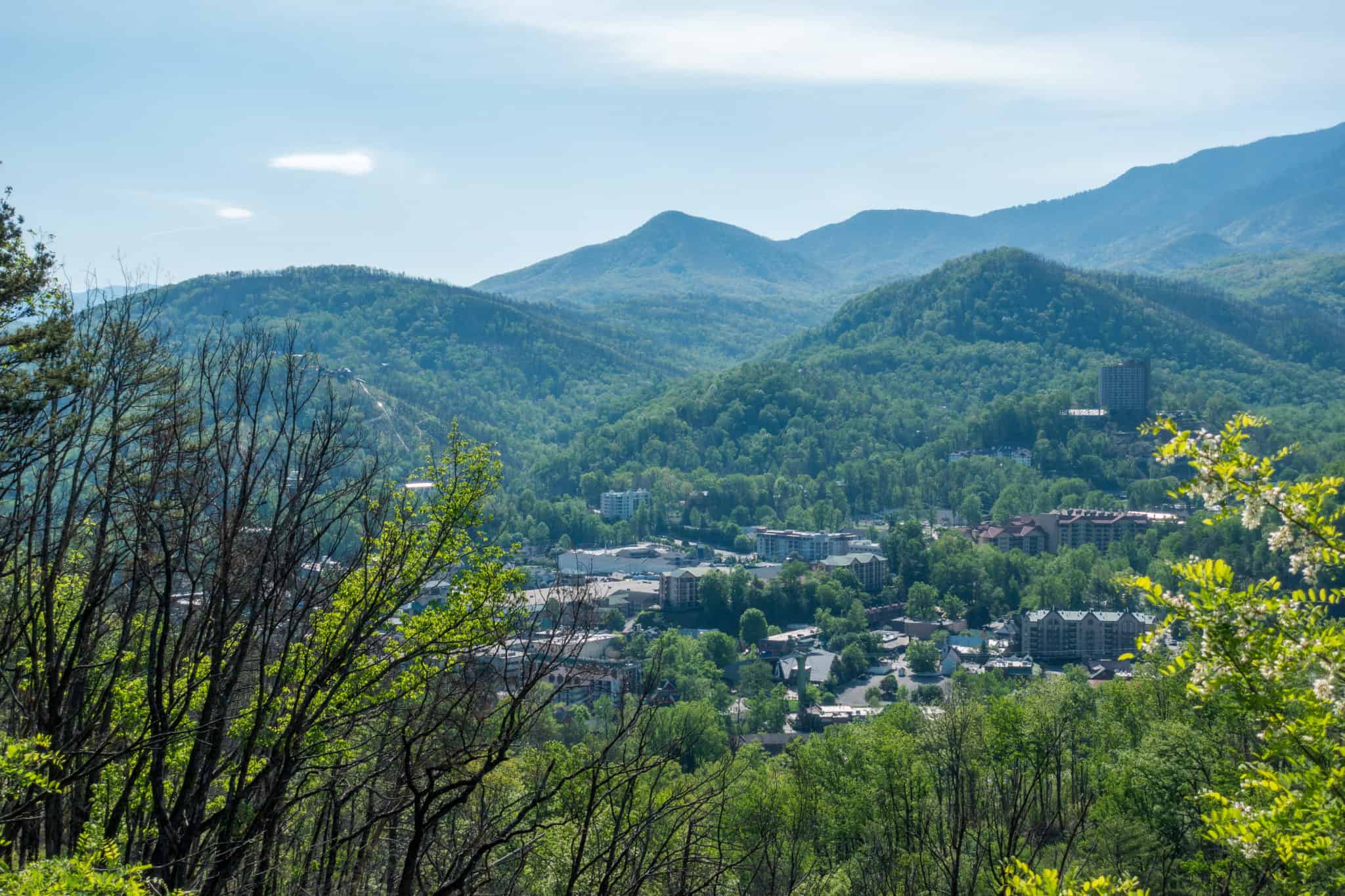 Gatlinburg is a small, walkable, bavarian-themed town that is the closest in proximity to the Great Smoky Mountains (however, Gatlinburg and Pigeon Forge are only seven miles apart).
The nice part about staying in Gatlinburg is that you're in the middle of all of the action. It's very easy to walk to any activities you want to partake in, and a short hike on the Gatlinburg trail or a quick car ride will get you to the park's Sugarlands visitor center.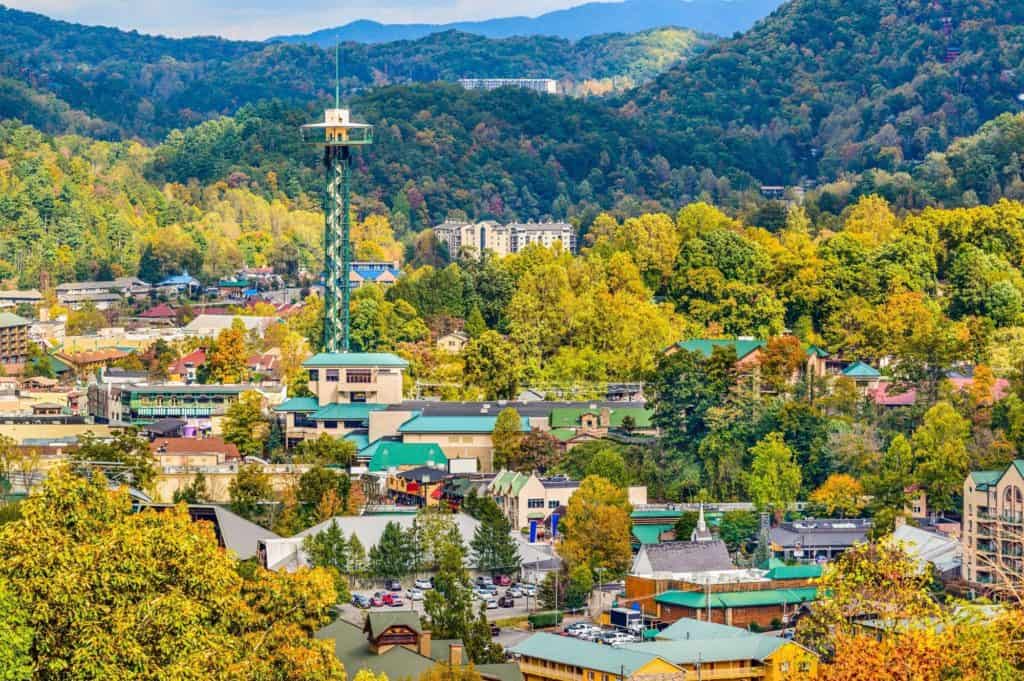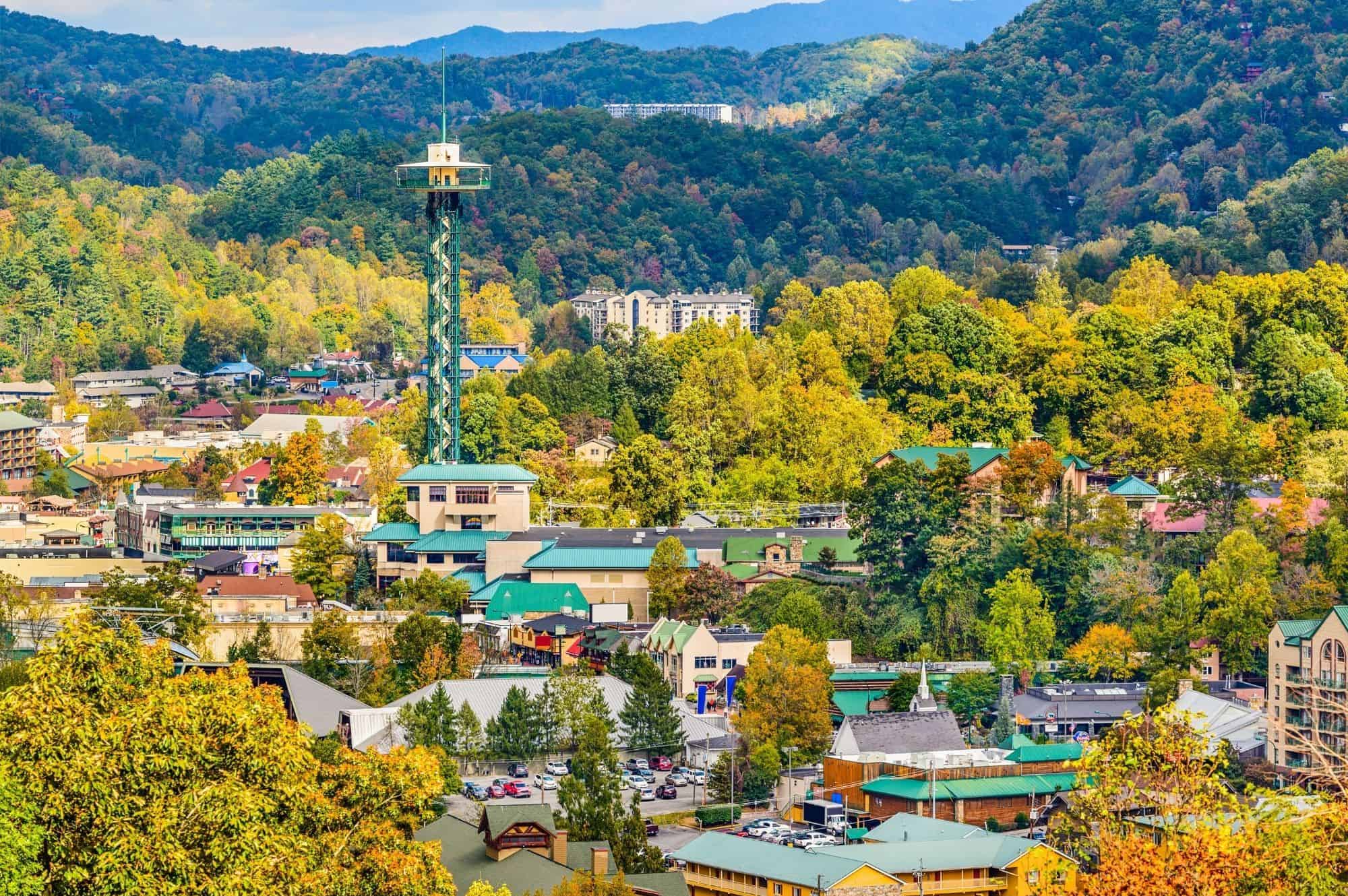 Even if you don't stay in town, budget for at least one to two days to see Gatlinburg. There's just so much to do there!
Those wanting to stay closest to the park without being in the park should choose Gatlinburg. It's less than a 15-minute drive to the Sugarlands visitors center.
It's also packed with tourist facilities, with options for every budget. It's an excellent place for families as there's always something to do.
Pigeon Forge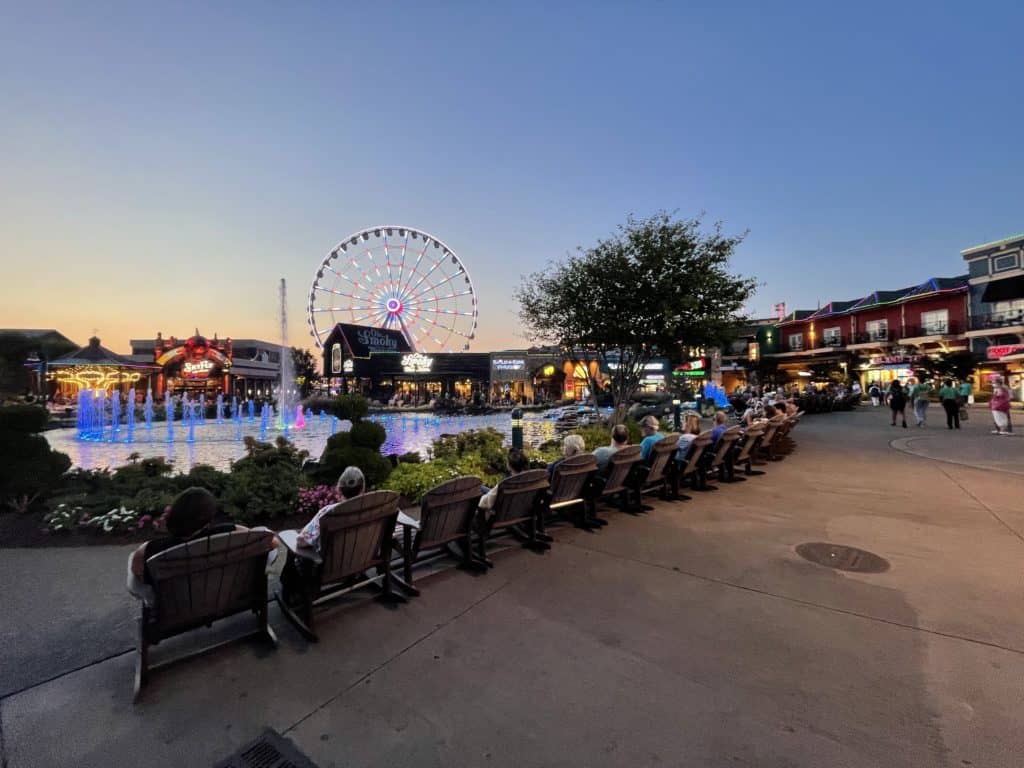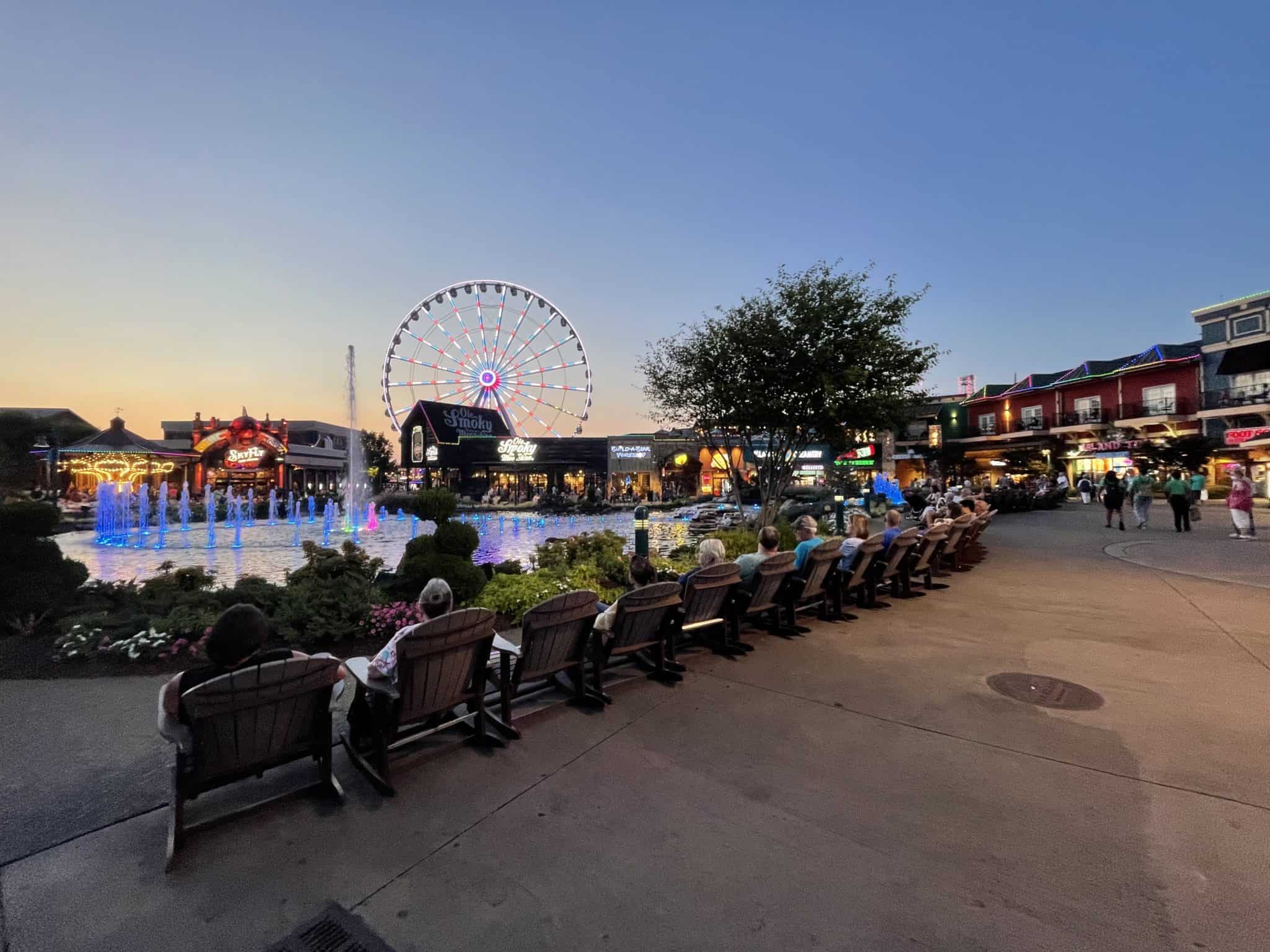 Pigeon Forge is larger and just as touristy as Gatlinburg.
This area can be thought of as a "strip of fun," similar to how you would picture a trip to Myrtle Beach or Ocean City. Just swap out the beach for mountains in this case!
Dollywood and the Smoky Mountain Opry are both located in Pigeon Forge.
If you're looking for the walkable feel in Pigeon Forge, there are two ways to get something very similar!
? Make use of the trolley! Pigeon Forge has a wonderful trolley system that will take you up and down the main drag to help you take a break from walking. The trolley also connects to Dollywood and Gatlinburg!
? Stay near the Island. A lot of the action takes place at the Island and in the Old Mill area. If you stay in this vicinity, you'll be able to walk to just about any touristy venture you could desire to take part in!
If you're not staying here, consider blocking out one to two days for Pigeon Forge on your Great Smoky Mountains itinerary.
Your next closest option to the park would be Pigeon Forge. Depending on where you are in town, it's a 20-30 minute drive to the Sugarlands visitors center.
Wears Valley
Wears Valley is a largely rural community about half an hour northwest of the park. Food and lodging aren't as diverse, but there are a fair number of attractions, including an alpine coaster and lots of antiquing to be found!
Wears Valley is often where locals enter Great Smokies, as it's less crowded and has easy access to the Cades Cove region. We loved having these "secret entrances" away from the crowds while staying in Wears Valley.
You won't find as many amenities, but you are still only 15 minutes from Pigeon Forge and 30 from Gatlinburg.
Townsend
Looking for an even quieter locale? Townsend is an even more low-key destination.
This area, like Wears Valley, is better for couples or families seeking a bit more peace and quiet.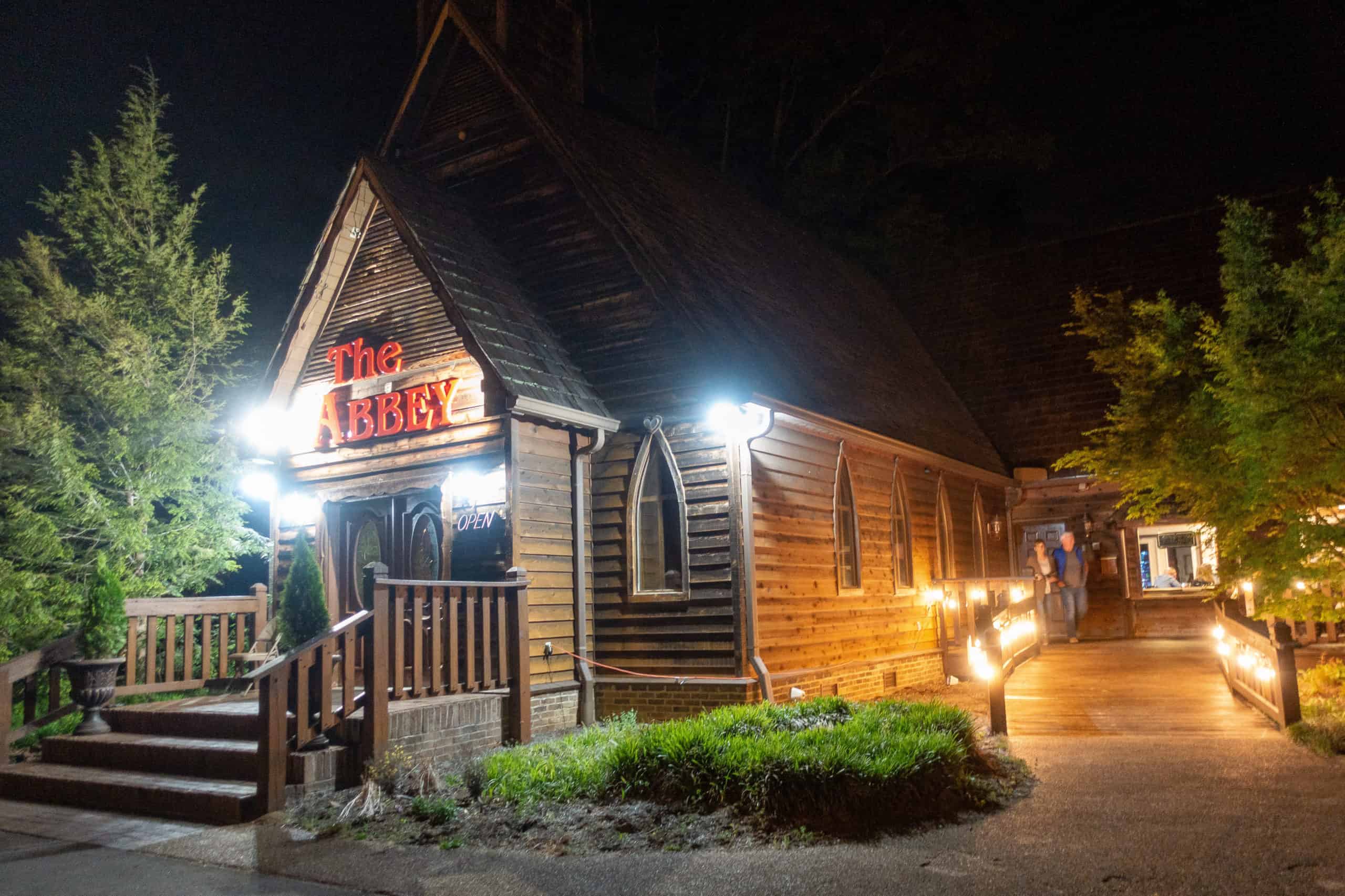 Quick Note: The Abbey pub is a local favorite. This church-turned-bar offers live music, craft beers, and bar snacks on the shore of the Little River.
Cherokee
Cherokee is packed with Native American history, including the museum and Oconaluftee village. Harrah's Cherokee Casino Resort is nearby, and even if you're not into gaming, their spa, pool, and golf course are a great way to spend a day off from the park.
RV Lodging
Be prepared; there are a LOT of RV park options outside of the park... The list below does not include them all, just the ones with the best reviews in each area!
We use RV Trip Wizard and google reviews to find the best parks.


RV lodging in Gatlinburg
Twin Creek RV Resort
Camping in the Smokies RV Park
Camp LeConte Luxury Outdoor Resort
Smoky Bear Campground and RV Park
Greenbrier Campground
RV lodging in Pigeon Forge
Camp Margaritaville RV Resort and Lodge
Foothills RV Park & Cabins
Gateway to the Smokies
Pine Mountain RV Park
Riveredge RV Park & Log Cabins
Alpine Hideaway Campground
Jellystone Park Pigeon Forge / Gatlinburg
Pigeon Forge / Gatlinburg KOA Holiday
Riverbend Campground
Creekside RV Park
Kings Holly Haven RV Park
Clabough's Campground
Waldens Creek RV Park
Pigeon Forge RV Resort
RV lodging in Wears Valley
RV lodging in Townsend
Big Meadow Family Campground
Little Arrow Outdoor Resort
Townsend/Great Smokies KOA
RV lodging in Cherokee
Cherokee Campground & Craig's Cabins
River Valley RV Park & Campground
Flaming Arrow Campground
Yogi in the Smokies
Cherokee/Great Smokies KOA
Happy Holiday Campground
Indian Creek Campground
Hotel & VRBO Lodging
There are also a TON of hotel options available in the area.
My recommendation would be to use Hotels.com to find the hotel that has the best reviews, at the best fit for your budget. ?
Hotel & VRBO Lodging in Gatlinburg, Tennessee
Hotel & VRBO Lodging in Pigeon Forge, Tennessee
Hotel & VRBO Lodging in Wears Valley, Tennessee
Hotel & VRBO Lodging in Townsend, Tennessee
Hotel & VRBO Lodging in Cherokee, North Carolina
Cabin Lodging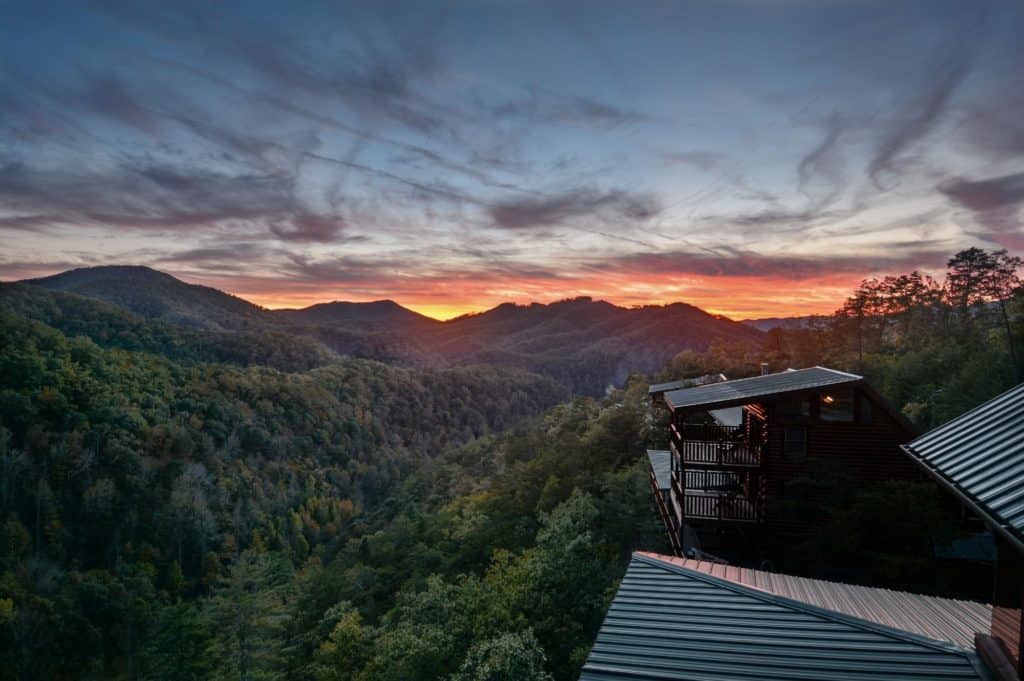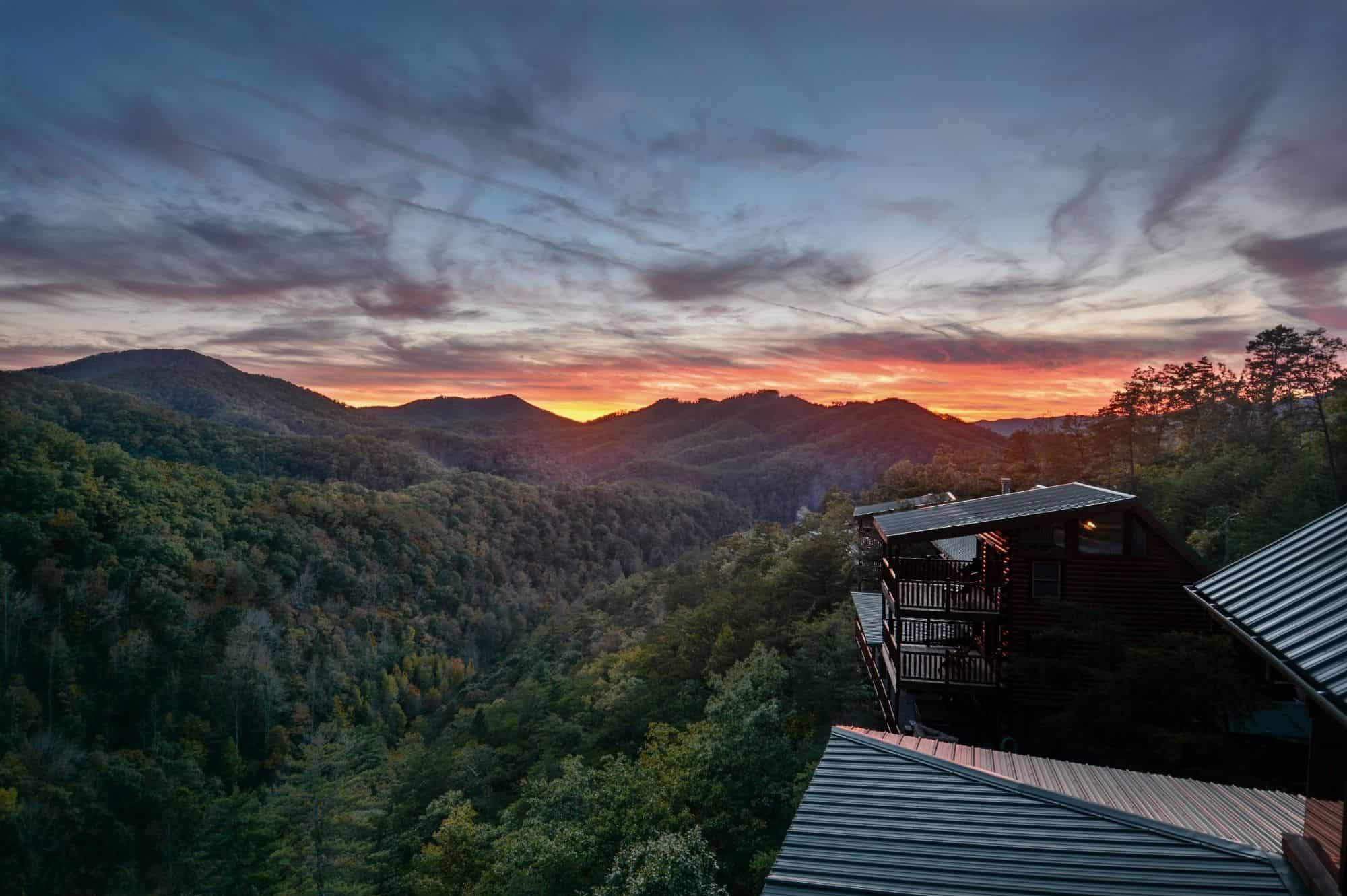 Perhaps the best way to experience the Smokies is nestled inside a cozy cabin. Cabins offer a more intimate feel than hotels, with the opportunity to cook and entertain. It's like having your own home away from home!
Fortunately, there are also tons of cabins to choose from, at varying price points, in various areas, and with a range of amenities.
Whether you're looking for a budget couple's retreat or a house that can fit you and all of your extended family for a Great Smokies reunion, there's a cabin that's just your size.
Here are a few of the cabin rental companies in the area with great online reviews:
Little Valley Mountain Resort
Chalet Village
Stony Brook Cabins
The Preserve Resort
Honeymoon Hills Gatlinburg Cabin Rentals
And here are a few local cabin-finding resources:
Great Smoky Mountain Rentals
Great Smoky Mountain Luxury Cabin Rentals
From personal experiences renting houses within the past few years, we've found booking directly from these companies, instead of through Airbnb or Vrbo, can save you a decent chunk of change.
Things To Pack For Great Smoky Mountains National Park
You've got your itinerary set and have booked your flight and rental car.
Now all that's left to do is pack your bags.
What you bring depends on the type of vacation you're taking, but here are a few essentials that are always worth bringing:
• Layered Clothing. There are some drastic elevation changes inside the park, and wide temperature fluctuations go hand in hand with them. If you're peakbagging, you absolutely need some warmer layers to throw in your pack for the summit.
• Wide-brimmed Hat. A larger piece of headwear will shade you from the sun and keep you protected from nasty insect bites.
• Quality Insect Repellant. The hot, humid air of western Tennessee and eastern North Carolina is a breeding ground for some of the most irritating insects in the Lower 48. Higher elevations and cooler temperatures keep them at bay. However, if you're hanging out in town or the foothills, it's best to carry a can of DEET to ward off those pesky critters.
• Binoculars. Wildlife will be all around you, but often they're hiding just out of your eyesight. Even a cheap pair of binos will do. The most important thing is that you're comfortable carrying them, so choose a smaller set that fits in your pack without weighing you down.
• Rain Jacket. Storms can strike at any time, but a waterproof jacket will stop them from ruining your day. Carrying one is especially crucial during the summer when heavier rains arrive in the Smokies
• Plenty of Water. Dehydration is the quickest way to ruin an otherwise perfectly good hike. The heat and humidity will have sweating buckets on some of the lower elevation hikes, so be sure to carry a liter of water for every hour of hiking.
• Headlamp. Most of us don't plan on hiking or biking in the dark, but things happen, and you might get caught on the trail after sundown. (It's happened to us more than once in the Smoky's!) Carrying a light prevents this situation from becoming anything more than a minor annoyance.
Additional Tips for Your Trip
Great Smoky is one of the most accessible and easy-to-navigate parks in the national park system. However, there are a few things that you should keep in mind to help you to have a better park experience.
Come in the Off-Season
The park is incredibly crowded during the summer months. Picking a date between April - June or August - October will ensure much better odds of getting a campsite.
Additionally, plan a trip with no weekend days if you can.
Tourists from nearby cities love weekend trips to the Smokies.
Mark your Calendar for Leaf-Peeping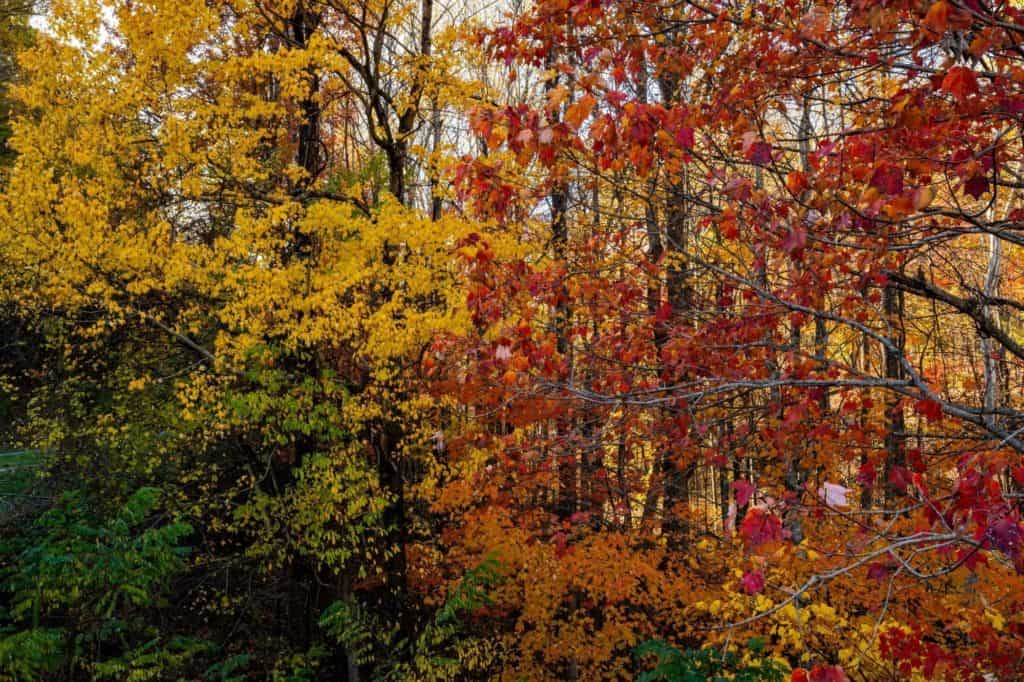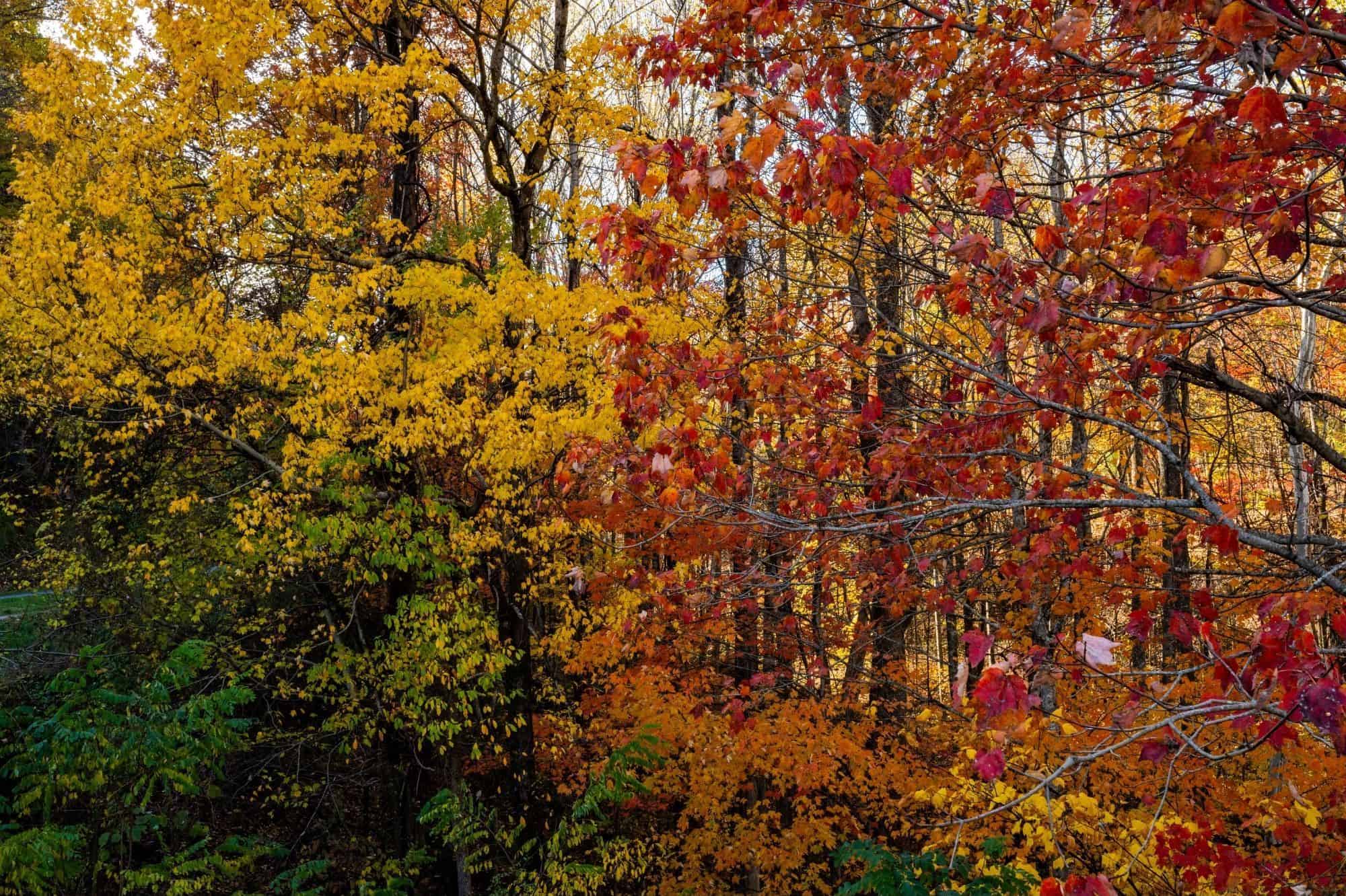 Usually considered an activity for New England, Great Smoky Mountains National Park has some spectacular leaf-peeping come autumn.
If you're traveling full-time and don't want to miss the leaves changing in Vermont, don't worry, the colors come much later in the Smokies, typically around early November.
Check for Festivals
Great Smoky's festival calendar is jam-packed, with the Scottish Festival and Bluegrass Festival in May, a hot air balloon festival in August, Grains and Grits food and drink festival in November, just to name a few.
Carefully consider all of your Accommodation Options
Hotels or a tent are not your only choices; there are loads of Airbnbs, cabin rentals, and even RV rentals in the area.
Each has its pros and cons, but you should never feel limited in where to stay.
That being said, make sure you make reservations early during peak season.
Start your Hikes Early
Great Smoky Mountains is free and always open.
You can drive to the trailhead in the early morning and get a sunrise hike in before most tourists are even starting to brew their coffee!
Get off the Beaten Path
Cades Cove and Newfound Gap Road are crawling with tourists during the summer. More obscure areas like the Cataloochee Valley get almost no traffic.
You should still visit places like Cades Cove – they're popular for a good reason, but try planning an itinerary that includes more than just the big-ticket attractions.
Be honest about what you Like
The Smokies have something for everyone, but you need an itinerary filled with things you actually enjoy. Gatlinburg and Pigeon Forge might feel like overpriced tourist traps if you're a serious hiker and cyclist.
But if you prefer a spa trip interspersed with a few day hikes and scenic drives, book a nice hotel and enjoy mother nature on your terms. This is especially true with families, where each person might want to do different things.
Don't Get Hung Up on a Plan
This is especially relevant for summer travelers; trailhead parking lots get full, campsites are booked out far in advance, and lines at Dollywood can be excruciating.
Have backup options for each day for when things don't go according to plan.
Take Advantage of the Free Things
Visiting a national park is usually cheaper than planning a trip to the city.
Still, there are so many attractions in the area, and the costs can add up. (That's especially true if you include Dollywood or the Cherokee casino.)
Touring the Moonshine Distillery or the Arrowmont School of Arts and Crafts in Gatlinburg won't cost you a cent, though.
And using the Gatlinburg free trolley to access the park will also save you on gas and parking fees.
Limit How Often you Eat Out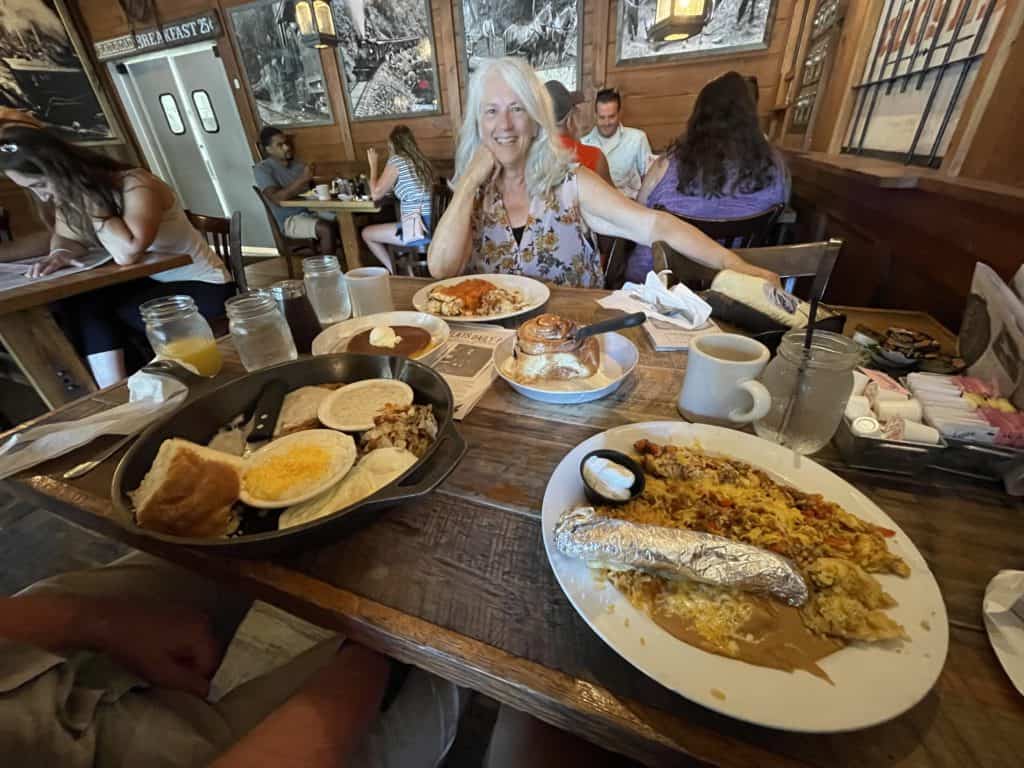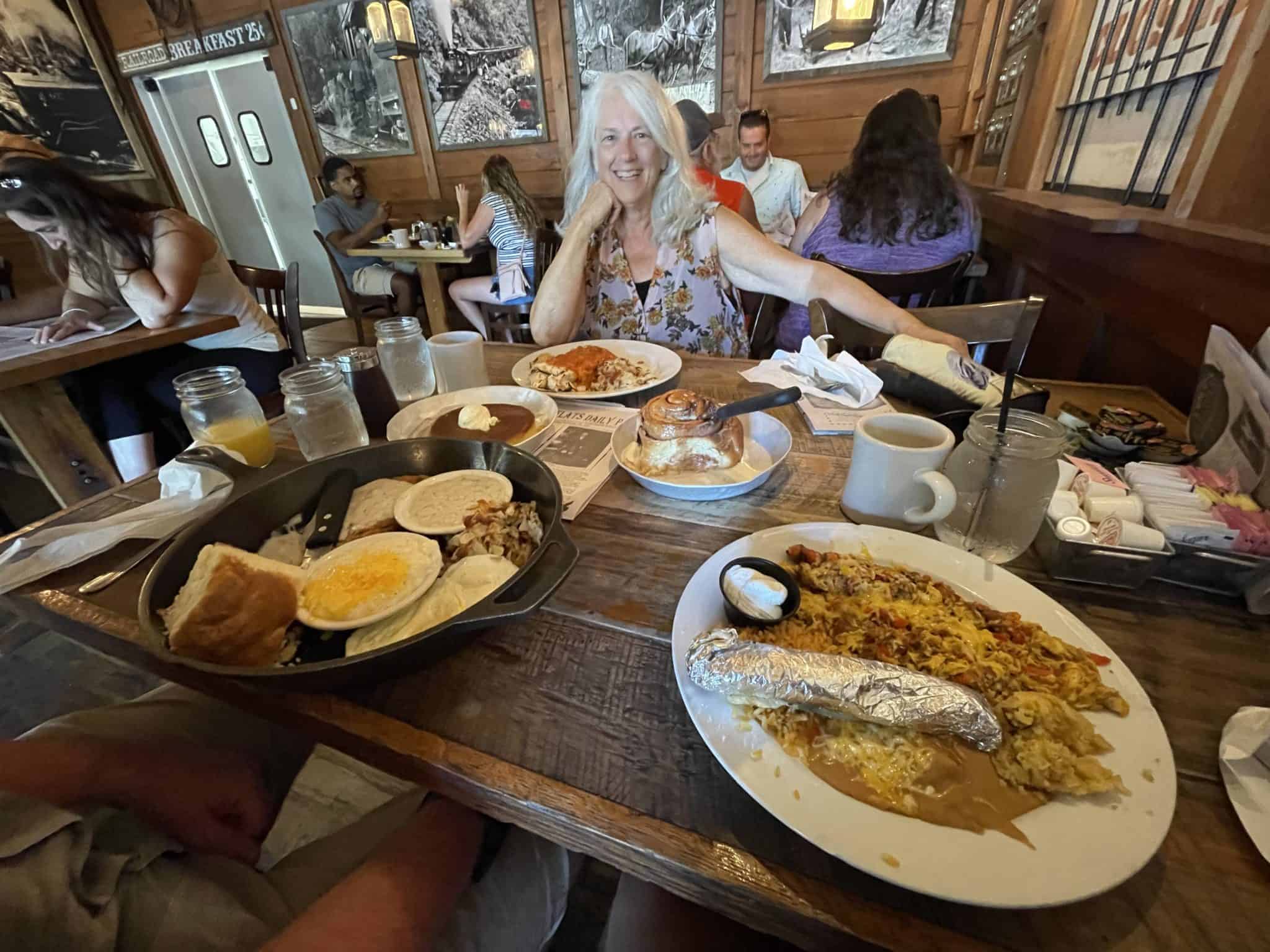 There are many markets nearby where you can load up on groceries to help with the cost of eating out while on vacation.
If you have access to a kitchen on this trip, try to prepare some food in advance. If you're staying at a hotel, try throwing together some sandwiches or salads with items from the local grocery store.
And then, when you are ready to eat out, there are also tons of options for enjoying a quality meal at a restaurant in these areas without breaking the bank.
My favorite affordable spots are Crockett's Breakfast Camp in Gatlinburg (Hands down the best breakfast I've ever had.) ? and the Old Mill in Pigeon Forge.
Wrap-Up: A Smoky Mountains Itinerary for Every Type of Traveler & Everything Else You Need to Know!
Those are Great Smoky Mountains itinerary recommendations from a full-time RVer, who happens to be a huge fan of Tennessee and North Carolina!
The list was put together to provide options for any type of visitor. No matter how you want to experience the national park – there are multiple options in this article for everyone in the family to appreciate.
Enjoy your visit!
---
What are your favorite things to do in the Smoky Mountains?! Email me and let me know!
Thinking about spending a day in Knoxville as well?
Then check out my post on the 48 Best Things to do in Knoxville!