Latest posts by Cindy Scott
(see all)
(Last Updated On: September 26, 2023)
McKinney Falls State Park campground is right on the edge of Austin, TX! We stopped at this campground at the end of February and the beginning of March for two reasons. First off, the weather is lovely there during that time of year! Secondly, we were attending SXSW.
Austin holds a special place in our hearts. It's where Barrett and I first met, where we bought our first home, where we spent many nights playing volleyball and softball with friends, where I produced a documentary, and where I ended up going to grad school. There's a lot of history in that city for us.
We spent five magical years there, watching Austin transform into a behemoth of a town, and for the most part, we loved every moment of it.
But the city did outgrow what we were looking for in a place. This trip was the first time we had been back in a while, and we were eager to see in what ways we missed it and in what ways we've changed since living there.
McKinney Falls State Park Campground Description & Atmosphere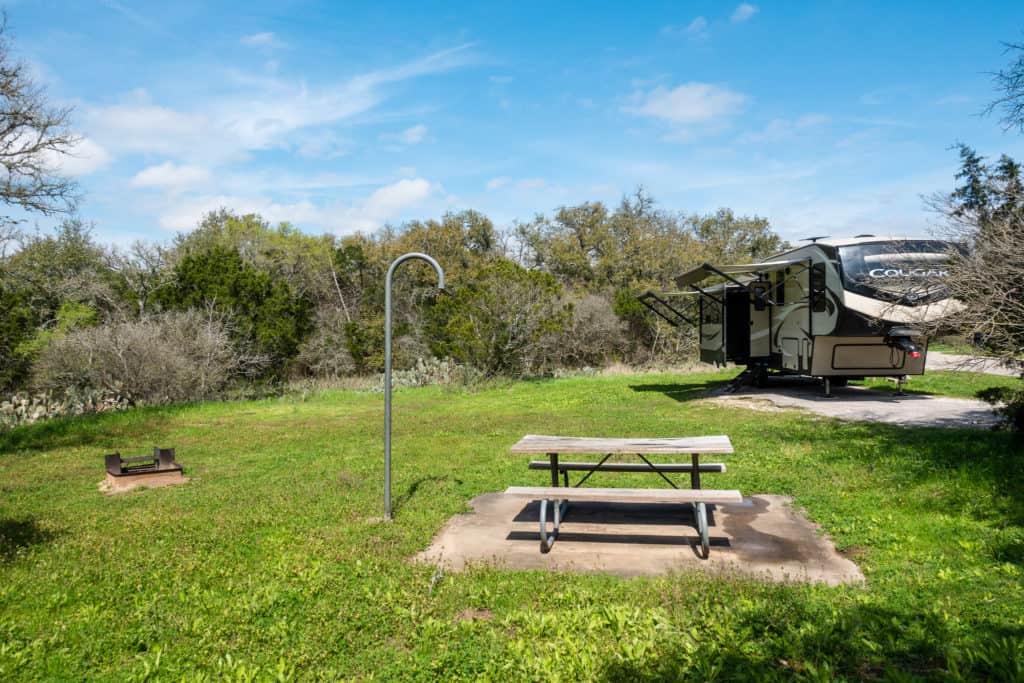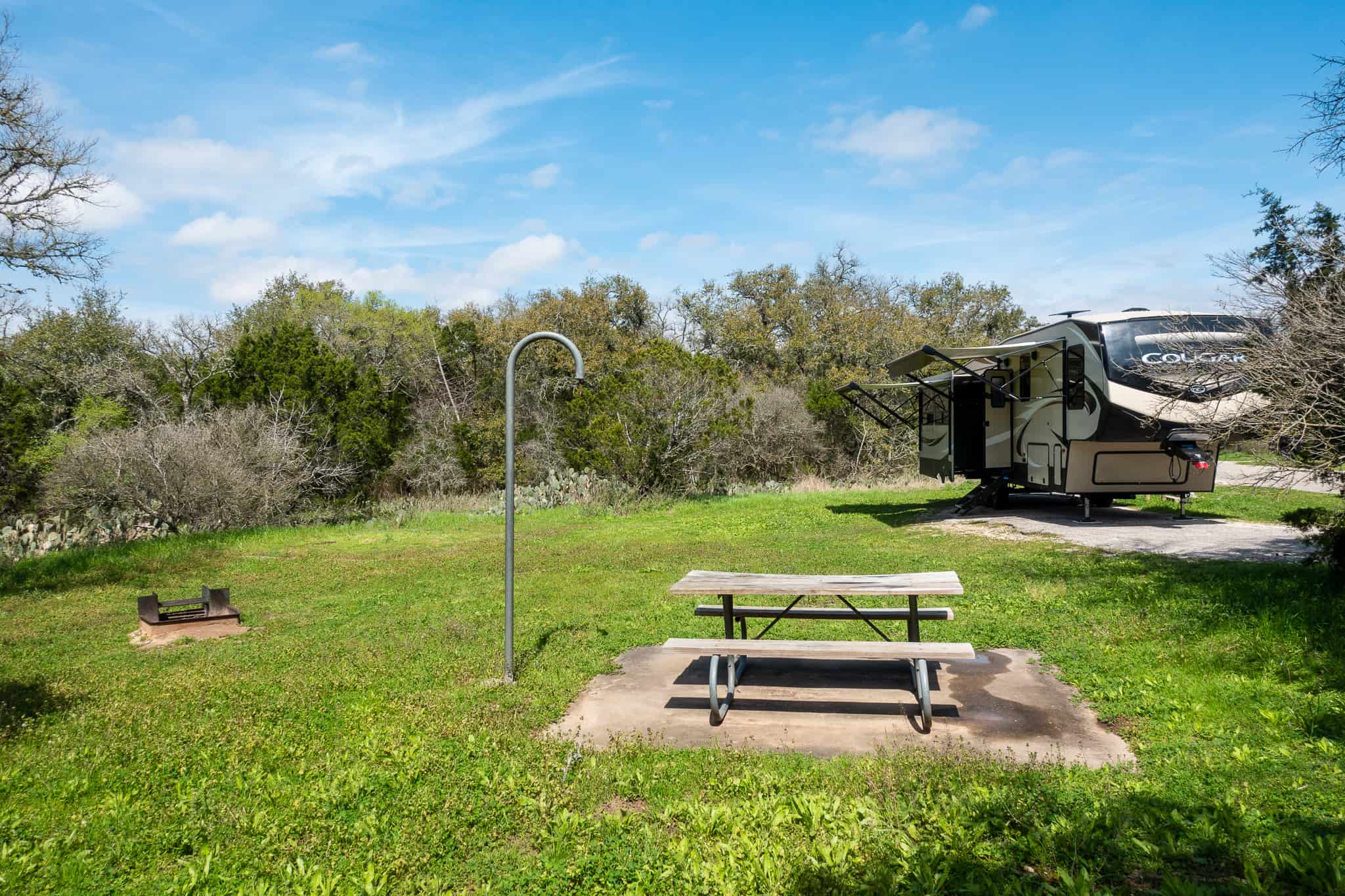 McKinney Falls State Park campground is a small and beautiful park hidden within the bustling metropolis of Austin, Texas. I'm ashamed to say that I NEVER explored this park while I was living there. I only went to the headquarters there once for a location scout meeting.
Walking around this park, it became glaringly apparent to me how much RV life had already changed our priorities by just being there and enjoying it when we weren't working or attending the conference.
To us, this campground felt like the best of two very different worlds.
It was a close escape from the city. We could take evening walks to the waterfalls, had plenty of trails to get in all of our runs and hikes, but then also could drive into the downtown area in under 15 minutes! Our internet and television signals were very strong, yet the campground was tranquil.
Photos Of Our Site
It was huge!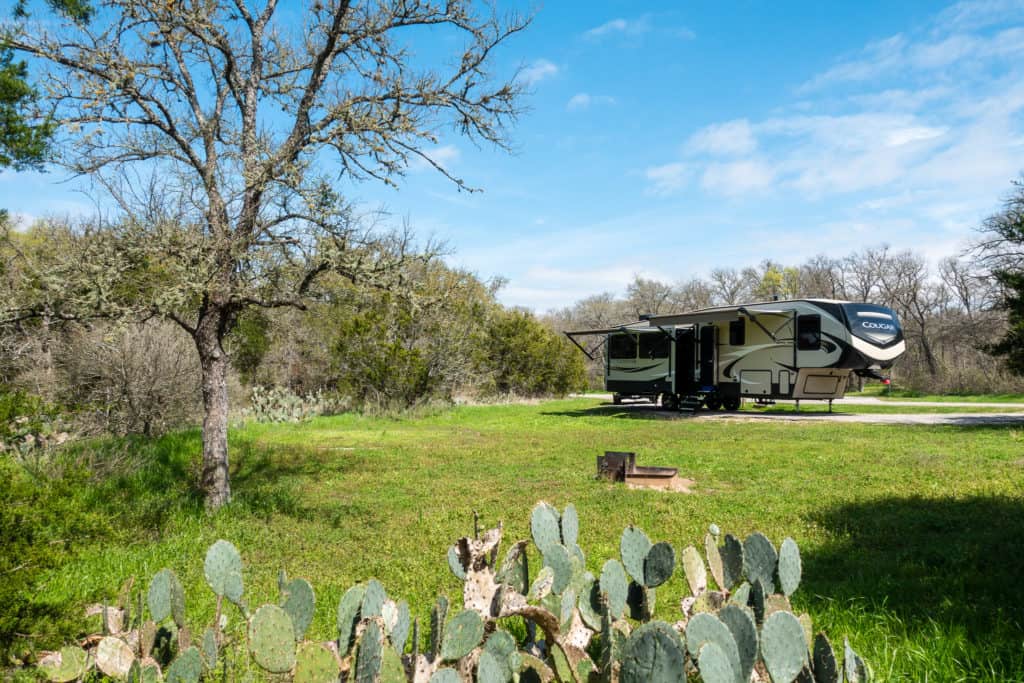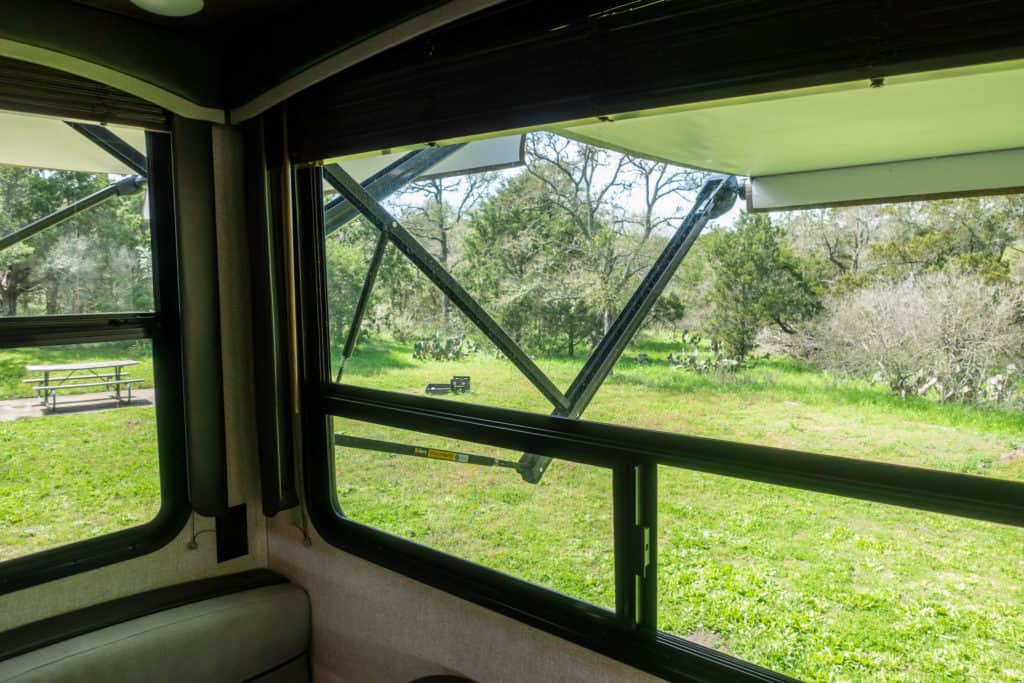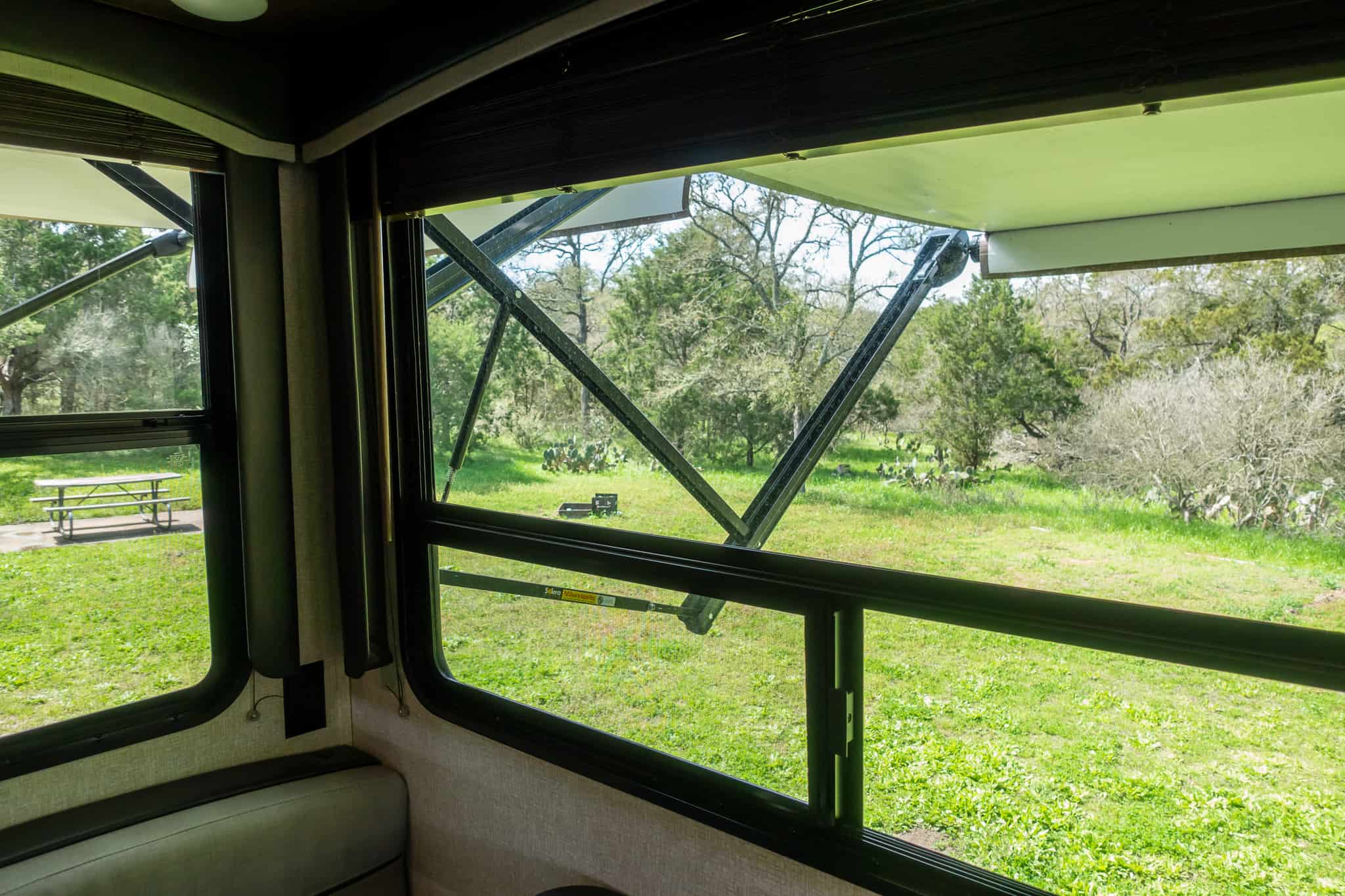 Campground Activities
We've found that often the best part about staying at State Parks is all of the hiking and biking trails that are often right outside your front door.
Honestly, when we find an awesome trail, footsteps away from the camper, it is one of the greatest feelings and truly one of my favorite parts about RV life.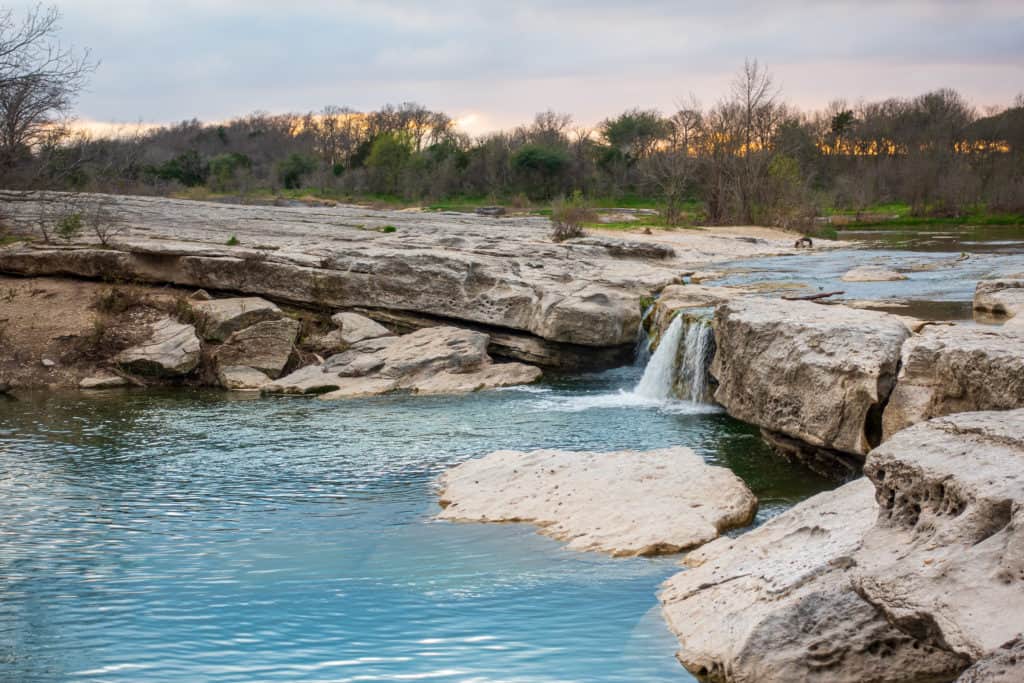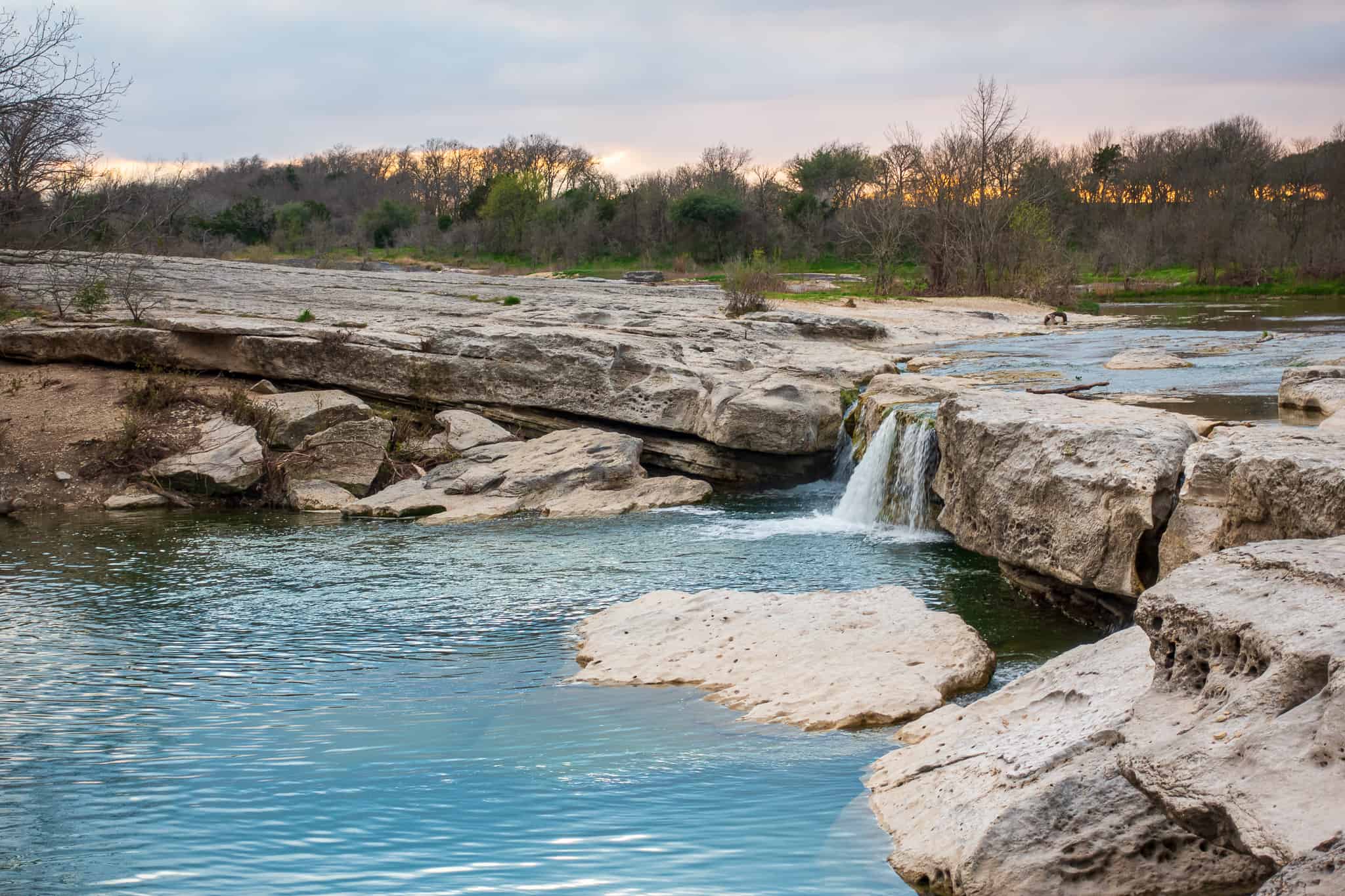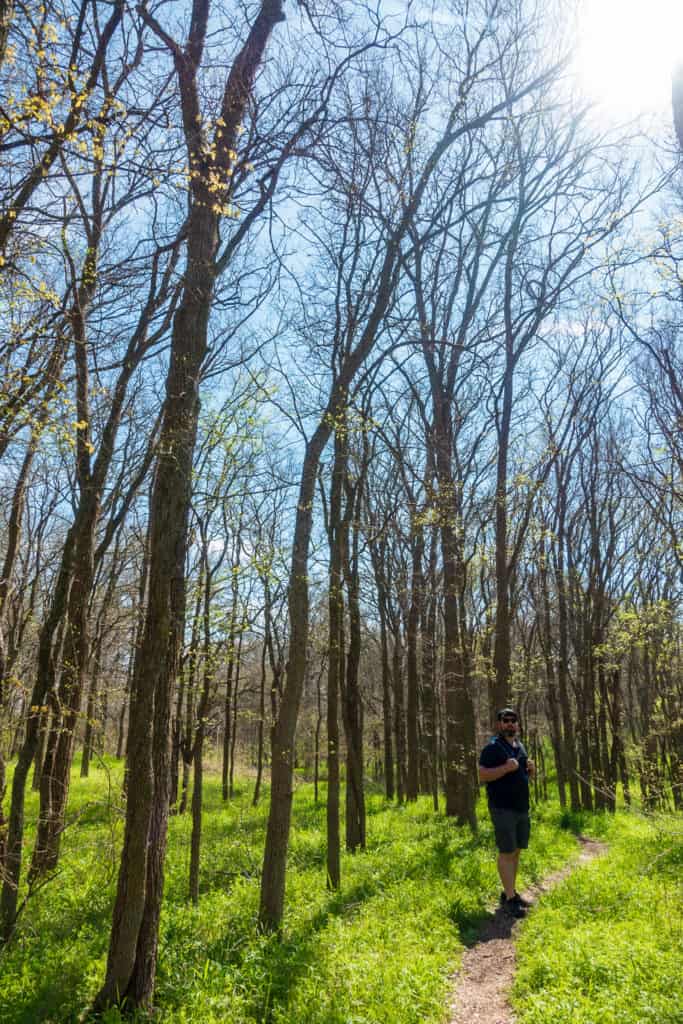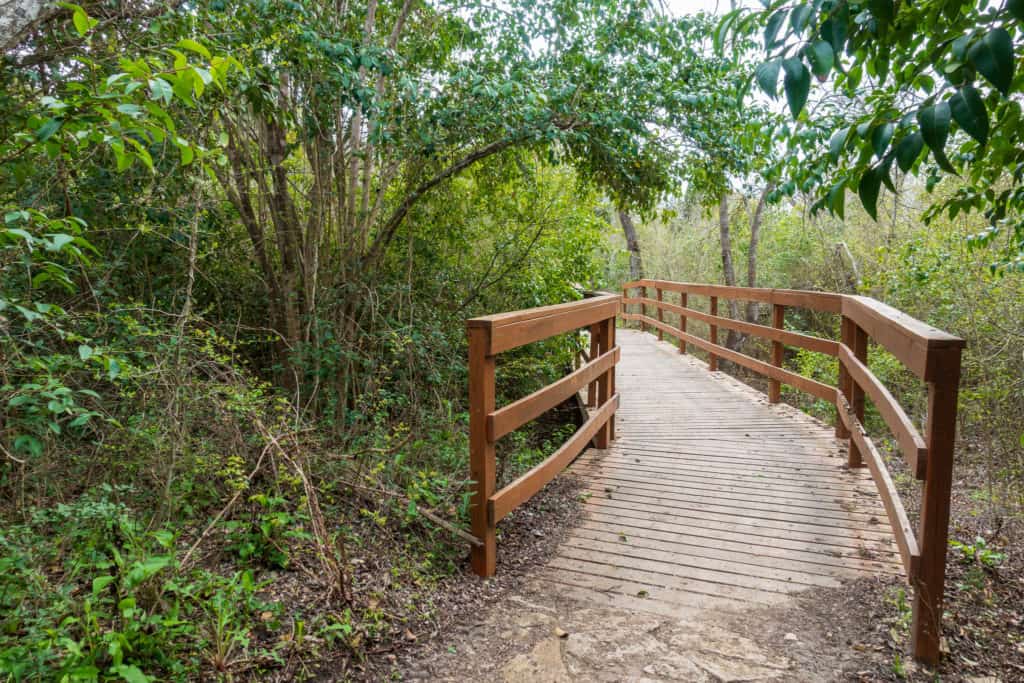 Stats On McKinney Falls State Park Campground
Address
5808 McKinney Falls Parkway
Austin, TX 78744
GPS Coordinates:
Latitude: 30.180752, Longitude: -97.722007
How Tight are the Spaces, Privacy & Proximity to Neighbors
Big spots with TONs of privacy!
Our Site
Site 3
Atmosphere
Very quiet, actually shockingly
quiet for being so close to a
big city!
Electric
69 – 30 amp sites (what we were in)
12 – 50 amp sites
Water
YES
Sewage
NO, One dump station at the
entrance.
Road Noise
None
Online reservations
YES
Recycling
–
Cell/Internet coverage
Sprint and Verizon were both great
In Park Wifi
NO
TV Stations Picked Up
Many
Amount of Hiking
Over 10 miles of hiking trails
within the park. Hiking Map
Kayaking
–
Water Access / Swimming
Swimming is allowed in Onion
Creek. The park does not have
lifeguards; swim at your own risk.
Is anything special on the property
We saw deer and a fox in the
campground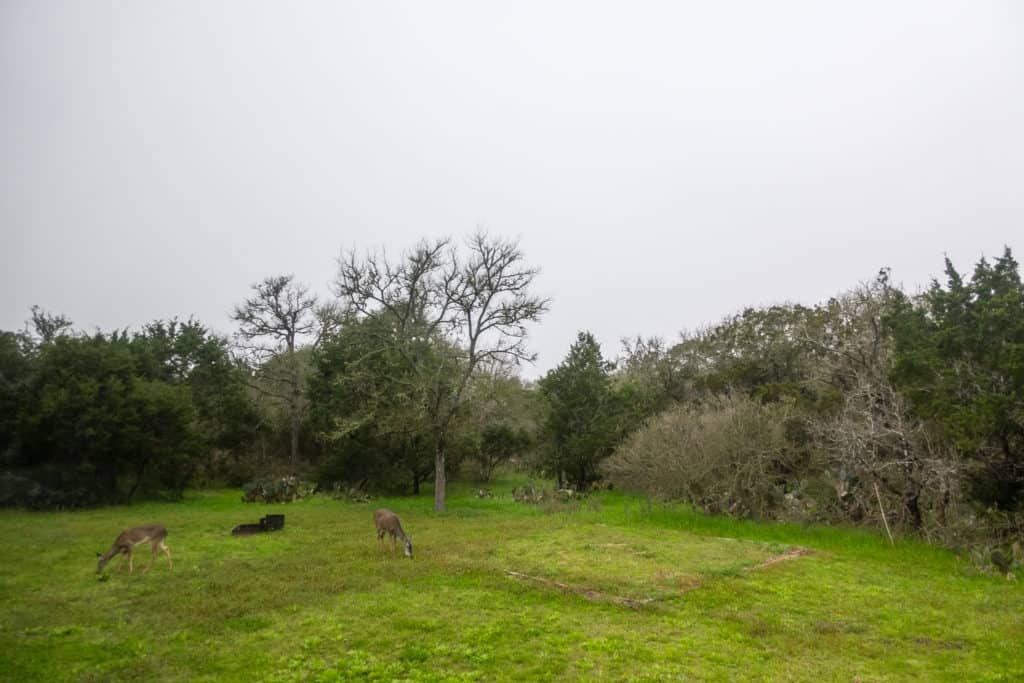 Amenities
The amenities were pretty limited to the basics. But with a big town to explore right outside of the park, this was not a problem for us.
| | |
| --- | --- |
| Pool | NO |
| Hot Tub | NO |
| Playground | YES |
| Laundry | NO |
Bathrooms
The bathrooms were a bit of a disappointment. It's not that they were dirty; they were clean. But the shower situation was subpar.
I'm guessing most people just shower in their campers at this campground. Each loop had two showers stalls, but the booths were in one collective "zone" with one curtain closing off the whole area. That was it for privacy. I guess this would be optimal for families, but not for much of anyone else.
Cleanliness
They were clean
Fixtures
Old
Outlets
–
Privacy
I'm going to go with non-existent.
One curtain door for both shower
stalls.
Water Temperature
Did not stay warm the whole time.
Number of Bathhouses
Two in our loop, only one with
showers
Number of Toilets
I cannot 100% remember, but I'm
pretty sure it was three in each
bathhouse.
Number of Showers
Two
Local Area & Attractions
So much! Austin, TX is at your fingertips!!
| | |
| --- | --- |
| Attractions Around Town | Austin, TX! |
| Proximity to the Closest Big Town | In Austin |
| Camp Store | Just a few basics at check-in station |
| Convenience Store | A couple of options within 5 miles |
| Grocery | HEB: 4.6 miles away |
| Big Grocery Store | Walmart: 6 miles away |
| Gas | Many options within 5 miles |
Dates We Were There:
2/21/2019 – 3/7/2019
How Much Does It Cost To Camp at McKinney Falls State Park?
$20 per night
A $70 annual state park pass must be purchased to enter the park, even if you are camping there.
Or if you're a couple and staying there for less than five days, you can opt for the $6 per day, per adult entrance fee.
Membership Discounts
Overall Rating
4.5/5
Everything was terrific here except for the complete lack of privacy in the bathhouses.
---