(Last Updated On: April 6, 2023)


My husband and I have been living full-time in a fifth wheel for over a year now. During our first year on the road, about nine months in, we were in a mad rush to get from our summer destination of Michigan to our Labor Day family get-together at Glacier National Park. Along the way, we figured it would be worth it to pass through South Dakota, which my husband had never been to, and I had only visited once on a road trip as a child.
I was blown away by just how awesome this stop was!
I LOVED our time in the Badlands & Black Hills area and want to go back soon!
Badlands National Park is now on my top 10 National Parks list, and I think you should add it too, especially if you have kids!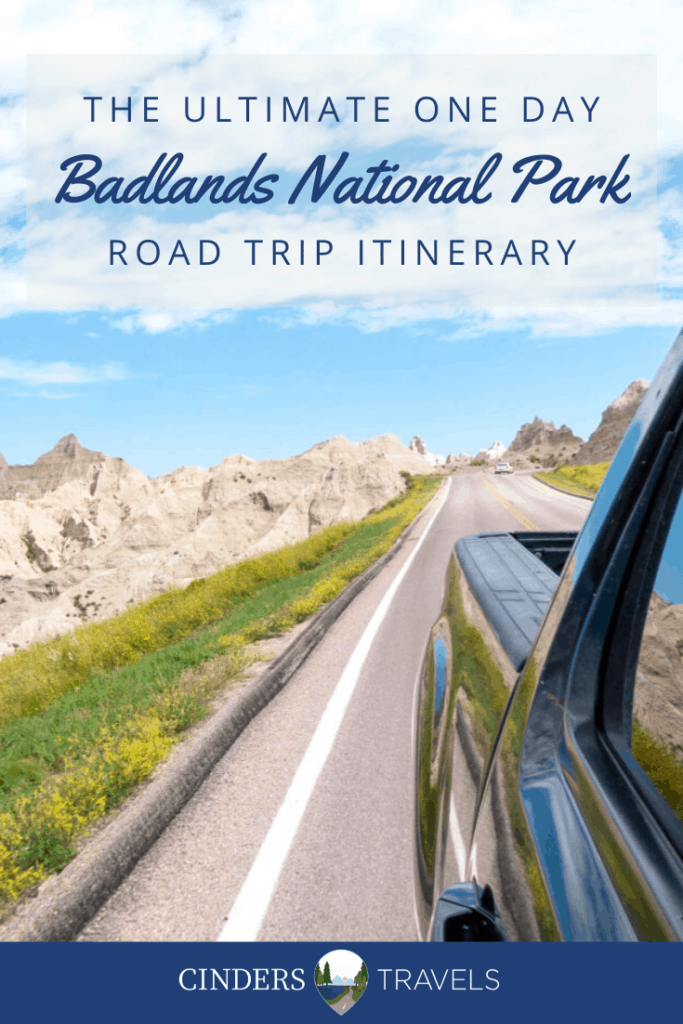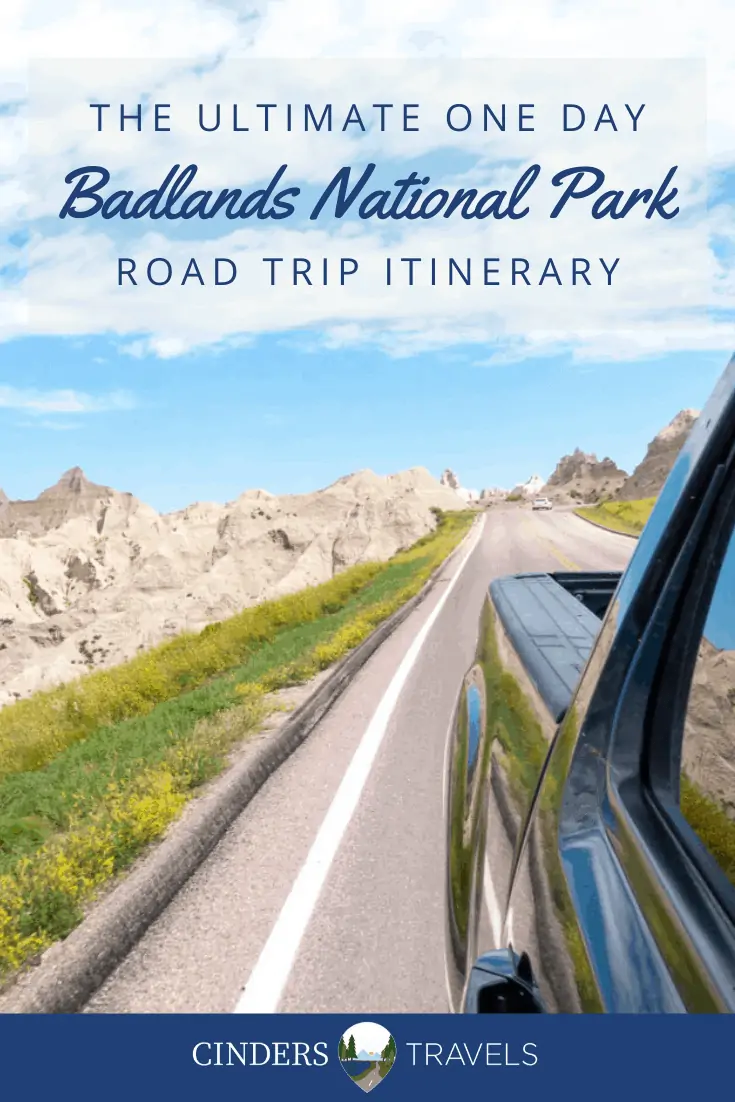 The goal of my guide below is to share with you why the Badlands area is so impressive!
We spent a handful of days at the park, and I spent a lot of time gathering information before our arrival to make our trip the best possible.
This post serves as a highlight reel composed of everything I learned. It's a one-stop shop for what you need to know and nothing you don't!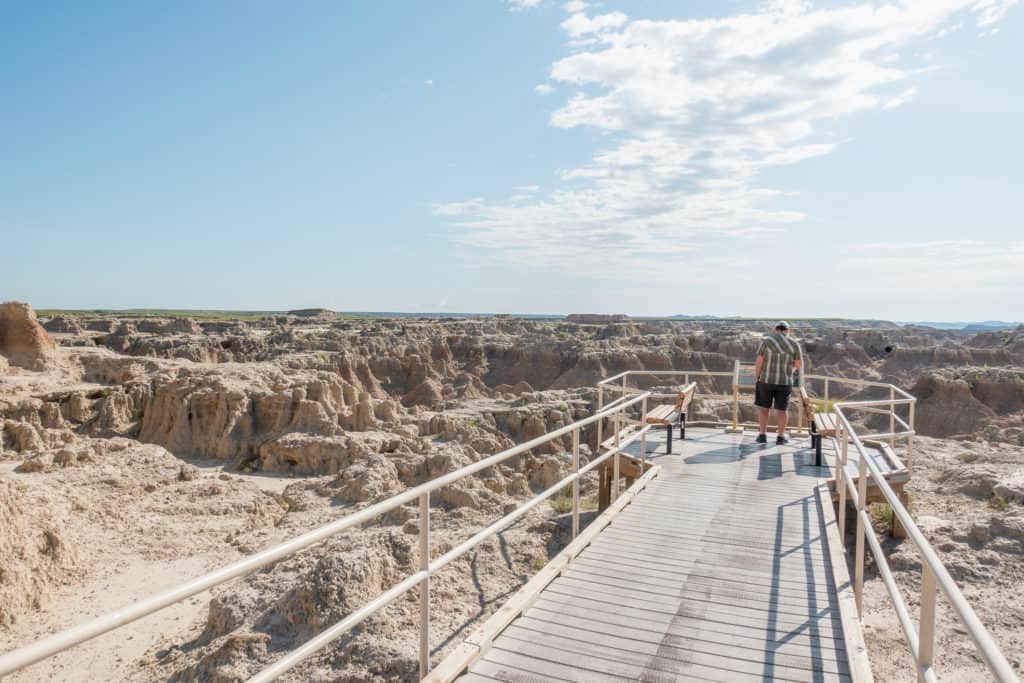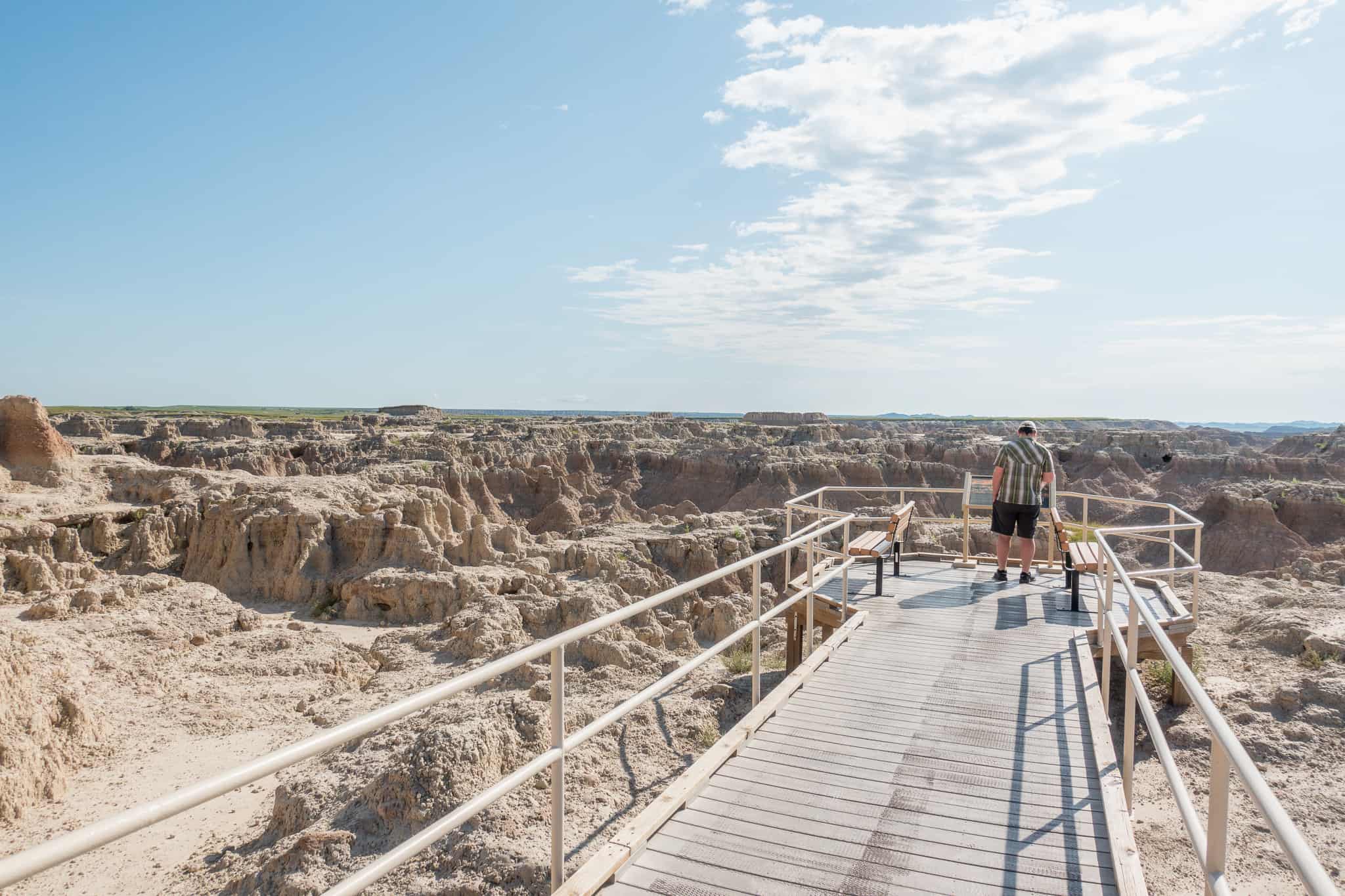 Let's start with… what are the Badlands, and why are they called the Badlands?
Historically the Lakota people were the first to call the area "land bad" (or "mako sica"). This was due to the rough living conditions in the area due to topography, temperatures, and lack of water. Next, French-Canadian fur trappers came along and felt similar about the land, calling it "bad lands to travel through" (or "les mauvais terres pour traverse").

These days though, the term Badlands has more of a geologic description. Wikipedia describes Badlands as "a type of dry terrain where softer sedimentary rocks and clay-rich soils have been extensively eroded by wind and water. They are characterized by steep slopes, minimal vegetation, lack of a substantial regolith, and high drainage density.
They can resemble malpaís, a terrain of volcanic rock. Canyons, ravines, gullies, buttes, mesas, hoodoos, and other such geologic forms are common in badlands. They are often difficult to navigate on foot. Badlands often have a spectacular color display that alternates from dark black/blue coal stria to bright clays to red scoria."
All of this is precisely what you get at Badlands National Park. So if that sounds interesting and like something you'd like to see at some point in your life, then let's continue!
Are the Badlands worth a visit?
Yes!
You may be thinking, "Okay… This sounds interesting, but what makes this park so awesome?"
It's the unique nature of the Badlands! While there, you can basically run wild anywhere you please. It's such a fantastically freeing feeling. The list of National Parks that allow you that sort of freedom is a short one.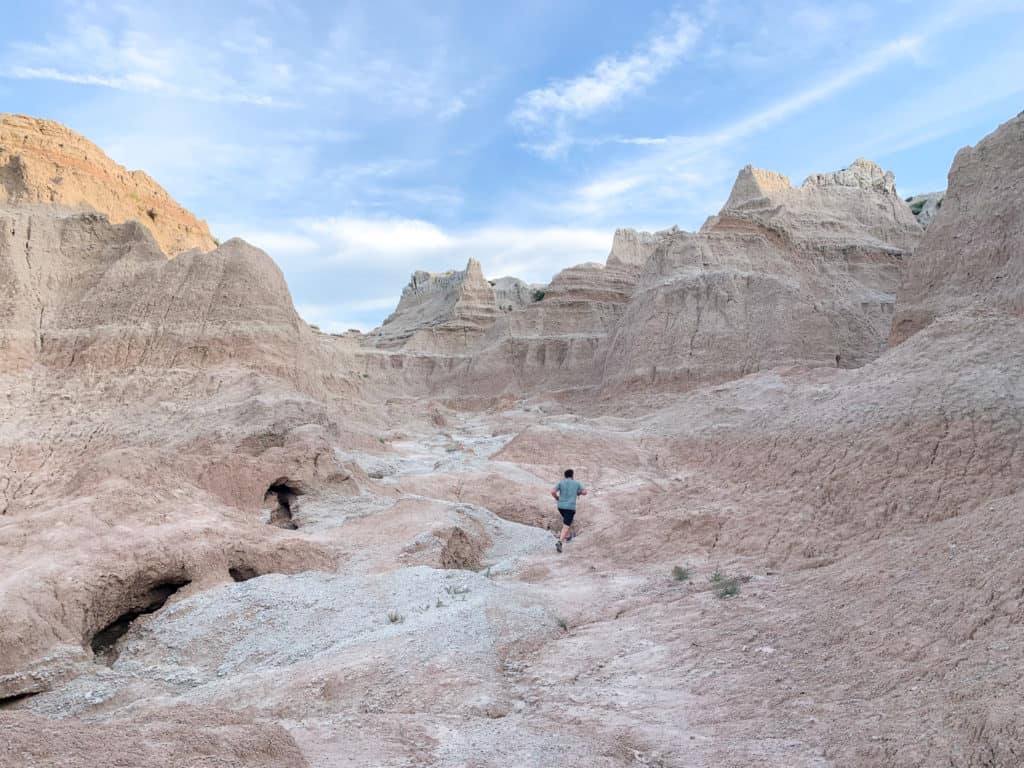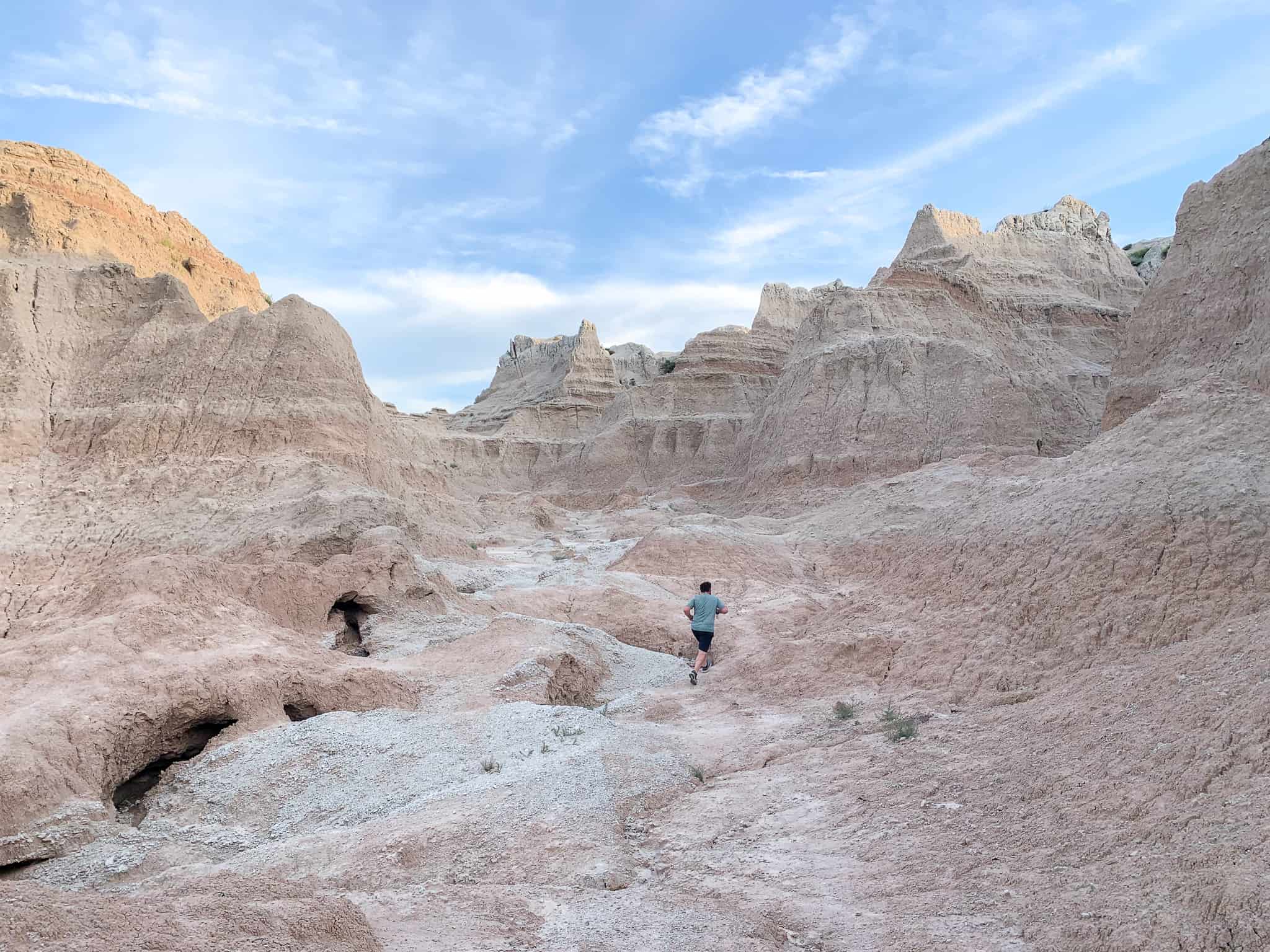 Whether you stay for one day or more, you have plenty of options at this park. But it doesn't take long to see that it's beautiful.
When is the best time to visit the Badlands?
The great news about this particular park is that it is open 7 days a week, 24 hours a day! So no matter when you're taking your trip, there's a way to fit it in.
The busiest (& hottest) time to visit:
Hands down, summer. That's going to be the same for a lot of National Parks. Summer is always going to be the time most convenient for families in the United States and always brings out the most substantial amounts of tourists.
The best time to visit:
Fall (August – November) is the best time to visit. We were there in August (right after the Sturgis Motorcycle Rally) during our visit. The weather was mild and lovely, and the crowds were minimal.
The second best time to visit:
Spring. Similar to fall, the weather will be beautiful, and the crowds will be thinned out. However, this is second because South Dakota is known to have some pretty intense rainstorms and hailstorms in the spring. I've even heard stories of RV roofs becoming ruined from the intensity of the hail they get!
The worst time to visit:
Winter. It will be freezing, and you could run into snowy conditions. Furthermore, due to the winter weather, a lot of the wildlife will be hiding.
Also, if motorcycles aren't your thing, I would recommend not going while the Sturgis Motorcycle Rally is going on. You will be surrounded by bikes. But if that's your jam, then that would be the best time to go!
How do I get to the Badlands?
Badlands National Park is in the Southwest corner of South Dakota. It's conveniently located right off I-90, the major highway that slices east to west straight through the state.
To visit, you are either going to have to road trip from your home or fly into Rapid City, SD and then drive one hour east.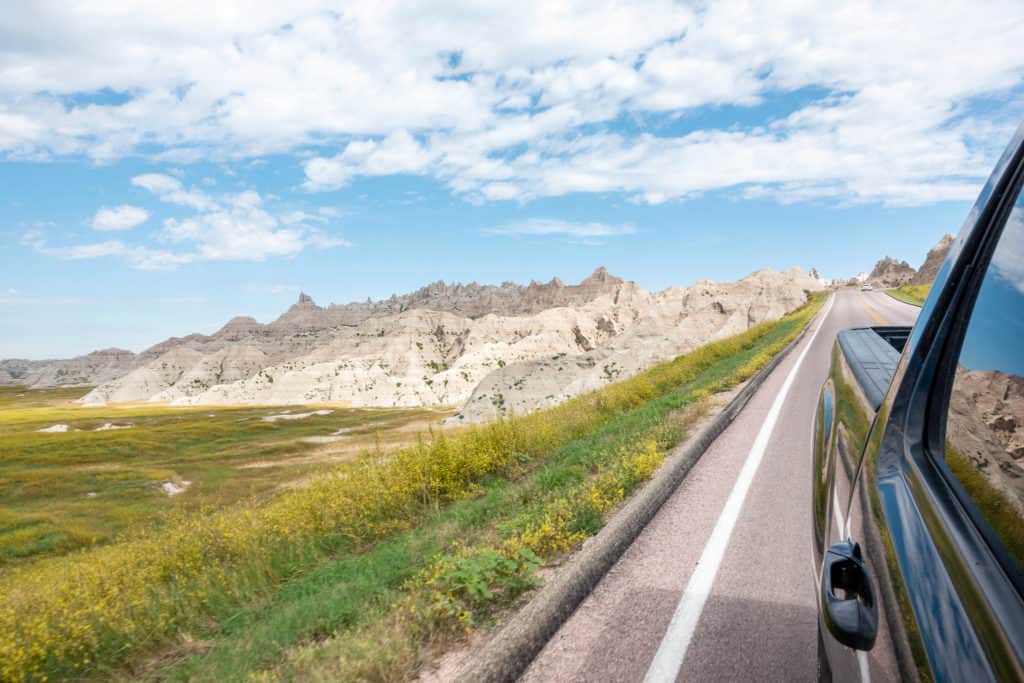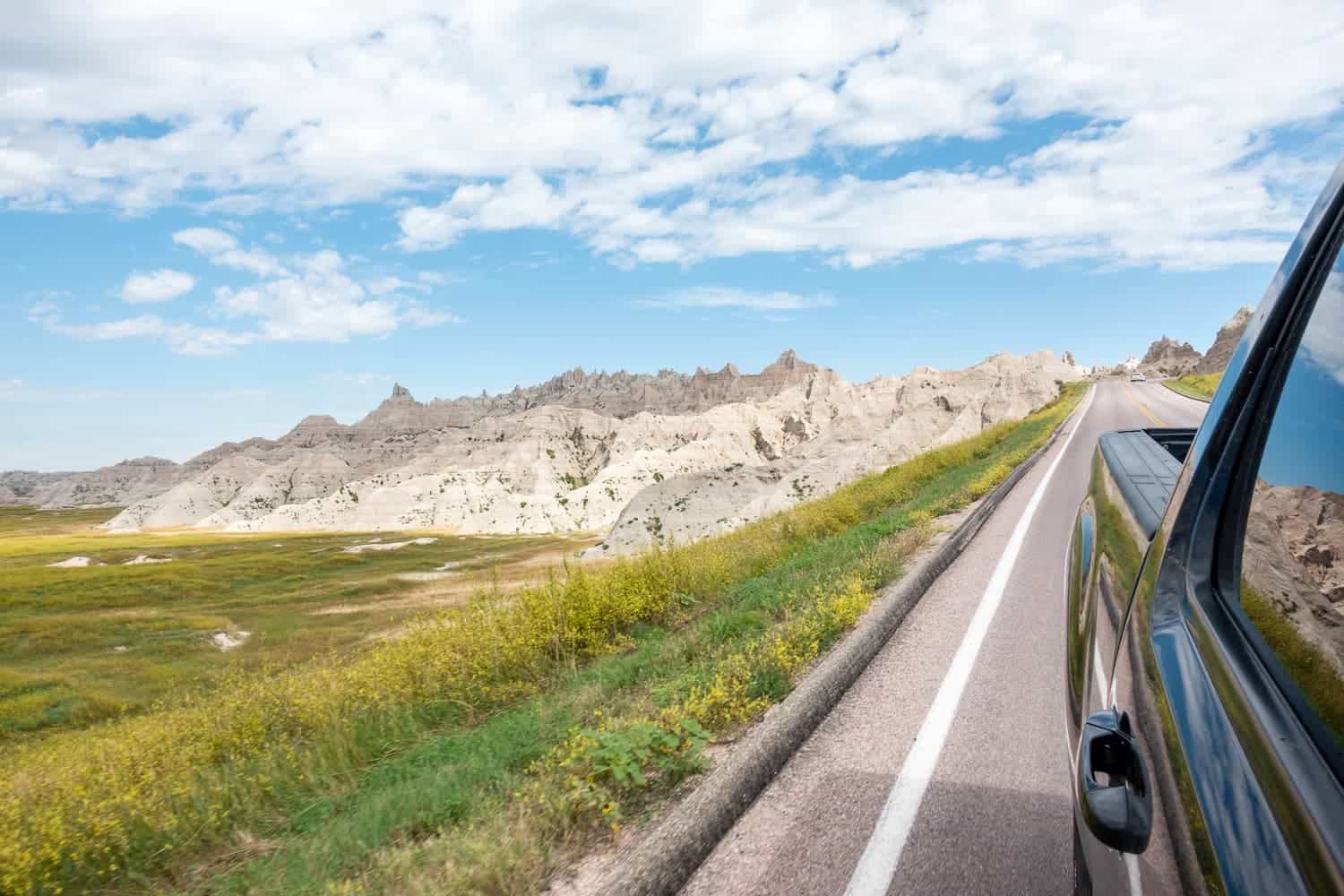 Airport
The closest airport is Rapid City Regional Airport. The graphic below is from their website. It does a great job of showing which airlines fly into Rapid City, from where, and during what time of year. More information on the seasonal flights shown below can be found here.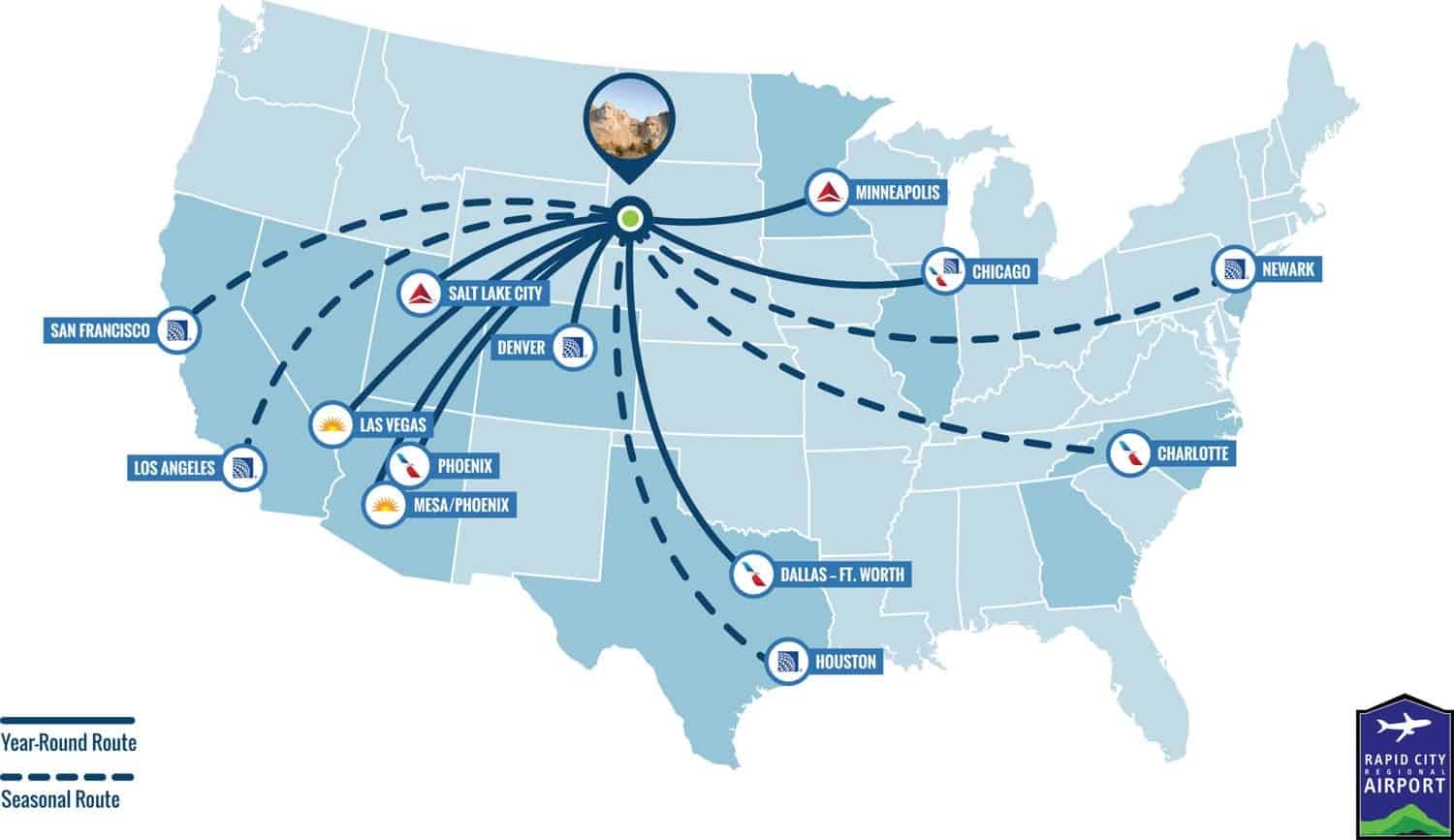 For the budget-conscious: If you're traveling in a big family and looking at purchasing many plane tickets, another option worth considering is flying into the Denver International Airport. They are a much larger airport serving many more airlines.
It would be about a 6-hour drive from the Denver airport to Badlands National Park, but it still might be worth the added travel time in the long run.
Rental Car
You will need a car to access Badlands National Park. So once you land, you will need to either rent a car…
…or… why not be like us and rent an RV! (I give a shout-out to one of our all-time favorite RV parks down below!)
Save up to 25% on your travel costs by booking an RV through RVshare!
Driving to Badlands National Park
Ok, so now you have your rental car! Or perhaps you drove all the way from home. Next is getting to the park. Badlands National Park has three entrances, the Pinnacles Entrance, Interior Entrance, and Northeast Entrance.
Visitors coming from the west (including those coming from the Rapid City airport) will enter the park through the Pinnacles Entrance. Take 90 east to exit 110 in Wall, SD, then continue south on 240 for 8 miles.
Visitors coming from the south will enter the park through the Interior Entrance. Take 44 north until you hit 377 in Interior, SD. At the 377 junction, turn right, and you'll be in the park in less than 2 miles.
Visitors coming from the east will enter the park through the Northeast Entrance. Take 90 west to exit 131 in Cactus Flat, SD, then continue south on 240 for 3 miles.
What's the cost associated with visiting Badlands National Park?
As of March 2023, the entrance fees are as follows:
Private Vehicle: $30 – Valid for 7 days
Motorcycle: $25 – Valid for 7 days
Individual (hike, bicycle, etc…): $15 per person 16 and older – Valid for 7 days
Badlands National Park Annual Pass: $55
America the Beautiful Annual Pass: Or, for $80, you can get an America the Beautiful Annual Pass and have access to all of the nation's National Parks, National Wildlife Refuges, National Forests, and National Grasslands for one year (or for a lifetime if you're over 62)!
Free Days: For the budget-conscious (who also aren't afraid of crowds), the National Parks always have a few days a year they offer free admission to everyone. Here's a link to check out the dates for 2023.
One Day Badlands National Park Itinerary: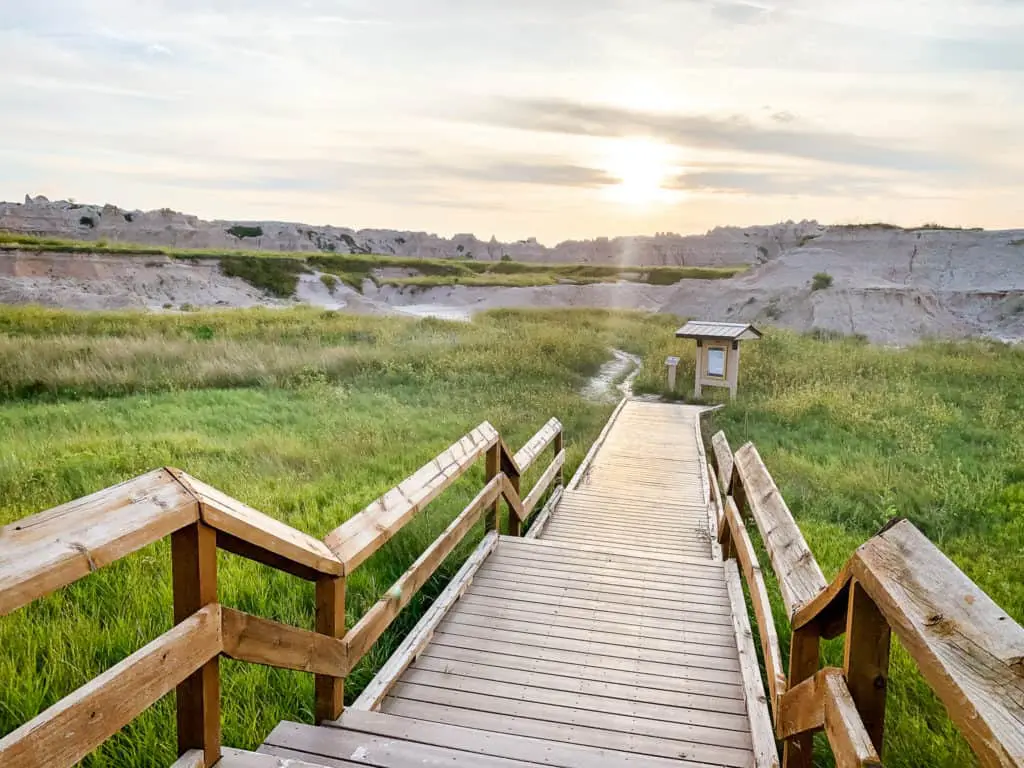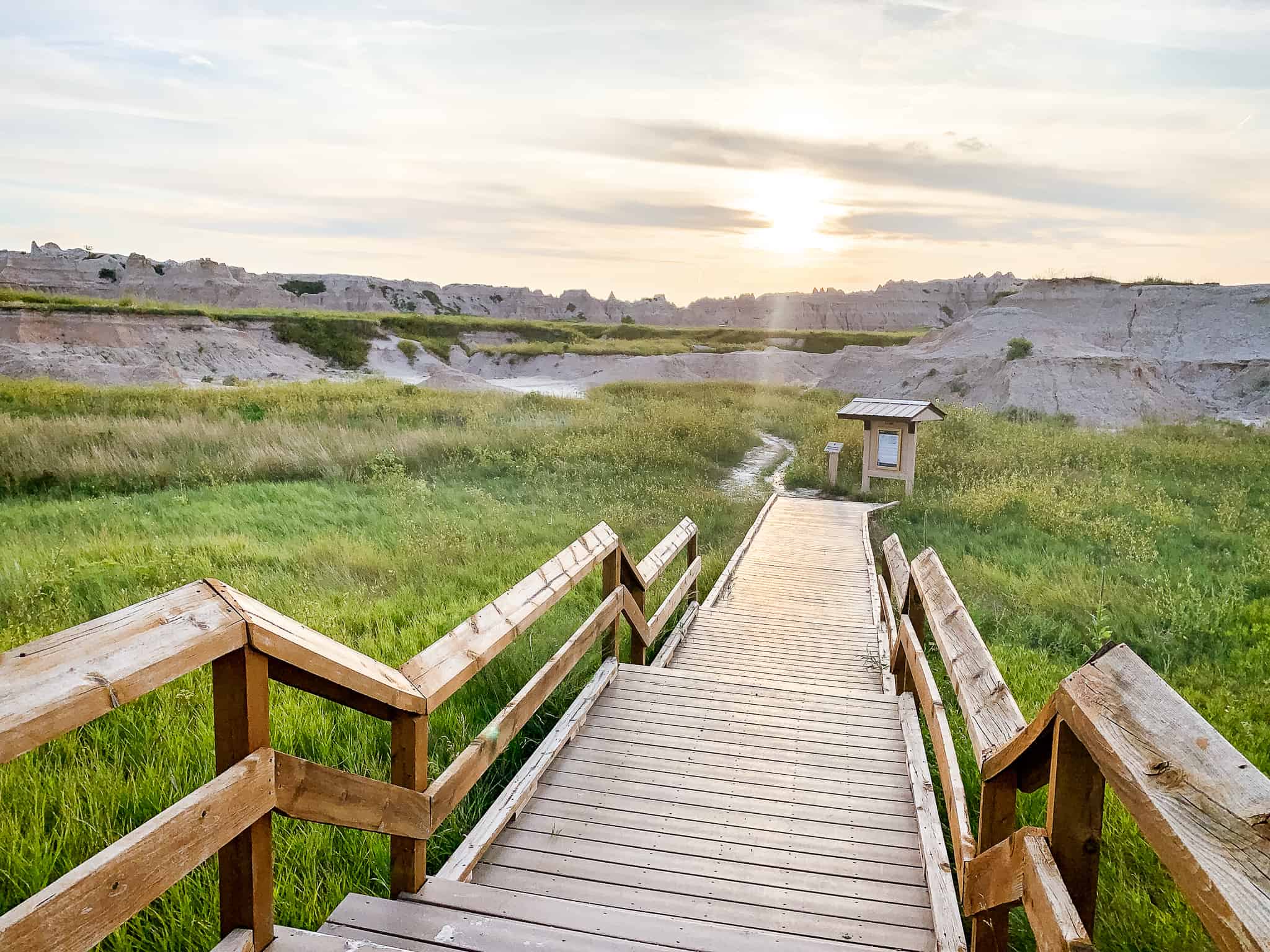 Now let's get into how to spend the perfect day at Badlands National Park!
Badlands National Park can be easily explored in one day. Many choose to spend a long weekend or week split between Badlands National Park and the Black Hills area.
I recommend spending at least one day in each spot. Both are beautiful and offer different experiences. Sign up for my newsletter so you don't miss out on my upcoming guide to the Black Hills area.
The parts of the park that are easily accessible via your car are not overwhelming. It is very possible to hit up all of the highlights in one day. Also, as you will see, most of the popular trails are short and don't entail much time at all.
This itinerary is best for people coming in through the Northeast Entrance or the Interior Entrance. If you're entering the park from the airport through the Pinnacles Entrance, you may choose to mix a couple of things up.
Ben Reifel Visitor Center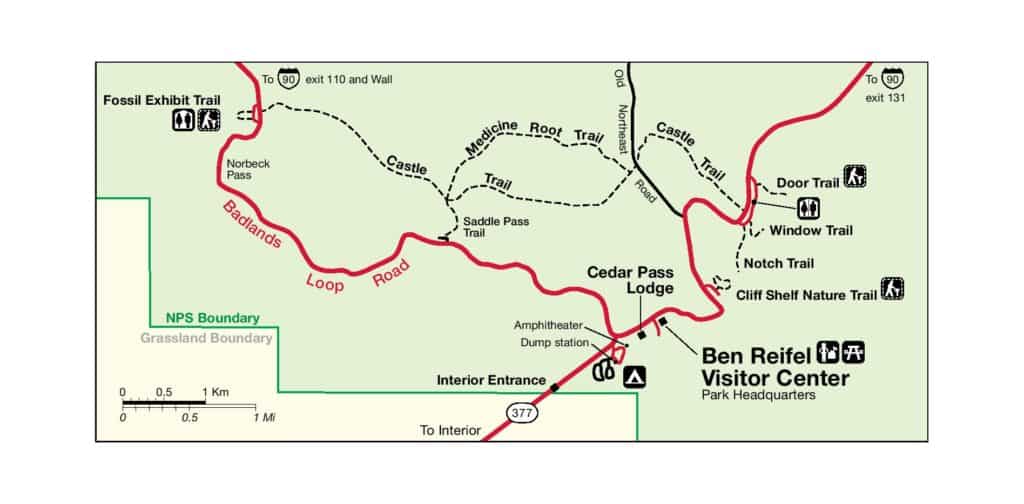 We almost always go to the park's Visitor Center first before going anywhere else.
I generally walk in with a plan, lay it down in front of a ranger, and ask them if my schedule is insane or doable. ? For the most part, this has worked out well for us, and the rangers are generally happy to help. (I did once wait in line only to be greeted by an angry ranger at Yosemite, but we don't talk about him.)
I also tell them our hiking skill level and ask them if there's anything unique they think we're missing out on that I haven't included. We've found some really amazing hikes this way! I listed out a ton of them in this blog post.
Cliff Shelf Nature Trail


Distance: 0.5 mile
Route Type: Loop
Elevation Gain: 65 Feet
Difficulty: Easy (There are stairs)
Duration: 1 hour
Pet-Friendly: Pets are not allowed on hiking trails, public buildings, and in backcountry areas in all of Badlands National Park.
Parking: There is a parking lot at the trailhead.
Next, after the Visitor Center, I would head on over to the Cliff Shelf Nature Trail. It's a short loop hike that is an excellent introduction to the park. This hike gets you elevated a bit and gives you a lookout over the park.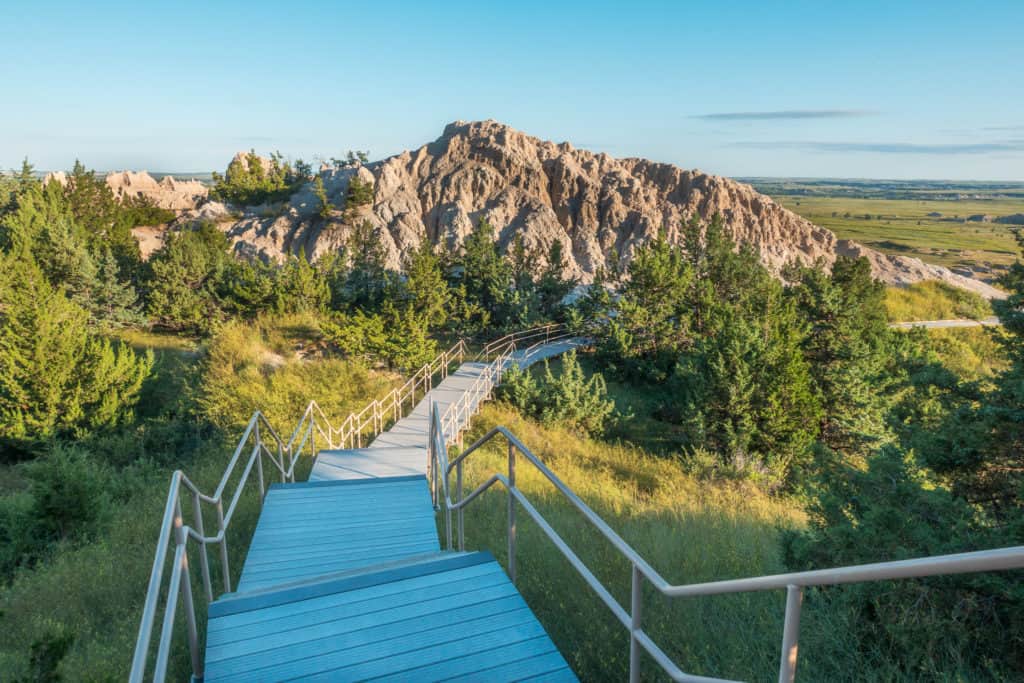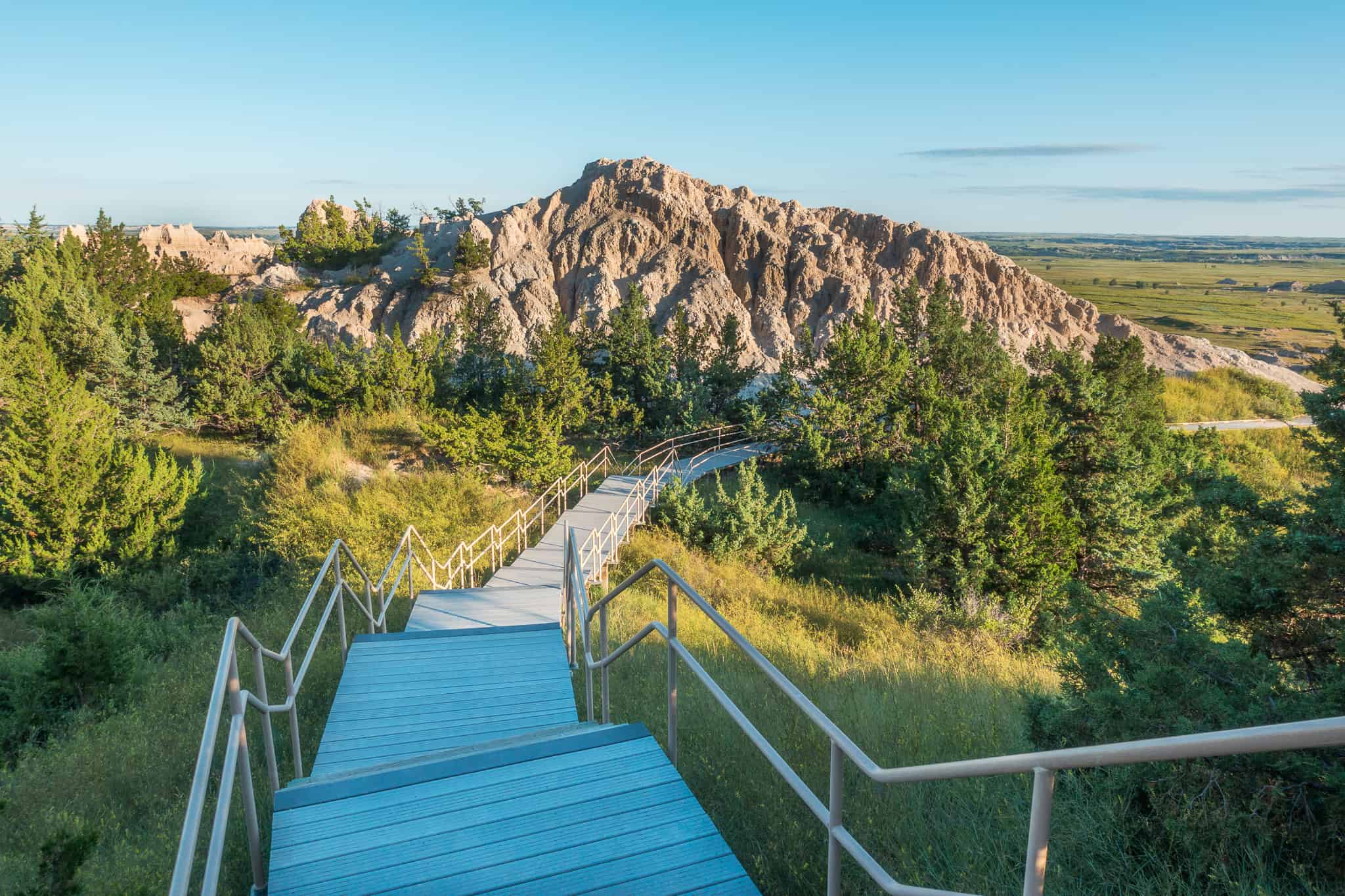 It should be noted there are some stairs involved on this hike, but it's a loop, so you can turn around when you hit them if they're not for you.
Also, this is rattlesnake country, so be on the lookout while hiking.
Food Break
If you were to ask my father, I am notoriously bad at planning times to eat into my trip plans. I find planning lunch and dinner as one of the most challenging things to organize for a group because everyone has their own eating habits they are accustomed to.
So, if you're like my dad and like to know that food has been thought out, I'm going to point out a few good stops for food breaks along the way.
If you're hungry for lunch at this point, I'm going to propose taking a quick drive back to the Ben Reifel Visitor Center picnic area since you're still close. But you'll also still be close after the upcoming Notch & Door Trail hikes.
If you did not bring lunch, there is also a restaurant in the Cedar Pass Lodge directly next door to the Visitor Center.
Notch Trail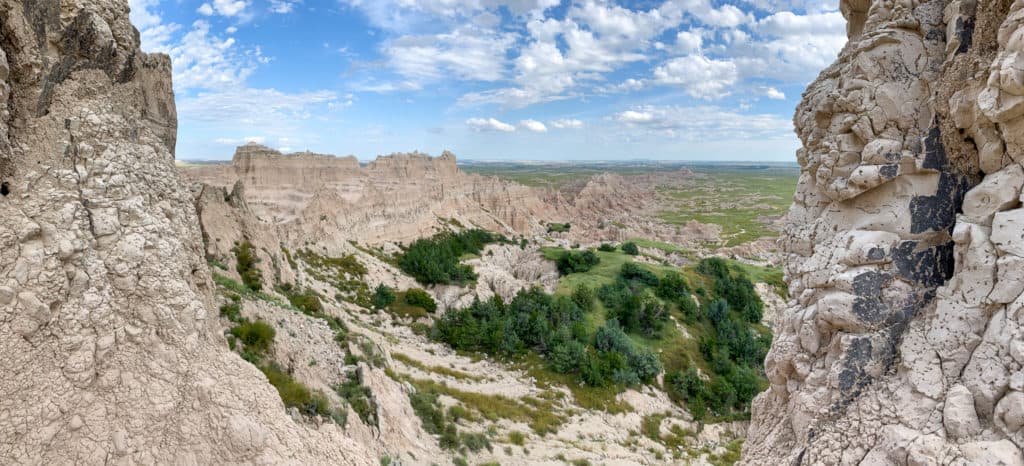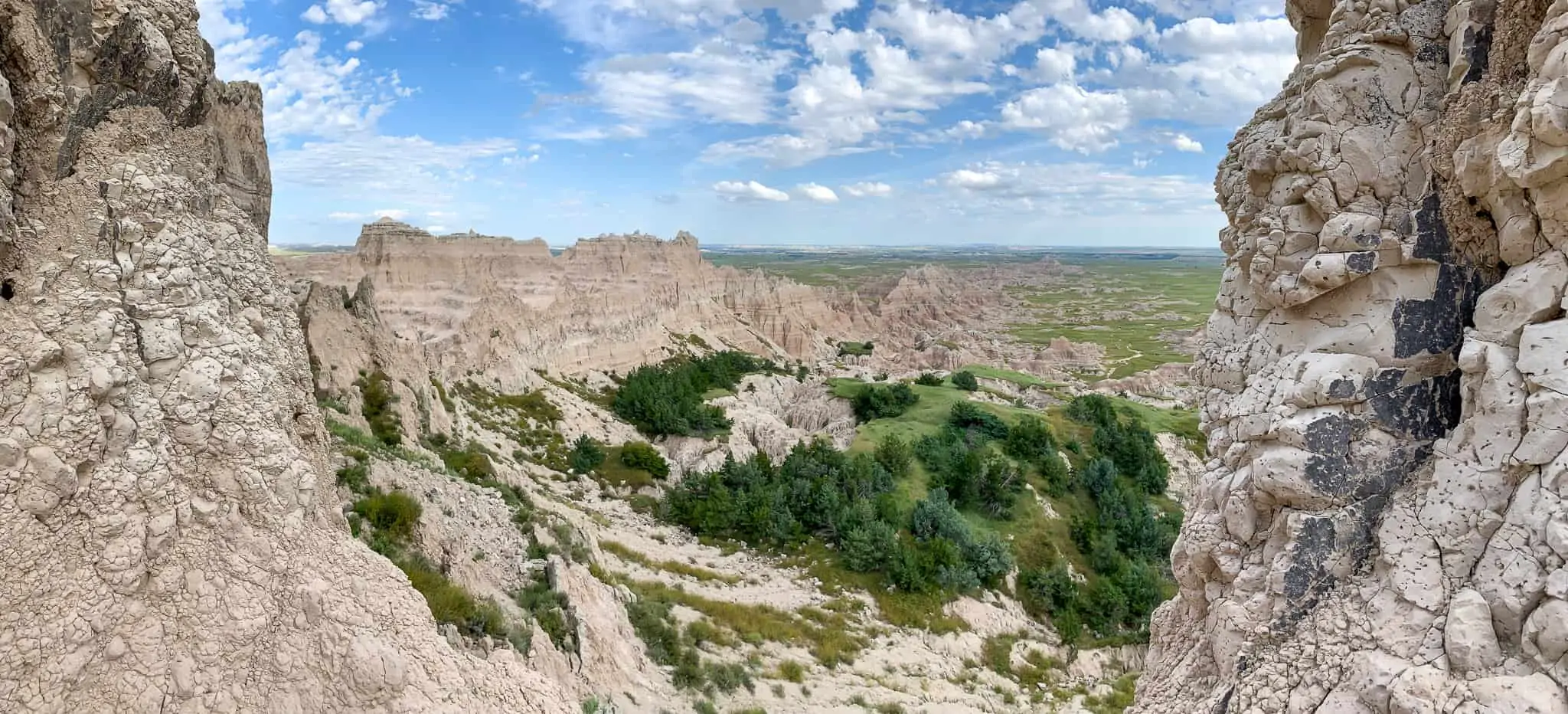 Distance: 1.3 miles
Route Type: Out & Back
Elevation Gain: 131 Feet
Difficulty: Moderate (Mostly due to the ladder.)
Duration: 1 hour
Pet-Friendly: Pets are not allowed on hiking trails, public buildings, and in backcountry areas in all of Badlands National Park.
Parking: There is a parking lot at the trailhead.
Next, take a quick ride north to the next parking lot, which serves as the main parking area for five separate trailheads.
In this area, I suggest starting with the best of the best, the Notch Trail! As you start this hike, you're surrounded by some hills, greenery, and shrubs. But then, before you know it, the green all starts to disappear, and you're in the middle of what appears like a small white rock canyon. It starts to feel like you've been transported to another planet.
Then you reach the ladder.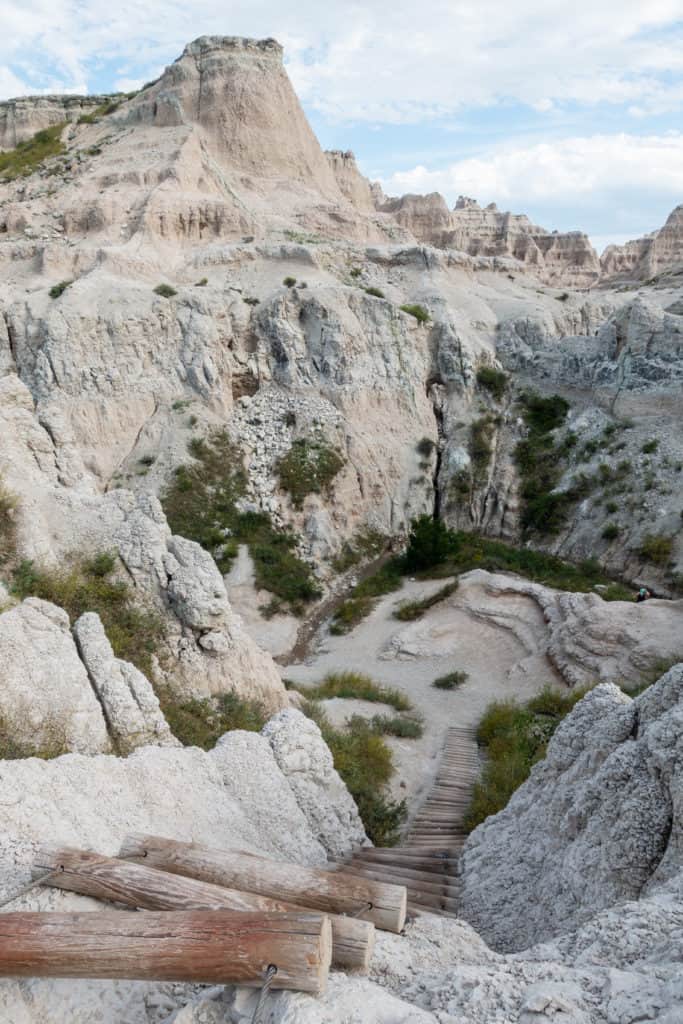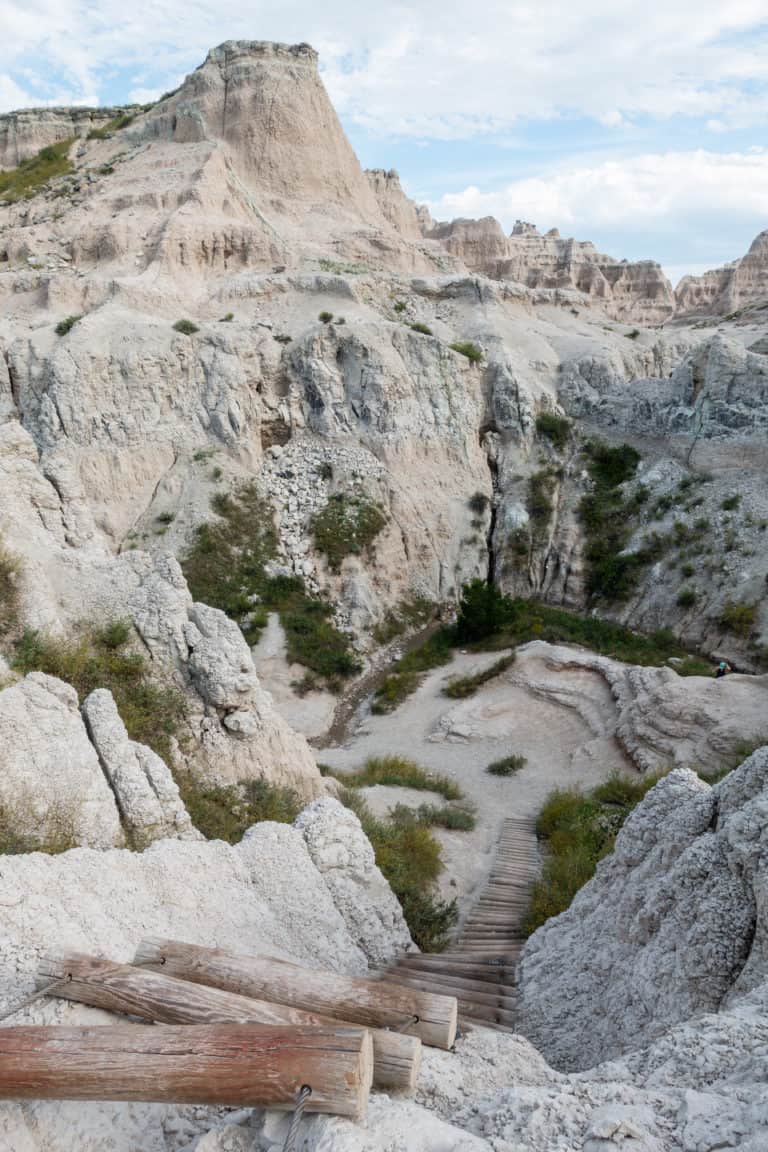 For anyone freaked out by the ladder, there is a roundabout option, but the ladder honestly looked easier to me.
You then get to walk up to the tops of the Badlands hill peaks.
Eventually, you will come to a spot where you can go left or right. I suggest giving both a try.
Here's the view from the left: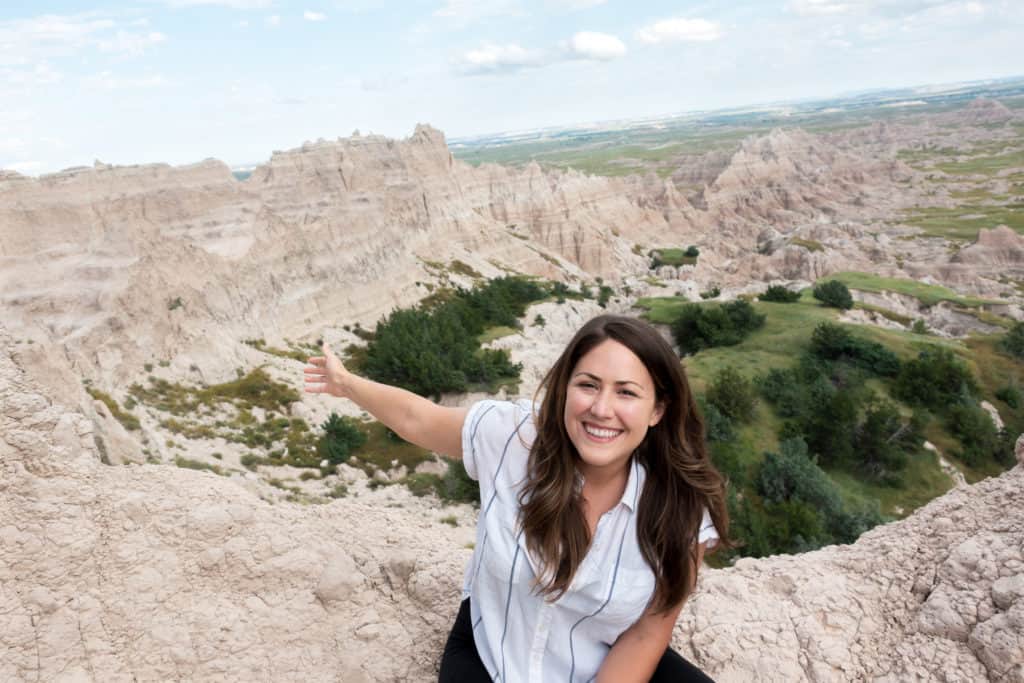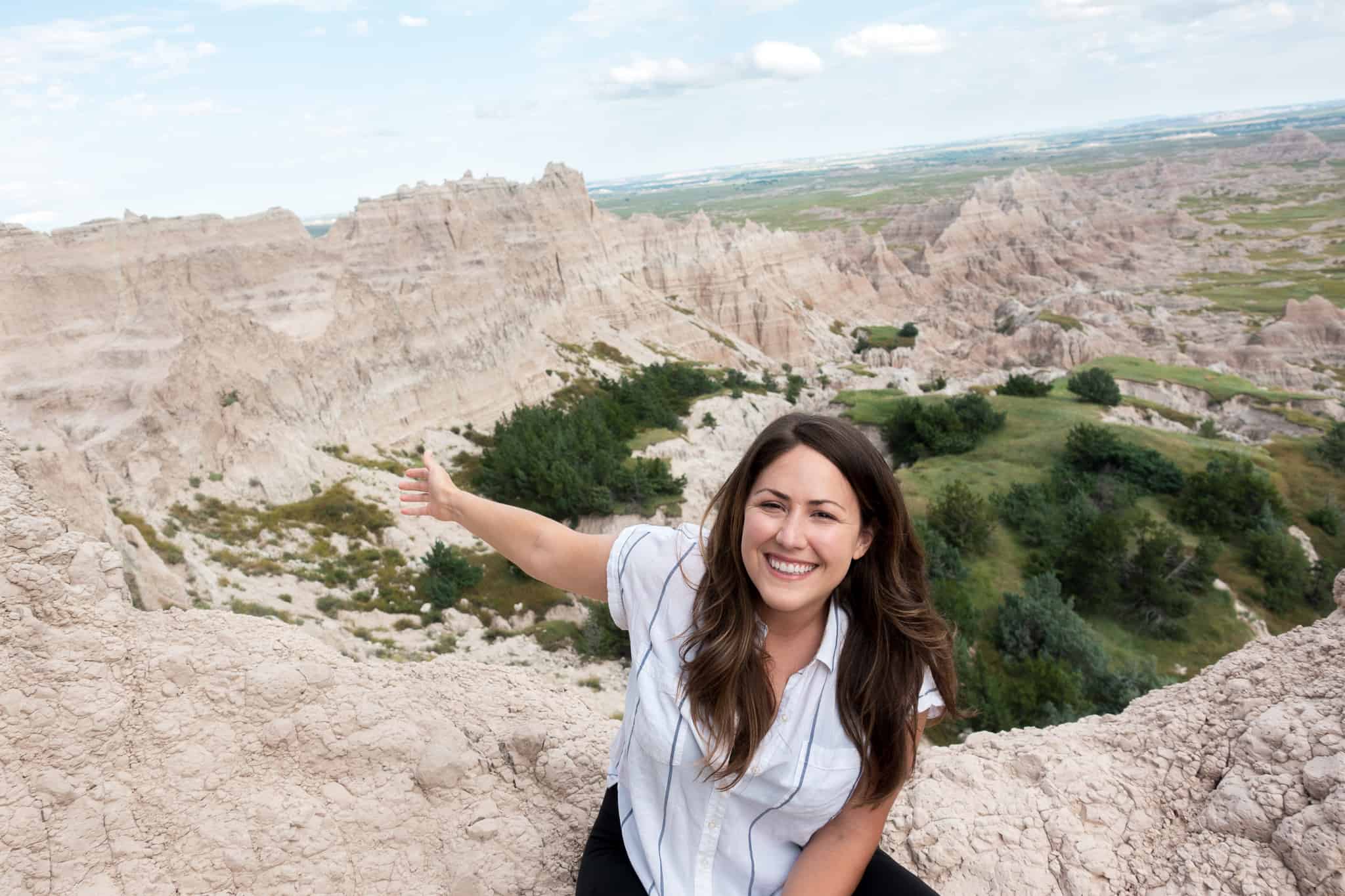 And the view from the right: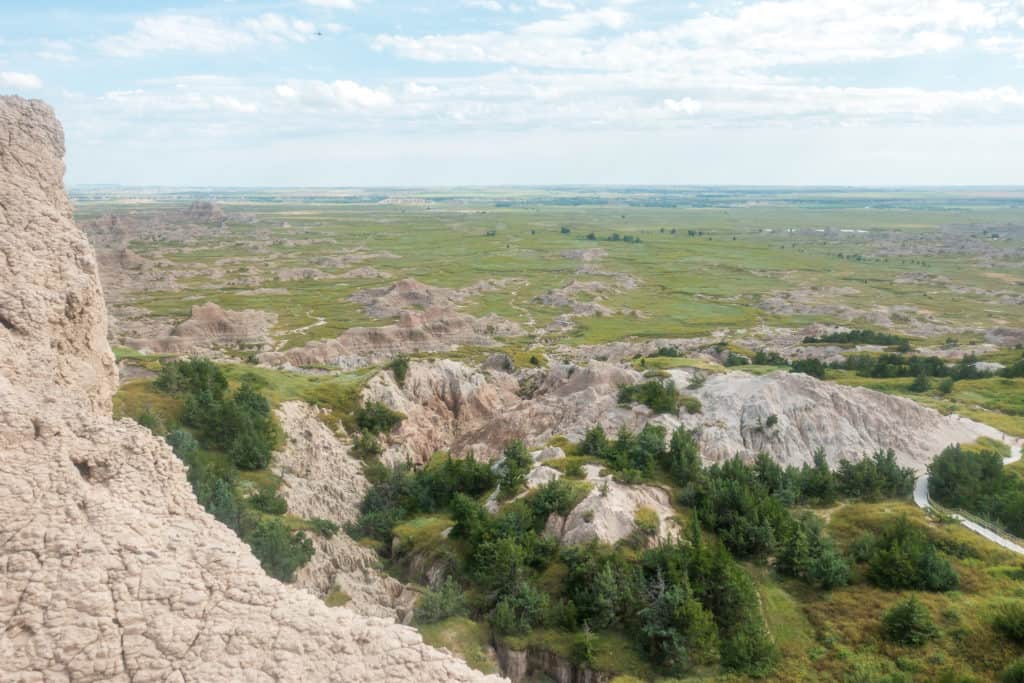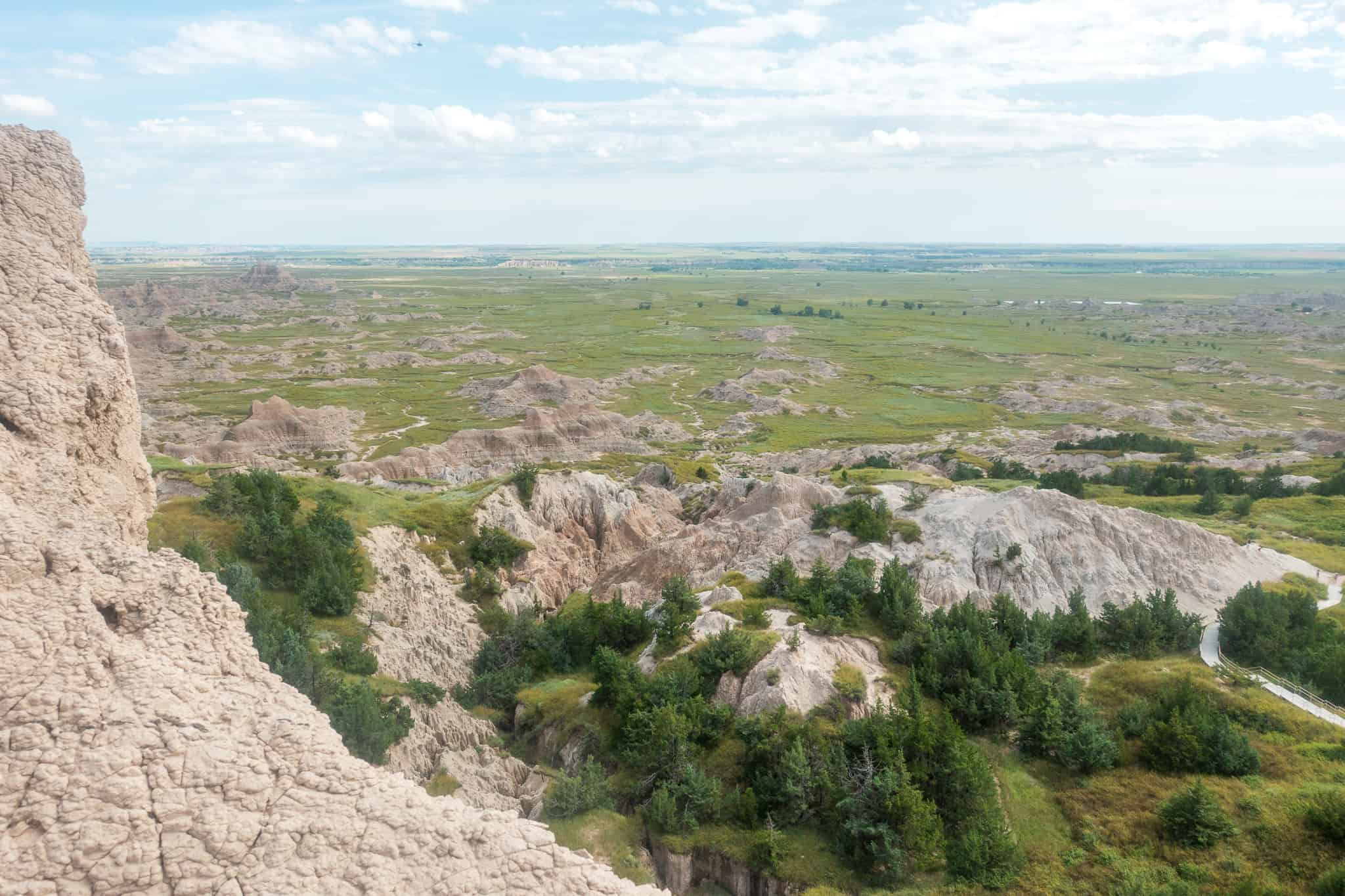 Door Trail


Distance: .25 mile + a .5 mile extension
Route Type: Out & Back
Elevation Gain: 36 Feet
Difficulty: Easy
Duration: 1 hour
Pet-Friendly: Pets are not allowed on hiking trails, public buildings, and in backcountry areas in all of Badlands National Park.
Parking: There is a parking lot at the trailhead.
Next, stay parked in the same parking lot and make the short walk to the opposite end where the Door Trail begins.
It starts with a very short boardwalk trail. But, at .25 of a mile in, that part ends quickly. You can then continue along, following an unmaintained trail with numbered poles scattered all around, marking the ground. Eventually, you'll reach a sign that says "End of Trail," with an epically expansive view of all the colors and mountain peaks behind it.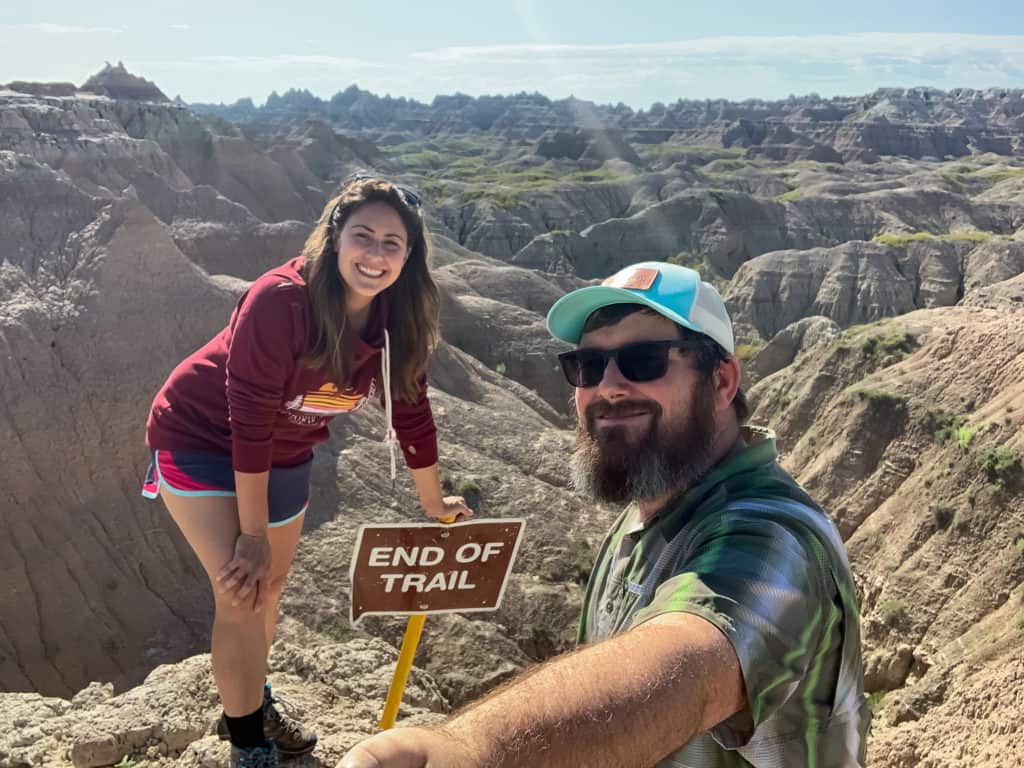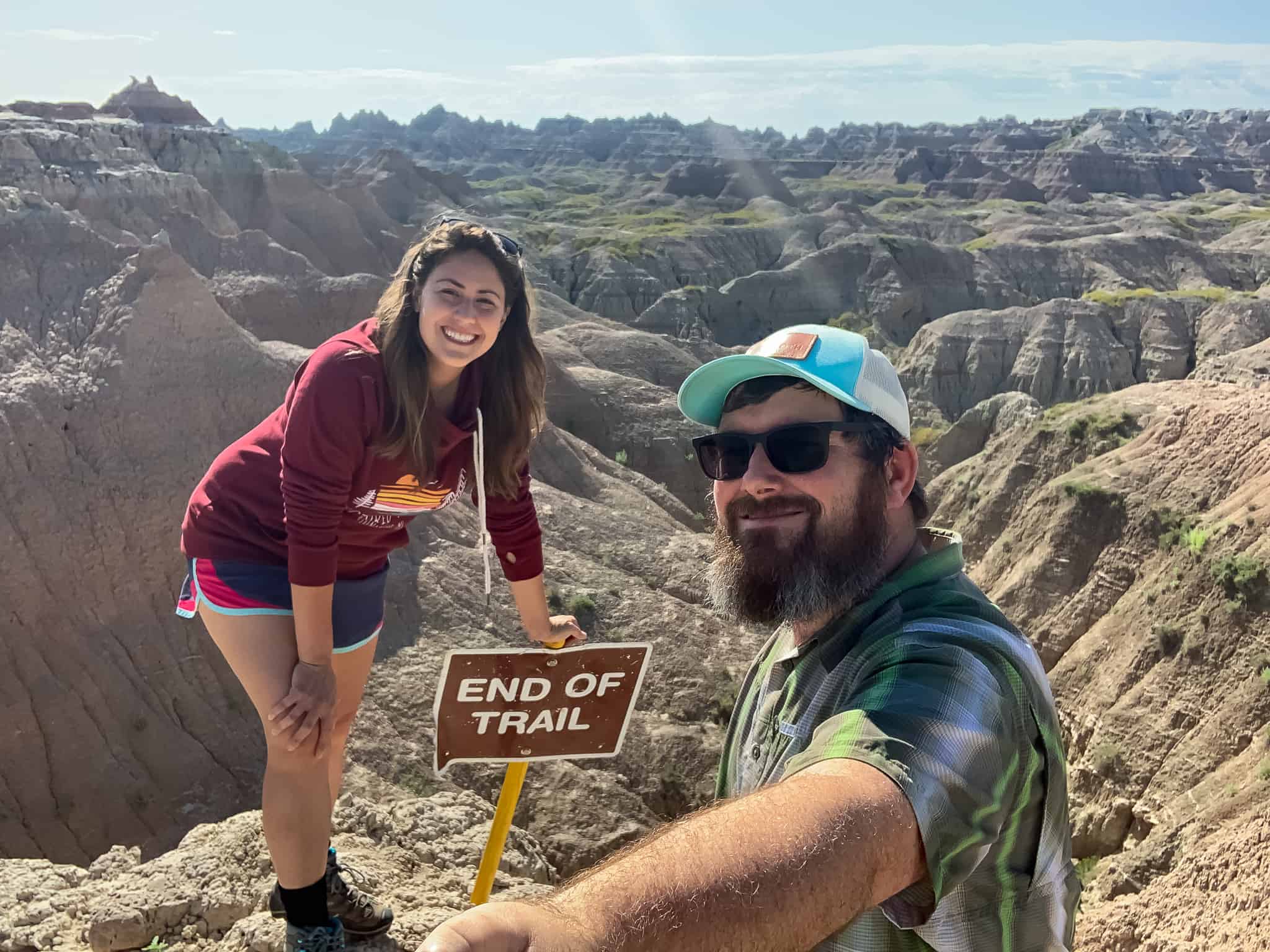 This trail is neat because you are entirely free to roam, and you feel as if you're in the middle of the canyon.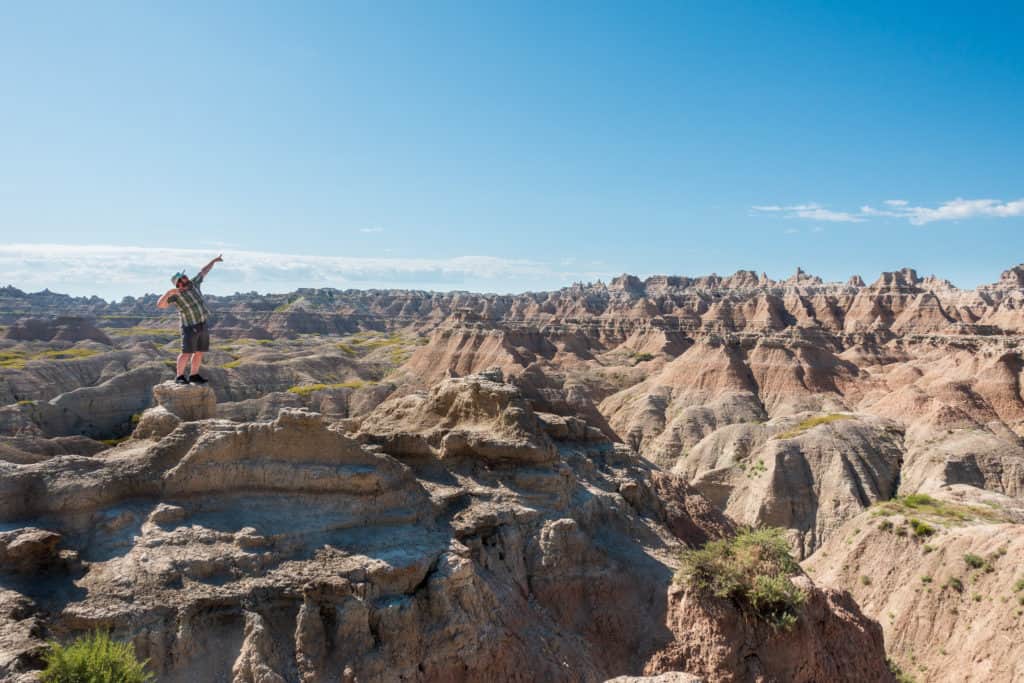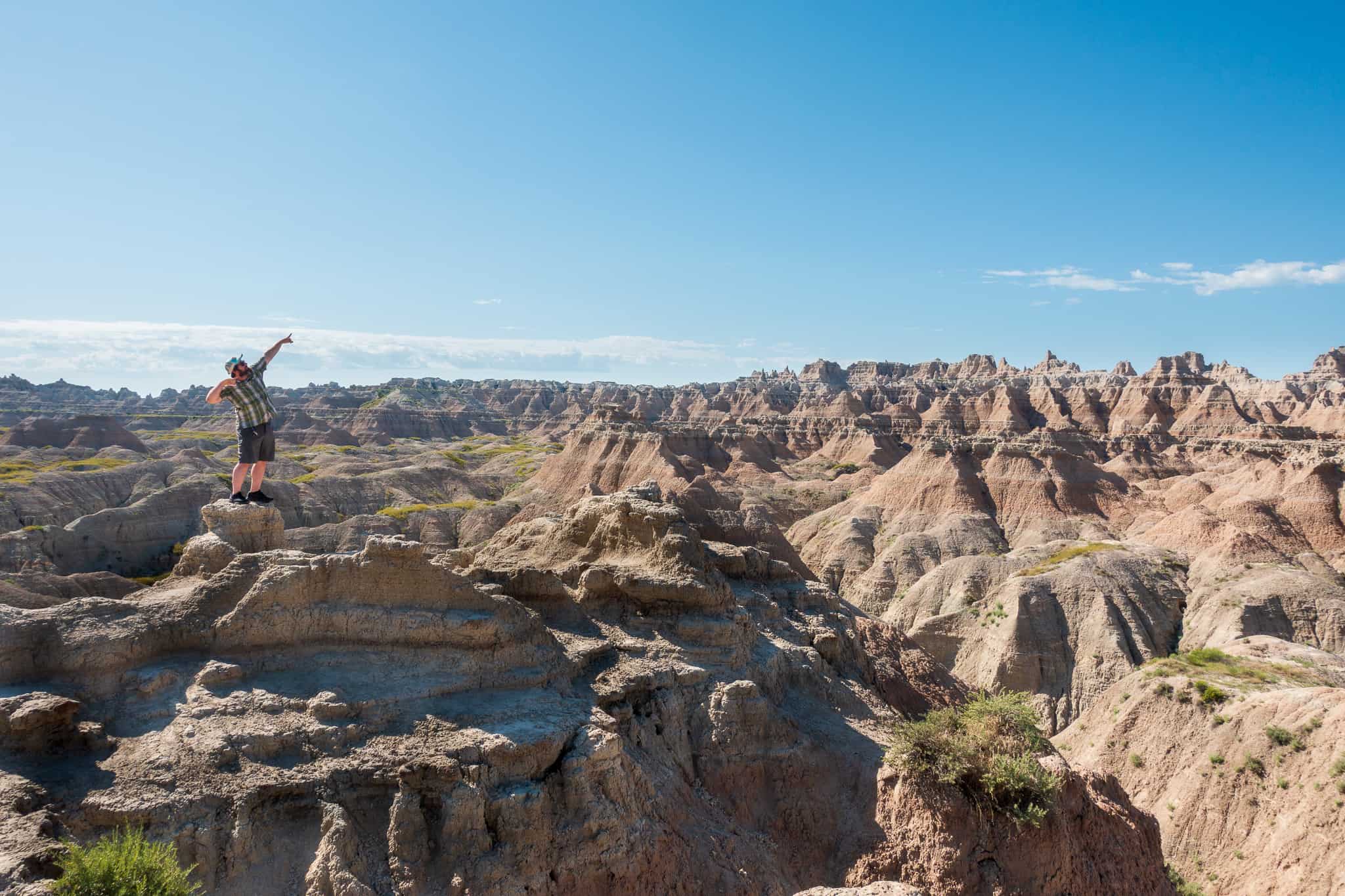 Badlands Loop Road Scenic Drive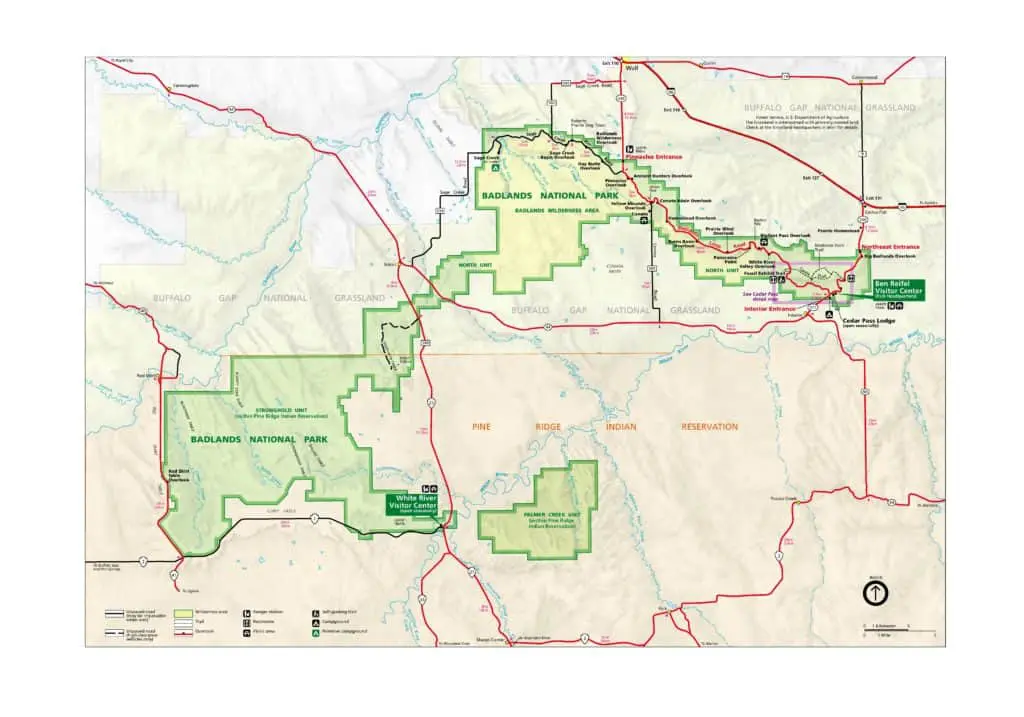 After you've got a few of the park's short yet stunning hikes under your belt, I recommend taking a ride on the Badlands Loop Road.
Badlands National Park is relatively small in comparison to many other National Parks. One thing that's amazing about it, especially for families, is that a lot of what it has to offer can be seen directly from the beautiful 31-mile two-lane Badlands Loop Road. (About 28 miles of it being within the park boundaries). And there are so many spots along the way that you can stop for a closer look and a leg stretch.
Below is a combination of stops recommend (from east to west) via various bloggers and park rangers, along with some of my personal favorites.
Big Badlands Overlook
Cedar Pass
Norbeck Pass
Panorama Point

Food Tip: There is a picnic area right before this overlook at Bigfoot Pass Overlook

Conata Basin Overlook
Yellow Mounds Overlook

There will always be spots we didn't get to explore. If I went back tomorrow, I'd make sure this made it onto our schedule.
Food Tip: There is another picnic area right past this overlook. Once leaving, you'll see Conata Road (509) to your left. Turn down that unpaved road; the picnic area is less than 1 mile down the road.

Pinnacles Overlook (skip this for now, come back for sunset)
Roberts Prairie Dog Town
Roberts Prairie Dog Town
(SWITCH ONTO SAGE CREEK RIM ROAD)
A short distance after passing Pinnacles Overlook, you'll arrive at a point where you can either turn right or left.
Turning right will take you out of the park via the Pinnacles Entrance/Exit. Turning left will take you onto the unpaved Sage Creek Rim Road.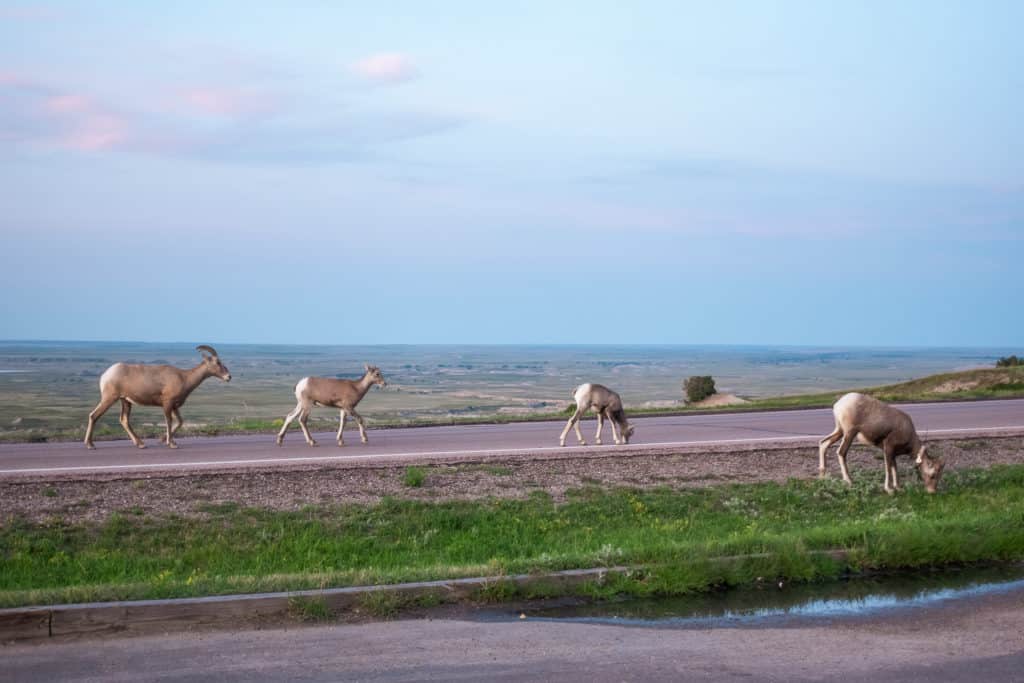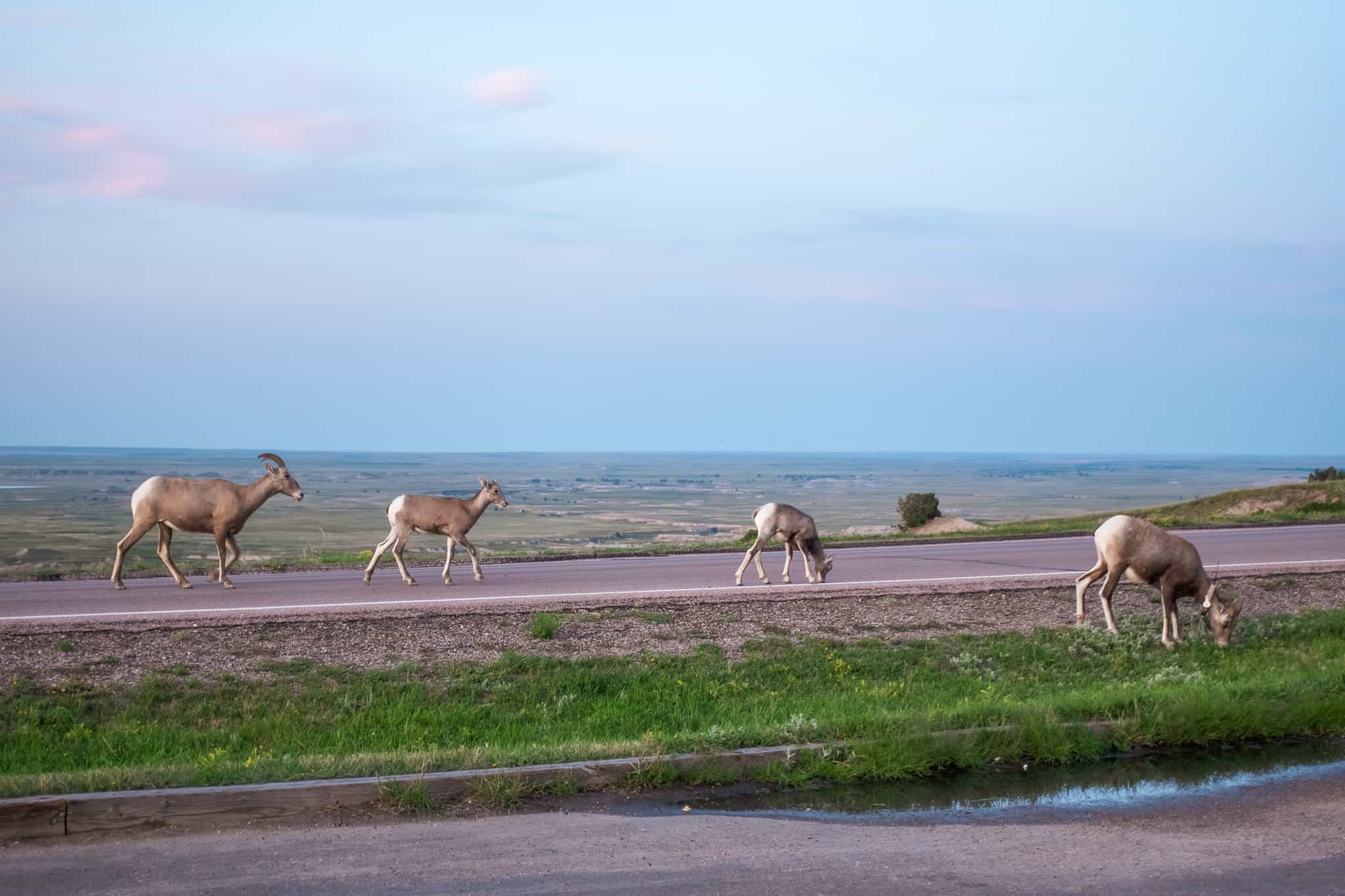 If you're hoping to see animals, this is where we saw a ton! Bison, Prarie Dogs, and Bighorn Sheep galore! So I would recommend taking the unpaved road at least to Roberts Prarie Dog Town to see all of the animals along the way.
Dinner Break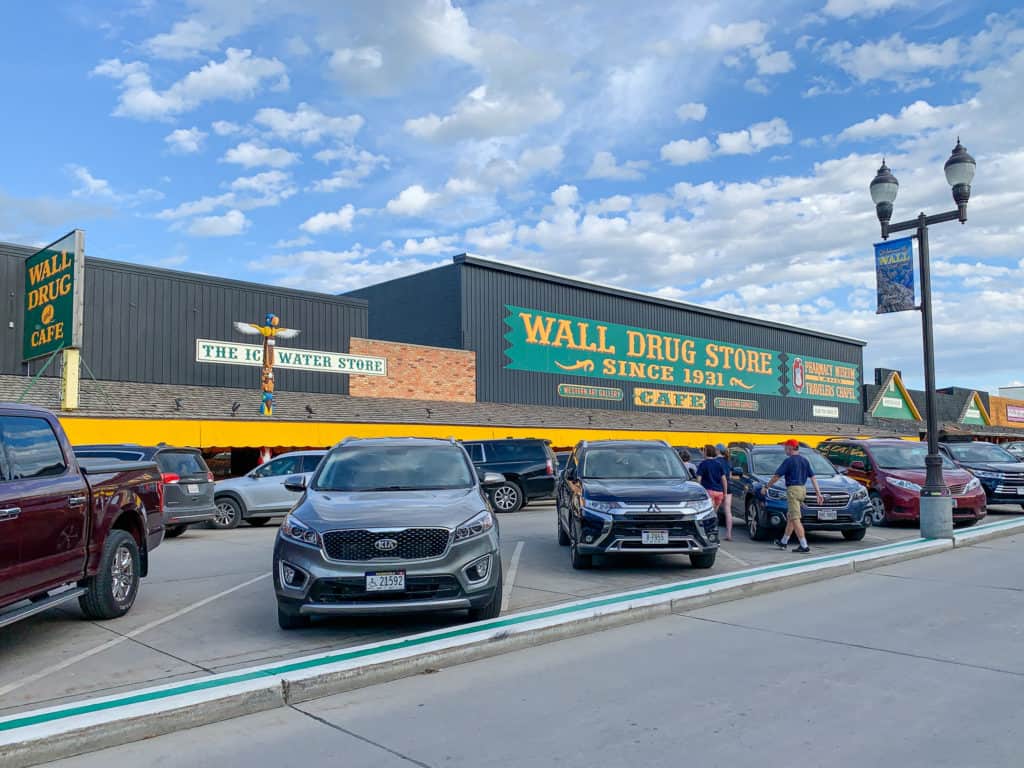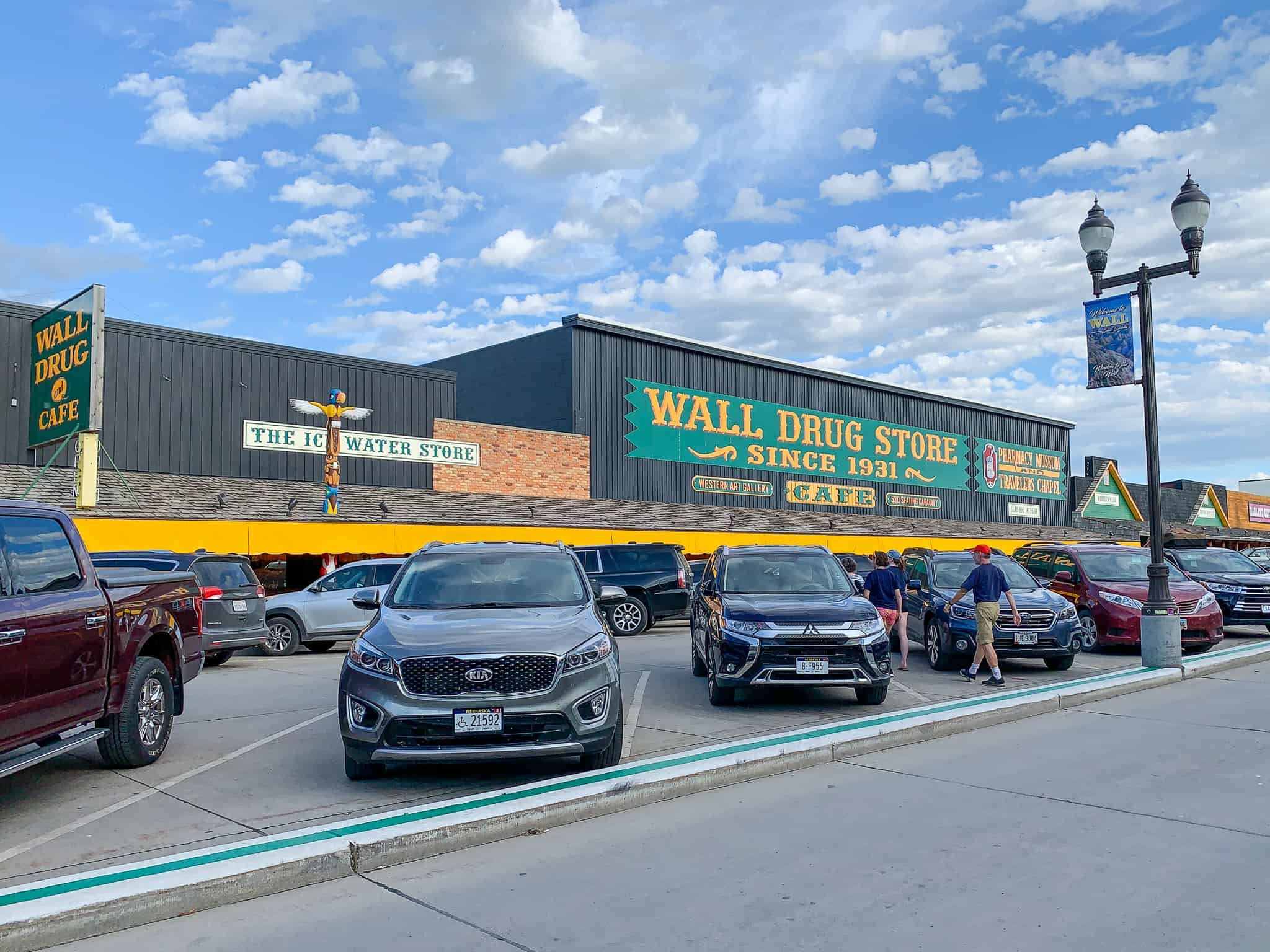 This would be a great time to take a short 8-mile drive outside of the park to Wall, SD. You can't really come to this part of the nation without a stop at Wall Drug. No matter which direction you came from, you definitely saw the billboards luring you toward their free ice water & 5 cents hot coffee.
I visited as a kid, and now I've visited as an adult. It's your typical roadside attraction with plenty of food and shopping. It's also now been partially turned into an Instagram Funland in the backyard area. If you've never been, you probably want to walk in just so you can say you've done it, so why not also jump on a barrel and grab dinner while you're there?!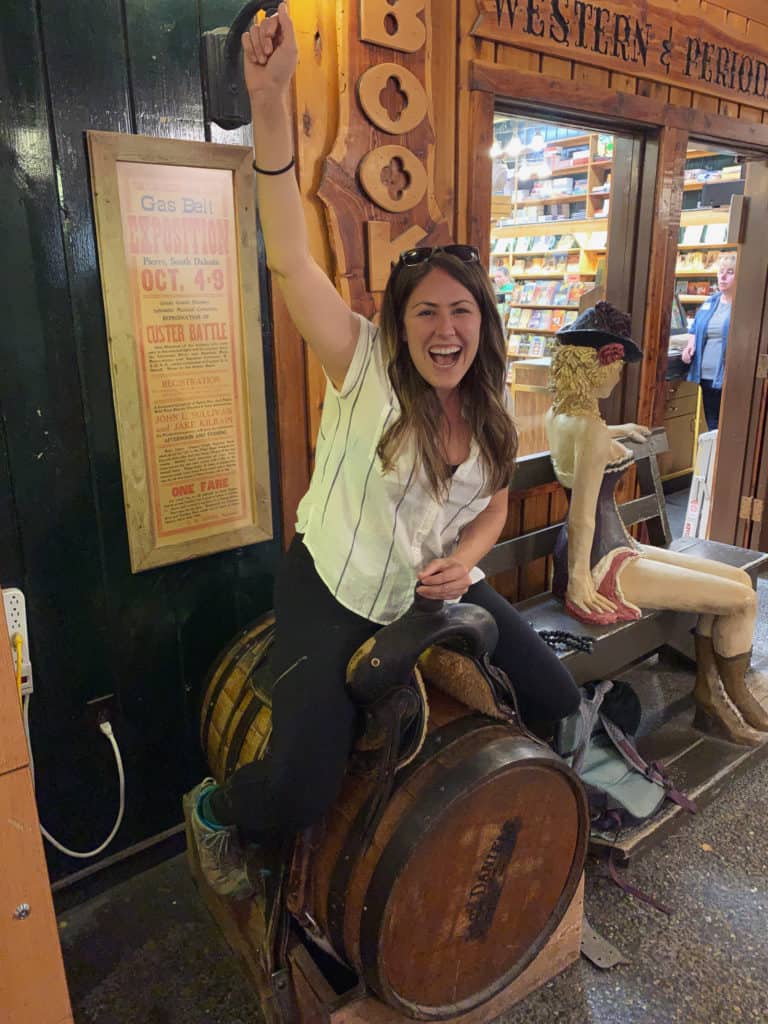 Pinnacles Overlook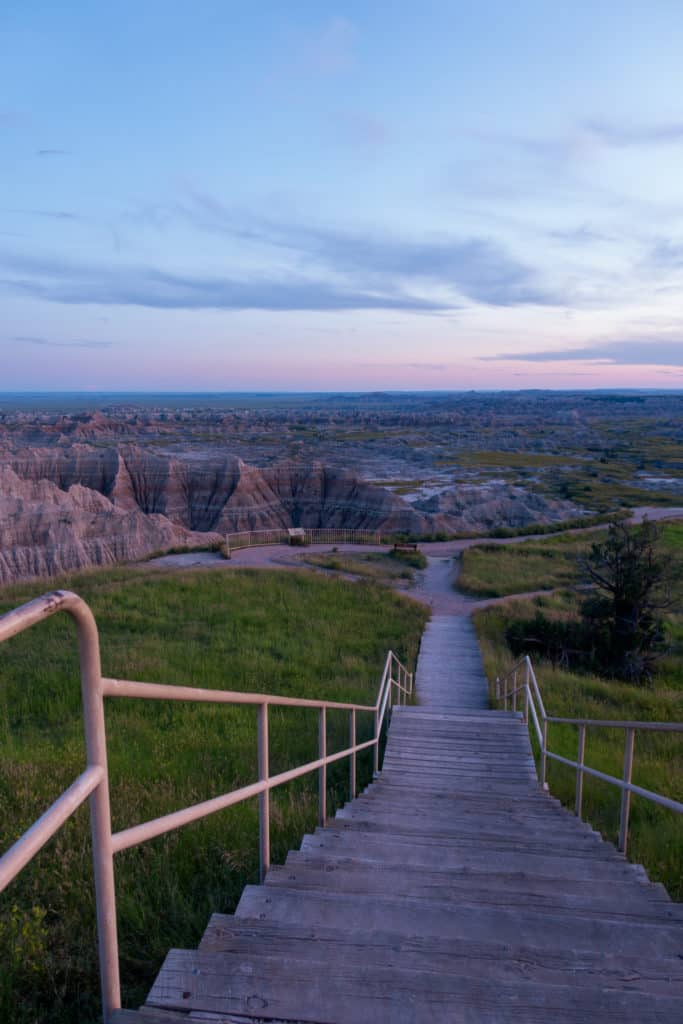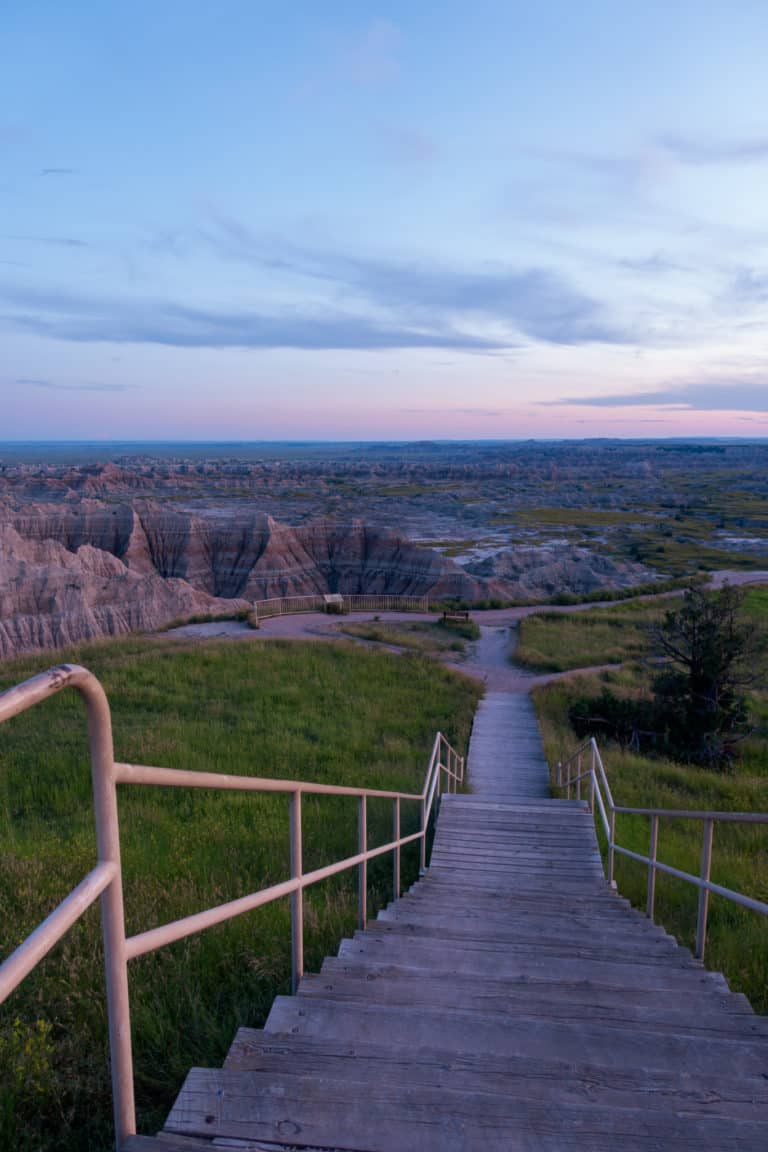 Lastly, come back in and take in all that the Pinnacles Overlook has to offer during sunset.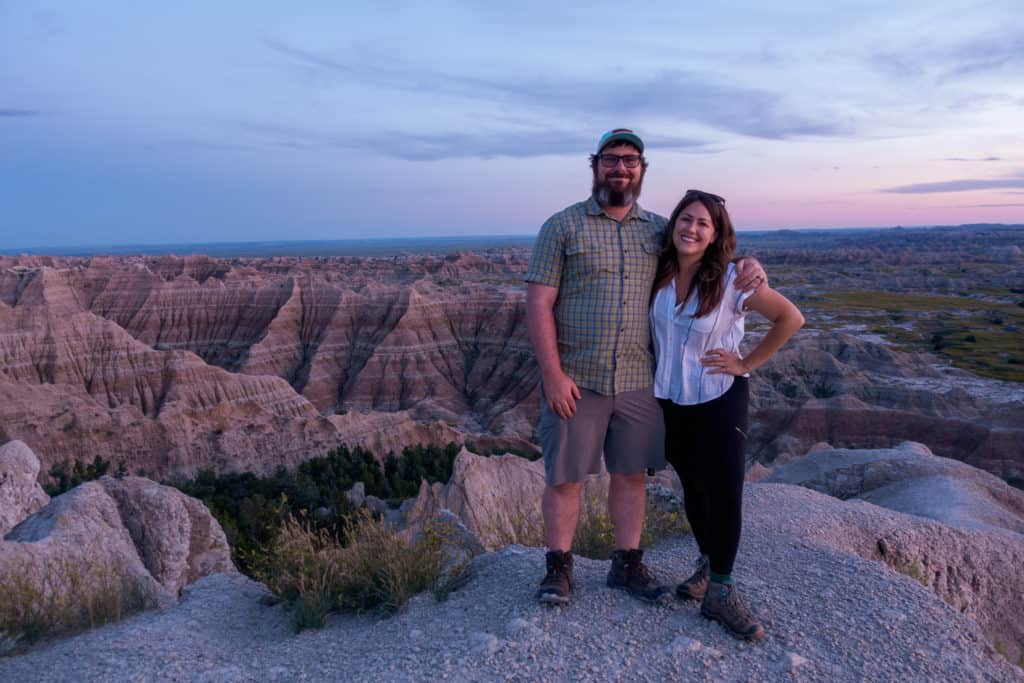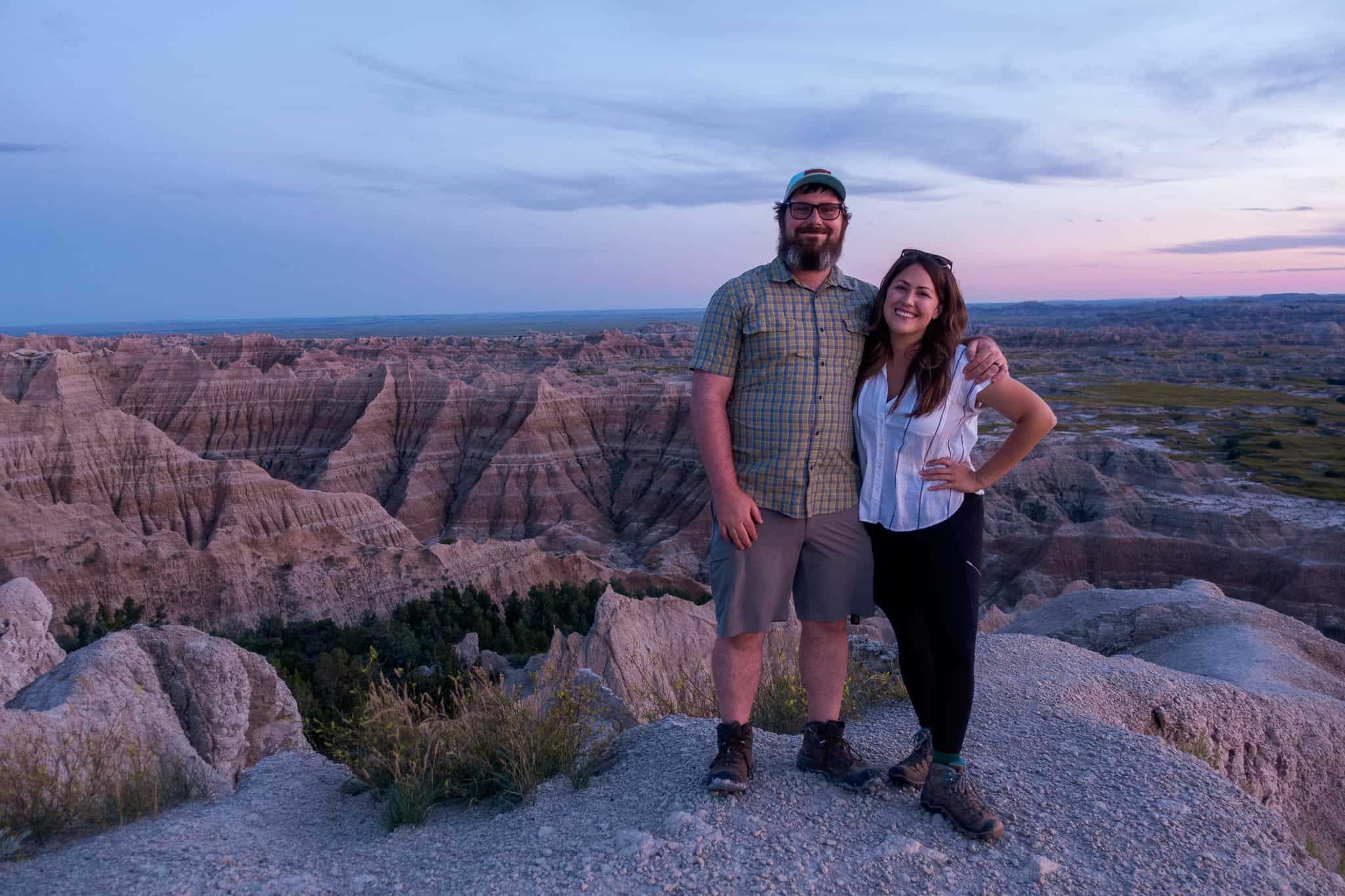 Google Maps Link
To make your life a bit easier, below is a google maps link, including every spot that has been referenced in this blog post.
If you have more time, other things to do in Badlands National Park
If you have more time, I suggest taking a trip down Old Northeast Road and exploring either Castle Trail, Medicine Root Trail, or Saddle Pass Trail.
My husband and I did a marathon training run on the Castle Trail in the evening, and it was just stunning. Another one that you feel inside the canyon.
Something additional that would be cool for kids is a stop at the Fossil Exhibit Trail. It's a .4 mile round trip out and back trail that is wheelchair friendly and good for hikers of any skill level. Along the way, there are educational displays and fossil replicas.
Tours of Badlands National Park
If you've read through all of this and decided you'd rather be guided around the Badlands, then I am always a fan of being guided by a local!
Book tour guides from Tour By Locals who are available in the Rapid City area.

Tours offered by locals:
Badlands National Park Tour by Kevin Q.
A Day in the Dakota Badlands Tour by John E.
The Badlands – Daylight, Sunset & Night Sky Tour by John E.
Badlands of South Dakota by Day Tour by Cynthia P.
Daylight and Sunset in the Badlands of South Dakota Tour by Cynthia P.
Find and book Badlands tours and activities on Viator.com
Where to stay near Badlands National Park
Badlands National Park RV or Tent Lodging
RV or Tent Lodging in the Park
If you're looking to camp within the National Park, there's the Cedar Pass Campground and the Sage Creek Campground, as well as Backcountry Camping options available.
RV or Tent Lodging near the Interior Entrance
Behold the camping paradise known as Badlands Motel & Campground! It is located directly outside of the Interior Entrance. I loved our stay at this campground and would recommend it to anyone making the trip. Look how close you are to the Badlands! We could see the Interior Entrance from our campsite. See rates and reviews.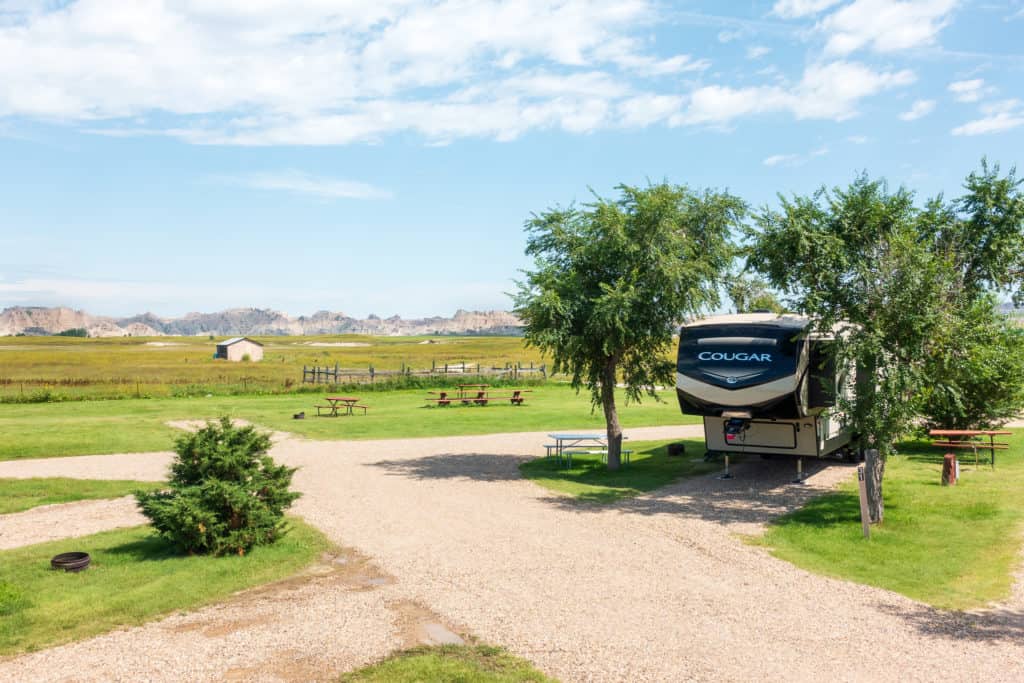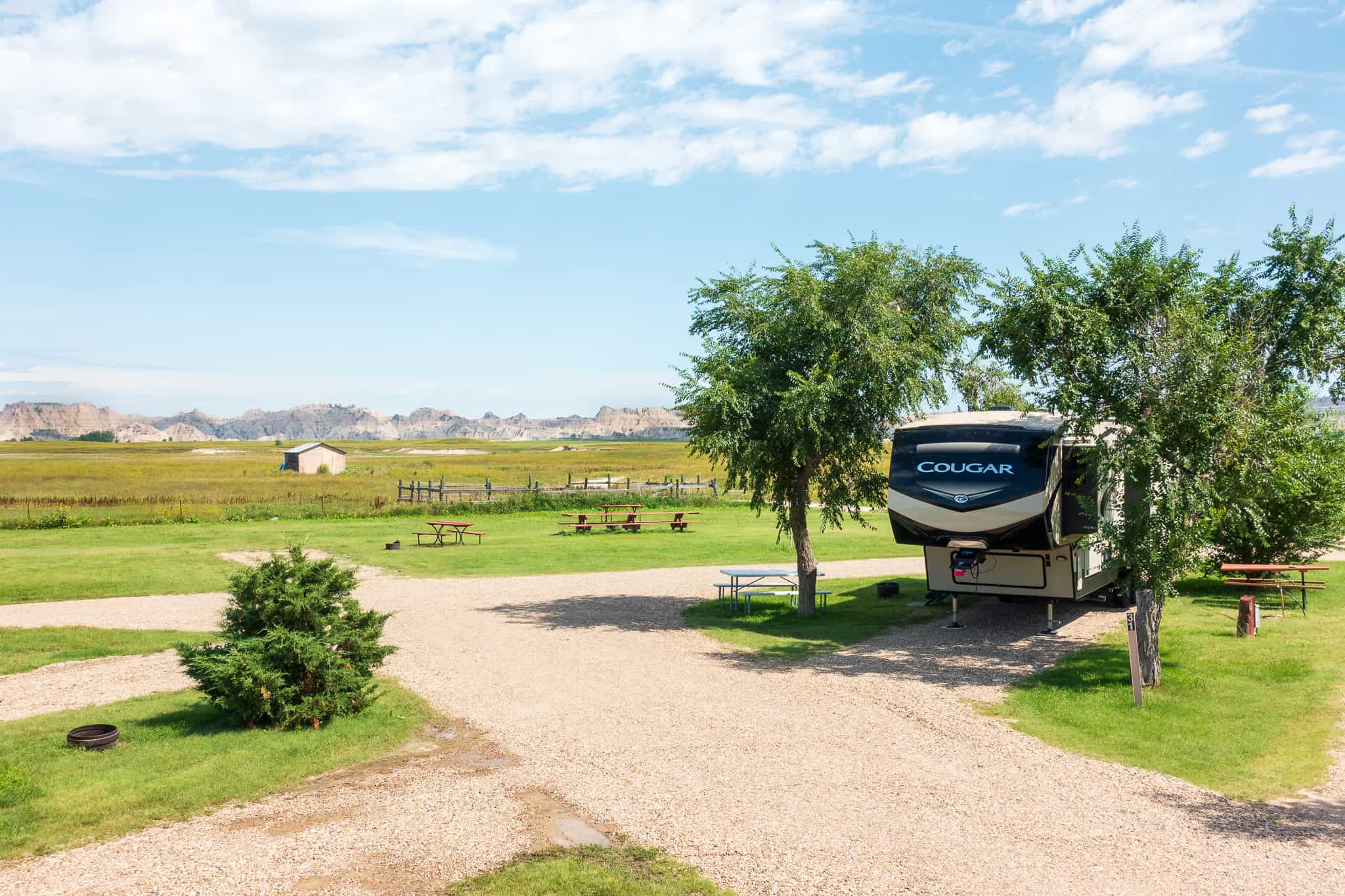 The views from this campground were incredible! We could see the Badlands directly out of our window! And all of this was available at a very affordable rate. This is still one of my favorite RV parks we've ever stayed at.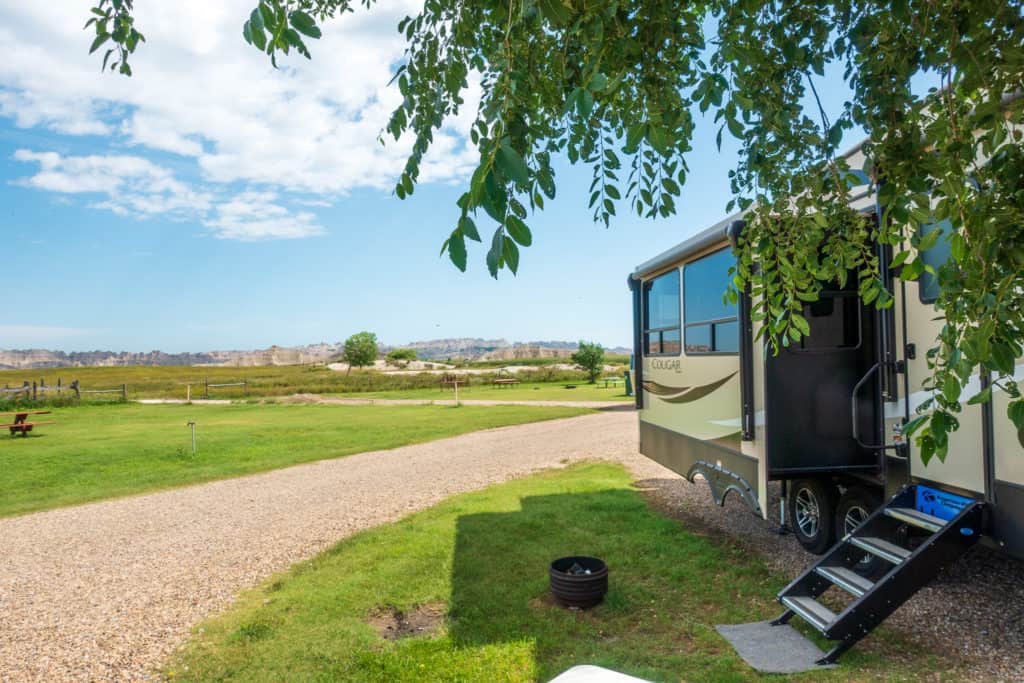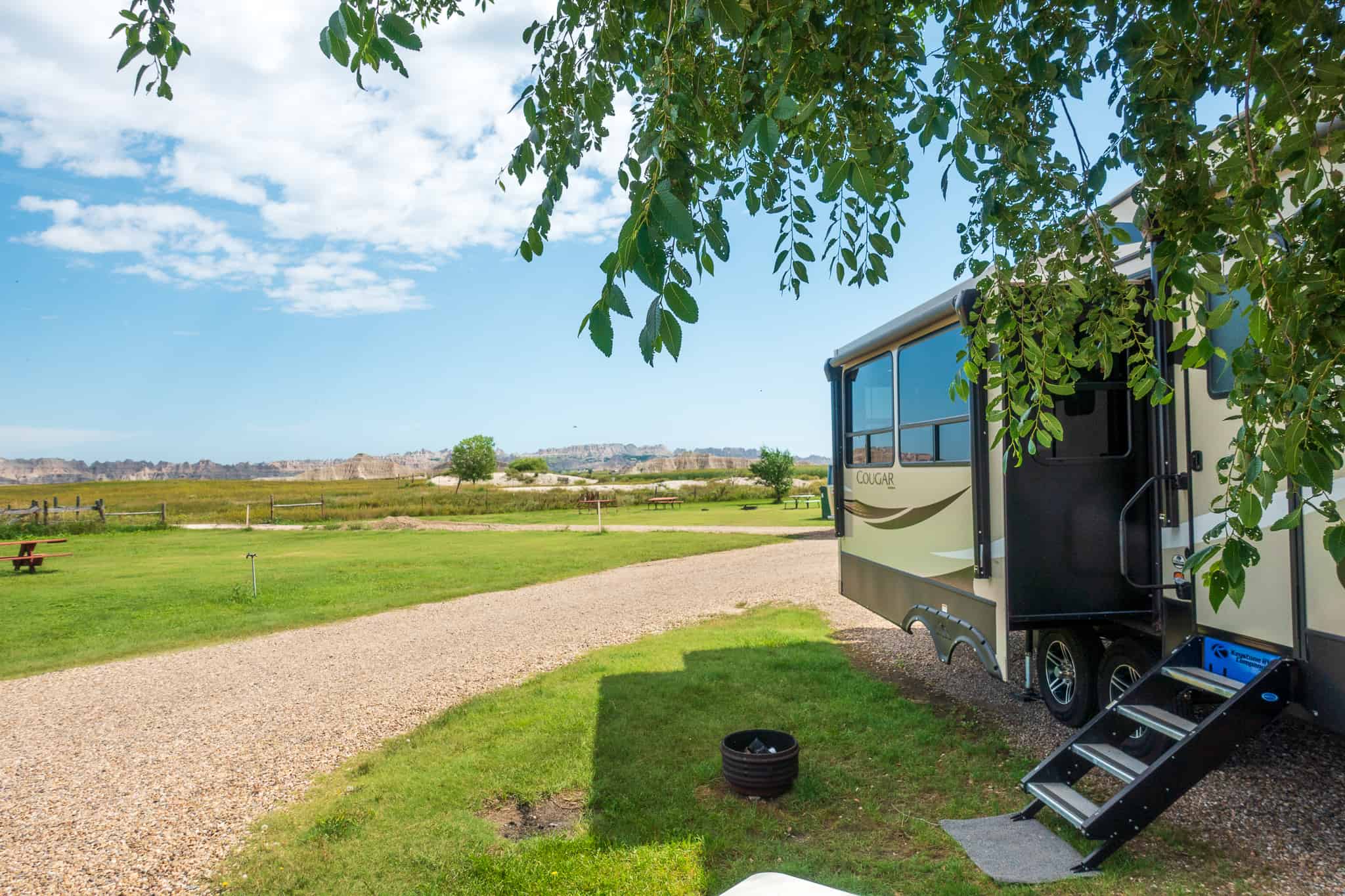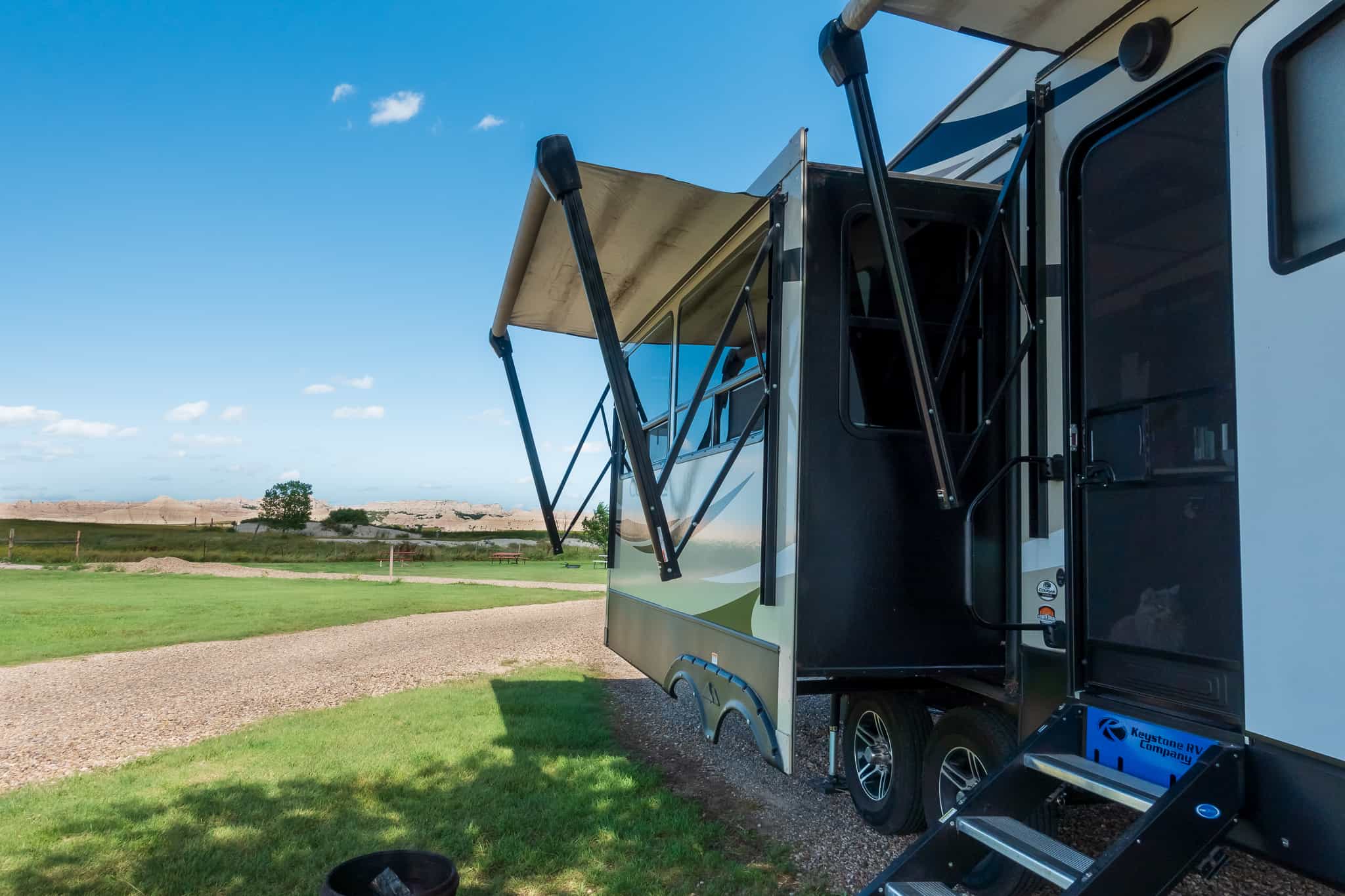 RV Lodging near the Pinnacles Entrance
If you're open to boondocking, there's a great option with stellar views available between the city of Wall, SD, and the Pinnacles Entrance at GPS coordinates 43.8898, -102.227.
It's known as the Nomad View Dispersed area on Campendium.
Badlands National Park Cabin, Hotel or Airbnb Lodging
Cabin Lodging in the Park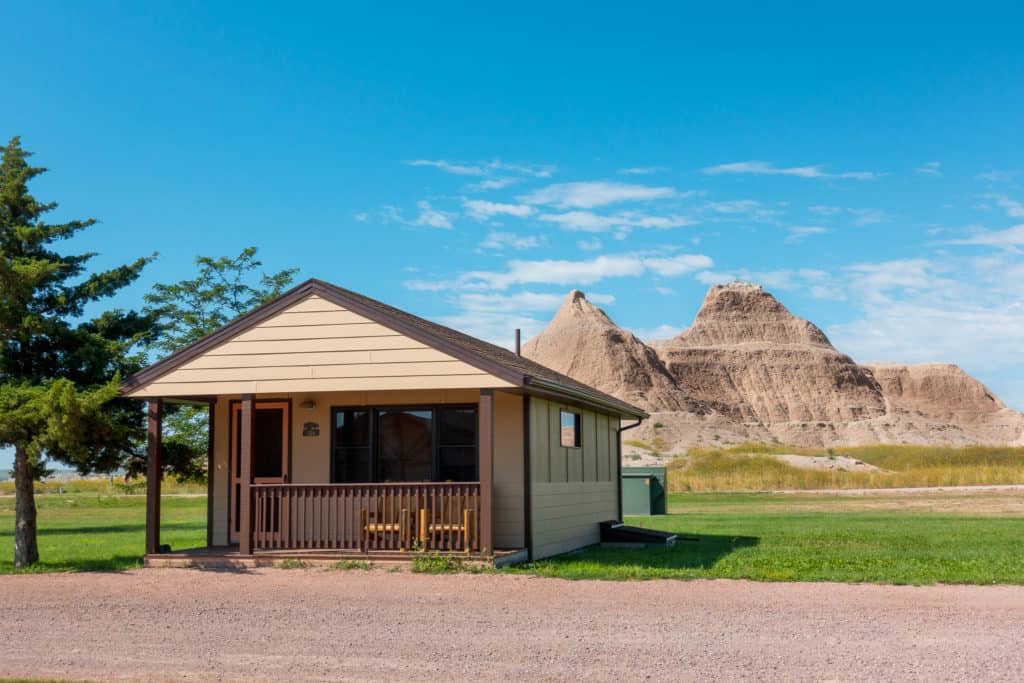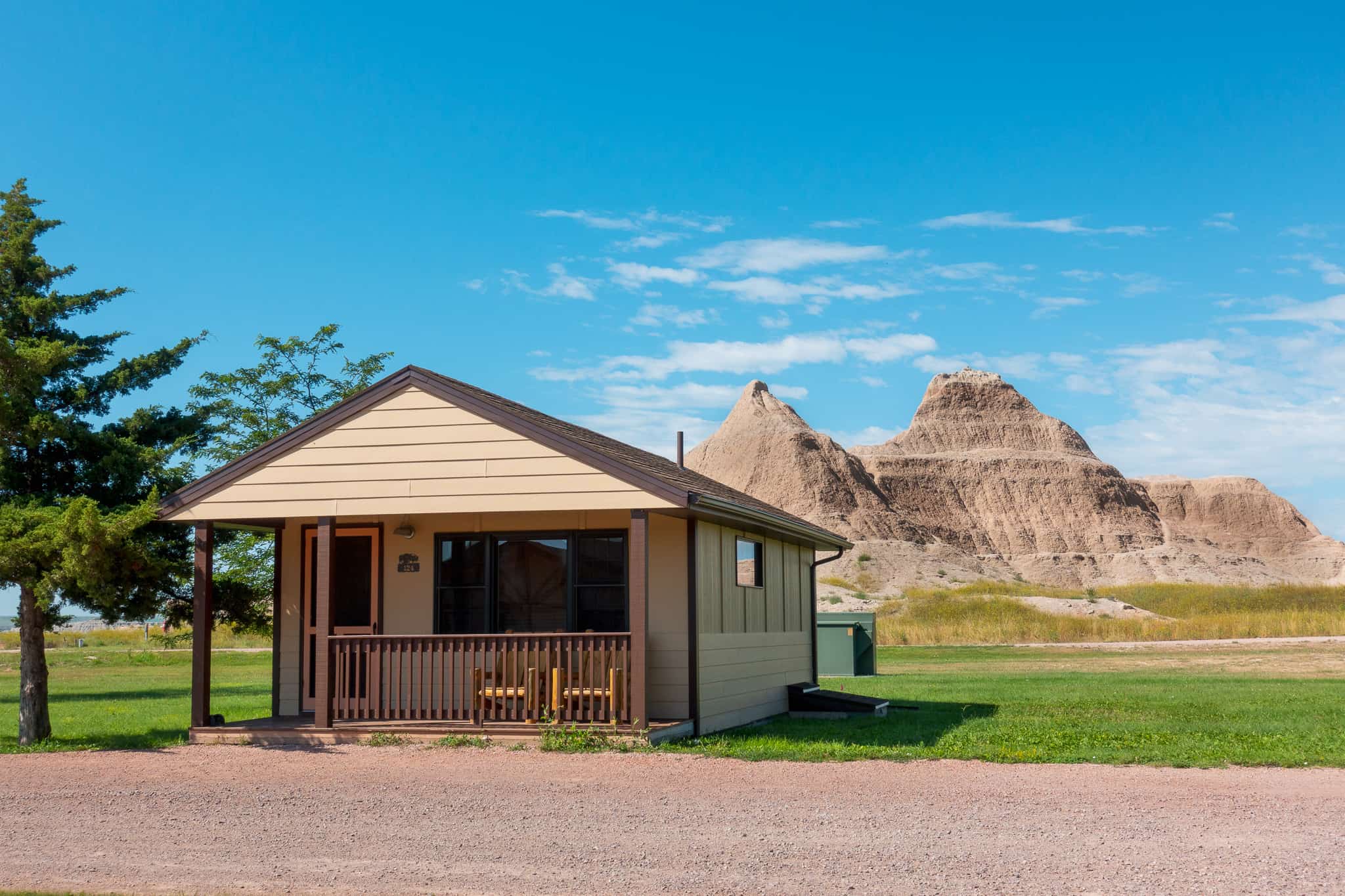 If you're not bringing an RV, then the Cedar Pass Lodge has some mini cabins available to book within the park that look adorable!
Mini cabins are always my favorite way to go. If we hadn't been in the RV, this would have been where I stayed! They also come with some basic kitchen amenities (Mini Refrigerator and Freezer, Microwave, and Coffee Maker). And lastly, if you're looking to stay in the park but also eat prepared meals, there's a restaurant on site.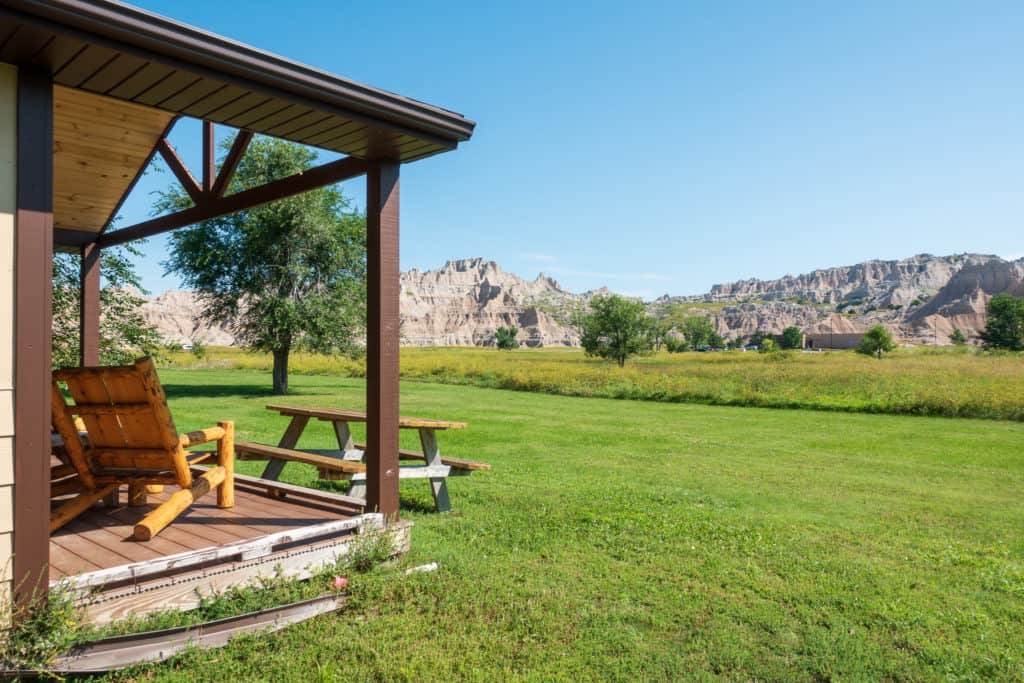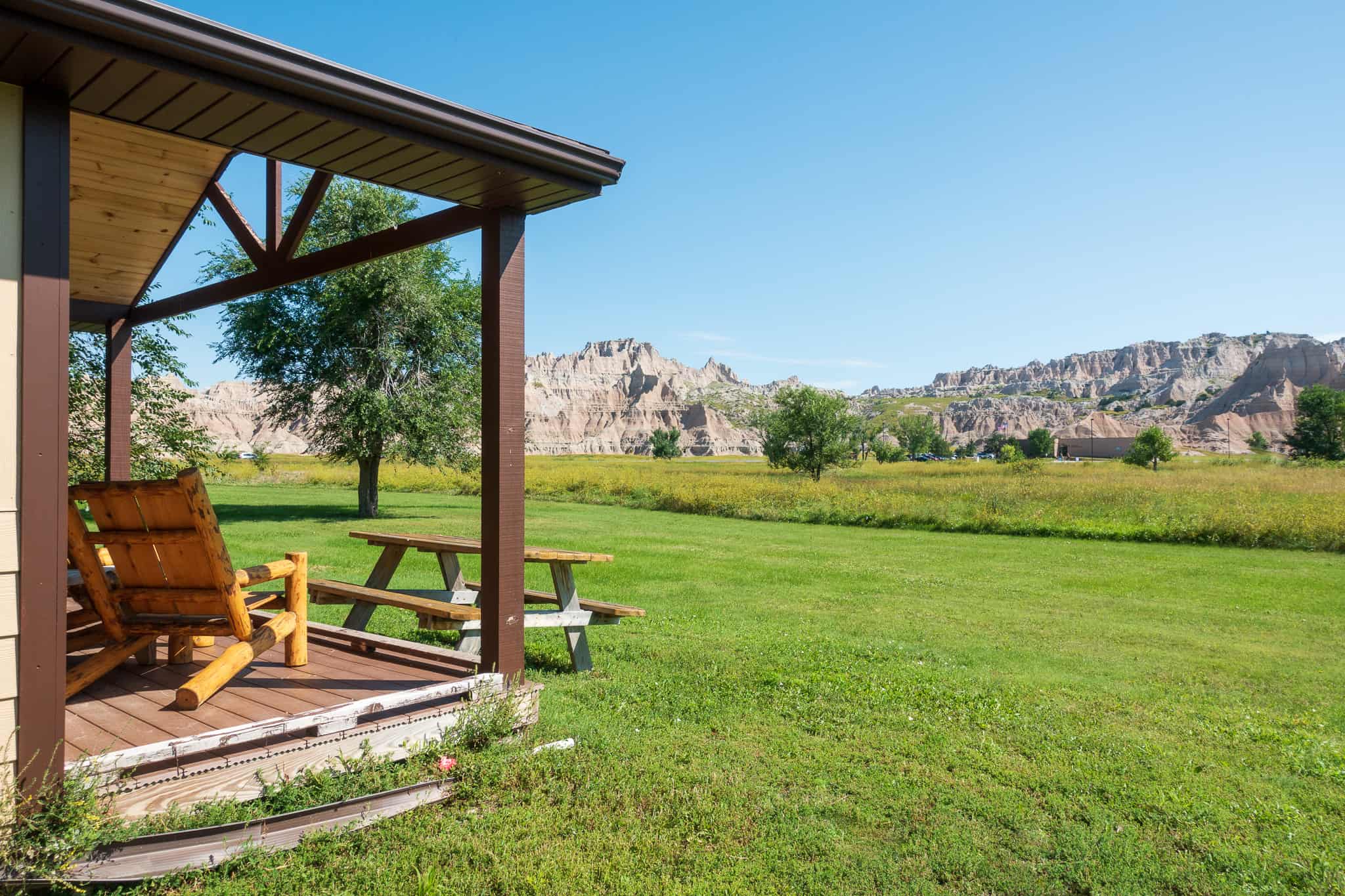 Hotel Lodging near the Pinnacles Entrance
Best Western Plains Motel. See rates and reviews.
America's Best Value Inn. See rates and reviews.
Hotel Lodging near the Interior Entrance
Badlands Motel & Campground. This is the motel that is located at the same RV park we stayed at. See rates and reviews.
Airbnb & VRBO Lodging
Airbnb & VRBO. New rental options are always popping up everywhere!
Things to do around Badlands National Park
There are so many amazing adventures to be had around the Badlands National Park area!
Later, I plan to release my guide to the Black Hills area of South Dakota. Once that guide goes live, I'll be sure also to include a link here. Some of the highlights include:
Mount Rushmore – including tips on how to park for free.
Custer State Park – including details all about the Wildlife Loop with over 1,300 free-roaming bison, Sylvan Lake, and the Needles Scenic Drive.
An incredible KOA that cannot be missed if you're an RVer (or someone who enjoys tent camping or cabins)!
As well as the best places to enjoy some libations in Hill City!
---
Did you think of something I didn't include? Email me and let me know! I'll be sure to get the information here!
Did you use this guide? Please also email me! I'd love to hear how your trip went!