1/2/2020– 1/4/2020: Almond Tree Oasis RV Park, Coalinga, CA
We started 2020 with a quick two day stop off I-5 that basically served as a break in our travels from the San Francisco area to the Las Vegas area.
While in town, we had the added bonus of meeting some family members I've wanted to meet for years, the Wyatts!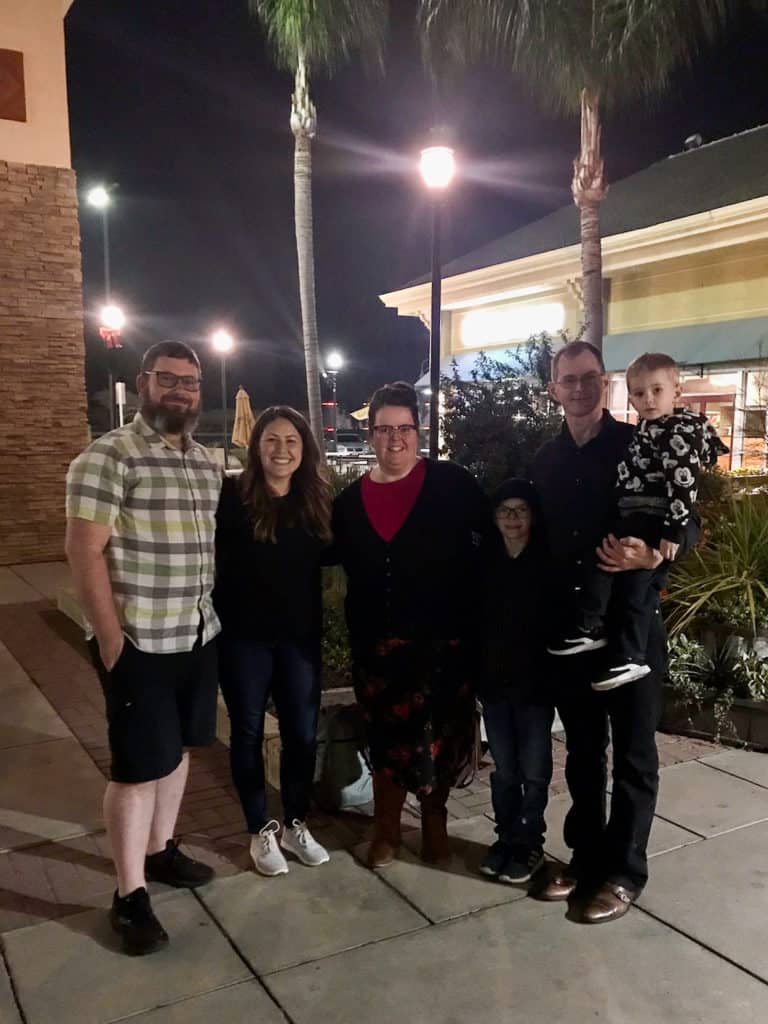 1/4/2020 – 1/20/2020: Las Vegas RV Resort / Walt Disney World

Next, we arrived at the Las Vegas RV Resort only to find out that we didn't actually have a reservation. Luckily, after a period of nervousness, it all worked out! We were super grateful since most of our stay here we were actually going to be in Florida.
After the holidays, we decided to spend the winter exploring the warmer areas in Arizona and New Mexico.
We chose to fly out of Las Vegas for our Florida trip so that when we came back to the rig, we'd be coming back closer to where we wanted to explore. Plugging in here was almost entirely to protect the rig, keep it close to the southwest area of the US, and to give the cats a cool place to hang out for ten days. (Also, flights and RV parks were cheaper out of Las Vegas than where we were before in San Francisco.)
So, the RV was parked, the cats were introduced to their new sitter, and we then flew to Tampa and spent a night with my parents.
We then woke up the following day and took off toward Orlando for what was an epic week of family time!
This was the period of highs for 2020! This magical week included a day trip to Sea World where we rode all the rides and ate dinner with sharks, feeling like James Bond villains:
Cheered on our family from Wales, and the rest of the American Cancer Society runners, during their half marathon: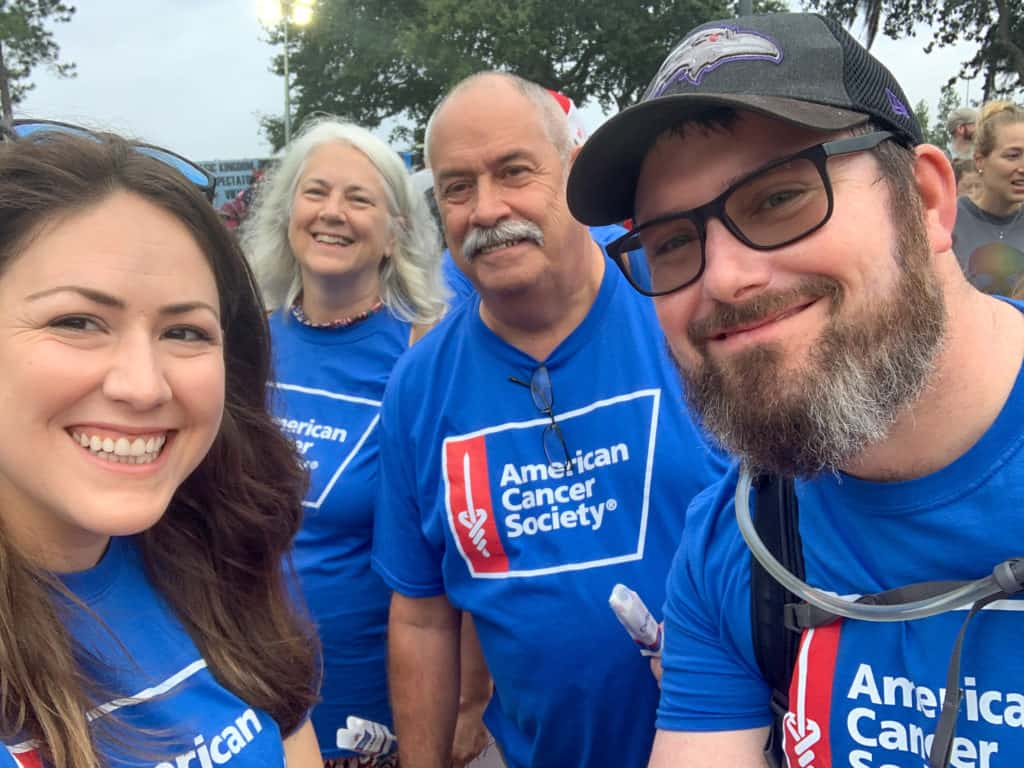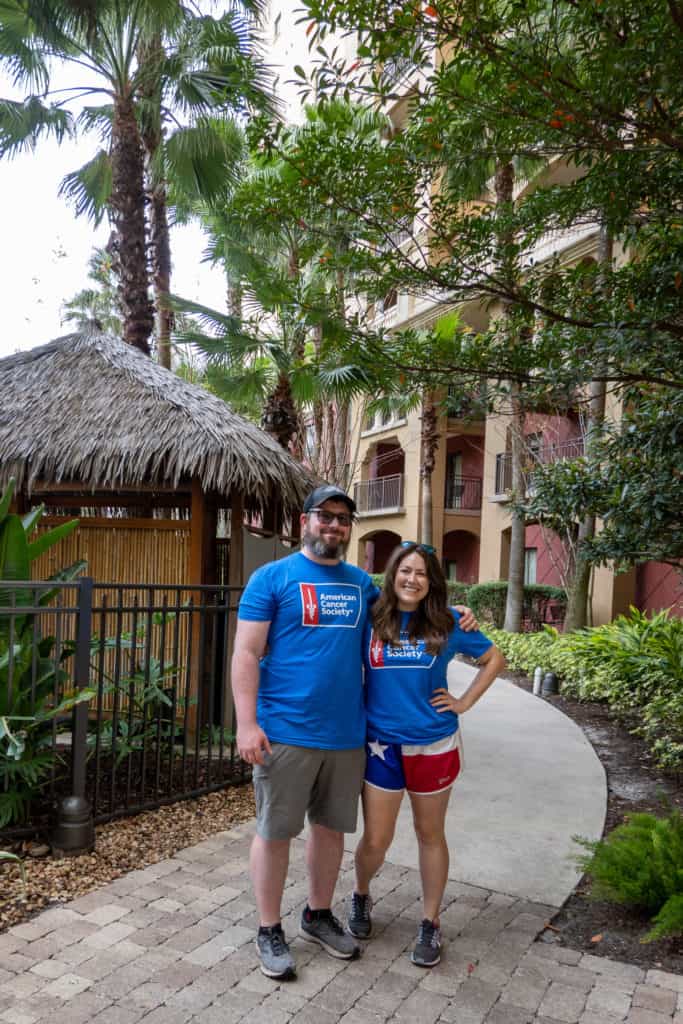 Ran a full marathon with our family from Wales: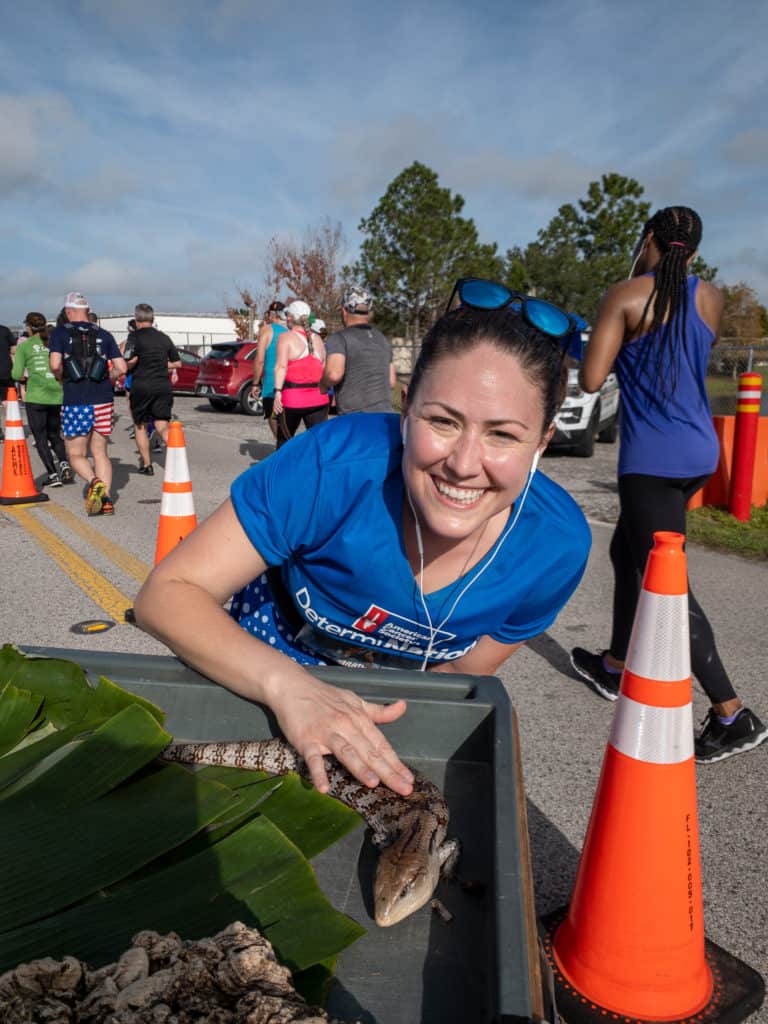 And then preceded to wake up the next four mornings in a row to hit up all four parks together: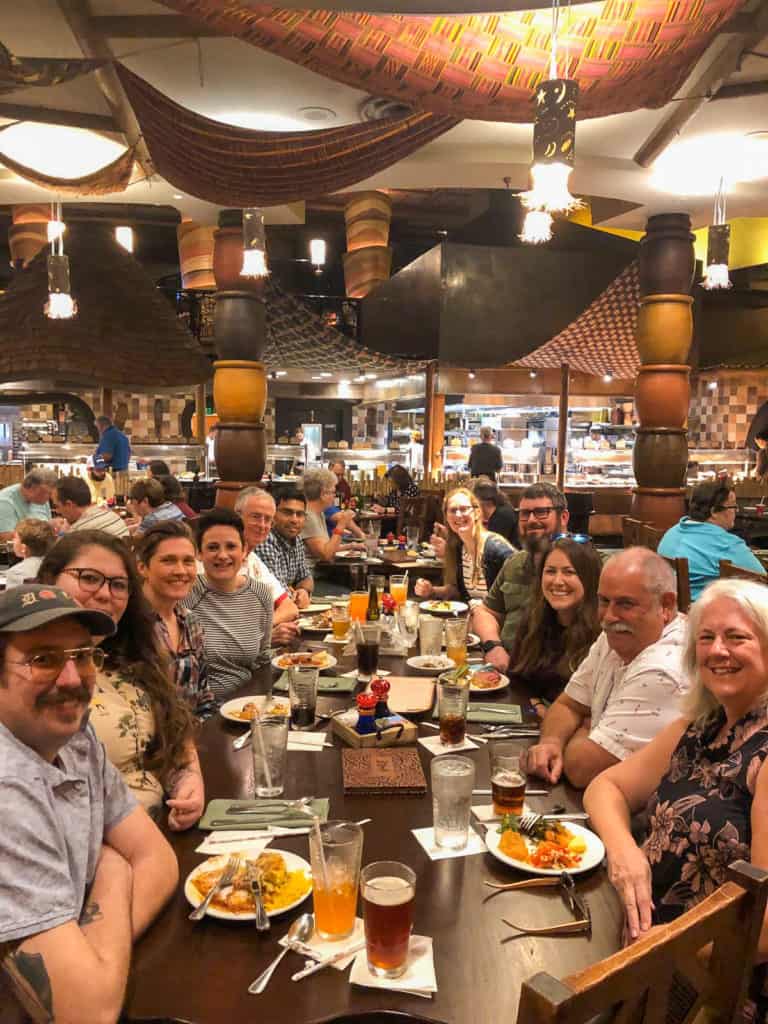 We did it all! We even made it to Star Wars land where we encountered Kylo Ren, and I quickly got the hell out of there and left my sister-in-law for dead. 😂 Sorry, Sabrina!: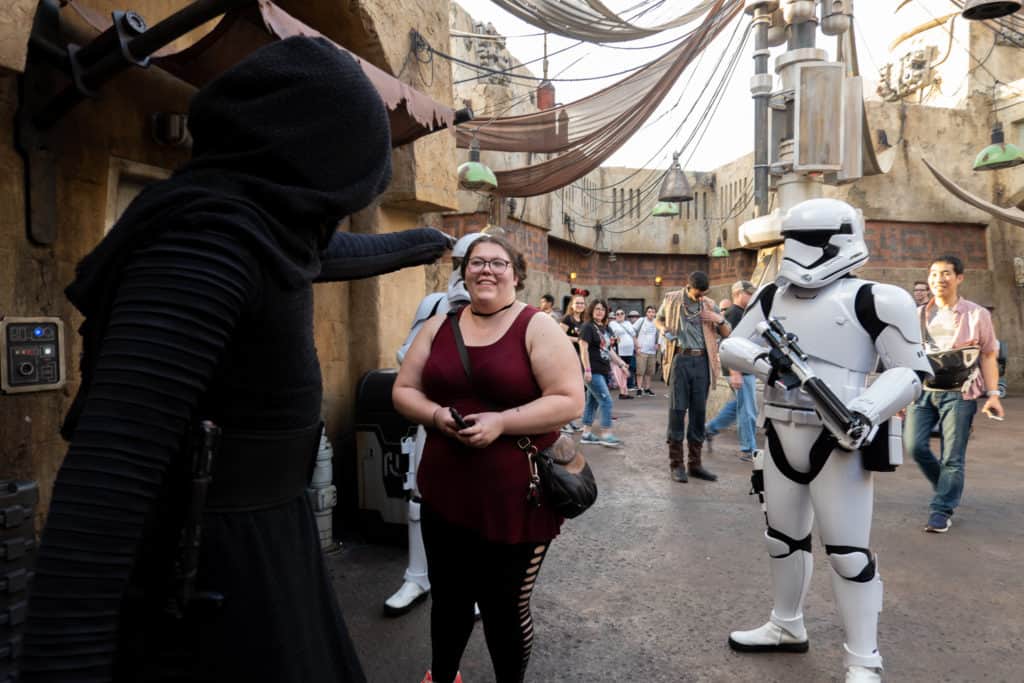 The entire trip was incredible! However, I'm also not 100% sure how my body did it. Must have been all those Florida hot tub sessions!
The last day, all of our family left, but we still had one more day in Orlando. We had initially planned on hitting up Fort Wilderness, maybe go to the Hoop-Dee-Doo Musical Revue and check out the Disney RV park. But we were so worn out, we ended up just getting a hotel room near the airport, and consuming tons of junk TV and food instead.
We got back to Las Vegas, knowing we wanted to stay in the southwest warmth until winter was over, but having no specific plans beyond that. We decided to head to Lake Mead for a week of recuperation and future destination planning.
1/20/2020 – 2/23/2020: Lake Mead RV Village

When we came back to Las Vegas, one of our cats was pretty sick. It was a bit of a shock to me. She got better after a day or two, but we realized we can't leave her with a sitter for that length of time anymore.
After Vodka (the cat) got better, Barrett then got sick and slept for what I swear was three straight days, which I've never seen him do before. Then, a couple of days later, I got super sick and was out of commission for almost two weeks. Our other cat Squirt was the only one who seemed to come out of the trip unscathed. But eventually, we all started to feel better. So, we sat down and figured out our travel plans for February through June.
We decided we would leave Nevada at the end of January.
This is where our year started to turn on us. What was supposed to be, "Let's spend a week or two by Lake Mead, relax, catch up on work, make some future travel plans and then continue on…" turned upside down.
First, my phone's logic board just up and quit one day. We had to head into Las Vegas and spent most that day errand running and getting a new phone. Simple enough.
But then, we decided to go see the Hoover Dam the day before we traveled onward. On the way, while waiting in the Hoover Dam security line, our truck just stopped. Barrett turned to me and said, "The truck stopped." My first gut reaction was, "Well yeah, we're in a line." Barrett quickly says, "No, the truck is completely stopped. It won't turn on."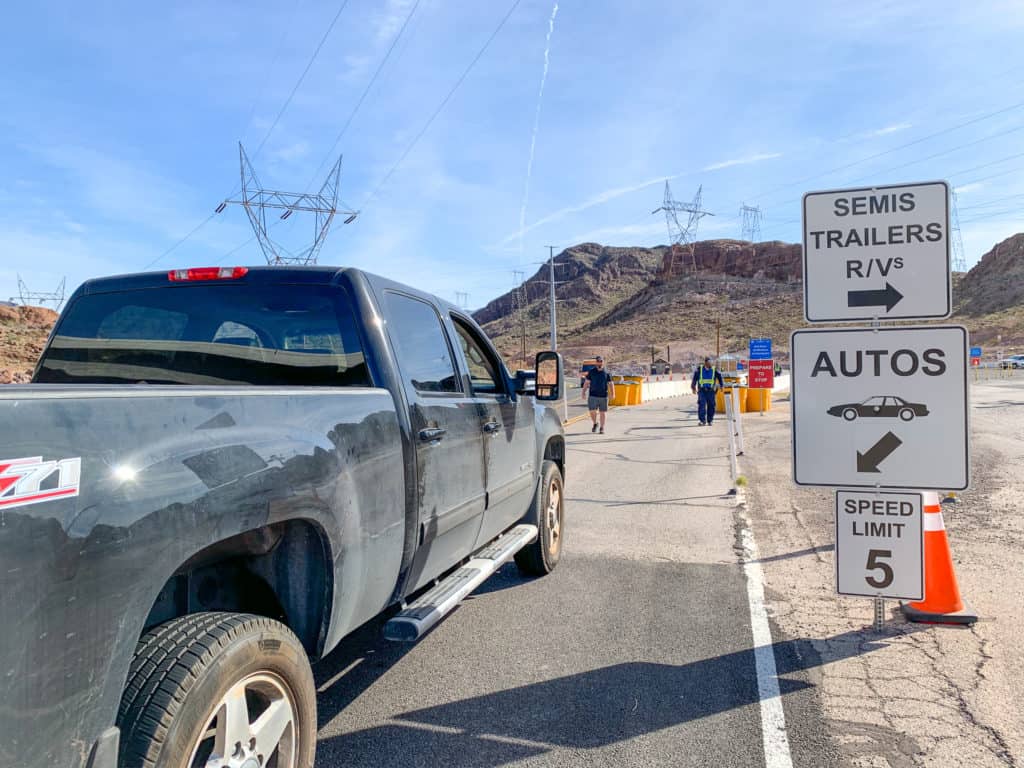 So there we were, in the middle of barricades and cones, waiting to enter the Hoover Dam area, completely stopped. Barrett tried multiple times to turn it back on. Nothing. We got out, popped the hood. Nothing seemed out of the ordinary. We were baffled. The groups of people behind us started getting out of their cars, asking us what was wrong. It was a mess. So logically, Barrett walks up to the security stand and asks for help.
Somehow, I still have no idea how Barrett managed to sneak up on and scare this man. He jumped and grabbed toward his gun. Barrett quickly clarified that we just needed help. They came down and helped push us out of the way so the accrued line could keep moving.
I jumped on the phone, got us a tow. The folks at the Hoover Dam sent out the bomb-sniffing dogs to take a few laps around our truck. This all happened in a manner of minutes, but to me, it felt like an eternity.
We then proceeded to sit there and wait three hours for a tow truck, because while pushing the truck out of the way, we managed to push it under a freeway overpass, which ended up confusing multiple tow companies. But eventually, we got a tow!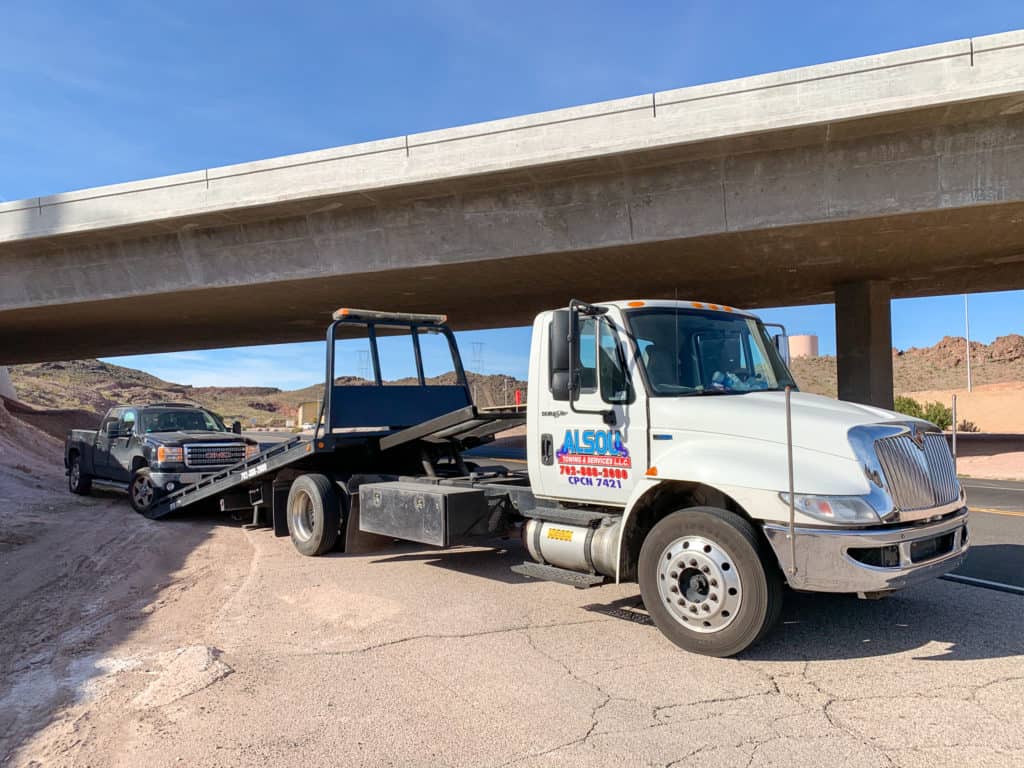 The next day, while waiting to hear back on the truck, we decided we had to do something other than just sitting around and worrying. So we went and saw the Hoover Dam by boat instead. I was still trying to pretend what happened with the truck would not be a big deal, and doing my best to enjoy the surroundings.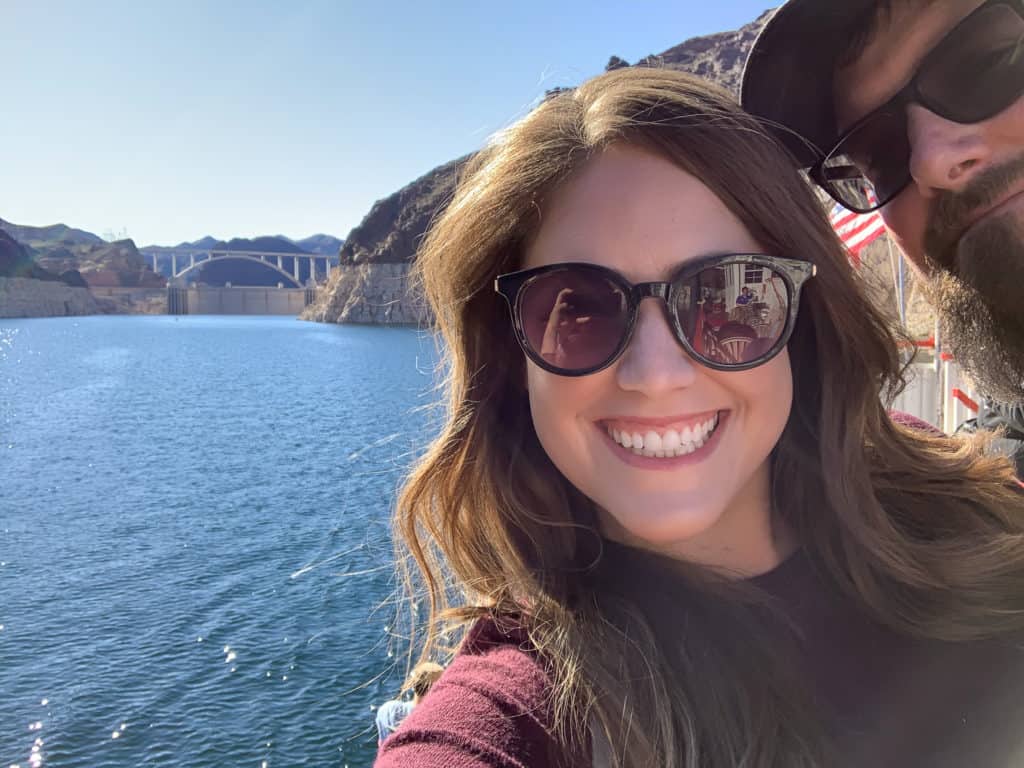 But, we got a call at the end of the boat ride, and that was not the case. The truck problem was not small.
Part of our fuel system blew up, sending metal shards throughout the whole thing. Our entire fuel system, along with some other parts, had to be rebuilt. We were going to be hanging out at Lake Mead for a while.
In case you have the same truck as us, here's an article that will shed some light on what exactly happened to our truck. (I can't guarantee reading it is going to help you sleep better at night… but it may help you realize you should probably start using fuel additives earlier than we did!)
We came back from our amazingly beautiful vacation (which I kept feeling like I didn't even deserve for some reason) to what felt like complete chaos. Everyone was sick. Our Austin tenants suddenly decided to break their lease early. I was now playing middleman between GMC and our extended warranty company. My phone broke, and then it actually broke again. EVERYTHING was falling apart all at once, and the entire time felt utterly unsettling.
To top it off, the campground we were at would not let us extend and stay in our spot. At first, they implied we needed to go elsewhere. We were calling around to tow companies trying to find someone who could move us to another RV park. We figured worst comes to worst we could get a tow from our insurance company. But then the campground found an extended stay spot for us that was available for months. We were so relieved. We found a friendly neighbor to help move us.
Then, a week or two later, one random afternoon, they decided it was time to give someone else the spot and that we only had 45 minutes to move along. We reminded them we had no truck to use to move us along and were able to agree on extending a bit longer. Which was great, but the rest of the time we were there, I was nervously worrying whether or not that would happen again.
We did, however, go on to make the best of a cruddy situation. GMC gave us a convertible Camaro as a rental! That was pretty cool and a reasonably significant change for us!
So much of a change, that one of us went on to get a speeding ticket… 😫
But that didn't stop us from taking our new Camaro friend out on a few adventures! We took it to Valley of Fire State Park for some classic road trip fun:

And explored some more hikes around Lake Mead:

We even took it out for a weekend of Valentine's Day fun on Fremont Street!
One more exciting thing that happened during this time was that we got an opportunity to partner with Escape campervans for a 3-day journey to Death Valley! (More content coming up on this trip later.) This trip was amazing! I whole-heartedly believe this spontaneous adventure was necessary to get us through our tough time and cannot thank them enough for letting us play in one of their campervans for a few days! Also, Death Valley is beautiful and highly underrated, in my opinion.
Want to get away and play in your own Escape Campervan rental for a few days? I highly recommend it! Use this link to book and you'll get 10% off your daily rate.



Still, even with all that fun and beautiful scenery, the period at Lake Mead felt unnerving. I am, of course, never looking for pity when I share these stories. At the end of the day, I love the adventures and stories that RV life gives us. But I'd be lying if I didn't tell you that those few weeks were really hard on us. Our moods were all over the place. We were getting testy with each other and anxious for regained control of our time and space.
Eventually, though, we did regain control, fixed everything, and then immediately got the hell out of dodge!
2/23/2020 – 3/2/2020: Big River, CA (outside of Lake Havasu, AZ)

Sweet, sweet freedom!
While in Big River, we explored the surrounding Lake Havasu area for a couple of days. We hiked SARA's crack: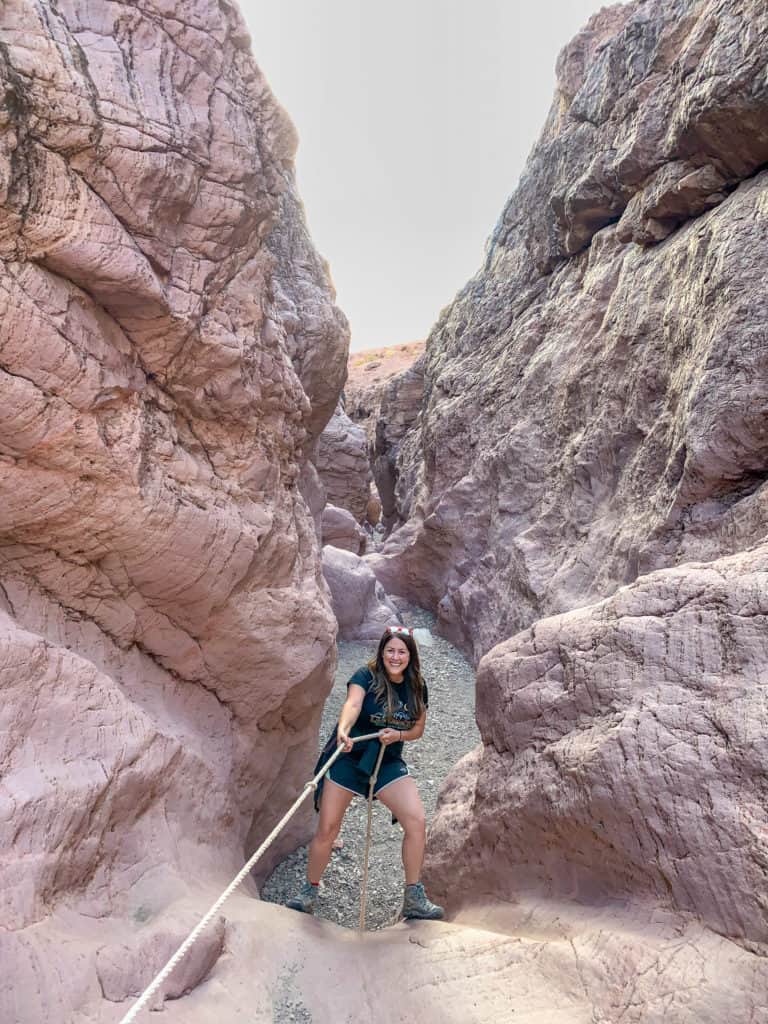 Fed some wild burros and saw a gunfight show in Oatman, AZ: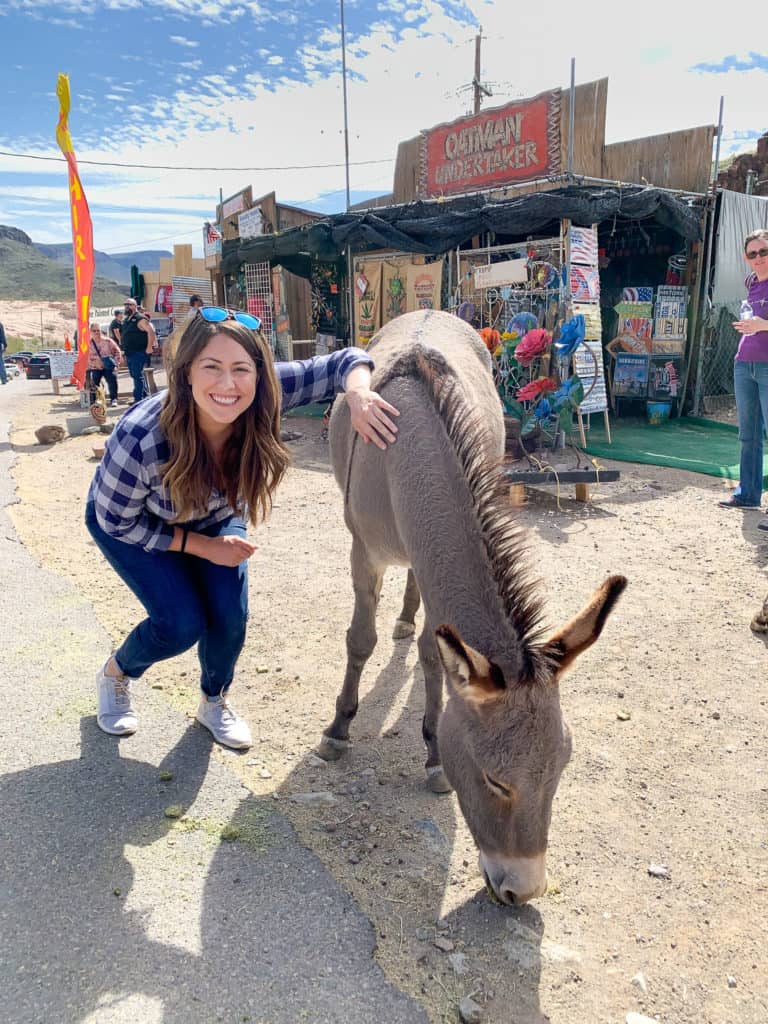 Took a very bumpy ride to a desert bar in the middle of nowhere: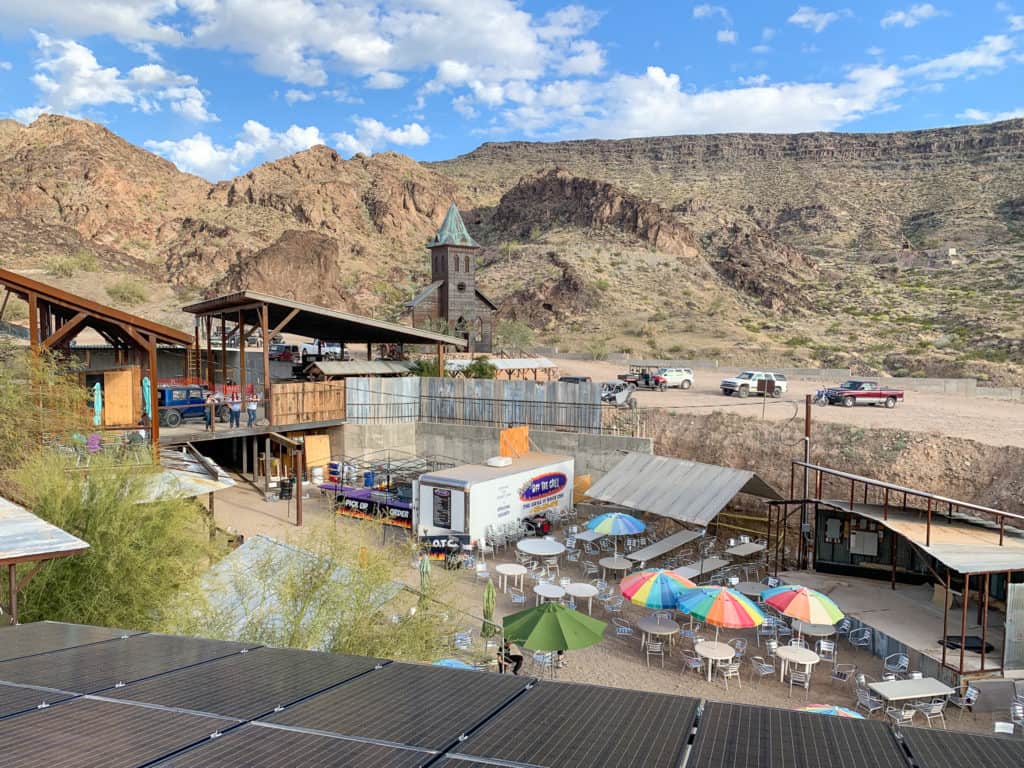 And even met up with our friends Meghan and Aaron for a day of catching up and exploring in Joshua Tree National Park: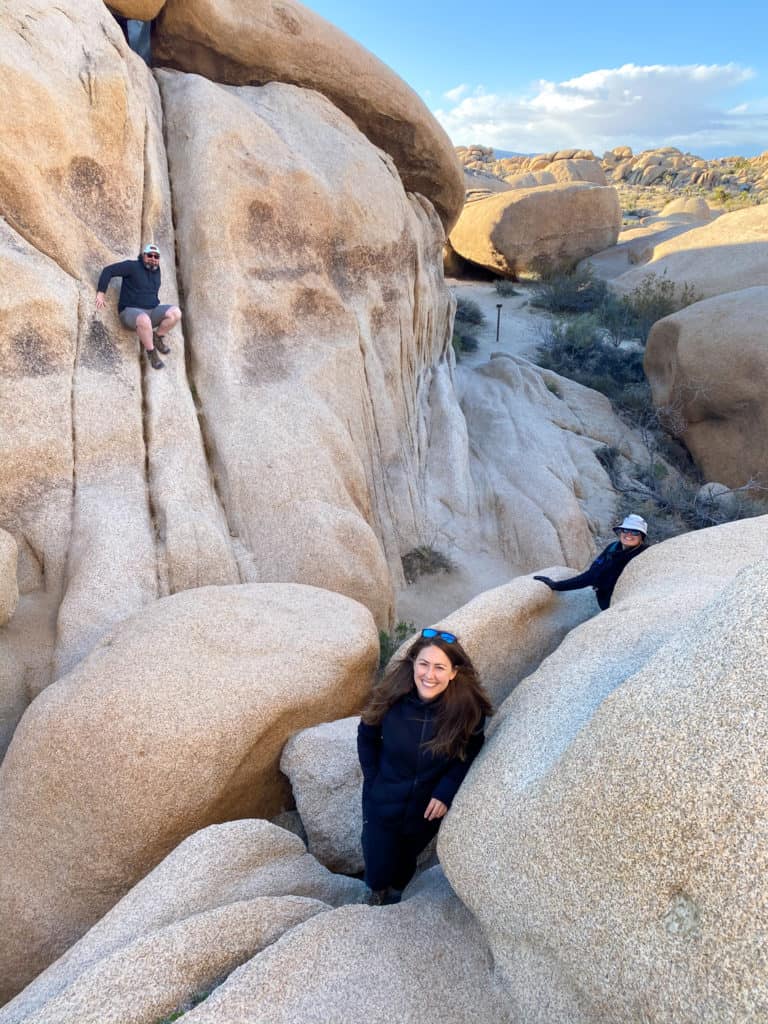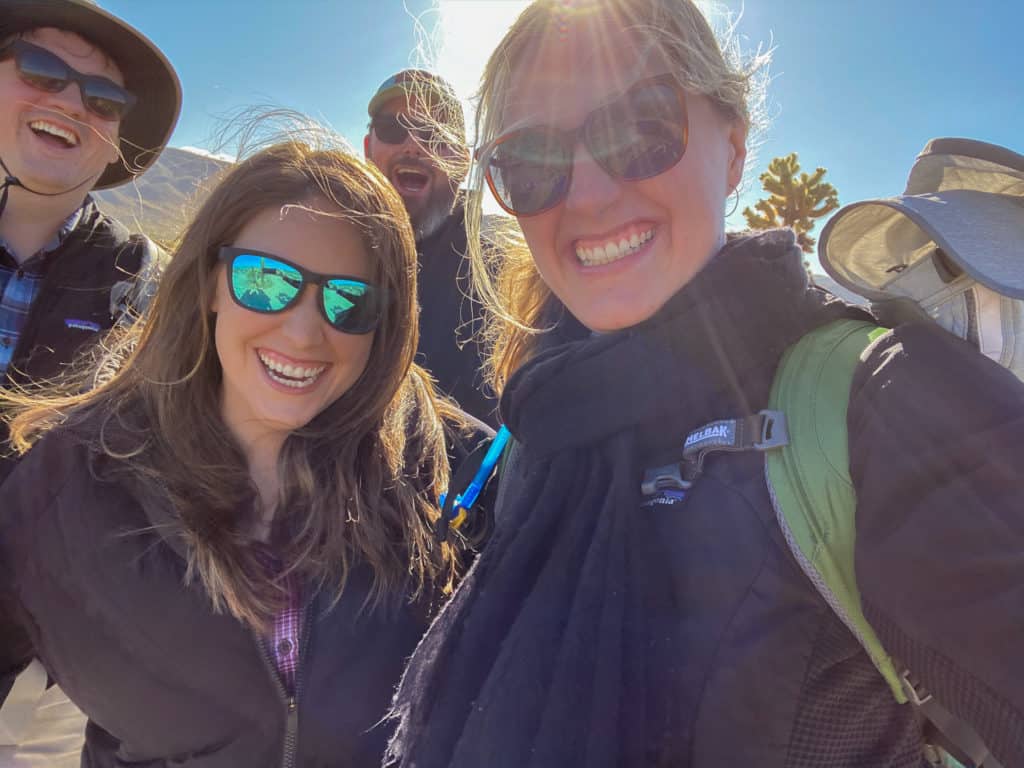 Things were starting to feel back on track.
The hard times that occurred in Lake Mead generated many conversations between us about the future of RV life. While here, we also decided to reassess all of our future plans we made for March-June. We knew we needed to take a moment to cut out some of the fat and ask ourselves what was still fitting. Were we still focusing on the end goal of finding our future home and doing our best to not get distracted by "all of the things?"
Since Colorado was high on our possible part-time home list, we decided to cut down on a few upcoming stops and get to Colorado in May, instead of June, staying in the warmth of Utah, Arizona, and New Mexico for the remainder of winter and some of the spring.
3/2/2020 – 4/30/2020: Tucson, AZ

Okay, now we're in March, and we all know things are about to change in a few weeks.
We first showed up in Tucson as we do any other spot. Excited to explore the area, with a list ready of places we wanted to see! And we actually did get to visit a lot of those places before all of the closures started.
We hiked in Saguaro National Park, joined Anytime Fitness (since we see them EVERYWHERE, whether we're in a big, small, or micro-city), and took a tour at Biosphere 2 (which was awesome):

And went on an incredible hike with my friend Lindsay's parents Jeff and Diane:

We even saw a show at the Gaslight Theatre!
But then, obviously, everything changed. All of our Utah and New Mexico plans from mid-March until the end of April were scrapped, just like everyone else's plans.
We instead stayed put where we were in Tucson, spending most of that time hanging out inside the Cougar with our cats, biking the Julian Wash Greenway Trail, hiking the trails around our campground, around Tucson & in Saguaro National Park, working, going live on Insta, and once again, reassessing.
All of the trails we covered in the National Park and the surrounding area during the "Stay at Home" period include:
Douglas Spring Trail to Bridal Wreath Falls
The Mica View Trail, to the Pink Hill Trail, to the Loma Verde Trail to the Cholla Trail, to the Cactus Forest Trail Loop
Agua Caliente Hill Trail
Hope Camp Trail
Bear Canyon to Seven Falls Trail
Part of the Arizona Trail: Marshall Gulch to Aspen Trail
Molino Basin Trail
Green Mountain Trail
The last few days in April brought high temperatures of 105 degrees. Since we only have 1 rinky-dink air-conditioner that cannot keep up with that kind of heat, we took it as a sign that it was time for us to resume RV life and head out of Tucson.
Our initial plan was to start by staying within Arizona, which had far less strict coronavirus rules than other US states, by moving up to the cooler climate of Flagstaff and Sedona.
Awesome Date Night Mention: The Gaslight Theatre is fantastic and when it re-opens, it should be experienced by all!
4/30/2020 – 5/2/2020: Flagstaff (& Sedona), AZ


Once we arrived in Flagstaff, we were all super happy to be back in the cool temperatures and pine trees! While parked there, we had multiple other RV owners approach us, which is not uncommon. RV people are almost always super friendly; however, it hadn't happened in a while. One neighbor was even following Barrett around, latching up all our side panels for him after he closed them. 😂
The night we arrived, we met up with some friends for a social distancing hike near their Flagstaff boondocking spot. The views were beautiful, and honestly, it was also wonderful to converse face to face with friends, for the first time in almost two months.
While in the area, we also took a day trip to Sedona. Many of the #Instafamous trails were closed, but the one I really wanted to hike, Bear Mountain Trail, was not! I was excited because this trail was recommended to us months prior by a hiker we met in Havasu. He said it was "the most beautiful hike in Sedona!" I have to imagine he was right because I can't believe another one would be much better! This hike blew me away! We saw a handful of people on the trail, but not many, and for the most part, it was easy to stay apart.
On the drive into town, though, we went by a State Park SWARMED with people and got a juice at a spot flooded with locals. In some ways, it felt like nothing was even happening in Sedona. But then, it felt shut down in other ways because the entire downtown area completely was shuttered up.
Then, we heard Colorado was opening up to visitors and decided it was time to try to get back on our part-time home search!
We took a bit of an extended path to Colorado, driving through Monument Valley because I had always wanted to see that area.
We spent most of that drive cruising through a weekend curfewed Navajo Nation. The only things that were operating were gas pumps. We saw a grand total of one person walking around, one person biking, and countless closed businesses and stands. It was one of the eeriest drives of my life. It put the realities of how hard that area was hit in perspective.
We stopped at Forrest Gump Hill to take some pictures with the RV. That was the most significant amount of people we saw at once the entire day, and it was approximately five vehicles all parked in separate pullouts.
5/2/2020 – 5/6/2020: Vallecito Resort – Bayfield, CO


Moving along during COVID was emotionally taxing. At this point, I had no idea if leaving Arizona was the right decision.
I'm sure some people will praise us for continuing to live our mobile lives while others will condemn us for moving along too quickly and not staying still. All I know is we interacted with just about no one in Tucson, and it was getting hot! Our RV's one little air conditioning unit is not meant for 105 degree days. And since the RV is all we have as a home and needed to be parked somewhere cooler, we came to Colorado hoping that life would start to become a bit more normal while we were there.
We just had to do what felt right to us.
Our first RV stop on our Colorado lake town tour was at an RV resort near Vallecito Lake. We were planning on staying in the area until mid-May, but we ended up shortening our stay due to non-existent internet, as well as realizing pretty quickly that the surrounding area was a bit too small for us to consider living in part-time.
It was, however, beautiful! It was also a great place to transition into post-lockdown life because it was calm, quiet, and the temperatures were moderate once again.
While in this area, we actually had better cell service and internet at the public picnic tables around the lake than at our campground. So we spent a great deal of our time picnicking and working around the lake.
We also spent one day hiking the local Vallecito Creek Trail, which I highly recommend if you're ever in the Durango area!
5/6/2020 – 5/16/2020: Durango, CO


Ok, I'm not going to lie, our move from the lake to Durango was another move that felt a little odd.
We drove straight into a city in a moment of transition. The state of Colorado had started opening to visitors, but we didn't realize that Durango's county had not fully opened to visitors yet, even though the RV park accepted us. We spent the first couple of days feeling like invaders.
We arrived in a town that felt like a ghost town, and then quickly watched it switch into what felt like a lively summer town.
We went from being the only people in our RV park to watching it become half full. Grocery store shopping went from mellow to the most substantial amount of people we had seen in one place since early March. I found all of it super overwhelming.
While there, we went on a day hike on the Colorado Trail to Gudy's Rest to get the beautiful view pictured above. This is a hike that's also open to mountain bikers and was reasonably busy the day we hiked it. We spent a lot of our walk jumping off to the sides, but the view at the end was phenomenal and worth it! 😃 Restaurants never fully-opened while we were there, but we did get some fantastic take out, including a Mexican restaurant called Switchback Taco that was run by a couple from Detroit!
While there, I also got the opportunity to talk to Good Morning Texas about summer RVing with your family! To say my mind was a tornado of feelings doesn't even begin to cover it.
5/16/2020 – 5/30/2020: Ouray, CO


Next, we arrived in Ouray THE day they were opening the town for visitors. We again spent the first part of our stay feeling a bit uncomfortable in a tranquil town.
However, we had three super impressive experiences while in Ouray!
We hiked the entire perimeter of the town on the aptly named Perimeter Trail. It was wildly beautiful. We saw multiple waterfalls, mountains, meadows, amazing views of the city, and deer.
We rented a jeep for a day of traversing the local jeep roads. This was incredible, we literally took the jeep over a mountain! (Which we had never done before.) And we arrived on the other side into Silverton, only to find out they had just opened to visitors on that day. We had a beer at a bar for the first time in months.
We also took a day trip to Black Canyon of the Gunnison National Park. I wish we would have stayed the night here and walked down to the bottom because I believe that's probably the most beautiful way to see this park. Nonetheless, the Warner Point Nature Trail, Cedar Point Nature Trail, and Oak Flat Loop Trail were lovely, and we had a very peaceful day here.
As for the Ouray RV Park, this is an RV park you stay at for the location to town and the awesome 2-mile walking loop right outside your front door! You don't stay there for the RV spot. I hate to say it… we had nothing but good experiences at the park and with the staff… but the spots here are the tightest we've ever encountered. I could hear conversations on either side of the RV almost at all times.
When it was time to leave, you wouldn't have known the town was ever shut down. Shops were bustling, and restaurants were opening. The only thing I feel we really missed out on in this area was the gorgeous Hot Springs complex in the middle of town. We'll definitely have to go back and experience that someday!
At this point, it was starting to feel like summer.
Notable Food Mention: Taco Del Gnar in Ridgway, CO. I'm not much of a foodie, but I'll be dreaming about those tacos for a long time! 😋 Yum!
5/30/2020 – 6/3/2020: Montrose (& Crested Butte), CO


We were never originally going to stay in Montrose or Crested Butte. Crested Butte was walloped with COVID early on. They completely shut down the town to tourists and were warning of $5000 tickets if you tried to come in, even if you had a second home in the town! We figured we were going to miss it, but then our friend messaged us and told us the town had re-opened. So, we decided a visit was necessary before moving along.
We figured we could make it easy on us by parking the rig in Montrose. That way, it would stay on our path to our next destination, and then we could simply take a day trip out to Crested Butte to visit with our friend Val before moving along to Grand Lake.
She gave us an epic tour of the town, including a stroll through the first farmer's market of the season, a fantastic lunch on the patio at Coal Creek Grill, and a drive to a ton of scenic mountains and lakes spots! We spent the rest of the evening consuming as much of her alcohol and snacks as possible while playing Uno into the wee hours of the night.
At this point, we had watched multiple towns in a row re-open to the public, and I was starting to feel some pretty strong Groundhog Day vibes.
The Montrose campground also had a trail directly outside of the entrance, which has quickly become one of our must-haves for any campground spot we now book.
What We Thought Broke: When leaving Crested Butte, we had some concerns about our brakes because they just didn't feel like they were working quite right. We decided to stay put in Montrose for a few extra days and have them looked at before moving along to Grand Lake. However, nothing was technically wrong with them. The man at the shop thought the Million Dollar Highway probably just overheated them. He said it was super common, and told us he'd feel wrong if he tried to sell us any brake parts because ours were fine. So we carried along!
Also What We Thought Broke: One afternoon, while sitting in our RV, we heard a horrible noise come from our air conditioner and then shoot through our entire ceiling air conditioning ducting. We were at first convinced it somehow ate an animal. 😂 Then we realized that wasn't possible, so we next assumed some part of it must have broke. We decided to just turn it off and not address it again until we got to a bigger city with more RV repair options. So, to be continued on this one… more on this down below in the Fort Collins section!
6/3/2020 – 6/13/2020: Grand Lake, CO


Winding River Resort in Grand Lake, CO is hands down, no contest, my favorite place we've ever taken the RV. This stay will forever remain one of my happiest periods in RV life. Winding River Resort is a gem of a campground that we honestly didn't see coming. We merely booked a spot there because we wanted to explore Grand Lake, and it was the closest campground to town.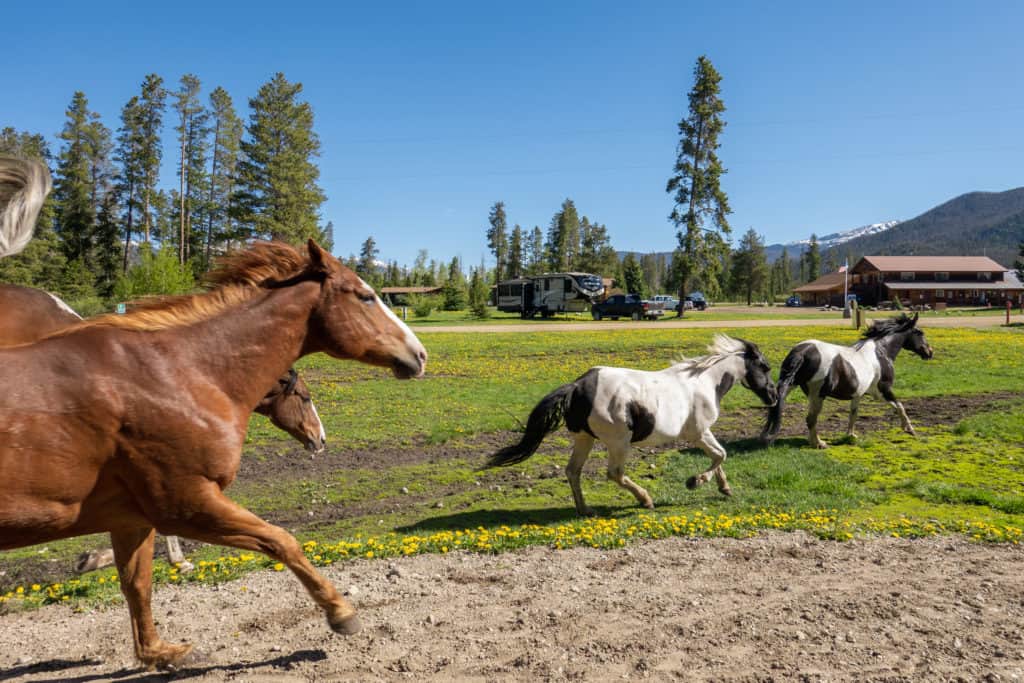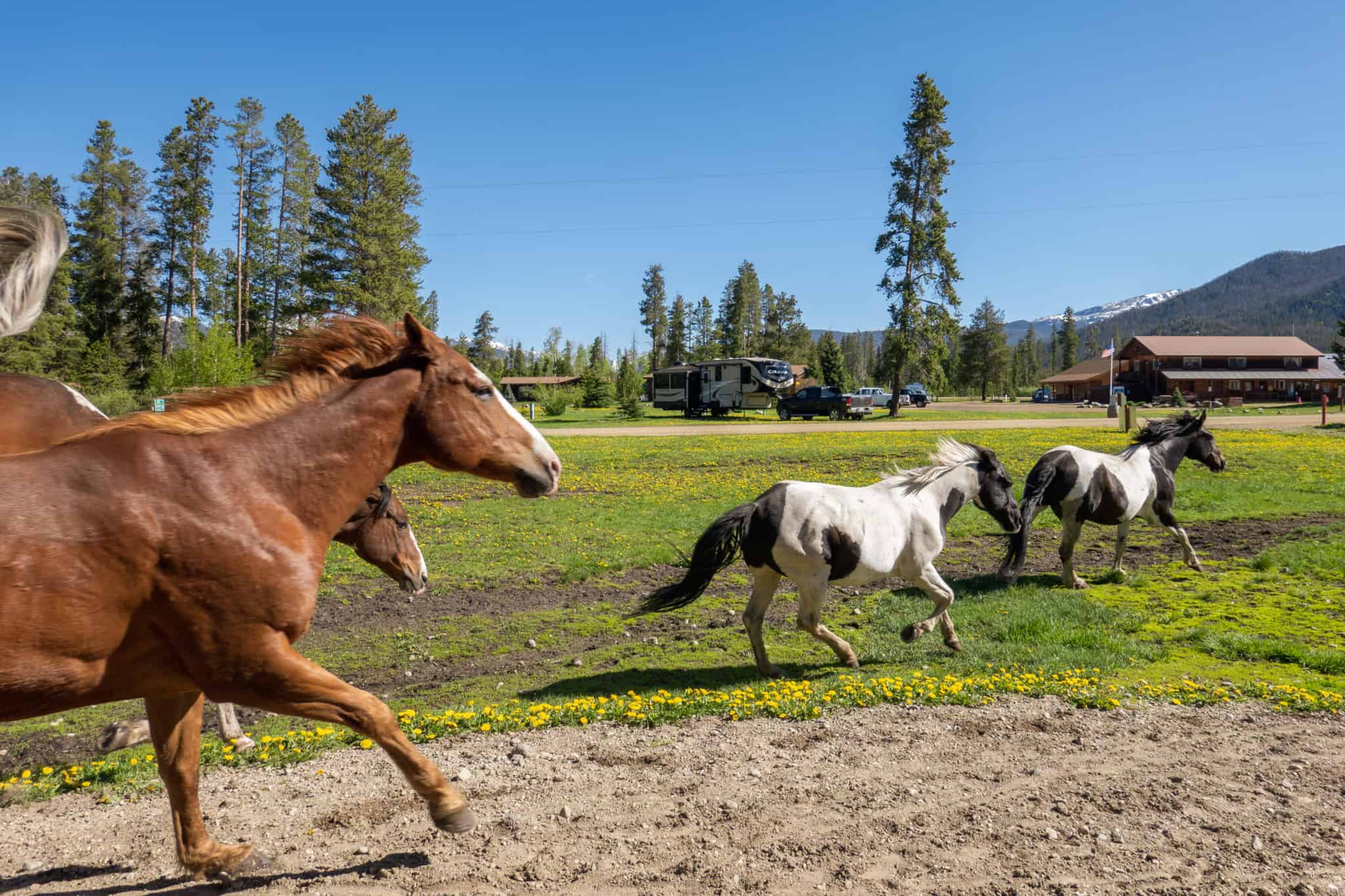 However, here's why it ended up being so surprisingly awesome:
First of all, this is a fantastic campground for anyone who loves animals! They have a small animal farm with bunnies, ducks, cows, goats, sheep, chickens, and even three little pigs! During our stay, we visited them every morning and evening. They were always adorable!
Second of all, the horses! They offer horse trail rides going into Rocky Mountain National Park during the day and have at least 30 horses on-site to accommodate large bookings. But in the mornings and late afternoons, before and after trail ride time, if you're staying at the campground, you get the bonus perk of watching the Cowboys wrangle up the horses! (Which is what you see above, and that's our camper in the background!)
As a second bonus perk, some of the horses roam free in the mornings and evenings. Many mornings I woke up and found my cat staring at a horse munching on the grass right outside our window!
Directly from the campground, we had a secret trail entrance into Rocky Mountain National Park's west side, which we loved and used frequently.
We also had a trail entrance into the Arapaho National Forest from the campground.
The whole time we were there, we saw countless elk and at least 10 -20 moose!
Our time here was legitimately magical! To top all of that off, on June 8th, we got at least a few inches of snow. We were pretty much the only people in the campground and ended up spending a fair amount of the evening running around acting like kids in the snow – and I hate the snow…. 😂


While here, we spent a full snowy day on the west side of Rocky Mountain National Park, took a few drives into Grand Lake, and hiked numerous west side trails, including North Inlet Trail, East Inlet Trail, Coyote Valley Trailhead, and checked out the Holzwarth Historic Site.
We also hiked and rode horseback on the Green Mountain Trail and hiked the Supply Creek Trail in the Arapaho National Forest from the campground.
Notable Food Mention: The delicious homemade ice cream from Miyauchi's Snack Bar and the burgers from Squeaky B's.
6/13/2020 – 6/25/2020: Fort Collins, CO




We next moved along to Fort Collins, which holds a special place in my heart. I grew up taking summer trips to visit Fort Collins with my mom, brother, and grandparents.
Before I was born, my Grandpa used to relocate my mom and the rest of her family to Fort Collins during the summers to operate the stands and train at the city's City Park.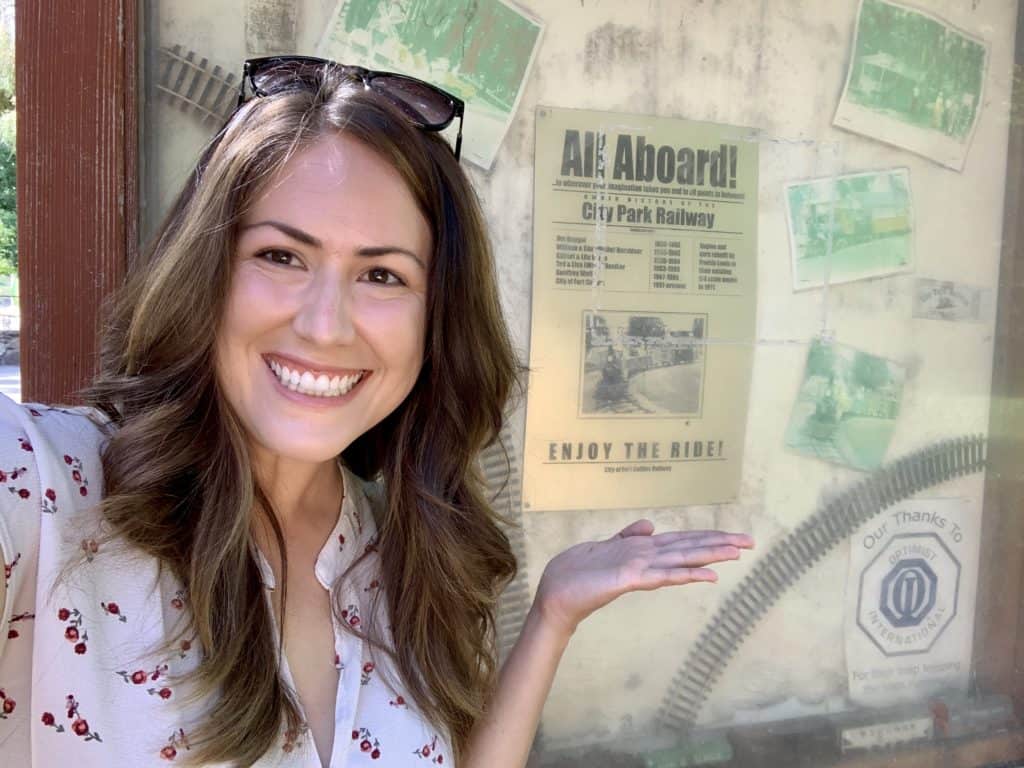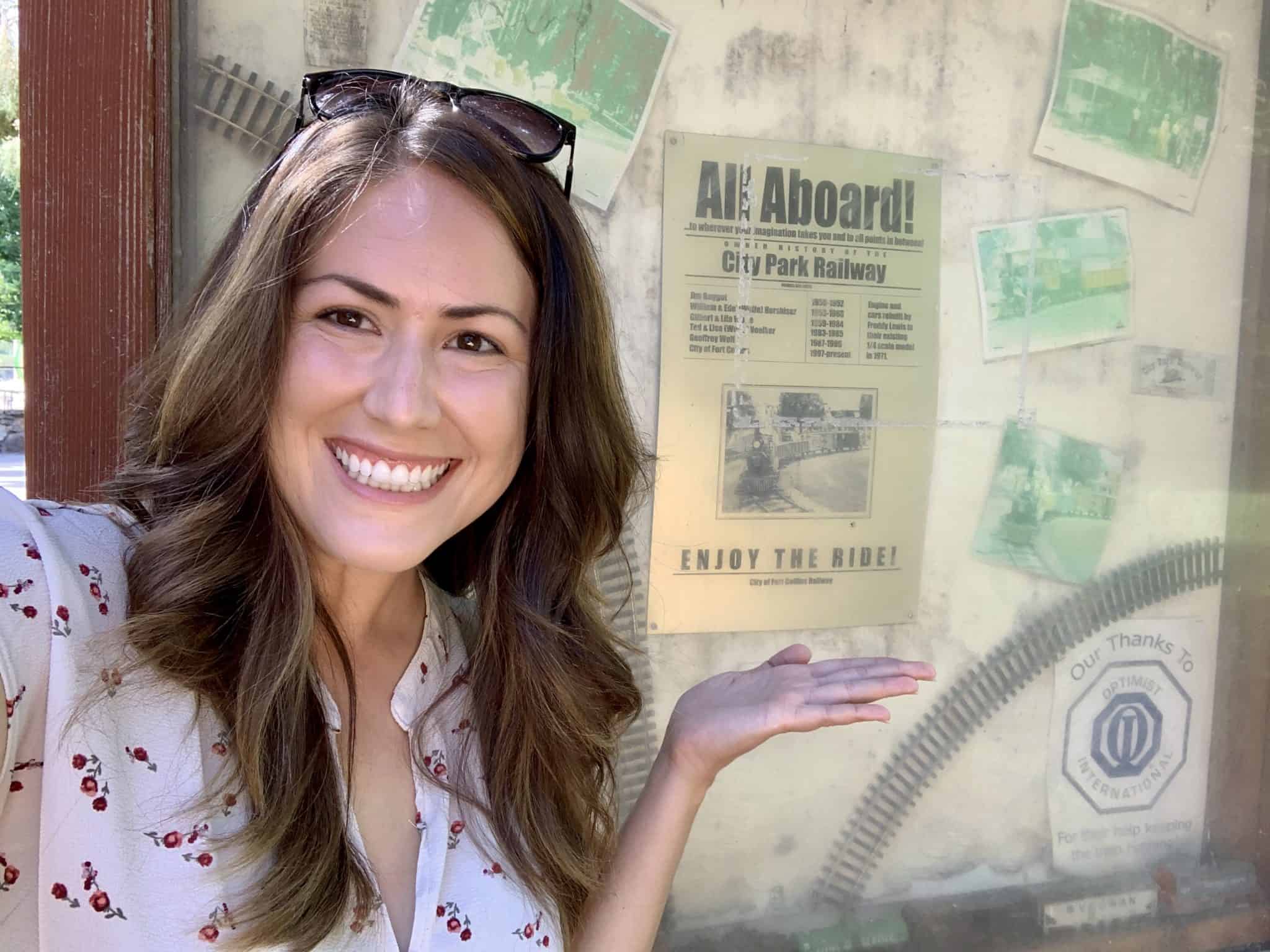 So I grew visiting Fort Collins and the park some summers as well. I even went to CSU for a leadership program there one summer while I was in High School!
The KOA we were at was adorable. It had mini-golf, a pond with fishing and paddle boats, it's own little train that circled the campground tooting it's horn, and it even had campsites with hot tubs! (No idea why we didn't book one of those…)
While in town, I decided to make use of all of the excellent bike trails and breweries by creating another bike & brew tour. We had intended to visit five locations… we made it to three 😂 … New Belgium, Odells, and Funkworks.
We also took a day trip to nearby Lory State Park to hike the Arthur's Rock Trail that looked out over the Horsetooth Reservoir, as well as one more day trip back to Rocky Mountain National Park, except this time to the East Side to conquer the Sky Pond Trail via Glacier Gorge Trail.
We also had a wonderful evening with our friend JJ before leaving. We spent most of our time walking around town, eating, drinking, and catching up on life.
Honestly, while looking forward to our adventures with friends and family ahead, we were super sad to leave Colorado. Two months did not feel like enough.
An Update on What We Thought Broke in Montrose: The air conditioner was not broken after all. An RV repairman was able to come to our campsite and look at it in Fort Collins. He thought the auto-setting we were keeping it on caused some of the water to freeze up, which would have sent ice shooting through throughout the ducting, not parts. We were very grateful for him and once again turned our a/c back on!
What Broke: This was when things with the truck started getting messy again. We noticed it was starting to leak a black substance near the end of our stay in Fort Collins. On a mission to not become behind in our upcoming trek to Delaware, we decided to address the leak when we got to our next stop, Omaha.
6/25/2020 – 6/26/2020: Wood River, NE
Our night in Wood River was just a stop off the freeway on our path to Omaha. We stopped at Firefly Meadows for the night. It's worth mentioning that while this park was pretty basic, it did have one of the nicest bathhouses we've ever seen!
6/26/2020 – 7/3/2020: Moochdocked in Omaha, NE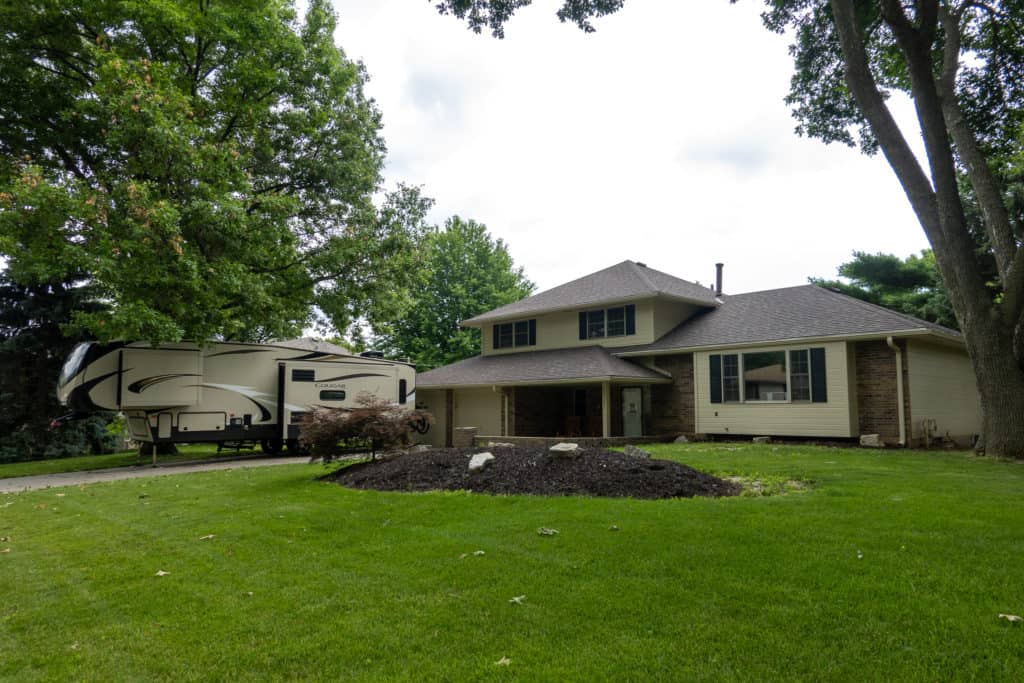 We rolled into Omaha and immediately put our truck back into the shop. It ended up having to stay there for a week's worth of repairs. So, what was supposed to be a few days of moochdocking in our friend's brand-new driveway in Omaha turned into a week of moochdocking.
This is also around the time the coronavirus really started to mentally get to me once again. Cases were on the rise once again. And despite us wearing masks and trying our best to stay as secluded and out of society as possible, we still encounter new people.
It was awesome seeing friends, but also weird in some ways due to the virus. While there, I put a tremendous sense of personal guilt on myself for traveling around and then stopping by our friend's house.
A brief glimpse into my head:
What if someone we crossed paths, at some point, was sick and we ended up bringing that sickness to their family? Or what if someone my friend worked with was sick, and then she brought it to us? And then, after visiting them, we would be seeing family. What if we then brought something to them? Or what if someone we would see next week worked with someone who was sick. You get the point… This was the first time we were mixing loved ones with coronavirus. I did not adjust flawlessly.
On the plus side, I got to play lots Mario Kart and Mario Party on the Switch with my mini-me from another mother, Annabelle! I also got to watch #2 (aka Hayden) slow destroy Sarah and Josh's brand-new home, day by day!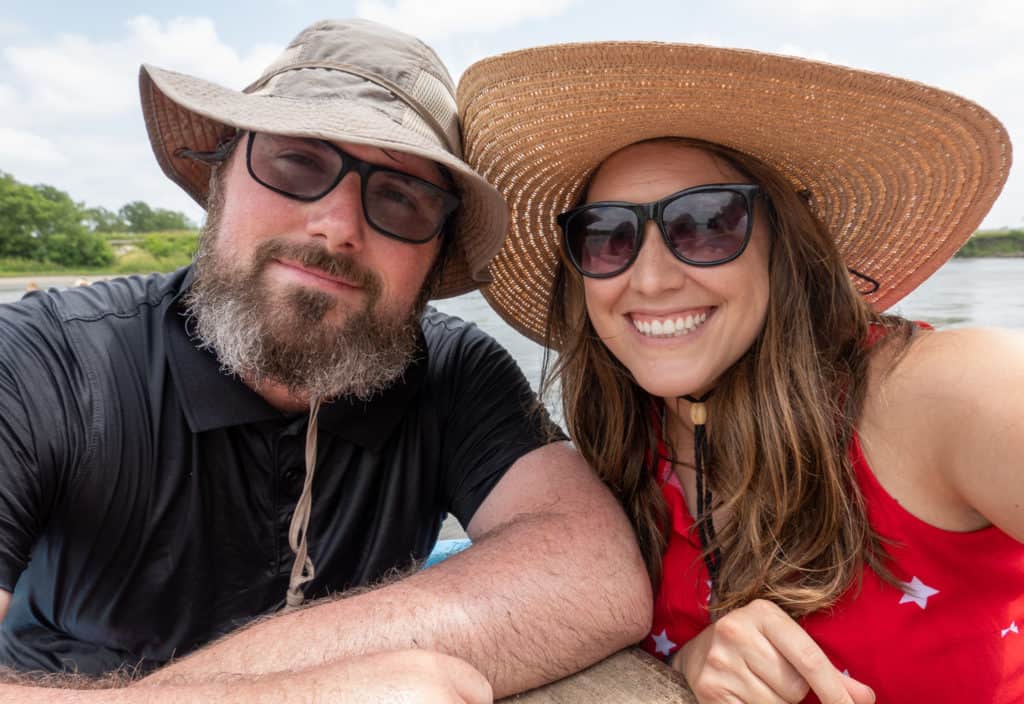 We spent our time there:
Watching Josh cook us tons of food on his new grill
Belting out Hamilton show tunes
Laughing a LOT
Tossing poppers at each other
Lighting Fourth of July firecrackers, fountains, and sparklers
Tanking down the Elkhorn River
And exploring Omaha – Including getting the Sarah car tour, checking out a Saturday Market, and meeting OMAR the bridge toll!
Remove the new level of coronavirus anxiety, and it was a truly wonderful time!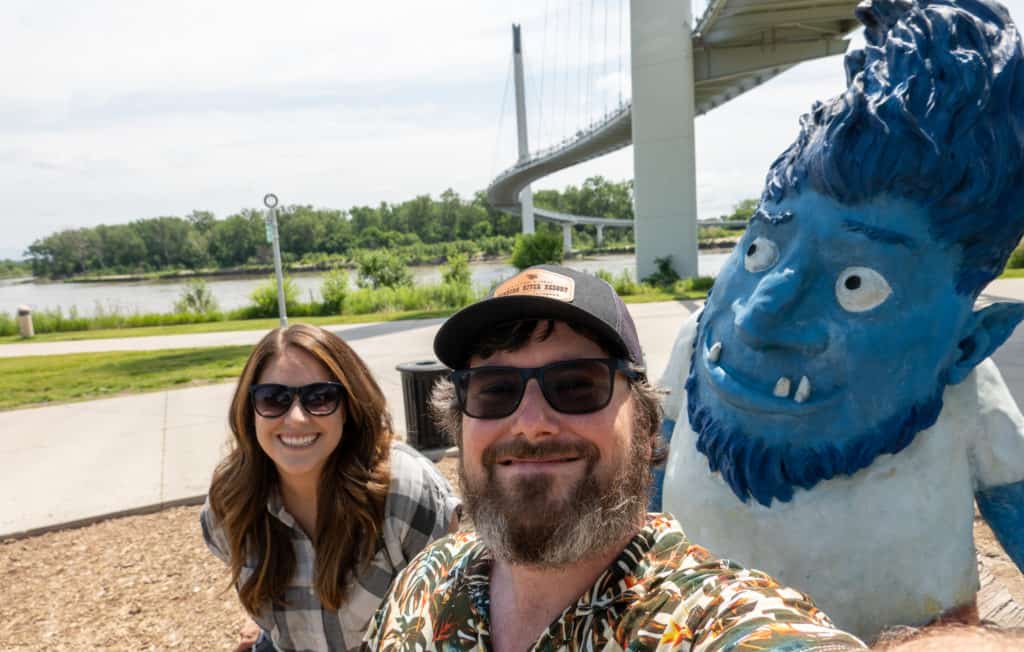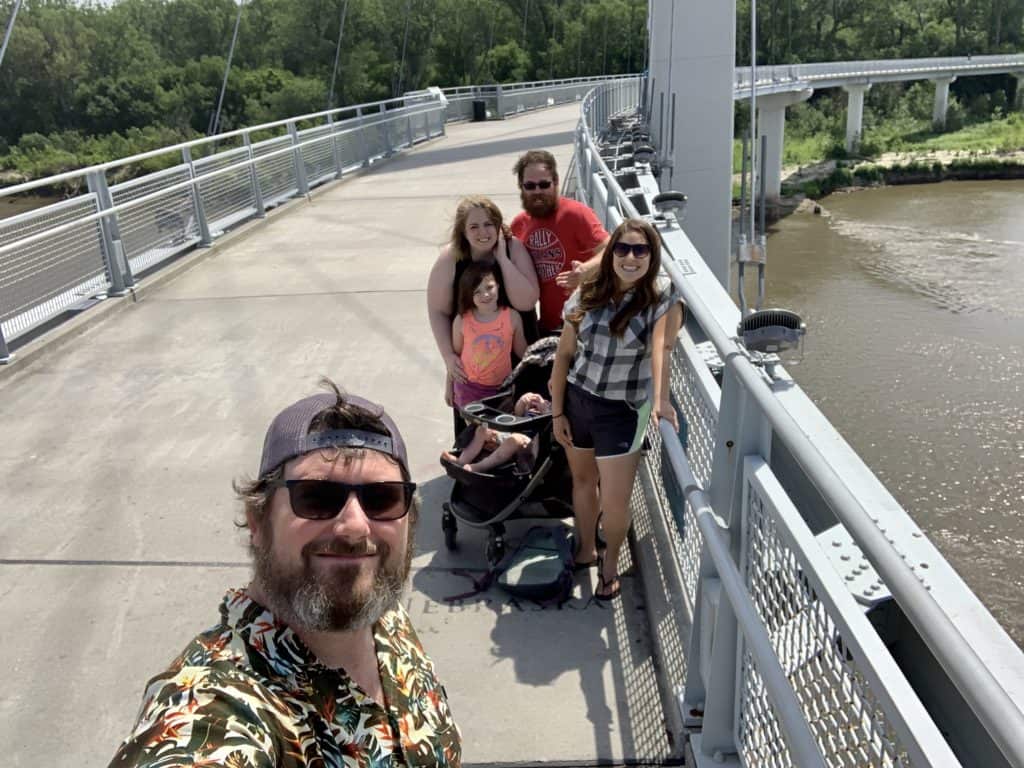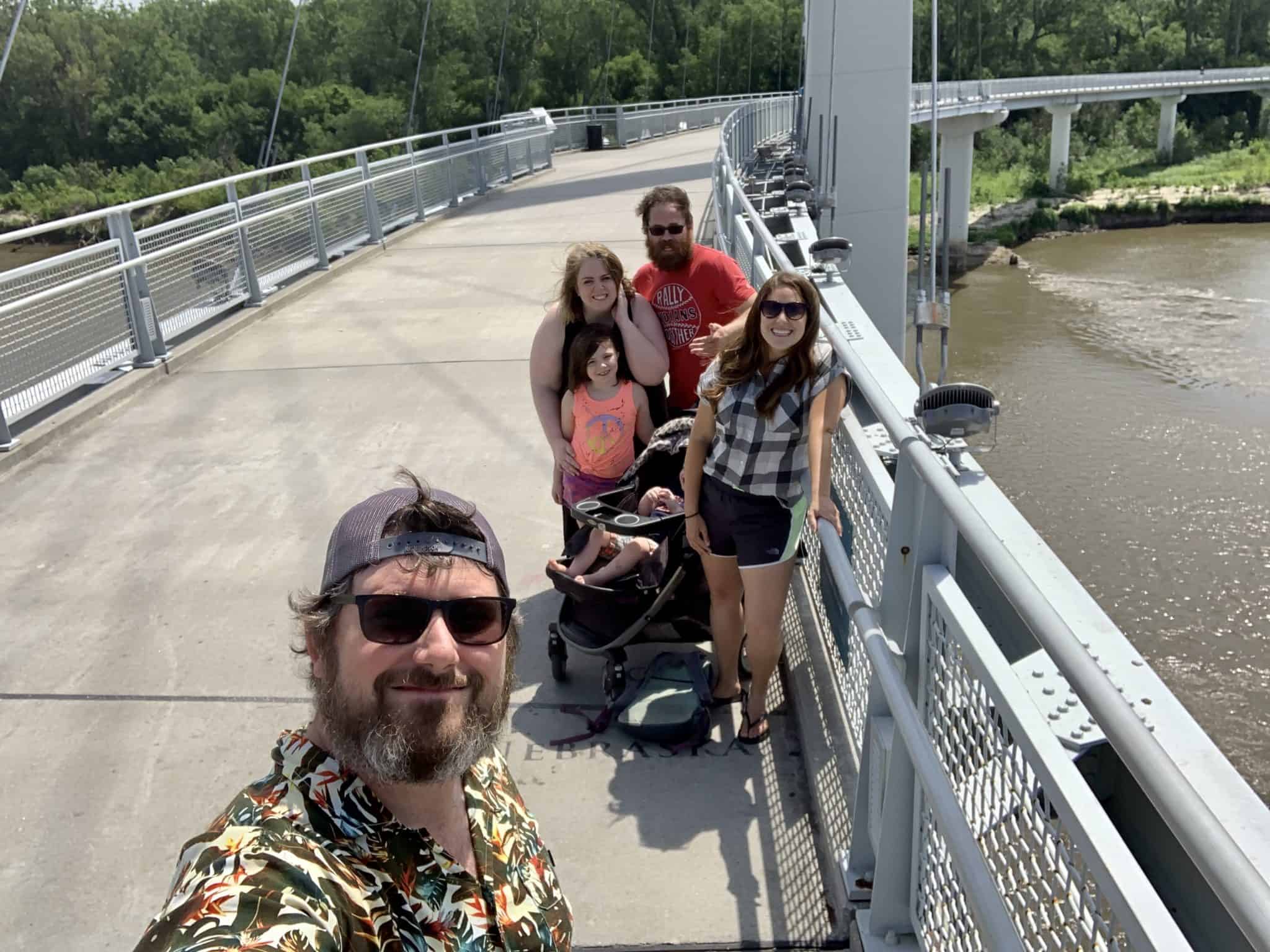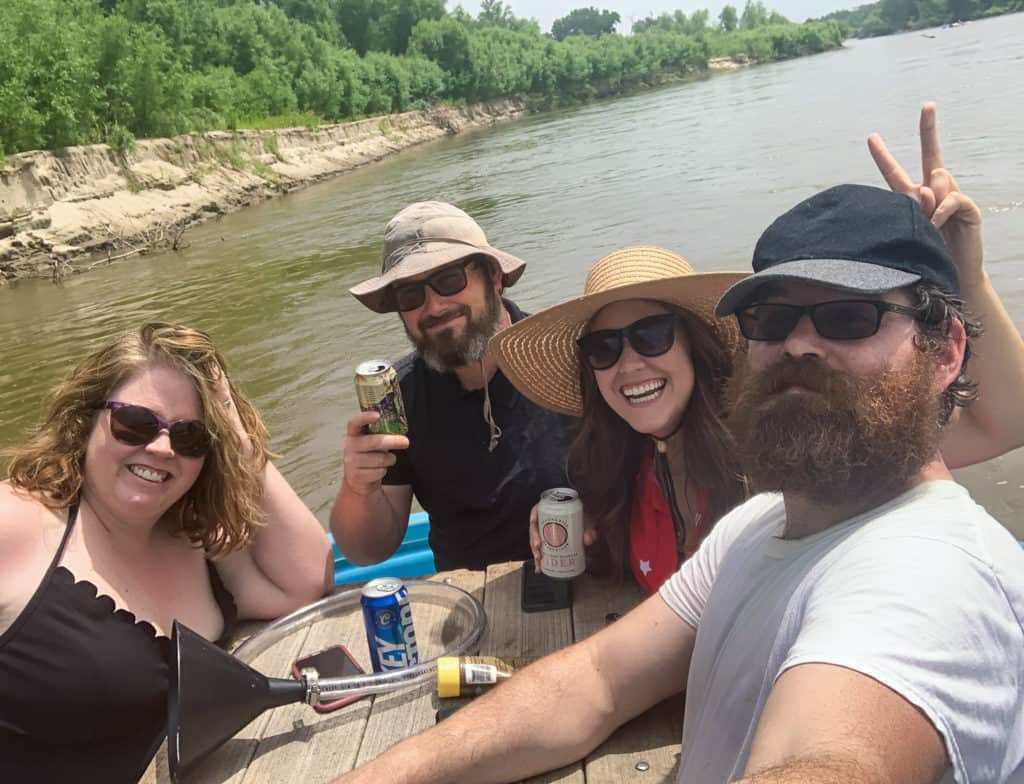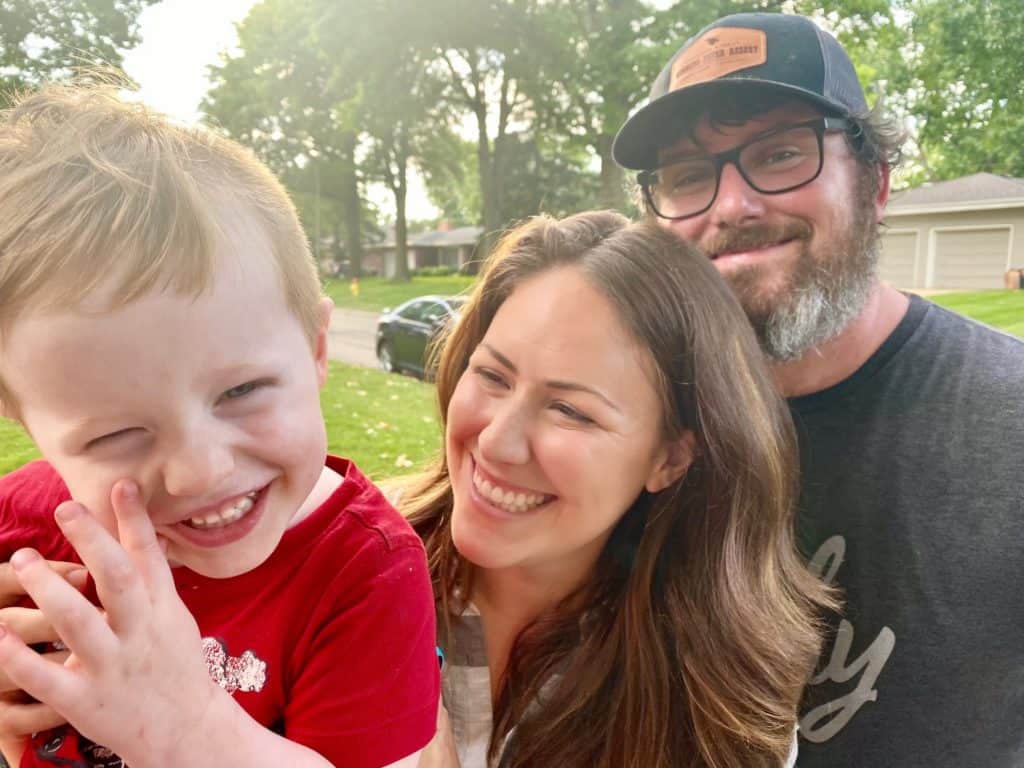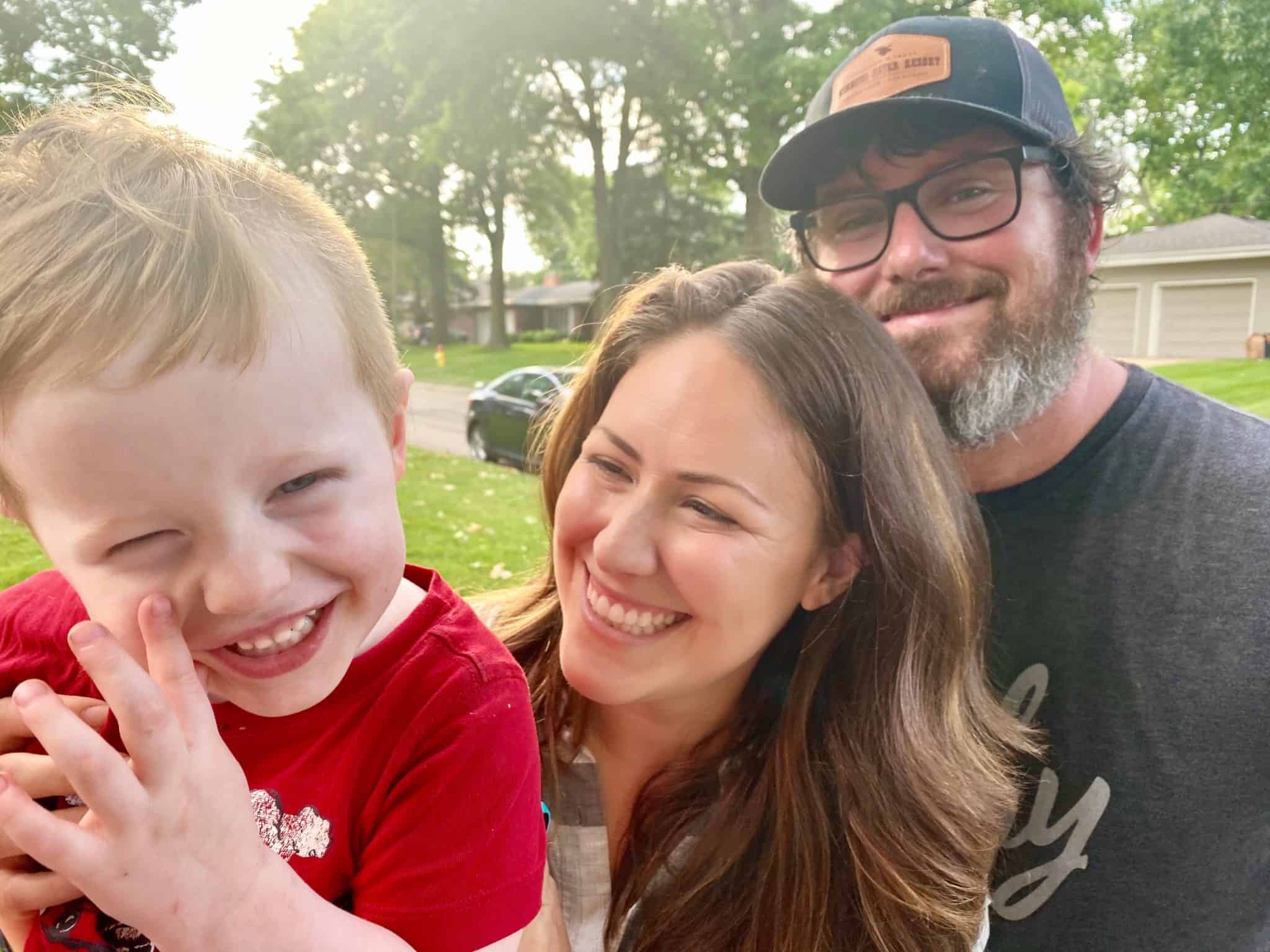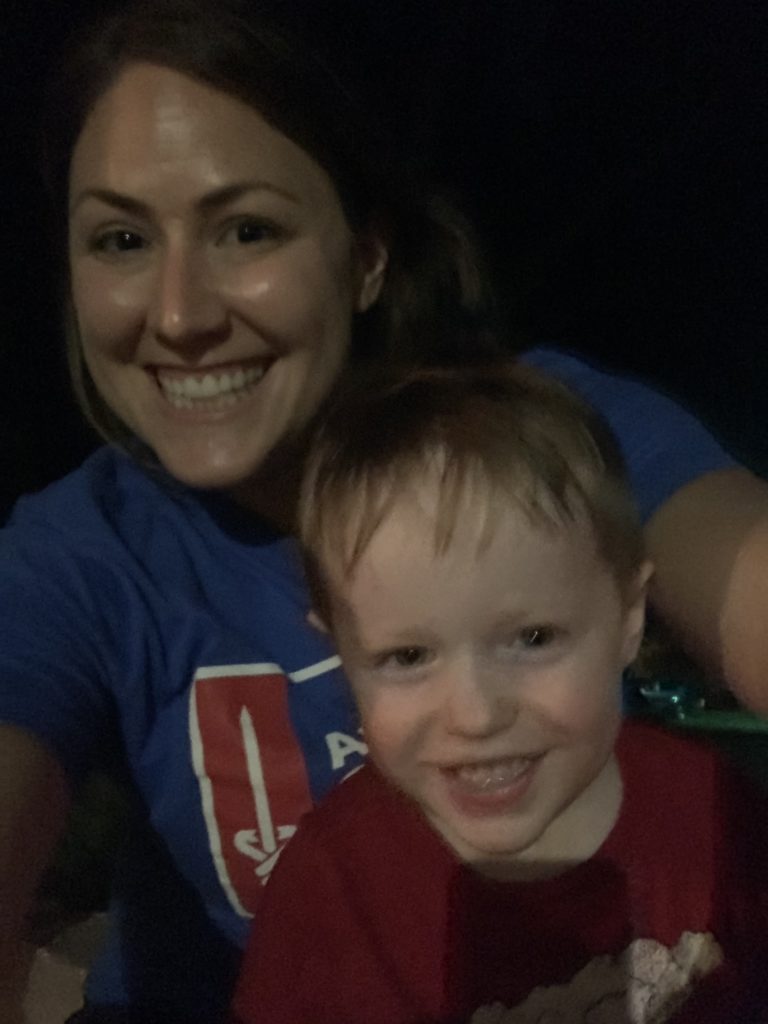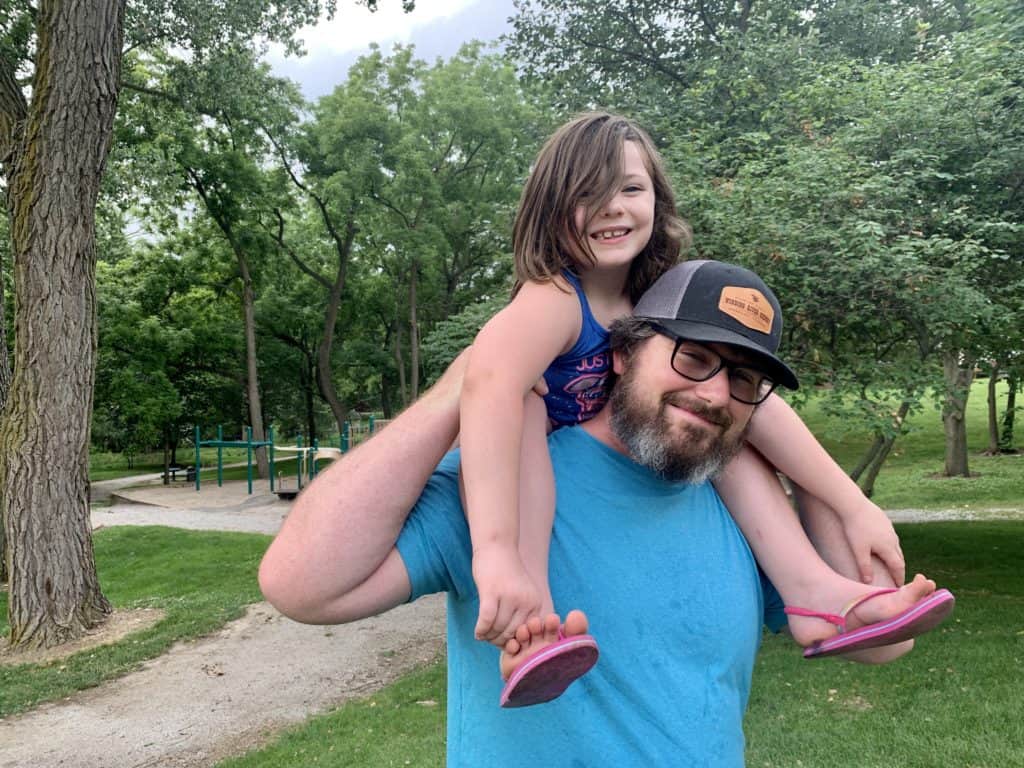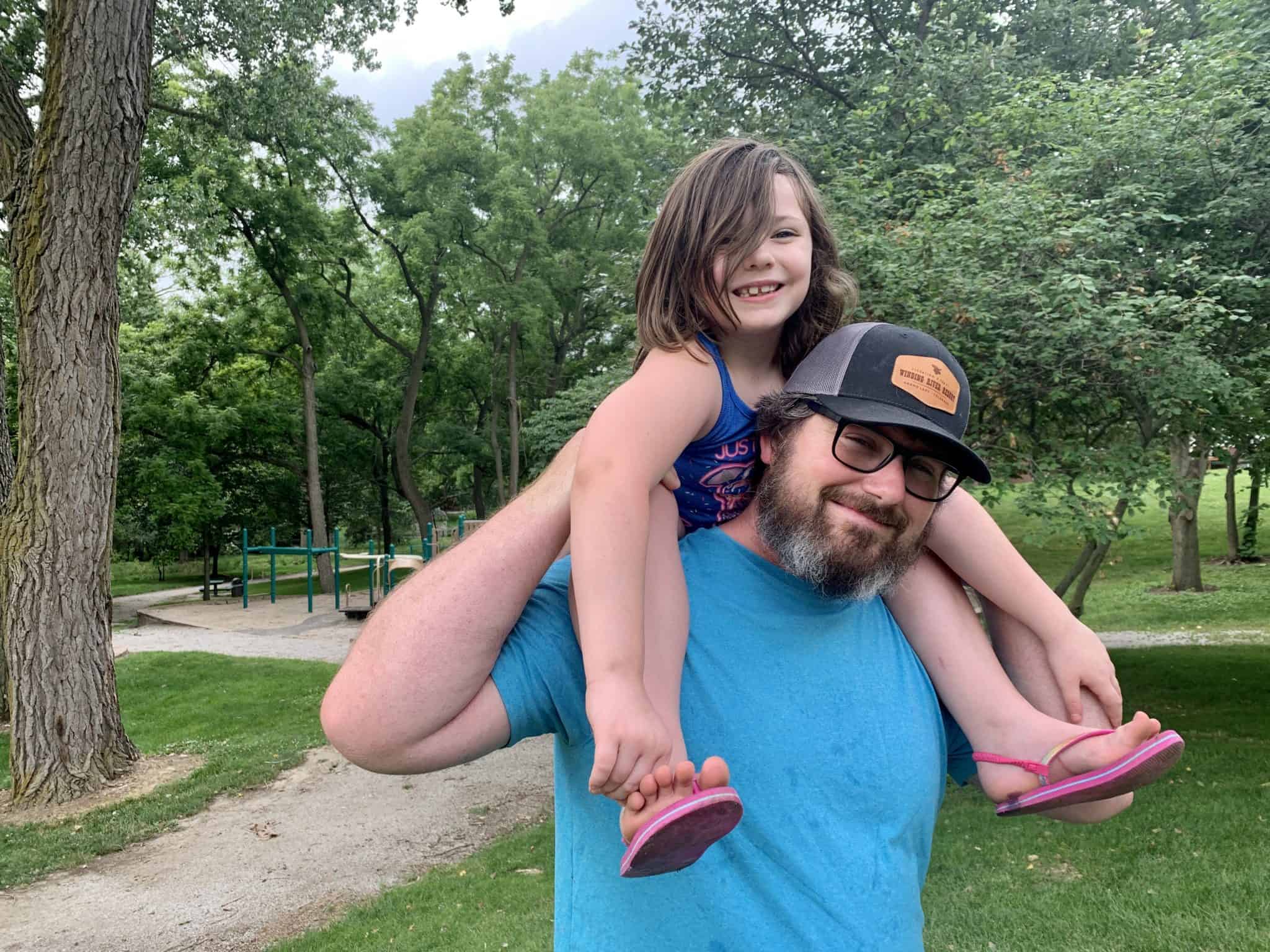 What got fixed: Let the impending season of repairs begin (so many more ahead to tell you guys about)! Josh and Barrett climbed up on our roof and connected our new antenna that we received in Tucson!
What broke: Our brand-new generator. We had never used it before. It lasted for 4 hours. 😂 Thank goodness for warranties.
What broke: We learned a hose in our truck was put in backward during the February repair in Las Vegas. As you will continue to learn, we're not convinced that was actually the problem, but I guess it was a problem that they were able to fix.
7/3/2020 – 7/5/2020: Omaha, NE <-> Ocean View, DE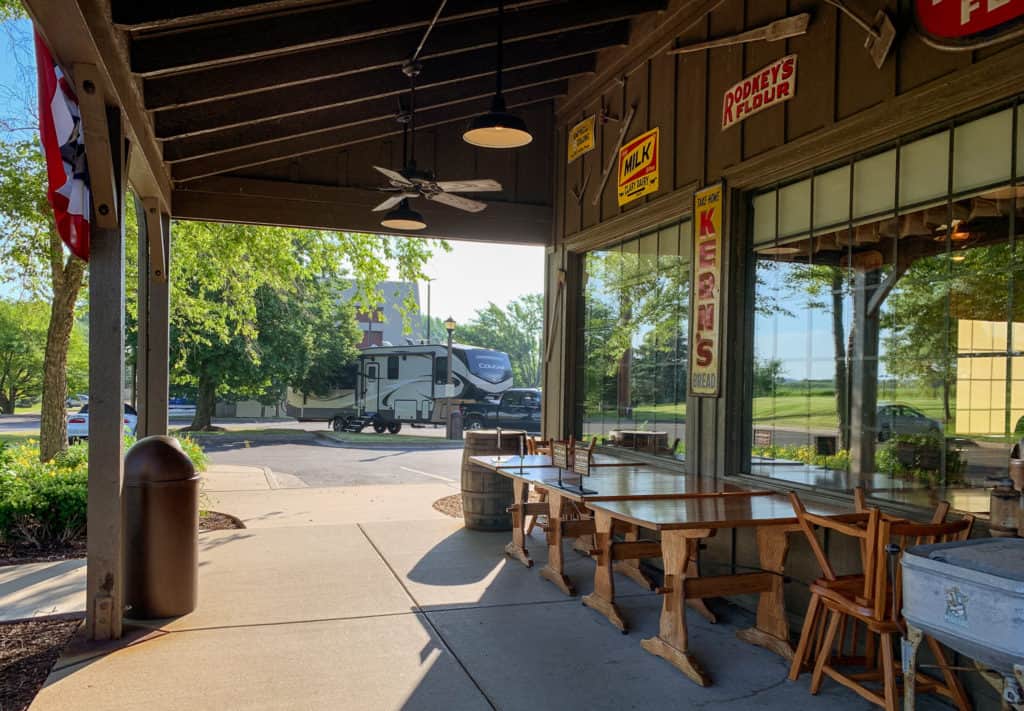 2020's 4th of July will always be remembered as the 4th of July we woke up and fell asleep in two different Cracker Barrel parking lots. 😂
As I said above, we had not intended on being in Omaha for a week, so
in hopes of regaining some of the time we lost, we took off late on the 3rd, making it to the Cracker Barrel in Davenport, IA that evening.
Then on the Fourth, we stepped out of our front door and started our morning off with their 7 am breakfast. And then we ended our day at the Cracker Barrel in Hagerstown, MD, spending fifteen long hours behind the wheel that day.
7/5/2020 – 7/11/2020: RV-less in Ocean View, DE


On the morning of July 5th, we drove our last little stint from Hagerstown to Gettysburg to put our RV in storage for one week. We packed up everything we needed, as well as our entire refrigerator, and then headed to Delaware!
Our time in Delaware was all about seeing family. For the most part, we were basically a small group of family members spending most of our time at a rental house.
We did have some outdoor excursions though, including:
Going to the beach a few times and boogie boarding our hearts out.
Walking along a few boardwalks, all masked up.
Eating a bunch of fries and ice cream.
Kayaking in the bay near the rental house.
Our indoor activities included lots of games and drinking. 😂
Crowds around Bethany Beach and Rehobeth Beach were pretty minimal.
Then we went into Ocean City, MD for a night. While fun, the difference between walking along a boardwalk in Maryland and walking along a boardwalk in Delaware was eye-opening.
Rides were going, shops were open, and people were out! It was the first destination we'd been since the start of the virus, where I would say almost no one was wearing masks, besides us.
We went from trying our best to not interact with much of anyone, and honestly even feeling kind of uncomfortable about bringing our traveling selves to our friends home in Omaha, to full-blown Ocean City madness.
It was around this point that Barrett and I decided that in order to keep enjoying this phase of RV life, we needed some household-specific COVID rules.
Since our federal government has diverted regulations around handling the spreading virus to the states, we've seen some pretty different practices over the past few months. And since every state has such different rules, in many ways, each family across America is forced to make some travel decisions for themselves.
And honestly, since imposing those family guidelines and rules, it's brought so much sanity and comfort to us, even though they can sometimes make me sad.
Our new rules are pretty simple, but help:
We decided even though we LOVE Amusement Parks and were currently near a bunch of them, those and other places with big crowds were not in the cards for us until this virus passes. No visits to anywhere where parking is overly complicated or parking attendants are needed to direct traffic.
We're only going to say yes to invitations to hang out in small groups. Right now, we're saying no to the large group events that usually call to us. (Such as tubing with a bunch of strangers.)
We wear the mask. Why not? We move around frequently and could be possibly picking up something and bringing it to the next place.
We don't take part in activities that entail being indoors. We've now eaten inside one restaurant in May and one in June. It felt uncomfortable both times, instead of freeing. Outside is okay, though!
We're using this time to remember to appreciate the great outdoors. It's been our safe haven. Before COVID, we already spent a great deal of our time hiking and outdoors. Still, we didn't realize how much we'd missed checking out all of the things small towns have to offer, too, until it was taken away from us.
Again, what works is going to be different for everyone. But those are the rules that have been working for us.
What broke: More on this soon, lots of updates here!
7/11/2020 – 7/17/2020: Brunswick, MD


7/17/2020 – 8/5/2020: Shartlesville, PA
8/5/2020 – 8/12/2020: East Stroudsburg, PA
8/12/2020 – 8/26/2020: East Stroudsburg, PA
8/26/2020 – 9/4/2020: Ohiopyle, PA
: Gladwin, MI
9/6/2020 – 9/11/2020: Traverse City, MI
: Champion, MI
9/13/2020 – 9/23/2020: Kabetogama, MN
9/23/2020 – 9/25/2020: Glyndon, MN
9/25/2020 – 10/9/2020: Medora, ND
10/9/2020 – 10/10/2020: Three Fork, MT
10/10/2020 – 10/13/2020: Wisdom, MT
10/13/2020 – 10/16/2020: Missoula, MT
10/16/2020 – 10/19/2020: Arco, ID
10/19/2020 – 10/22/2020: Kaysville, UT
10/22/2020 – 10/26/2020: Torrey, UT