(Last Updated On: August 24, 2020)
(Updated with what to see & do in the area below!)
We have been traveling in our Fifth Wheel since November 2018 with our two cats. We were initially drawn to Ouray, CO after a friend told us it was their favorite place on the planet! We decided we needed to see what Ouray was all about and directed the truck that way. I'm so glad we did!
Nicknamed "The Switzerland of America," this town has quite a tagline to live up to. I'm here to tell you that it most certainly does, and then some. Nestled at the bottom of what seems to be mountains on all sides, Ouray is in a prime setting for the adventure seeker. But you don't have to leave town to enjoy yourself. There are plenty of bars, restaurants, and shops in town to explore and relax in. The town also boasts a hot spring just off the main strip to soothe your muscles after a long day of adventuring. There are also nearby hiking trails and a renowned system off Offroad Vehicle trails to explore.
---
Ouray RV Park Description & Atmosphere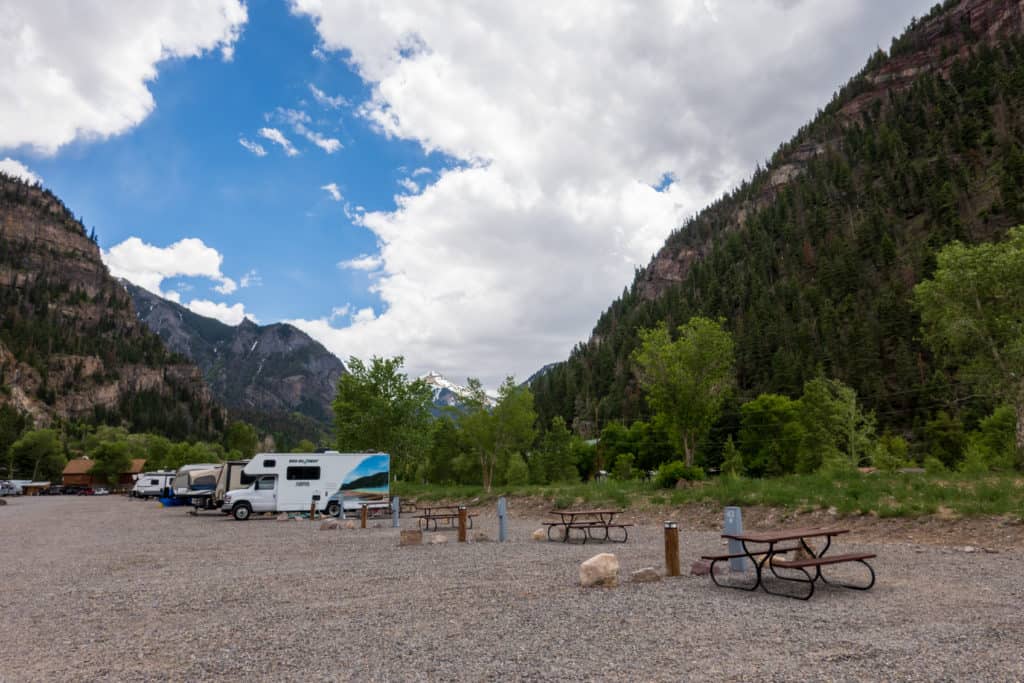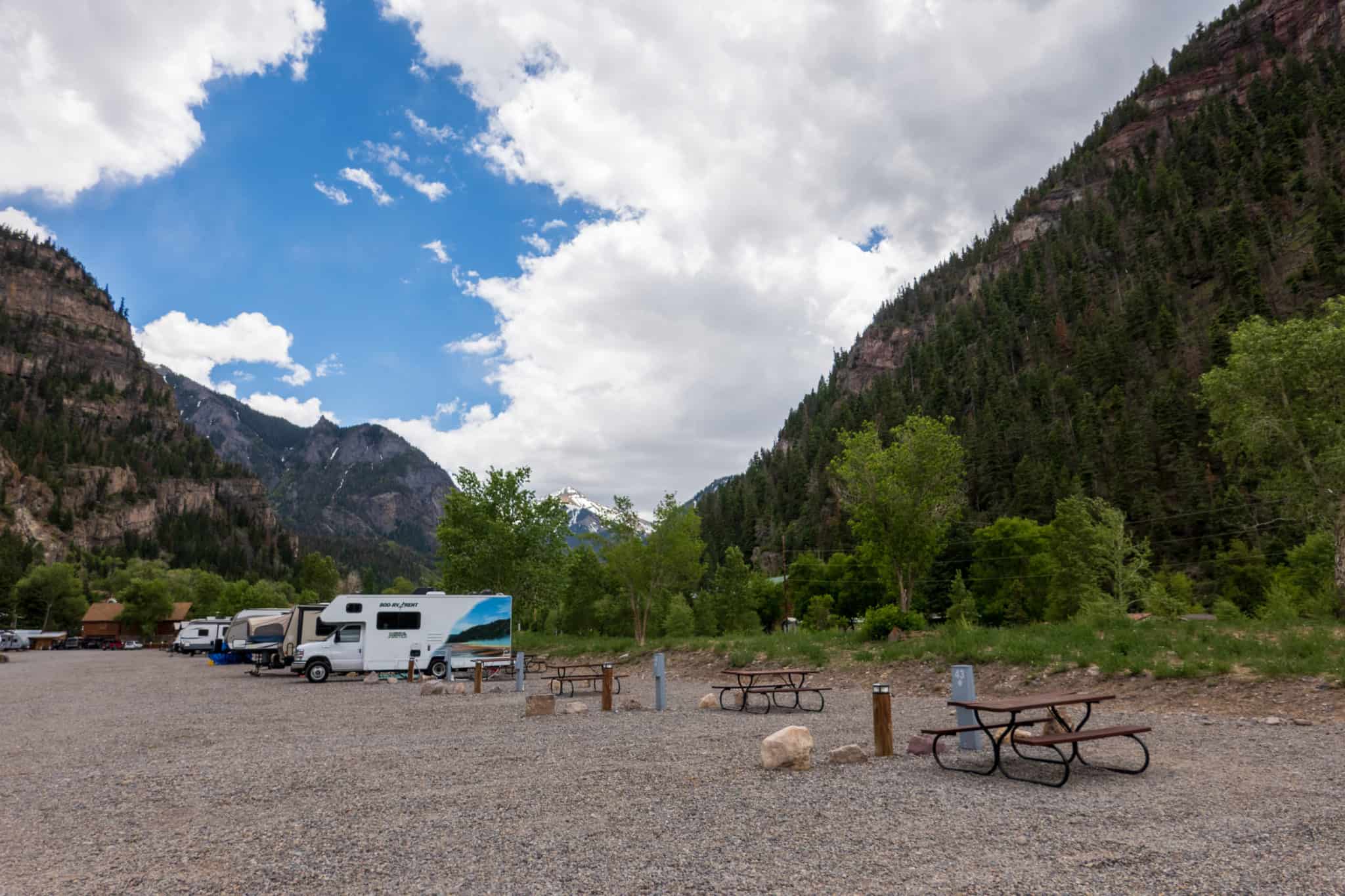 When we showed up to the campground, it was the same day the city had just opened up. Needless to say, the campground staff probably had their hands full. That being said, they couldn't have been nicer. They were all very friendly and accommodating.
For as packed as it was, it wasn't a very rowdy crowd. Most of the people were outdoor adventure enthusiasts. Many people had their tricked out offroad vehicles with them.
As for the site itself, it was very bare-bones. The RV's in our particular section were about the closest together we've come across in RV life. We did have full hookups as well as a picnic table, but the sites were so close together we didn't use it.
Between our AT&T phone service and our Verizon Wifi jetpack, we were able to get decent enough internet to work.
Ouray RV Park Activities & Amenities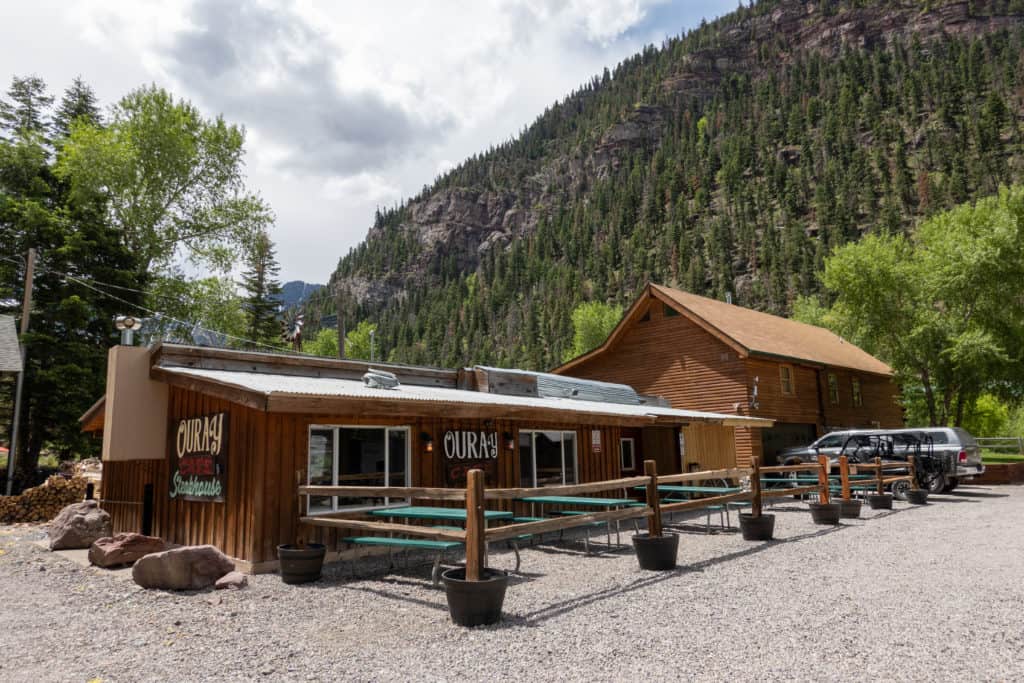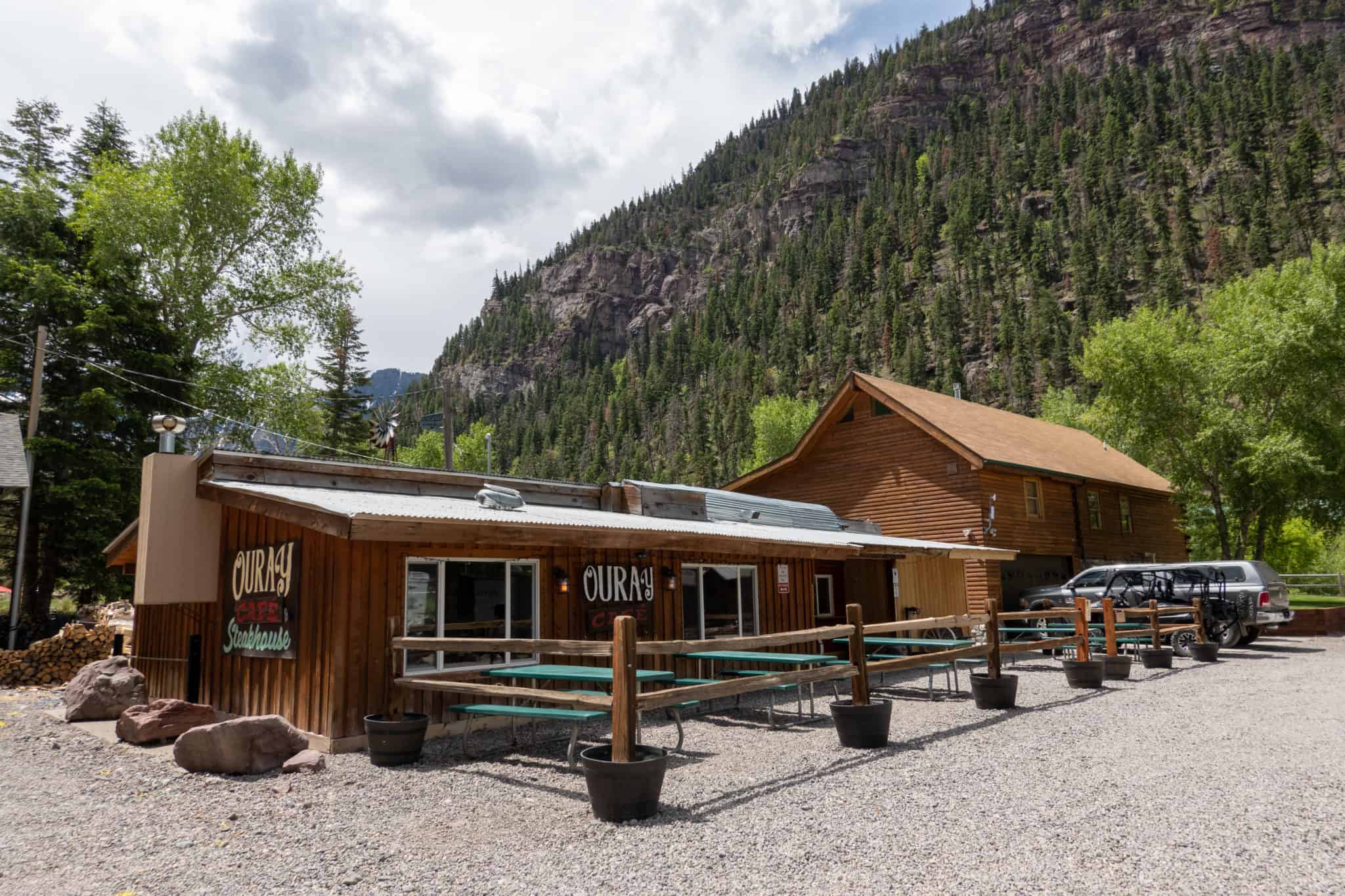 As far as actual amenities at the RV park, they aren't as many as some others we've come across. However, they do have a very nice laundry facility, good wifi, and even an onsite restaurant serving breakfast and dinner. (The restaurant was unfortunately closed during our stay but has since opened up.)
One great thing about the park is that it is right next to the river, which has a nice walking and biking path. This path is a roughly two-mile loop that follows the river and even branches off to continue right into downtown. We started many of our days with some coffee and a walk around the loop.
While the campground lacks things like a pool or outdoor games like mini-golf or basketball, it doesn't really feel like you're missing out on anything because you're surrounded by possible adventure on all sides.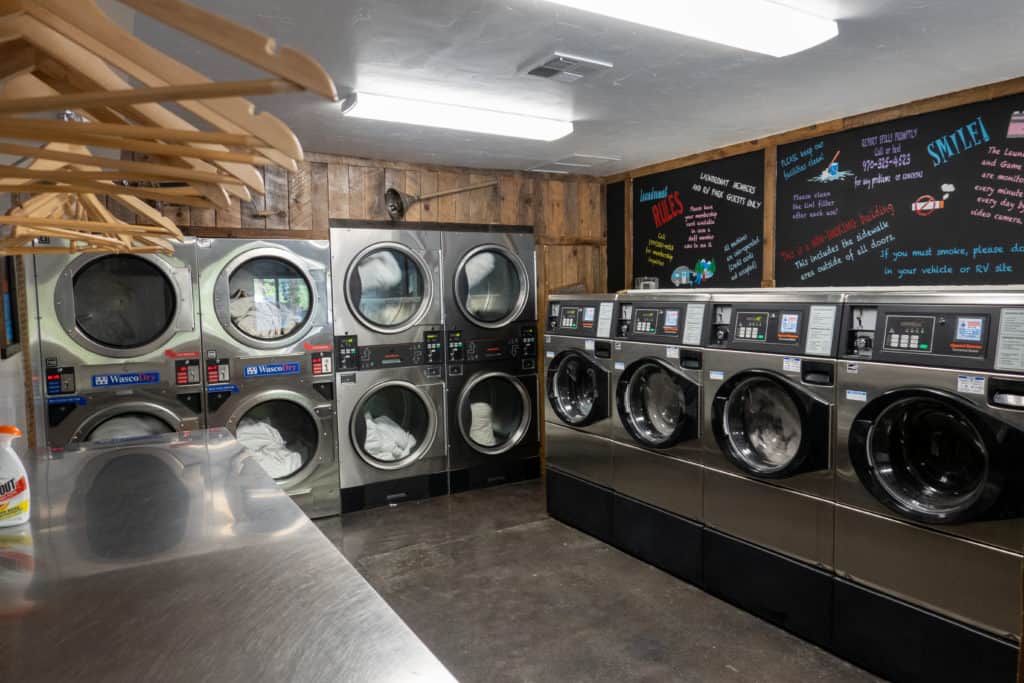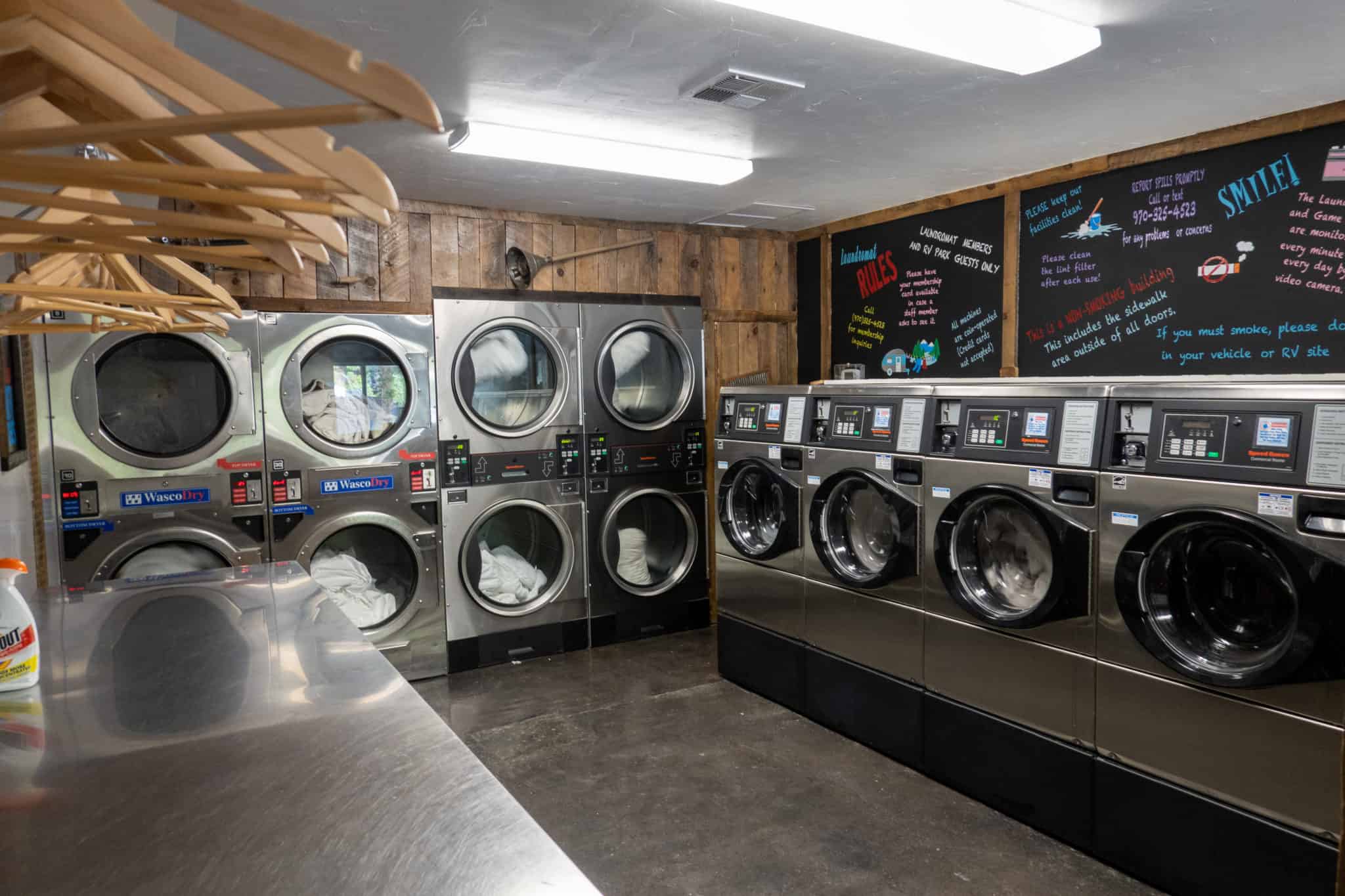 STATS ON THE CAMPGROUND
Address
1700 Main St
Ouray, CO 81427
GPS Coordinates:
38.0349, -107.6761
How Tight are the Spaces, Privacy & Proximity to Neighbors
Very Tight!
Our Site
Site 45 – Riverfront Site
Atmosphere
Family-friendly, seemed to be a lot of adventurous people at the campground
Electric
YES
Water
YES
Sewer
YES
Road Noise
Minimal – close to the road but not a fast road.
Online reservations
YES
Cell/Internet coverage
ATT and Verizon were usable.
In Park Wifi
YES
TV Stations Picked Up
-Stayed here while our antenna was MIA-
Amount of Hiking
Yes. Tons of it in town, more on that below.
Kayaking
Water skiing, windsurfing, kayaking, stand up paddleboarding and boating are allowed at nearby Ridgway State Park Reservoir
Swimming
Ouray Hot Springs Pool and Fitness Center
Anything special on property
Restaurant
Water access
Right along the Uncompahgre River
AMENITIES
| | |
| --- | --- |
| Pool | NO |
| Hot Tub | NO |
| Playground | NO |
| Laundry | YES |
Ouray RV Park Bathrooms
At this point, we have been full time RVing for almost two years. We have seen more bathrooms than I care to count and the full spectrum from terrible to incredible. The bathrooms in Ouray RV Park and Cabins are some of the best we've come across. They were always clean, well kept, and the water was always hot.
BATHROOMS
Local Area & Attractions
What to See & Do Around Ouray
Hike the Ouray Perimeter Trail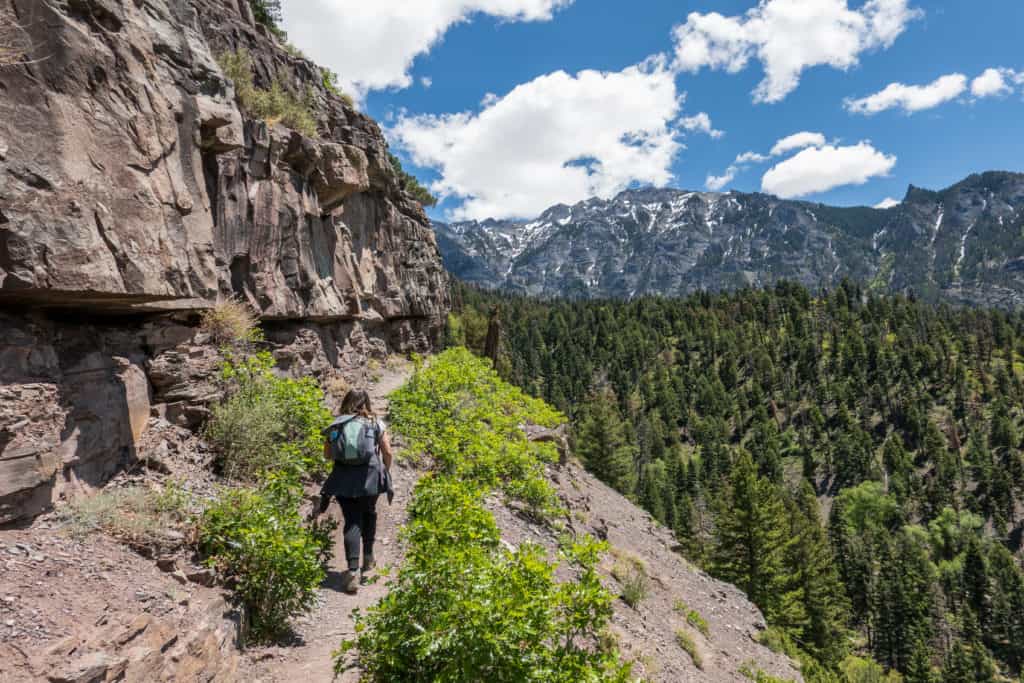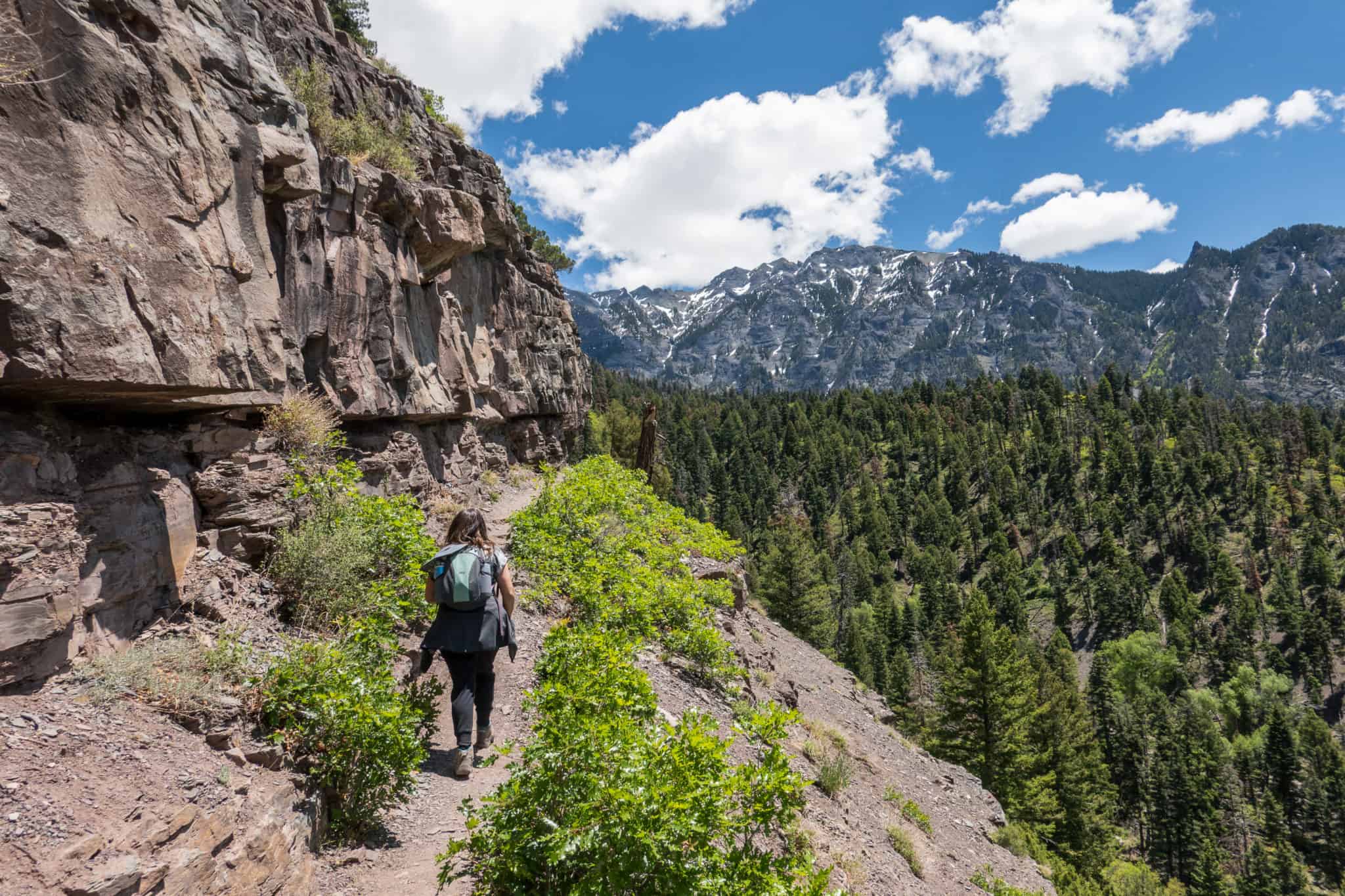 As I said, the town of Ouray is surrounded by endless adventure. A short walk from the campground will take you to the Ouray Perimeter Trail. This is a picturesque 7-mile hike that will take you through the surrounding mountains for beautiful views of the city of Ouray below. We have done countless hikes in RV life, and this was one of the better ones for sure. Beyond that, there are multiple hiking trails to explore.
Jeepin' the 4×4 and OHV Trails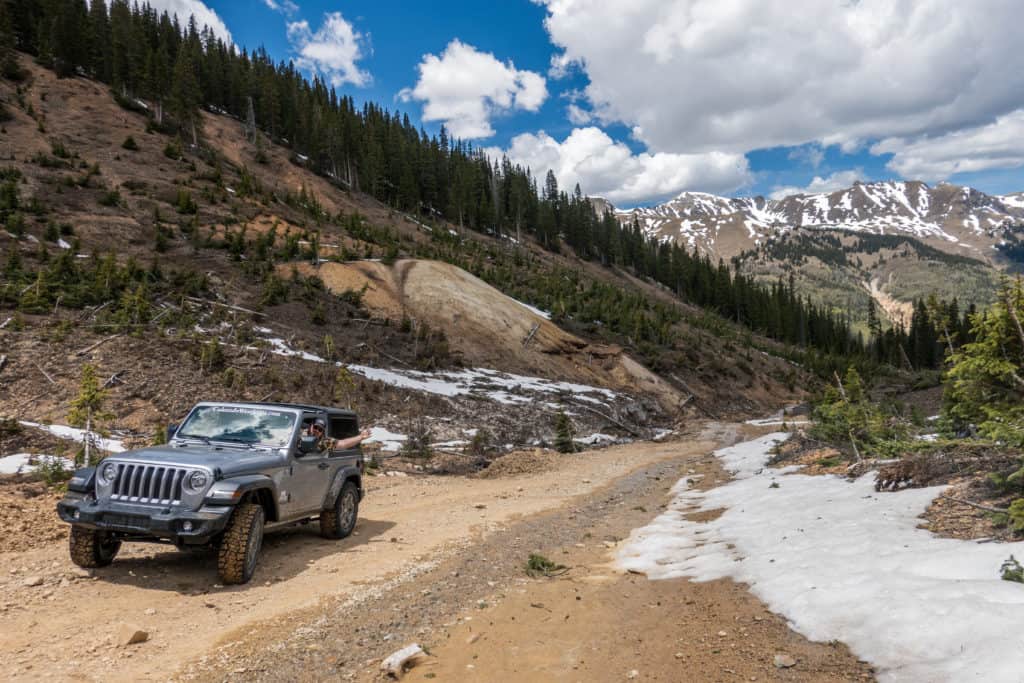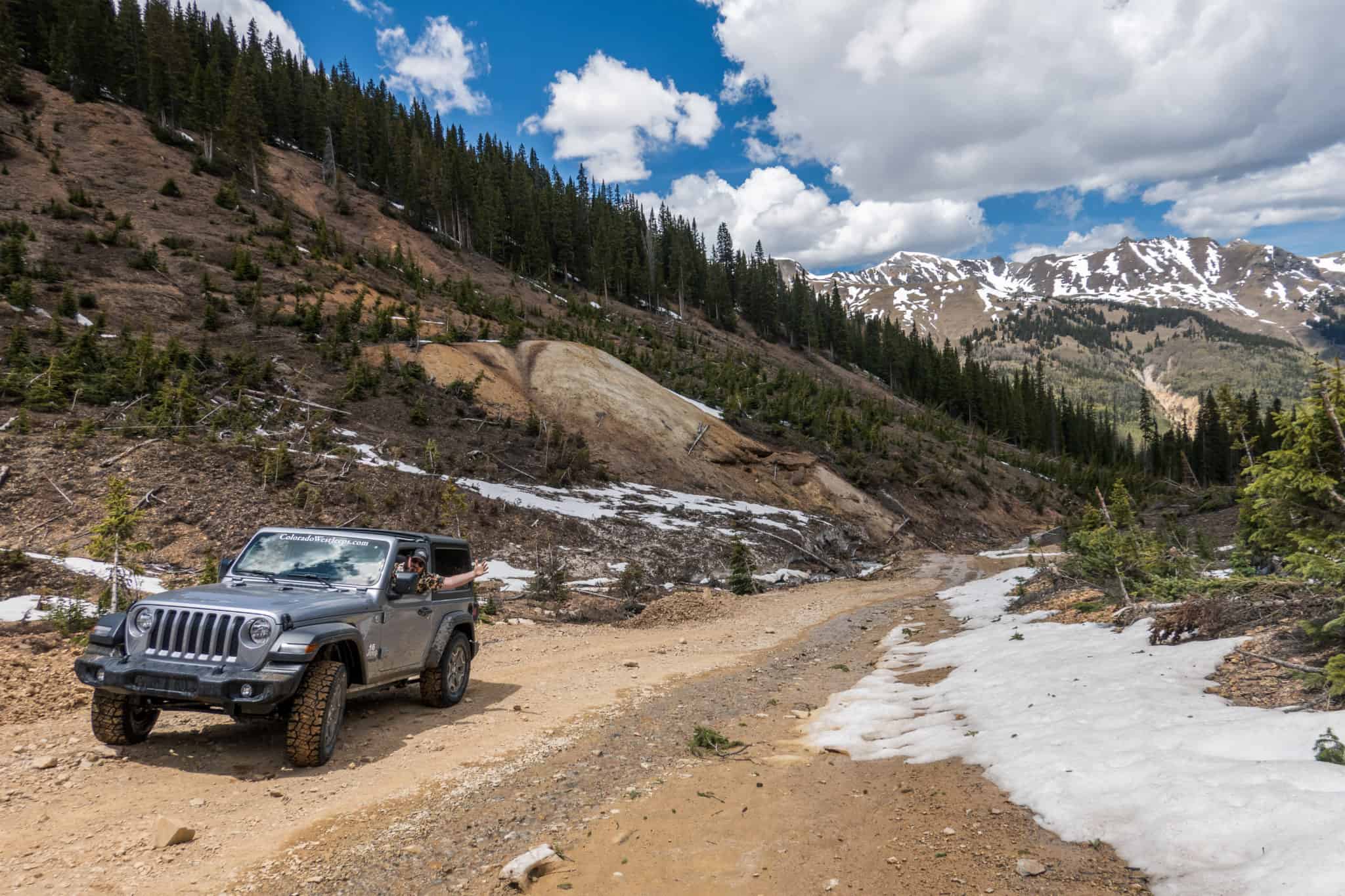 Another big draw to the area is the 4×4 and OHV trails. We rented a Jeep Wrangler in Ouray and spent the whole day exploring. We started on Yankee Boy Basin and then took a trail up and over a mountain from Ouray to Silverton. The pictures simply don't do justice to how insanely remote, beautiful, and hair raising this drive was. At times we were up almost 12,000 feet!
This was the highlight of our time in Ouray. Silverton also had its own restaurants, bars, and shops to explore.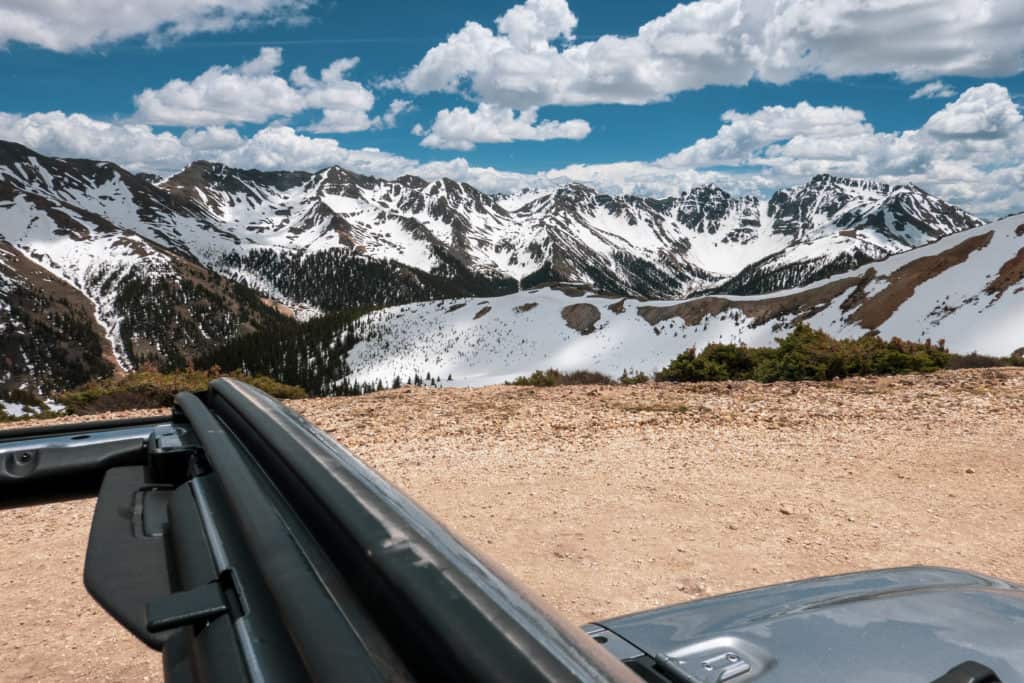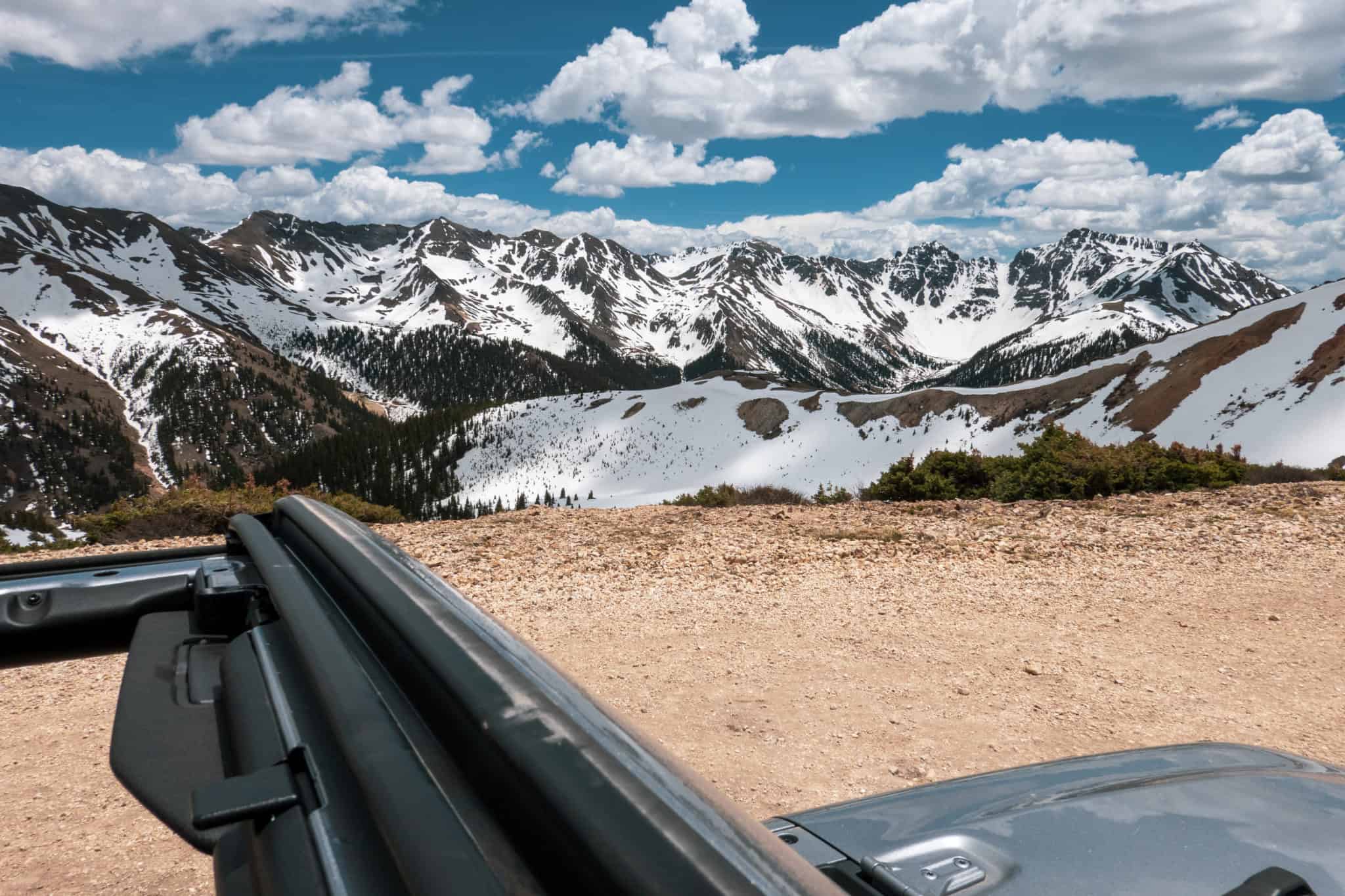 Ouray Hot Springs Pool and Fitness Center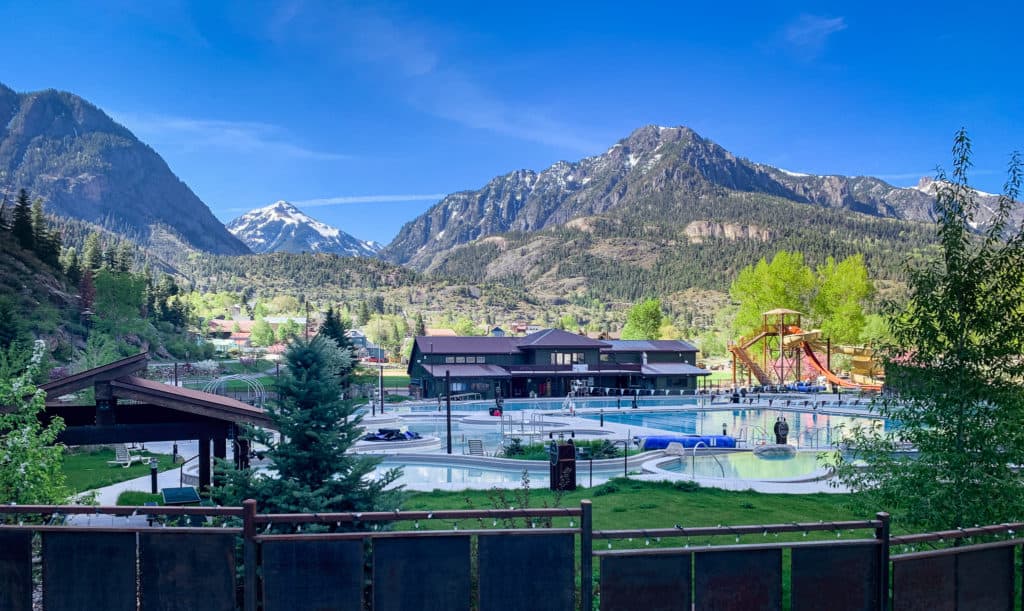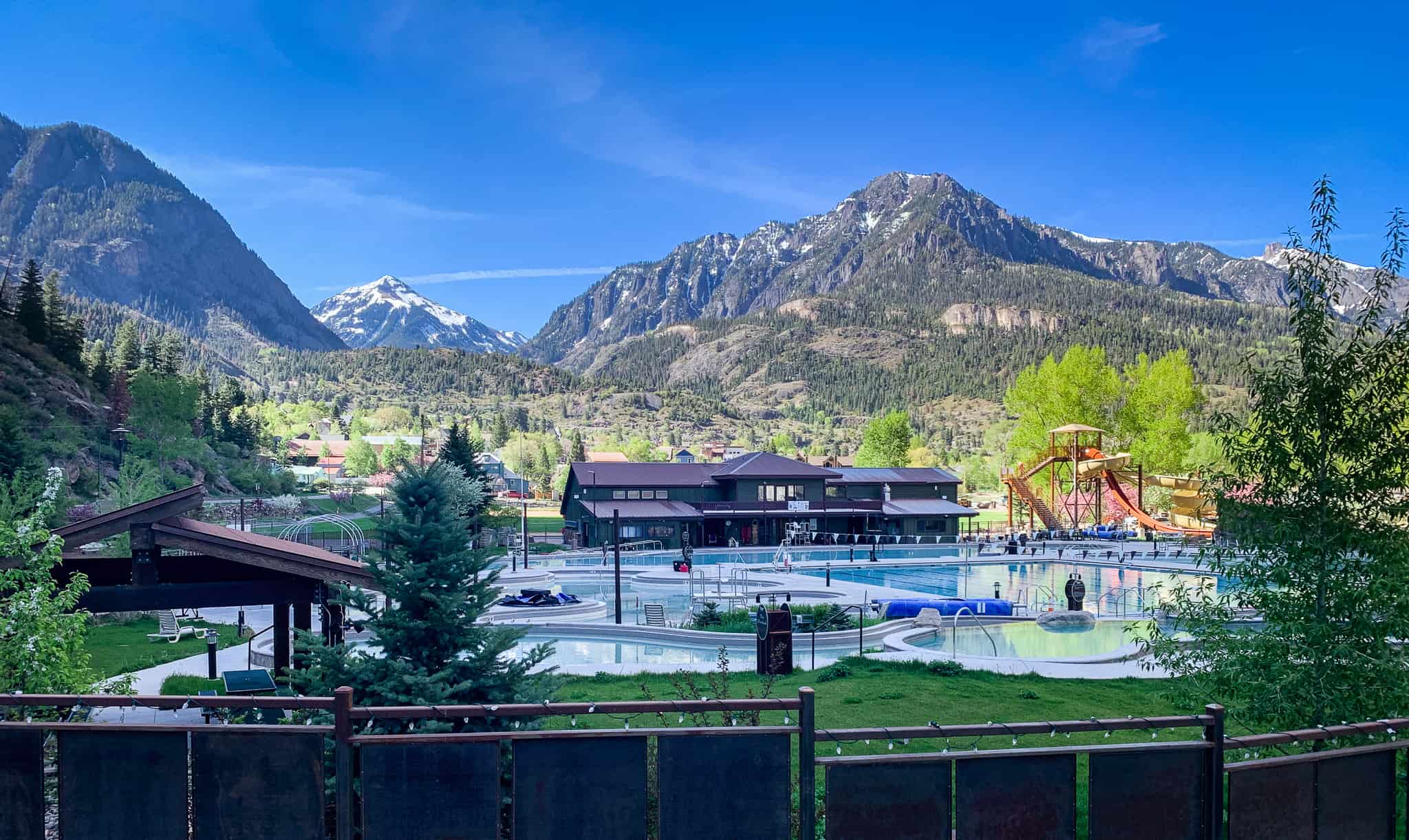 One of the most noteworthy places in town is the hot springs. This hot spring boasts 5 different pools ranging from 75 to 104 degrees Fahrenheit. It also has designated lap areas and an adults-only area, as well as slides and play areas for kids.
Unfortunately, they were not open yet when we were there. But I can't imagine a much better way to end a long day of adventuring than by relaxing in the hot springs that are only a short walk from the camper. If we ever make it back to Ouray, this is a must-do.
Taco del Gnar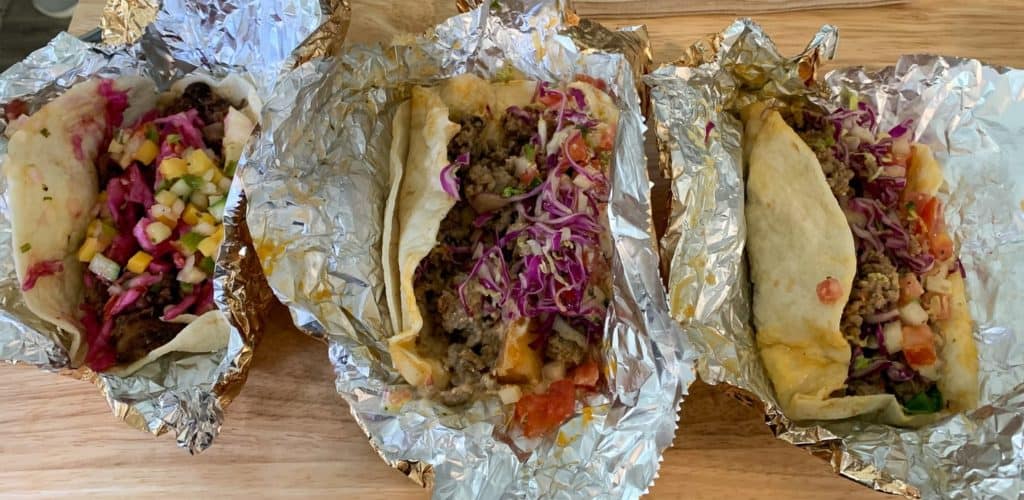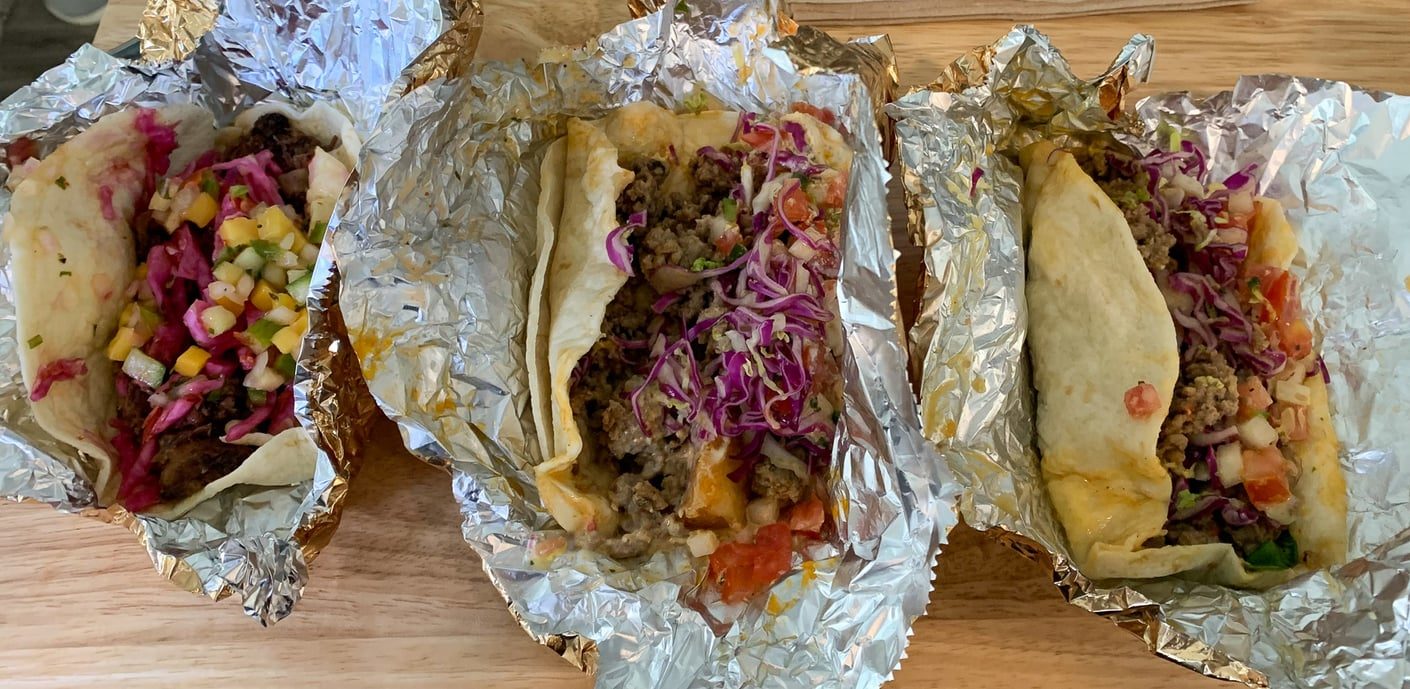 Just a short 15-minute drive from the RV park into the town of Ridgeway you will find Taco del Gnar. While we did have some great food in Ouray, this was hands down the best food of the stay. We've had our fair share of tacos and these were honestly some of the best we've come across.
We ordered from them twice and everything we tried was fantastic. If you are staying in Ouray, or even just passing through, I can't recommend this place enough.
Black Canyon of the Gunnison National Park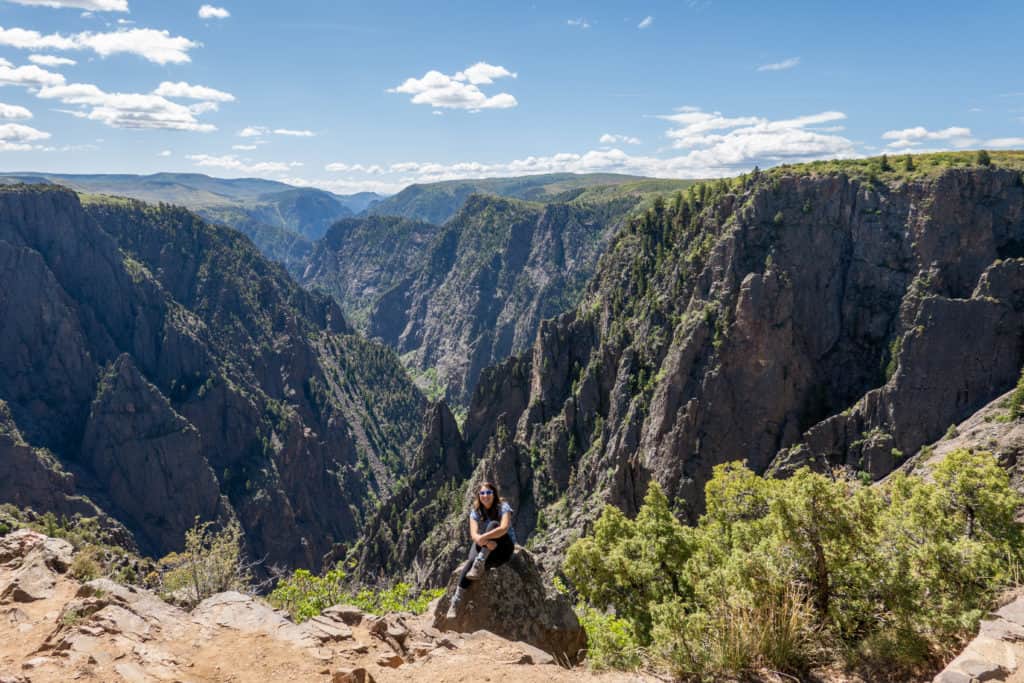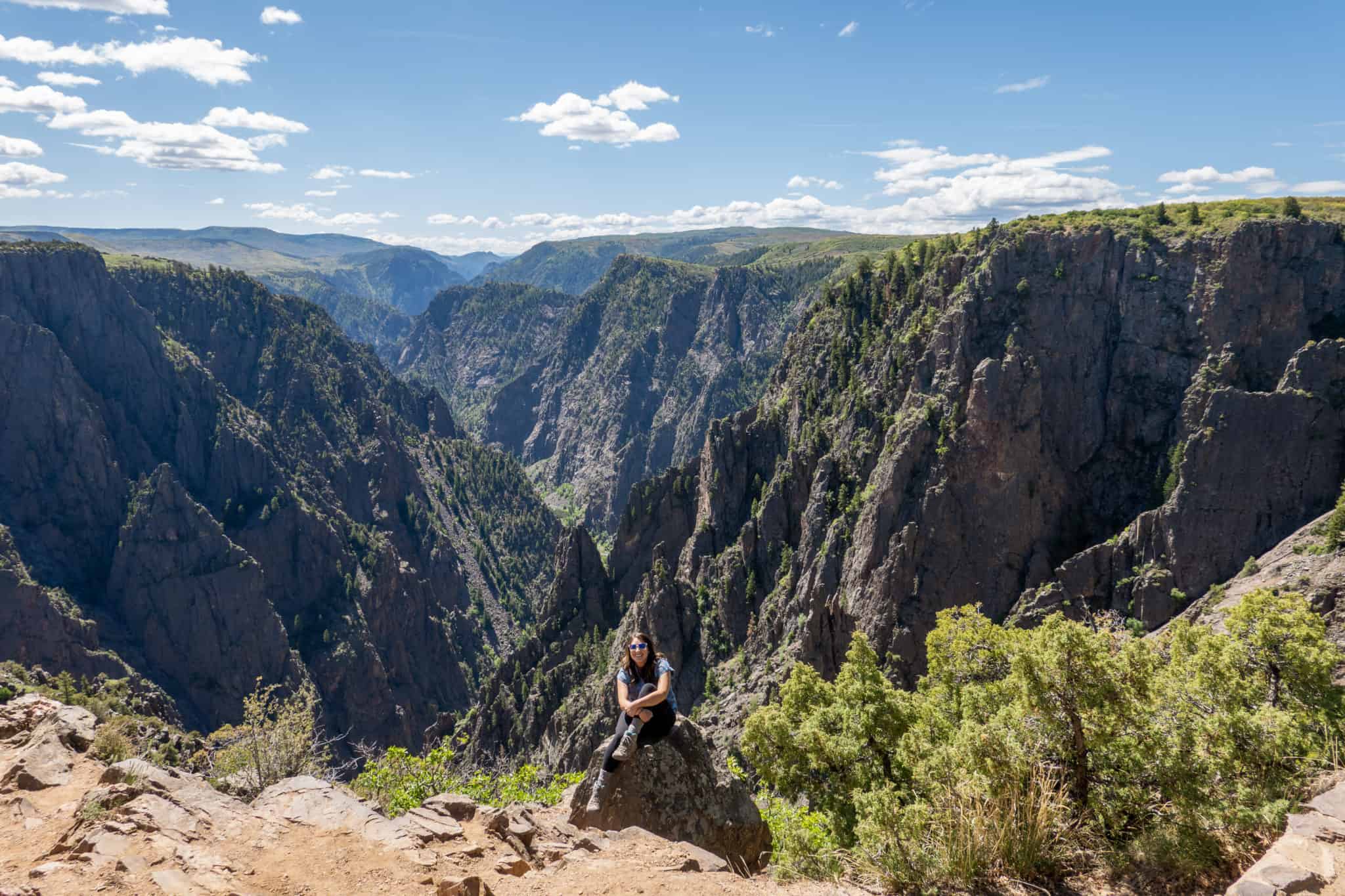 A one hour drive from Ouray sits Black Canyon of The Gunnison National Park. While it may not get the notoriety of some other National Parks, it's still very unique and definitely worth a trip.
The large, deep canyon is a sight to see and there are several viewpoints off the road as well as a handful of hiking trails to explore. We did the Warner Point Nature Trail as well as the Oak Flat Loop Trail. Both offer beautiful views and are a great way to experience the park.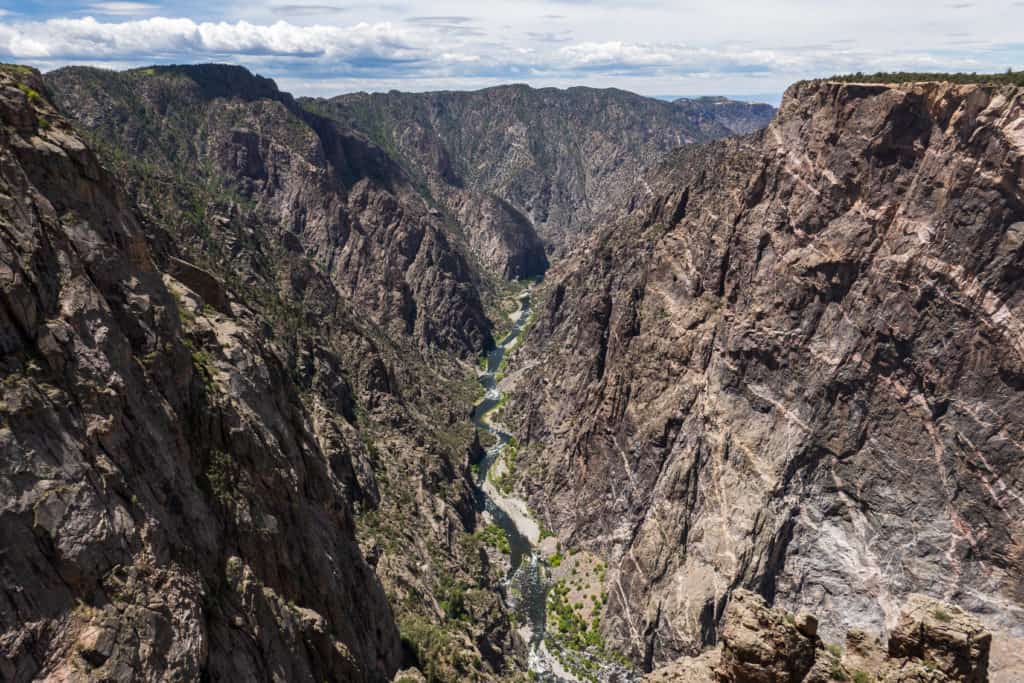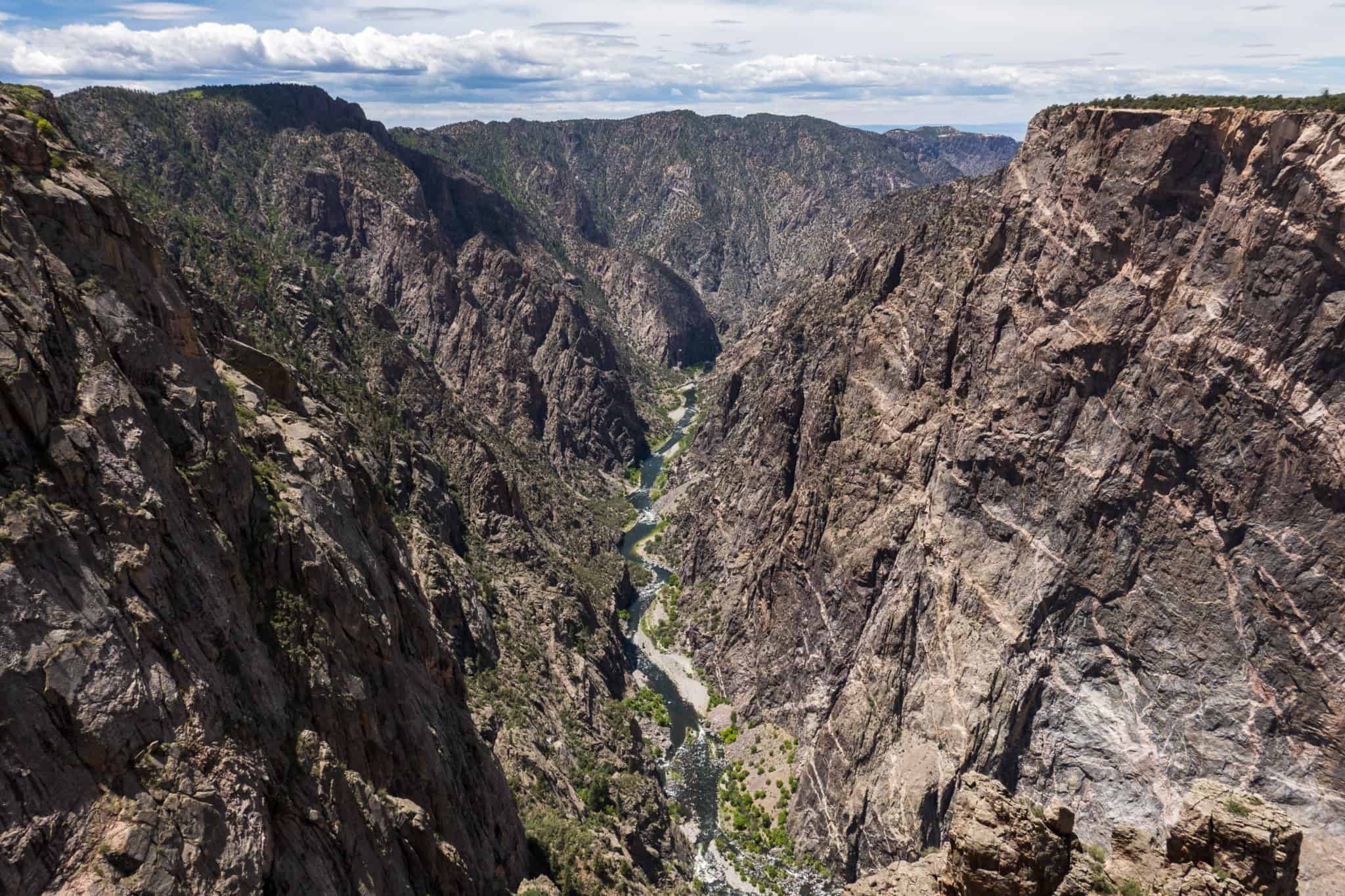 Because of its location, it's not a very crowded park, making it perfect if you just want some nice and peaceful time in nature.
LOCAL AREA & ATTRACTIONS
Attractions Around Town
Ouray Perimeter Trail, Jeepin',
Ouray Hot Springs Pool and Fitness Center, Black Canyon of the Gunnison
Proximity to the Closest Big Town
Ouray, CO
Camp Store
NO
Convenience Store
Ouray Grocery: 1.2 miles away
Grocery
Ouray Grocery: 1.2 miles away
Big Grocery Store
Ridgway Mountain Market: 9.5 miles away
Walmart: 33 miles away
Gas
Phillips 66: 0.1 miles away
Dates We Were There and Cost:
5/16/2020 – 5/30/2020
$60 per night
7th Night Free, Which we were able to use twice.
MEMBERSHIP DISCOUNTS
Overall Ouray RV Park Rating
Giving this park an overall rating is rather interesting. If you took just our site, this would be very close to the lowest end of the campgrounds we've stayed. It was small, offered no shade, and was not private at all. However, when you take into consideration the proximity to a walking path, downtown, the beautiful mountains around you, and the quality of the bathrooms, this park is one that will always stand out to me as being a fantastic spot to stay and explore Ouray. It sits in a beautiful area and is in a prime location for those looking to explore one of Colorado's lesser-known gems.
On just the RV site: 2/5
The site was nothing great, but the hookups were reliable, and we had no power or signal issues.
On the overall experience of the campground and its location: 5/5
This is one of the most memorable places we've stayed so far, and I'd go back in a heartbeat.