(Last Updated On: October 3, 2023)


Hi there! My husband and I have been full-time RVing since the fall of 2018. RVing has allowed us to live in and visit new towns all over the US! It has also allowed us to explore many new RV parks along the way, including some of the best RV parks!
No matter how many we go to though, there's always many more out there just waiting to be discovered!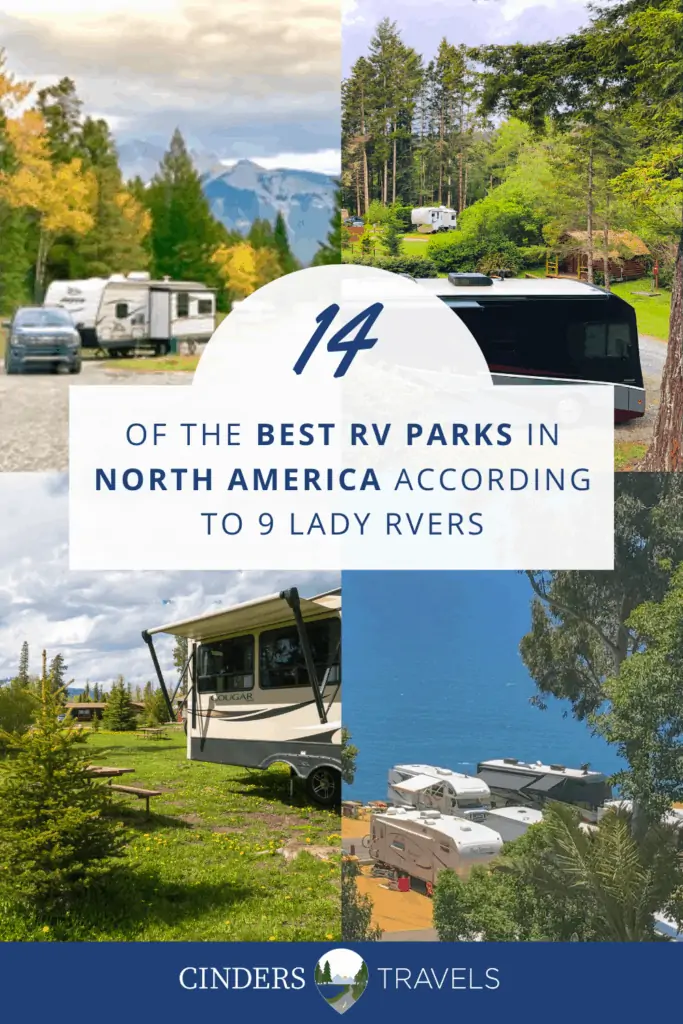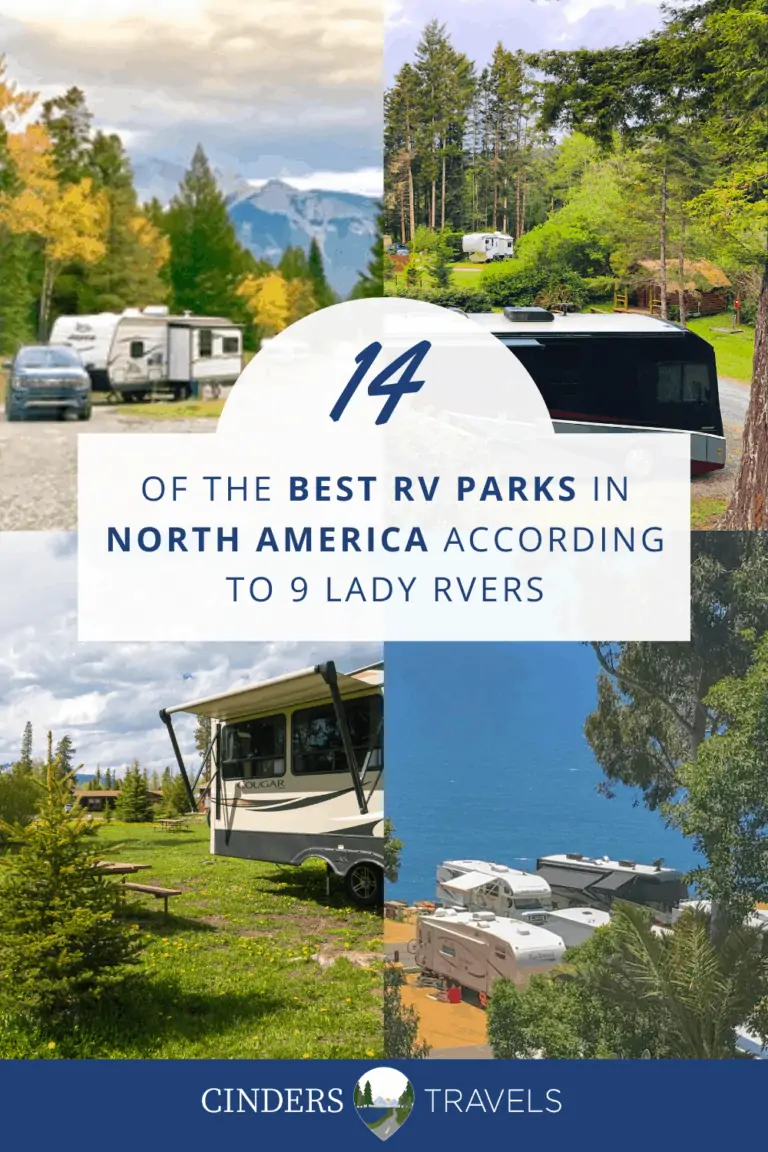 Since we can't personally visit ALL of the RV parks and since there are so many new RVers hitting the road this summer, I thought it would be a great time to ask some of the other lady RVers I know about their absolute favorite campgrounds!
There must be at least 20 combined years on the road in this article!
So without further ado, here are the best of the best for the nine of us:
My Personal Favorites!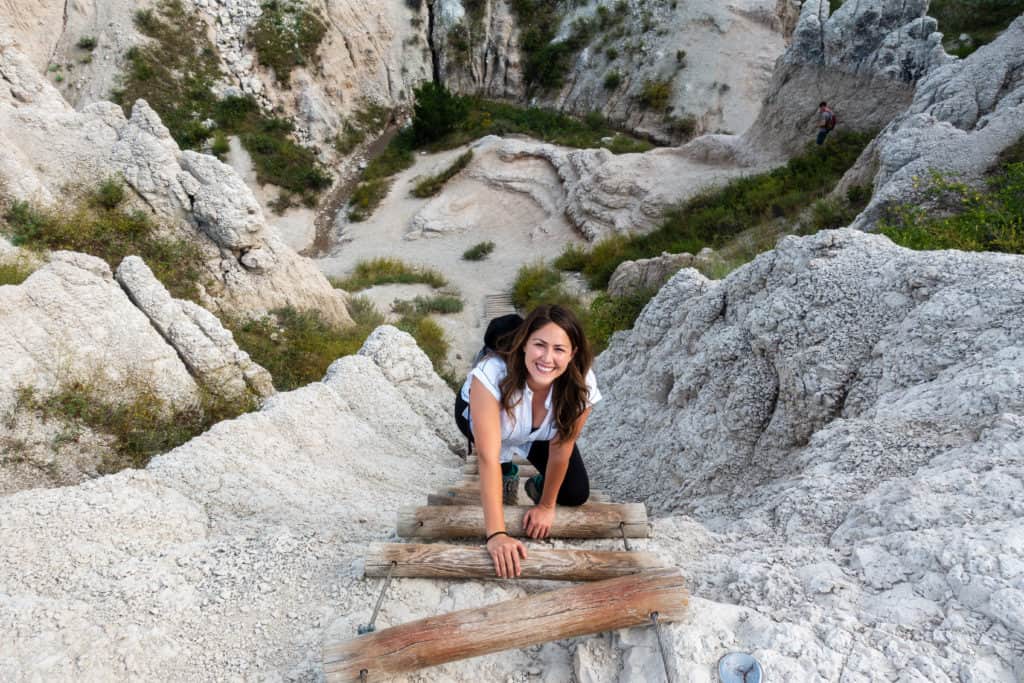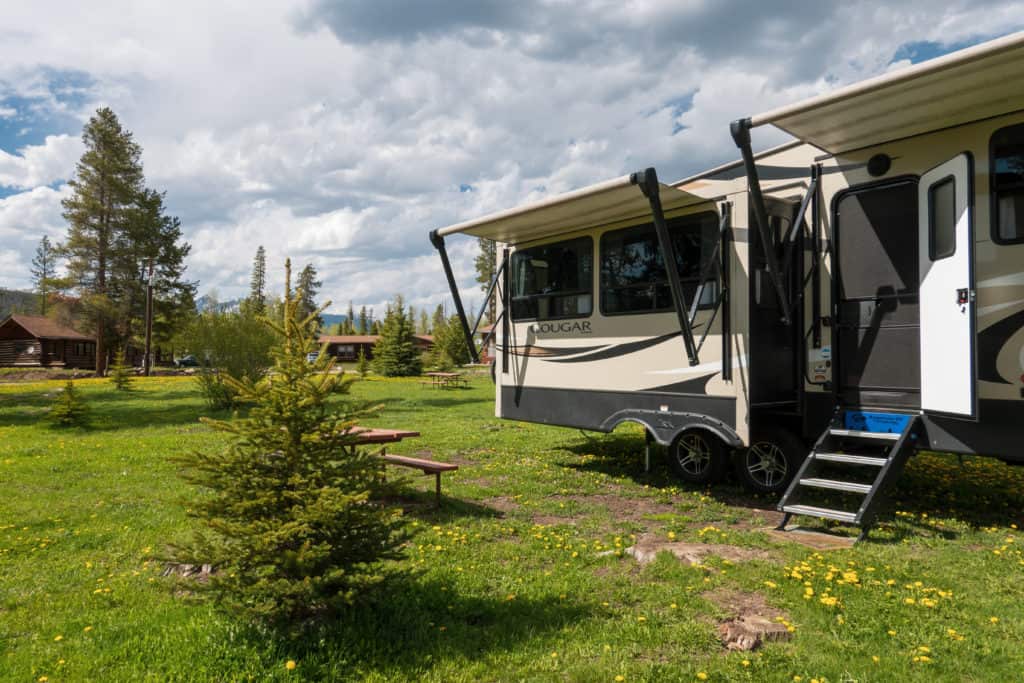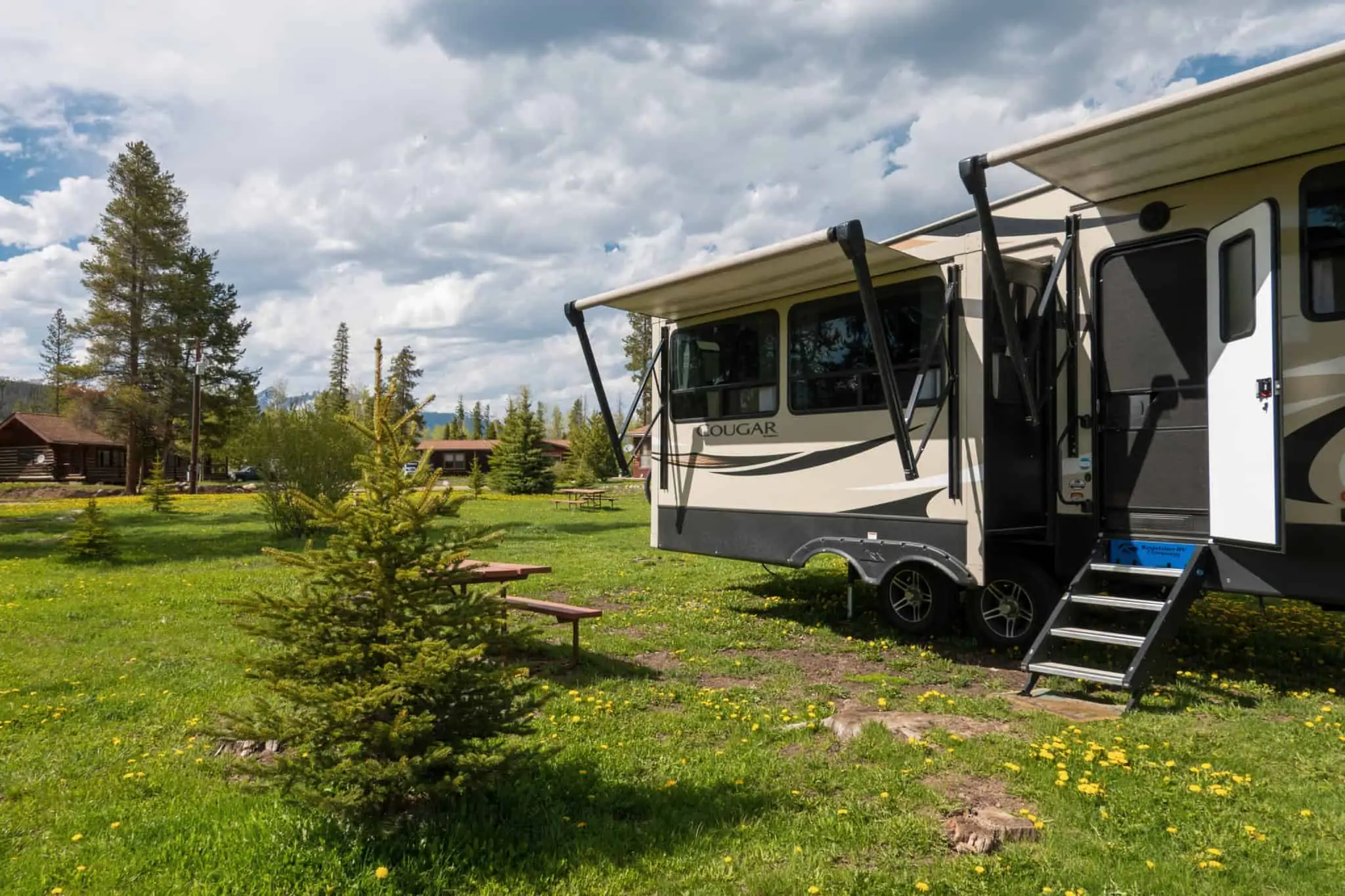 Winding River Resort is a gem of a campground that we honestly didn't see coming. We ended up booking a spot at Winding River because we wanted to explore Grand Lake, and the campground was super close to town.
However, here's why it ended up being so surprisingly awesome:
First of all, this is a fantastic park for anyone who loves animals! They have a small animal farm with bunnies, ducks, cows, goats, sheep, chickens, and even three little pigs! During our stay, we visited them every morning and evening. They were always adorable!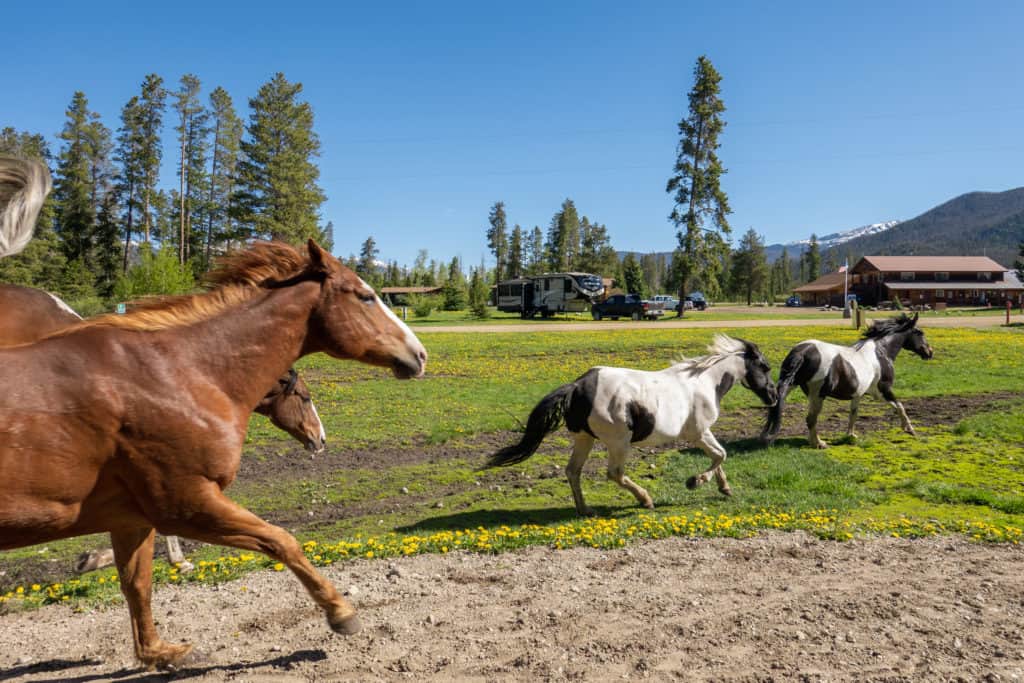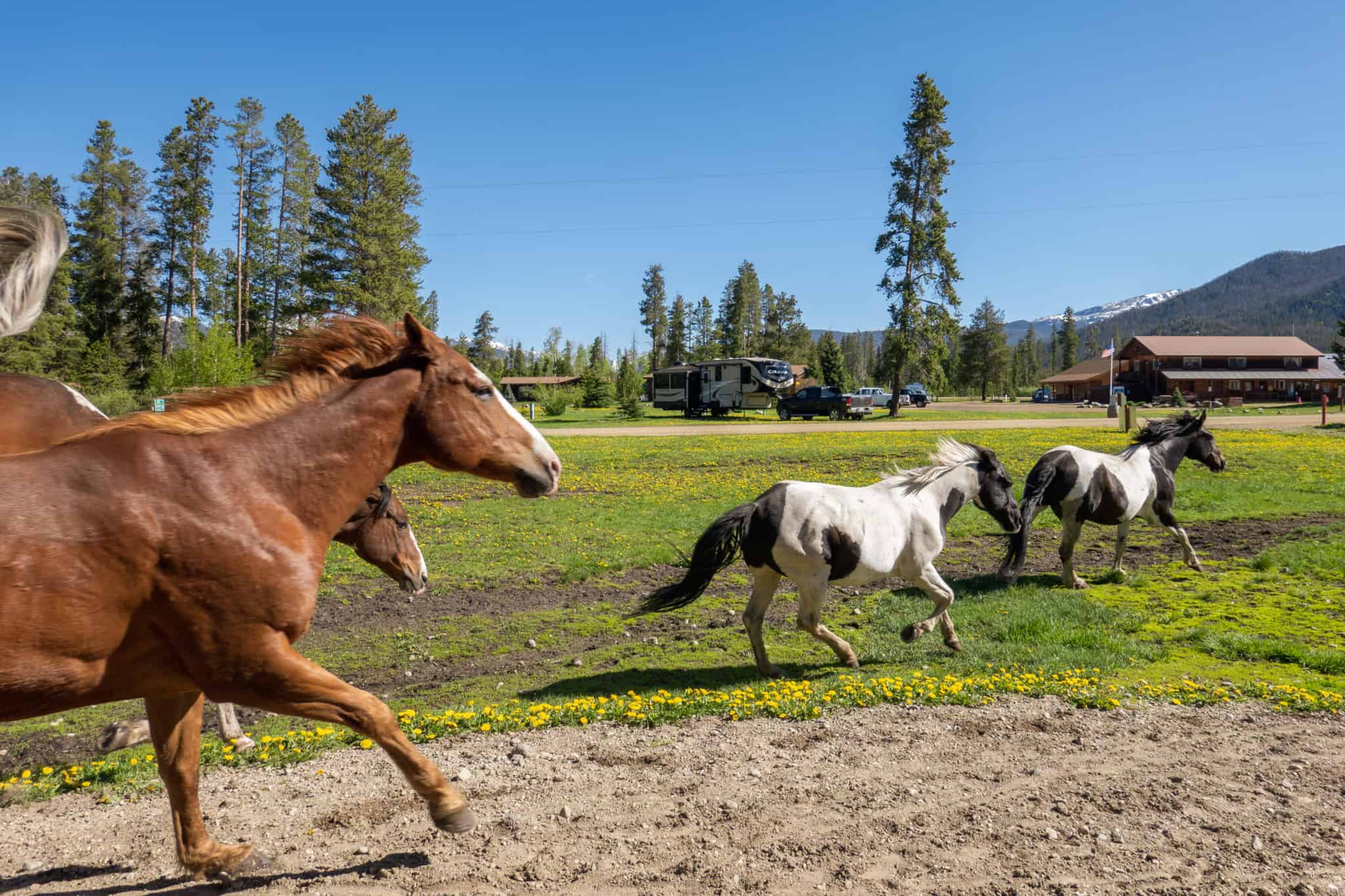 However, the absolute best part about this campground is the horses! They offer horse trail rides going into Rocky Mountain National Park during the day and have at least 30 horses on-site to accommodate large bookings.
In the mornings and late afternoons, before and after trail ride time, you get the bonus perk of watching the Cowboys wrangle up all the horses! (Which is what you see above, and that's our camper in the background!)
Also, some of the horses roam free in the mornings and evenings. Waking up to see my cat staring at a horse munching on the grass right outside of our window was a pretty cool sight!
Beyond all of the animals, though, this RV park also offers many other amenities. Directly from the campground, you'll have a secret trail entrance into Rocky Mountain National Park's west side, which we loved and used frequently. You'll also have a trail entrance into the Arapaho National Forest from the campground.
There's also a pavilion that hosts Chuckwagon breakfasts, dinners and ice cream socials, hay rides, sleigh rides, a Carriage and Sleigh Museum, ATV rentals, snowmobile rentals, disc golf, softball, volleyball, basketball, horseshoes, pickleball as well as Cowboy Church.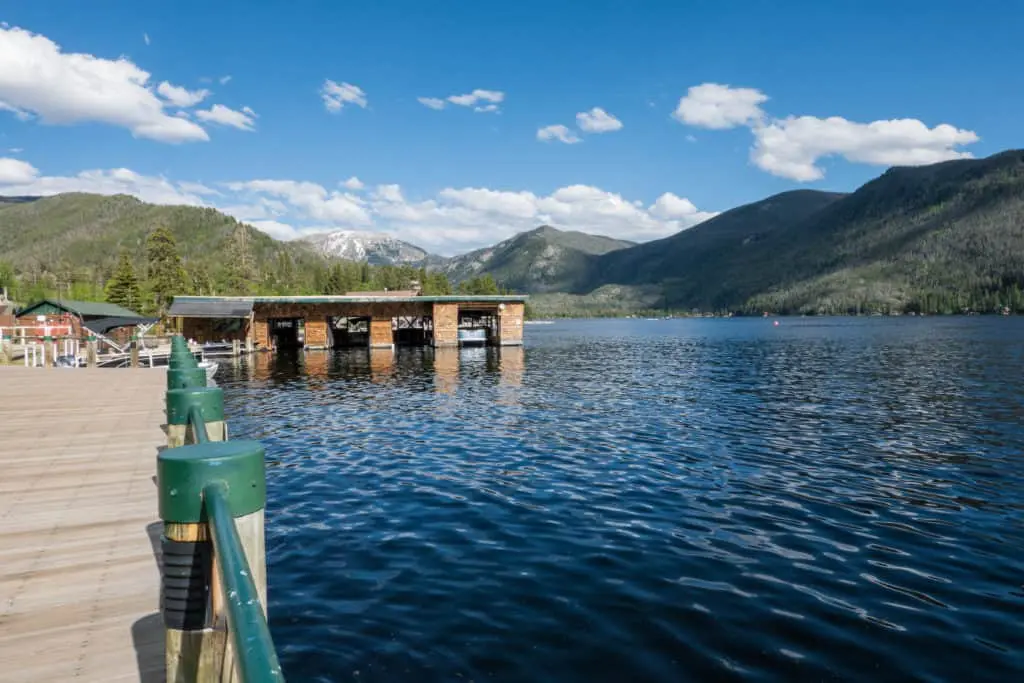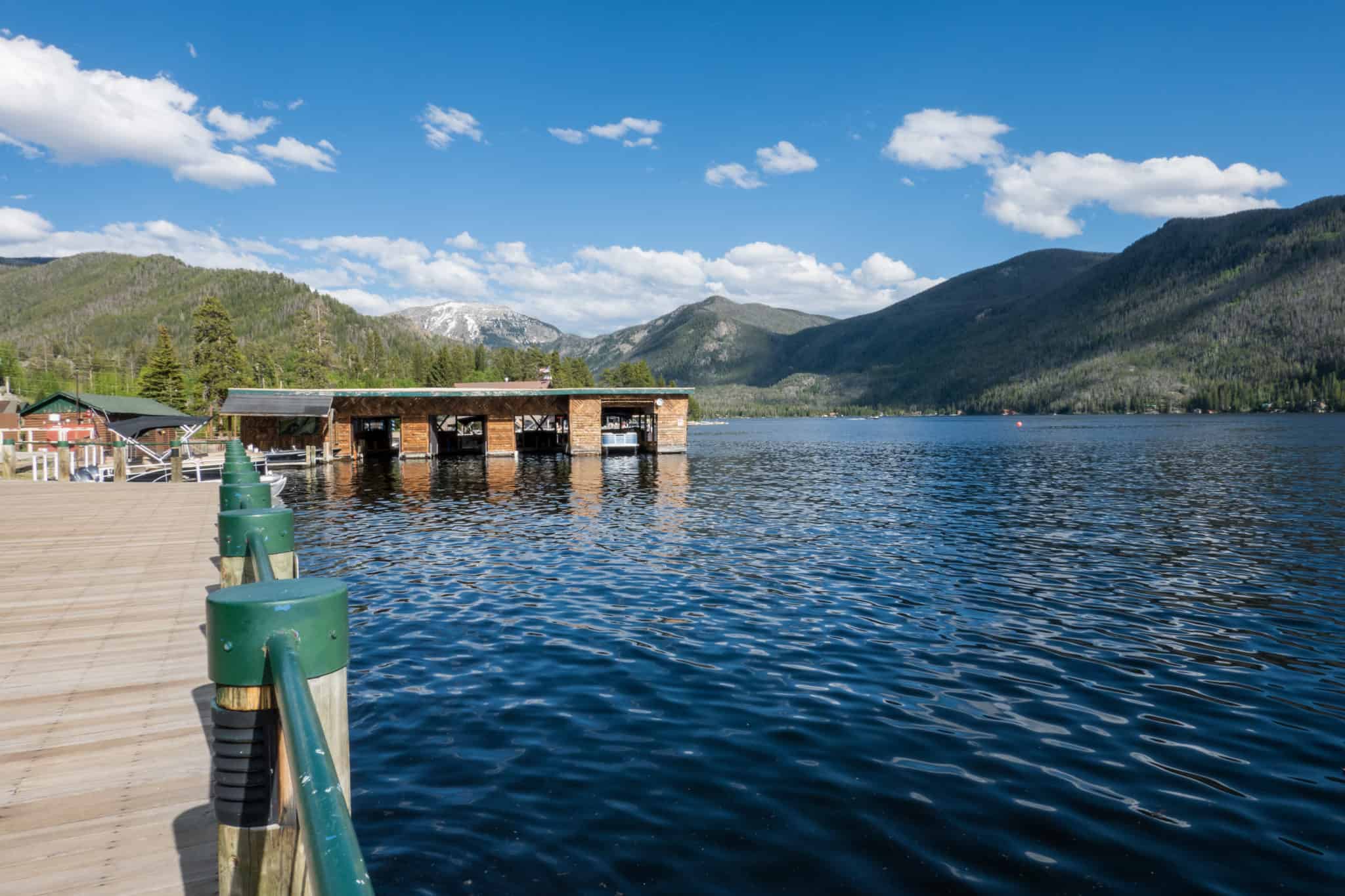 And lastly, if you instead want to drive into Rocky Mountain National Park, you're only a 5 to 10-minute drive away from the west entrance of Rocky Mountain National Park. But then you're also only a 5 to 10-minute drive to Grand Lake, which is a small town with a couple of small grocery stores, restaurants, coffee shops, ice cream shops, and boat, kayak, and stand up paddleboard rentals.
This is hands down one of the best RV parks in Colorado, if not in the states!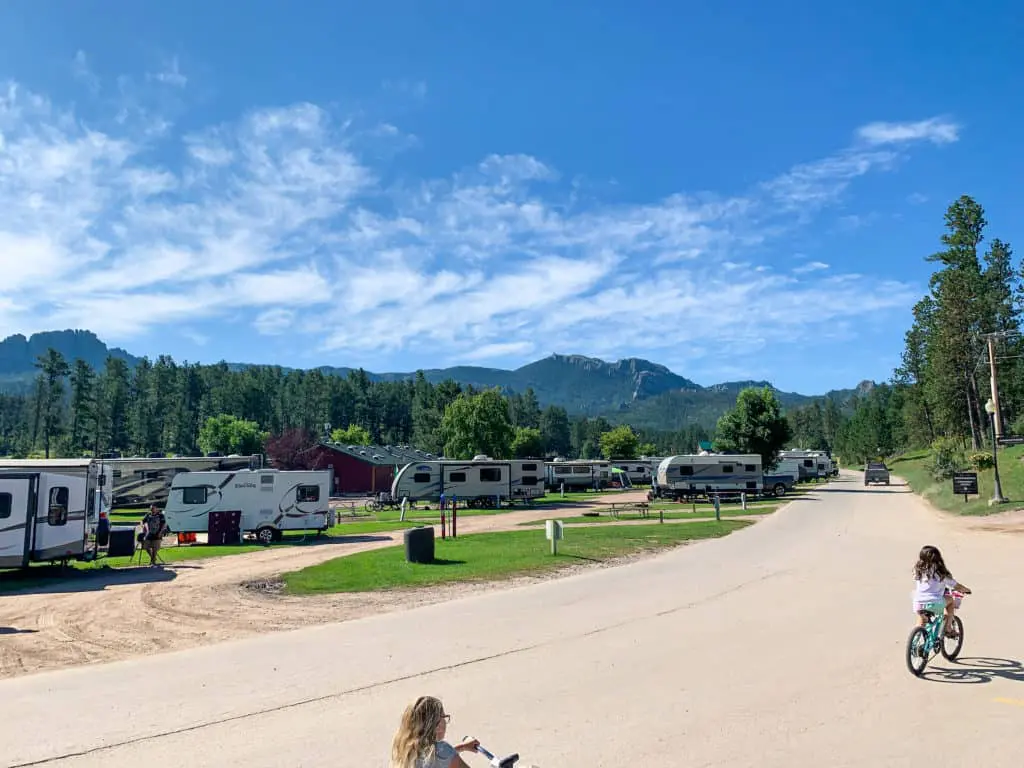 The Mount Rushmore KOA at Palmer Gulch Resort is more like a neighborhood than a campground. It has to be the most expensive RV park we've ever stayed at. Part of that thought is because they had a full-blown rodeo going on while we were staying there!
We drove by this campground on our way to Mount Rushmore and decided we needed to extend our stay in the area for a couple of days and check it out. Due to the rodeo occurring that weekend, they only had one of the most costly spots remaining, but we still went for it! It was definitely the most luxurious of stays we've ever had in with the RV.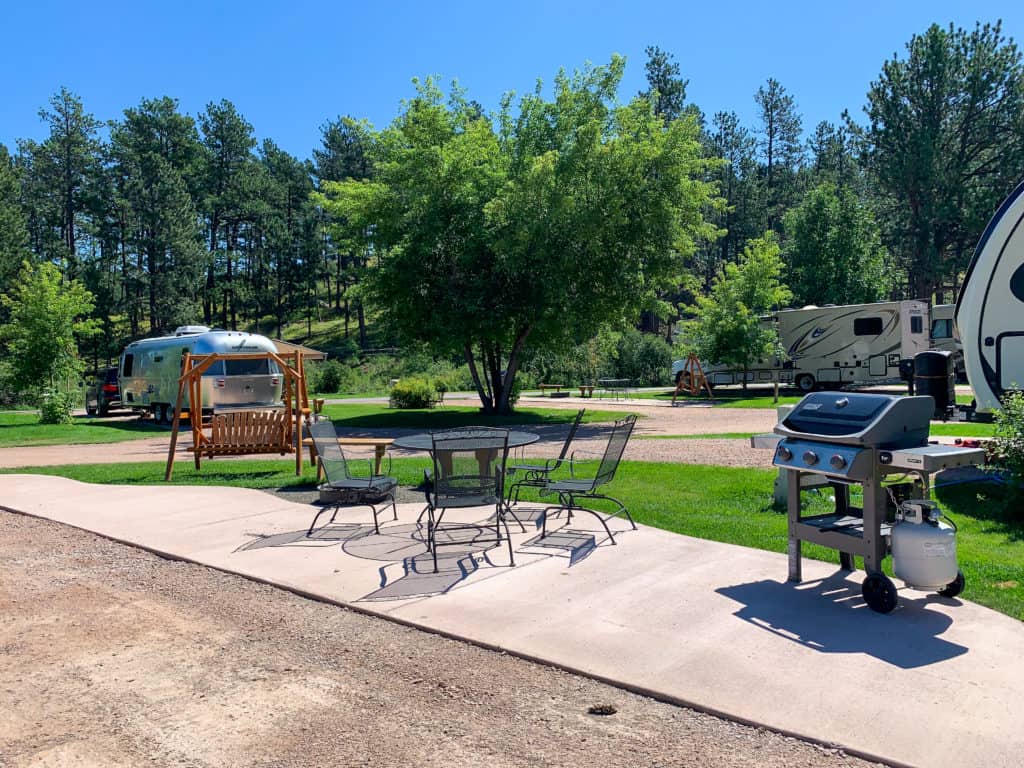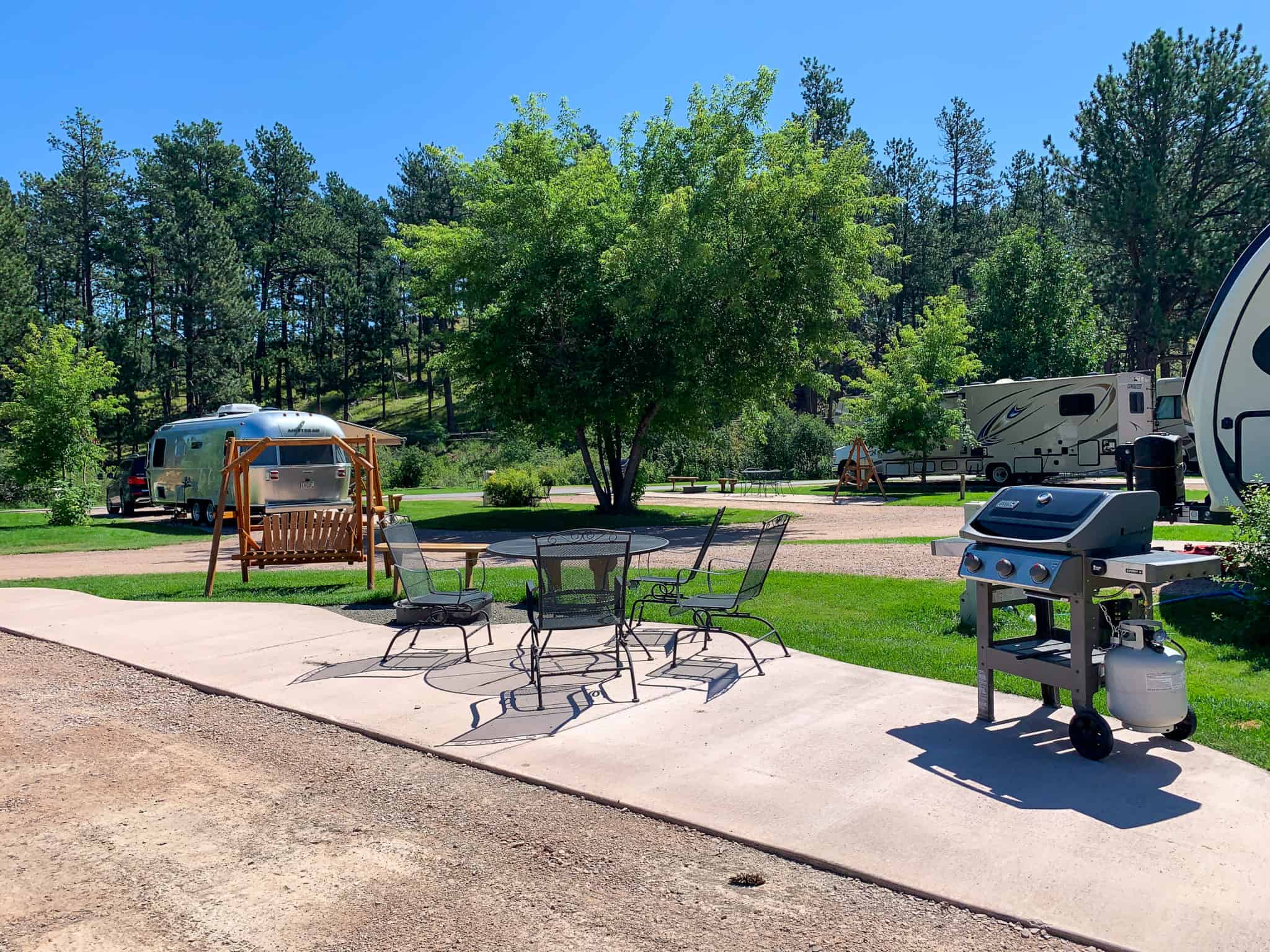 Our super fancy site came with a residential grill (with propane), table for four, firepit, and a wooden carved swinging bench. And even though we were parked in a pretty glitzy site, they have camping options ranging from tents right by the fishing pond all the way up to different types of RV spots, cabins, and an on-site lodge.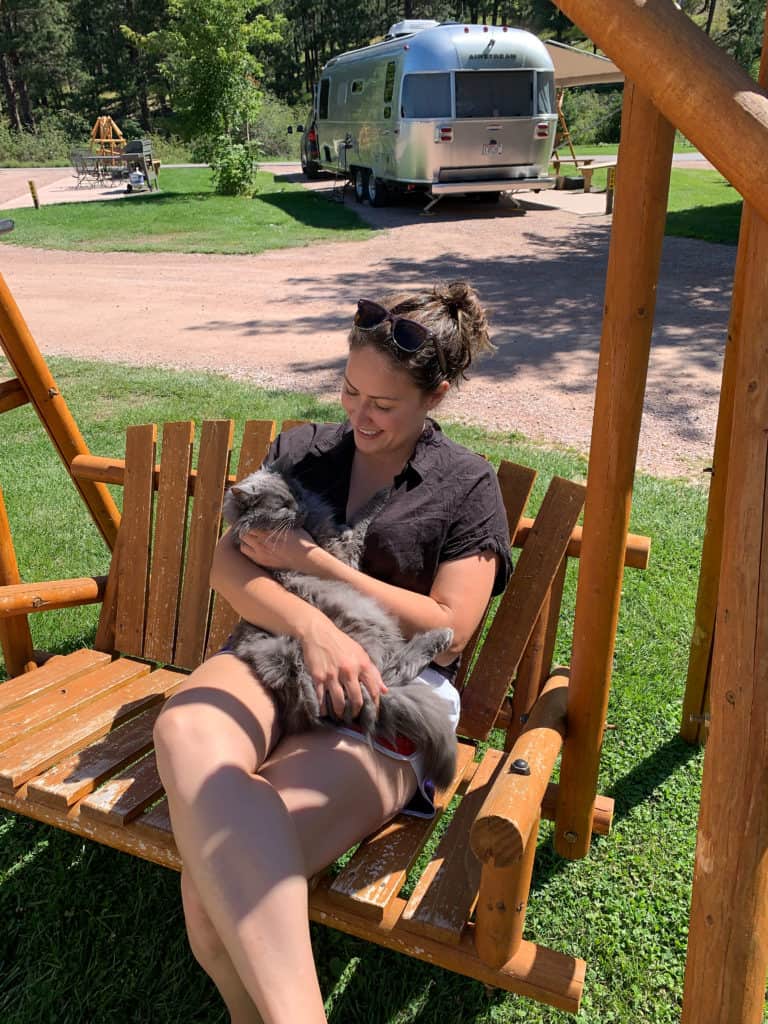 As for the campground, the rodeo was incredible, but beyond that, this is just an extremely family-friendly park. The sky's the limit when it comes to activities you can partake in. Options include horse trail rides, a fishing pond to fish in, bike shop, mini-golf, climbing wall, playgrounds, basketball, volleyball, gaga ball, gem mining, UTV rentals, golf cart rentals, a bounce pillow, a water slide, a splash pad, and two pools (one that's adult only).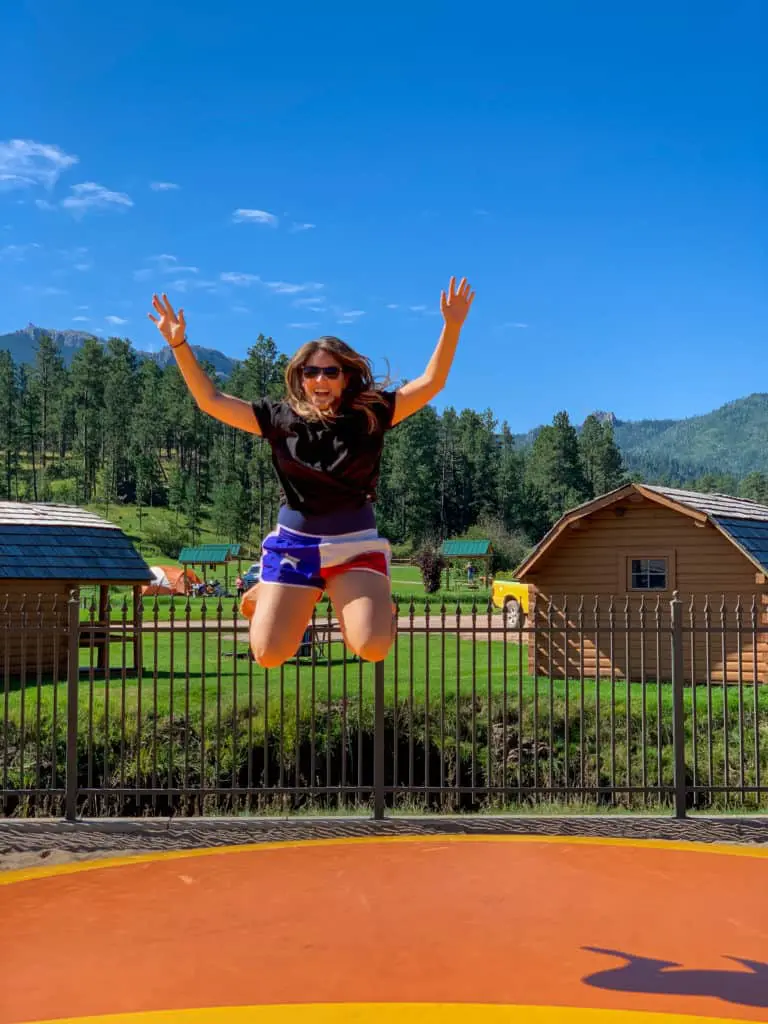 This campground also has a legit mini-town up at the front of the RV park. It includes basics, like laundry, but then it goes way beyond that with a pizza shop, ice cream shop, a coffee shop that turns into a wine shop at night with live music and on-site wine tastings, as well as a restaurant, a Prospector's Pancake Tent, and a pretty gigantic camping store.
Lastly, I want to add that this campground is nestled into the Black Hills of South Dakota. It's beautiful all around, and there are many beautiful national forest service trails connected to the park.
This is another park that is hands down one of the best RV parks in South Dakota and the states!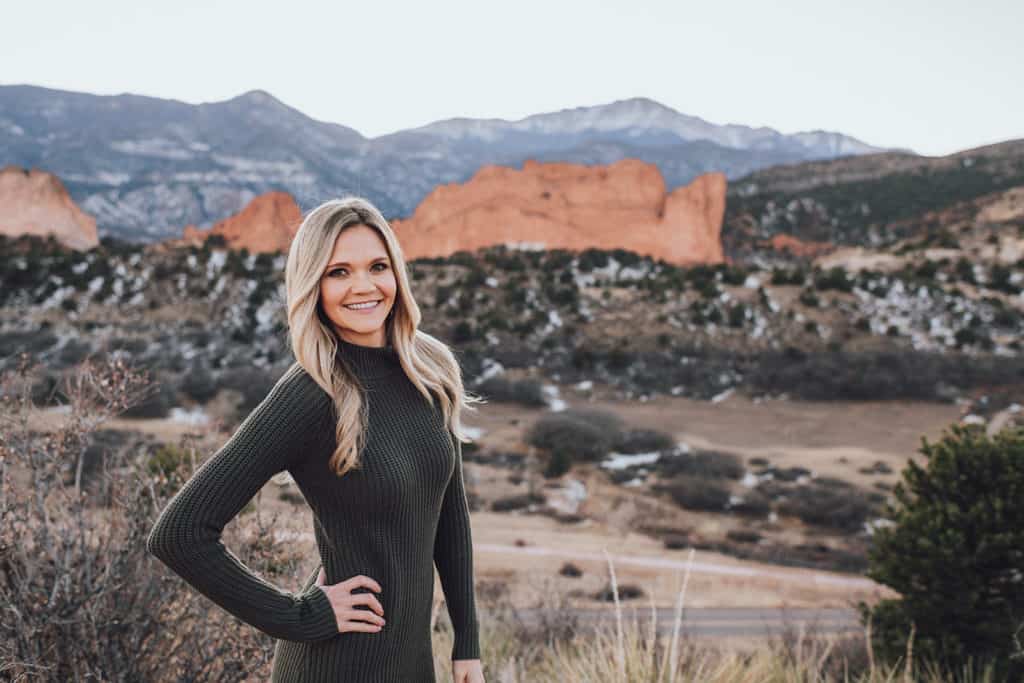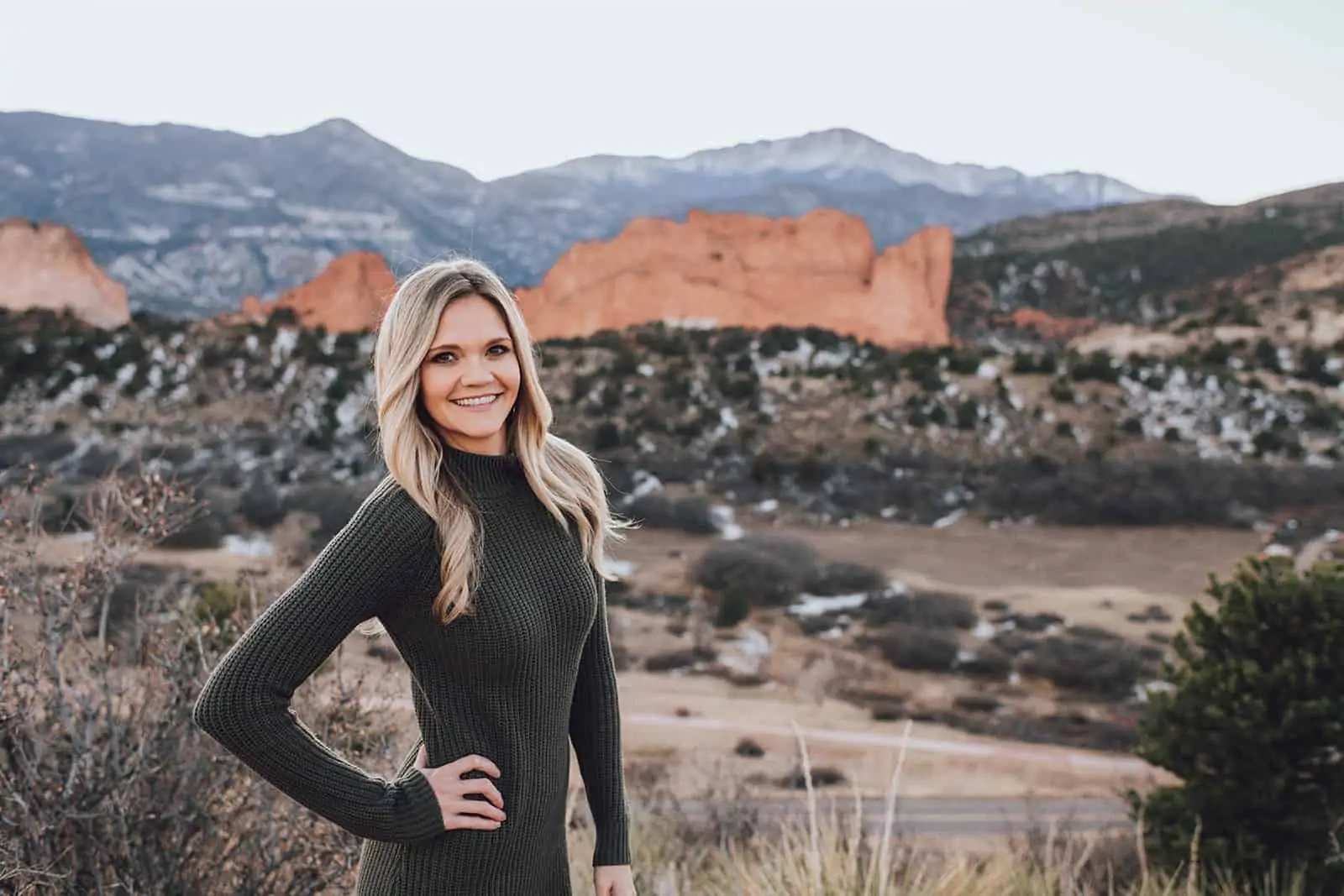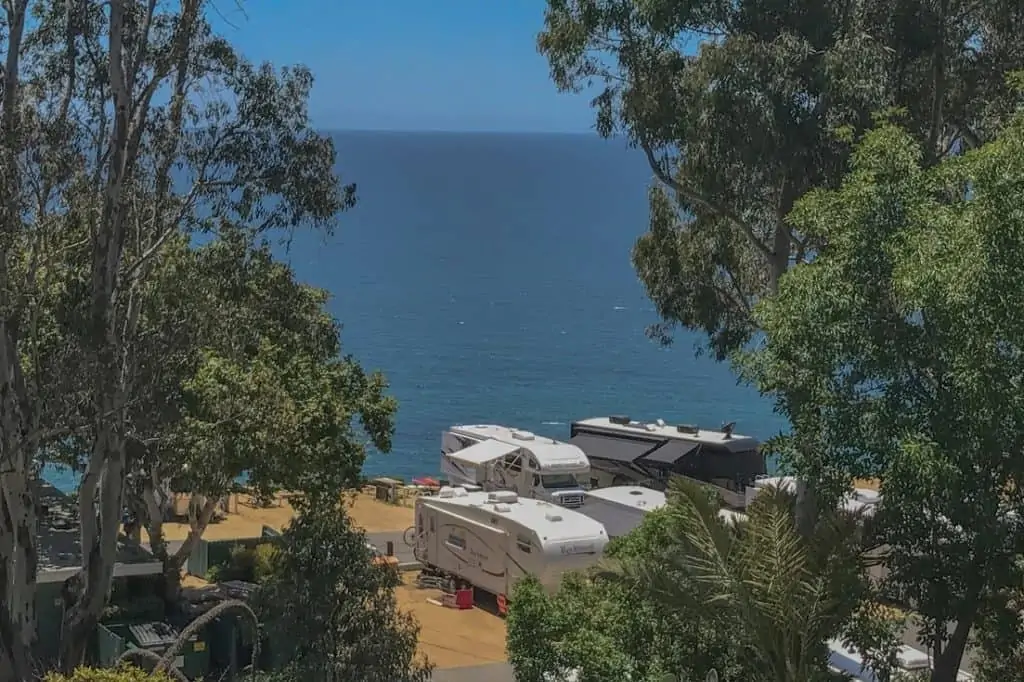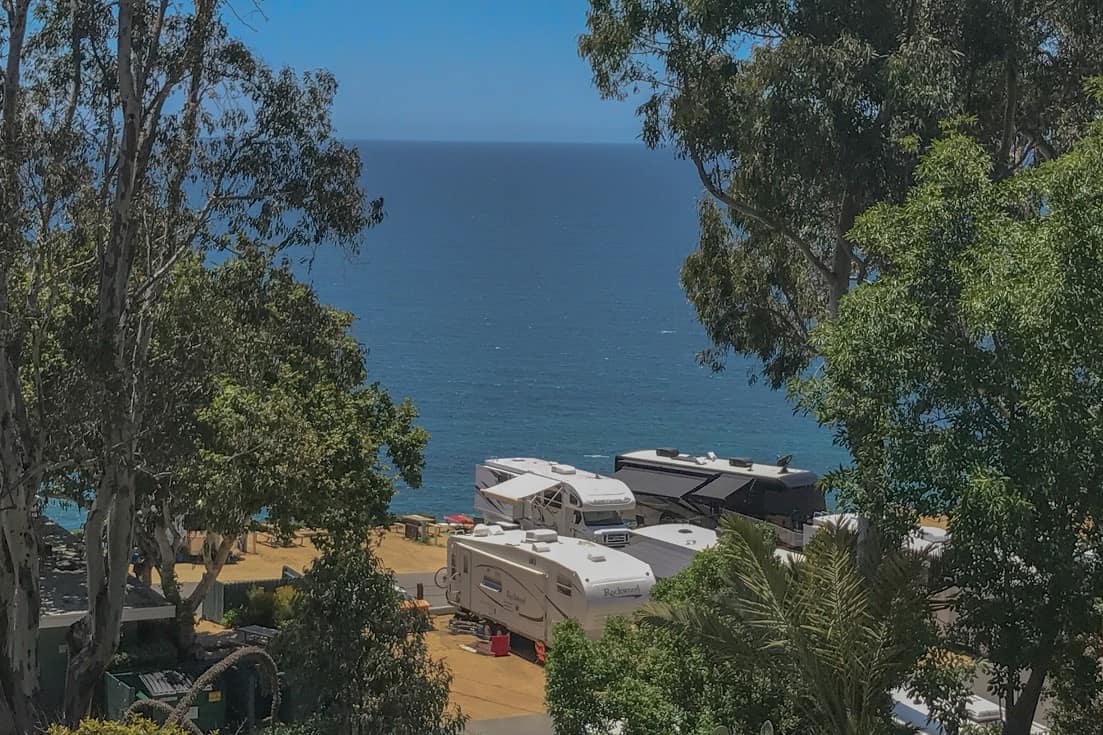 Looking for one of the best beach RV parks in California?
Dan and I visited this RV park during our first month on the road and after three years of RVing all over the country, it's still our favorite. This RV park isn't necessarily a resort, which is what you may think of when you hear Malibu, but you can't beat the ocean views. Since the park sits up on the edge of a cliff, nearly every site has an ocean view.
However, we'd recommend paying extra for the prime spots. We were able to watch dolphins and whales from our back RV window.
There's a path along the cliff you can walk and enjoy the flowers and 180-degree views of the ocean on one side and lush green mountains on the other. If you're up for the challenge and it's not too hot, you can also walk down the steep road right to the beach!
Plus, you're right in Malibu and can enjoy all this famous beach town has to offer within just minutes. Point Dume is a beautiful sunset spot, and Leo Carrillo beach, the Malibu pier, and The Malibu Cafe were a few of our favorites. You can even enjoy the Santa Monica pier with just a 30 minute drive.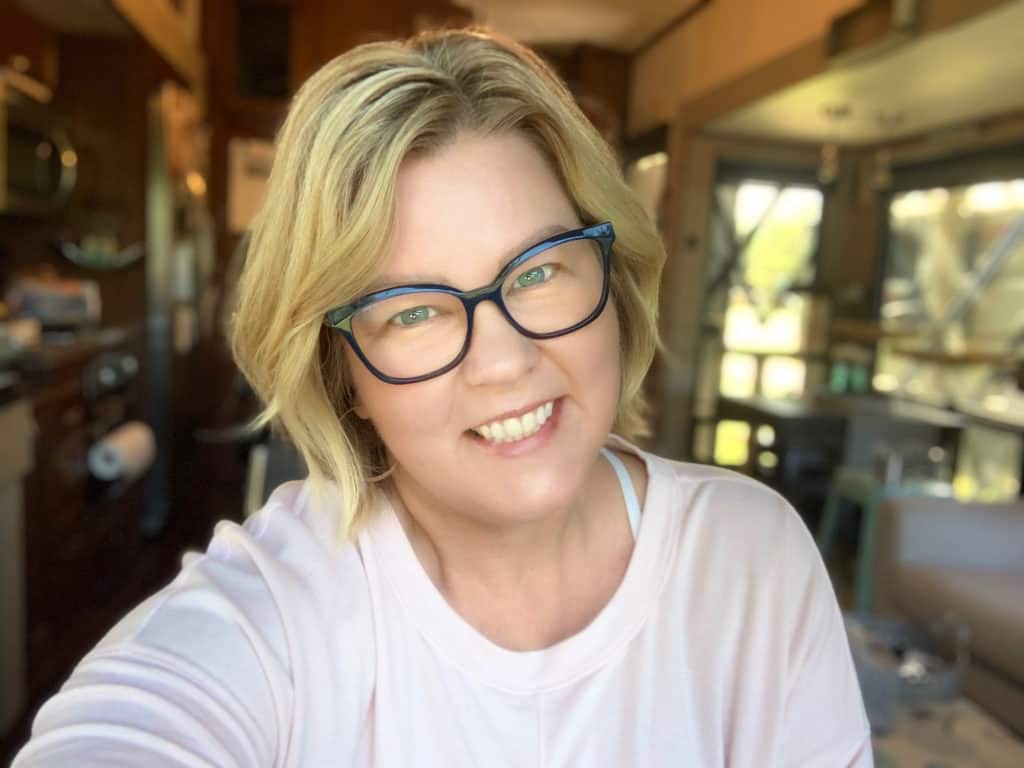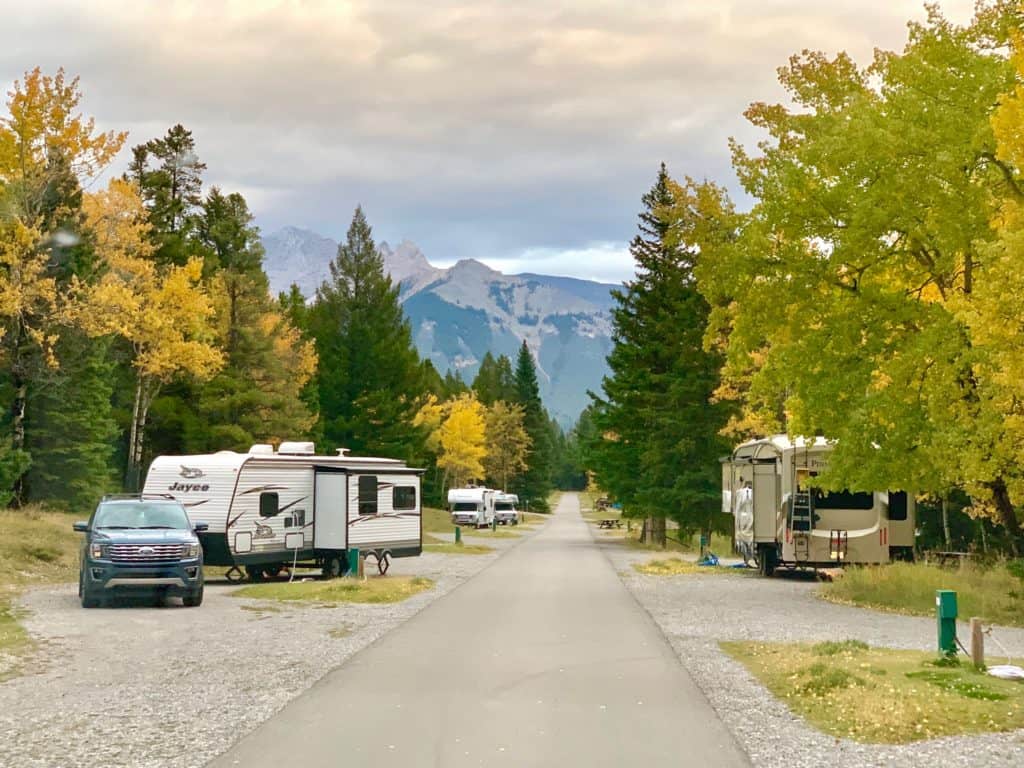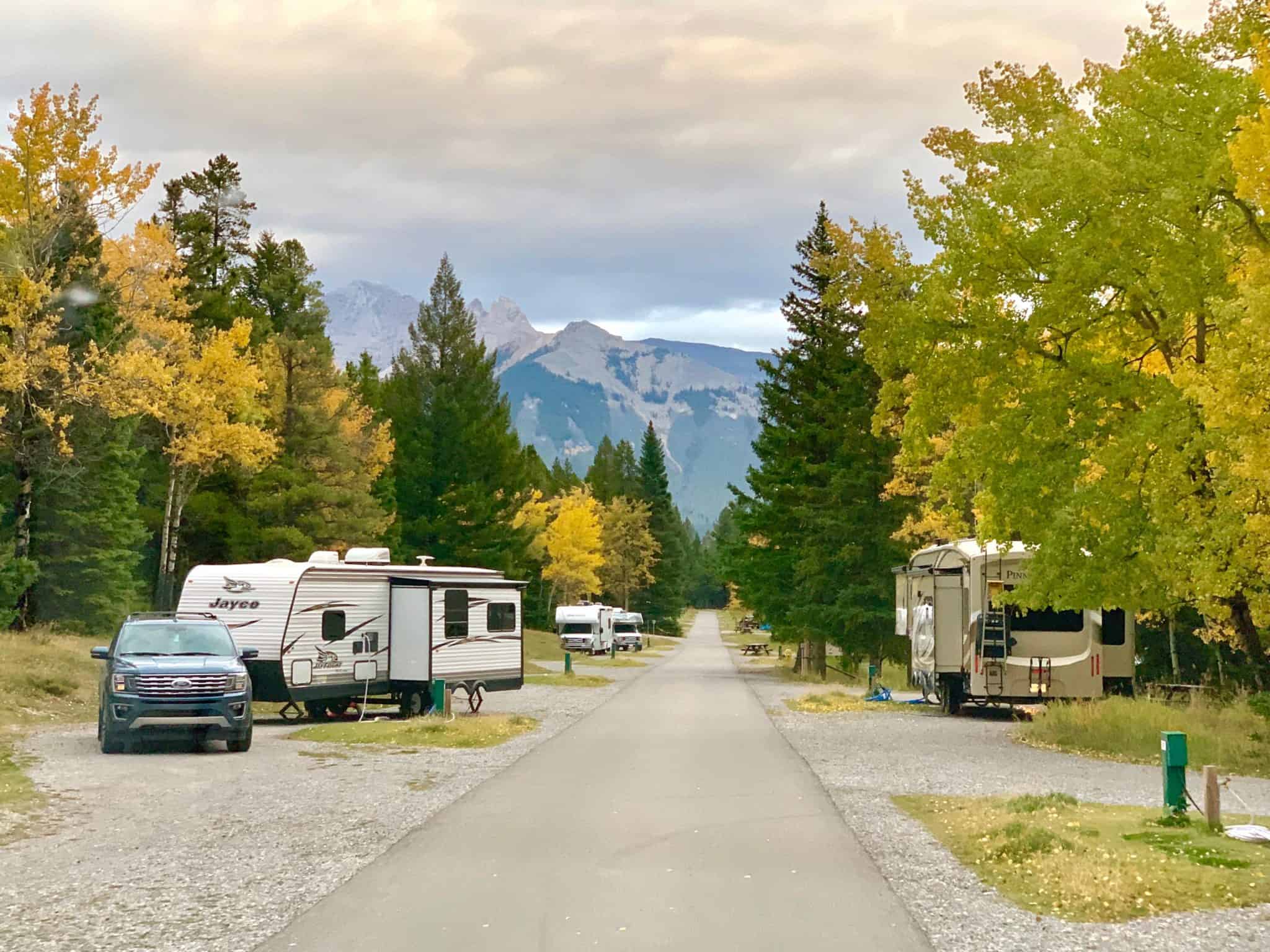 Tunnel Mountain Campground in Banff is our favorite campground (so far) for many reasons. It is located in Banff National Park, less than 2 miles from the town of Banff, and is tree-lined with picturesque views of Tunnel Mountain (5551 elevation) all around.
The Trailer Court section of the campground where we stayed offers 321 full hook-up, pull-thru sites suitable for large rigs. Typically with a rig our size, 40-foot fifth wheel, we are not able to stay directly in a National Park so this was a huge plus.
We were able to ride our bikes or walk along the quiet paved roads of our campground and neighboring Tunnel Mountain Village II which has many sites offering electric only. We experienced wildlife, mostly Elk, right in our campground daily. There is access to miles of hiking trails right from the campground.
The campground offered a safe and quiet retreat after long days hiking and exploring areas such as Lake Louise, Moraine Lake, Johnston Canyon, Peyto Lake, Icefields Parkway and so much more in the area. We stayed for 2 weeks in the month of September and our cost was less than $200/week US dollars which I find to be pretty reasonable considering we had full hook-ups.
Make sure to plan ahead and book in early January when they open up the reservation system or you may miss out on this popular campground in the Canadian Rockies.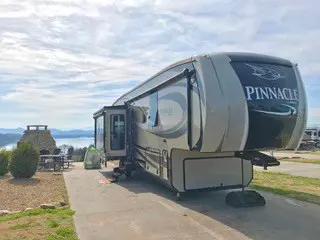 Perhaps you're looking for one of the best RV parks in Gatlinburg, TN?
If you like gorgeous lake views and your very own unique stone fireplace, this luxury RV resort is for you! We stayed at Anchor Down in late March so it was a perfect time to use the fireplace for some cooking and warming up with some hot chocolate. We also liked that the park was not full at this time of year.
This campground is located on Douglas Lake near the Great Smoky Mountains National Park. It's the perfect opportunity to get away from the crowds while still being close to Pigeon Forge and Gatlinburg.
I would consider this a splurge for us since we spent $69/night for a back-in, full hook-up signature site with a fireplace and lake views. It was definitely worth it for a few days. The amenities include something for everyone – a fishing pier, boat dock, beach area, cafe, pool with waterslide, kayak rentals, paddle boarding, dog park, pickleball, basketball, a waterpark and more.
Because of the lake and amenities at this resort, summer's are very busy so plan ahead.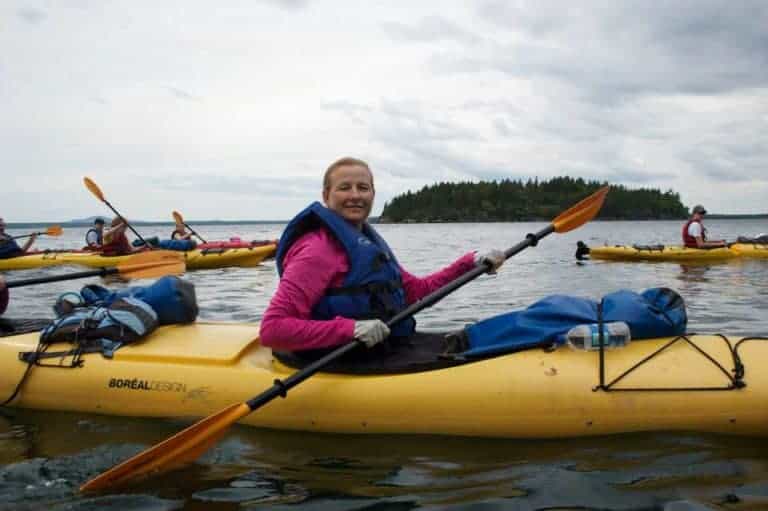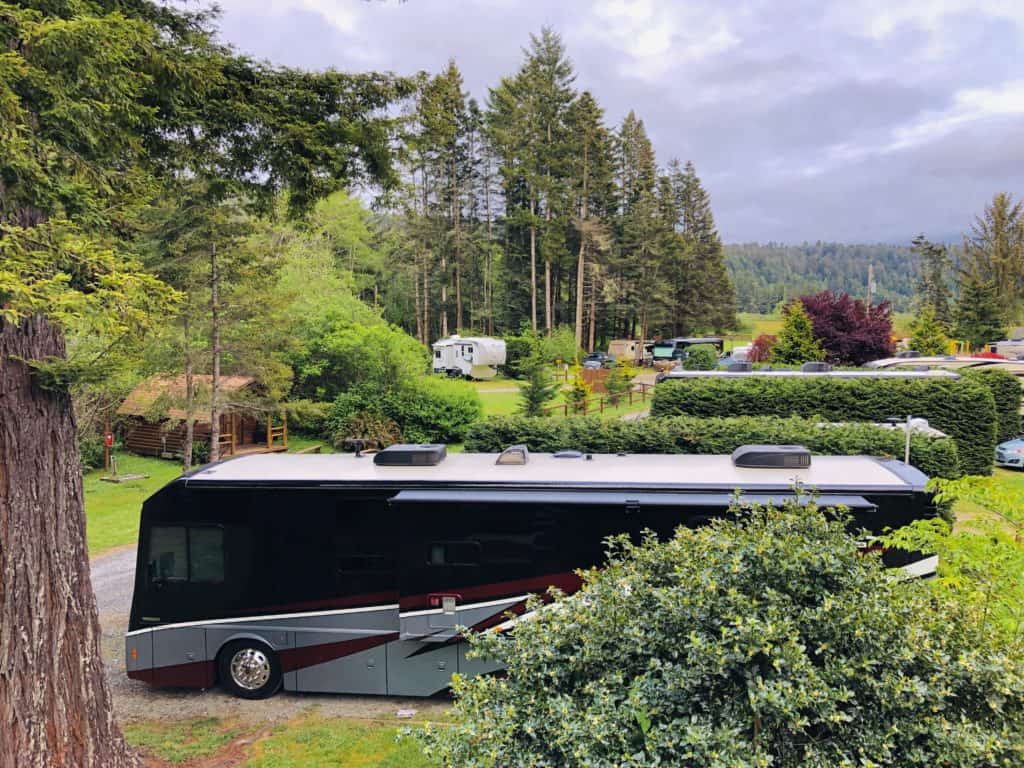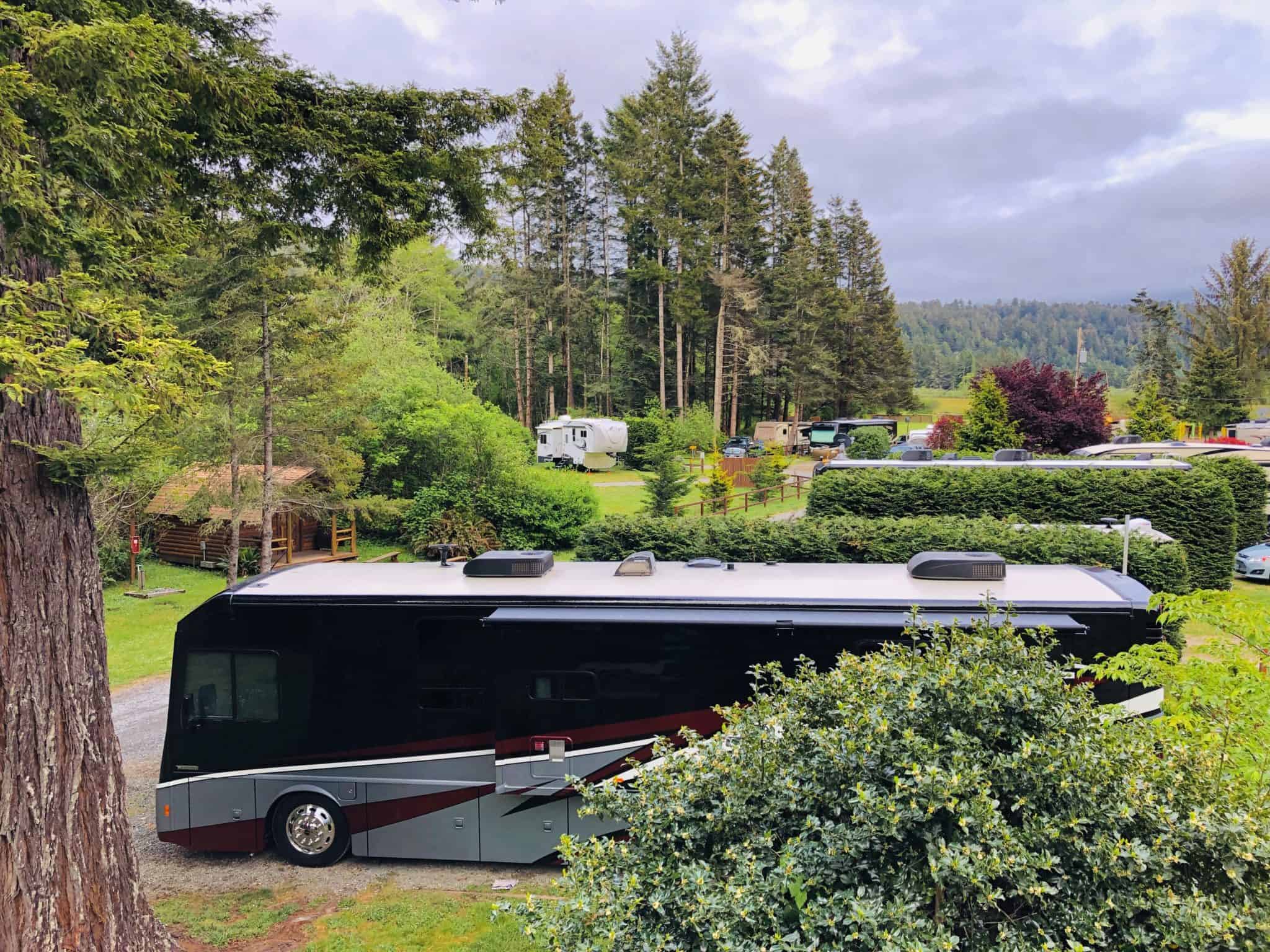 Here's another one of the best RV parks in California!
We love KOA RV resorts and this is our absolute favorite. Nestled among giant Redwood trees, the Crescent City / Redwoods KOA is the best place to stay while exploring the area.
This campground is a short drive to some of the best hiking trails in the Redwood National and State Parks, but you don't have to leave to see some of the famed giants. The campground boasts 10 acres of its own redwood forest with nature trails winding throughout it. It allows you to feel like you camped are in the middle of the forest while enjoying a full hook-up campsite.
The KOA resort is also only 7 miles away from Crescent City's harbor where you can watch the seals soak up some sun while dining on fresh seafood. Afterwards, enjoy a stroll on the town's namesake, a crescent-shaped stretch of sandy beach. If the tide is low you can walk out to the historic Battery Point Lighthouse for a unique vantage point of the coast.
Find Julie's complete review on Crescent City / Redwoods KOA here.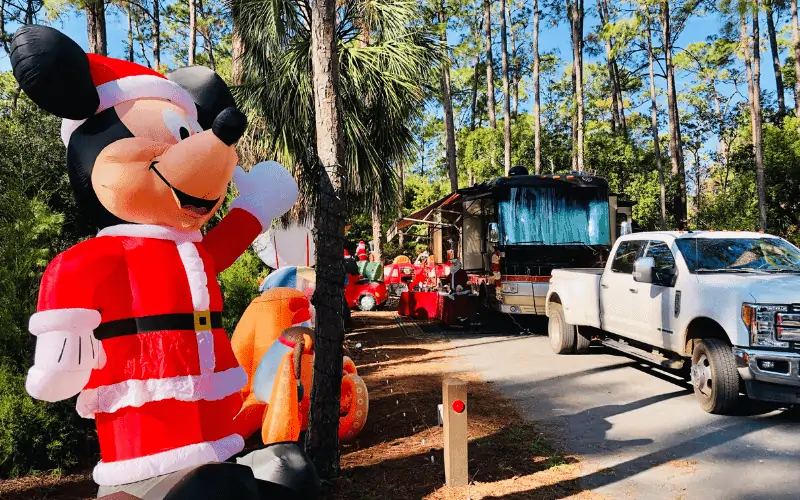 When talking about the best RV parks in Florida (and honestly just one of the best RV destinations in general) nowhere else compares to the house of the mouse!
For a magical RV vacation, you must pay a visit to Walt Disney World's Fort Wilderness Resort & Campground. Not only do you get all the benefits of staying at a Disney property resort like extended park hours and free transportation to the theme parks, the campground itself has plenty of Disney fun to go around.
Amenities include two swimming pools with daily activities, video arcades, a dinner theater, a beach, and bike, boat, canoe, and golf-cart rentals. One of my personal favorites is the nightly campfire with a Chip and Dale Sing-a-long and Disney movies under the stars.
Don't think this is located in a concrete jungle. Almost 800 RV and tent campsites are spread out among 750 acres of Fort Wilderness pine and cypress forests teaming with wildlife. The entire campground is easy to get around via walking paths or on bikes and golf carts.
If you're tired after a day of fun on a hot day in the Florida sun, the campground also has an internal bus system so you can relax on an air-conditioned ride back to your site.
Find Julie's complete review on Disney's Fort Wilderness Resort & Campground here.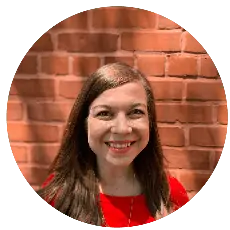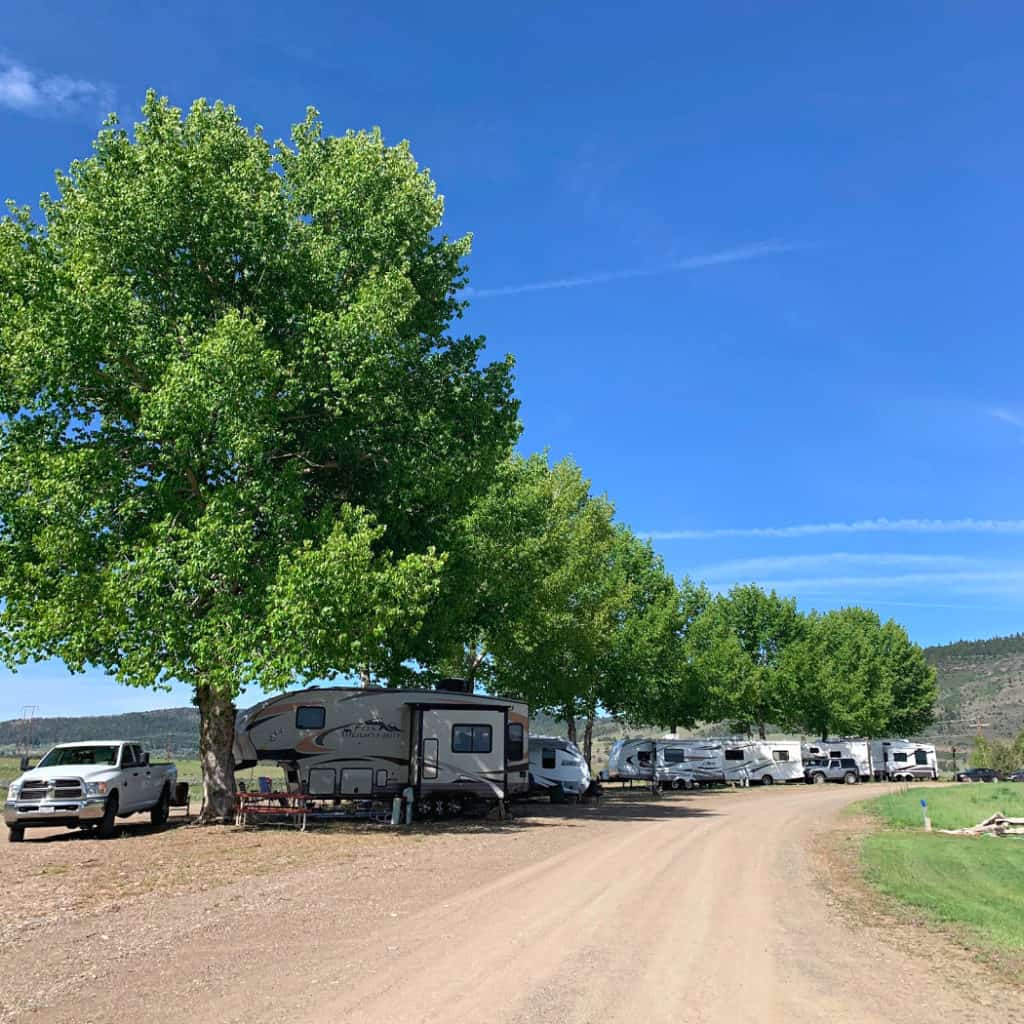 Do you love exploring small towns by RV? Head to Junipers Reservoir RV Resort just outside of Lakeview in southern Oregon. Open seasonally, this mid-priced RV park is located on a 6,000 acre working cattle ranch.
It offers 40 pull-through sites with water and electricity (some with full hookups, too).
The campground is situated at the end of a mile-long driveway with gorgeous views of the mountains. Aside from cows, there are abundant wildlife viewing and bird watching opportunities here, from pronghorn to marmots.
The park also offers many activities, from fishing in the reservoir to volleyball to horseshoes and on site hiking trails. And here's the kicker – their wifi actually works, making it a great choice for full-time RVers working from the road!
Lakeview, Oregon is just over the California border, about 75 miles from Klamath Falls. It is located on the Oregon Outback Scenic Byway.
A 17-foot-six-inch cowboy greets you when you get into town, a reminder of the area's western heritage. You can learn more about the area's history at the free, public MC Chuck Wagon exhibit in downtown Lakeview. Stop by Old Perpetual (southern Oregon's answer to Old Faithful), grab lunch at the Burger Queen, and take advantage of the many hiking opportunities the Fremont-Winema National Forest offers. The Noni Trail starts right in town and climbs to give you a breathtaking view of the countryside.
This is one of the best RV parks in Oregon and this part of Oregon will make you want to kick off your boots and stay awhile.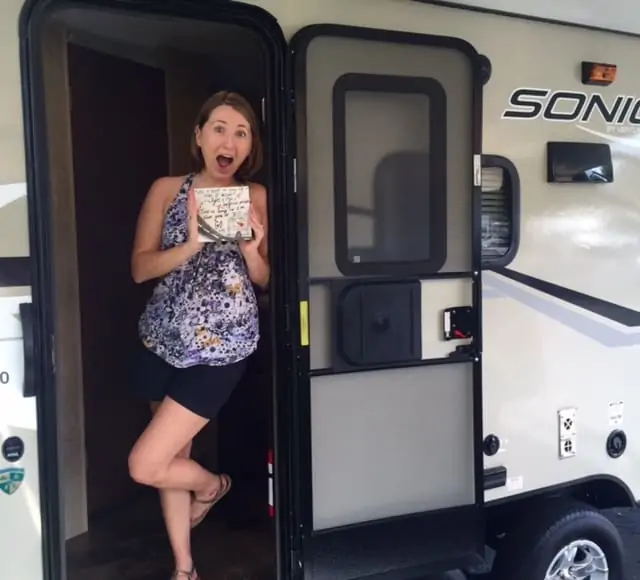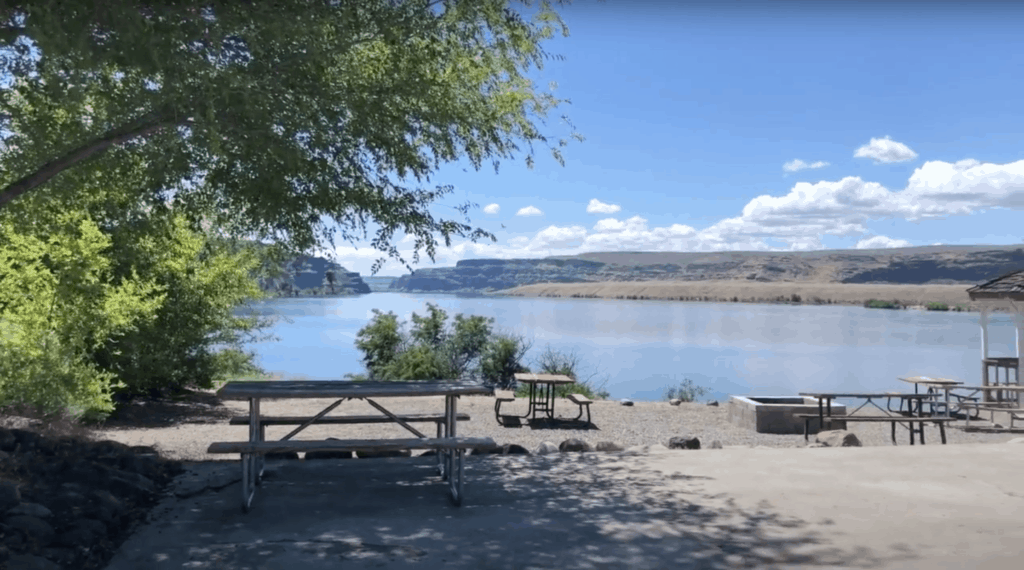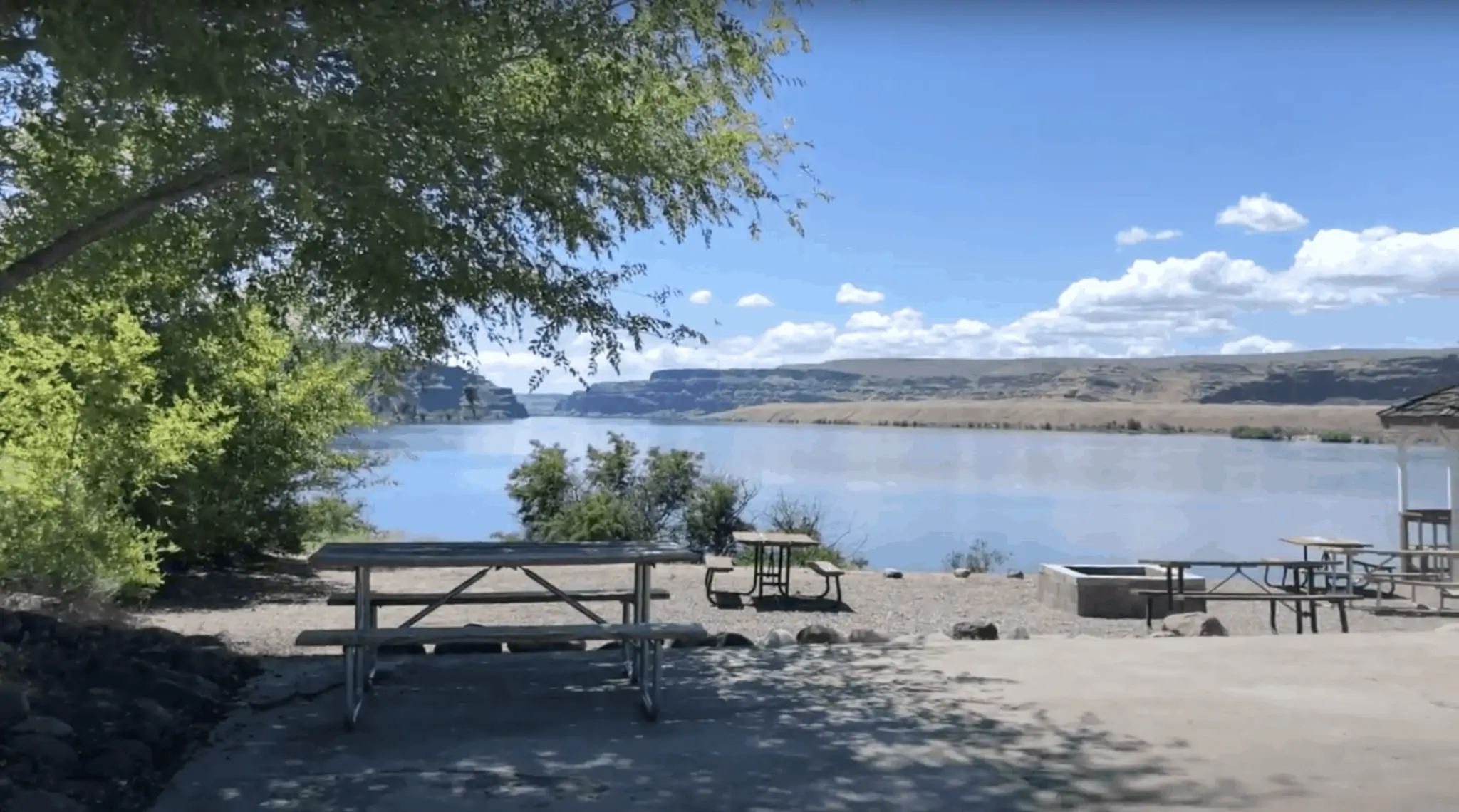 Next let's jump into one of the best RV parks in Washington!
Crescent Bar RV Resort is a Thousand Trails park that not only has great amenities, but beautiful views as well. Set along the Columbia River we loved getting to see the water from our site.
The bike trails along the river made for a great day cruise and the park sits right next to a grove of cherry trees, which was a lot of fun to pedal past. It's proximity to great wineries gave us a whole day of exploring.
Furthermore, the amenities at the park ranged from a swimming pool with a view to an adults-only hot tub and a clubhouse with pool, foosball and weekly park gatherings. Combining everything together made this one of our favorite parks when you are looking to splurge a little.
Video link: https://youtu.be/Vz_sD_Pv6Wg
IG photo from the water: https://www.instagram.com/p/BnmJlZQHRYf/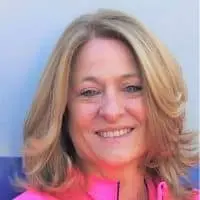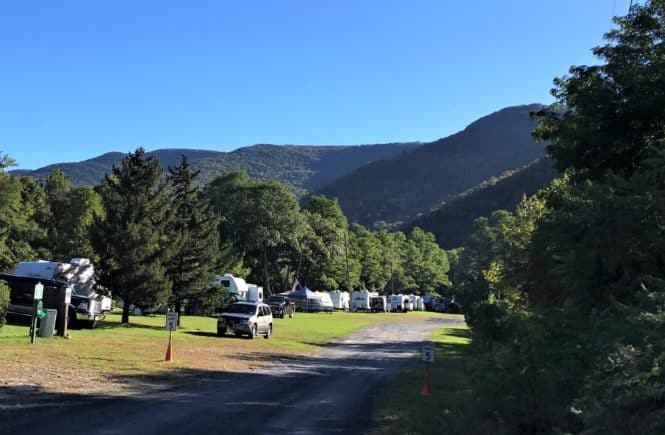 Sleepy Hollow is a family-owned campground located in the heart of the Catskill Mountains. It's a budget campground with no full hookups, little amenities (except horseshoes, teatherball & fishing) but sites along the river and awesome views of the Catskill Mountains easily make it one of the best RV parks in New York state.
Situated on the banks of the Esopus Creek, with a beautiful 360-degree view of the Catskill Mountains, the campground has over 100 sites spread out over several acres covering 20amp, 30amp or 50amp electrical service, water, grey water hookups; and, some tent-only sites that have no hookups.
If you're looking for a place to relax, enjoy beautiful views while listening to the sounds of the rushing creek, Sleepy Hollow Campgrounds is a place you'll want to return to again and again!
Find Lori's complete review on Sleepy Hollow Campgrounds here.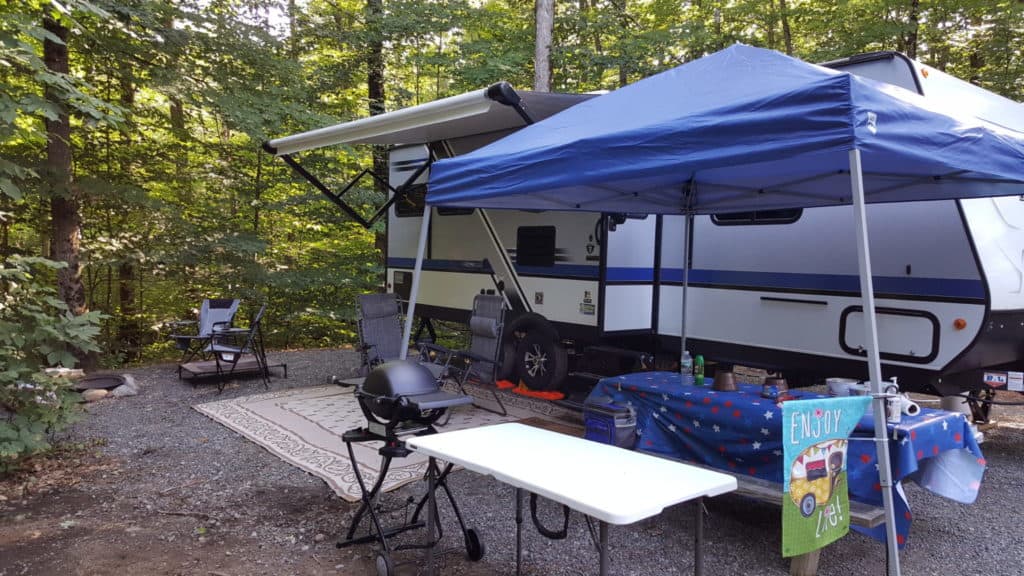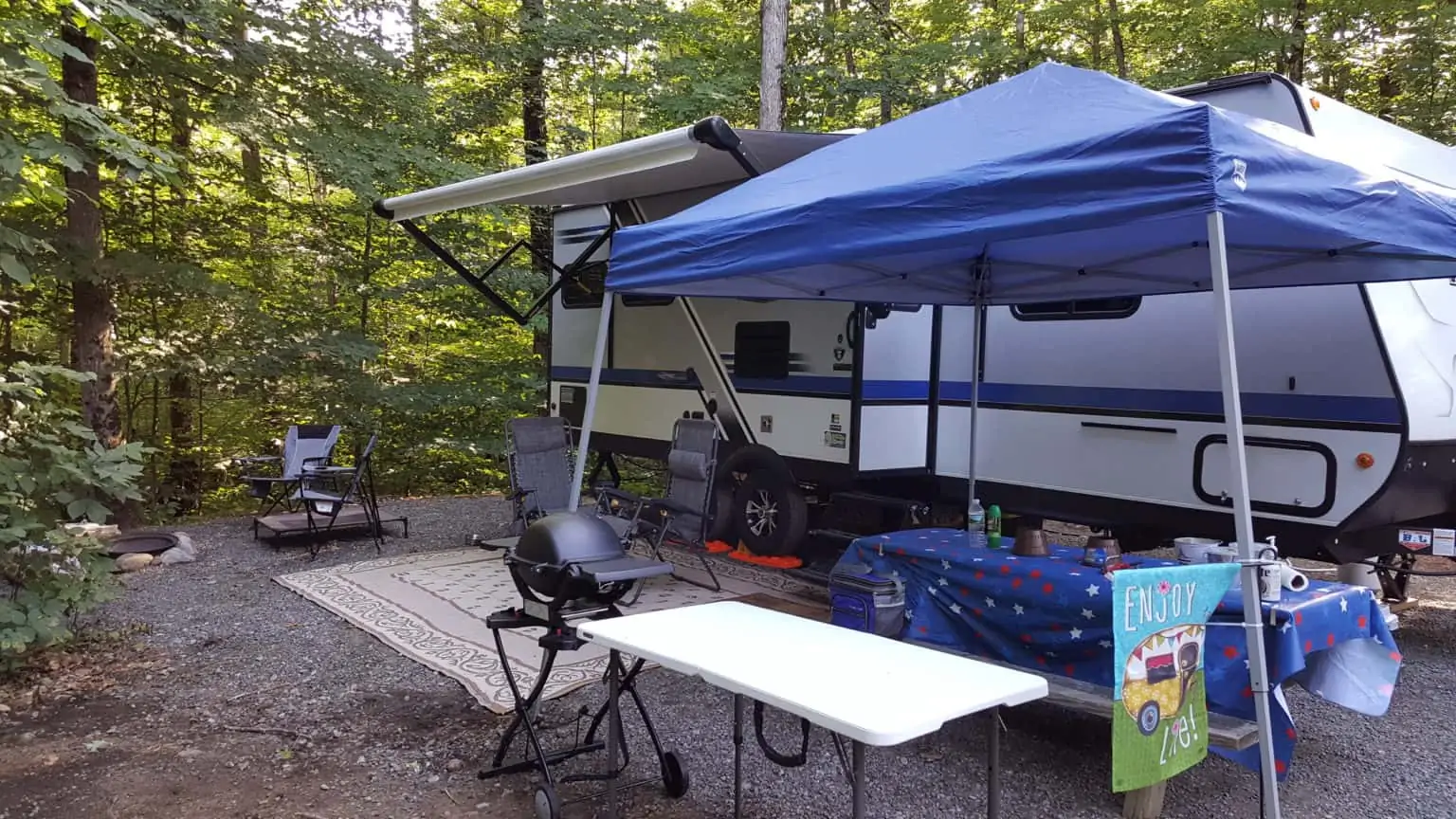 North Pole Resorts, located in the Adirondack Mountains, has two campgrounds – the main campground located on the Ausable River with amazing views of the mountains and across the street is 100 Acre Woods which is "big rig" friendly with large wooded sites for RVs.
Kids can enjoy two swimming pools, two playgrounds, a game room, miniture golf, kayak and canoe rentals and there is a general store with everything you might need.
The campground is close to many attractions in the area making it the perfect location for your vacation in the Adirondacks.
Find Lori's complete review on North Pole Resorts here.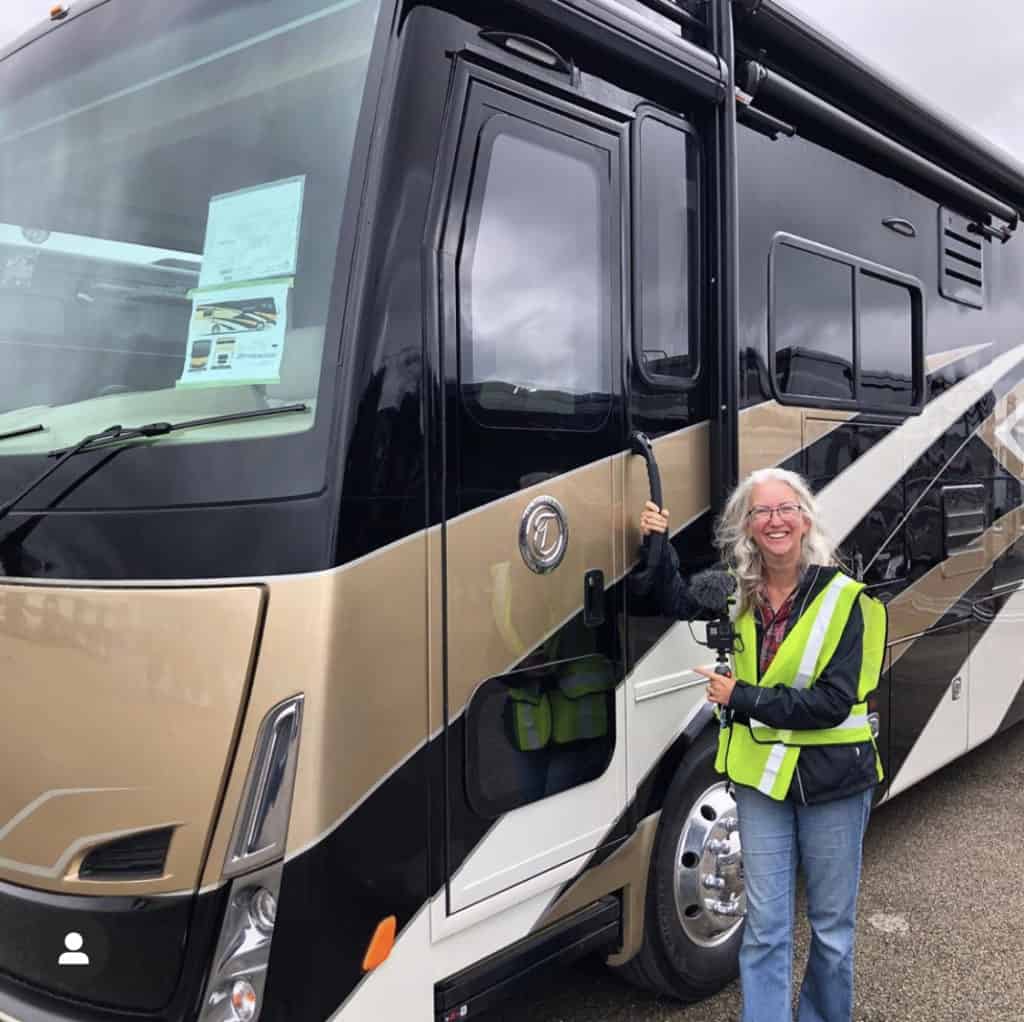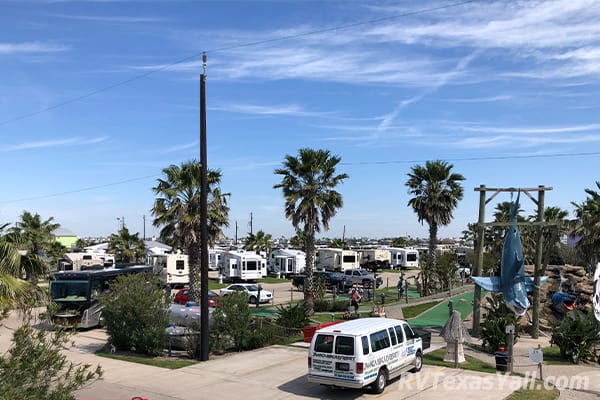 We've been visiting Jamaica Beach RV Resort on Galveston Island regularly since 2013. This family-owned and operated park is a true destination resort with a long list of amenities ranging from an amazing lazy river to an 18-hole miniature golf course. And all just minutes from everything there is to see and do in Galveston!
We love this park so much, that it has become our winter island home for a couple of months each year! And we're not the only ones! There's a reason why so many folks return to Jamaica Beach RV Resort year after year. We are never disappointed!
Find Stacie's complete review on Jamaica Beach RV Resort here.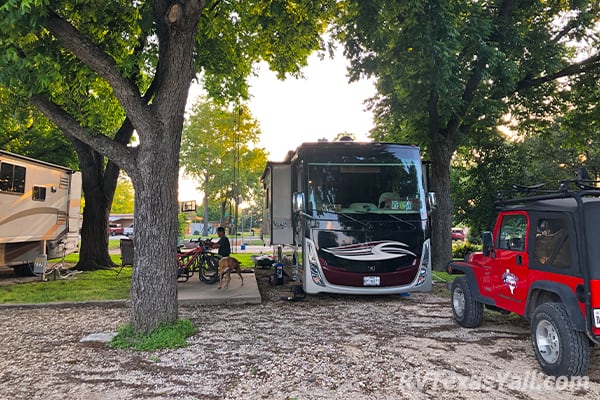 Located in the beautiful Texas Hill Country, on the banks of the San Marcos River, and just outside the town of San Marcos, Texas, you'll find a tranquil getaway at Pecan Park Riverside RV Park.
We've been visiting Pecan Park since 2016. We love that, while it is an RV Park, it feels more like a campground. You can hear the birds sing and watch the squirrels play under mature trees that provide tremendous amounts of shade. You can dip your toes in the cool river water or use this park as a basecamp to explore the history, shops and food in the surrounding towns.
The park owner/operators have lived in the Texas Hill Country all of their lives and are a great source of information for fun things to do in the area.
Find Stacie's complete review on Pecan Park Riverside RV Park here or Explore her website from the beginning to discover the best RV parks in Texas!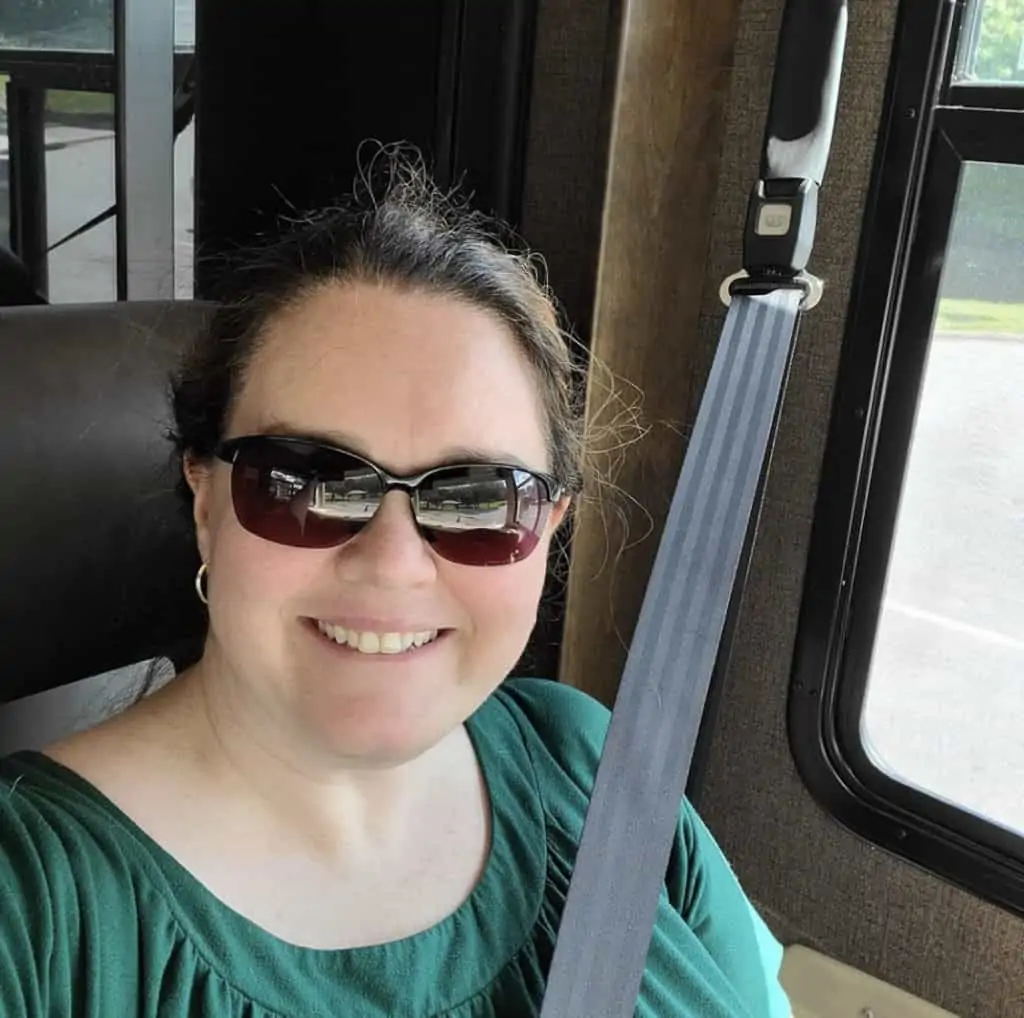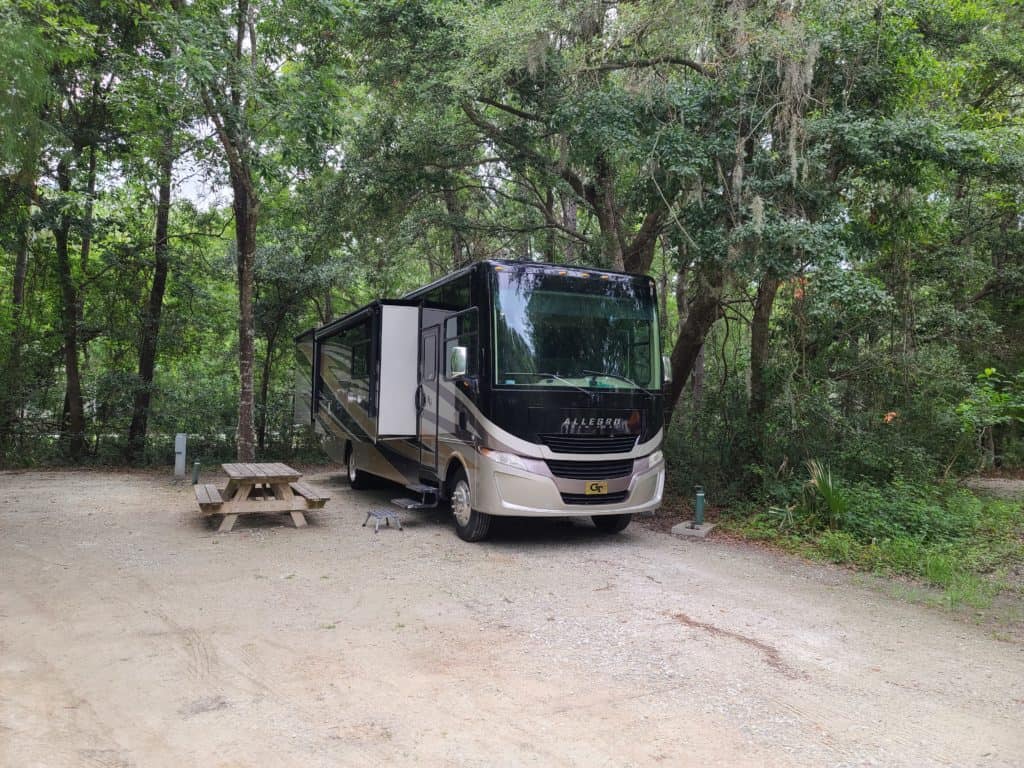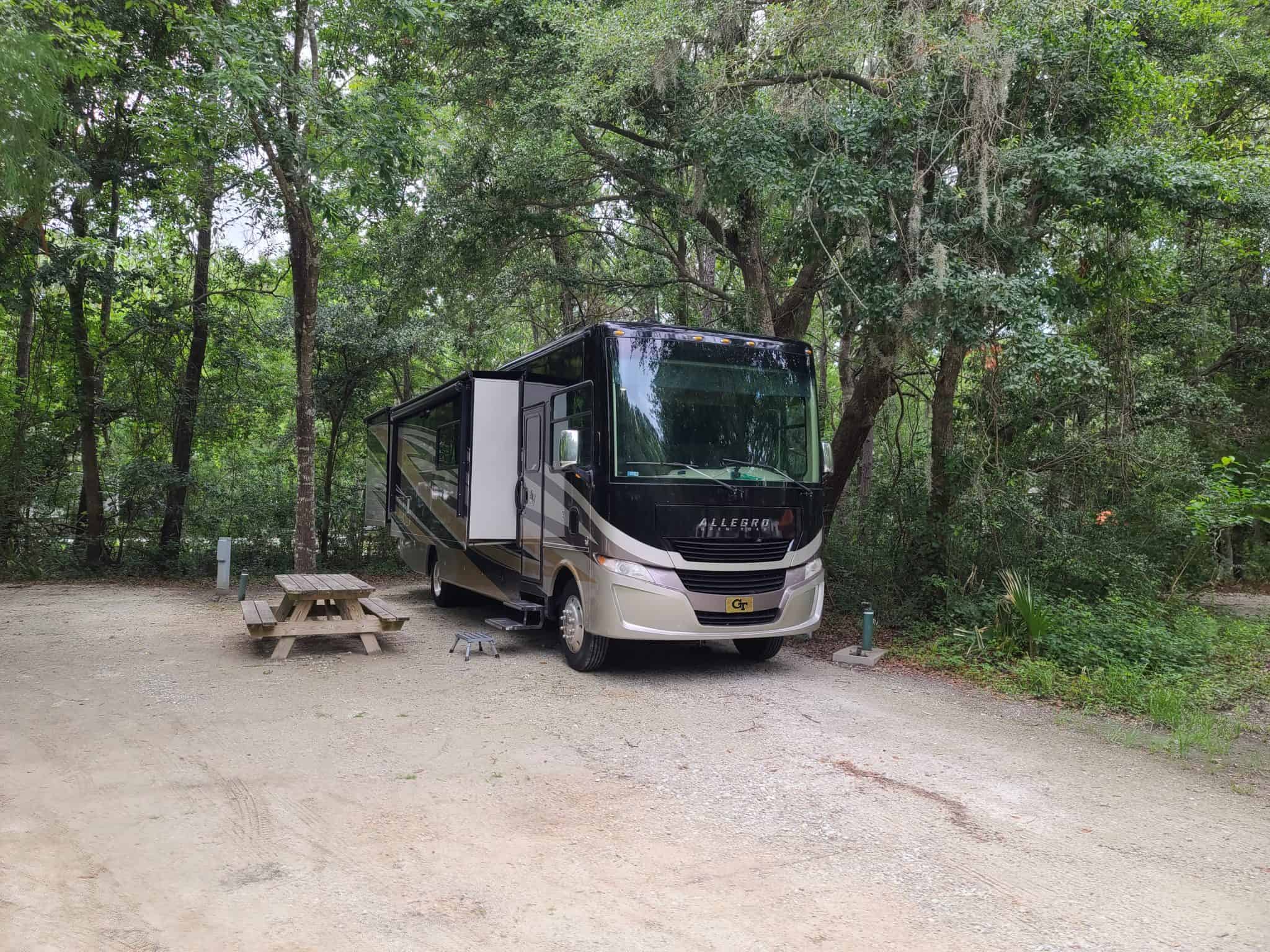 The James Island County Campground is one of the best RV parks in South Carolina. It's great for RV travelers. The campground is Big Rig friendly (despite some tight road ways to get there). I had no problems with my 37 foot Class A RV. There were also several Prevosts in the campground while I was there.
However, this campground sees everything from tent campers to the largest of Big Rig RVs, with fifth wheels, pop-up campers, and travel trailers mixed in.
Many of the sites are shaded with old pine and oak trees surrounding the campground. For the most part, the limbs are trimmed and very few obstructions appear to be problems for even the largest of RVs. The sites have full hook-ups, with water, sewer, and 50, 30, and 20 amp electrical hookups. Most sites are back-in, although there are quite a few sites that are pull-through.
The James Island County Campground is part of the Charleston County Parks system and is located off Maybank Highway. The Campground is about 20 minutes by car to downtown Charleston, which is across the Ashley River.
The campground is also just over the Sono River from Johns Island, which is how you'll get to Kiawah Island for the world-class golf at the Ocean Course. It's about a 40-minute drive from James Island to Kiawah Island. And you will be about 20 minutes from Folly Beach. Being in the middle of all these great attractions makes James Island County Campground convenient for a one or two week-long stay in the Charleston area.
Find Kimberly's complete review on James Island County Campground here.