(Last Updated On: September 8, 2023)


Sadly, we can't always travel. 2020 has served all of us with a harsh reminder of that.
Virtual travel experiences, on the other hand, well, we can dive into those almost any time!
But whether there's an ongoing worldwide health scare or not, there are always times when we can't just jump in a car or plane and head out to our next outdoor adventure.
Two examples from my own personal experience include a time when a family member needed our help and a time when we were saving money because we couldn't afford to go anywhere.
This blog post is for all of those outdoor adventurers in a time of pause.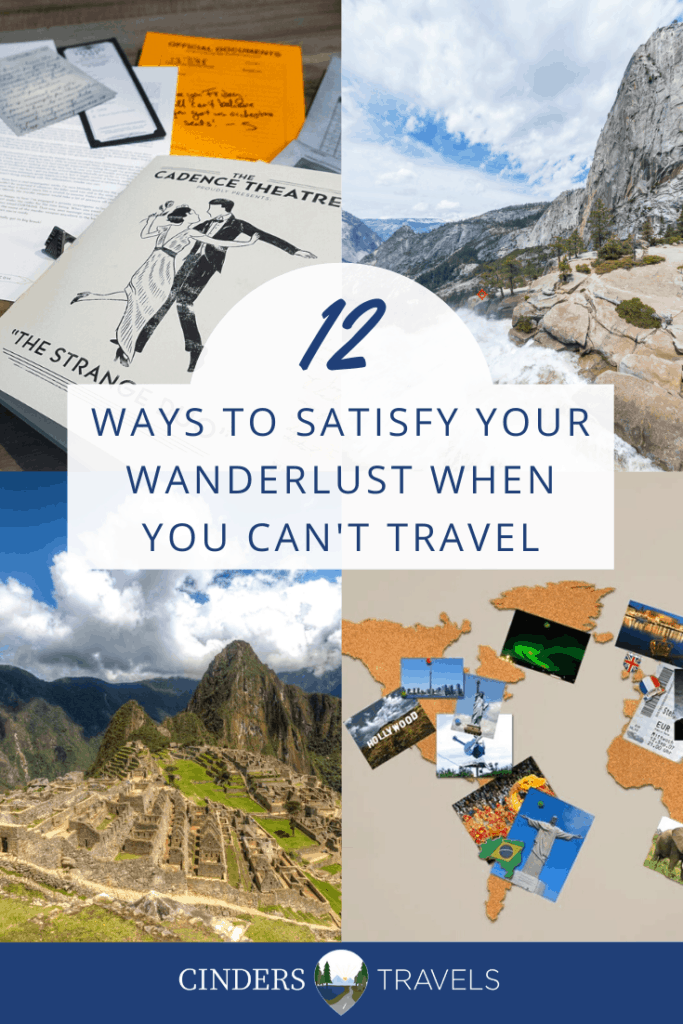 1. VIRTUALLY EXPLORE THE HIDDEN WORLDS OF FIVE U.S. NATIONAL PARKS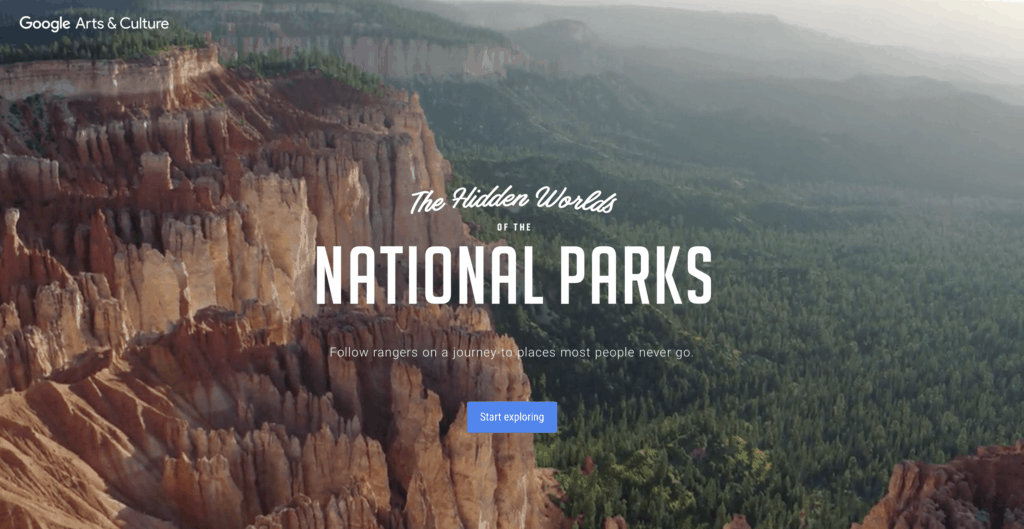 This is by far my favorite new way to soothe wanderlust.
Google Arts & Culture created a virtual interactive experience with five of the U.S.'s National Parks, and I found it insanely fascinating!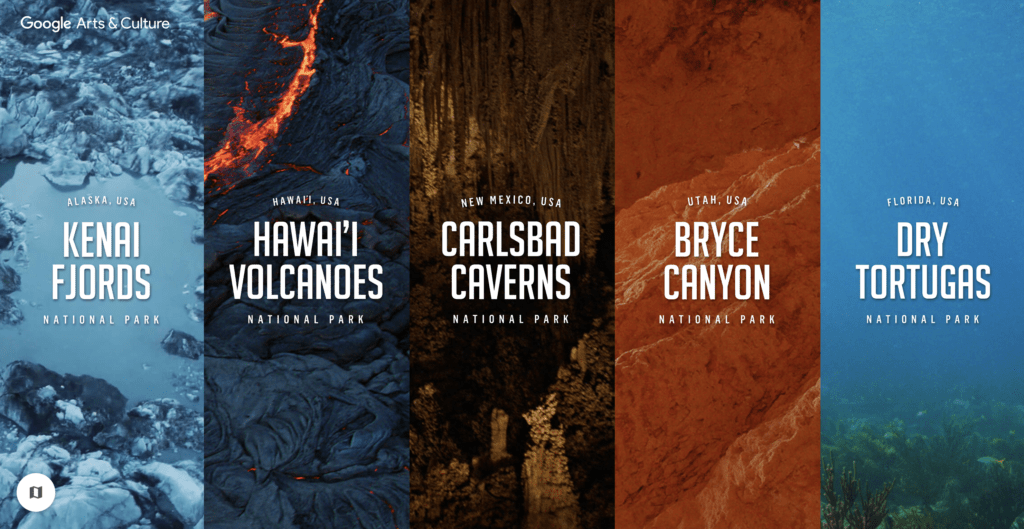 I recommend checking it out even if you've been able to visit these parks because you likely have not seen them like this! As they call it – "The Hidden Worlds."
---
From someone who spent one beautiful "stay-at-home" day going through the ENTIRE website, here's a quick rundown of how it works. In each of the five National Parks, you are led by a Park Ranger. If you go in order, you'll start in:
Kenai Fjords National Park, Alaska
At this park, you can hike down into a crevasse, see how much Exit Glacier has receded in the last 15 years, kayak through icebergs, see and listen to the sounds of an iceberg breaking into a pool of water, fly over a glacier, and even watch a 40-ton humpback whale jump out of the water!
I am actually lucky to say that I've been to Exit Glacier. But even when I was there, I merely hiked up to it. I definitely wasn't climbing down into crevasses. But now, with Google Arts & Culture, you can!
Hawai'i Volcanoes National Park, Hawaii
Next up, you can walk through the inside of lava tubes, see coastal cliffs created from lava flow, fly over an active volcano, see a past eruption, and listen to a volcano.
Carlsbad Caverns National Park, New Mexico
This park's experiences would be a lot of fun for a kid! You get to fly with bats, use echolocation to locate a bat pup and fine-tune in on insects, explore the largest single cave chamber in North America, see inside secret rooms, and trek through the lower caves via headlamp.
Bryce Canyon National Park, Utah
Here you'll see the most extensive collection of rock pillars (or hoodoos), click through nighttime constellations, galaxies, and planets, listen to the sounds of the wildlife in the park, ride horseback on a trail through the canyon, look at trees growing in the middle of a consistently flooded canyon, and learn about the formation of hoodoos.
Dry Tortugas National Park, Florida
Lastly, in this park, you get to swim through a coral reef, dive into a shipwreck that's evolved into a coral reef, tour Fort Jefferson (which I always thought was the entire park, but I found out it's actually only 1% of the park), and listen to fish and coral.
---
I highly recommend giving the Hidden Worlds website some of your time. I've personally never been so transfixed by a website in my entire life. They're able to immerse you fully into the experience with all of the sounds. And the Rangers guide you into spots you're unlikely to ever see during a park visit.
These videos are hands down even better than the ones you'd see AT the actual parks!
If you watch this with kids, be fully prepared for them to want to be park Rangers immediately after!
2. VIRTUALLY SIGHTSEE AT TWO OF THE U.S.'S MOST POPULAR NATIONAL PARKS
Both Yosemite and Yellowstone have some pretty fantastic online virtual travel resources for exploring the parks from home.
Yosemite National Park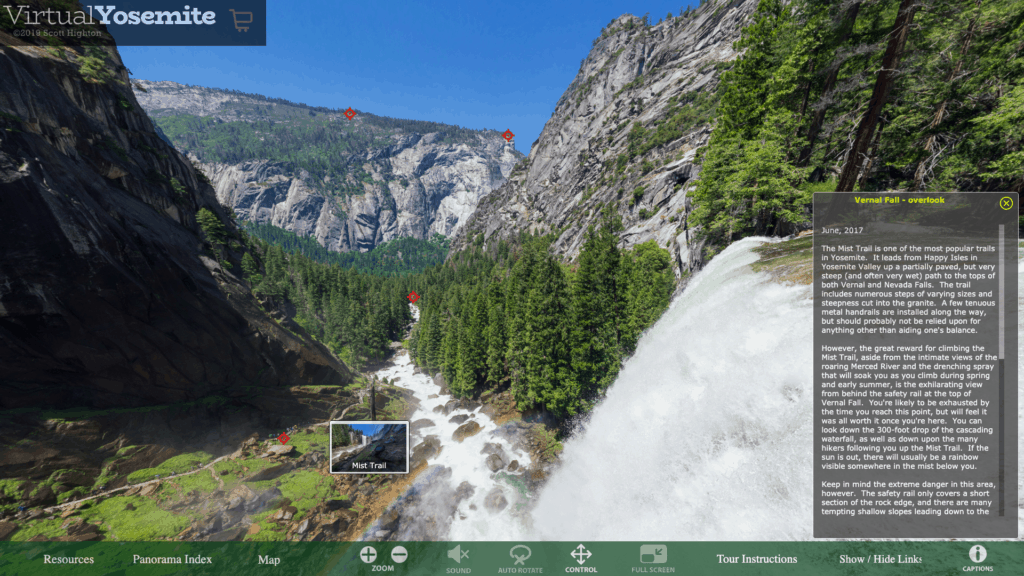 Virtual Yosemite lets you jump around Yosemite National Park, click by click, way faster than you ever could in real life.
Each spot you navigate to plays natural sounds from the area (animals and tourists included), rotates, showing you 360-degree views, and has an informational box giving you more detail on each destination.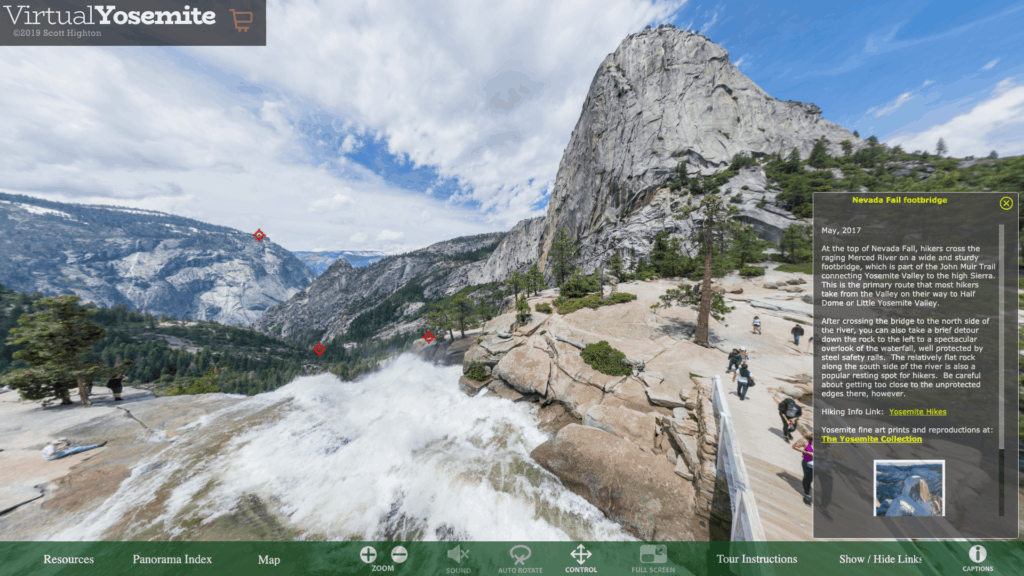 Yellowstone National Park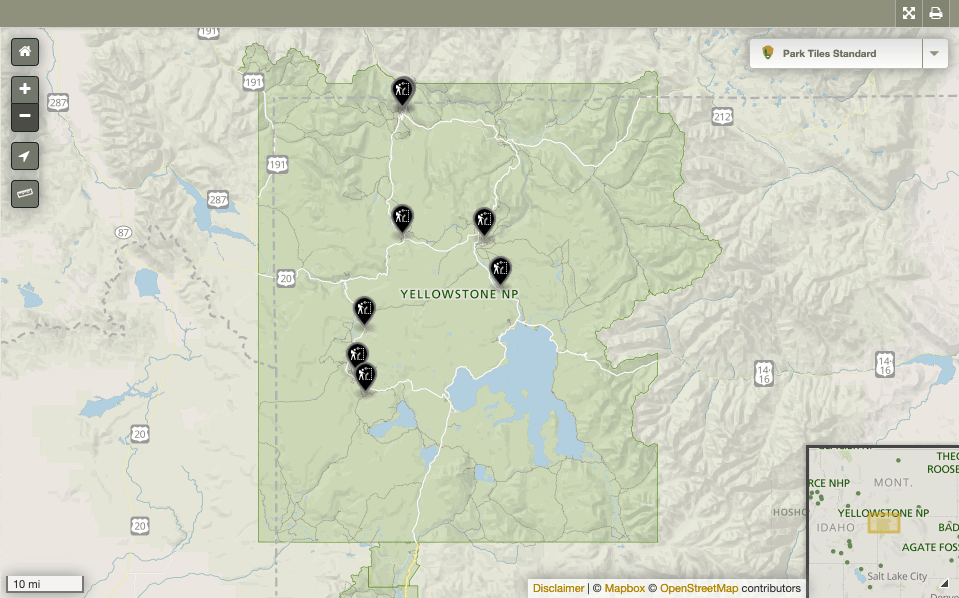 Yellowstone's website boasts seven different virtual travel tours you can take around the park. They are not quite as impressive as the virtual tours on Yosemite's website. Most of them merely involve clicking along, picture spot to picture spot, while providing detailed information on the area.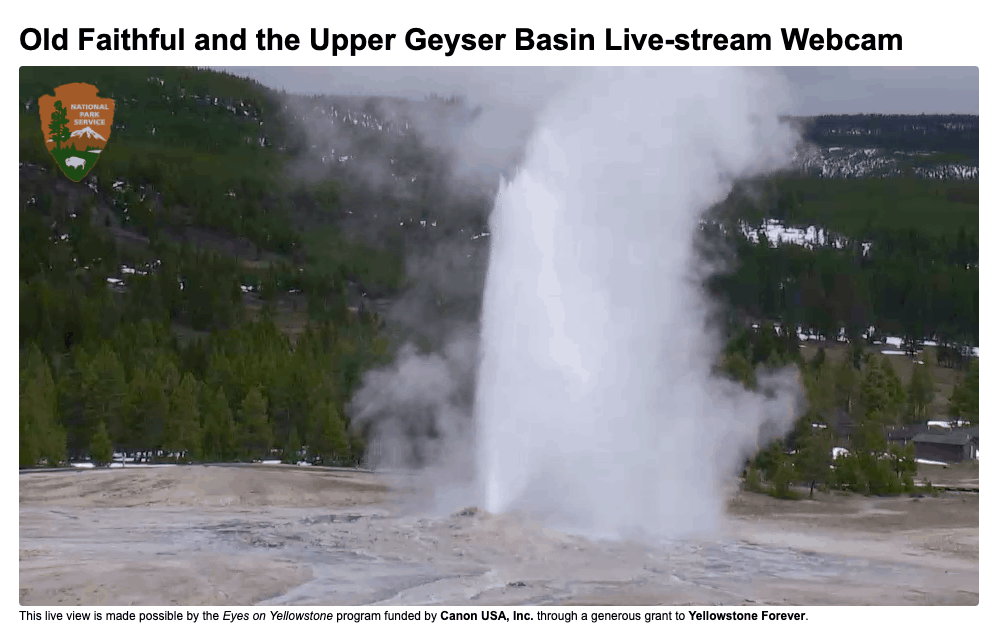 However, one other cool thing Yellowstone's website has to offer is webcams, nine in total. My personal favorite is the live webcam stream coming from the Old Faithful and the Upper Geyser Basin area. Someone is operating the camera, tirelessly consistently switching from one hydrothermal feature to the next.
I can't lie; having this webcam up on my second monitor has gotten me through some long "stay-at-home" days. Whoever's running this webcam is one of my new personal heroes!
3. VIRTUALLY HIKE U.S. NATIONAL PARKS
Perhaps gradually clicking your way through a 360-degree view of various National Park hiking trails sounds more up your alley? If that's the case, then Google Arts & Culture has over 100 different trails you can explore here.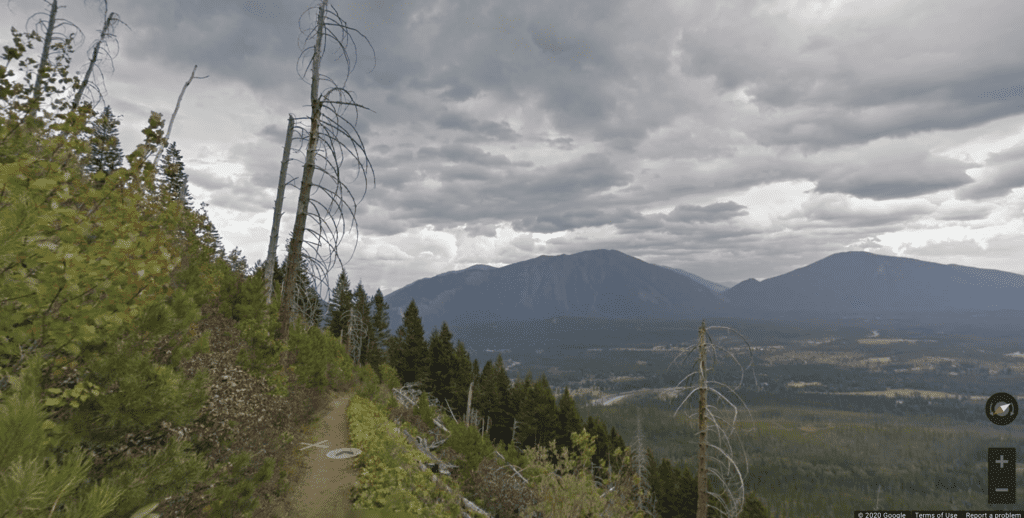 Also, follow your favorite parks on Instagram! They have staff working to inform you about the park and inspire you to visit via Social Media!
4. VIRTUALLY EXPLORE OTHER OUTDOOR WONDERS
Machu Picchu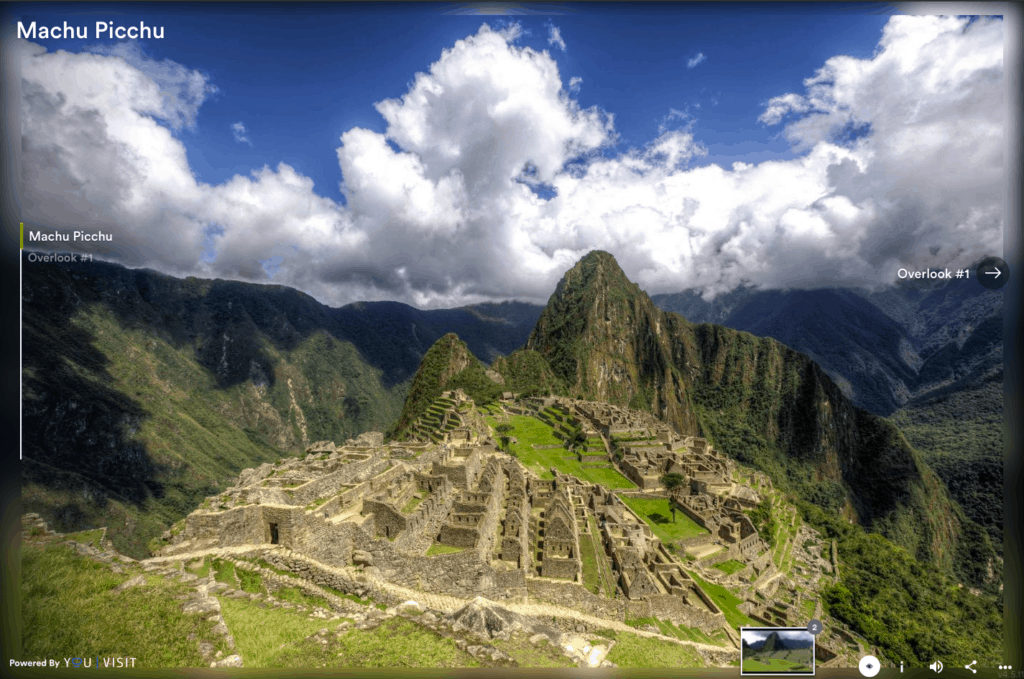 Virtually explore Machu Picchu from 11 different viewpoints, all of which boast 360-degree views and an audio track explaining what you are viewing.
Great Wall of China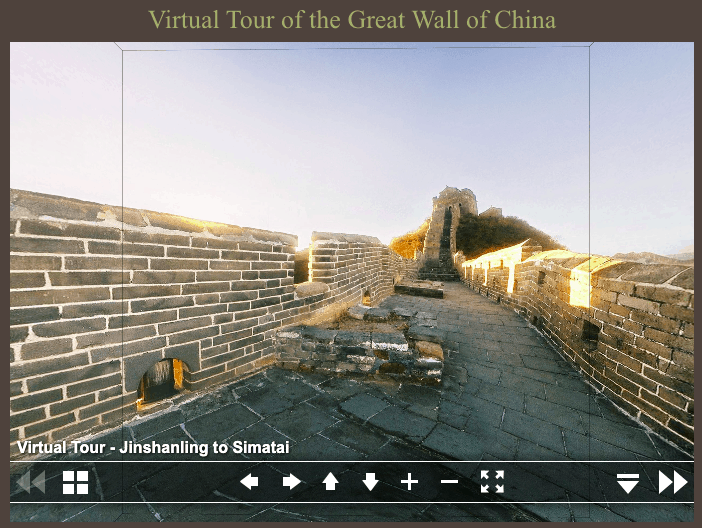 The China Guide's virtual tour of the Great Wall of China is relatively basic, but it's still pretty cool to see the wall from the viewpoint of someone there. Especially if you've never been!
The Great Pyramids of Giza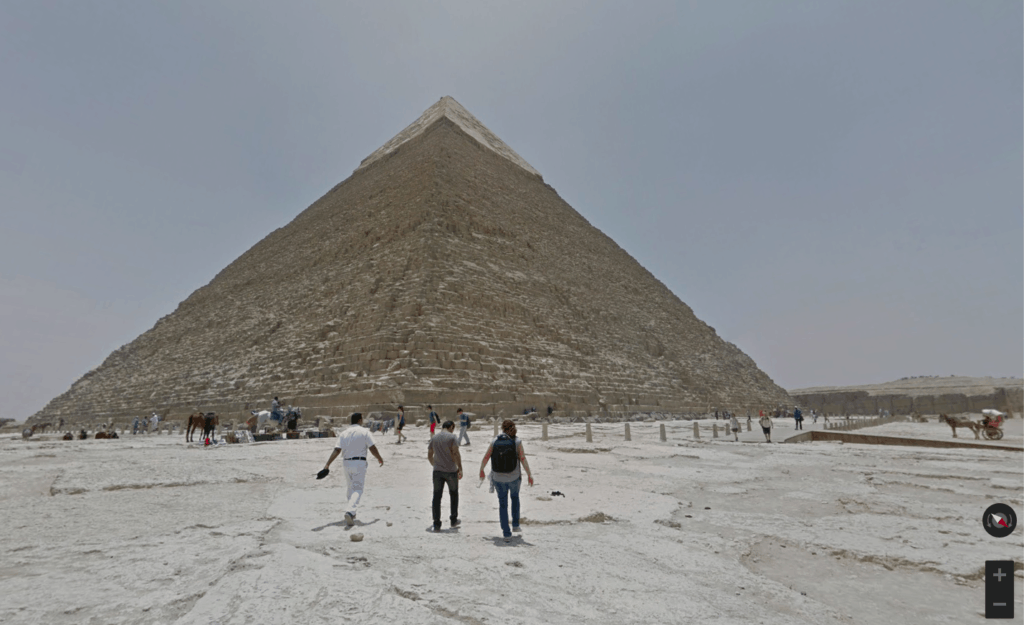 This is another reasonably basic google streets stroll you can take all around The Great Pyramids of Giza.
5. VIRTUALLY VISIT YOUR FAVORITE ANIMALS
Suppose your idea of an outdoor adventure includes seeing as much wildlife as possible. In that case, these digital resources could be up your alley!
San Diego Zoo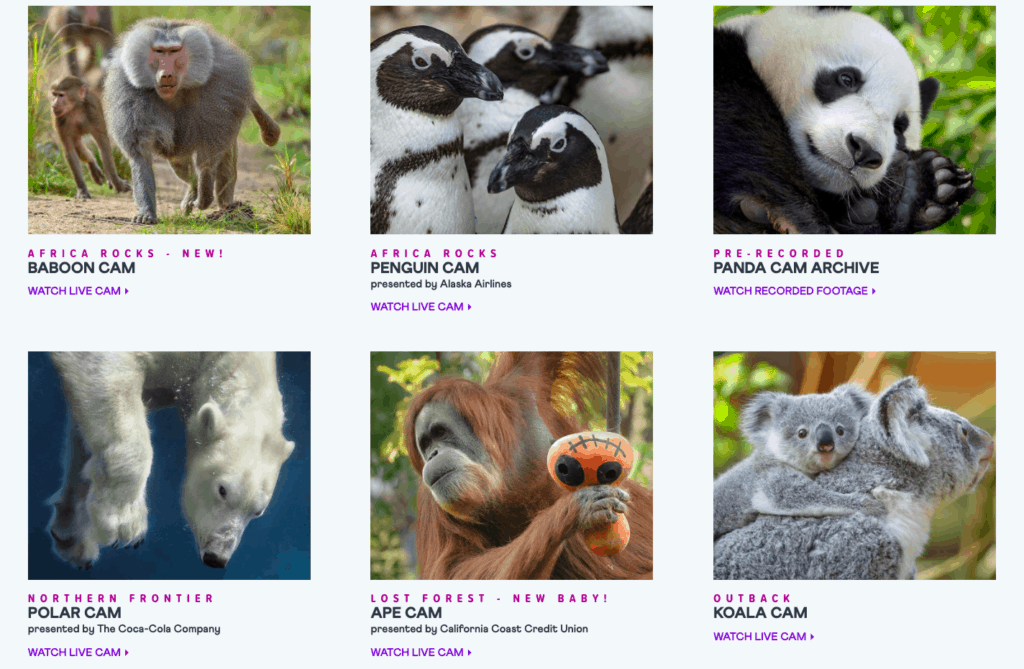 Millions of tourists visit the San Diego Zoo every year, and with good reason! The zoo has 99 acres of land filled with over 650 species from all around. If you're chomping at the bit to visit, well, you can now watch 12 of those species live their day-to-day lives via webcam!
Go on an African Safari from Home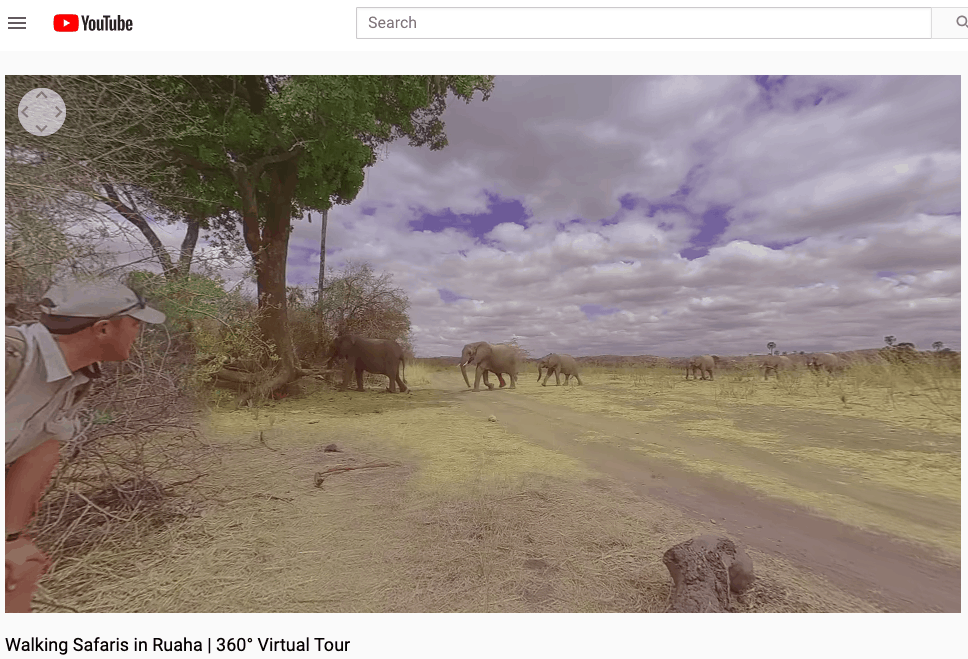 East African safari provider Asilia Africa has put together a neat 360-degree virtual travel safari experience on their website. While many of the videos aim to inspire you to book your next big trip at one of their camps or lodges, some of them primarily focus on the local wildlife!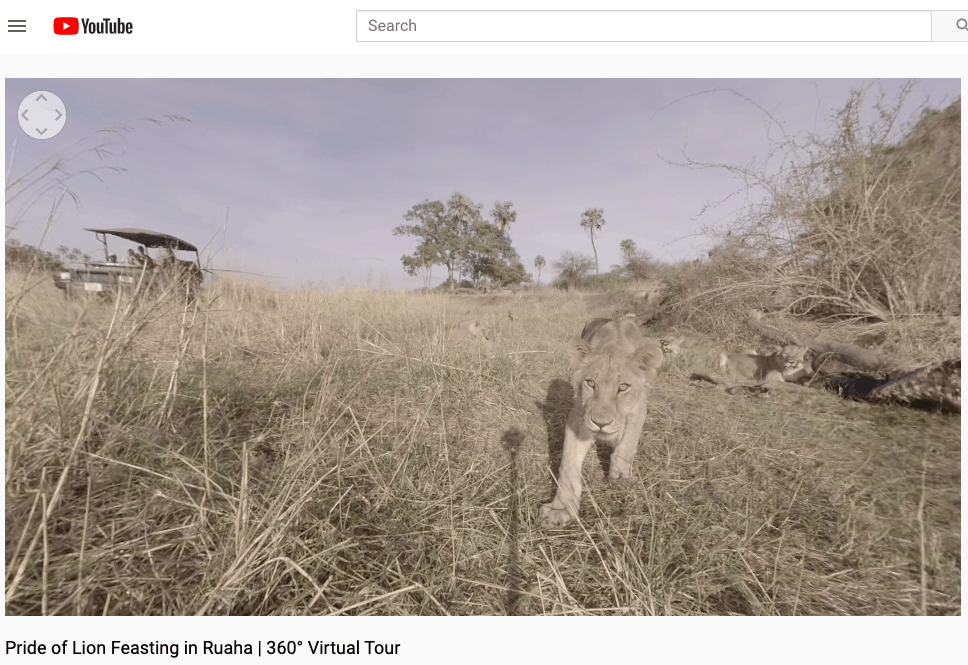 6. STUDY UP ON YOUR SURVIVALIST TECHNIQUES
Well, there's no time like being stuck at home to work on sharpening your prepper skills! Perhaps you're interested in fueling that part of your brain that wonders what you'll do if everything goes to shit?
I used to think these books were a bit nutty, but the truth is, any day you're out hiking, something could happen! So, why not be prepared? We like to think we are, but there's always more to learn!
These are all either best-sellers or highly ranked on Amazon in the survivalist category. They are all recommendations, not so much of the societal collapse kind, but more of the I'm hurt, lost, or attacked in the woods kind.
The Best Overall Outdoor Survival Guides
SAS Survival Handbook: The Ultimate Guide to Surviving Anywhere
Hawke's Green Beret Survival Manual
Survival Wisdom & Know-How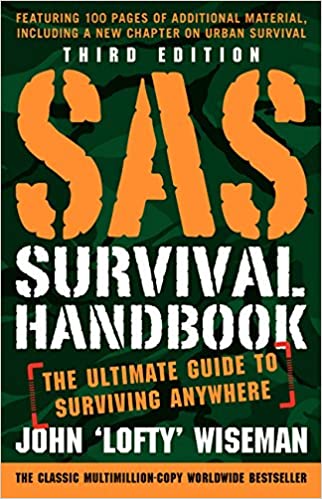 The Best Guides For Upping Your Outdoor Craftiness
Bushcraft 101: A Field Guide to the Art of Wilderness Survival
Shelters, Shacks, and Shanties: The Classic Guide to Building Wilderness Shelters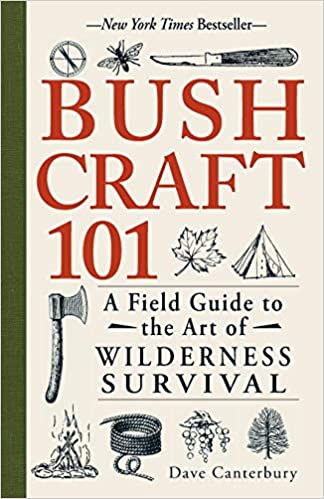 Best Books To Help You Stay Alive Until Help Arrives
Wilderness Survival
98.6 Degrees: The Art of Keeping Your Ass Alive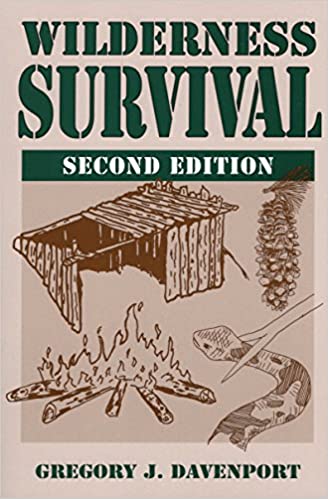 Best Book For When You Need To Be The First Responder
Bushcraft First Aid: A Field Guide to Wilderness Emergency Care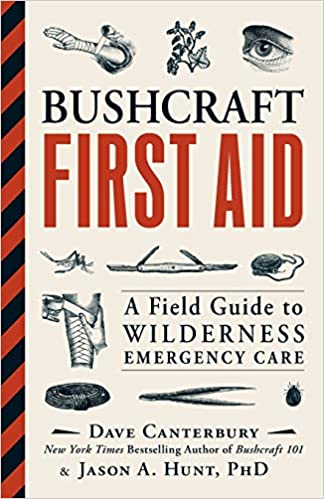 Best Book For Random Scenarios and Hearty Laughs
The Worst-Case Scenario Survival Handbook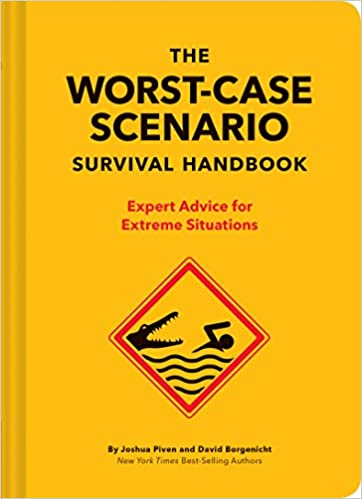 Lastly, if you're just looking to learn how to handle any possible dangerous scenario that may come up in life, all while also having a good laugh along the way, there's always this international best-seller.
This book has been around for quite a while. The newest version includes 20 new "modern threats," including fake news and dropping your phone in the toilet.
Some of the outdoorsy topics it touches on include:
How to Survive a Snake Attack
How to Fend Off a Shark
How to Escape from Killer Bees
How to Wrestle Free from an Alligator
How to Purify Water
How to Survive an Avalanche
Oh, and there's a complete travel-specific edition as well:
The Worst-Case Scenario Survival Handbook: Travel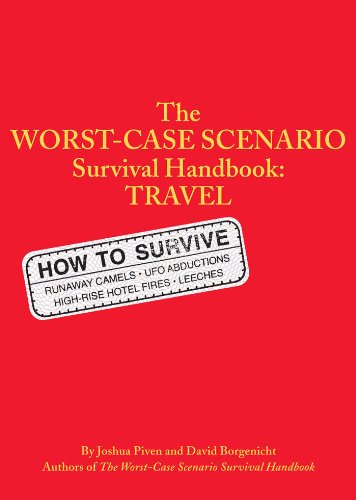 7. LET TRAVEL GAMES INSPIRE FUTURE TRAVELS
Games are another great way to take your brain to a new place for a little while.
Here are a few my husband and I have gone back to time and time again during moments of wanderlust:
501 Questions: A Travel Game Book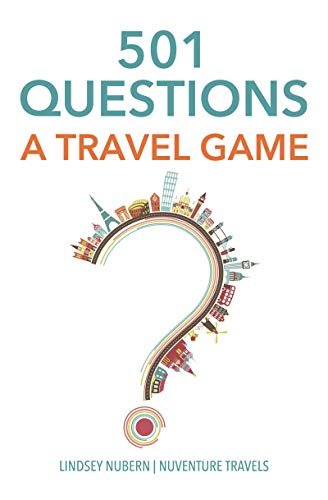 501 Questions: A Travel Game is an excellent book for long car rides or hikes. It's full of 501 prompts that will help you learn all sorts of random facts about your friends and family!
Random facts such as: If Barrett and I were MLB players and had to pick a walk-up song, we would pick the same song! Space Jam.
National Parks Themed Monopoly
Our National Parks Monopoly is pretty banged up.
We actually bought this one at a Goodwill outside Grand Teton National Park for $2 years ago. It's come along with us almost everywhere since!
It's exactly like Monopoly, except you're buying beautiful National Parks instead of the same old traditional properties!
National Parks Themed Trivial Pursuit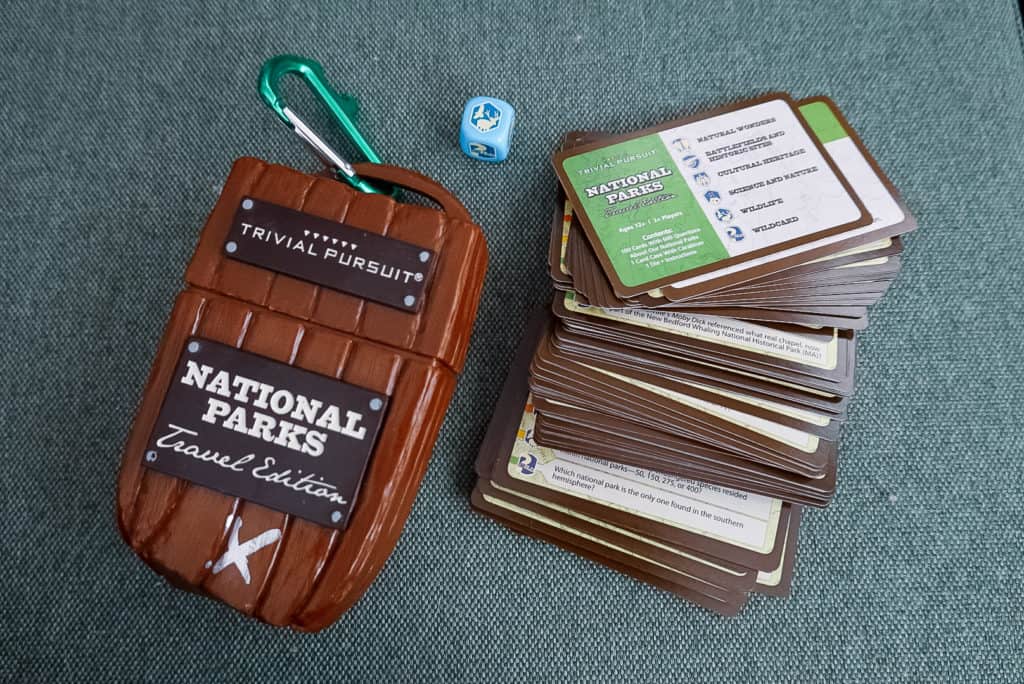 National Parks Trivial Pursuit was another cheap find; it came from an REI Garage Sale!
Test all of your buddies to find out who actually knows the National Parks system best over drinks. The carabiner clip even comes pre-installed with a bottle cap opener!
The trivia categories include:
Natural Wonders
Battlefields and Historic Sites
Cultural Heritage
Science and Nature
Wildlife
Wildcard
Ticket To Ride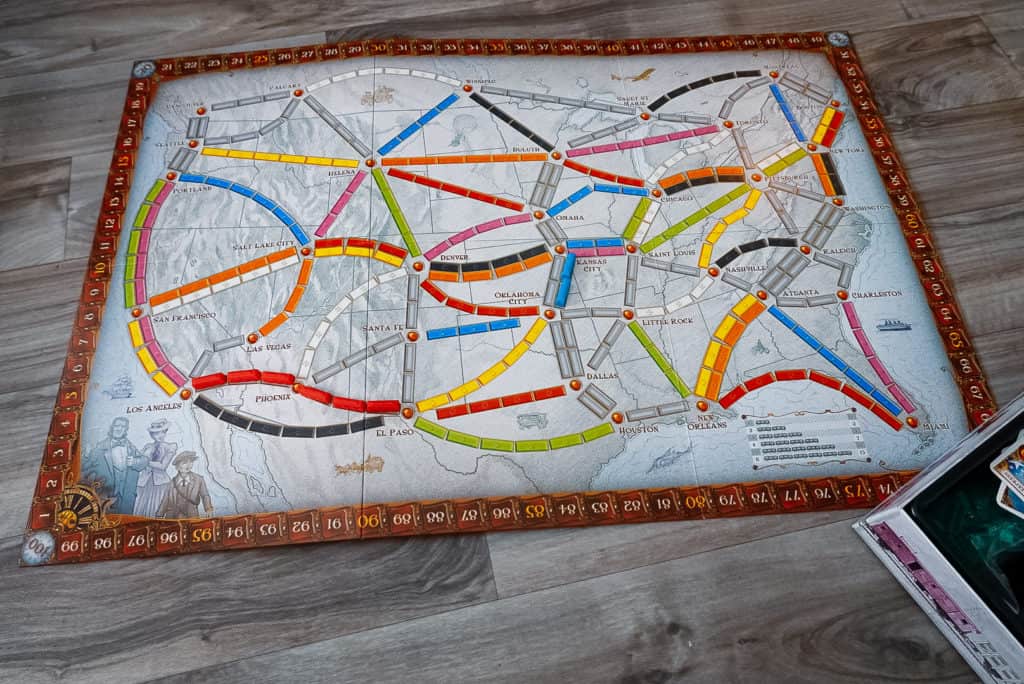 Ticket to Ride is a game that is beloved by many! Each player races to see who can build the biggest train empire while also secretly learning geography.
UnboxBoardom
Being on the road year-round, we don't always have an easy way to get mail. However, quarantine opened us to a few new subscription box options that I think are worth considering!
UnboxBoardom is a subscription service that sends you unique and fun new board games, either monthly, bi-monthly, or quarterly.
You can choose to have the company's gaming experts pick a game for you, or if you want to choose, you'll receive an email with 3 different game options, ranging from family board games to strategy board games and more.
Here are the 3 we were able to choose from:

We picked Loot Island! We've played it once, so at this point, all I can say is if you love learning a new, challenging game, then you're going to be into this one.
I'm looking forward to getting to playing it with a group of people someday down the line.
Some of the other games they've had to choose from in the past:

Board games are always an excellent addition to any road trip.
So while you're stuck at home, take the opportunity to get really good at a new game.
Then, once you can travel again, you can introduce all of your friends to a game they've never played before while also having the best chance at winning!
One more neat thing about UnboxBoardom, for every ten new subscribers they get, they donate a game to kids who can't afford their own.
If UnboxBoardom intrigues you, use coupon code "CINDERS" at checkout to receive free shipping on your first box!
Hunt a Killer
Let me start off by saying I'm utterly obsessed with Hunt a Killer! I'm going to warn you right now, if you partake in this game, you may also become obsessed!
It's no surprise to me that Hunt a Killer is currently one of the fastest-growing subscription box companies in the U.S. and that Fast Company named them one of the "Most Innovative Companies" of 2019.
With the Hunt a Killer subscription box service, you become a PI in training.
They send you episodes in the mail full of documents, evidence, and clues every month.
The game taps into the True Crime phenomenon. They also have online communities where fans can discuss their theories and experiences. (I have to say, I have not dabbled in that part yet because I'm afraid of spoilers…)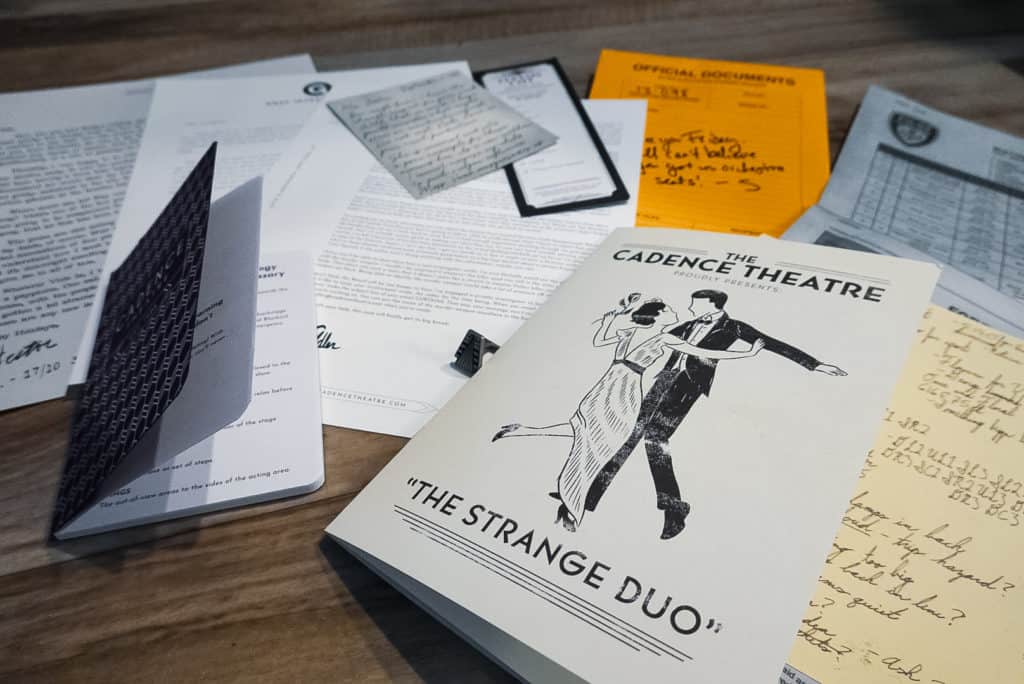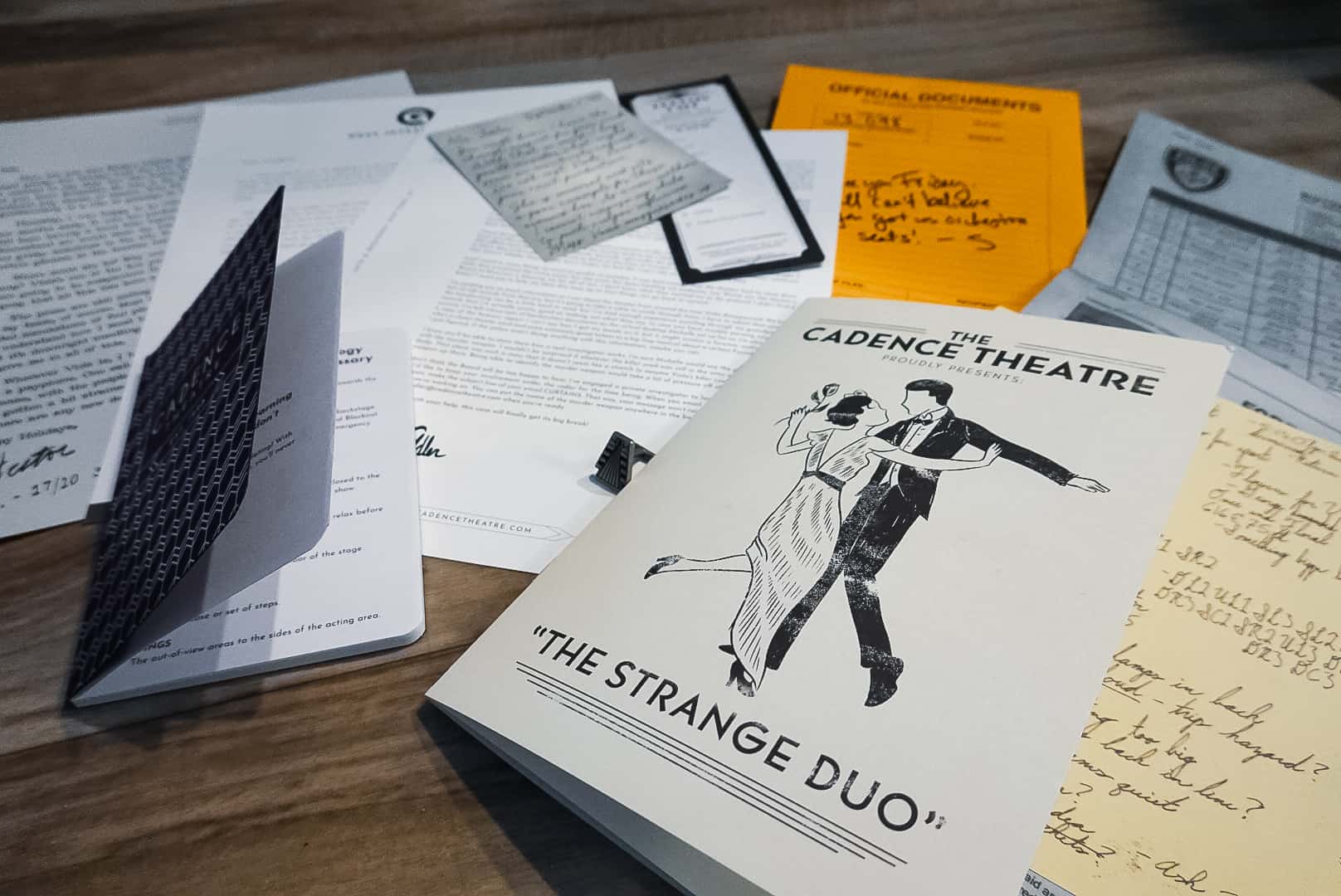 It was actually a tiny bit overwhelming when I first looked at all the materials.
But, once I started actually reading the documents, I was in! So in, in fact, that I had a terrible time trying to go to bed last night because I'm still trying to break the latest code!
I recommend Hunt a Killer in this post because it's an excellent activity for those of us who LOVE to plan a trip. I'm a planner, and I completely understand that you have to find something to do with all of that mental energy when you can't be planning! Why not throw it into solving a cold case!?
The particular case we're on right now has transported us to 1930's New York City. It's been a pretty neat way to not only feel like we're in a different city but also during a different time, all while trying to solve a crime from over 90 years ago!
Hunt a Killer is such a fun way to bring the Escape Room vibe to your dining room table for the whole family to join in on! I cannot recommend it enough!
8. WATCH TRAVEL RELATED MOVIES / TV SHOWS / YOUTUBE CHANNELS
When all else fails, there's always TV to pick us up, all while also showing us new places and cultures.
When I was young, I was obsessed with The X-Files. I quickly fell in love with all of the adventures they would go on, the woodsy places they would head off to for an investigation, and the characters they would meet along the way.
(I did not, however, fall in love with the thought of aliens possibly taking over the planet.)
I challenge you to watch your next movie or TV show with travel intention. Pay attention to the destinations you see. Make a list of the spots that most inspire you.
Some Movies To Inspire Your Future Outdoor Travels
(Most of these are also books)
Some Documentaries
Some TV Shows
A Youtube Channel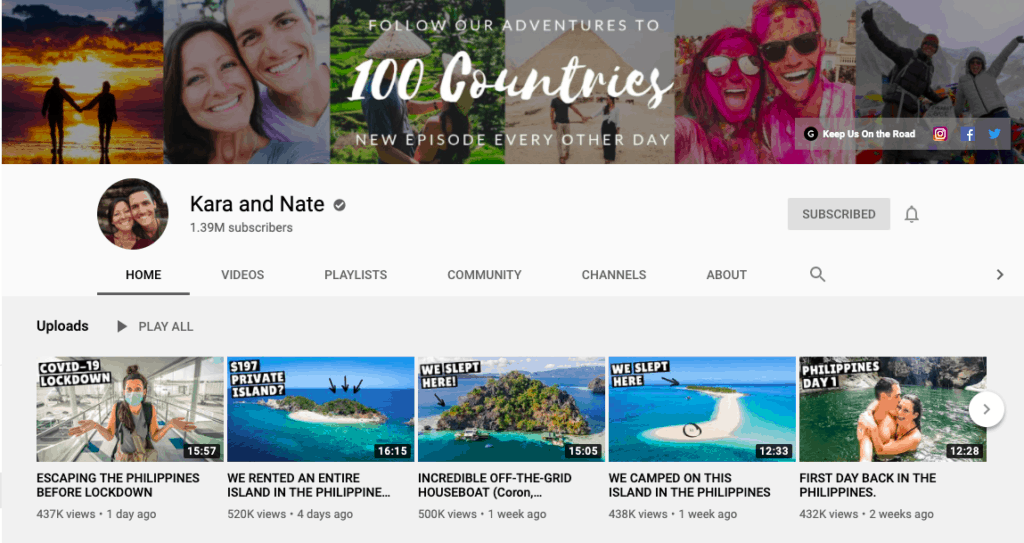 My all-time favorite travel YouTubers are Kara and Nate! I am in complete awe of Kara's ability to continually edit and pump out episode after episode! Their beautiful personalities shine through in every video. They make you feel like you're visiting each place with them, all while also being their BFFs. If you haven't checked them out, I recommend doing so immediately.
9. GET LOST IN A CLASSIC OUTDOOR ADVENTURE TRAVEL BOOK
First of all, almost every single one of the movies listed above is also a fantastic book worth checking out!
After going through all of those, here are thirteen more outdoor adventure-themed book options (also listed out below):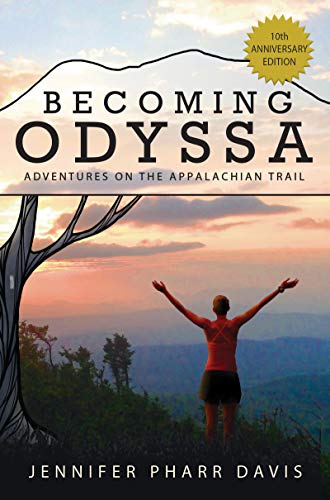 From left to right, top to bottom:
These books were the books that kept coming up again and again after combing through countless "Best Outdoor Adventure" reading lists. So while I can't say yet that I've read them all, I can tell you they're now all on my list!
Also, if you're like me and live in a tiny space, you may not have room for all these books. That's where Audible and Kindle E-readers save the day! Here are a few deals amazon has going on right now with each:
10. GO THROUGH YOUR OLD TRAVEL PHOTOS & PUT SOME ON DISPLAY
We all have that giant box full of photos or hard drives that are sitting and collecting dust.
It's time to pull that all out and start displaying those hidden gems!
Here are some fun ways I've found:
Umbra Hangit Display-DIY Frames Collage Set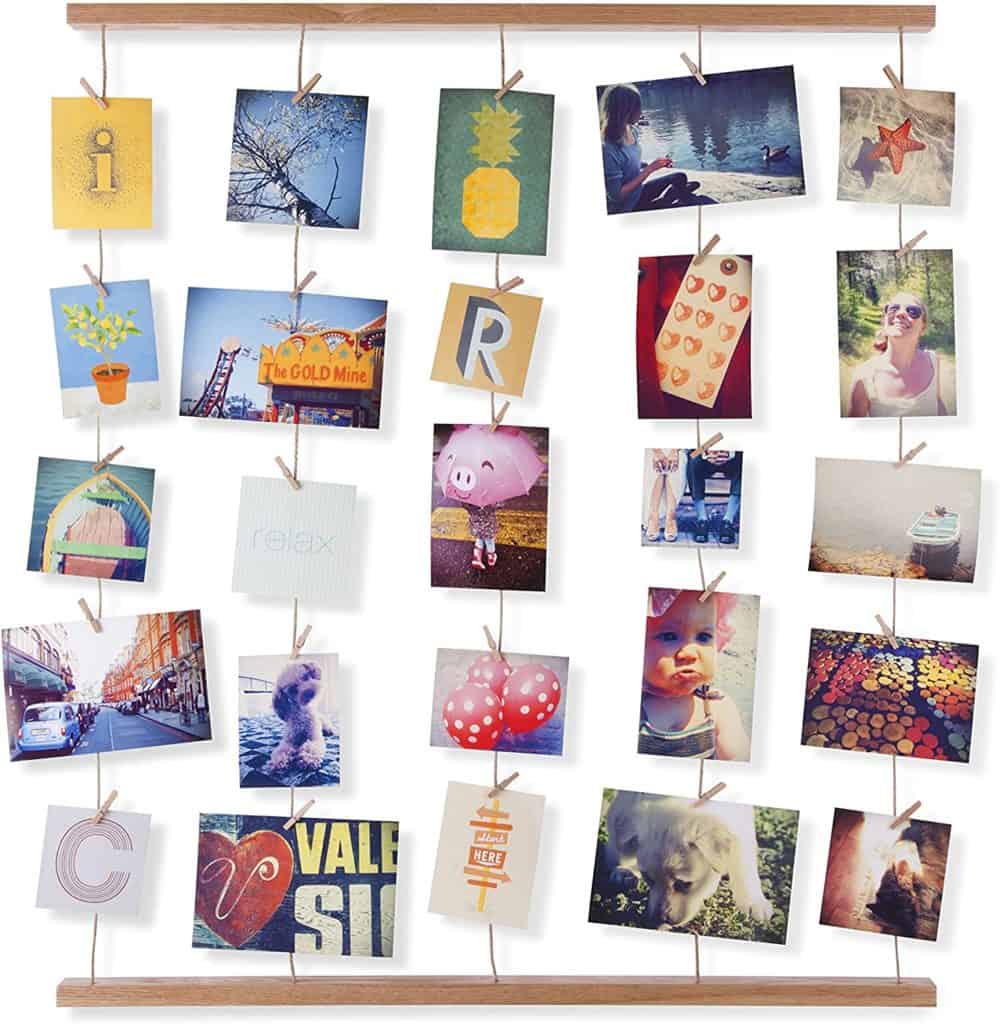 Photo Collage – USA Photo Map (Etsy)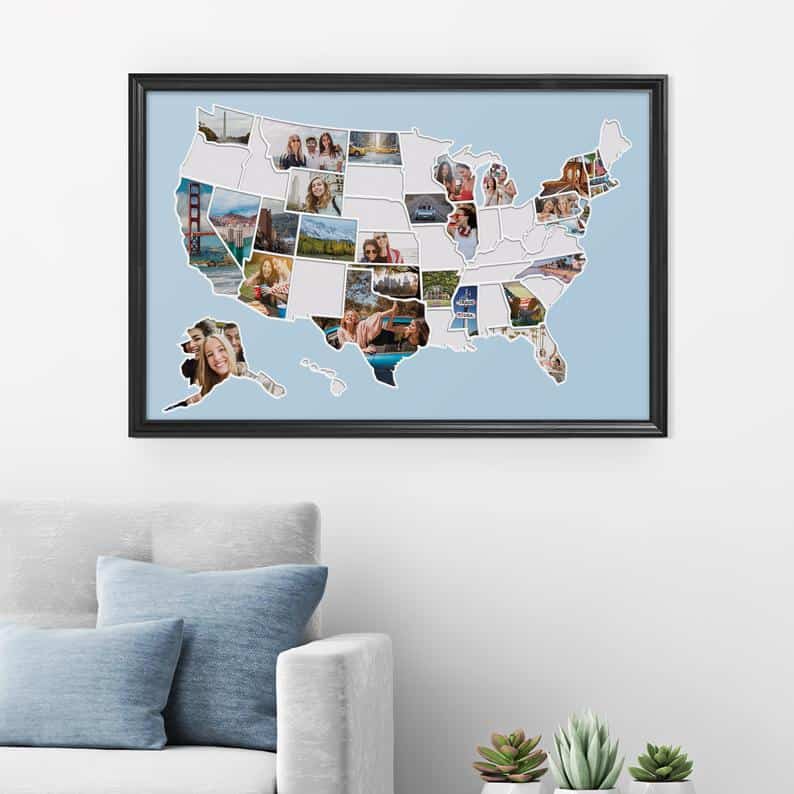 Luckies of London Cork Board Map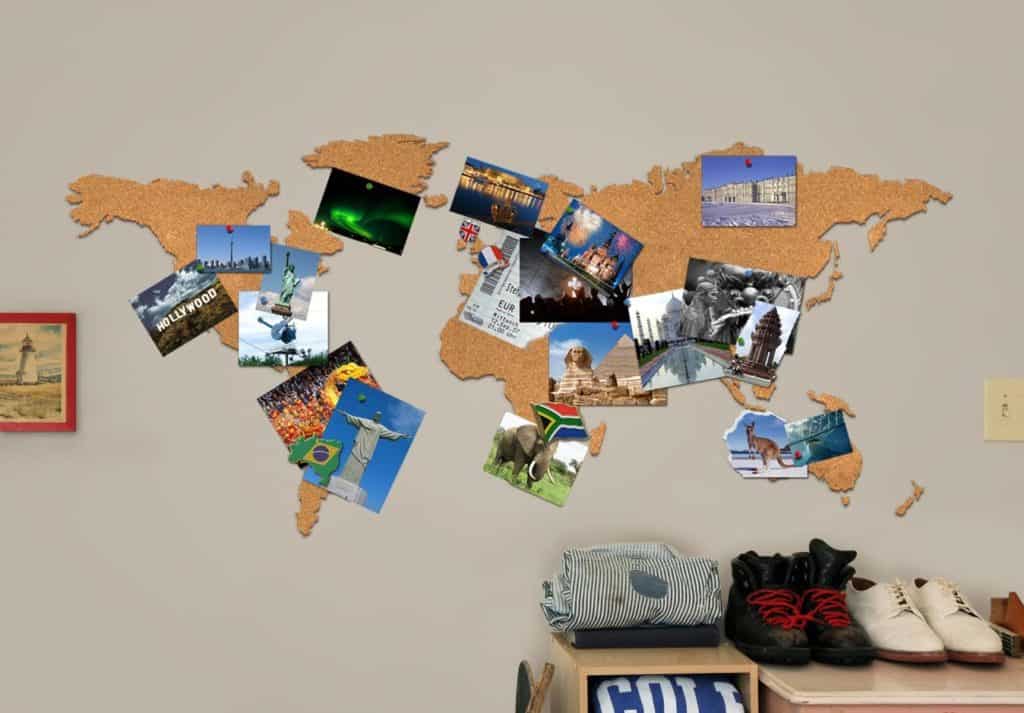 11. WORK ON UPPING YOUR PHOTOGRAPHY GAME
For Taking Awesome Travel Photos
There are countless resources out there to learn photography, all ranging drastically in price. I would recommend starting with YouTube since it's free and has a vast amount of "teach yourself photography" resources.
My personal favorite YouTube instructor is Peter McKinnon.

Peter has over 85 photography tutorials for free on YouTube right now!
For Editing Your Awesome Travel Photos
Who doesn't want to impress their friend and family with their latest travel pictures? No one. I'm also 100% sure you have photos from past trips that you thought turned out bad. We all do! However, with some Lightroom practice, you actually might be able to save those pictures after all.
Adobe has tons of Lightroom tutorial resources available on its website.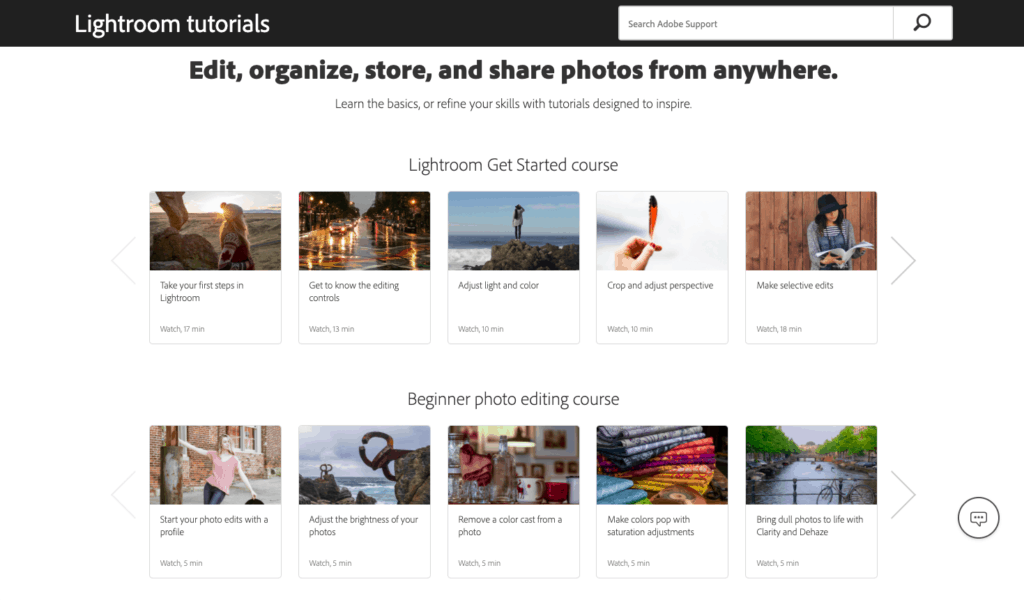 Taking some time to learn Lightroom during a time you can't travel is an excellent way to up your travel photography game!
Here's a before and after of mine: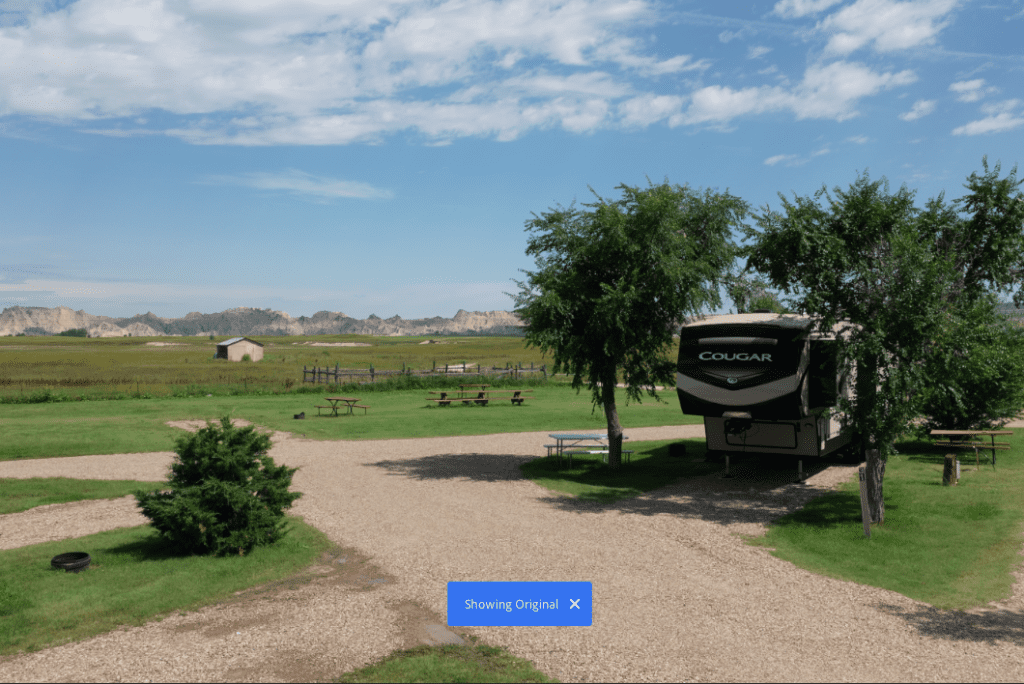 12. START RESEARCHING (& DARE I SAY PLANNING) POSSIBLE TRAVEL DESTINATIONS
Alright, you've got to this point, but you're still stuck daydreaming about your next trip? When nothing else is working, just start planning! It's true; we have no idea when we'll be able to get out in the same way again. The planner inside of me has such a hard time with that concept. But the virus can't take future dreaming from us!
This, too, shall pass, and when it does, you'll know exactly where you want to go!
Via Guide Books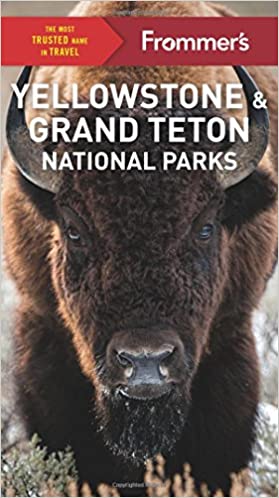 When looking to explore an outdoor adventure destination, Frommer's, Moon, Lonely Planet, and Fodor's are the best Guide Book publishers out there. Each one has its own unique way of helping you plan a trip.
Suppose you have a specific destination in mind. In that case, I suggest checking out a few different publisher's guides digitally from your local library. (When doing this, try to be aware of the date on the travel book and reserve the most current edition available.) Once you start flipping through a few different guides, you'll be able to figure out which one fits you and the way you like to travel pretty quickly.
If you're still just trying to figure out where you want your next outdoor adventure to be, here are a few comprehensive guide books that can help you pick:
Epic Hikes of the World, 100 Hikes of a Lifetime, 100 Parks, 5,000 Ideas & Epic Drives of the World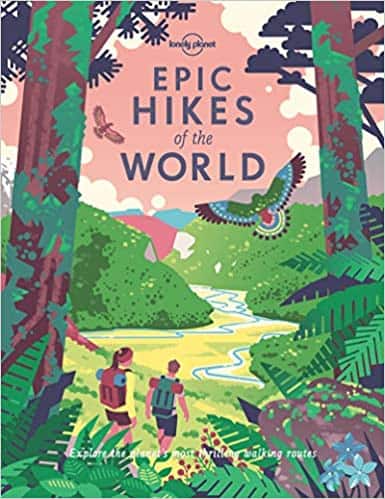 Via Pinterest
Pinterest is a fantastic resource for travel itineraries!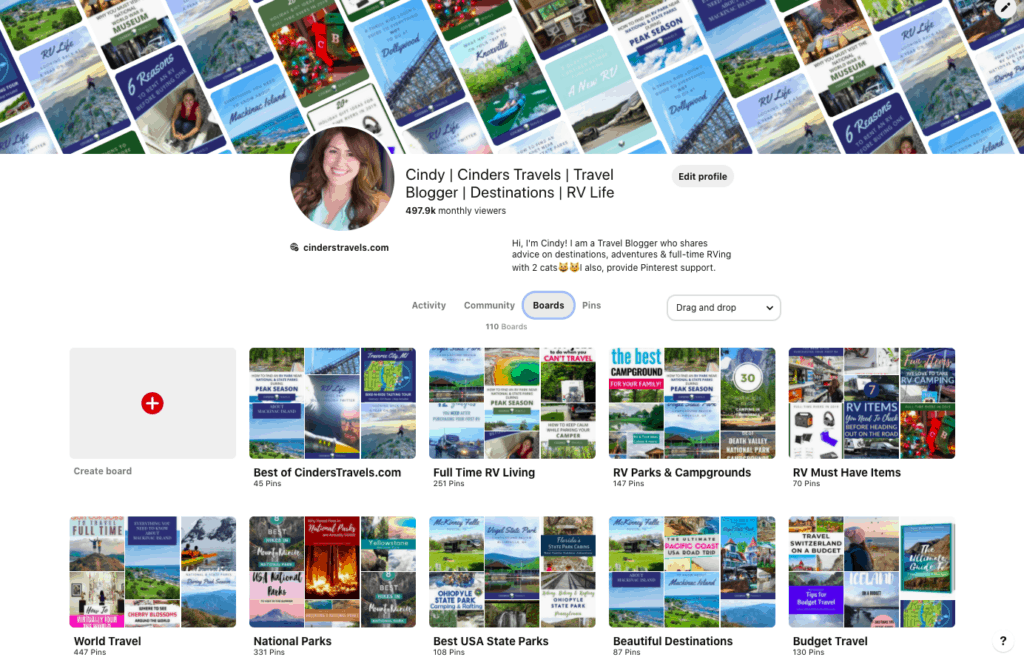 If you're not sure where to start, check out my page! I have TONS of travel content living there!
And then, if you happen to love Pinterest and virtual travel content as much as I do, please feel free to give me a follow. I follow hundreds of different travel and RV blogs and guarantee to have tons of pins that would be of interest to anyone looking for their next travel adventure.
Via Travel Blogs
There are so many fantastic travel blogs out there. As I said above, Pinterest is a great resource to use to start finding your favorites.
A few that have spoken to me over the years include: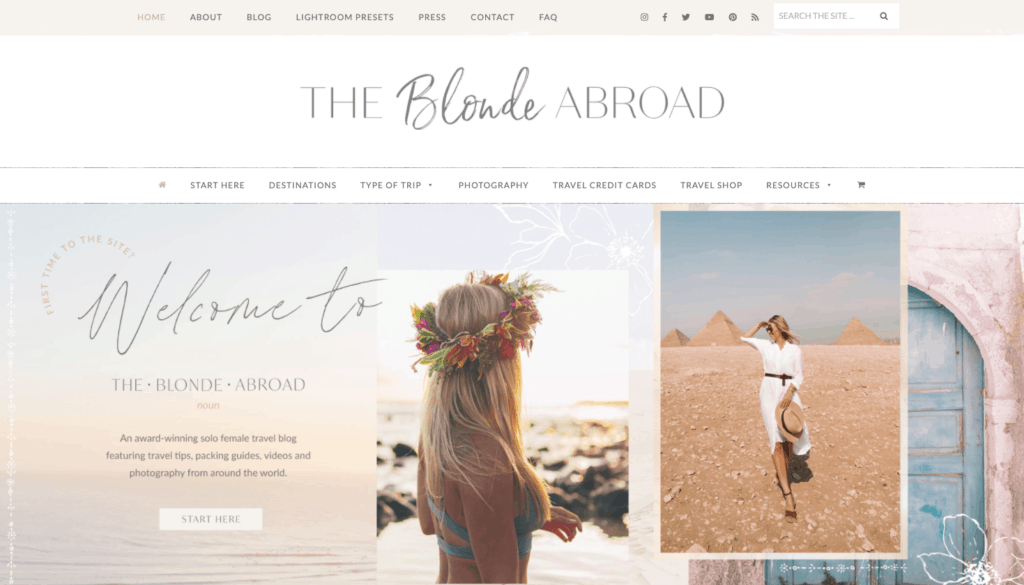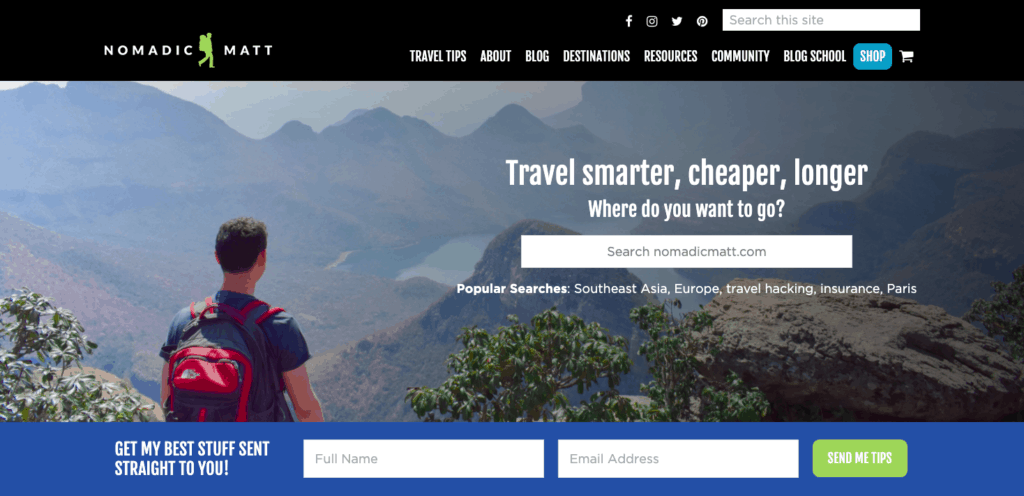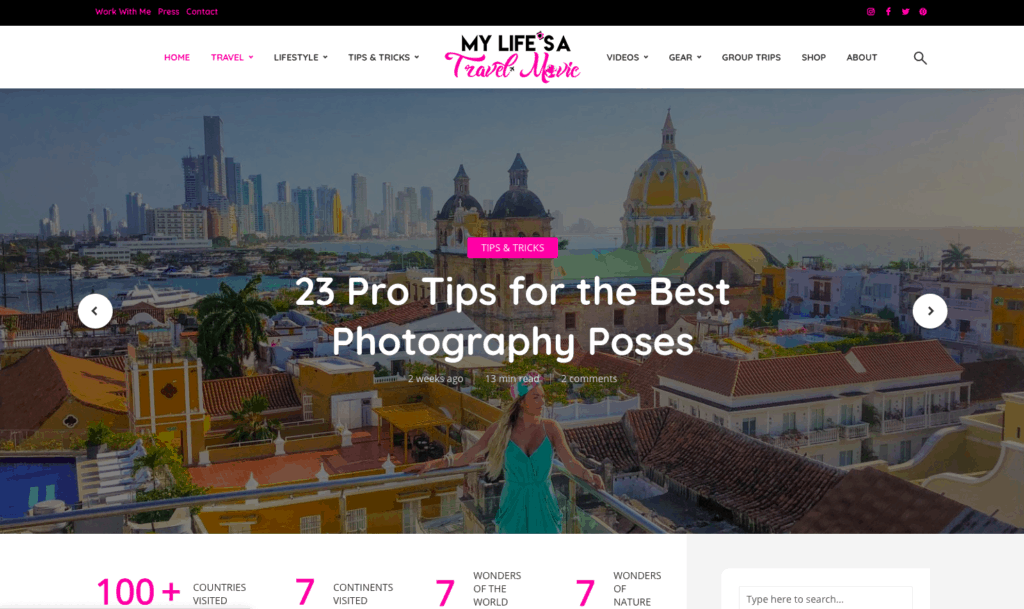 ---
And Then Also, (#shamelessplug) This Blog, Of Course!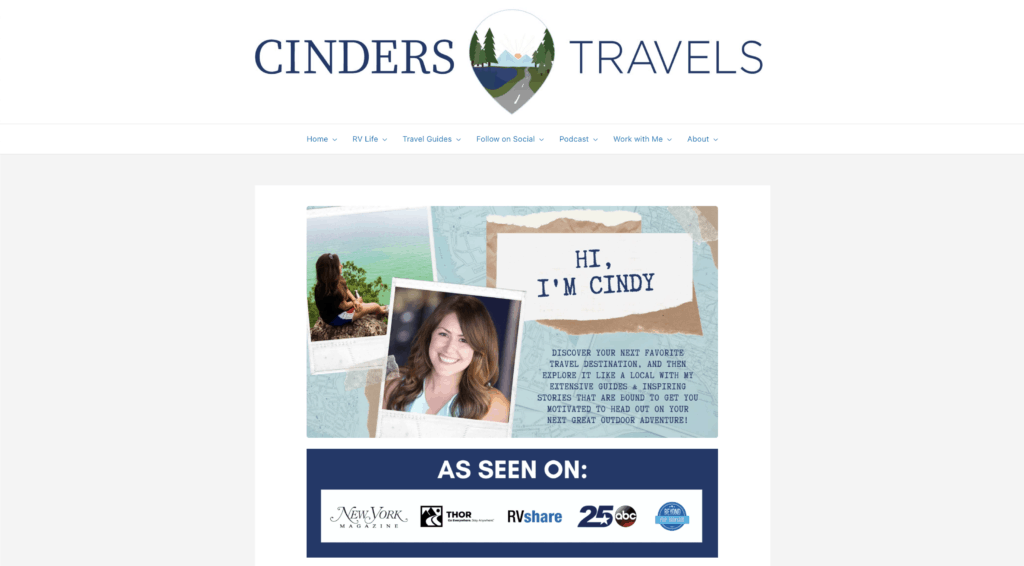 A few of my favorite travel itineraries that I've created include:
👉 Everything You Need to Know about Mackinac Island
👉 The Ultimate One Day Badlands National Park Road Trip Itinerary
👉 A Smoky Mountains Itinerary for Every Type of Traveler & Everything Else you Need to Know!
👉 What Not to Miss on Your Trip to Knoxville
Via Podcasts
Travel podcasts are another great resource that can help inspire your next trip.
A few popular favorites include Zero to Travel, Travel with Rick Steves, Amateur Traveler, and Extra Pack of Peanuts.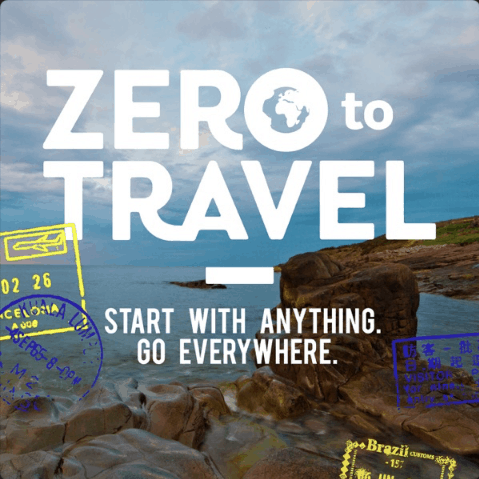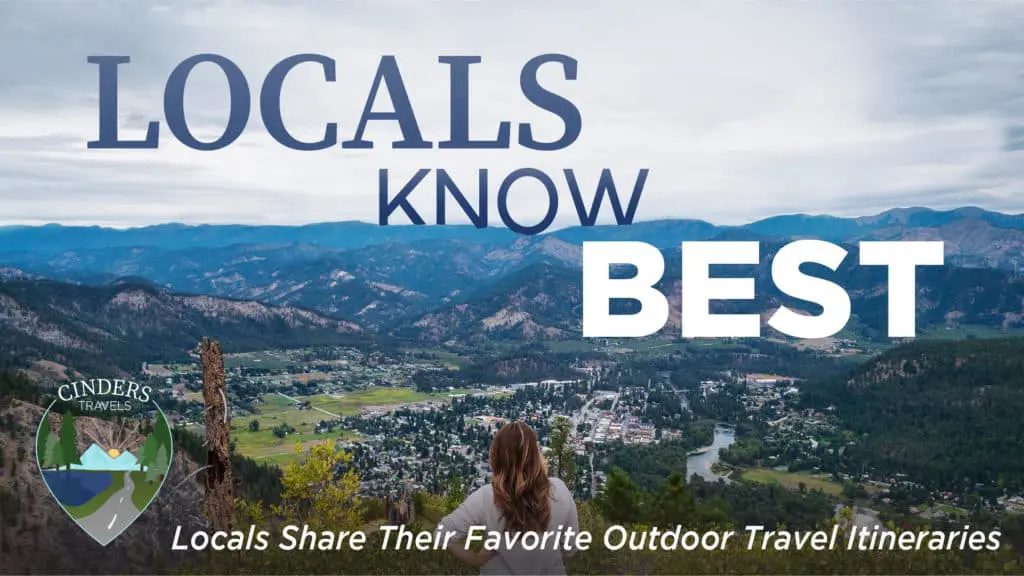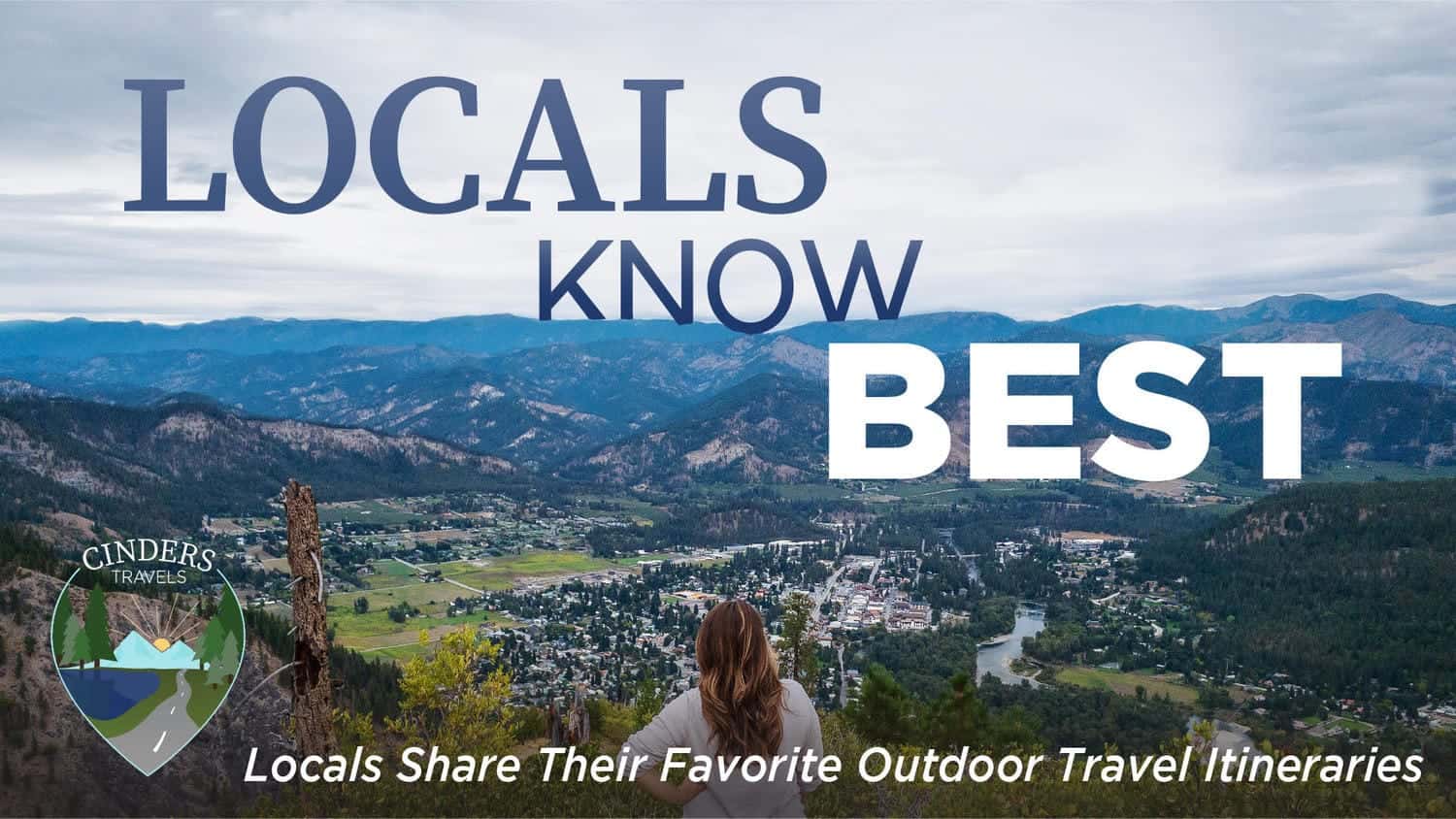 As well as this blog's podcast, Locals Know Best!
Subscribe now for bi-weekly episodes all about the next place you didn't even know you needed to visit!
Nothing compares to a local's perspective, and that's precisely what I show you in this podcast series, Locals Know Best!
My guests share the places and outdoor travel adventures they love most in their own backyard. Topics include unique lodging, favorite dining spots, treasured outdoor activities, and a breakdown of whether the instafamous and possibly overrated spots in town are worth checking out.
A few of my favorite episodes include:
---
And that's all! I hope everyone can find at least one good distraction in this blog post that helps out with soothing your current wanderlust!
Did you think of a good distraction I left out? Let me know in the comments below! ?