(Last Updated On: December 1, 2023)


If you're here, you must be getting ready to enter the RV world.
How awesome!
From 2018 to 2021, my husband Barrett and I were full-time RVers, making loops of the United States, exploring while also working and returning to school, all from the road.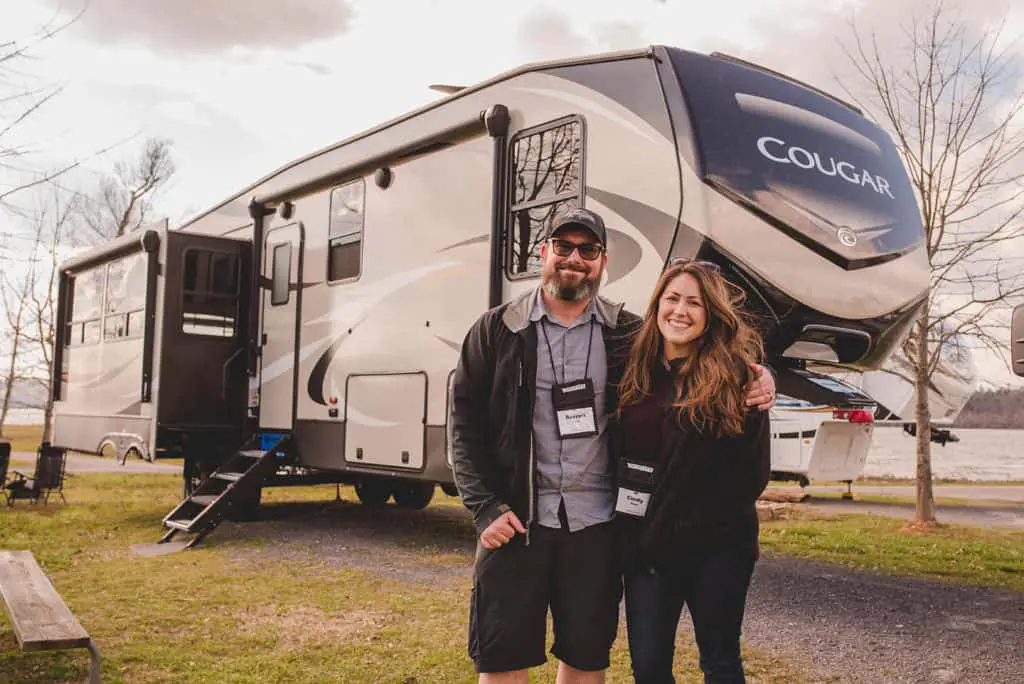 Our Keystone Cougar Fifth Wheel took us all over the United States, and we never once regretted having it.
RVs are a fantastic way to get out and adventure outdoors!
So now you're probably wondering… What do you need to keep your RV protected and to get the most enjoyment out of your RV!? What items are RV must-haves?
A simple stroll through Camping World can be stress-inducing. There are a lot of gadgets (and information about those gadgets) out there!
If you're new to the RV world, you may feel overwhelmed trying to figure out what you need.
And not only that, what products will get the job done at a decent price point?
While living on the road, we spent a lot of time researching RV gear.
This exhaustive RV must-haves list covers the most important items worth considering after buying your first RV.
After loads of research, in-field usage, and experience, this article details which items work for us (and even a few things that did not).
For every category and item, I'll explain why it's worthy of precious storage room in your RV, what to consider when purchasing the item, and a quick note on our experience with the product.
If we didn't use a "fan favorite" item, I will also list those out along the way because, let's face it, everyone's preferences vary.
Read on to learn more about what items will serve you best in your brand-new RV!
Tips on using this article:

My goal with this article is to help you get on the road as prepared as possible by sharing our take on what items we believe will serve you best.

I have split this comprehensive list into nine pages so the website will perform optimally.

To get to any specific category, use the Table of Contents at the top of this post.

There are also quick links to all the RV gear categories at the bottom of every page of this post.

Happy researching!
RV Must-Haves: The Top 10 Essentials for RV Camping Newbies
Let's start off with the most imperative items you need for your new RV.
These are the top ten items you should consider purchasing right away for safety and comfortable living reasons.
EMS RV Surge Protector
I consider this the most important item you should buy when you buy an RV.
A surge protector is the simplest and most affordable way to protect the investment you just purchased.
Power available at campgrounds is anything but reliable. They often have power surges and lose power completely.
Finding a device that will protect the electronic elements inside your RV is crucial.
There are two options when looking into EMS surge protectors: hardwired and portable. I'll touch on both.
One thing to note is that when shopping for these, make sure you purchase one for the AMP of your RV. For example, if you have a 50 AMP RV, you will want a 50 AMP Surge Protector.
Hardwired
Going the hardwired route entails actually hardwiring the device into your vehicle. If you are uncomfortable doing this, hire an electrician or buy the portable option (discussed next).
If you opt for a hardwired device and are planning on burying it in a cabinet like we did, get one with a readout device that you can install elsewhere in your RV.
That way, if the device cuts your power off to protect your RV, you can easily see the readout screen and figure out what went wrong.
Portable
Portable surge protectors work the same as the above option.
But instead of being hardwired into your rig, you must remember to plug it into the power pole at your spot before you plug in your power cord every time you relocate, or it will not protect you.
Sadly, these devices are commonly stolen in city camping environments. If you opt for a portable device, purchasing a lock is wise to secure it.
Circuit Analyzer with Surge Protection
Another popular option RVers use to ensure the safety of their RV's electrical system is a Camco Power Grip Circuit Analyzer Adapter.
This weatherproof device protects against power surges and has diagnostic LEDs that promptly alert you to wiring faults when connecting your electrical cord to the power pedestal.
The circuit analyzer goes a step further by highlighting wiring issues such as reverse polarity, open neutral, and other wiring concerns.
Overall, this is another option for protecting your RV's electrical equipment.
Drinking Water Safe Hose
You'll want to ensure you get a Drinking Water Safe Hose to facilitate bringing water into your RV.
Generic hoses are often not made for safe, drinkable water. They tend to release metals and toxins into the water flowing through them, which, if drunk, can make you sick.
When wondering what length to purchase, we've noticed the water spigot at campsites is generally closer to the RV than the electrical post. A 25-foot-long hose should work just fine in most RV park spots.
RV Sewer Hose Kit
If you're new to RVing, you'll need a sewer hose to help eliminate the waste generated within the RV kitchen and bathroom.
After trying a few brands, I am all in on Valterra.
Valterra is a trusted brand. They make a durable product that I highly recommend over some of the cheaper alternatives.
Trust me, spending a few extra dollars on a sewer hose is worth it.
We've had a few bad experiences with cheaper hoses that don't last as long, and I can vouch that there's not much worse than dealing with a broken sewer hose.
We love the Valterra 20-Foot Dominator RV Sewer Hose Kit because it can be either 20 feet long or split in half and 10 feet long if you don't need all that length.
The 90-degree clear fitting for the end of the hose is also extremely helpful in letting you know when you've successfully drained the tanks.
RV Leveling Blocks (or Jack Pads)
RV sites come in all shapes and sizes.
Having a healthy stock of leveling blocks helps you ensure your RV will be able to be level, no matter where you're parked.
And having the RV level is about more than just comfortably walking around. It also helps the appliances function properly and safely within your RV.
RV blocks vary a little between brands, so what's important to consider is how many you'll carry.
Depending on how uneven your campsite is, you may need several blocks to level out the RV.
You can also purchase one-piece leveling ramps, but they are usually only one size and have weight restrictions, which can be limiting.
Here are a few different options worth looking into:
RV Stabilizers
RV stabilizers are similar to leveling blocks but boast the added perk of offering more stability to your rig.
You can still stack and level with them, but they aren't as slim, so it will be a different experience and a little tricker.
While having lots of short leveling blocks is more helpful in off-grid scenarios, stabilizers are more useful in already-level, established spots in RV parks.
These ones from Andersen Hitches are prevalent among RVers:
RV Wheel Chocks
RV wheel chocks are essential for ensuring your vehicle's tires stay locked in place.
Keeping your tires locked also helps stabilize the RV since it reduces wheel movement.
While you could use a piece of wood or a plastic chock to lock your wheels if your vehicle is small, there are better methods for travel trailers and fifth wheels. Rubber chocks are the best way to keep larger RVs in place.
You'll want to add a chock in front and behind the wheels. It should be at least ¼ of the tire's height.
Many wheel chocks have a tonnage rating that you should match to your RV's weight. Larger RVs require longer, heavier chocks to maintain traction.
Roadside Emergency Kit
While I hope no one reading this ever gets into a tricky roadside situation, they happen.
We've had emergencies happen in parts of the United States where services are unavailable.
It is not very expensive to be prepared. You'll never regret it.
It's no fun being stuck on the side of the road with an RV.
Roadside emergency kits such as the one below are abundant online. You have plenty of options to pick from.
However, if you decide to build one on your own, here are a few standard items you should make sure are in your kit that would be most helpful:
✅ Mylar Blanket
✅ Water
✅ Snacks
✅ Reflectors
✅ Jumper Cables
✅ A Traction Aid, such as non-clumping kitty litter.
✅ First Aid Kit. (More on that next.)
First Aid Kit
In addition to an emergency kit for your vehicle, you should have one for you and every other person you intend to adventure with.
Again, you never know where an accident will happen. Anywhere you are spending time, you should have a first aid kit.
Having a proper first aid kit on hand can help reduce the harshness of injuries that occur.
The American Red Cross has these recommendations for a family first aid kit. When shopping, it would be great to ensure the first-aid kit you purchase has everything on their list.
Spare Tire
It's likely your RV came with a spare tire. If it didn't, pick one up as soon as possible.
The road is unpredictable. A spare tire is an easy way to make your day quickly go from drab back to fab.
When shopping for a new spare tire, consider what type you need.
A full-sized spare tire would be optimal, ultimately doing the best job of getting you to the tire store where you'll buy a new one. But it will take up ample storage room when not in use.
A smaller donut spare tire will be the most compact. If you only have a small storage area, this tire option takes up less room.
At the end of the day, having either is better than having nothing at all.
Adapters
You may have noticed your RV's power plug looks different.
Your RV has likely come with either a 30- or 50-AMP electrical system.
RV electrical systems are designed to handle more watts than the 15- or 20-AMP home sockets you're used to.
Connecting your RV to an outlet different from the one your RV left the factory preconfigured for requires an adaptor.
However, be aware that adapters won't provide additional benefits.
So, reducing the AMPs your RV is running on will limit what you can power in your RV.
For example, when attempting to use the appliances you're used to in a 50-AMP rig when connected to shore power via a 30-AMP adapter, you will find it easy to go over the new lower level of available wattage power, leading you to trip breakers in your RV.
Our RV came as a 50-AMP rig. If we're ever hooked up to 30-AMP power via an adapter and try to use our microwave while also running the air conditioner, it will trip the breakers because running both simultaneously requires more power than we receive via a 30-AMP adapter.
Ultimately, we must use one or the other separately in those situations.
RV Extension Cords
Despite all the planning that goes into building an RV park, sometimes the power pole is not in a convenient location.
In those cases, to get your RV connected to shore power, you'll need an RV extension cord.
However, these are different from your everyday extension cords. They're thick, weatherproof cords rated to carry enough electricity to power your entire RV.
Cords are rated based on amperage, so pick one that matches your RV's power requirements (30- or 50-AMP).
Continue Reading:

PAGE ONE: Top Ten RV Must-Haves
PAGE TWO: RV Water & Sewer Supplies
PAGE THREE: Road Trip Planning Tools
PAGE FOUR: Fundamentals for RV Emergencies, Safety, & Maintenance
PAGE FIVE: RV Kitchen Essentials
PAGE SIX: RV Bedroom, Closet, Laundry, Bathroom, & Living Room Essentials
PAGE SEVEN: RV Internet & Boondocking Essentials
PAGE EIGHT: Fun Outdoor Camping Items, Traveling with Bikes, & Traveling with Pets
PAGE NINE: Stationary RV Living, Winter RV Living, RV Storage, & FAQs