(Last Updated On: September 18, 2023)


This blog post is a nine-page comprehensive Appalachian Trail thru-hike gear guide.
If you have arrived in the middle of the guide but would like to start at the beginning, click here.
Personal Luxury Items
Luxury items are considered indulgences.
Only you can decide if these items are worth the weight of carrying them with you on your journey.
Hiking Umbrella
(5-8 oz)
Hiking umbrellas seem less prevalent on the AT than on other hiking trails, such as the PCT.
Despite all the rain, that is likely due to the lack of sun.
We did not hike with umbrellas, but there is a case to be made for them, even while hiking the green tunnel.
They provide you with the following:
☔️ A shield from the elements, including the sun, rain, and snow.
☔️ A more comprehensive range of view while hiking in the rain.
☔️ An option to keep you dry in warm rain without having to sweat your butt off in all your rain gear, which also renders your rain gear less effective.
☔️ The creation of a dry cook spot.
If you opt to carry one, make sure it's lightweight, is built of quality components, has a large canopy, and is UPF rated to protect from the rain and sun.
Pillow
Resting on trail is vital for your recovery and continued hiking success. A pillow may or may not be part of what you consider necessary sleep equipment.
While I don't consider a pillow a "luxury item," it is commonly considered that among hikers, so I have placed it in this section instead of the sleep system section.
Many hikers skip carrying a pillow by sleeping without one or using their clothing, puffy, or other soft items in a stuff sack to form a pillow.
If you decide you'd like a pillow, consider your sleep style and your head size.
Barrett and I loved this Sea to Summit Aeros Premium pillow in the deluxe size.
If you stay put while you sleep and have a small head, you can get away with one of the smaller, lighter-weight sizes this pillow comes in.
If you plan on sleeping in a shelter most nights, you will often be in close quarters with snorers. Ear plugs will become a necessity.
Also, snoring won't only occur in shelters. You'll experience it in the hostel bunks as well.
Beyond them being helpful to drown out snorers, though, I found that if a day was long and my emotions were heightened, I enjoyed using them to eliminate all surrounding noise and help me fall asleep.
They do also make smaller ones for smaller canals. You may think this is silly, but I point it out because I thought effective earplugs were a myth for the longest time until I realized most were simply too big for my ears and not sitting in them properly.
So, if you've had that similar feeling in the past, consider the following:
Sit Pad
These pads make it so you can sit comfortably in almost any location.
I thought these were entirely unnecessary until my husband had me test one out.
I was wrong.
Having a seat anywhere you want to make one is super helpful.
We each had one and used them daily.
Towel
A towel is an excellent addition for those wanting to rinse off in the evenings.
My husband was concerned about not being able to sleep at night if he was sticky and sweaty.
When I asked him what item he MOST wanted to talk about out of ALL of our gear, he said his towel.
When using it, he rarely used soap. He would simply rinse himself off with water using the towel as a washcloth.
Then he would wring out the towel and also be able to use it to dry off with it.
Those actions gave him the feeling of being cleaned off each evening. He said it made a huge difference for him and saw it as instrumental in helping him complete his thru-hike.
When seeking out a towel, its ability to dry quickly is arguably the most crucial feature.
You want all the water to wring out almost immediately, so you're not carrying any extra water weight after using it.
Sea to Summit's Airlite polyester towel provides a lightweight, compact, and quick-drying option to dry yourself off when needed.
In our experience, nine times out of ten, when used in the evening, this towel would be dry by morning.
Mini Towel
It is helpful to keep a polyester/nylon absorbent, wring-out-able, quick-drying mini towel with a built-in carabiner loop (such as the REI Co-op Multi Towel Mini) on hand.
You'll be surprised how often you find a need for a lightweight mini towel.
I loved these bad boys due to their ability to soak up copious amounts of water and release it instantly, feeling almost dry.
I had three in various colors, and they all had different jobs. They were most often used as sweat rags, dish-drying rags, hankies, or something to mop up excess water from the tent.
Fanny Pack
Fanny packs are traditionally used to hold anything you want easy access to throughout your hiking day, such as your snacks or phone.
They help reduce the number of times you must stop and take off your pack.
I wanted to take my fanny pack game one step further for my thru-hike.
I was looking for a fanny that would also be strong enough to help me get a few small yet heavy items off my back, such as my battery bank and selfie stick.
I found this fanny pack from Chicken Tramper to be perfect!
I was initially attracted to Chicken Tramper's fanny packs due to their size options, "cool" look, and the fact that they come from a Michigan-based company. (Born and bred Michigander here!)
Then, after trying a few other fanny packs, the durability and strength of CTUG's fanny packs ultimately sealed the deal for me.
The material is waterproof and abrasion resistant. The zipper is water-resistant.
Due to the zipper not being waterproof, I recommend still Ziplocking anything that shouldn't get wet inside the fanny. (Though we never had a problem with anything getting ruined inside either of ours.)
Overall it held up like a champ after being dragged across the northern states' mountain climbs and drenched repeatedly. (I wore my rain jacket over the fanny pack when it rained heavily.)
The 2.5L size worked well for us, but they also sell a smaller 1L and a larger 4L one.
Selfie Stick
If pictures will serve as the primary form of documentation of your thru-hike, you should consider bringing a selfie stick to broaden your photo options.
Once I found a strong fanny pack, I committed to bringing a selfie stick.
I wanted to bring a selfie stick so we could get photos that included both of us as well as more of the beautiful landscape in the background.
For just over 5 ounces, this one on Amazon is sturdy enough to be used in your hand as a stick but also has a wireless remote that pops out so you can set it up on the ground and use it as a tripod.
When looking, there are lighter-weight sticks, but be warned, they become less capable of holding up your phone as they get lighter.
Mascot
Liberty Bear
(1 oz)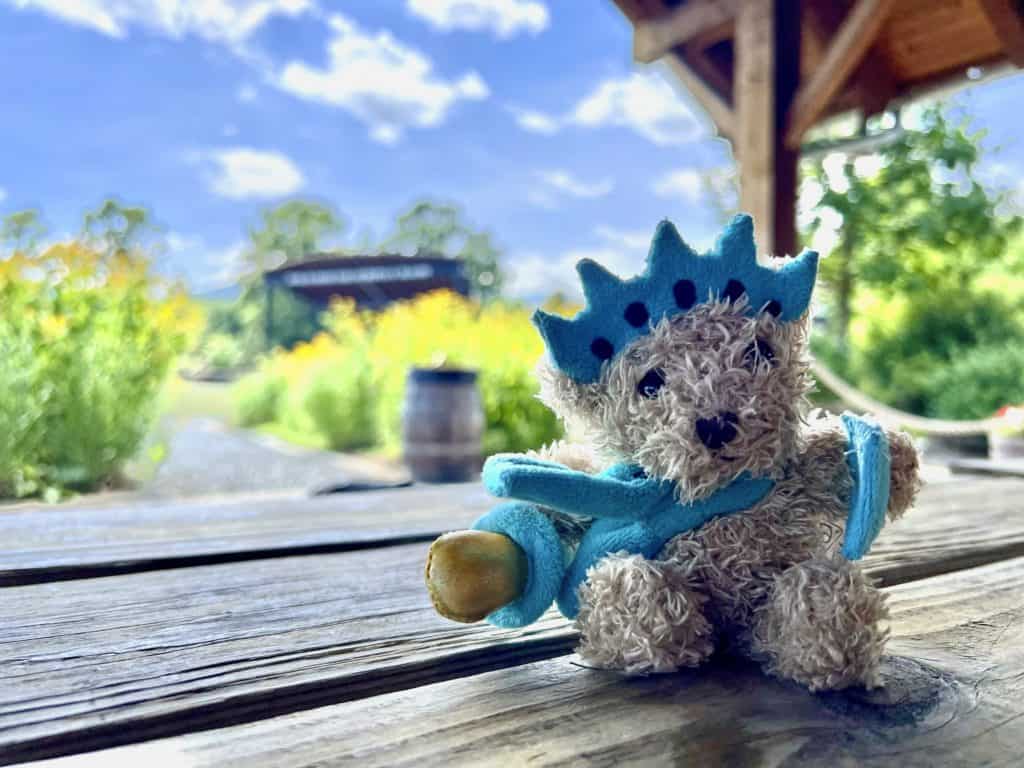 A mascot is an object/character you choose to bring along with you on the trail!
Liberty Bear (or, as we lovingly referred to him, LB) started as my mascot but eventually became our mascot.
(Also, please don't ask me why my Statue of Liberty bear is a man. A few people asked me on trail. I have no good answer except that I think of most teddy bears as men. It must be connected to Theodore Roosevelt or something… Anywho!)
LB basically became our trail pet. We spoke to him as we would our cat and dog back home.
You may think this is silly, but I think LB was good for our mental health and helped us feel less alone at times.
I chose him while we were in NYC at the Statue of Liberty because I loved what he represented.
Liberty is defined by the Oxford Languages and Google dictionary as "the state of being free within society from oppressive restrictions imposed by authority on one's way of life, behavior, or political views."
He was the ideal 1 oz reminder of the life and opportunities I'm given in this country, that I am free to live the life I choose, and how wonderful that is.
Pick a mascot that speaks to you! I swear you'll be happy you did.
Cork Massage Balls
Thank goodness for these!
These cork balls are a great way to still have a lightweight massage therapy option in your pack that's not as heavy as a lacrosse ball.
At the end of a long day of hiking, there's nothing better than rolling your muscles out with these balls.
They provide relief from the tension, aches, and pains that were built up throughout the day.
They were very popular on trail. People would see us using them and often ask to be next.
2.4 Inch Ball (Classic Sized):
The classic-sized ball is best for the larger muscles, such as your back and legs.
It was my favorite. I used it under my legs, on my shoulders, and along my back.
2 Inch Ball (Mini/Pocket Sized):
The pocket-sized ball is best for calves and feet.
It was Barrett's favorite.
Bidet
If you are accustomed to having a bidet in your day-to-day life, they make extremely small and lightweight water bottle attachment bidets worth considering for trail.
This was not important to me, but it might be to you! So I wanted you to know this option exists.
I figured I wouldn't want to use it with any bottle I was carrying for drinking purposes, and then I also couldn't rationalize having an extra water bottle just for this.
So for me, TP alone worked.
Instrument
Music will always be integral to people's lives and have its place on the trail.
Instruments are an awesome ambiance creator if you know how to play one and are okay with adding their weight to your pack.
We saw people hiking with ukuleles, guitars, harmonicas, and even a mini violin!
Keep in mind it's tough to keep anything intact on the trail. You may not want to bring the family heirloom ukulele. There is a high probability of it breaking along the way.
Card Games
Some hikers choose to bring card games as an evening entertainment option.
I started our hike carrying a waterproof deck of cards. (And almost this waterproof Uno as well.)
However, I quickly found out that any additional "post-hike" activities were unnecessary to carry along.
I was pooped in the evenings and didn't have a lot of social energy left for cards.
I did have the energy for it on zero days, but then I found cards were often lying around at hostels.
So, my cards were shipped back home within the first few weeks of our hike.
However, if you think you'll have more energy in the evenings on trail and wish to be the life of the party, they're worth considering.
If you're going to play Solitaire or other single-player games in your tent to decompress, your cell phone will work fine for that.
Kindle
Reading is another pastime hikers enjoy in the evening.
If you're looking for a lightweight way to read without killing your phone battery, bringing a Kindle is worth considering since a Kindle can provide up to 10 weeks of reading on one charge!
Only you can decide whether the added weight is worth carrying.
I considered the Kindle but ended up opting for my phone and the Kindle app, sacrificing the phone juice in exchange for less overall weight in my pack.
Wireless Earbuds
Enjoying the sounds of the great outdoors is an incredible perk of thru-hiking, but after months on the trail, there will also be days you'll want to listen to a podcast or music.
This TOZOs set on Amazon is an excellent option for trail.
While the audio output is lower quality than the fancier brands, the price tag is perfect.
At their $30 price point, you won't worry about whether or not they'll still be in one piece when you're finished.
And that's not their only pro. You'll get 10 hours of listening on a single charge and 45 hours from the charging case with these bad boys, which I've found is almost double what I get from my AirPods Pros.
With that kind of playtime, you can rely on these earbuds to make it from hostel to hostel without having to recharge them from your battery bank while on the trail.
When you do have to charge them back up, it takes less than two hours to get the case recharged and those 45 hours of playtime back.
The TOZOs are also sweat and waterproof, which is another area they beat the AirPods Pros, which are only water and sweat resistant. That will matter to you when you're hiking through a rainstorm and want to listen to music to lift your spirits.
I often hiked with the right one in, so I could skip songs via the touch controls, and then slept with the left one in, so one was always on the charger, yet I could still always hear my surroundings.
Camera
Some hikers choose to hike with a camera capable of capturing higher-resolution snapshots.
The OLYMPUS Tough TG-6 has been the industry leader in rugged point-and-shoots for quite a while now.
This camera is waterproof, dustproof, shockproof, crushproof, freezeproof, and anti-fog!
It is an excellent choice for the Appalachian Trail because there will be moments along the way you will need protection from every single one of those elements.
A quick note on my favorite point-and-shoot, the Sony RX100 VII.
The line of Sony RX100 cameras has been my go-to small camera for adventure for years, but a thru-hike of the Appalachian Trail is a different beast.
We never had enough protection from the elements to keep me from worrying about it getting ruined.
I started with the RX100 but knew after our first big storm that I couldn't keep it safe.
I decided my phone took raw photos that were good enough for me.
Did I have moments I missed its low light abilities and zoom? Yes.
However, I'm still happy I shipped it home when I did. My phone provided me with plenty of memories.
On my next long hike, I will likely bring the Tough TG-6.
Compass
It's surprisingly easy to get turned around on trail, even if you have a great sense of direction.
A compass is fantastic for getting you back on track.
Also, yes, phones do have compasses. But if you want to be sure you have one at all times, even if your phone is dead, look into a small, lightweight option such as this Coghlan's compass.
We had a small one on a plastic clipable card that also came with a thermometer. It didn't last, so we used our phone for the remainder of the trail.
If I were to take off on a new trip today, I'd get this one. It looks sturdier, and I like that it doubles as a carabiner!
Journal/Notebook
(1.43 oz)
While I did almost all of my journaling digitally, I still always carried a tiny notebook and a pen just in case I needed to jot some information down and couldn't use my phone.
Every once in a while, I found a use for it.
But honestly, I pulled out the pen more than the notebook. Usually, to sign a register or a shelter logbook.
I stored both in a Ziplock bag, in my food bag, to keep them dry.
That said, some hikers will always prefer to make notes on paper.
If you're one of those people, I found these journals on Amazon tiny and lightweight.
These Appalachian Trail passport books are neat and deserve the last spot on the list.
Before heading out, I bought one for Barrett for his birthday, but it didn't make the cut. (We decided before taking off that photos would be enough documentation for us.)
However, I did see quite a few thru-hikers using them along the way to track their journeys.
It seemed like every hostel, gear store, landmark, and even some shuttle drivers and trail angels had a stamper.
It's a neat way to track your trek that only weighs one extra ounce.
If that sounds like a memento you'd like to have at the end of your thru-hike, you should get one and enjoy it!
Appalachian Trail Gear List: FAQs
Download the Appalachian Trail Gear List for Thru-Hikers in 2023
(coming soon)
Continue Reading:

PAGE ONE: Shelter
PAGE TWO: Sleep System
PAGE THREE: Backpack
PAGE FOUR: Clothing
PAGE FIVE: Footwear
PAGE SIX: Food & Cooking Gear, Water Treatment System
PAGE SEVEN: Other Gear
PAGE EIGHT: Electronics, Navigation & GPS, Essential Hygiene Items, Less Important Hygiene Items, Bug Management
PAGE NINE: Personal Luxury Items, FAQs