(Last Updated On: September 18, 2023)


This blog post is a nine-page comprehensive Appalachian Trail thru-hike gear guide.
If you have arrived in the middle of the guide but would like to start at the beginning, click here.
Food & Cooking Gear
We all need to eat, especially after a long day of hiking.
It's best to consider your eating style when picking the most appealing cooking gear.
Curious about how to stay fed on a thru-hike?
Would a post with our Appalachian Trail food list, focused on what we ate most often, interest you?
If so, email me and let me know!
Backpacking Stove
You'll need a backpacking stove if you want to enjoy any warm food items during your thru-hike.
Two different stoves are very popular with thru-hikers: the MSR PocketRocket 2 and the Jetboil Flash Cooking System.
Let's break down the difference so you can pick the one that's best for you.
Our Pick:
MSR PocketRocket 2 Stove
(2.6 oz)
The MSR PocketRocket 2 is a cooking device you screw on top of a fuel can that will generate stovetop heat while also creating a platform for a pot or pan to sit on while being heated up.
This device wins when it comes to weight and flexibility.
Coming in at only 2.6 ounces, it is much lighter than the Jetboil, although you have to add the weight of a cooking vessel into the equation with the PocketRocket.
Also, you can adjust the heat level from the device, giving you different warmth options.
Where the MSR PocketRocket loses is in the time you're waiting for your water to boil, with an average boil time of 2.5-3.5 minutes for two cups of water.
You'll also burn through fuel canisters quicker with these due to the extended run time needed to reach a boil.
We took this stove with us because I already had it, purchased from an REI Garage Sale about ten years ago.
That PocketRocket has been serving me well on camping trips ever since, including the entirety of the Appalachian Trail.
If you're looking for the lightest option, this will be your stove.
(13.1 oz)
The Jetboil Flash is an all-in-one system with your cooking pot integrated into the stove.
It is loved because it does one thing very fast – boil water. This device brings two cups of water to a boil in ~100 seconds.
The quickness of this system also helps you enjoy your meal quicker and supports your fuel lasting longer.
The con is its weight and the fact that it cannot simmer, only boil.
If you want to eat as soon as possible and conserve fuel, this will be your stove.
Backpacking Gas/Fuel
You will need an isobutane/propane gas canister to operate the above stoves.
There are many brands sold along the trail. As long as it's isobutane/propane, it should work.
For two people, a 4 oz canister would generally last us a week on trail, including making coffee every morning for two and dinner every evening for two.
Cookware or Cook Kit: Cup/Bowl/Mug/Cooking Pot
And now, onto your cooking and eating vessels.
The cooking gear needed for the AT is quite simple.
You don't need a cup, bowl, mug, and cooking pot; merely whichever combination works best for you.
You can even get away with choosing only one, but I suggest picking two of the above items if you enjoy drinking and eating warm things simultaneously.
I had a cooking pot and a mug. My husband had only a cooking pot.
Cooking Pot & Mug
If not using a Jetboil, you will need a cooking pot serving as your vessel for boiling water. It also could be your dinner bowl and mug if you wanted.
In this category, you're looking for a durable pot with good insulation that's comfortable enough to hold while eating and drinking (if you want it to be versatile).
You'll also want to ensure you're looking at the lighter, less insulated single-walled pots.
(You cannot cook in double-walled options, they provide better insulation and are for eating and drinking only.)
Take a moment to consider the makeup of a few different options out there and decide what would be best for you:
Titanium vs. Plastic vs. Steel
Titanium: Most expensive. Lightest. Durable.
Plastic: Affordable and lightweight. The least durable of the three.
Steel: Cheaper than titanium but heavier than titanium. Durable.
Barrett ultimately went with the TOAKS Titanium 1100ml cooking pot, which served as our container for boiling water, and his dinner bowl and mug.
Husband's Pick:
TOAKS Titanium 1100ml Pot with Pan
(5.6 oz)
Barrett enjoyed this larger, lightweight, durable titanium pot.
It was big enough to let food boil, stir and not make a big mess. He didn't have to worry about splattering food and scent all over the ground.
It was also large enough to make a huge meal to split. In the mornings, we would brew coffee for two in it.
He could fit a small fuel can, the PocketRocket stove, a lighter, and a towel/sponge all inside this pot, and we found the milliliter markings helpful for preparing backpacker meals.
If you wanted to save a little weight with this pot, you could test leaving the pan lid at home and picking up a flat silicone lid such as this one on Amazon to facilitate quick boiling still but carry less weight.
My Pick:
I went with a lightweight titanium pot and mug combo so I could eat and drink a warm beverage simultaneously.
My dinner pot was the TOAKS LIGHT Titanium 650ml Pot.
TOAKS LIGHT Titanium 650ml Pot
(2.8 oz w/ lid, 2.1 oz w/o lid)
This TOAKS pot was the perfect size for my meals and delivered the same durability as the abovementioned pot.
And my mug was the GSI Outdoors Infinity Backpacker Mug.
GSI Outdoors Infinity Backpacker Mug
(3.5 oz)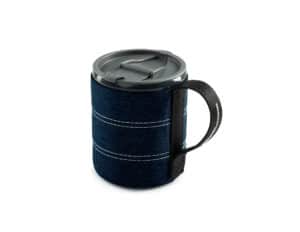 Look no further; this mug is the best.
I'm not kidding. It's both lighter and cheaper than its double-wall titanium competitors, and I can attest to beverages staying warm for over an hour in this mug when using the lid.
You can leave the lid at home to lose weight; however, as a sip-and-pack type of morning person, I enjoyed the prolonged warmth the lid provided.
It also fit perfectly inside my 650ml Toaks pot.
Note: Avoid the titanium single-wall mugs if you plan on drinking warm beverages. The single-wall mugs are more for cooking and tend to be just as hot as your beverage, burning the shit out of your lip while drinking.
Coffee and cocoa enjoyment should not be a waiting game, holding out for that perfect moment when your mug is cool enough to touch but your drink is still warm.
I recommend getting the GSI mug. It will save your lips from the single-walled titanium options and some weight from the double-walled titanium options.
Also, yes, Snow Peak makes a product you can add to your single-walled mugs to protect your lips called Snow Peak Hot Lips. Honestly, the idea of it wasn't for me.
It would be just one more thing to keep clean, add .3 oz to my mug, and touching the overall mug would still be pretty hot.
I was also still nervous about misplacing my lips onto the mug because silly things happen first thing in the morning (hence the need for the coffee).
Cup
Between the mug and cooking pot, I did not need a cup.
Popular options to look into if you desire one of these, though, are:
GSI Outdoors Escape Cup
Sea to Summit X-Series Collapsible Silicone Cool Grip Camping Mug
Sea to Summit X-Mug
Bowl
Between the mug and cooking pot, I did not need a bowl.
Popular options to look into if you desire one of these, though, are:
GSI Outdoors Escape Bowl
Sea to Summit X-Bowl Collapsible Silicone Camping Dish
Spoon / Spork
You can't forget to bring a utensil to help you eat all your yummy trail meals!
While there are backpacking silverware options made from other materials, such as silicone and plastic, titanium's long-lasting durability makes it an easy pick for a gear item as essential as this one.
Choosing between a spork or a spoon, though, is entirely personal.
Team spoon here. ? For me, the ability to scoop up liquid was more important than the ability to stab my food.
A note on long-handled spoons and sporks: If you plan on eating a lot of dehydrated backpacker meals, the long-handled spoons help you keep your mitts clean while scooping up every last bit of food.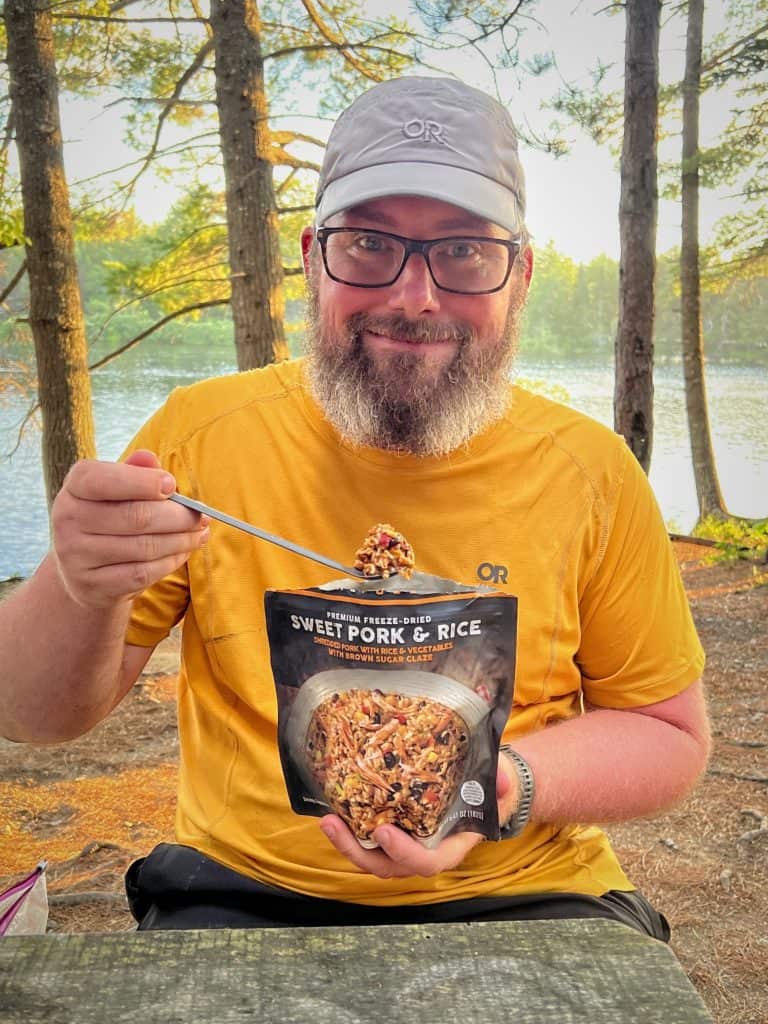 I picked this Titanium Long Handled Spoon with Polished Bowl by TOAKS. I liked that it had the shiny "feel" of a spoon from home.
Titanium Long Handled Spoon with Polished Bowl by TOAKS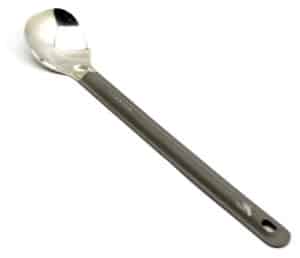 My husband had the Sea to Summit Long Spoon because I bought both spoons at the same time, and he said he'd take whichever one I didn't want. He had no complaints.
Sea to Summit Alpha Light Long Spoon
(0.4 oz)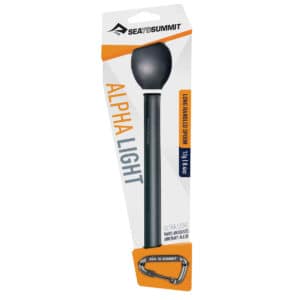 Bear Bag / Bear Canister
Bear bags and canisters keep bears (and raccoons and mice) from getting to your food.
There is a lot of debate surrounding bear bags and bear cans. I will let you go elsewhere on the internet to form your opinions on the debate part of this item.
Here's why you need a bear bag or canister: they are meant to keep your food safe, keep food smells away from where you are sleeping, and they are trying to help keep bears safe by keeping them from becoming used to "people" food.
If a bear gets food at a spot, it will start associating that spot with food, start coming around more and put new hikers in danger.
The bear will then also be in danger because problem bears are often put down.
Here's a comparison between bear bags and canisters so you can consider your options:
Bear Bag
Bear Canister
Usage
❌
Learning curve and mildly annoying to do at the end of a long hiking day.
✅
It doesn't have to be hung. They are incredibly sturdy; they can even act as a seat.
Shape / Size
✅
Lighter weight and can be molded easier into your pack.
❌
Big and clunky.
Bonus Features
❌
None.
✅
It can double as a stool.
Effectiveness
✅
If appropriately hung, effective.

❌
Easy to shred if they get it down, must be hung, but also hung properly.
✅
Very hard for an animal to get into.
Bear Bags
We used the Zpacks Bear Bagging Kit with no issues.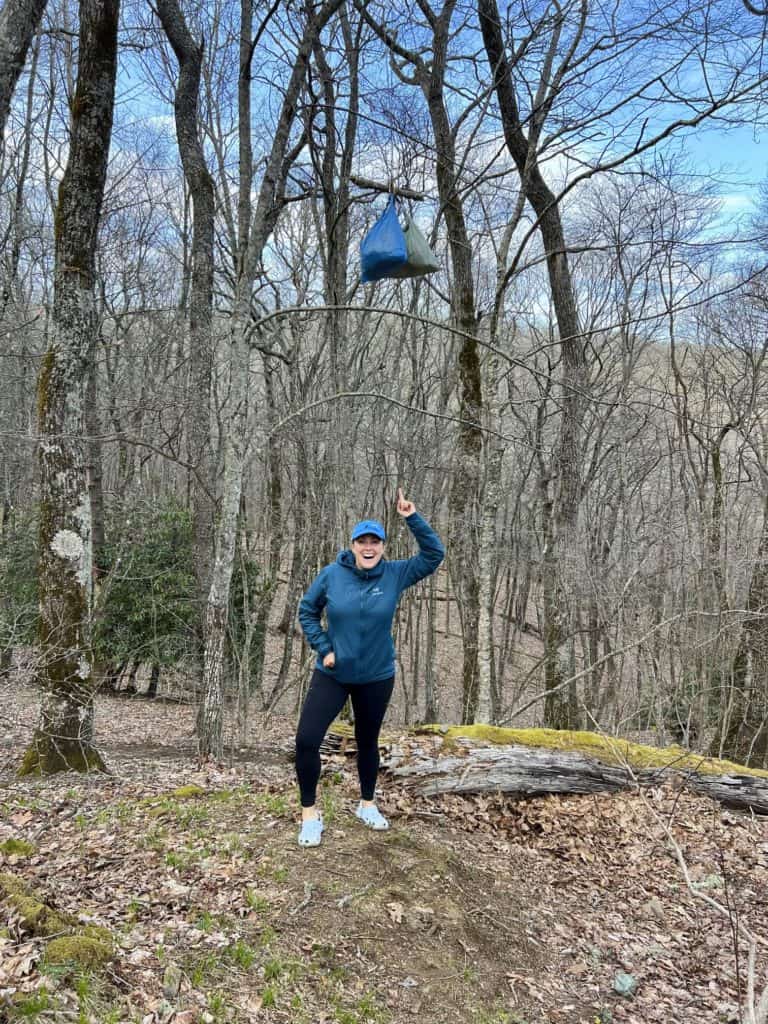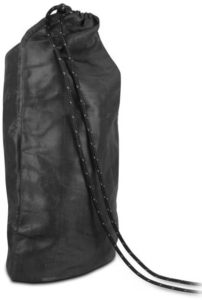 Bear Canisters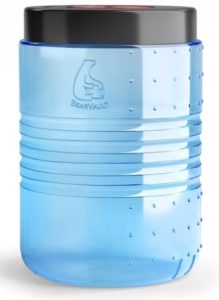 Water Treatment System
How will you stay hydrated on the AT?
For much of your hike, you will rely on obtaining your drinking water from the streams, springs, rivers, ponds, and lakes you encounter along the way.
Getting your water from a flowing (instead of stagnant) source and treating your water is ideal.
Water treatment is recommended for many reasons, but the main one is due to the parasite found in water known as Giardia.
Sadly, Giardia can make or break a thru-hike, causing some hikers to be stalled due to fatigue, vomiting, and diarrhea for up to two weeks.
There are several ways to purify water, including boiling, filtering, or using a chemical treatment tablet.
We opted for purification filters, so I'll focus on that when discussing water treatment from here on out.
Water Purification Filter & Water Bladder Container
For our process, we tended to filter three liters of water in the evening and then three liters again in the morning, carrying that water and drinking it throughout the hiking day. We often only had to stop and filter water again when we were done hiking.
With two of us getting thirsty at different times, we felt that was most manageable.
However, others choose to scoop up water as needed, which entails much less water carrying and is better for overall pack weight.
There are a few prominent players in the water filtration game.
We used the Platypus QuickDraw Microfilter and the CNOC 28mm Vecto Water Container.
Other popular options include the Sawyer Squeeze and the Katadyn BeFree.
Our Pick:
Before heading out, we tested the Sawyer Squeeze and the Platypus Quickdraw and felt the flow rate was better on the Platypus Quickdraw.
Platypus QuickDraw Microfilter
(2.1 oz)
We enjoyed using the Platypus Quickdraw along with the 3L CNOC 28mm Vecto Water Container because it was light, sturdy, rolled up compact, and had a wide opening that made it easy to scoop up large amounts of water at once from water sources.
CNOC 28mm Vecto Water Container
(3.2 oz)
When we hit portions of the trail where extra water carries were necessary due to drought, it was also great to have a 3L container so we could carry a lot of water when necessary.
Water Bottle
Your water bottle will hold your filtered water (as we did with our system) or the water you've scooped up waiting to be filtered.
It all depends on your desired water filtration process.
However, if you're using a system where you scoop your water into a water bottle and then place your filter atop, you'll need to ensure the width at the top of the bottle matches your chosen filter.
(Smart Water bottles are a popular choice to use with the Sawyer Squeeze filters.)
Since we used the Platypus QuickDraw Microfilter along with a CNOC Water Container, we could transfer the clean water into whatever water bottle we desired.
I loved to pick up flavored seltzer water along the way. It became a treat I looked forward to. I would drink it and then use the bottle as my clean water vessel until I came across a new one.
Hydration Reservoir
Some hikers enjoy having a hydration reservoir to have quick, easy access to drinking water. I was that person for the majority of the trail.
This is a personal preference that I know is unpopular, but I hated having to twist my arm 20 times a day to grab my water bottle.
I enjoyed hiking with one of these Osprey Hydraulics Hydration Reservoirs.
Osprey 2-3L Hydraulics Hydration Reservoir
(10.6-10.9 oz)
The 3-liter reservoir is only 0.3 ounces heavier than the 2-liter reservoir, so I opted to have the extra volume just in case. That said, I rarely put more than 2L at a time in it and would have been fine with the 2L option for this hike.
It should be noted; Osprey also makes a hydration reservoir weighing about half of the above.
The LT reservoir had some bad reviews when I left for my thru-hike. I was concerned about it breaking and causing a leak inside my pack.
However, I've noticed the reviews have improved. So it's worth considering this Osprey Hydraulics LT Hydration Reservoir as well:
Osprey 1.5-2.5 L Hydraulics LT Hydration Reservoir
(5.6-6.4 oz)
Electrolytes
Thru-hiking is a sweaty activity, meaning you'll lose electrolytes as you put in the miles.
There are many electrolyte replenishment options out there.
I suggest going to your local Walmart, buying any that sound good, and taking a week to taste them all.
It's nice to get this test out of the way ahead of time, so when you're out on trail, you already know which powders or tablets you like best.
I did just that and fell in love with Liquid I.V., which I consumed daily while on the AT.
Liquid I.V. Hydration Multiplier
P.S.: Keep your energy additives separate while looking into your electrolyte replenishment options. (We'll talk energy additives next.)
That way, if you only want a hydration multiplier in the afternoon or evening, you don't have to worry about the added energy keeping you up at night.
Or if you only want energy, you have that option as well.
Energy
A boost of liquid energy throughout the day helped me keep my spirits up and stay motivated toward achieving each day's mileage goal.
I loved carrying a MiO energy squeeze (or any grocery store version) for a kick of flavor and caffeine in my water, often along with my daily Liquid I.V.
MiO Energy Naturally Flavored Liquid Water Enhancer
The MiO bottles are small, coming in at only 1.62 fl oz.
But each bottle lasted quite a while since it only takes one squeeze (1/2 tsp) to give you 60 mg of caffeine.
Continue Reading:

PAGE ONE: Shelter
PAGE TWO: Sleep System
PAGE THREE: Backpack
PAGE FOUR: Clothing
PAGE FIVE: Footwear
PAGE SIX: Food & Cooking Gear, Water Treatment System
PAGE SEVEN: Other Gear
PAGE EIGHT: Electronics, Navigation & GPS, Essential Hygiene Items, Less Important Hygiene Items, Bug Management
PAGE NINE: Personal Luxury Items, FAQs