(Last Updated On: September 18, 2023)


This blog post is a nine-page comprehensive Appalachian Trail thru-hike gear guide.
If you have arrived in the middle of the guide but would like to start at the beginning, click here.
Other Gear
All of the gear items in this category are worth your consideration to improve your thru-hike's quality and/or safety.
We chose to add everything in this category to our packs.
Trekking Poles
The function most appreciated of trekking poles is that they add stability to your hike. They are accommodating on the ups and downs while hiking with a heavy pack.
Bonuses provided: they also reduce hand swelling, provide great anchors for you during stream crossings, can be used to push overgrowth aside gently, and can scare away black bears by banging them together.
When looking into trekking poles, ensure they can adequately adjust to a usable length for your height.
Also, consider your size and the pressure you'll place on your poles. If you are someone who puts a lot of weight and stress on their poles, stay away from the less strong composite and "lite" pole options.
Aluminum is king and will have the best durability.
Cork handles are the most popular on the trail because they resist moisture, making them great for warm weather and sweaty-handed people.
You'll see differently gendered poles out there; it's silly. Just hold an assortment of them in your hands and see what feels best.
Lastly, remember if you are opting for a non-freestanding tent, your tent likely requires trekking poles. So make sure you buy poles that work for you and your tent.
My Pick
REI Co-op Trailbreak Trekking Poles
I liked the soft, breathable foam handles of these cheaper REI poles. These poles held up great.
One random note: Some woodland creature also liked the foam handles and partially ate the top of one of my handles one night.
That's pretty odd, though, and it shouldn't steer you away from these poles. It's more simply a weird thing that happened. They're great poles!
I got a second pair near the end, merely because I had used them before this thru-hike. They had endured a couple of thousand miles and were done.
Husband's Pick
Leki Khumbu Lite Trekking Poles
Barrett started in this "lite" pair. An REI employee later told us a "lite" pair should never have been recommended to a thru-hiker or a bigger guy – they can't hold up in either scenario.
Leki Khumbu FX TA Trekking Poles
He finished the trail with these. They were way more robust and the best for him.
Knife / Multi-Tool
Consider a neck knife to level up your defensive protection options on the trail.
As for a multi-tool, a swiss army knife is a great way to pack multiple helpful tools such as a knife, tweezers, scissors, file, and more into a small, often less than 1 ounce package.
And this is funny but worth noting; we also picked up a strong plastic knife at a gear store somewhere along trail that was solely used for summer sausage cutting, so we didn't gunk up our other tools.
Pepper Spray
(1-4 oz depending on the brand)
Pepper spray is another lightweight protection option that is deemed legal in all 50 states in the US as a personal defense weapon.
This is an easy way to protect yourself from animal and human concerns along the trail.
I never used it once, but I always knew where it was, just in case.
First Aid Kit
Building a simple ziplock first aid kit is a great way to be prepared when things go wrong.
Everything below was in ours, and every item was unexpectedly used at some point along the hike.
• Bandaids
• Eyebrow Scissors
• Tweezers
• Ibuprofen
• Emergency Water Tablets
• Anti-Acids
• Anti-Diahreal
• Luekotape
• Tiny Extra Lighter
• Burn Cream
• Anti-Itch Cream
• Neosporin
• Antiseptic Wipes
• A 1L Platypus SoftBottle and a Sawyer Mini as an "in case of emergency" water filtering system.
Sewing Kit: Needle & Thread
(.78 oz)
A mini sewing kit, such as the freebie ones often found in hotel rooms, would be great to have on trail so you may field repair any rips, holes, or zipper failures encountered with any of your gear.
It doesn't have to be anything fancy, as long as you have a needle, some thread, and a safety pin, just in case.
I carried one from a hotel with us and used it multiple times on clothing, our tent's vestibule zipper, and to lock the zipper on my fanny pack back into place.
Funny story about the tent's vestibule zipper. It was summer when this broke, the weather was good, and the vestibule didn't need zipping, so we went a while, leaving it broken.
Due to this, there was a gap where anyone could look into the tent for a few days.
One morning we woke up to a turkey looking straight into the tent at Barrett, screaming his head off at him.
To this day, I have no idea how this didn't wake Barrett up. He missed the entire ordeal. I found it hilarious.
Gear Tape
Gear tape is another item you can use for field repairs of tears or rips. It's excellent for patching anything nylon or vinyl.
We used this on our tent quite a few times, as well as on our pack liners.
It comes in a small, lightweight roll, making it easy to carry.
It's one of those things that you'll be happy to have when you need it.
Gear Aid Tenacious Tape Repair Tape
Side note: This tape comes in both patches and a roll.
While the patches come in fun little shapes and sizes, they could have retained their stickiness better.
So, despite some of those shapes being super cute, the patches aren't as good of an option to buy and hold onto for a bad tear.
If you're buying this item to be prepared, I'd recommend purchasing the roll.
Shoe Repair Glue
If you opt for a shoe, it won't take long to notice that many trail runners quickly fall apart in certain areas.
Once I finally discovered my beloved Topos, I could get over 500 miles out of a pair.
That said, the front rubber panel on my and many of my trail friends' trail runners often started peeling off way before the shoes expired.
I reached a point where I would Aquaseal my shoes once or twice a week to keep water from entering the front of my shoe, keeping my feet and socks dry.
Gear Aid Aquaseal vs Shoe Goo
This is an item you can chance finding in a hiker box; tubes are often in them. But it got to a point where I never knew when my shoes would decide to peel apart again.
The rain and when I would reach a hiker box never quite lined up right for me.
The tube is tiny, so I carried one with me and shared it with my hiker friends along the way.
As for the favored Shoe Goo, I used that at first. However, I could only ever get one day of hiking out of a repair with that glue.
After too many unnecessary wet sock days, I decided to look into other options, and that's how I found the Aquaseal mentioned above.
Duct Tape
A mini roll of duct tape comes in handy when you need to fix an item with a stronger bond than can be accomplished by the Gear Aid tenacious tape.
I found duct tape helpful when needing to repair shoes and pack liners.
You don't need to carry a big roll around, either. They make very tiny ones such as these:
Many hikers carry their duct tape by wrapping it around their hiking poles, but I found that after it had been unwrapped and gone through the outdoor elements, it never worked as well when needed.
So I recommend keeping a tiny roll in a Ziplock in your pack.
Carabiner Clips
You will find countless uses for lightweight aluminum carabiner clips throughout your thru-hike.
I used them primarily for hanging wet items off my pack while hiking to facilitate faster drying of said item (shirt/cup/crocs/etc.) throughout the day.
If you don't already have a few lying around in your junk drawer, pick up a cheap set such as this one on Amazon before heading out.
Stuff Sacks
We each had a few different sizes of these.
There are a few pros to having stuff sacks:
• They compress many of your items into a much smaller area in your pack, allowing you to control where weight is placed in your pack.
• They can keep you organized by being able to stuff similar items together.
• You can use one as a dirty clothes hamper when items get disgusting.
• They are often not fully waterproof, but they still provide an extra layer of water resistance and dirt protection.
Sea to Summit Ultra-SIL Stuff Sacks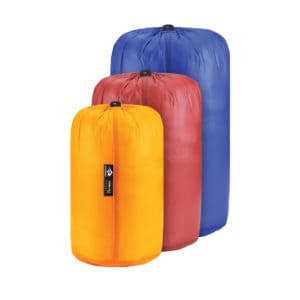 Individual Stuff Sacks
Stuff Sack 3 Piece Sets
Feel free to skip these if you don't anticipate worrying about any of the above pros.
Sunglasses
Despite being known as the "green tunnel," you will see the sun sometimes on the AT.
I wouldn't hike with anything too fancy in the sunglasses department. (Or really in any of the wearable item departments.)
Sadly, it would be best to accept that sunglasses will likely become scratched or broken unless you carry them in some form of protective case.
These Crystal Light containers are a popular choice for those trying to protect a pair of shades:
Gloves & Glove Liners
Gloves and glove liners help you reduce the amount of heat lost through your fingers on frigid hiking days, helping you stay warm and enabling your fingers to maintain their dexterity while hiking.
When seeking out gloves for thru-hiking, keep their warmth-to-dexterity ratio in mind.
Thin softshell gloves will give you more dexterity but less protection from the elements. Thicker pairs will provide more protective lining, but you will lose finger flexibility in exchange.
They will also generally not be fully waterproof, so they're yet another gear item you'll want to be made from wool or synthetic materials since those will retain warmth best while wet.
A set of water-resistant synthetic gloves made from fleece or neoprene, paired with merino wool glove liners, will be the best combo for saving your hands from the wind and cold, with some added rain protection.
You'll want to layer the mitts mentioned next over them for maximum rain protection.
I went with the Midweight Sensor Gloves from Outdoor Research.
My Pick:
My hands were still a bit too wet or chilly in these gloves a few times.
These Minus33 Merino Wool Glove Liners would be a great liner choice to use with these gloves if you get cold easily.
Husband's Pick:
Barrett felt an appropriate warmth-to-dexterity ratio in these Black Diamond Lightweight Softshell Gloves.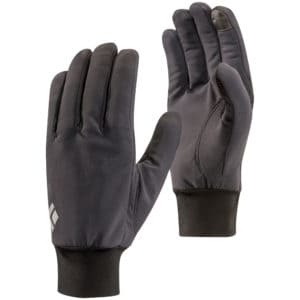 Rain Mitts
Rain mitts provide the final piece of the ultimate handcare puzzle.
They're the waterproof shell worn over your gloves and glove liners that will keep your hands dry when it's raining.
They'll also provide you with the maximum opportunity for warmth when it's windy and/or cold.
REI Co-op Minimalist GTX Mittens 2.0
(1.6 oz)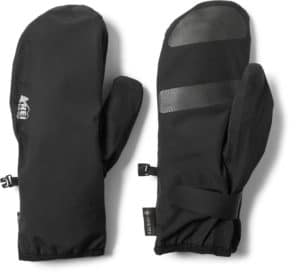 Wet & Dry Grip Gloves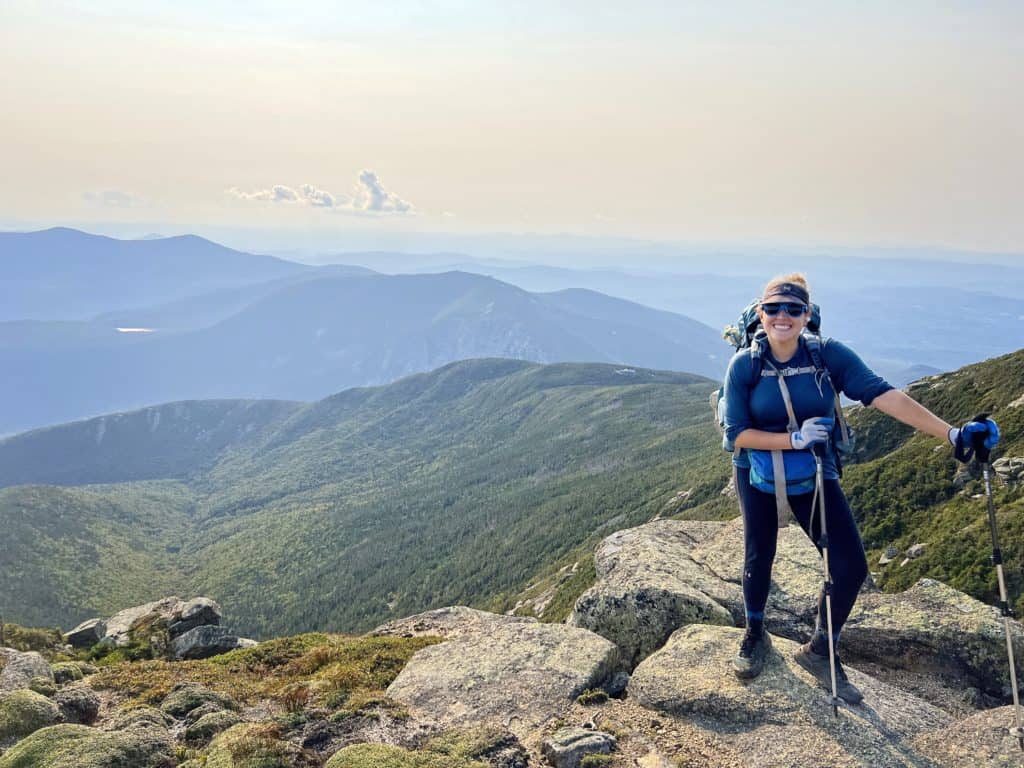 Wet & dry work gloves are helpful for a small section of trail in New Hampshire and Maine that is particularly brutal on the body. For NOBOs, it's the miles approximately between 1800-2020.
I sent my trail friend Tortoise these pictures of my hands and knees after going through Mahousic Notch (Since we're Flip Floppers, we were SOBO by this point.)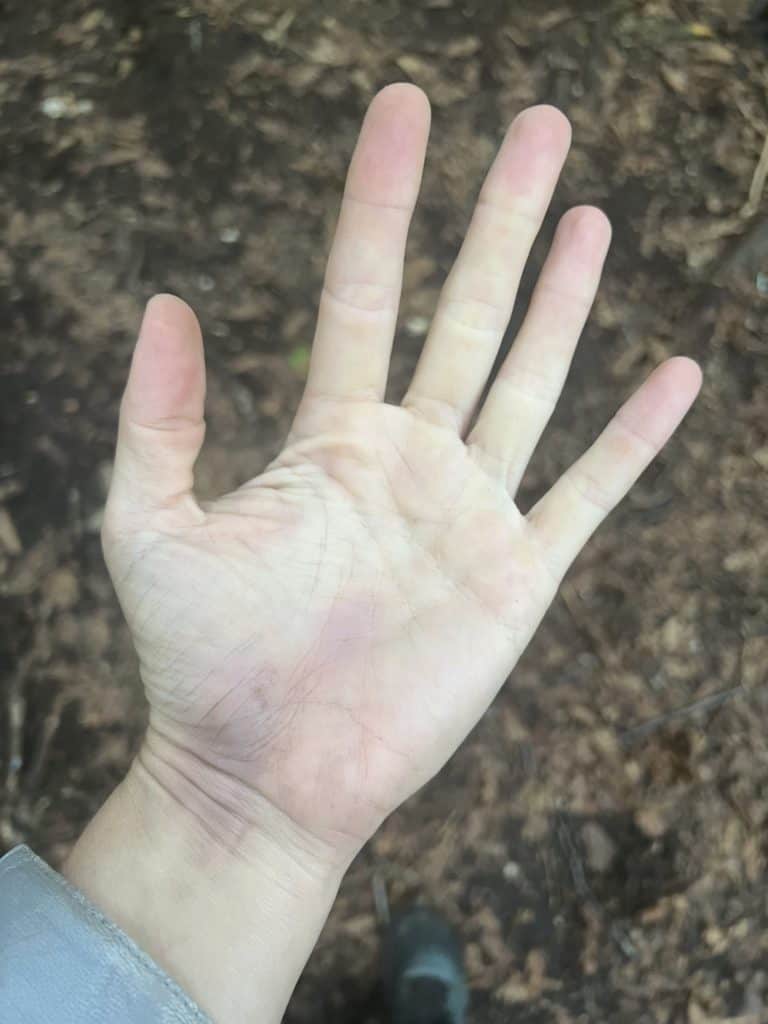 We happened to zero in Gorham around the same day, and I returned from a resupply to these bad boys on my door knob:
Holy hell, did these things help! Suddenly, I was scaling rock walls pain-free and with the grip of Spiderman.
For that 220-ish mile stretch, if you bruise easily or would like some extra grip, I recommend picking up a pair of these at a hardware store along the trail.
You want a pair with both grip and hand protection qualities for this section.
Hats & Other Headwear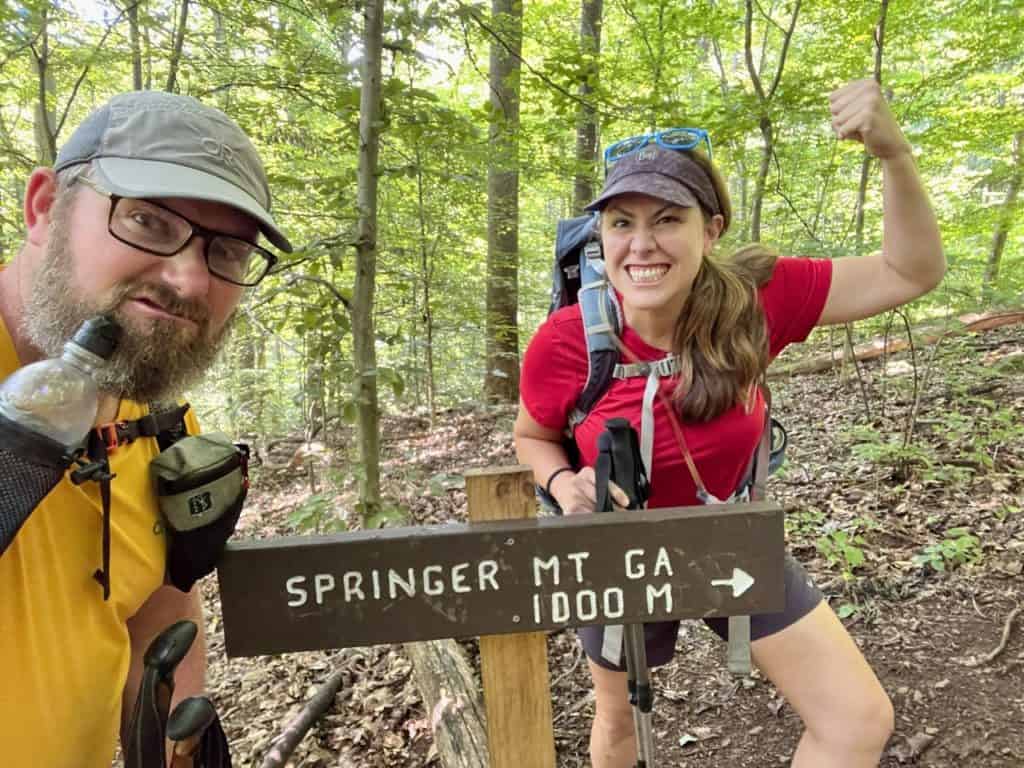 Hat
Hats with a brim protect your head from the sun while also keeping the rain and sun out of your eyes.
The lightweight Swift Cap is favored along the trail due to its sweat-wicking abilities, side heat venting, and UPF 50+ sun protection.
(2.5 oz)
My husband most enjoyed wearing this hat when it was hot outside and at the beginning and end of the hike when the leaves had fallen off the trees, exposing us to much more consistent sunlight.
When it was cold, he would wrap his Buff around it to keep everything in place and have protection from the chilly conditions.
Visor
Visors are great for keeping the rain and sun out of your eyes while also providing some breathability for the top of your head and a hole for a ponytail to go through.
I started in a running cap but quickly realized I didn't like the limited eyesight and ponytail options provided with a hat.
Enter the Buff Pack Run Visor – a lightweight, cooling, wicking, odor-controlled visor.
I loved this thing and wore it almost every day!
(Also, if I felt too warm in it, the brim flipped up for temporary relief.)
Headband
Headbands are super helpful, especially on hot, muggy days when you want to keep all your hair in place and out of your eye line.
You also can dip them in a stream to get instant relief from the heat.
This Buff tapered headband has cooling technology built into it, odor control, can be worn many ways, and has little silicone grippies that ensure it stays in place.
That was a big deal for me because headbands tend to slide right off my head.
Buff
Buffs are an ultra-versatile way to get UPF 50+ sun protection. They also can be worn in 12 different ways, have odor control, dry fast, and are easy to clean.
This CoolNet UV+ one is specifically great for both hot and cold days.
In the cold, my husband used it to block the wind, lock his hat in, and add warmth to his neck and ears without overheating because sometimes his beanie was too hot to wear while hiking.
In the heat, it kept the sweat out of his eyes and could be dipped into the water and then worn for some cooling relief.
On full moon nights, it was even his sleep mask.
My husband grew very attached to his, eventually lovingly referring to him as either Sir Buffington or Buffy Boy.
Sun Hat
Sun hats with wrap-around neck protection can be great for those who burn easily, protecting more unprotected areas from the sun.
They're also excellent to wear in conjunction with bug nets, so your face has some room to breathe.
Barrett started the trail with a sun hat but quickly felt we never saw enough sun to make carrying it worth it.
It was too big, with too much material. He switched to the swift cap up above for most of the hike.
Beanie
Beanies are excellent for retaining warmth while hiking in cold temperatures. They're also wonderful on frigid evenings, especially for those sleeping in quilts who lack the mummy bag wrap-around-the-head feature.
Specifically, a merino wool beanie is recommended for its temperature regulation, odor resistance, UV protection, quick-drying capabilities, and durability.
We each started with one. This one from Minus33 is great because it has two merino wool layers yet is still very slim and lightweight.
And then, once we were in hunting season, we got orange ones. (More on hunting season below.)
Once we got the orange beanies, I discovered the warmth of the double beanie and hiked the rest of the trail in two beanies!
Continue Reading:

PAGE ONE: Shelter
PAGE TWO: Sleep System
PAGE THREE: Backpack
PAGE FOUR: Clothing
PAGE FIVE: Footwear
PAGE SIX: Food & Cooking Gear, Water Treatment System
PAGE SEVEN: Other Gear
PAGE EIGHT: Electronics, Navigation & GPS, Essential Hygiene Items, Less Important Hygiene Items, Bug Management
PAGE NINE: Personal Luxury Items, FAQs