(Last Updated On: September 18, 2023)


This blog post is a nine-page comprehensive Appalachian Trail thru-hike gear guide.
If you have arrived in the middle of the guide but would like to start at the beginning, click here.
Footwear
Finding the best footwear for you specifically is essential for a successful thru-hike.
Next, we'll discuss the components that will keep your feet happy while on trail, including shoes, insoles, gaiters, socks, and camp shoes.
Shoes / Hiking Boots
The main reason we all wear shoes is to add a layer of protection to our feet.
These days, shoes (specifically trail runners) are the most prevalent footwear worn on the AT.
There are two main reasons for that:
• They are lightweight on your feet. Your feet don't have to work as hard in trail runners.
• They are breathable and dry fast, keeping your feet drier.
But while hiking boots have been declining in popularity over the years, there is a place for both trail runners and hiking boots on the trail.
If you believe you need a hiking boot's support, stability, and protection, don't rule them out.
When shopping for footwear, consider the following:
• Is it more critical for you to have a lightweight, breathable shoe or a sturdy boot?
• When walking, how do you land on your feet?
• How much heel elevation do you need or not need?
• Feet swell on a thru-hike. Is the toe box of your chosen shoe wide enough to accommodate your toes falling flat?
If you chose sturdiness over breathability, also then consider the following:
• Goretex is an option for you, but know it dries slower and will make your feet feel warmer.
• And then mid-rise is also an option for you, providing some ankle support but also enclosing and retaining moisture inside your shoe, which could lead to skin irritation.
What shoe will work best for you is entirely relative to you.
Listen to all the advice, but also know what you prefer. There's something to be said for being comfortable in your gear.
Below I'll talk about my favorite shoe and why, as well as my husband's favorite shoe and why, and then I'll list a few other fan favorites when considering the best footwear for the Appalachian Trail. I'd recommend trying them all.
Unless you know which style and brand fit your feet best, I recommend buying each at a place with a good return policy (cough cough… REI) and wearing them on test hikes before taking off.
If you want to go one step further, go to a podiatrist. They can look at your feet and walking style and recommend the best option.
It took me hundreds of miles in the wrong shoes and a hell of a lot of foot pain to figure that out, but after seeing a podiatrist in Daleville along the trail, my hike was utterly changed for the better.
Lastly, remember that the average thru-hiker goes through 4-5 pairs of trail runners, swapping them out every 250-500 miles, depending on your hiking style and body weight.
If you find "the one" that works perfectly for you, consider buying a few pairs, so you don't have to worry about the brand "reconfiguring" the shoe during the middle of your hike.
My Brand & Shoe Pick:
Topo Athletic
There's a lot of buzz around Altras and HOKAs; we'll get to those brands in a moment. But Topos are quickly becoming just as favored by thru-hikers.
If you're looking for a lightweight shoe that comes closest to merging the support and durability of a boot with the performance of a trail runner, look no further than the Topo Ultraventure Pro.
Women's
Men's
This trail runner has fantastic cushion and support, teamed with a rock plate, wide toe box, Vibram Megagrip outsoles, and a low 5mm drop, which facilitated the best hiking style and foot landing for my feet.
Topos were first recommended to me before starting our hike by an REI guide on an Adventure Trip.
At the time, I felt my Altras were doing the trick. I was nervous to try something new that wasn't even sold by REI (now they are).
I didn't take the advice, and I ultimately paid the price. The closest I ever came to getting off the trail was due to foot pain.
Luckily I was able to hobble into a podiatrist in Daleville along the trail who looked at my feet and walking style and also recommended Topos.
I never looked back.
Husband's Brand & Shoe Pick:
HOKA
HOKAs trail runners are for the thru-hikers looking for the most cushion.
My husband chose to hike in HOKA Speedgoat 4.
HOKA Speedgoat 4 (Links to newer HOKA Speedgoat 5)
Men's
Women's
The height of the HOKAs tripped me up; I never felt I had proper footing while wearing them.
However, Barrett loved all the extra cushion combined with the lightweight, breathable trail runner structure of the shoe and the Vibram Megagrip outsole, and so do many other hikers!
Give the Speedgoats a shot if maximum trail buffer sounds appealing to your feet.
It should be noted these are known as "west coast shoes" for a worthy reason.
The gnarliness of the AT takes its toll on these shoes quicker than any others.
Barrett went through six pairs, four of the Speedgoat 4s, one of the mid-sole Gortex Speedgoat, and one of the Speedgoat 5s.
Also, I mentioned the Speedgoat 4s. HOKA has since moved onto the Speedgoat 5s.
Thru-hikers who loved the 4s are finding the 5s are disintegrating faster, my husband included.
He could not even get 150 miles out of a pair, meaning you're paying around $1 a mile in the 5s.
Altra:
Women's
Men's
If you are deep in the research phase, you will read a lot about Altra Lone Peaks.
Thru-hikers love the wide toe box allowing their toes to spread out, the quick drying factor, and the 0mm drop, which is supposed to encourage a more natural, barefoot style of walking.
I briefly hiked in the Lone Peak all-weather mid-version.
Despite wanting the ankle support of a boot, the water retention that came with that option gave me a very annoying rash. These shoes also lacked overall grip and padded comfort due to the zero drop paired with the absence of a Vibram outsole and rock plate.
These shoes are fantastic for ultralight backpackers with strong feet looking for that natural hiking feel.
Other Popular Shoe / Hiking Boot Options:
(Some of these come in various boot/shoe options.)
Topo Terraventure (Women's / Men's)
Altra Olympus (Women's / Men's)
Brooks Cascadia (Women's / Men's)
Salomon X Ultra (Women's / Men's)
Merrell Moab Boot (Women's / Men's)
Saucony Peregrine (Women's / Men's)
Salomon XA Pro 3D (Women's / Men's)
Oboz Sawtooth (Women's / Men's)
The North Face Vectiv (Women's / Men's)
Insoles
The insoles inside your store-bought shoes are made for a "standard" foot.
You probably do not have a "standard" foot if you have foot pain.
All sorts of problems can come with your shoes not fitting right, including issues with stability, alignment, comfort, joint pain, posture, support, and fatigue.
In gear and drug stores, you're likely to see insoles that either help with stability and are stiffer or deliver comfort and are softer and comfy.
These insoles can help your feet fit better in a pair of shoes, adding comfort or stability, but only to a certain extent.
However, I have found the best way to go about insoles is to either have a pair explicitly molded to you (Road Runner Sports can do this) or get a pair from your podiatrist.
Don't have a podiatrist? Neither did I before this hike!
If you'd like to learn more about how your feet function and what shoes and insoles would work best for your feet, gait, arches, and walking style, a visit is in your interest.
Gaiters
Trail running gaiters are covers that cinch above your ankle and run down the bottom of your leg and over the top of your trail runners, preventing anything from entering your shoe.
I briefly used a pair of Dirty Girl gaiters. I did not have enough of a problem with things getting into my shoes to continue using them.
At a certain point on the trail, I realized I was carrying them more than wearing them, so they were shipped home.
Again though, everyone's feet and preferences are different. If you are hiking in trail runners and see this protection layer as necessary, use a lightweight option such as Dirty Girl gaiters.
Socks
Socks are an integral part of protecting your feet on the AT.
You may find a few types of socks worthy of pack space.
This section will touch on the foot protection and comfort found in hiking socks, toe socks, camp socks, and down booties.
Hiking Socks
When searching for hiking socks for the Appalachian Trail, you want to pay attention to what material they are made from, their durability, fit, comfort level, and how fast they dry.
• Materials: Much like many other things on this list, you'll want to look for hiking-specific socks made from either wool or synthetic blends.
• Durability: You want them to be made well and last.
• Fit: Hiking-specific socks provide cushion in the areas you need most while letting the rest of the sock remain snug everywhere else. You're looking for the sock to stay in place and not bunch up. That way, there is as little friction as possible, aka no blisters.
• Comfort: You'll want a sock with a dense weave for the best cushion.
However, the amount of cushion in your sock is a personal comfort preference. That said, you will be rewarded with faster-drying socks if you can handle light cushion. (If you sweat a lot, you'll also want to lean toward lighter-weight socks.)
The height of your sock is another personal preference. The main takeaway here is you don't want your sock to be shorter than the top of your shoe.
• Quick-Dry: Merino wool and synthetics facilitate moisture movement, helping your feet stay dry.
Hiking in wet socks, first off, is almost unavoidable on a thru-hike but is also horrid.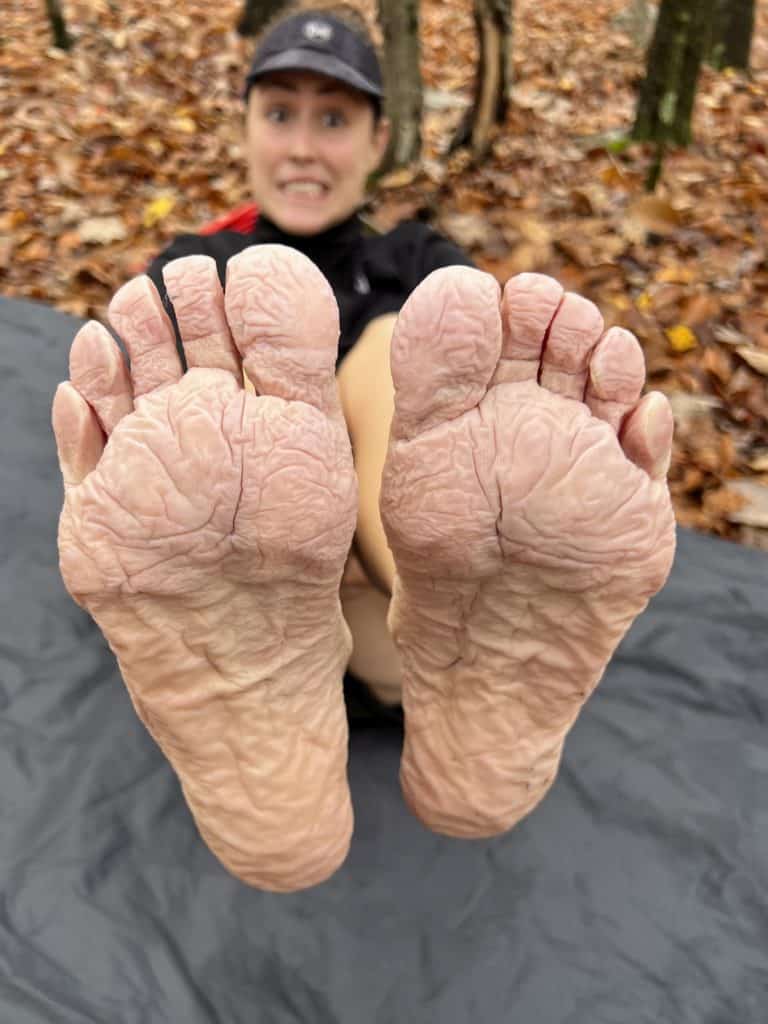 If it's raining or the trail's soaked, it is what it is.
But the fantastic shoes mentioned above should also be close to dry if it's dry out the next day. So wouldn't it also be great to take off with dry socks?
Since the socks dry slower than the shoes, I carried extra pairs.
Between the lifetime guarantee (they guarantee their durability, comfort, and fit), great word of mouth, and fun designs, Darn Tough socks are hard to compete with in the thru-hiking game.
They are expensive. But you're making a lifetime investment in a pair, so that's pretty cool!
My Pick & Husband's Pick:
Darn Toughs truly do hold up to the day-after-day wear.
If you're thru-hiking, you want to ensure you have a sock such as Darn Toughs that will hold up all week until you can rewash them.
By the end of the hike, our socks only show minimal wear. I'm sure they'll continue to wear down, and I'll end up using the warranty eventually, but how amazing is it that they made it through an entire thru-hike?!
I can attest that the same cannot be said for any other article of clothing we took with us on the trail.
For those looking for less cushion:
Darn Tough Light Hiker Lightweight Hiking Sock
Darn Tough Lightweight Hiking Sock
For those looking for thicker cushion comfort:
Darn Tough Midweight Hiking Sock
However, if you're not convinced, many hiking socks are out there.
This is another opportunity to use REI's incredible return policy. Purchase a few pairs to use on your test hikes.
After a few tests, you'll quickly discover what you like the best.
Also, many sock brands are sold all along the trail. You'll be able to find new ones if a particular pair stops working for you.
Other Options Worth Testing Out:
Darn Toughs worked wonderfully for me, but these socks are worth a test run if they're in stock.
(I love Balega socks for running and tried to order these Balega Blister Resist socks before heading out last year, but they were sold out everywhere.)
Smartwool Performance Hike Light Cushion Crew
Toe Socks
Toe socks are a great protective option for those who develop blisters between their toes.
I am not one of those people, so I've never used them. But friends of mine, as well as my mom, swear by them.
I've heard complaints of injinji's not holding up for thru-hikers like they used to.
So if you are looking into these, start with a pair that is a step up in durability, such as the Injinji Trail Midweight Crew CoolMax Sock.
Thick Camp/Sleeping Socks
Cold feet can quickly turn your entire body into feeling like a popsicle, making it harder for you to fall asleep at the end of a long hiking day.
Sleeping socks help you retain warmth and are most necessary for those sleeping in quilts with a cinched bottom instead of a fully sealed sleeping bag.
If you're not hiking in them, they can be made from whatever materials you enjoy to keep your feet warm at night.
However, remember that cozy socks can be heavy, so you want to look for a high-warmth to low-weight ratio.
I hiked with four pairs of socks and often had clean socks available for the evening, so I used those when my feet were cold.
Down Booties
Another lightweight option for keeping your feet warm at night is a pair of down booties such as these Torrid Booties from Enlightened Equipment.
These were cut from my budget since an extra pair of Darn Toughs were cheaper, about the same in weight, and multifunctional because they could be used on hiking days if I was in a pinch.
However, they're worth the consideration for those with feet that run cold. I dream of what could have been…
Enlightened Equipment Torrid Booties
(2 oz)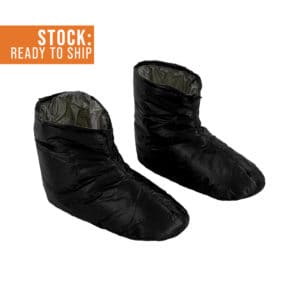 Camp Shoes
Camp shoes are what you'll wear on your feet when you're not hiking.
These will be the shoes that give your feet a break and let them breathe when you're walking around town on a zero or setting up camp.
And while you're looking for relaxed comfort in this category, you're also looking for some functionality because there will be times you'll want to slip into your camp shoes to save your hiking shoes, such as when you arrive at water crossings.
That last part is what ultimately led me to become a crocs lover.
(12 oz)
I found crocs lightweight and best for comfort, yet also great when I needed traction at water crossings and in the evenings when I had to walk through the woods to get to a privy.
They also provide support for walking around town on resupply days.
Crocs are an all-around excellent camp shoe, zero-day shoe, and hikable when needed.
Flip-Flops
You can lose some weight by opting for flip-flops.
I tried flip-flops briefly but switched back to my crocs to regain the added toe protection and traction.
If you choose to hike with flip-flops as camp shoes, try to find ones with cushion for zero-day foot relief and grip for moving around camp.
Some Other Popular Camp Shoe Options
Continue Reading:

PAGE ONE: Shelter
PAGE TWO: Sleep System
PAGE THREE: Backpack
PAGE FOUR: Clothing
PAGE FIVE: Footwear
PAGE SIX: Food & Cooking Gear, Water Treatment System
PAGE SEVEN: Other Gear
PAGE EIGHT: Electronics, Navigation & GPS, Essential Hygiene Items, Less Important Hygiene Items, Bug Management
PAGE NINE: Personal Luxury Items, FAQs