(Last Updated On: September 18, 2023)


This blog post is a nine-page comprehensive Appalachian Trail thru-hike gear guide.
If you have arrived in the middle of the guide but would like to start at the beginning, click here.
Clothing
When focusing on what clothing to bring along with you on the Appalachian Trail, there are multiple categories worth considering.
I will go over each clothing category and discuss why each piece is worthy of space in your pack.
For us, clothing was very much a learn-as-you-go category.
What will work for you on trail will likely differ from what has worked for you in everyday life or athletic activities.
Depending on how you've shopped in the past, the functions you are looking for from these clothing items may be ones you have never overly paid attention to before.
This is because many of us have been trained over the years to search for style over function.
That mindset will not serve you in this category. On a thru-hike, function is king.
Tip: You will only want to carry some articles of clothing for some seasons throughout this hike. If you have the option, try to prearrange a "postmaster" friend or family member who can ship pieces back and forth to you as the seasons change and as you learn more about yourself. Ours was my mom, and it was highly beneficial to have her assistance.
There are tons of outdoor brands with clothing available in the following categories.
I will mention what worked for us and how it fits the bill for each category.
The best thing you can do when searching is evaluate the materials and functionality of each item to see if it will work for you on the trail.
Hiking Clothes: Top and Bottom
Your hiking top and bottom are the core pieces you choose to hike in every day.
What you'll want to hike in will vary depending on trail conditions and the season, so consider what time of year you'll be hiking.
That said, the goal is to have versatile pieces that can cover as many conditions and seasons as possible.
Since the Appalachian Trail sees a lot of rain, the best hiking clothing for this particular trail is made from either wool or synthetic fabrics since those materials retain warmth when wet.
Hiking Top
When searching for a hiking top, you're looking for a shirt that wicks away moisture and odor, dries fast, and weighs as little as possible.
I went through a handful of shirts along the trail. These were my favorites:
During the first week of our thru-hike, we reached the Mountain Crossings trail store and knew we needed better hiking tops.
We both got one of these Smartwool hoodies and wore the hell out of them along the entire trail.
This shirt had every feature mentioned above that's important to find in a hiking top, plus UPF 20+ protection.
One minor con in the durability of this shirt: My pack kept chewing the armpits out of it.
Smartwool has a fantastic guarantee on their products, though, and anytime one ripped, they were quick to help me get a replacement.
As mentioned above, we both bought these Smartwool hoodies at Mountain Crossings.
Barrett runs very warm. So when it was cold outside, he opted to wear this Smartwool hoodie along with the next shirt from Outdoor Research, the Echo T-shirt, over the top of it, instead of a fleece mid-layer.
He discovered he also loved sleeping in this shirt at a certain point and got a second one to sleep in.
Hiking Bottom
What goes for hiking tops also applies to bottoms. Anything that can wick away moisture and odor, dry fast, and is lightweight, wins.
My Pick:
From a woman's perspective, I found that:
• If it was warm outside, I wore shorts.
• If it was warm and raining, I wore shorts.
• If it was cold and raining, I wore shorts (leggings if it was extra cold) and rain pants.
• If it was cold, I wore leggings.
(I've never been a huge fan of hiking dresses, but I also saw those on the trail!)
Leggings
Thicker leggings are great for colder days.
Thinner leggings are great for warmer days when you don't want to wear shorts because you still want protection from the elements along the trail.
Before departure, I weighed all my leggings. I found the 3-4 that weighed the least and took them out on test hikes.
Some of my heavier leggings kept me too warm, even in cold conditions.
I ended up taking the two lightest pairs I owned.
They also are the two pairs of leggings I've hiked in most over the past five years across America. (The AT finally killed them both.)
So instead of giving you shopping links for these, I will explain why they rock and what you should look for when picking out current leggings.
Athleta Black High Rise Metro Drifter Leggings
(The cold weather pair – 9.3 oz – 88% Nylon / 12% Spandex)
Under Armor Leggings
(The warm weather pair – 6.7 oz – ~ 70% Polyester / 30% Elastane)
One of these leggings is mostly nylon, while the other is mostly polyester. Here's what you should know about those two synthetics:
Both nylon and polyester are widespread in activewear because they wick moisture and dry quickly.
Nylon is stronger, more durable, and scratch-resistant than polyester.
Nylon traps heat and will keep your legs warm. So they may only be a good fit for some people. I would not recommend nylon leggings for a warm day, but my always-cold legs found them perfect for frigid hiking days.
Polyester options will be lightweight and dry quicker.
Shorts
Nylon and polyester are the two most common materials you'll find in active shorts as well.
Try some pairs and see what you like the best.
For ladies, the shorts with the most trail hype are the Patagonia Barely Baggies, so make sure to give those a try. (The shorts with the most trail hype shorts for men are the Patagonia Nine Trails.)
For me I LOVED these shorts from Dick's Sporting Goods:
Their only flaw was the lack of a pocket. I recommend giving them a try.
I found these at a running store in a trail town. I couldn't believe how lightweight they were.
3.5 ounces for shorts! Are you kidding me!?
They were my backup shorts. I almost always wore the DSG shorts, but if they got too gross due to rain or sweat, I had these shorts as a backup. Or if it was sweltering in the evening, I also had them to sleep in.
They only sold the 5″ version, so that's what I hiked in.
However, they also sell a 3″ inseam version, and I probably would have opted for those if I had the choice. They weigh slightly less and would have had less of that long basketball short feel.
Barrett loved Dick's Sporting Goods' Agility Woven Shorts for the trail. They were light, dried quickly, and had deep pockets. He also loved their lack of a sewn-in crotch.
Base Layer
Base layers provide a lightweight layer of warmth for the evenings and colder seasons on trail.
They help you stay warm while also wicking sweat away.
When shopping for base layers, you want a snug-fitting top and bottom made from moisture-wicking material, generally synthetic or wool.
Here's a chart to help you pick between the two fabric types.
My Picks:
I started with two tops, a wool/synthetic hybrid and a synthetic, as well as a synthetic bottom.
(In the beginning, one top was for hiking, one for sleeping.)
I went with synthetic mainly for budget reasons.
I decided to save some money in this category since we weren't hiking in the winter, so I didn't need that positive feature of wool. I also know I don't sweat as intensely as my husband and could get away with a synthetic option longer than he could.
Once it warmed up, I kept the lighter synthetic top for sleeping and shipped the heavier one home, never needing it again (in part due to the addition of my North Face fleece midlayer at the end of the hike. More on that in the following category.)
I slept in the 32 DEGREES base layer top almost every night, except during the hottest summer days.
I hiked in the base layers under my hiking outfit on cold days.
Midlayer
Having a midlayer gives you an added option for regulating your warmth.
They are great to add over a base layer in the cold or to wear on their own when hiking in that middle-temperature zone where you need a bit more warmth than your hiking shirt provides but want to avoid hiking in your puffy.
And on super cold evenings, they also provide a layer of warmth between your base layer and your puffy.
Fleece, wool, down, and synthetic options are available in this category.
Much like your base layer, what's most important is that your midlayer is also breathable, quick-drying, and capable of moisture-wicking, so they can work together while hiking in the cold.
Husband's Pick:
Barrett runs a lot warmer than I do. He did not feel the need for a fleece midlayer.
Insulating "Puffy" Jacket
An insulating jacket, also known as a "puffy," is a three-season jacket that will give you a bit of water and wind resistance and keep your body warm during the many hours you're not hiking.
This is an important piece. I wore mine more than I didn't.
When deciding which one to purchase, you'll want to consider the insulation materials, warmth-to-weight ratio, and durability.
Insulation Materials
Here is the same down vs. synthetic comparison chart previously seen in the sleeping bag and quilt section:
Synthetic vs. Down in a Nutshell
The choice between down and synthetic is yours to make, but remember that the AT is a notoriously wet trail, and synthetic will generally retain its loft and warmth better when wet and dry faster than down.
A jacket with a fill power of 750 or up is recommended if opting for down.
Also, insulating jackets do not have a warmth rating system like sleeping bags. Therefore, this is another item to try a few of and find what keeps you the warmest.
A snug fit is best for warmth, but with some room, if you want to layer underneath it.
Warmth-to-Weight Ratio
You want enough insulation to keep you warm but not be too heavy to carry in your pack.
Puffy weight is currently commonly around 13-14 oz.
Durability
You'll want a jacket durable enough not to be easily ripped open on branches, picnic tables, etc.
I won't lie; I did not enjoy shopping for a puffy.
I tried many women's puffies and found most of them relatively large and constricting.
That was ultimately the main reason I selected the Arc'teryx Atom Insulated Hoody, despite it not being the warmest option.
And although it's not recommended to hike in your puffy (because it can lead to overheating, and if the puffy gets wet inside due to sweating, it becomes a less effective insulator), this jacket was honestly more of a midlayer and great to hike in on really cold days, yet still generally warm enough in the evenings, when layered with a baselayer and midlayer.
Ultimately, this lightweight insulated jacket is a great midlayer that's breathable, wind resistant, moisture resistant and repelling, fast drying, cinchable, and down extremely small.
I'm happy to have it in my jacket kit.
However, if I did it all over again, I'd get my husband's pick, the Enlightened Equipment Torrid.
The Enlightened Equipment Torrid does everything the Arc'teryx jacket does, with a superior warmth-to-weight ratio, while still being less constrictive than many other popular puffies.
Barrett loved how well it cinched up and trapped warm air inside.
There were a few frigid nights I was grateful my husband tends to run warm, and I could wear this jacket instead of mine. It's fantastic.
On nights he was cold, I was frequently jealous of him.
This jacket is at the top of my shopping list for my next backpacking trip.
Underwear
When choosing hiking underwear, the most important thing to remember is to focus on pairs made of synthetic materials. The less moisture created down there, the less you'll have to worry about chafing.
When first researching "sporting" underwear options for the trail, it seemed everyone recommended these pairs from ExOfficio, REI, and Patagonia.
I tried them all. I found all those brands' underwear options entirely unrealistic for anyone with curves.
My Pick:
Soma Vanishing Edge Underwear
(0.78 oz per pair)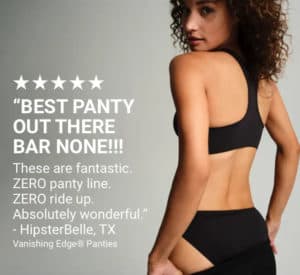 Soma came in with the win here. I love the fit and the silicone grippies that keep them in place.
And this will shock many, but I was hiking with six pairs in my pack at the end!
Baby wiping all the sweat off and then changing into my clean undies and butter-soft joggers before bed was a small joy I looked forward to nightly.
Like all the pairs above, these are 80-85% nylon (or polyester), with 15-20% spandex.
It's all personal preference and fit here. As long as you stick with lightweight synthetics, you should be good!
Husband's Pick:
ExOfficio Give-N-Go 2.0 Sport Boxer Brief
(1.8 oz)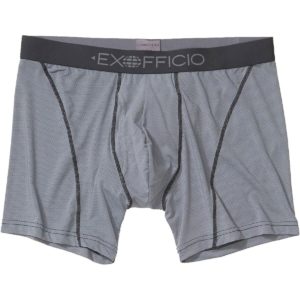 Barrett loved the nylon/spandex ExOfficio Give-N-Go 2.0 boxer brief underwear.
He hiked with two pairs—a pair to sleep in and a pair to hike in.
They sell boxers, briefs, and boxers briefs. Pick your poison!
Bra
For those of us with breasts, a bra is important for comfort and keeping everything locked in place as you maneuver across tricky terrain.
A-C cups can generally choose from various sporting bra options when considering support.
Wide bands and separate cup compression are optimal for those with D cups and up. In the same way I like a sturdy pack, I also love a sturdy sports bra.
Just like underwear, moisture-wicking is also important here to prevent chafing.
I've been running, biking, hiking, climbing, and more in this Freya sports bra for years and have never found another one that can compare. It's a fantastic bra for larger cup sizes.
Freya Women's Epic Underwire Crop Top Sports Bra with Molded Inner
(4.76 oz each – 62% Polyester, 31% Nylon, 7% Elastane)
If you decide to hike in a bra, go with what you're used to.
Side note on bras: Loaner clothing at hostels rarely includes bras. In some ways, the trail has yet to catch up with the fact that women are also hiking. I hiked with two bras, one to hike in and one for zero days to wear while doing laundry.
Also, if I got soaked one day, having a dry one the next morning was a bonus that came from this decision.
Sleep Clothes
Many thru-hikers sleep in their hiking clothes to cut down on weight.
We chose to hike with sleep outfits.
We enjoyed slipping into "cleaner" clothes after baby wiping or toweling off every evening to feel that cozy nighttime comfort.
If you bring sleep clothes, consider that you will almost always carry these items on your back, unlike hiking clothes which you'll often wear.
Try to keep them as lightweight and multifunctional as possible, using items in this category that can also be functional in other categories.
For example, my cold weather sleep shirt was also my 32 Degrees baselayer. I often used my cold-weather sleep joggers to walk around town on zero days. And then my warm-weather sleep shirt was a Smartwool tank top that I could hike in or wear around town on zero days. And my warm-weather sleep shorts also functioned as backup hiking shorts.
Camp Shirt
My Cold-Weather Pick (also my baselayer):
I slept in my 32 DEGREES baselayer more than I hiked in it. I loved switching into it at the end of a hiking day to help me warm up.
32 DEGREES Heat Womens Ultra Soft Thermal Lightweight Baselayer Scoop Neck Long Sleeve Top
(4.1 oz)
My Warm-Weather Pick (also for hiking or wearing around town on zero days):
I slept in this Smartwool Women's Active Ultralite Racerback Tank in the summer. I originally bought this as a hiking top but found it didn't provide enough shoulder protection from my pack, so it became my summer sleep shirt.
Smartwool Women's Active Ultralite Racerback Tank
(2.53 oz)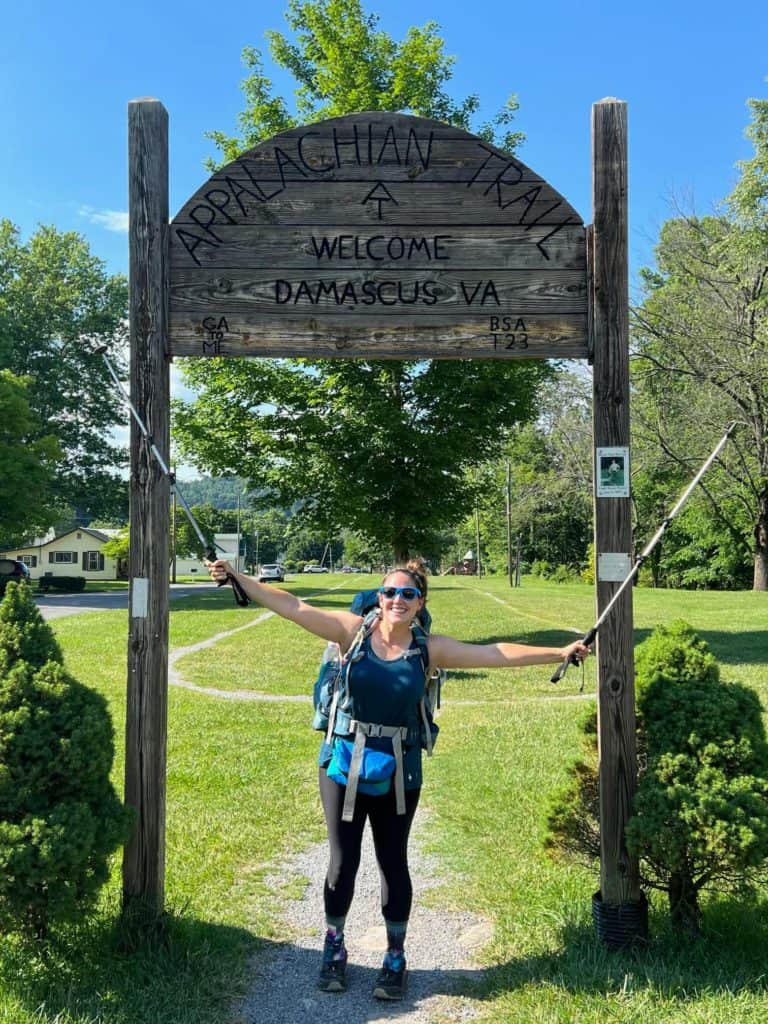 Husband's Pick
Barrett slept in the same shirts he hiked in. He carried a second Outdoor Research Men's Echo T-Shirt and a second Men's Smartwool Merino Sport 150 Hoodie, one of each for hiking and sleeping.
Camp Pants
You're looking for comfort and warmth from camp pants without adding much weight.
We have reached what I consider my most luxurious item, my Vuori joggers.
My Pick:
Vuori Performance Jogger Pants
(9 oz)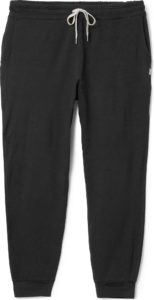 It's the little things on trail.
If an item brought me daily happiness, it was tough to ditch. So I hiked the entire trail with these joggers.
Could I have slept in another pair of leggings? Sure. But these jogger pants only weigh 9 oz, so basically the same weight as another pair of leggings.
Did it feel luxurious every night to fall asleep in these soft-as-butter joggers? Yes!
It was lovely to let my legs breathe in the evenings and be free from legging compression, yet warm.
If this is also important to you, try them out!
Husband's Pick:
REI Co-op Active Pursuits Shorts – Men's 7″ Inseam
(7.9 oz)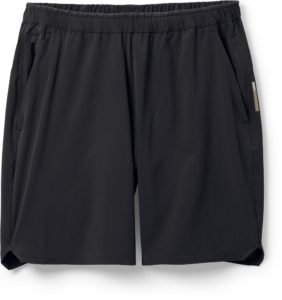 Barrett originally purchased these REI Co-op Active Pursuits Shorts to hike in but realized he didn't enjoy hiking in shorts with sewn-in crotch support.
They were, however, comfortable for sleeping in. And because of the crotch support, he didn't have to wear the boxers he had just hiked in all day while sleeping in them.
He also used the zip-up pocket for easy-to-reach earplug storage.
Zero Day Outfit
Some hikers like to carry a dedicated "zero-day" outfit to wear around town while everything else is being washed.
It's up to you; it's not necessary. Hostels generally have "loaner clothes" you can wear while you wash your hiking clothes.
If you want to hike with a zero-day outfit, bring something lightweight that can also be hiked in, in case you need another option before your next zero-day.
I usually wore a Smartwool tank top that I also slept in when it was hot, and then my second pair of shorts or joggers that I slept in instead of having another outfit.
My husband had a bit more fun with it and carried an extra Hawaiian shirt to wear on zero days, along with his sleep shorts.
Rain Gear
The Appalachian Trail sees a lot of rainfall every year.
You can try to be crafty and avoid it. We did that for a while.
Eventually, we learned you must "embrace the suck" and hike in the rain to continue putting in the miles needed to get to the finish line.
When picking out the best rain gear for the Appalachian Trail, you want to consider what will be breathable (pit zips are helpful here), provide wind protection and keep you warm.
Rain Jacket
If it's warm out and raining, you probably will simply be hiking in your hiking shirt.
Rain jackets come into play when you are getting wet in the cold. (They are also great for wind resistance when it's too warm to hike in your puffy.)
Funny enough, rain jackets on the trail aren't really for keeping you dry; they're for keeping you warm and preventing hypothermia.
Something to keep in mind, hiking in rain jackets will lead almost all of them to "wet out."
This is generally due to a combination of things. First, you are sweating because you are hiking in the jacket. Then, if the jacket becomes soaked from the rain and the DWR treatment fails, it will lose its breathability. Eventually, you have a jacket that has "wet out" and is wet on both the inside and outside.
With this in mind, I recommend looking for the lightest (and cheapest) option that will also keep you warm.
I picked up this Frogg Toggs Xtreme Lite Waterproof Rain Jacket pretty early on and hiked with it for the entirety of the trail.
My Pick & Husband's Pick:
Frogg Toggs Xtreme Lite Waterproof Rain Jacket & Frogg Toggs Ultra-Lite2 Poncho
(7.3 oz & 8.25 oz)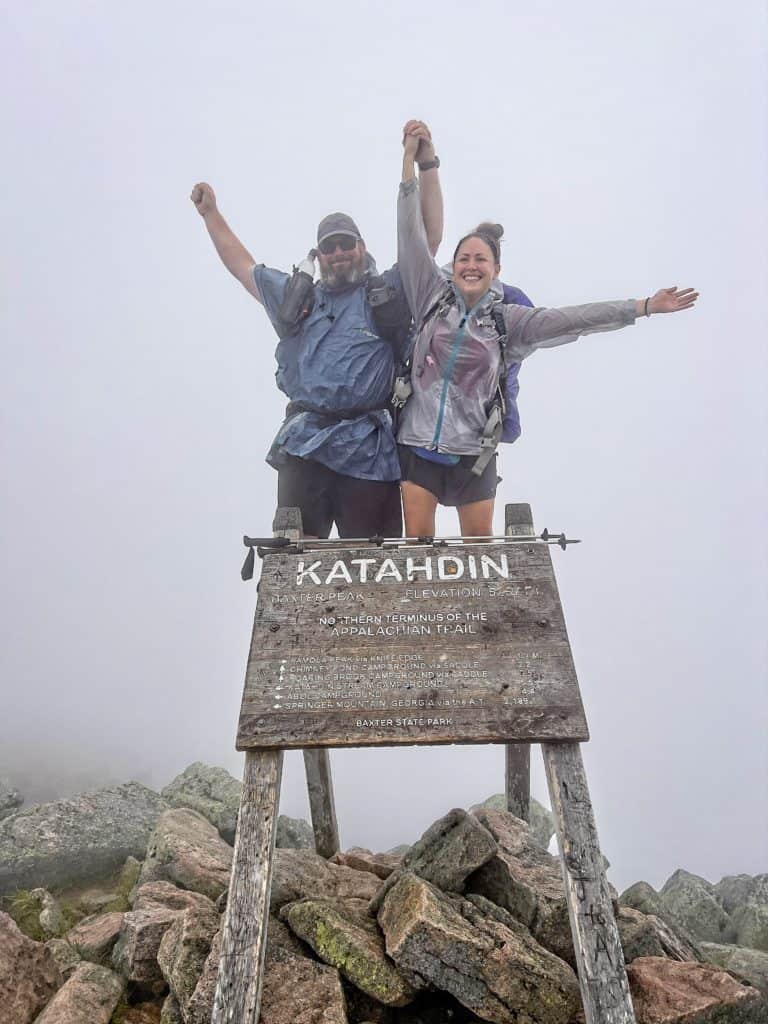 In the beginning, Barrett picked the Frogg Toggs Ultra-Lite2 Poncho for when it was warmer and he wanted protection from the rain. It had good airflow and could cover his pack.
However, once he switched to his waterproof Hyperlite pack, he opted to be wet instead of wearing the poncho.
(12.4 oz in XXL)
Once it became cold again, he used this Marmot Rain Jacket primarily for wind and rain protection.
Rain Pants
If you naturally run cold like me, consider picking up a pair of rain pants to help keep you warm in the rain.
I snagged a pair of these Marmot Bantamweight Rain Pants on clearance; otherwise, I wouldn't have spent the money. They sure were lovely, though!
My Pick:
Marmot Bantamweight Rain Pants
(2.9 oz)
Pro: They weighed almost nothing and kept me warm during cold rainstorms.
Con: They tore a bit too easily. Maine and New Hampshire ripped the shit out of them.
Rain Kilt
On the flip side of pants, kilts are worth looking into if you naturally run warmer.
They will keep your groin and quads area dry but are more breathable than pants.
Husband's Pick:
ULA Rain Kilt
(3.5 oz)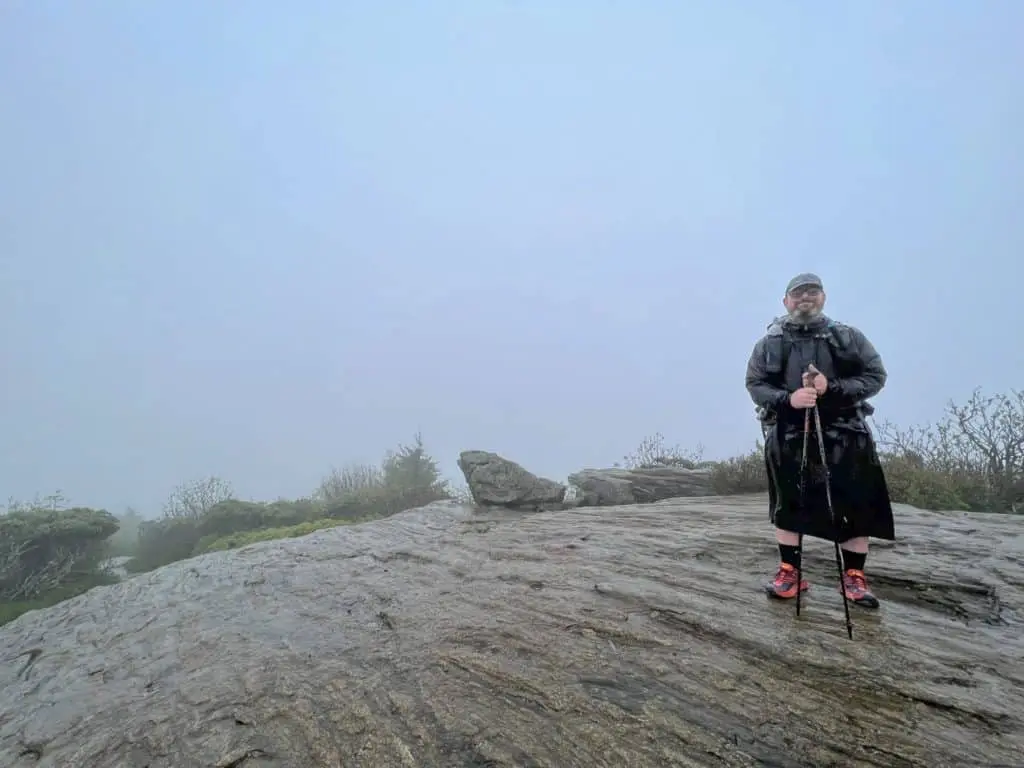 Barrett admitted he was skeptical about this lightweight rain kilt in the beginning.
But he enjoyed it once he realized it would keep his quads and groin somewhat dry and warmer in the rain while providing airflow on his legs, so he didn't overheat.
Continue Reading:

PAGE ONE: Shelter
PAGE TWO: Sleep System
PAGE THREE: Backpack
PAGE FOUR: Clothing
PAGE FIVE: Footwear
PAGE SIX: Food & Cooking Gear, Water Treatment System
PAGE SEVEN: Other Gear
PAGE EIGHT: Electronics, Navigation & GPS, Essential Hygiene Items, Less Important Hygiene Items, Bug Management
PAGE NINE: Personal Luxury Items, FAQs