(Last Updated On: September 18, 2023)


This blog post is a nine-page comprehensive Appalachian Trail thru-hike gear guide.
If you have arrived in the middle of the guide but would like to start at the beginning, click here.
Sleep System: Sleeping Bag or Quilt, Sleeping Liner, and Sleeping Pad
An excellent sleep system is integral to getting you rested and back on the trail daily.
Your sleep system consists of your sleeping bag (or quilt) and your sleeping pad.
Sleeping Bag or Backpacking Quilt
When choosing between a sleeping bag or backpacking quilt for the Appalachian Trail, I recommend first considering where you stand on synthetic vs. down materials and also finding out what temperature rating would be best for you.
Synthetic vs. Down in a Nutshell
Synthetic
Down
Quick Drying
✅
❌
Cost
✅
Less expensive.
❌
More expensive.
Wet Conditions
✅
Dries fast and retains warmth when wet.
❌
Does not dry quickly.
It also can clump when wet, reducing its insulation abilities.
Weight
❌
Heavier.
✅
You can stay warmer in fewer ounces.
Lighter and squishes easier.
Hypoallergenic
✅
Non-allergenic.
❌
Durability
❌
✅
It tends to be more durable and will last longer.
The Appalachian Trail thru-hike is a notoriously wet hike.
Sleeping and hiking in drenched gear is no fun.
So that check mark in the synthetic column for how it holds up in wet conditions is worth considering when comparing synthetic vs. down materials.
We opted for synthetic and tented in many storms, never once having to go to sleep in a wet sleeping bag.
Temperature Rating
The temperature rating on a sleeping bag tells you the coldest temperature the manufacturer believes you can stay warm at while inside their bag, assuming you're also sleeping in long underwear and socks.
Assess what seasons you'll be hiking in, look at historical temperatures along the trail during those times of the year, and make sure you're equipping yourself with a bag that will keep you warm enough on the coldest nights.
North bounders starting in the bubble (March/April) can expect to see temperatures as low as 20 degrees at some point early on in the trail.
You will see "comfort" and "limit" ratings when looking at the temperature ratings.
If you run cold, pay attention to the "comfort" rating.
If you run warm, pay attention to the "limit" rating.
Also, keep in mind when they are determining those temperatures, they are using a sleeping pad with a 5.5 R-value. (More on sleeping pads and R-value in a bit.)
A note on replacement bags: It is not uncommon for hikers to swap to a lighter weight, higher temperature rated (30-35 degrees) bag in the summer months to get some weight off their backs.
Quilt vs. Sleeping Bag
Now that you have considered down vs. synthetic materials and know what temperature rating you're looking for, we'll move on to the sleeping bag vs. quilt conversation.
Quilt
Sleeping Bag
Warmth
❌
They can be draftier. You must attach your quilt to your sleeping pad to prevent a draft.
✅
Warmer, enclosed, often has a hood for your head.
Weight
✅
Lighter due to less material.
❌
Heavier due to more material.
Cost
❌
They are often made to order, which can be pricier.
✅
They can be cheaper if buying one off the shelf.
Comfort/Sleep Style
Rectangular in shape, optimal for side sleepers or those who toss and turn.
Often tapered or mummy bag.
Compression
✅
Less material means they can often be compressed into a smaller unit.
❌
They can be compressed but often remain larger than a quilt.
As you can see, each style has some pros and cons.
Everyone will have their opinions and some flexibility on how much warmth they require, what cost they're willing to spend, and how much weight they're eager to carry.
So once you have chosen on those fronts, it's best to consider your sleeping style.
Sleeping Style
If you never shift in your sleep, first of all, tell me your secret!?
But second of all, a sleeping bag would work wonderfully for you. The ability to mummy zip yourself up in the cold is an absolute pro.
If you are like my husband and me, though, and tend to toss and turn in your sleep, the freedom of a blanket likely sounds more appealing. You'll want to look into a quilt.
Either way, you'll be making an investment into this piece, so you'll want to make sure you're purchasing something that will work well for how you sleep. This is especially true if you are purchasing a custom quilt.
(And if you like options, Enlightened Equipment makes a combo bag called the Convert, which would be my pick! More on that below)
Sleeping Bags
Mummy Bags
A mummy sleeping bag is perfect for those who don't move much in their sleep or those who do move but are okay knowing they'll be taking the bag with them as they sleep.
The appeal of mummy bags is that the tighter the sleeping bag cinches around you, the more efficiently you will be warmed up.
Mummy bags also generally come with a hood that you can wrap around your head to help you retain warmth and weigh less because the shape naturally cuts off excess material.
Rectangular Sleeping Bags
Rectangular sleeping bags give you a more roomy feel, but they'll be heavier and won't warm you up as well.
The Best Sleeping Bags for the Appalachian Trail
If you're seeking the best sleeping bag for the Appalachian Trail, check out some of the most popular sleeping bags used by thru-hikers on the AT: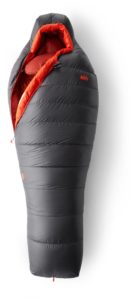 Quilts
Quilts are different because, unlike sleeping bags, in which you set yourself up for a certain level of consistent warmth each night, quilts have some flexibility.
They are best for hikers who are active sleepers and/or want to use their sleep system in various temperatures and climates.
Quilts achieve this versatility by having the back of the quilt open, no long zipper (with only a 1/4 zipper at your feet), and no hood, ultimately saving you some weight.
In the cold, you can cinch up the quilt and strap it to your sleeping pad to provide insulation underneath you and prevent drafts.
In the warmer seasons, you can open it up like a blanket.
We didn't think we would swap bags because we didn't want to buy two more sleeping bags. So the versatility of quilts appealed to us.
My Pick:
Enlightened Equipment Convert APEX (Temperature: 20°F, Length: Regular, Width: Wide)
(38.11 oz)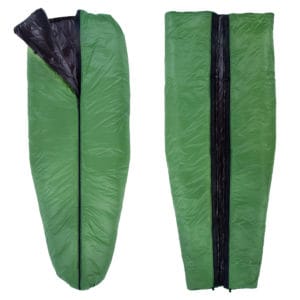 My quilt was more like a sleeping bag and a quilt in one – a quilt with a full-length zipper.
You may be asking, why not just get a sleeping bag?
Ultimately, this was one of the lightest options I found for the specs I wanted (having something synthetic, wide enough for me to be an active sleeper in, and with a 20-degree temperature rating).
Despite my quilt weighing 11.23 more ounces than my husband's, I loved the possibilities provided by my Convert!
It sealed better and still had an adjustable foot box and drawcord neck closure for the chillier temperatures.
On the coldest nights, I would cinch it closed, up above my head, and dip down into it.
If I could change anything, I would make it longer, which would also make it 2.55 ounces heavier, so I'm glad I stuck with the regular length.
Scrunched sleep for a few nights throughout the hike was worth not adding more weight to my pack.
I am a 5'4″ woman with broad shoulders and wide hips who is an active side sleeper.
The wide width was an absolute necessity for the way I sleep. I tend to twist myself up in zipped-up sleeping bags. The extra width allowed me to twist a bit but not be constantly woken up from the tangle I'd gotten myself in.
Due to my sleeping style and size, I am confident I made the right choice.
Husband's Pick:
Enlightened Equipment Revelation APEX Custom (Temperature: 30°F, Length: Long, Width: Wide)
(26.88 oz)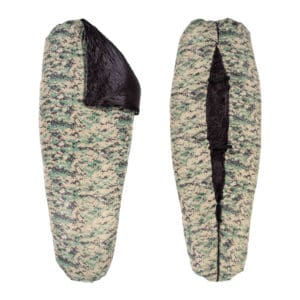 My husband was in a traditional quilt, open in the back, with a 1/4 zipper at the toe box.
He loved how warm it was able to keep him for being so lightweight, the cinchable toe box, the blanket usability, the wide width since he's an active sleeper, and how small it was able to be compressed in a Sea to Summit compression bag.
He also said he was glad he went synthetic; the trail is wet, and synthetic dries faster.
The main thing he has said he would have changed was he would have gotten a fully zippable bag, and he would have gotten a 20-degree one. So, what I had.
Part of this is because he never used the straps, which really need to be used to keep your quilt sleep system working correctly in the cold. So that's on him, and if the strap situation doesn't sound appealing to you, it's worth noting.
He generally runs warm and wasn't worried about the cold, but in retrospect, he wishes he would have thought about it a bit more.
He admitted he was thinking a lot more about being too hot in summer temperatures when deciding what to purchase instead of focusing more on the cold temperatures he would endure.
Other Popular Quilts:
Sleeping Pad
Sleeping pads are not only about providing cushioning to your sleep.
Sure, they help you get a good night's sleep by providing your body with something vaguely similar to your bed back home.
But your sleeping pad is also the second component of your sleep system, after your quilt or bag.
The two work together to keep you warm throughout the night.
Remember that if your bag was rated for 30 degrees, that was combined with a 5.5 R-value sleeping pad.
So, if you're heading out with a sleeping pad rated at a lower R-value, your sleeping bag won't keep you warm at the degrees it claimed.
Sleeping pads also give your sleeping bag added protection from the elements.
When seeking the best sleeping pad for the Appalachian Trail, consider the types of pads and their comfort, weight, durability, noise level, and R-value.
Sleeping Pad Types
| | | |
| --- | --- | --- |
| | Pro | Con |
| Air Pads | Comfy, lightweight, and very compact. Customizable firmness. | More Expensive. They can be punctured, ripped, or develop microtears. They also can be noisy. |
| Self-Inflating Pads | Comfortable, with excellent insulation, and are more durable than air pads. Easier to field repair than air pads. | Do not compact small. They are heavier and more expensive than foam mats. |
| Closed-Cell Foam Mats | Low cost, weigh the least, durable. You can also use it as a sit pad. | "Bulky" and provide the least comfortable cushiness. |
After reviewing this chart, you probably noticed self-inflating pads aren't ideal for thru-hiking due to their size and weight. So, we will focus on Air Pads and Closed-Cell Foam Mats only moving forward.
R-value
You can quickly lose body heat due to the cold ground without a sleeping pad to rest on.
A sleeping pad's R-value tells you how well it can keep you warm by measuring its resistance to heat loss.
The higher the R-value, the more insulation being provided.
Air Pads
Air Pads are a lightweight, comfy, and compact sleeping pad option. However, that all comes at a hefty price tag.
Our Pick:
Therm-a-Rest NeoAir Xlite Pad (now the NeoAir Xlite NXT)
(12.5 oz, 4.5 R-value)
After going through a few different brands of sleeping pads throughout our hike, I cannot recommend the Therm-a-Rest NeoAir Xlite Pad enough.
It provides durable, 3-inch thick quiet comfort and 4-season warmth in a small, 12.5 oz package.
Closed-Cell Foam Mats (and Reflectix)
Closed-Cell Foam Mats are a cheap, lightweight sleeping pad option. However, they offer minimal comfort.
In this category, the NEMO Switchback Ultralight Sleeping Pad (14.5 oz – R-value: 2) and Therm-a-Rest Z Lite SOL Sleeping Pad (14 oz – R-value: 2) tend to be most popular with thru-hikers.
Hiking only with this pad type is hardcore and was not for me; I needed some comfort to sleep.
However, I'm going to make a case for hiking with both pad types, providing a layer between your sleeping pad and the ground.
Doubling up on an Air Pad and a Foam Mat means combining both mats' R-values, giving you more warmth and providing a layer of protection for your air pad from the ground.
Is having a layer between the two "required?" No, absolutely not. And companies will stand behind their mats being strong enough to endure either way.
That being said, if you get cold easily, some extra warmth during the chillier seasons and some extra ground protection may be worth considering in exchange for carrying a few more ounces.
I'm going to recommend a "foam mat" option that is lighter and has a higher R-value than either of the two mats above.
Living as full-time RVers before heading out on trail made us intimately aware of the temperature-regulating powers of Reflectix!
When it started getting colder at the end of our hike, we hit up a Lowes near trail, bought some Reflectix, and cut two body-length pieces for ourselves.
We immediately noticed it kept the tent warmer and provided extra protection from wetness.
Only you can choose whether those few extra ounces will increase your quality of trail life or not, but if you find yourself often cold, it's worth considering.
A friend of ours had a similar hack, buying one of those reflectors you put in a car windshield and cutting it down to her size.
Whatever works!
Sleeping Liner
A sleeping liner can be added to the inside of your sleeping bag for extra warmth during the colder months.
They also function as a layer of protection for your sleeping bag. Keeping sweat and dirt off the inside of your bag means you won't have to wash it as often, extending the bag's life.
However, if using one at all, most thru-hikers use it primarily for warmth and opt not to carry the liner during the summer.
Barrett picked up this Sea to Summit red "extreme" reactor liner early on at Mountain Crossing because he was not warm enough at night.
Then, when it warmed up, he shipped it to my mom, reaching back out for it again in the fall.
If you're buying a liner for warmth, don't go for any that are temperature-rated lower than this red "extreme" reactor liner.
We tested the black reactor liner that claims to add 14 degrees of warmth, and even though it's 6 ounces lighter, neither of us could feel a warmth increase with that one.
Tip: There will be some items on this list, such as a sleeping liner, that you will only need for part of your hike.

Ask a friend or family member if you can leave a tub of items with them. We left a few tubs full of items in labeled Ziplocs with my mom before heading out. It made a world of difference.

If we needed something, we'd text her and ask if she could pop it in the mail. Also, as the weather changed, if we didn't need items, we would send them back to her for safekeeping until they were needed again.
Nylon Compression Sack
A compression sack is highly recommended for your quilt or sleeping bag so you can transform that giant puffy beast into the size of a football before placing it into your pack each morning, giving you adequate room for everything else.
This one from Sea to Summit also provides your sleeping bag with water-resistant protection throughout your hiking day.
Sea to Summit Compression Sacks
(15L – 4.3 oz)
I even took the weather protection one step further and wrapped my compression sack in my second Gossamer Gear pack liner since they come in a two-pack. (More on those on the next page.)
Continue Reading:

PAGE ONE: Shelter
PAGE TWO: Sleep System
PAGE THREE: Backpack
PAGE FOUR: Clothing
PAGE FIVE: Footwear
PAGE SIX: Food & Cooking Gear, Water Treatment System
PAGE SEVEN: Other Gear
PAGE EIGHT: Electronics, Navigation & GPS, Essential Hygiene Items, Less Important Hygiene Items, Bug Management
PAGE NINE: Personal Luxury Items, FAQs