Latest posts by Cindy Scott
(see all)
(Last Updated On: December 1, 2023)
This article is a nine-page comprehensive RV essentials guide.
If you have arrived in the middle of the guide but want to start at the beginning, click here.
RV Internet Necessities for Those Working From an RV
These days, more and more people are working from RVs.
Let's set you up with everything you need to make a respectable workspace.
Obtaining Internet on the Road
If you plan on working while traveling or living in your RV, as we did, you may wonder what to use for the internet?
It's a good question!
It would be best to not depend on RV parks or campgrounds to have quality internet available. It's rare.
That said, you have options to get yourself up and running on the road.
Here are a few popular options:
Using Your Cell Phone or Tablet
One option for getting internet on the road is using your cell phone or tablet's data plan.
If using data via a hotspot is part of your cellular plan, you can get the internet up and running on your laptop using your phone or tablet's hotspot feature.
However, while this can work for essential work functions, I wouldn't consider it a full-time option. Generally, those plans come with a data cap. Once you hit the limit appointed to your hotspot by your mobile carrier's plan, speeds will be reduced for the rest of your billing cycle.
Using a Mobile Hot Spot
A better option than the one above is getting internet via a mobile hotspot, often called Jetpacks or MiFi devices.
They function similarly to your phone's hot spot feature, with a data plan, but run off a separate portable device.
Mobile hotspots are a popular, portable internet option for RVers, but how helpful they are depends entirely on the data plan you have working within it.
We have successfully operated off having a combo of the above two options.
We primarily function off a MiFi device connected to a Verizon plan but have a backup of two phones on an AT&T cellular plan with a limited hotspot. So, if we're ever in a spot where one carrier doesn't service, usually the other pulls through.
Between those two options, we almost always could find the internet service we needed.
Using a Cellular Router with a Modem
We personally never needed to level up to a cellular router and modem setup on the road. But we know other RVers who have gone about it via this approach.
These setups will give you the most extensive range of data connection options and be the most reliable.
I recommend starting with the above hot spot combination and seeing if you need to level up to this.
Using Starlink
I have heard hit-and-miss rumblings about Starlink Roam. For the moment, I recommend the other above options.
That said, with time, I'm optimistic that will change.
Cell Signal Booster
A signal booster, such as the WeBoost, enhances your cellular signal up to 32x, expanding your ability to go further off-grid!
The WeBoost Signal Booster uses an antenna you install on top of your RV to amplify the existing cell signal you're receiving from the nearest cell tower, giving you a stronger connection.
Before having the weBoost Signal Booster, we felt we lost some freedom and sometimes had to stay closer to bigger cities with better signal to get jobs done on time.
But once installed, it noticeably advanced our cellular signal situation. For example, I've now been able to record, edit, and upload podcast episodes while boondocking in Grasslands in North Dakota.
So now, we are rarely disconnected between our AT&T phones, our Verizon hotspot, and the weBoost Signal Booster.
WeBoost Drive Reach RV Booster Kit
Sale
Bluetooth Noise Canceling Headphones
If you're traveling or living with anyone else in an RV, Bluetooth and noise-canceling headphones are a must.
That's because odds are, there will be moments when you all want to listen to different things.
You'll want a pair that can connect via Bluetooth since wires can quickly make a trippable mess in an RV.
And then you'll also want noise-canceling since you're rarely far from your traveling companion. The space is small, after all.
I personally love Airpods!
Apple AirPods Pro Wireless Ear Buds
My husband likes headphones that fit completely over his ears.
If you're in that boat, these Plantronics Headphones are a great mid-range price point option.
They are noise-canceling, last 24 hours before needing to be recharged, and the listener can be up to 98 feet away from their Bluetooth connection.
RV Boondocking Essentials
While boondocking is a much bigger topic, and there are tons of items to help you function best "off-grid," here are two items we found considerably helpful (in addition to the already mentioned generator, water jug, etc…):
Jackery Solar Generator
There are countless ways a Portable Power Station can come in handy.
Essentially, they're great for running some of the appliances you desire while off-grid camping. On the road, we really fell in love with Jackery's battery-powered inverter generator portable power stations that can change via AC, USB, and DC.
Different models can power different appliances, depending on what model you buy. Jackery's power stations range from 160W to 3000W.
When the power station is out of juice, it can be recharged from a car, wall outlet, or solar panels. If you reboot it with solar panels, you're set with a portable renewable power option you can take anywhere!
Having one of these portable charging stations, combined with the solar panels that reboot it in 1.7-2.5 hours (depending on the model you get), has helped us work from anywhere and leveled up our boondocking game.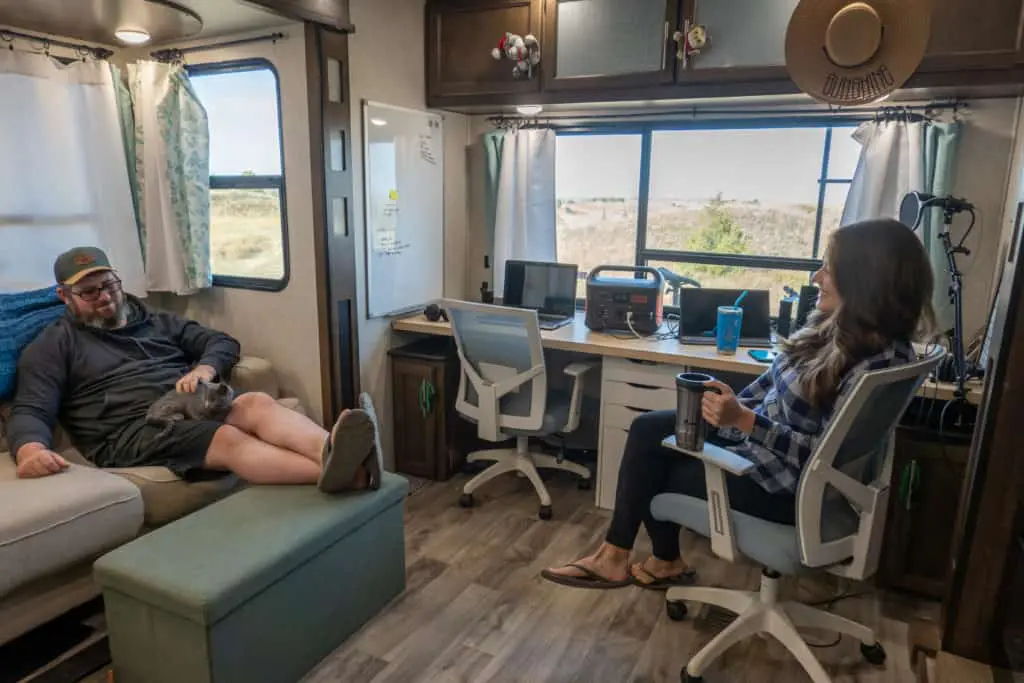 Honestly, beyond boondockers, RV lifers, and campers, they're also fantastic for anyone looking to have an emergency backup source of power on hand or anyone who enjoys working outdoors.
Solar Panels
Solar panels provide a sustainable energy source when you're not hooked up to shore power, charging your battery so it can run your 12-volt systems, such as lights, fans, and water pumps.
Panels can be roof mounted on your RV or freestanding, with mounted panels being more convenient and space-saving and freestanding being more energy-efficient since you can reposition them to track the sun.
Panels come in a range of sizes and maximum wattages. The more panels and batteries you have, the more you can power.
Renogy 2 Piece 100 Watt 12 Volt Solar Panel
Sale
When deciding on solar panels, you need to consider which appliances you want the solar panels to power, what you expect your appliance usage to be, and how many batteries you'll need to harness and store the incoming solar energy.
Here are a few examples of how many watts appliances use:
💡 A 40-inch television uses somewhere between 50-200 watts every hour, depending on the type of TV.
💡 Energy-efficient LED lights will use approximately 10 watts per hour.
Continue Reading:

PAGE ONE: Top Ten RV Must-Haves
PAGE TWO: RV Water & Sewer Supplies
PAGE THREE: Road Trip Planning Tools
PAGE FOUR: Fundamentals for RV Emergencies, Safety, & Maintenance
PAGE FIVE: RV Kitchen Essentials
PAGE SIX: RV Bedroom, Closet, Laundry, Bathroom, & Living Room Essentials
PAGE SEVEN: RV Internet & Boondocking Essentials
PAGE EIGHT: Fun Outdoor Camping Items, Traveling with Bikes, & Traveling with Pets
PAGE NINE: Stationary RV Living, Winter RV Living, RV Storage, & FAQs