Latest posts by Cindy Scott
(see all)
(Last Updated On: December 1, 2023)
This article is a nine-page comprehensive RV essentials guide.
If you have arrived in the middle of the guide but want to start at the beginning, click here.
Stationary RV Living Essentials
The following items are good for when your RV is parked in one spot for an extended time:
Tire/Wheel Covers
If you've parked in a spot you don't intend on leaving for a while, it's wise to throw some wheel covers over your tires.
Hardy, UV-treated, and water-resistant covers help guard your tires and wheels against weather, sun, and dirt damage that can occur over time from sitting stagnant in one spot.
When shopping, look for a four-season cover with a good warranty, such as the set below.
Tough Tire Wheel Protector Covers
RV Insulator
In RVs, intense heat or cold periods often call for extra insulation.
Reflectix is a popular and easy-to-use reflective-based insulation that keeps your rig cooler in the summer.
It blocks and reflects 96% of the radiant heat coming through a window in your RV.
Meaning it not only provides shade when blocking out a window but also reflects the heat coming toward the window away.
Then, when RVs lose heat through the glass windows in winter, Reflectix can be placed in the windows to improve heat retention.
We fit some for our smaller, less looked-out windows for year-round use and saw a noticeable difference, especially during the hot months down south.
(We love Reflectix so much that we integrated it into our Appalachian Trail thru-hike gear!)
Keypad Door Lock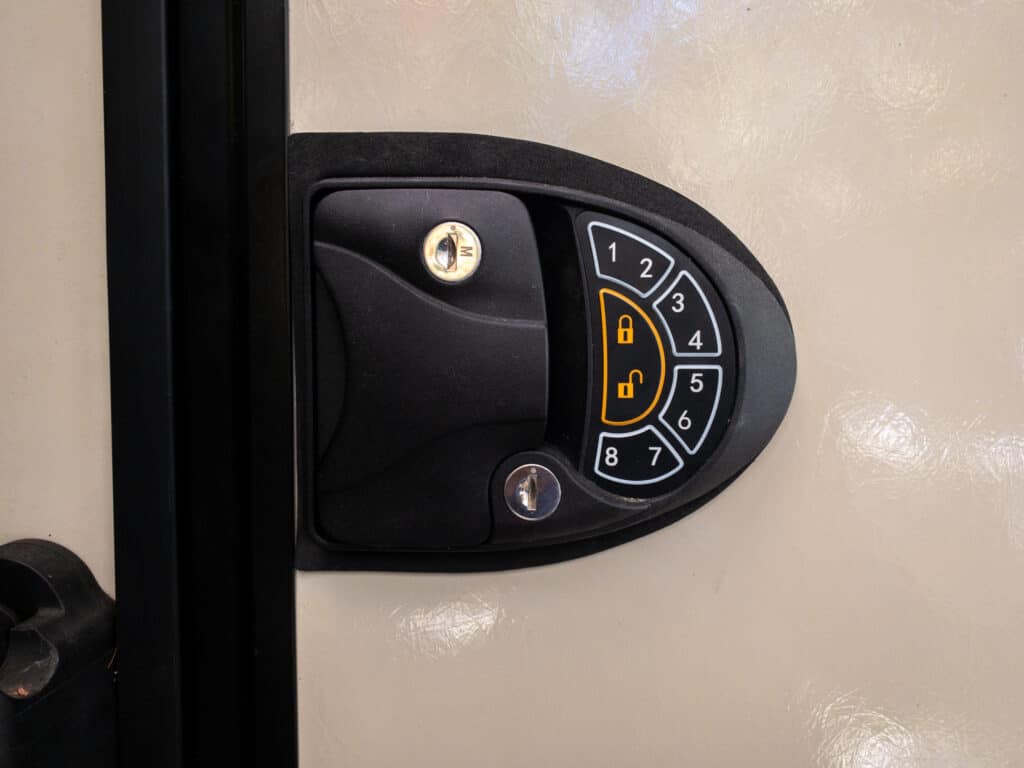 A keypad door lock gives your family the freedom to roam the campground without having to make sure everyone in the family has a set of keys.
When picking one, opt for one with a light-up keypad.
Not having to fumble around for a light to see the key lock is a real game-changer.
This one also comes with two remotes, so you can lock the RV up with the click of a button.
RV Door Lock Keyless Entry Keypad
Sale
Defabee RV Door Lock Keyless Entry Keypad, All Metal Trailer Compact Door Lock Latch 2 Key Fobs and Backlit Keypad, RV Accessories for Inside, RV Door Latch for Travel Trailer Camper Truck
【Secure RV Keyless Entry Door Lock】If you're looking for a way to secure your valuables as you travel with loved ones in the family trailer or camper, this camper door lock is just what you need. Camper accessories for travel trailers widely used for RV, Bus, Yacht, Ferry, Trunk, Travel Trailer, Bumper Pull and Campers.
Winter RV Living Necessities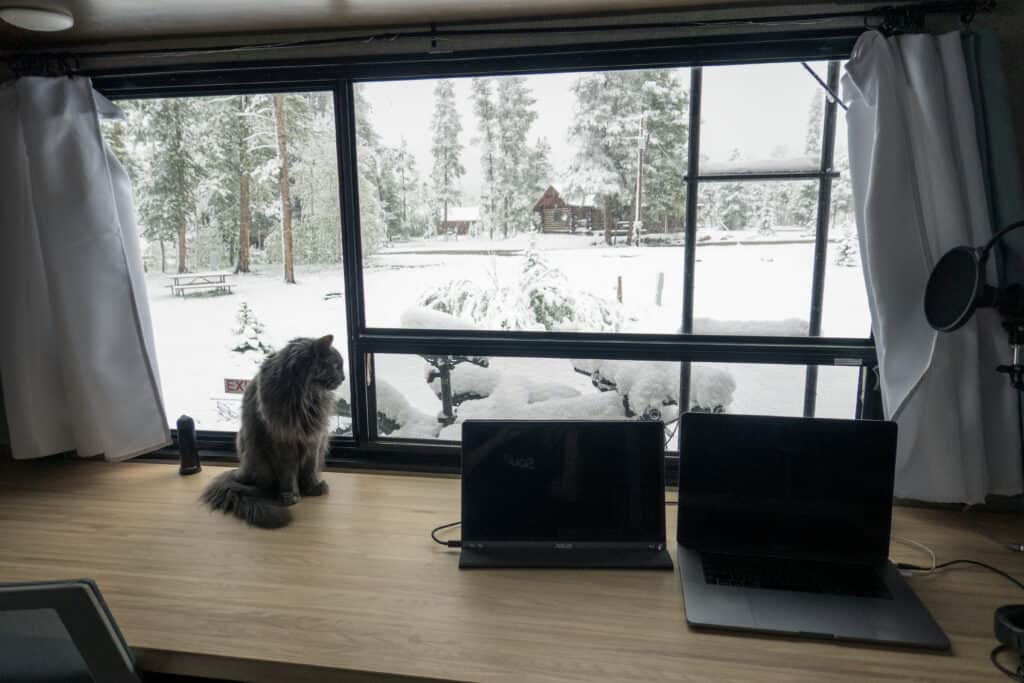 If you live out of an RV in the winter, these items will help you fight the frigid temperatures:
Heated Drinking Water Safe Hose
Your RV's heat should keep your holding tanks from freezing (so long as they're properly insulated), but the same can't be said for the drinking water coming out of the park's spigot. To keep that frost-free, you'll want a heated drinking water hose.
These hoses are similar to the drinking water safe hoses mentioned earlier but also have a small heating element wrapped alongside the hose, which is then covered with insulation. They keep water coming to your RV In freezing temperatures.
Camco 25-Foot Heated Drinking Water Hose | Features Water Line Freeze Protection Down to -20°F/-28°C & Energy-Saving Thermostat
Sale
Winter Skirting Materials
Like lying in a hammock, a cold breeze underneath your RV leads to an unbearably cold night and can freeze your holding tanks.
Hanging vinyl or fabric skirting from the bottom of your RV to the ground creates an insulative barrier and keeps your furnace from running 24/7.
Vinyl is the classic option since it is relatively durable and can fold up to be stored in a small space.
They don't come cheap, though, so some DIY RV owners hang a series of tarps around the base instead.
Unfortunately, the tarp option probably won't last more than one season and is somewhat unsightly.
Space Heater
Having a small space heater on hand in your RV can be helpful.
Your RV propane furnace should be able to keep you warm as needed.
However, space heaters are a great device that can be used in addition to your RV's furnace heat on those extra chilly winter days. You never know when you may need some excess heat fast. Any small space heater will do.
We most often use ours whenever we encounter our propane suddenly running out.
Electric Space Heater with Thermostat
Sale
For Those Who Store their RV
Sadly, many of us can't always be on the road.
There's almost guaranteed to come a time when you'll need to store your RV.
RV Cover
RV covers are a great way to protect your RV from the elements in an uncovered storage situation, including ultraviolet sun rays and weather.
When looking into covers, make sure the cover you're purchasing is made of durable, breathable, water-resistant material. Polypropylene or polyester are common fabrics used on high-quality covers.
Tarps are not recommended due to the moisture they will likely develop. A high-quality cover with vents will facilitate moisture drying, preventing mold and mildew from building up on the RV and the cover.
Camco ULTRAGuard RV Camper Cover with Secure Cinching Straps, Zippered Entry Doors, and Covered Air Vents
View Everything on Amazon
Amazon is a great place to start when researching RV must-haves!
Click here to find all the items mentioned in this article in our Amazon storefront.
FAQs: RV Must-Haves
What do First-Time RV Campers Need? What Should I Put in My New RV?
Every new RV should have these Top 10 Essential Items:
✅ Surge Protector
✅ Drinking Water Safe Hose
✅ Sewer Hose Kit
✅ Leveling Blocks
✅ Wheel Chocks
✅ Road Side Emergency Kit
✅ First Aid Kit
✅ Spare Tire
✅ Adapters
✅ Extension Cord
What Paperwork Should I Travel with in My New RV?
📑 RV Insurance
📑 Medical Insurance and Records
📑 Camping Memberships
📑 You'll want to have a Domicile and Mail Service Setup
📑 RV Logbook or Camping Journal to record everywhere you've been.
You should also purchase a small safe or other protected device to store these documents. Choose something easy to take with you in emergencies as well.
What Should I Pack in My RV for Full-Time Living?
Full-time RVers tend to put many more items in their RVs than short-term travelers and weekend warriors.
When considering what items/accessories to add to an RV while full-timing, try to find items that are:
⭐️ Durable yet Lightweight: You want products that will withstand the stresses of being carried down the road yet are still light enough to not weigh your rig down too much.
⭐️ Compact: The smaller, the better. It's shocking how fast an RV can feel crowded by your things.
⭐️ Versatile: An object with multiple uses is a big win in an RV.
What Should a First-Time RV Owner Know?
First-time RV owners should know that RV living, camping, and traveling is a live-and-learn process, just like anything else.
It's okay to buy the wrong hose but then accept defeat and get the better one. 🙂
Wrap-Up: The Best RV Accessories
I hope you have found my comprehensive RV must-haves list helpful!
This article aimed to detail which of our very favorite RV items are most worth purchasing after buying your first RV and give tips on what to consider when buying each item.
I put the post together after loads of research, in-field usage, and experience.
Our RVing has been much better off with the gadgets we've picked up throughout our travels. I'm excited for them to start helping you have the best time ever in your brand-new RV!
If I can leave you with a final note, it would be: Things will undoubtedly get complicated on the road. Remember you're new to this and that resilience and a positive attitude will ultimately serve you the best in RV travel!
🎁 Looking for Gift Ideas for RVers? 🎁 Check out these articles to see which items are specifically fun and popular for gifting:
👉 15+ Awesome Holiday Gift Ideas for Full-Time RVers in 2020
👉 20+ Holiday Gift Ideas for Full-Time RVers in 2019
Continue Reading:

PAGE ONE: Top Ten RV Must-Haves
PAGE TWO: RV Water & Sewer Supplies
PAGE THREE: Road Trip Planning Tools
PAGE FOUR: Fundamentals for RV Emergencies, Safety, & Maintenance
PAGE FIVE: RV Kitchen Essentials
PAGE SIX: RV Bedroom, Closet, Laundry, Bathroom, & Living Room Essentials
PAGE SEVEN: RV Internet & Boondocking Essentials
PAGE EIGHT: Fun Outdoor Camping Items, Traveling with Bikes, & Traveling with Pets
PAGE NINE: Stationary RV Living, Winter RV Living, RV Storage, & FAQs