(Last Updated On: December 1, 2023)
This article is a nine-page comprehensive RV essentials guide.
If you have arrived in the middle of the guide but want to start at the beginning, click here.
Fun Outdoor Camping RV Items
These are the simple things that will enhance your outdoor RV camping trips:
Outdoor Camping Rug
Many campers, especially those with small children, like having a large rug outside their rig to provide a clean place to play or hang out while outside.
As a bonus perk, since people will likely be gathering on the rug, they also help prevent campsite dirt build-up from being tracked inside your RV repeatedly.
Doormat
A doormat is another excellent way to prevent the outside elements from being tracked into your RV.
A basic rubber mat is easy to wash and will pull some dirt and grime from your shoes, but a coir-style mat can get them much cleaner, even if the mats are somewhat more challenging to maintain.
They aren't too expensive, so we've simply swapped ours out for a new one every year.
RV Step Covers
In exchange or in addition to a doormat, step covers are one more way to help prevent dirt from being tracked into the RV.
Step covers are relatively simple but are sold in various sizes and materials.
Measure your RV's steps carefully to ensure the covers are large enough without needing too much cutting or custom-fitting. Look for covers with thick backing material and longer fibers; they'll clean the dirt off your shoes better and last longer.
Camping Chairs
There are so many awesome camping chairs out there!
When searching for your new favorite camping chair, consider its portability, durability, and comfort.
Here are the three chairs that have become my personal favorites over the years, all for very different reasons:
Ultralight Highback Backpacking Chair
This chair is for those who are most serious about wanting to save space and weight.
It is crazy easy to store, coming in at only 16 inches long when packed up, and adds only 1.5 pounds to your rig!
Having personally sat in both the regular chair and the highback chair option, I recommend dropping the few extra dollars for the highback chair for a more comfortable sitting experience.
2-in-1 Rocking Camp Chair
Why have a plain old camping chair when you can also have one that rocks!
I find myself grabbing for this Ozark Trail camp chair most often to sit in around the campfire.
Zero Gravity Lounge Chair
These chairs will be the most impracticable for space in your RV, but they are SO luxurious to lounge in that, to me, it always made the space compromise worth it!
Lightweight Yard Games
Yard games are perfect for when you want to set up camp right outside of your RV during a big game or on a hot summer day.
Check out these lightweight and compact options that would be perfect because they'd take up minimal room in your RV when stored away for travel.
Tablecloth
Oh, if the picnic tables provided at campsites could talk…
Often, the tables are in rough shape. A tablecloth is a great way to have a clean eating or working space.
Look for waterproof ones like these below that are easily wipable. Also, consider tablecloths with elastic gripping edges so you never have to worry about yours flying away.
Hammock
Traveling with a simple to set up hammock provides you an excellent option for kicking back and relaxing outside your camper.
Inflatable Kayaks
I love getting out on the water everywhere we go, but the cost of kayak rentals can add up quickly.
And, let's face it, RVers usually have little space for a regular kayak in their rigs.
That's where inflatable kayaks come into play!
These INTEX Inflatable Kayaks have opened up so many water-based activity options for us while in the RV.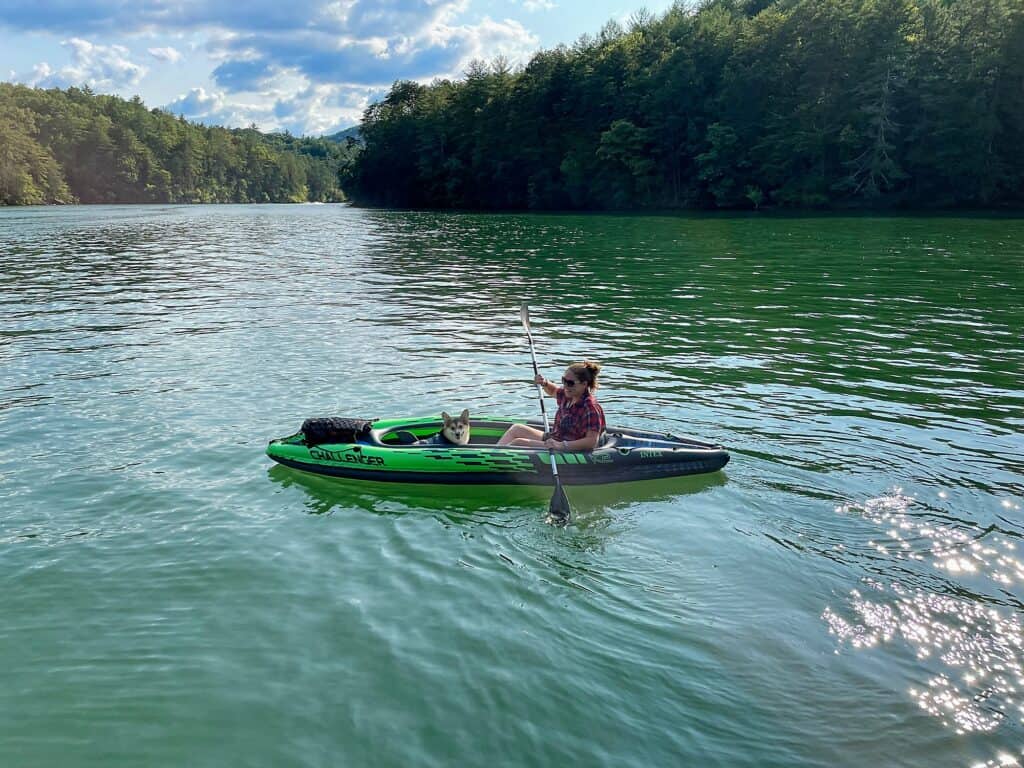 If you also love the water but are short on space, consider picking up an inflatable kayak that's durable, abrasion-resistant, and comes with a limited warranty, such as the ones below.
They also pack down into a reasonable-sized bag you can take in your vehicle.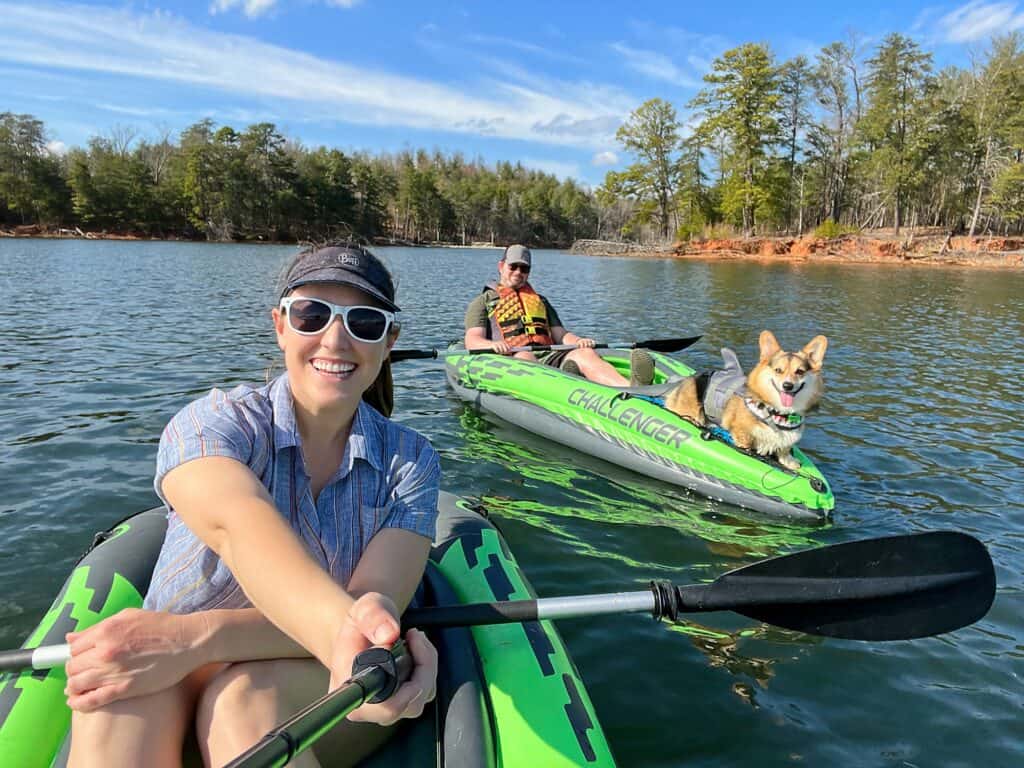 Propane Fire Pit
Only some people love the smell, smoke, and mess of a natural firepit. Plus, there is lighting, maintaining, and constant watching of the fire.
If that's not your thing, having a Propane Fire Pit would be perfect for you!
These steel fire pits provide a realistic, warm, and smokeless fire that can be set up in a flash.
Grill
There are tons of grill options out there!
However, if you want to start with something lightweight and simple that only occupies a little space in your RV, check out this 2-in-1 Coleman Tabletop Propane Camping Grill and Stove. It's perfect for solo camping, couples, or small families.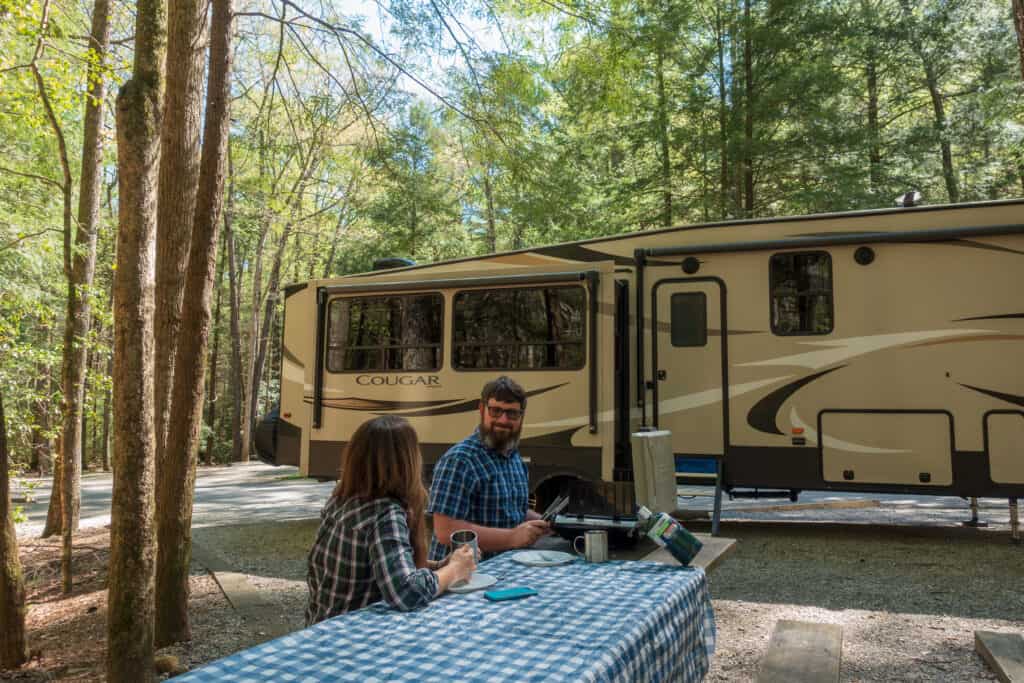 Its two adjustable burners let you grill and stovetop cook outside simultaneously.
Cooler
Having a refrigerator while camping is one of the best things about owning an RV. However, your refrigerator has some hefty power requirements, which can be problematic when boondocking, especially if you don't have a generator.
Additionally, if you spend a lot of time sitting outside, you don't always want to go in and out of the RV, letting all the bugs in.
A cooler can come in handy as a backup refrigerator and for its portability.
A standard hard-sided cooler is your best option for RV travel as it's durable, keeps food and drinks cold longer, and can be used as a table or footrest.
Coolers vary in quality and price; the more insulation they contain, the more you'll pay. However, a quality cooler more than pays for itself over time with how much less ice you'll be using.
Cooler Insert
Those vacationing or living out of a tiny rig are also likely living out of a small refrigerator and a cooler.
Maintaining ice can be a pesky problem, though.
First, you want to avoid that layer of water on the bottom of your cooler that eventually ruins your food.
Then, to get everything cool inside, you must layer ice throughout the cooler. That much ice throughout the cooler makes remembering what food is inside hard.
The Cooler Insert fixes those problems!
It creates a convection process that keeps air and water circulating inside the cooler.
With it, the cooler operates more like a refrigerator than a cooler! So, your food items can be easily organized, viewable, cold, and dry for up to 5 days.
And all that with the cooler insert taking up less space than a 20 lb bag of ice.
Here's a cooler it works with:
And here's a list of all the other coolers it works with.
For Those Traveling with Bikes
You'll surely bring your bikes along if you enjoy biking in new spots while traveling!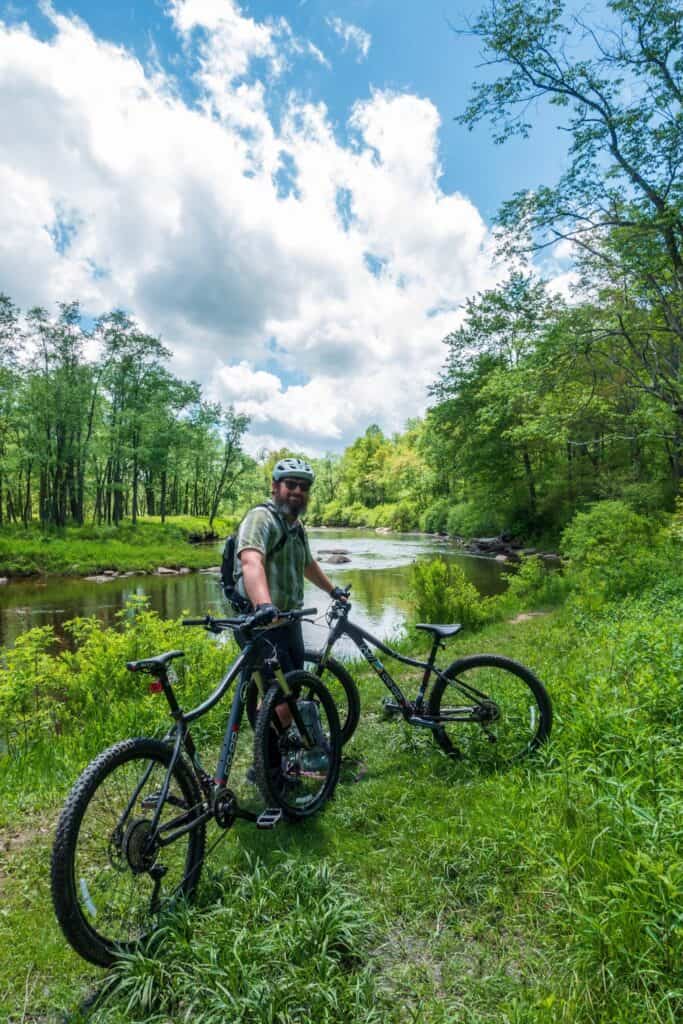 How you transport them will vary depending on your hitch, how many bikes you bring, and how much you want to protect them.
Consider ample protection since they will likely live outside of your rig, having to take abuse from weather and being evident for anyone to see.
Here are a few essential items you'll need:
Bike Rack
First, you'll need a device to transport your bikes.
Think about the layout of the back of your RV when purchasing a rack that works best for your rig.
For example, if you have a sizeable rear-facing window like ours, consider a bike rack that sits low like the one below.
Since it sits low, the bikes can be stored on the back of the RV, and we can still see the view out the window while working at our rear-facing desk.
Here are a few other bike racks that are popular with RVers:
Waterproof Bike Cover
Since you'll be in such tight quarters, your bikes are likely signed up for living outdoors.
Consider purchasing a waterproof cover you can keep over them that will protect the bikes from the daily elements.
You can buy individual covers or ones that can cover multiple bikes simultaneously.
You can also use a cover to give the bikes some added protection while traveling on the freeway, but make sure the cover is secured very well. Otherwise, you'll end up with a tattered cover pretty fast. (Don't ask me how I know that one. 🤦‍♀️)
Bike Locks
There are two types of bike locks RVers traveling with bikes should invest in:
On the RV Bike Locks
This first lock is the lock that will keep your bikes secure while they are located at your RV. It should be a heavy-duty, thick lock that a thief would need heavy-duty cutters to get through, meaning it can only be messed with by creating a scene.
Consider how many bikes you're locking together when deciding how long one of these locks should be.
This ONGUARD Mastiff 6′ x 3/8″ Quad Chain Lock is an excellent option for couples because it is long enough to wrap around two bikes. It also has outstanding ratings.
Around Town Bike Locks
That first lock is heavy and not optimal for toting around town.
When choosing a lock for your bikes when you're using them around town, you essentially want a lock that makes your bike look less appealing compared to other bikes.
This Kryptonite Evolution Mini-7 Bike U-Lock with Cable is an excellent choice. Kryptonite is known to be a great bike lock brand.
And then the fact that it has the U bracket and the cable means it comes with a bit of extra protection that would hopefully make the thief take one look at the bikes and decide it would be much easier to move along and nab someone else's bike.
For Those Traveling with Pets
So many RVers are now traveling with their furry family members these days.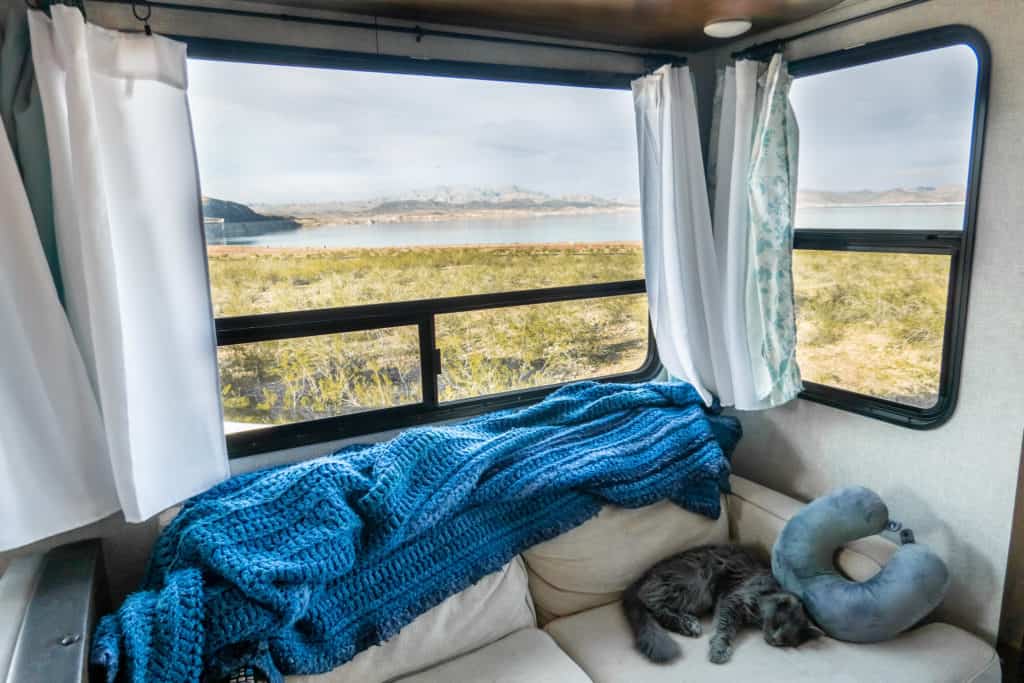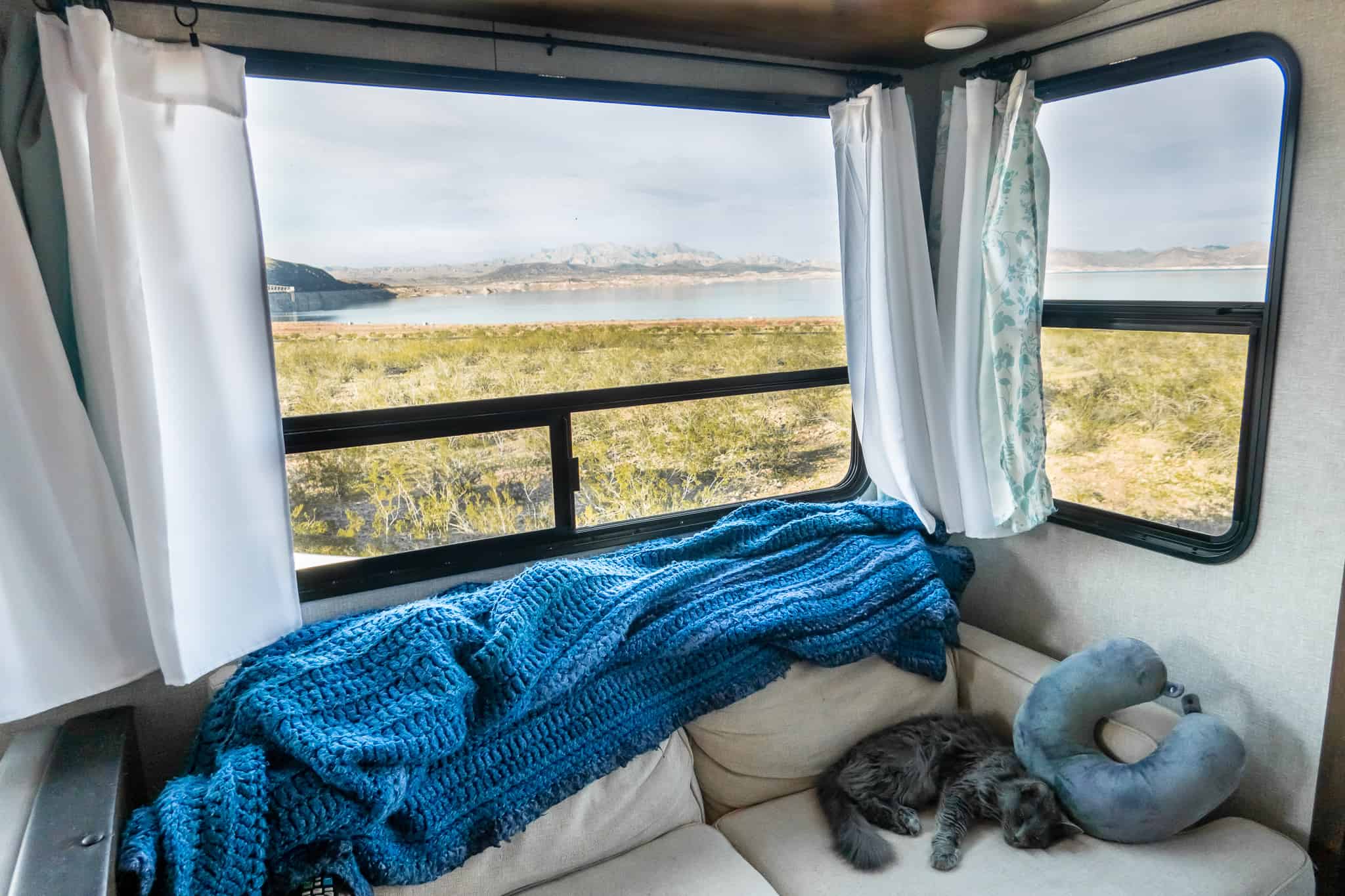 Here are some popular items that will keep them comfortable and safe:
Temperature Sensor
If you have pets traveling on the road with you, having a device to monitor your RV's temperature provides incredible peace of mind.
Imagine you'd like to go out on a hike. With the Proteus AMBIO WiFi Temperature Humidity Sensor, you select a low and high-temperature range for the device to monitor. If the RV ever gets too warm or too chilly, you'll be instantly emailed and texted.
The device gives you the peace of mind that all is well with your furry friends back at the RV, no matter what the weather is outside the RV walls, and gives you the freedom to go on your hike or to the grocery store.
Be sure to set the alerts low and high enough, so if heaven forbid something does happen, you have the proper amount of time to get back to your rig and resolve the issue.
Even if you don't have pets, I will say it's nice to be able to monitor the temperature of your rig from afar anytime. If your air conditioner or heater breaks while you are out, it's always better to know sooner rather than later.
Ring Stick Up Camera
Ring Stick Up Cameras are a great way to add a cheap and easy security system to your rig.
If you ever have to leave your rig for an extended amount of time, just set up one of these cameras before leaving. The camera will alert you to any movement and record the action (as long as you are signed up for a plan that includes recordings, which would be recommended if you're using the camera for security purposes).
However, we have found ourselves using our battery-powered model like this one even more often to watch over our pets while away. We leave it set up daily and then check in on the rig and pets at any moment while we're hiking or running errands, which we can do without paying any extra fees.
Ring cameras come in various power options, from plugging into sockets to batteries to solar charging. Consider where you'd like to place it and how you'll use it when choosing a camera for your RV.
Foldable Dog Pen
RVers with dogs often travel with a compact dog pen like the one below, which you can set up around the outside of your RV, giving the dog the illusion of a yard and creating a safe place to hang out near the RV.
Think about how big of a space you want for your dog and how big of a pen you want to travel with when purchasing.
Litter Robot
Hear me out…
Okay, so this item is somewhat oversized for an RV and isn't going to be for every cat owner. Still, after trying almost all the other cat litter-cleaning machines out there, I can promise you this is the only one that does its job and isn't a pain to use.
This will be a game-changer for those like us who want a machine that doesn't need to be emptied daily.
Due to the large sealed bin at the bottom, it has a considerable capacity for dirty litter. We only have to empty and refill this machine about once a week, which is precisely what we were looking for.
Click here to use my Litter Robot referral code and get $25 off your order!
The con, though, is obviously its size. We had ours in our shower. It would also fit in many RV closets.
If you're looking for something smaller, though, I understand. Ask yourself how often you're willing to scoop the litter.
If the answer is daily, then this would be my second pick:
Litter Mat
This dual-layered litter mat traps all that litter that gets stuck in your kitty's paws and then tracked out of the litter box into your RV.
Instead of having litter scattered throughout your RV, it gets trapped in this mat's bottom level.
With this, you'll be able to happily walk on top of the mat and throughout your RV without worrying about getting litter stuck to your feet.
To maintain, every once in a while, take the mat and dump everything stuck inside into a trash bag. Easy peasy.
Continue Reading:

PAGE ONE: Top Ten RV Must-Haves
PAGE TWO: RV Water & Sewer Supplies
PAGE THREE: Road Trip Planning Tools
PAGE FOUR: Fundamentals for RV Emergencies, Safety, & Maintenance
PAGE FIVE: RV Kitchen Essentials
PAGE SIX: RV Bedroom, Closet, Laundry, Bathroom, & Living Room Essentials
PAGE SEVEN: RV Internet & Boondocking Essentials
PAGE EIGHT: Fun Outdoor Camping Items, Traveling with Bikes, & Traveling with Pets
PAGE NINE: Stationary RV Living, Winter RV Living, RV Storage, & FAQs