(Last Updated On: December 1, 2023)
This article is a nine-page comprehensive RV essentials guide.
If you have arrived in the middle of the guide but want to start at the beginning, click here.
RV Bedroom Accessories
RV bedrooms can feel drab until you make them your own.
Here are a few simple items that will upgrade your sleeping quarters.
A New Mattress
You're going to find out pretty quickly that RV mattresses suck.
However, sleep is essential.
It doesn't matter if you're living full-time in your RV, a weekend warrior, or someone who takes it out on a few trips a year; you'll always want to get a good night's sleep after a long day of exploring.
When mattress shopping, of course, think about what quality and firmness is best for you, but also measure the opening for a mattress in your RV and make sure the mattress you're considering will fit the platform fitted into your RV and not block the function of any of the RVs slides.
RV mattresses tend to be odd sizes, often shorter or narrower to accommodate the space in the RV.
You'll also want to pay attention to the mattress's weight, ensuring it won't weigh down your RV.
We love this Nectar mattress. It meets all the above criteria and sells at a reasonable price point.
Sound Machine
Not every one of your nights will likely be in the great outdoors.
You'll have travel nights where you need to stop somewhere, such as a Cracker Barrel.
Pick up one of these if you have difficulty sleeping when surrounded by street noise.
Small Dehumidifier
Dehumidifiers are electrical devices that remove water from the air.
They're helpful to have on hand in your RV if you're traveling in more humid areas to ensure that humidity levels are maintained at an ideal level so the RV does not develop mildew growth and musty smells.
You can buy them in very small sizes, so they only take up a little room in your rig. However, the water collection tank will need more attention than a larger home version.
When shopping for smaller dehumidifiers, look for one like the one below with an auto shut-off feature for when the tank is full and a light alerting you when it is time to be emptied.
RV Closet & Organization Accessories
In an RV, you'll quickly discover closet accessories are way more important than you may have guessed initially.
The fact is, it's a super small space. Without a bit of storage organization, it doesn't take much time for an RV to become a disaster zone.
Bedside Shoe Organizer
In many RVs, the mattress sticks out longer than the base of the bed, creating unused space perfect for storage.
Bedside Shoe Organizers like the one below are a great way to create extra storage in a regularly unused space.
I always wanted to try these!
Short Pocket Hanging Organizer
Short pocket hanging organizers are a great way to maximize the unused hanger space in your RV closet.
Choosing a short option like these below allows you to have additional storage items, such as hampers, resting on the closet floor, as we did.
(More on the hampers in the next section.)
RV Laundry Items
Next are a few items to help with laundry day.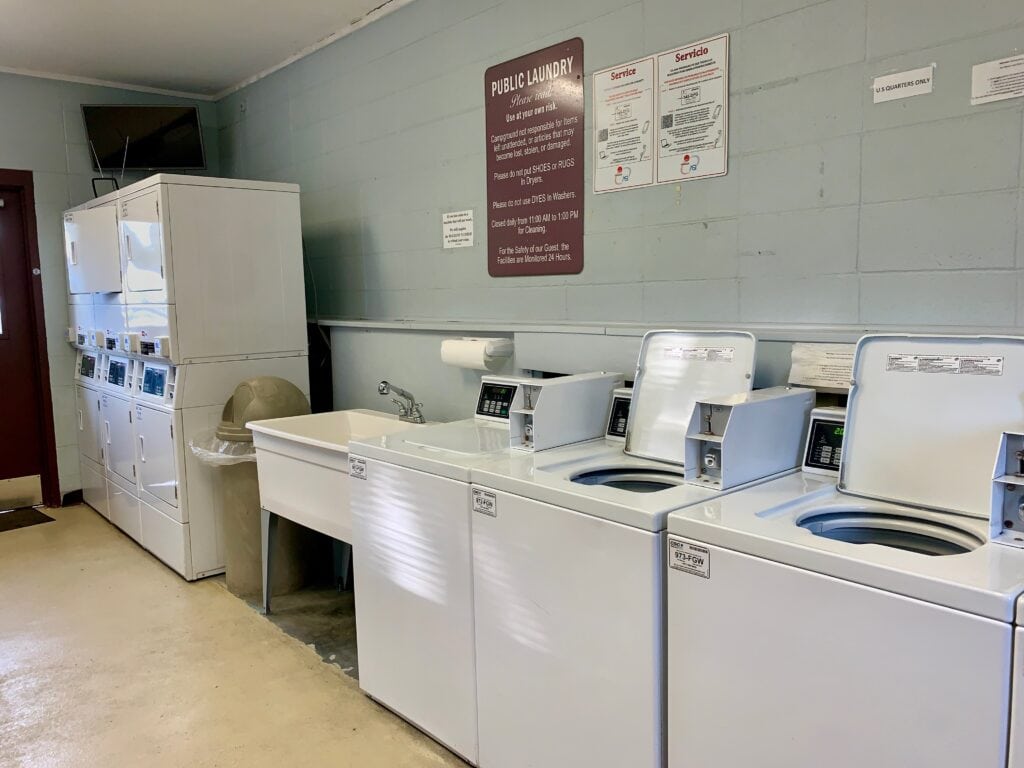 Laundry Hamper
In our RV, dirty clothes were one of the biggest clutter-creating culprits.
These narrow SKUBB hampers from IKEA are great for deep RV clothing closets!
The handles on this hamper also make it easy to load in and out of the truck and carry around the laundry mat.
Look throughout your RV closet and ask yourself if there's any "wasted" space.
For us, we had a long rod for hanging shirts that was almost as wide as the entire RV. This left us ample floor space below shirts and empty dowel rod space in our closet that stretched back reasonably deep. These hampers, paired with the short organizers above, helped us make the most of our available space.
Retractable Clothesline
It's essential to have a place to hang damp towels and clothing while RV road-tripping, especially if you're traveling with a lot of people.
Depending on your adventures, a simple clothesline made from a sufficiently strong rope can economically get the job done (remember that wet fabric weighs significantly more than dry).
But hanging wet stuff up outside will only be helpful if the weather forecast looks good.
If there's no rain or snow, you can hang your clothes up in full sun, between noon and five, for the shortest dry times. With a decent breeze and low humidity, your clothes could be ready to wear in as little as two hours.
However, if you don't want damp clothing hanging around your campsite, the next best option is to install a retractable clothesline inside your RV shower.
A retractable clothesline like the one below helps you keep things organized and saves on space by giving you an excellent place to let wet clothes drip dry over a shower or tub. Hence, the wetness goes down the drain.
Another option is adding a tension curtain rod across the inside of your shower.
Try to stay away from over-the-door towel racks.
Often, RV doors are made from very thin material. Placing wet towels up against your bathroom door will damage the door over time and could also slowly cause damage to your RV bathroom floor.
RV Washer and Dryer
It's no surprise to anyone that having the option to launder your clothes where you live is fantastic.
We never had this luxury while living in our RV. That said, it would have been fantastic!
Getting one of these is for you if your RV is set up for a washer and dryer, you can afford the cost and would love to save time by never having to go to the laundry mat again.
RV Bathroom Accessories
RV bathrooms are generally the smallest of rooms in an RV.
Here are some items to help you maximize functional room in the small space.
Wall-Mounted Toothbrush Holder
The counter space in RV bathrooms is almost nonexistent.
Using wall space is a great way to keep the counter clean.
Think about how many items you want up off your counter when shopping for one of these. Also, adhesive wall-mounted units such as the one below have the added benefit of not needing to be installed with any hardware and not having to add any holes into your wall.
RV Living Room Accessories
Next, the Living Room!
Here are a few items that will help you make the most of your main living space in the RV.
Coaxial TV Antenna Cable
Sometimes, RV parks offer cable connections!
You'll need a Coaxial TV Antenna Cable connected from your RV to the pole at your site to see all the channels they offer.
While shopping, consider one like the one below that's indoor/outdoor approved.
Museum Putty
Museum Putty is a handy tool to have on hand to secure objects while living out of a shaky RV.
This stuff is different from your dorm room Fun-Tak. It is a beefy, removable, and reusable putty that secures items to the surface they are on so they don't fall and break.
To use, you roll a bit of it in your fingers until it's soft, apply it to the base of whatever object you're trying to protect, and press it wherever you want it to rest.
Museum putty is especially nice because it comes off as easy as it goes on. You just twist and lift from the item's base. It comes right off with no damage to your furniture, no sticky mess, and no paint peeling away.
Couch Cup and Remote Holder
Clutter piles up incredibly fast in an RV. In our experience, having stuff lying all over the RV leads to silly accidents like spilled drinks and lost remotes.
Staying organized is the name of the game for RV owners, and that applies even to time in front of the TV.
Having a cubby that'll keep everything in its place is very helpful.
You'll want one that seamlessly fits your furniture or has some gripping material on its underside to stand up to even the most careless movements.