Latest posts by Cindy Scott
(see all)
(Last Updated On: December 1, 2023)
This article is a nine-page comprehensive RV essentials guide.
If you have arrived in the middle of the guide but want to start at the beginning, click here.
RV Fundamentals for Emergencies, Safety and Maintenance
Beyond the Roadside Emergency Kit and First Aid Kit mentioned in the beginning, these are some additional safety and maintenance items that can be extremely helpful to have in your rig while traveling.
Rear Backup Camera
If you've purchased a recently produced fifth wheel or travel trailer, odds are good it came pre-wired for a backup camera.
While being somewhat expensive, we can promise that no one has ever regretted having the extra view of what's behind them on the road.
I can't tell you how many times my husband proclaimed his thankfulness for our rear backup camera during our three years full-time on the road.
It will not only help you see other cars on the road behind you and in rear blind spots due to the wide-angle lens, but it will also help with parking and watching your bikes, toad, or any other items you may travel with on the rear of your rig.
Make sure whatever camera you purchase has a wide field of view, night vision, and comes with a monitor sized best for your vision.
The installation is relatively easy, so save yourself an installation fee and take a stab at installing this one on your own.
Furrion Vision S Wireless RV Backup Camera System with 5-Inch Monitor
Sale
And for even more blind spot coverage, check out this option that includes LED side cameras:
Furrion Vision S 7 Inch Wireless RV Backup System with 1 Rear Sharkfin Camera Plus Wireless RV Amber LED Side Cameras
Sale
Tool Kit
The longer you own an RV, the better you'll understand the tools needed to work on it.
Some basic necessities include a ratchet and socket set, pliers, screwdrivers, tape measurer, wrenches for any valves on your holding tanks, duct tape, and a multimeter.
That last one is critical for testing an RV's complex AC and DC circuitry.
Once you have a basic tool kit, you'll want to make a few upgrades to save some time and hassle. An electric drill and ½" impact wrench can speed up any repair job.
Portable RV Tire Compressor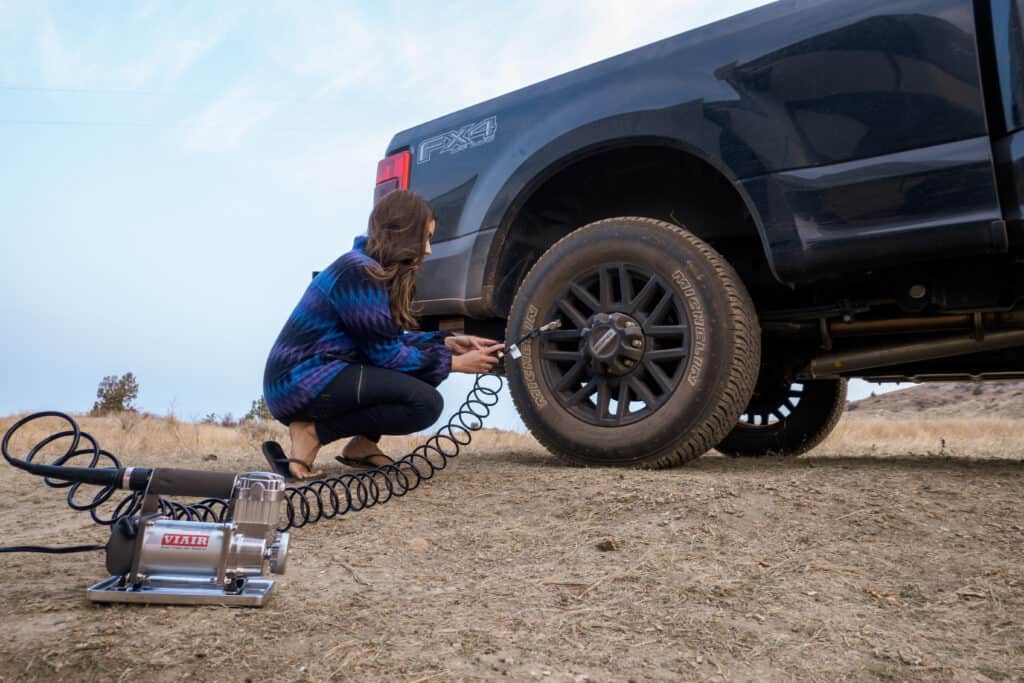 If you often travel through different climates, your tire pressure fluctuates.
Regularly checking the tire pressure on your rig's tires is an easy and essential way to extend the time you get out of your tires.
The real bonus of this little beauty is that you can use it anywhere. No more battling the trucks for an air compressor at truck stops or trying to figure out if you can squeeze your massive rig into the tight air compressor spot at the gas station.
Clamp the compressor to a 12-volt battery, connect the chuck to your tire's valve stem, and you're in business!
It also has a tire pressure gauge near the chuck, ensuring you get proper air in your tire without over-inflating.
Tools like this one, which have helped us accomplish a task fast and prevented us from having to try to fit in a tight spot, always quickly become one of our favorite items!
VIAIR sells compressors explicitly made for RVs.
The 400P-RV compressor is best for 40″ and lower RV tires.
Sale
The 450P-RV compressor is best for 40″ and up RV tires.
Spare Fuses & Parts
You never know where you'll be when a fuse goes out. Depending on where your RV is parked, you could be 5 or 50 miles from a hardware store.
Having a set of spare fuses on hand is something you'll never regret. They are cheap and can be a huge relief to have on hand, saving you from a day touring small-town hardware stores.
It takes less than an hour to go through your RV and determine what fuses exist in your rig.
Take some time out of your day early into your purchase and make a list of the fuses that exist within your RV.
(Remember to check the fridge! It was our biggest blown fuse culprit.)
RV Rubber Roof Repair Tape
Let's get it out there: RVs get leaky roofs.
The constant exposure to UV light (unless you store yours under a cover), expansion and contraction from changing temperatures, and a host of vents and accessories on the roof make for thousands of tiny spaces where water can eventually start to seep through.
Fortunately, the average DIYer can fix these moisture conduits with some rubber roof tape.
It is much easier to apply than liquid sealants or bonded fabrics. If you can handle duct tape, you can complete a repair with rubber roof tape.
Be careful when applying it, though. This stuff is forever. Eternabond's rubber roof tape is rated for 18-35 years, so if you make a mistake or tape over something you need access to, removing it is quite the project.
EternaBond White Mobile Home RV Rubber Roof Repair Tape 4″ x 20′ – 20 Foot
Headlamp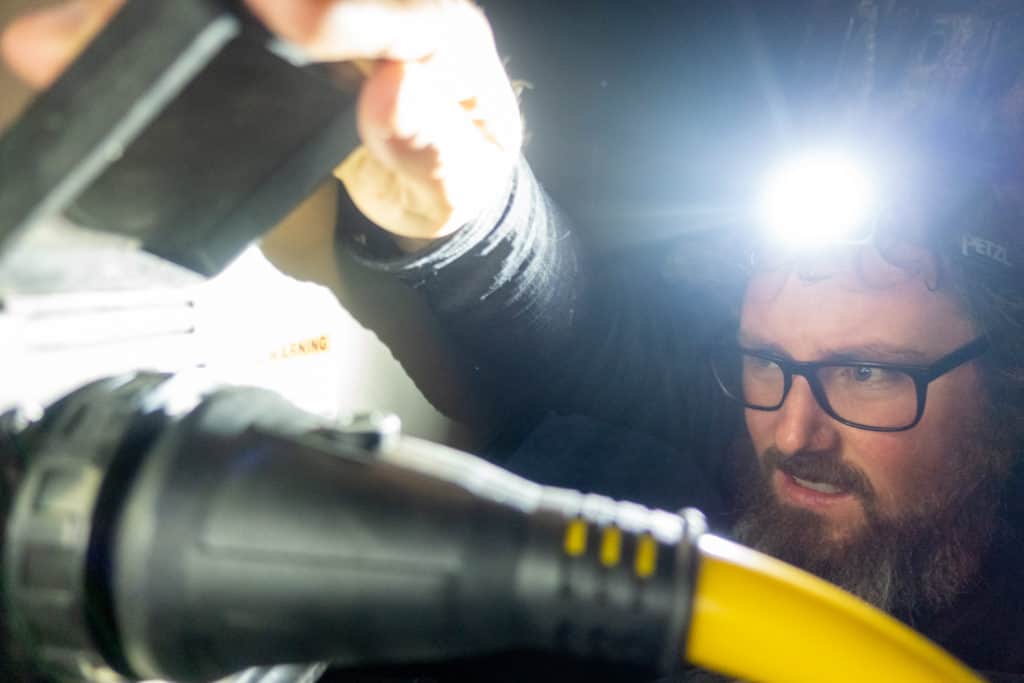 Everyone should have a headlamp. These devices help illuminate your view in any dark situation while keeping your hands free and available for any task.
When picking a headlamp, it's a good idea to choose one with a red light option so you can socialize with others without blinding them. Finding one that is at least 300 lumens is best, as well, for adequate illumination.
Check out this lightweight, rechargeable one my husband and I used throughout our entire Appalachian Trail thru-hike.
Generator
Suppose you cannot connect to shore power. In that case, the basic 12-volt battery sold with your RV will likely only run the basics, and even then, it'll kill your battery pretty fast!
So, if you don't have access to shore power and/or plan to spend any time boondocking, you will want to pick up a generator.
Different RVs need different generators to power all their appliances.
A 3,600-watt generator will fully power a 30-AMP RV.
A 50-AMP RV will need up to a 12,000-watt generator to power the rig fully.
That said, not all RVers with a 50-AMP RV will require that much power. The average RVer will find 6,000 – 8,000 watts sufficient to use the appliances they deem vital simultaneously.
We found this 2,200-watt Honda Generator did the trick for us. It ran everything we needed, except the A/C.
Honda 2200 Watt Portable Inverter Generator
Sale
Gas Jug
Your generator's best friend will be its lifeblood, gasoline.
Depending on what generator you buy, they can burn as much as five to ten gallons of fuel daily, so be sure to bring enough of it.
Having 1-2 five-gallon canisters for storing gas will help ensure the generator never dies when you need it to run.
Water Jug
Whether you're setting out to boondock or plan on being RV park loyalists, a spare water jug is a fantastic item to have on hand to get water in your RV if it's ever not readily available.
How large a jug you need depends on your RV's storage capacity and how long you plan on being away from a water source.
You'll need around half a gallon to a whole gallon of water per adult daily just for drinking.
Since you're working with limited space, these collapsable jugs are great because they'll fit into unused nooks and crannies to save room when they're not in use.
Collapsible Water Container with Spigot
Continue Reading:

PAGE ONE: Top Ten RV Must-Haves
PAGE TWO: RV Water & Sewer Supplies
PAGE THREE: Road Trip Planning Tools
PAGE FOUR: Fundamentals for RV Emergencies, Safety, & Maintenance
PAGE FIVE: RV Kitchen Essentials
PAGE SIX: RV Bedroom, Closet, Laundry, Bathroom, & Living Room Essentials
PAGE SEVEN: RV Internet & Boondocking Essentials
PAGE EIGHT: Fun Outdoor Camping Items, Traveling with Bikes, & Traveling with Pets
PAGE NINE: Stationary RV Living, Winter RV Living, RV Storage, & FAQs