Latest posts by Cindy Scott
(see all)
(Last Updated On: September 14, 2023)


---
These are the Top 12 RV Gadgets you need to buy after purchasing your first RV – Plus one more for those who travel with cats!
---
Once we purchased our Fifth Wheel, everyone started telling us about all of the things we NEEDED to buy for our new full-time RV life. We only bought one of them, a backup camera, because this felt like an important safety feature that should have just been included with our rig.
As for everything else, we decided we would simply start on our journey and buy things along the way, as we found out we needed them. So now, after some trial and error, and time, these are the top 12 gadgets we feel you really do need most after purchasing your first RV.
These are the best of the best products that we've discovered along the way. This list took a great deal of time, mistakes, and research to form. Trust us. We've taken the hard guesswork out of it for you!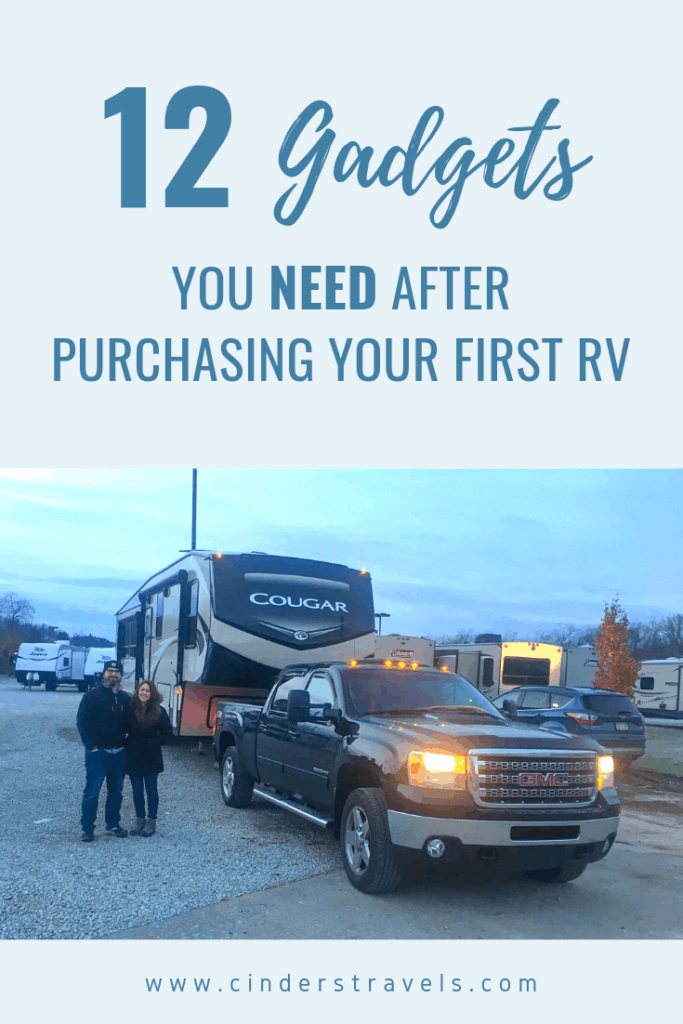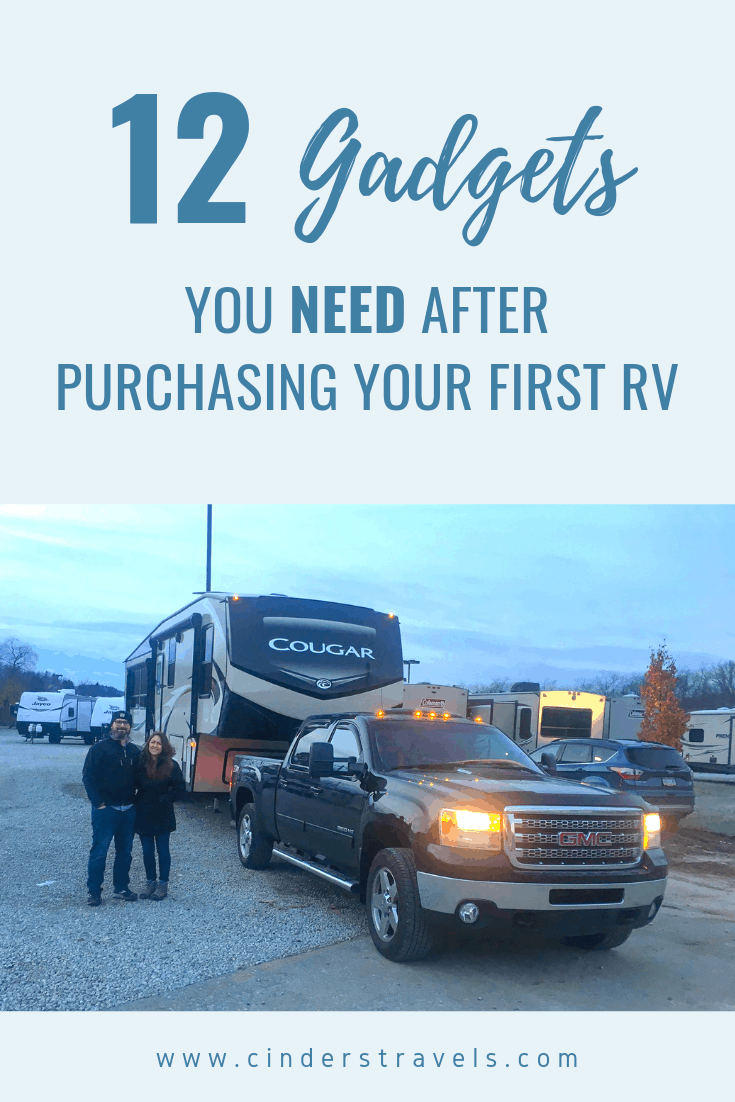 #1 – Furrion Backup Camera
As mentioned above, this Furrion Backup Camera is the only item we bought at the time of purchase. Most of the new RVs come pre-rigged for a backup camera to be added, as did ours. This seemed like a no-brainer. Neither of us had ever driven a truck or towed a trailer this big before. We knew having eyes behind us would be a huge help.
Additionally, later down the line, once we bought our bike rack, this camera also became instrumental in helping us see the bikes while we traveled down the road.
#2 – Garmin RV 770 GPS
I am a frugal person, so I wanted us to attempt not to have a specific RV GPS unit in the beginning because they're expensive. But the idea of never knowing if we were headed into an area in which the RV would fit got the best of us.
After about a month of experiencing those nerves, we felt the Garmin RV 770 GPS was worth the investment never to have those concerns again. Travel days are nerve-racking enough! Having an RV GPS that you can put all of your specific details into takes a load off your mind!
#3 – 'Drinking Water Safe' Hose
A 'Drinking Water Safe' Hose is an item you really can't avoid. If you want water in your RV, you're going to need to get a hose.
That being said, it's recommended not just to use any garden hose you may find lying around. Your average green garden hose is not made for safe, drinkable, potable water. It is likely to release metals and other toxins into your water that can make you sick.
Perhaps you remember your mom yelling at you as a kid not to drink from the water hose. If so, that was why. So make sure you find one that says 'Drinking Water Safe' on the packaging, like this one:
In our experience, we've noticed the water post is usually closer to the RV than the electrical post. We bought this one in the 25-foot-long option, and it has worked like a champ!
#4 – Valterra Black 20 Ft Kit D04-0275 Dominator Sewer Hose Kit
If you purchase your RV at a dealership with a store, a sales clerk will be chomping at the bit to give you a store tour. Our clerk found out we were newbies and told us a lot about which brands were worth our time and which brands were not. This was a product that I wish we had just listened to the clerk's advice.
Instead of buying the hose he recommended, we went to Walmart and decided to get another brand's cheaper hose.
Well, it was cheap for a reason. It was terrible. It only lasted about two weeks.
This ended up genuinely being one of those "Live, Learn, and then get Luvs" moments.
Just get the Valterra Black 20 Ft Kit D04-0275 Dominator Sewer Hose Kit from the beginning.
So once that hose broke, we did some more research and remembered what the kind man at Camping World had initially told us about this Valterra hose.
He had also recommended we purchase a hose that is longer but comes apart into two pieces. At the time, we had no idea why that would matter, but Barrett loves this feature.
The Valterra Black 20 Ft Kit D04-0275 Dominator Sewer Hose Kit is 20 feet long, but it comes apart into two 10-foot-long hoses. Often he doesn't even have to use the second hose.
Update: The Verizon Prepaid Unlimited Hotspot plan that we use with this jetpack was retired in May of 2019 – and is no longer available to new customers. Existing customers can keep the plan as long as they have no lapses in payment. We recommend checking out the Mobile Internet Resource Center's website to sort through current options and recommendations.
We originally started with an AT&T hotspot, and, at least in Florida, the service was pretty bad. Part of me thinks we had a problematic Netgear box. Either way, we switched to Verizon's (much cheaper) Prepaid Unlimited Hotspot service and haven't looked back since!
The service is $65 a month as long as you opt for the Prepaid Unlimited Account and sign up for autopsy.
We did a lot of research on this when we were starting out. We found that, for us, this really was the most accessible and most affordable, truly unlimited, option on the market at this point in time.
But this seems to be frequently changing.
The weBoost was the second part of the upgrades needed to advance our cellular signal situation.
It claims to enhance your signal up to 32x.
I will say our Sprint phone service has been fantastic in the RV. It is possibly even better than it was in my previous years of city life, so I'm convinced it's working!
#7 – Travel Berkey Water Filter
The Berkey is known for being the leader in filtering and purifying untreated water entirely of harmful contaminants. You can fill it with water from ponds, streams, and lakes, and it will clear it of pathogenic bacteria, cysts, and parasites.
The Travel Berkey Water Filter is perfect for a two-adult household. It holds 1.5 gallons of water at a time, which is about what we are collectively supposed to be drinking each day.
Every night before we go to bed, we fill it up to be ready for the following day. It takes about 30-45 minutes to purify all 1.5 gallons.
We opted for the model in the picture that also includes 2 Fluoride Filters. They absorb Fluoride, Arsenic, and other heavy metal ions that could possibly be found in the water.
#8 – Bike Rack, Cover, and Locks
When we first started RVing, the bikes were traveling in our living room. Then when we landed in a spot, we would place them outside.
We quickly realized we needed to figure out a way to have them outside all the time. This way, we didn't have to go back and forth with them all the time.
What's going to work best for you is going to be pretty specific to your setup. It depends on which hitch you have, how many bikes you have, and how heavily you want to protect them.
We decided we wanted ample protection since they would be living on the outside of our home and clear for anyone to see at any point in time. We also wanted them to be protected from the elements.
Let's Go Aero Titling Bike Rack
There was one main reason we picked the Let's Go Aero Titling Bike Rack bike rack. How low it sits.
The fact that it sits lower lets us store our bikes on the back of the RV full-time, yet still have 100% of our window view.
We built our office facing out the back window and knew we would be looking out of it a fair amount of the time. Neither of us wanted to be staring at our bikes all day while we could be looking at whatever fantastic place we were at for the day.
Waterproof Cover for 2 Bikes
Since our bikes are out in the elements all the time, we wanted to do the best we could to protect them.
This Waterproof Cover for 2 Bikes has been clutch in protecting them from the rain, but as a bonus, it also gives me some peace of mind on the road that they are extra secure.
Bike Locks
We purchased two types of locks for the bikes:
The back of the RV bike lock needed to be heavy-duty. We wanted something that would give us a good sense of security that they weren't going anywhere, whether the bikes were on the back of the RV or in our truck:
We chose this ONGUARD lock because:
1. It had good ratings
2. It was long enough to fit through both bikes
3. It was thick enough that a thief would need a heavy-duty cutter to get through it, which would take time and create a scene.
And then we also have these "around town" bike locks:
We chose these because Kryptonite is also known to be a great bike lock brand and because each one has the U bracket and the cable. It is simply a little extra protection that would hopefully make the thief take one look at the bikes and decide it would be much easier to move along and nab someone else's bike.
You May Also Be Interested in:
👉 15+ Awesome Holiday Gift Ideas for Full-Time RVers in 2020
👉 20+ Holiday Gift Ideas for Full-Time RVers in 2019
In our experience, campgrounds lose power and have power surges. And much more often than our old house used to. The first time our power went out, we decided to find a device to protect everything electrical in the RV ASAP.
There are two ways to go about this: Hardwired or Portable. We decided to take the Hardwired route. But I have also included more on the Portable option below.
Hardwired EMS Protection
Once we decided to go with hardwired, we first ordered the EMS-LCHW50 unit, which has the error readout built into the device. However, once we realized this box would become buried inside the inner workings of our cabinets, we returned that one and purchased this one, the EMS-HW50C, instead:
This version came with an external readout screen that you can post anywhere you want. We feel it was worth the extra expense. We've had a few things happen, and it's been great to be able to see the error code right away. With the other model, we would have had to remove panels to get back into our RV interior to see the error code.
Some things to be noted:
1 – Make sure you get the right one for the AMP of your specific RV. We have a 50 AMP RV, so we got the 50 AMP Surge Protector.
2 – We are not electricians. This product does include some actual hardwiring into your RV. We did figure out how to install this product with some help from my father, who is also not an electrician. If you are not comfortable physically hardwiring something into your RV I would instead recommend buying a Portable Surge Protector, such as this one:
Portable EMS Protection
With a Portable Surge Protector, it's important to remember that every time you move, you need to remember to plug it in again when you reach a new spot, or it, of course, will not protect you.
We've heard they are also often stolen in city camping environments, so I would consider purchasing a lock to go along with it.
#10 – AmazonBasics Coaxial TV Antenna Cable – 50-Foot
We started getting our feet wet with RV life in western Florida, which is basically full of full-time RVers. Some of the places we started at had some pretty fancy amenities, including cable!
Barrett and I hadn't had cable in our entire relationship but decided if it came as a perk at the park, why not see what was out there to watch?
I'm not going to lie, we still mostly view all of our media content on Amazon Prime, Hulu, or Netflix, but every once in a blue moon, we'll catch something on cable.
It's been pretty cool to have the option for the mere cost of a $12 cord!
The AmazonBasics Coaxial TV Antenna Cable – 50-foot length has worked well for us. It's overkill sometimes, but other times the added length has been necessary.
#11 – Extra Fuses
This recommendation comes from us finding out the hard way we should have had this.
We had a fuse go out in our refrigerator and ended up spending an entire day driving around a town we didn't know, trying to find the correct fuse. It wasn't a common one, which made it a stressful day.
Some things are MUCH easier to buy ahead of time on Amazon.
#12 – Nectar Mattress

A Nectar Mattress isn't entirely a gadget per se, but it was necessary to help us get started with RV life.
It is also the only item on the list we actually purchased before we even had the RV.
We had heard the mattresses that come standard in RVs were pretty bad. And the gossip was correct because the one that came in ours was a SUPER thin king-sized mattress.
I'm pretty sure I was capable of carrying it out of our RV on my own accord.
Our mattress in our home was shot, so it was time for a new one anyway!
If you're going to be living in this thing full time, or even if you're a weekend warrior, a comfy place to rest your head and recharge is one of those things you just don't mess with!
We LOVE our Nectar mattress.
This will sound crazy, but this machine has completely transformed how my husband thinks about our cats. Barrett loves our cats so much more now that he never has to worry about scooping up their poop ever again.
There are many other litter-cleaning machines out there, and we've pretty much tried them all —a few before RV life and then a few during. We've concluded that the only one that actually makes life better is the Litter Robot! It's the best! It does everything. All we have to do is empty the bottom when it's full and refill the litter when the level is getting low.
Click here to use my Litter Robot referral code and get $25 off your order!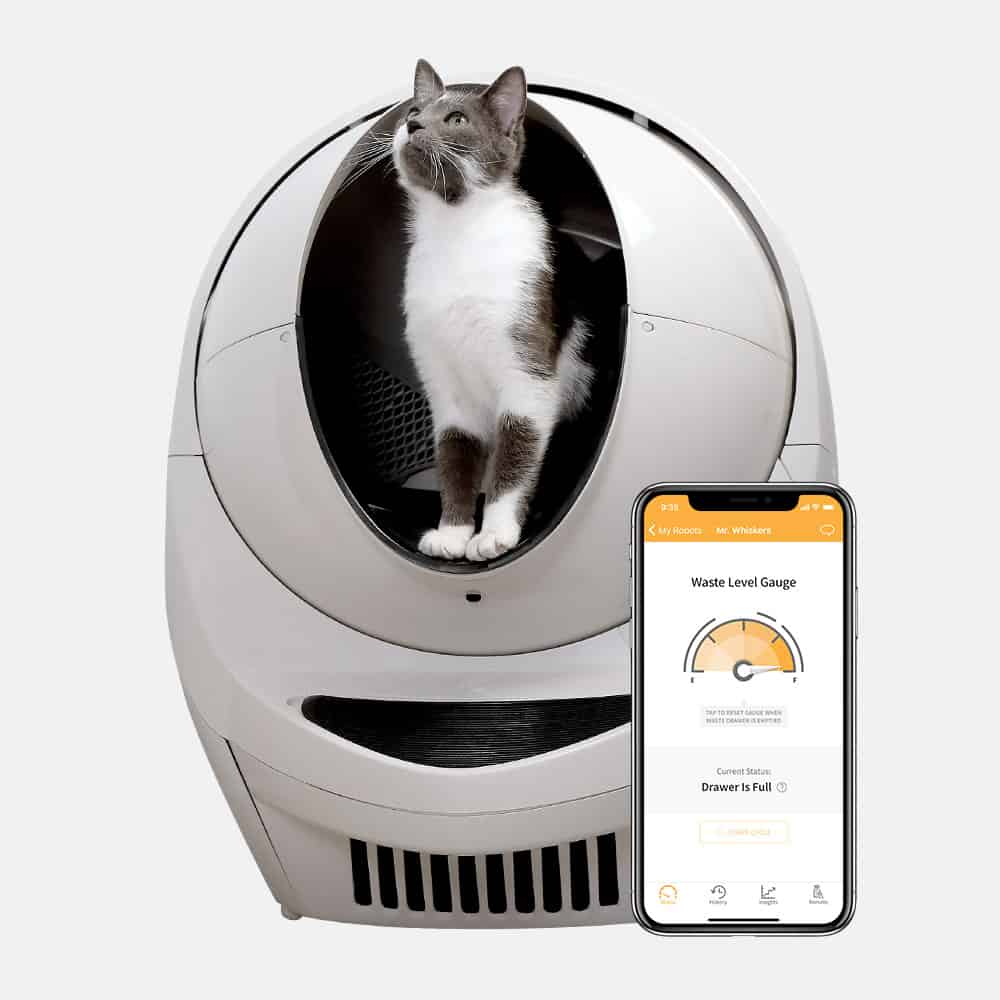 ---
Think I left anything out from the top 12 gadgets you need after purchasing your first RV? Leave a comment below. I'd love to hear about the RV gadgets you can't live without.