(Last Updated On: February 11, 2021)
THIS POST MAY CONTAIN AFFILIATE LINKS. PLEASE READ MY DISCLOSURE FOR MORE.
THIS POST WAS ALSO ORIGINALLY WRITTEN FOR RVSHARE. IT CAN ALSO BE SEEN HERE.
It's fall y'all, which, by many, is thought of as a prime time to purchase a new car. But for those of you considering buying a new RV, you may be wondering if the same logic applies. While the RV industry does have a few similarities to the car industry, it also has many differences.
When we started our RV search, I originally wanted to buy used. The money-saving, budget-oriented part of me thought it was ridiculous to take the initial hit on an asset that would be depreciating so dramatically right as we rolled it off the lot.
But we ended up buying new anyway! (I'll explain why below.) And ultimately learned a lot along the way. Our purchasing experience helped me realize that the following eight questions are imperative to consider before purchasing a new RV, including five you should be asking yourself beforehand and three you should be thinking about once you're in the purchasing stage.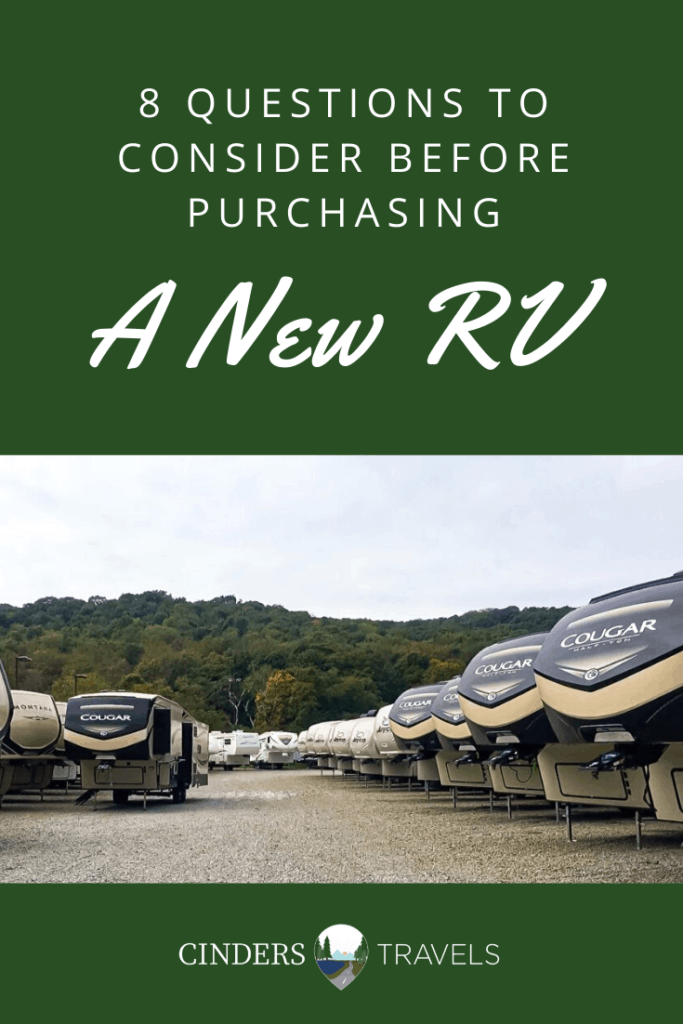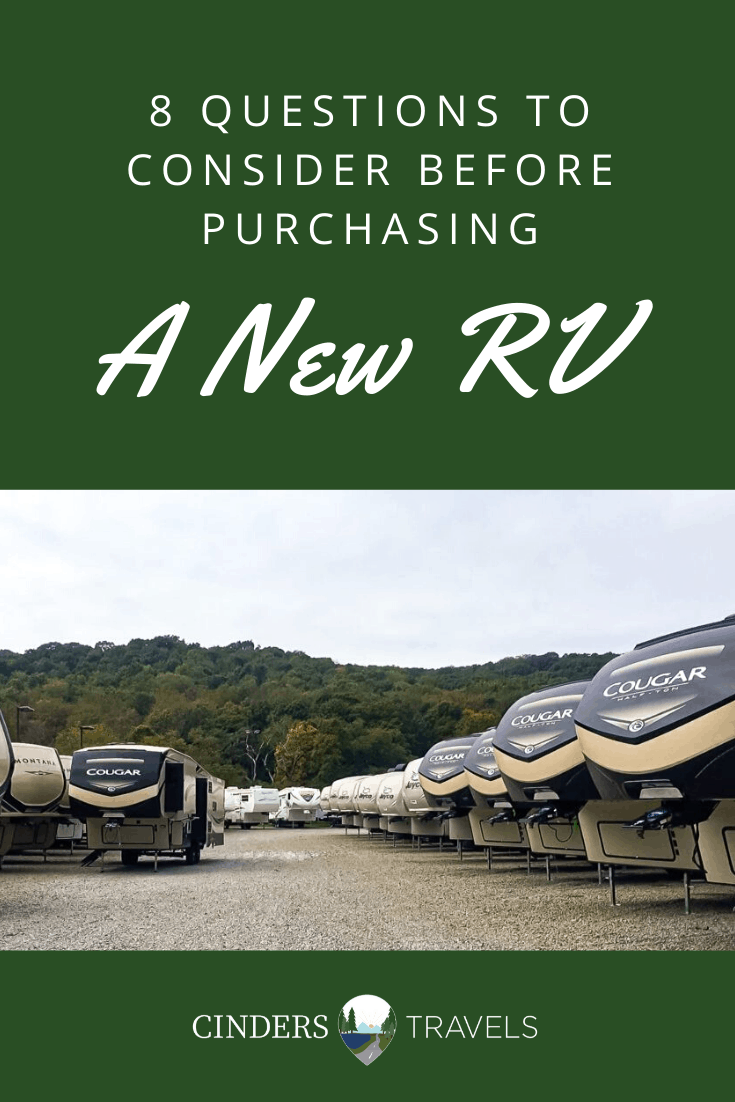 1 – What will my RV lifestyle look like?
First things first, ask yourself how you plan on using your RV. What amenities are most necessary for the lifestyle you intend to have with this RV?
You must consider what your days will look like. Do you plan to cook while on trips, or eat out? What types of bathroom and shower conditions do you desire? Are you intending on boondocking often? If so, then you will need big enough holding tanks and more than likely a better off-grid electrical setup, or are you planning on being okay spending a bit more and going the full hook-up route?
Establishing how you want your RV lifestyle to look right out of the gate will be a big help with steering you to the best fit.
2 – What layout would be best for me?
When starting your search, there are SO MANY RV options out there! It can be hard to figure out where to begin.
Once we determined what our RV lifestyle would look like (we would be full-timers with the need to be able to work, play, and keep our cats comfortable), we next focused on what layouts would be best.
For us, we wanted to make sure there was some separation between spaces. This meant we wanted a separate zone for each of the following: relaxing, working, dining, bathing, and sleeping. We also knew we needed lots of countertops. Barrett loves to cook and enjoys spreading out while doing so. I'm okay with it because, well, yum! But also, the more he cooks, the more money we save and the healthier we stay. All of these realizations led us to bigger models, and specifically ones with kitchen islands.
If you only need the basics and perhaps not so much space, then a pop-up trailer, van, or Class B vehicle could work just fine for you. However, if you prefer to have brick and mortar home-like features to come back to after a day of exploring, then you would want to look more into Class As, Cs, fifth wheels, or travel trailers.
One more type to consider is a toy hauler. If you need room for a four-wheeler, motorcycle, golf cart, or scooter, then having the garage a toy hauler provides would be an enticing option.
The RV models that ended up appealing most to us were the versions that had the kitchen in the middle, and then a sizeable rear living space that looked as if it could be split into both a living room and an office. Make sure to take a moment to consider what layout would work best for you.
That living room layout gave us the perfect spot to build our desk.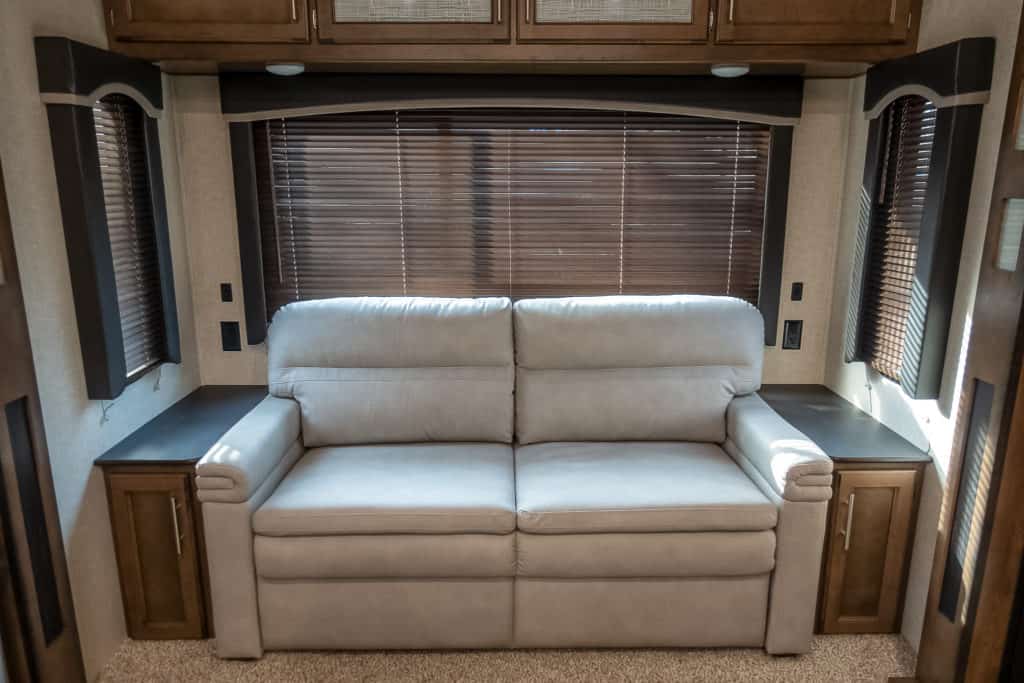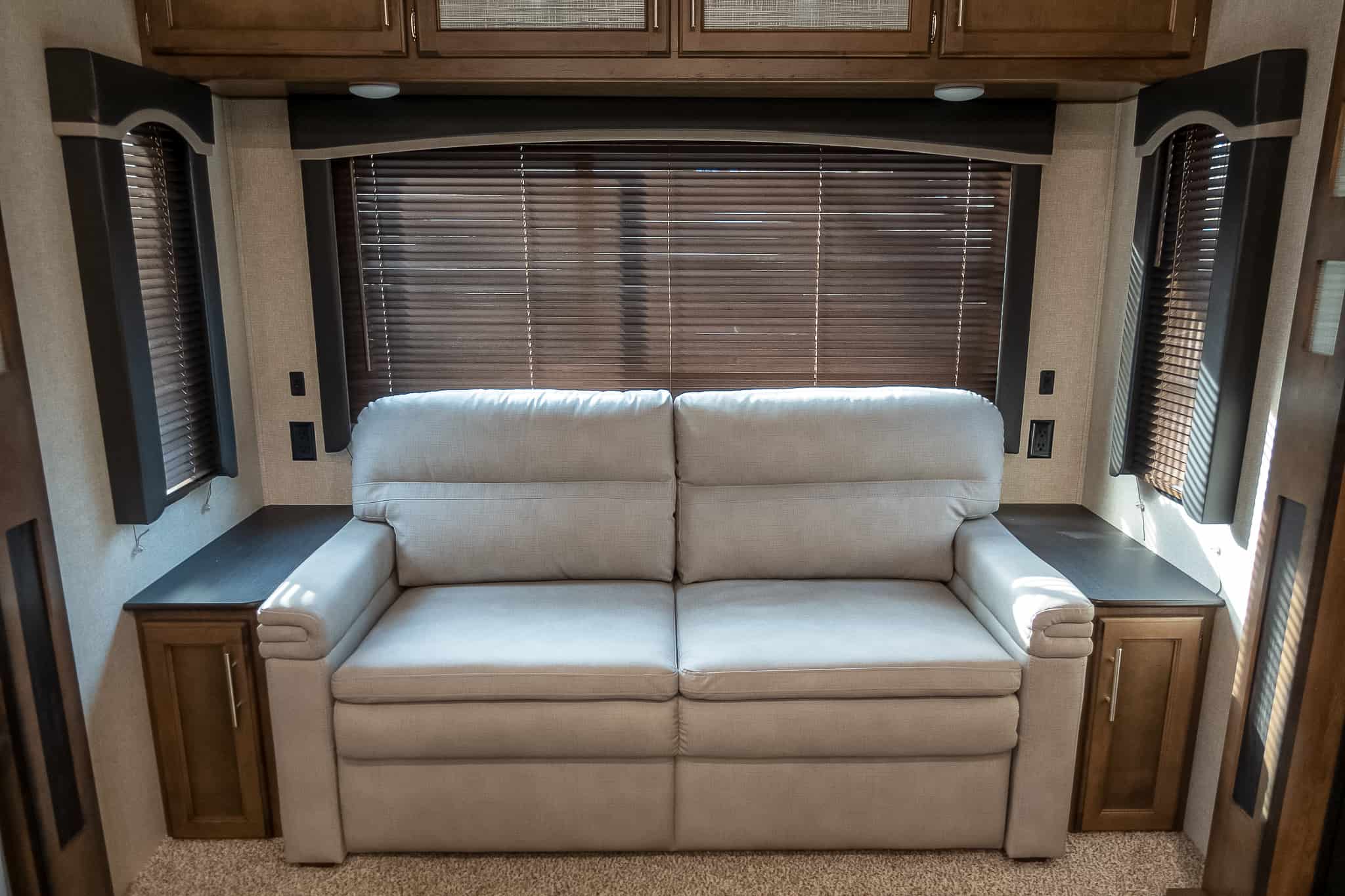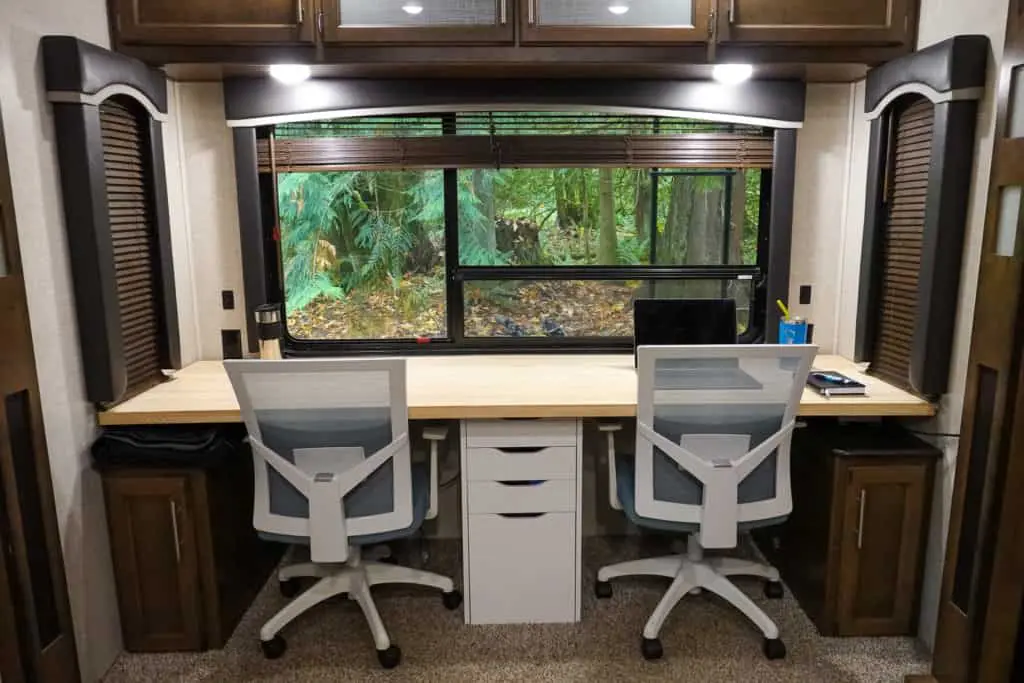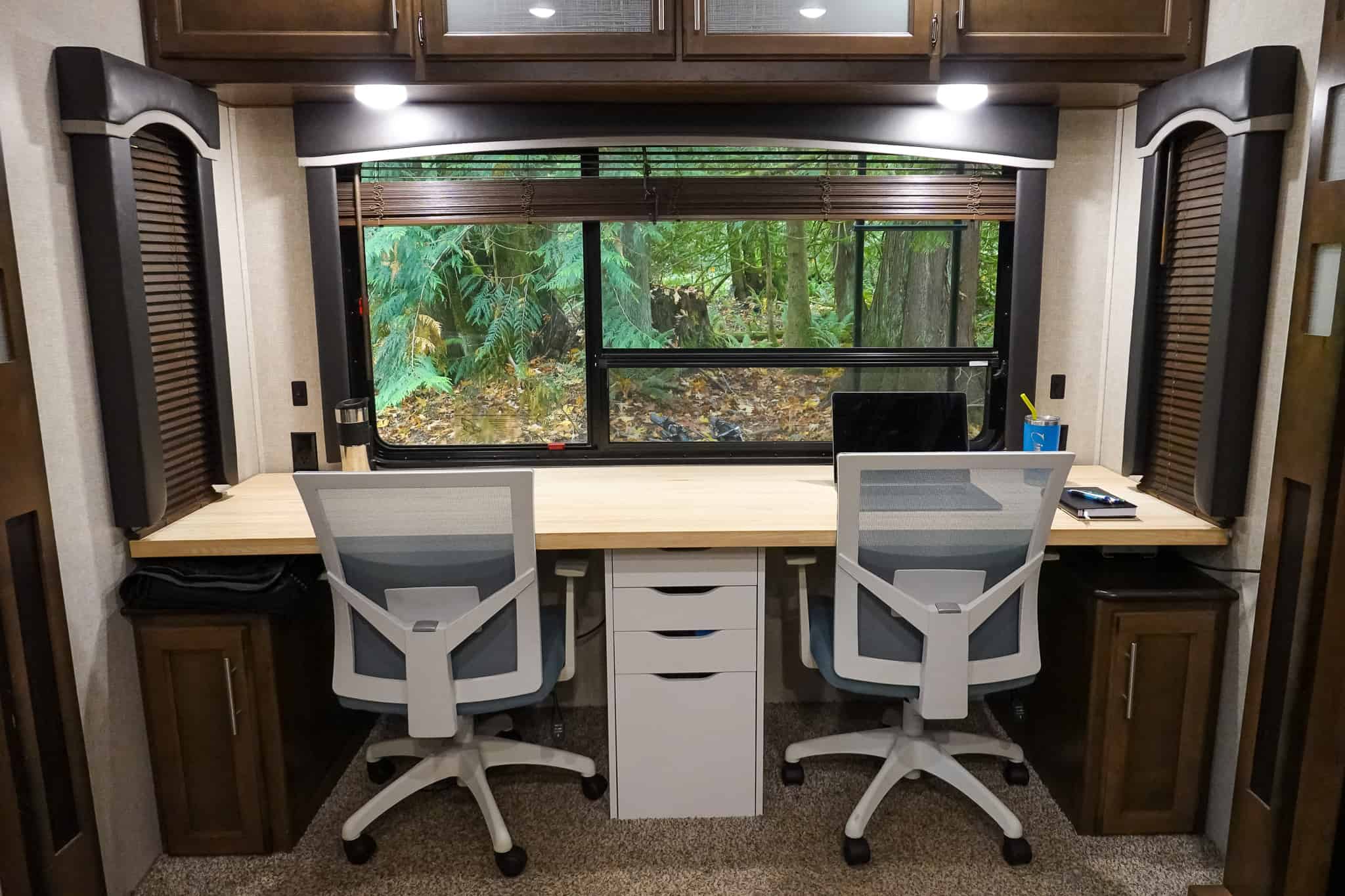 3 – What length would be best for me?
Next, we dove into figuring out what length we realistically needed. This one was a bit harder to agree on at first. My husband wanted something new, short, and small. I wanted something old and HUGE.
First thing, go back to your lifestyle plan. If it involves being in the heart of lots of state and national parks, you'll want to pick a shorter RV. But if you're okay with being on the outskirts and then driving in, as we often do, then the longer length will work just fine.
Second, ask yourself what length your comfortable driving. I'm a firm believer that pretty much anyone can get used to anything, but this is not that case for everyone. If a long rig scares the living daylights out of you and you don't see that changing, then that's something you need to be thinking about.
In the end, though, the best recommendation I can make for figuring out what length would be most suitable for you is to step away from the computer and take a trip to an RV show or dealer. You may think you know what length you want, but you won't honestly know until you start moving around in some models. While walking around in them, you'll begin to get a sense of what trips and life could really be like in each of the different lengths.
It wasn't until we started stepping inside of different models at the Tampa RV show that we began to really see what length would best fit our needs. And one good thing about making this your third consideration is that once you've already figured out your lifestyle and layout answers, there will only be so many length options that will fit the bill.
4 – What brand do I like best?
During our research, we felt the next way we could dramatically narrow down the options was by picking a brand we liked.
There are a couple of reasons RV brand reputation is noteworthy. The first is obvious. You want a camper that will hold up. You're looking at spending a lot of money on a depreciating asset, so you want to make sure your questionable investment is at least giving you a quality product.
The second reason is a little less apparent. Like cars, some brands are easier to be serviced than others.
For us, we initially fell in love with Lance and their reputation. However, they did not make a model with the home layout or length we wanted. So we then moved on to our next favorite, the Keystone Cougar. After all of our brand research, we had not heard a single bad thing about the Cougar. And they were EVERYWHERE. We knew that since they made so many, and were a brand that had been around for a long time, a Cougar would be a quality camper and we would not have a hard time getting it serviced. And so far, that has panned out accurately for us. The only waits we've had for RV shops have been because the shops are backed up, not because no one can service our brand.
5 – Will I need to tow my RV? And if so, what vehicle would be best?
(For those of you looking into an all-contained RV style, this question would be replaced with: Will I need to tow a small vehicle to get around in? And if so, what tow rig would be best?)
We tow with a 2014 diesel GMC Sierra 2500. The fifth wheel weight rating for our truck is 17,400 lbs. Our camper has a dry weight of 10,562 lbs and a gross vehicle weight of 12,390 lbs. This essentially means we can put up to 1,828 lbs of stuff into our RV, not only including everything we own, but also all of the water and propane we decide to carry along with us at any given time.
The diesel truck, therefore, gives us a 5,000 lb gap. The same exact truck with a gas engine can only tow 14,200 lbs. So, could we be towing with a gas truck? Technically yes, with a 1,810 lb gap. Would towing be as easy? Probably not.
At the end of the day, we picked a diesel truck because we were brand new to this lifestyle, and the 5,000 lb gap made us feel more comfortable and confident in our abilities to tow our home wherever we wanted. So, now that you've figured out what type of RV you love most consider what would work best for you.
6 – Once I'm in the purchasing phase, should I buy at an RV show?
If you go to an RV show with everything mentioned above figured out ahead of time, and then you find the perfect model there on a show special, I say yes!
From everything I have heard over the last couple of years, the RV shows really are the best places to score a deal.
However, you really do want to make sure you've already considered the topics covered in the first five questions. Go in, knowing what you want. You don't want to make an impulse decision merely due to a staggeringly low price.
7 – Is the price at a dealership negotiable?
It generally is. Take the following information in this section with a grain of salt. It is not a guarantee, just often the case.
First, you can use NADA to figure out an RV's MSRP. Usually, the MSRP is about 30-35% higher than they plan on actually selling you the RV for. When you see the sale price on the RV's sticker, if it's not in the 30-35% off range, I would try to negotiate it down. Also, know that there will still more than likely be some added fees to that price. Generally, the RV you just walked through is not the one you will be purchasing. The dealer will need to find one and have it sent over. Ask about setup and transportation fees and how much those will be adding to the final price.
Once we established our lifestyle plans, what our favorite layout was, what space we needed, and what brand we preferred, the next step was to go into a dealer and start looking inside some Cougar layouts. We planned on picking our favorite one and then going home and looking online later at used ones.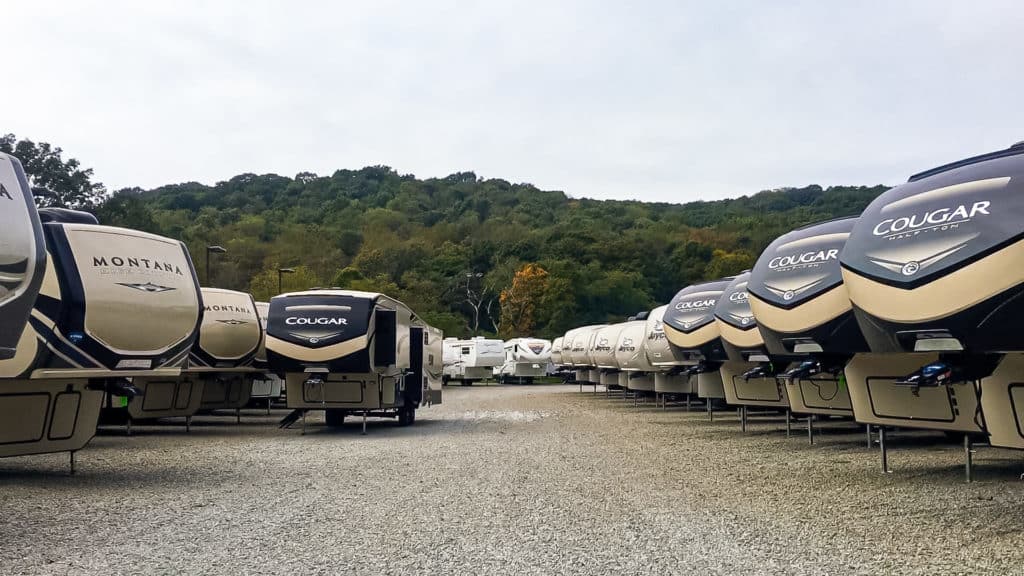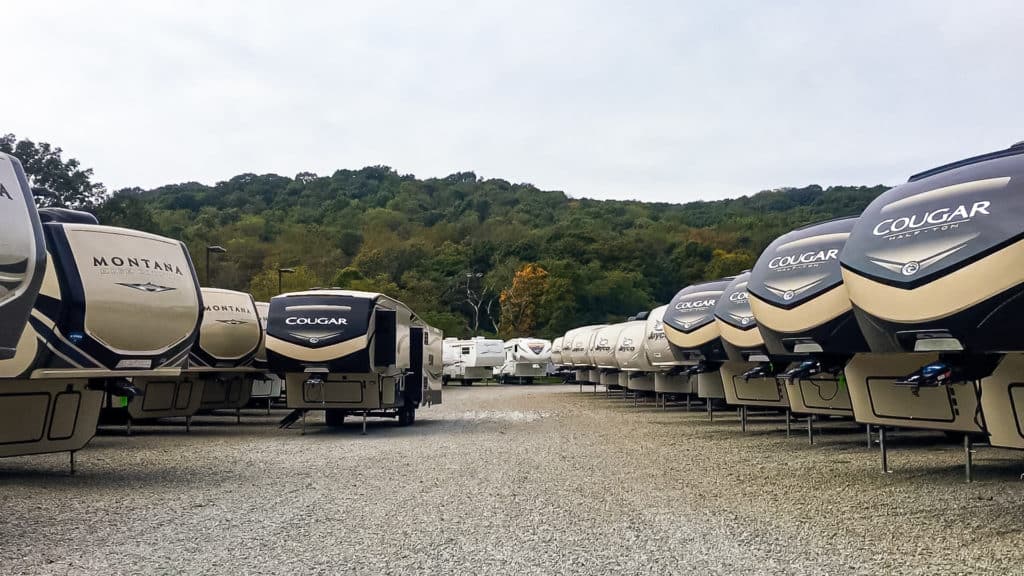 Here's where we got stuck buying new: During our search, we found our favorite. The only problem was, it was a brand new model. Going home and starting a search for a used version was not a possibility. We did still look at used RVs that were similar, but we couldn't find a layout that compared to that perfect model we had already discovered. We also looked into upcoming RV show schedules. Since it was new, we wondered if we could go find it at an RV show on special. But the next show was too far away in location and time. In our minds, we needed to start our journey ASAP, and especially before the winter arrived.
Ultimately, we couldn't stop thinking about that model. We were in love with it. So we went back and bought the Coug' we now live in!
8 – Is this the best time of year to buy?
The RV industry does not operate the same as the car industry. However, there is at least one similarity; when new models are being rolled out, the dealers need to make room for the new. The easiest way for them to do that is by getting rid of the old! So that aspect is the same as cars, but the timing of that situation is not.
New RV features are generally showcased in the fall. After that event, they typically go back and start producing those RVs. Then those new RVs begin to show up at the dealers in the spring. This way, they have their latest models ready for sale right before the summer season, which is, of course, when most people want to go RVing.
Therefore, showing up and desiring a model that is a year or two old right around the springtime could work in your favor.
---
With all of these topics in mind, you should feel confident going into any buying situation. Happy shopping!
---
Have you already gone through this process? What questions did you consider when purchasing your new RV? I'd love to hear about your purchasing experience!
Looking to rent an RV before taking the leap of buying your own? Start your search today on RVshare! And as always, please feel free to email me with any RV life questions you may have! And to see more about our RV journey, head on over to cinderstravels.com.